Project cars can be a life-consuming, money-sucking, soul-crushing journey of self discovery. If you're in a committed relationship and have a project on the go, then you better hope your other half is on board.
Ai Taguchi married into the madness. She's the better half of Moontech's Hikaru Taguchi, and shares a passion for building crazy-cool cars. If you needed proof, Ai-san's latest project is it.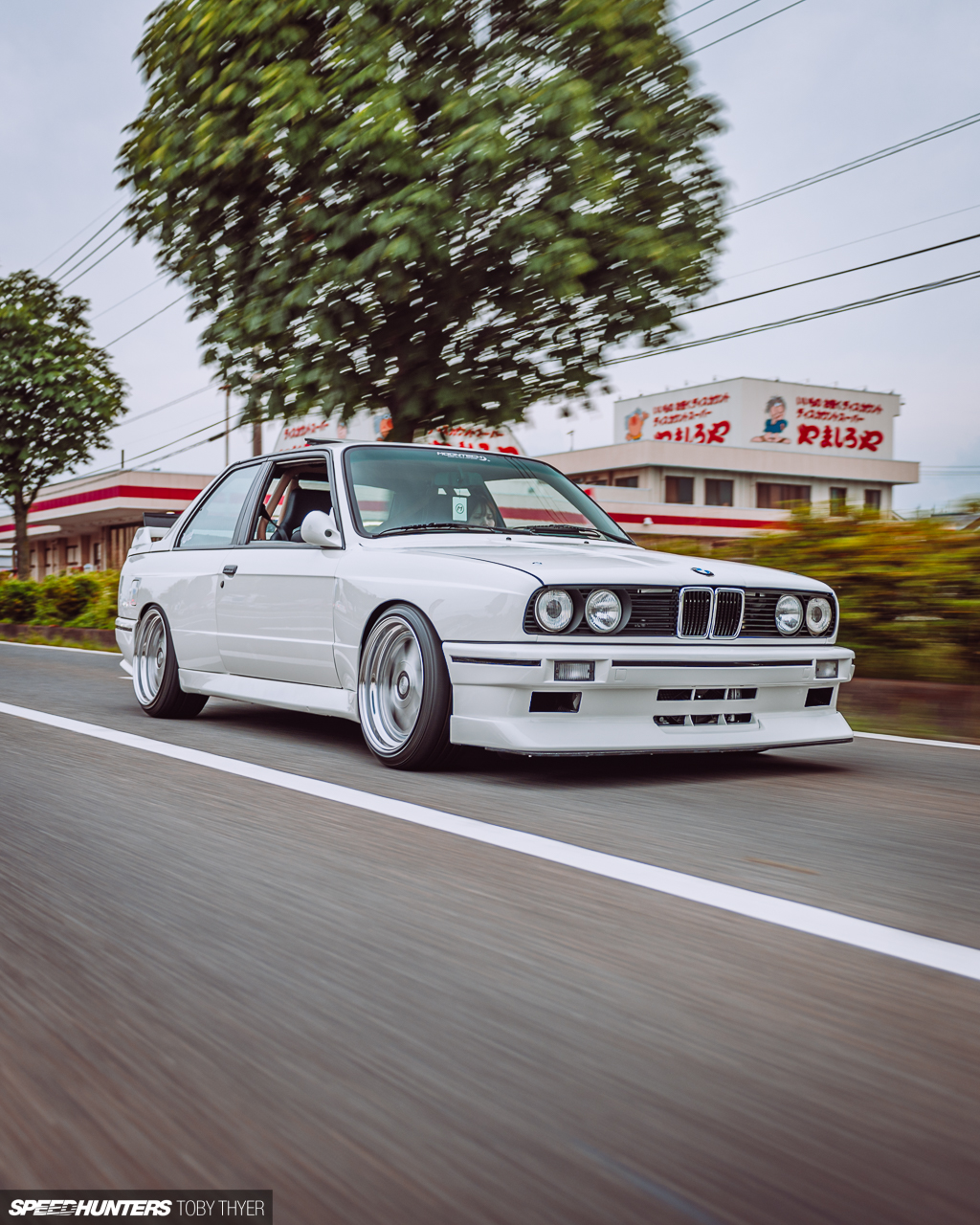 Custom car building is one of the most unnecessary hobbies out there. Playing squash keeps you fit, chess keeps your mind sharp, and quilting keeps you cozy in winter. They're all worthwhile ways to spend one's free time and hard-earned cash. But building cars? No one needs a 1,000hp Fiat Panda. And there is no reason for anyone in their right mind to shoehorn a Big Block Chevy V8 into a Mini or make a full motorbike drive the wheels of a Daihatsu Hijet kei van from the inside (look out for Michal's forthcoming feature on 'Kevin'). Even the people who build these things have no excuses. 'Because we can' is the typical justification of such automotive-shaped tomfoolery.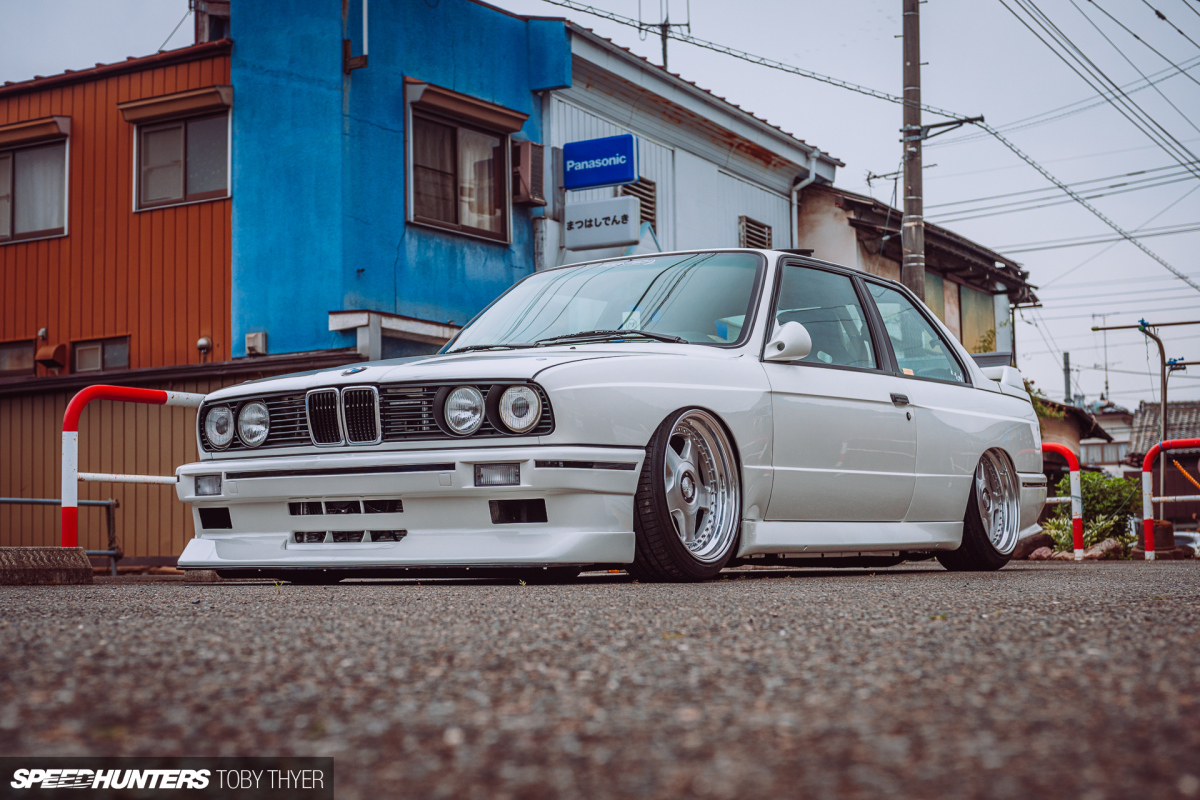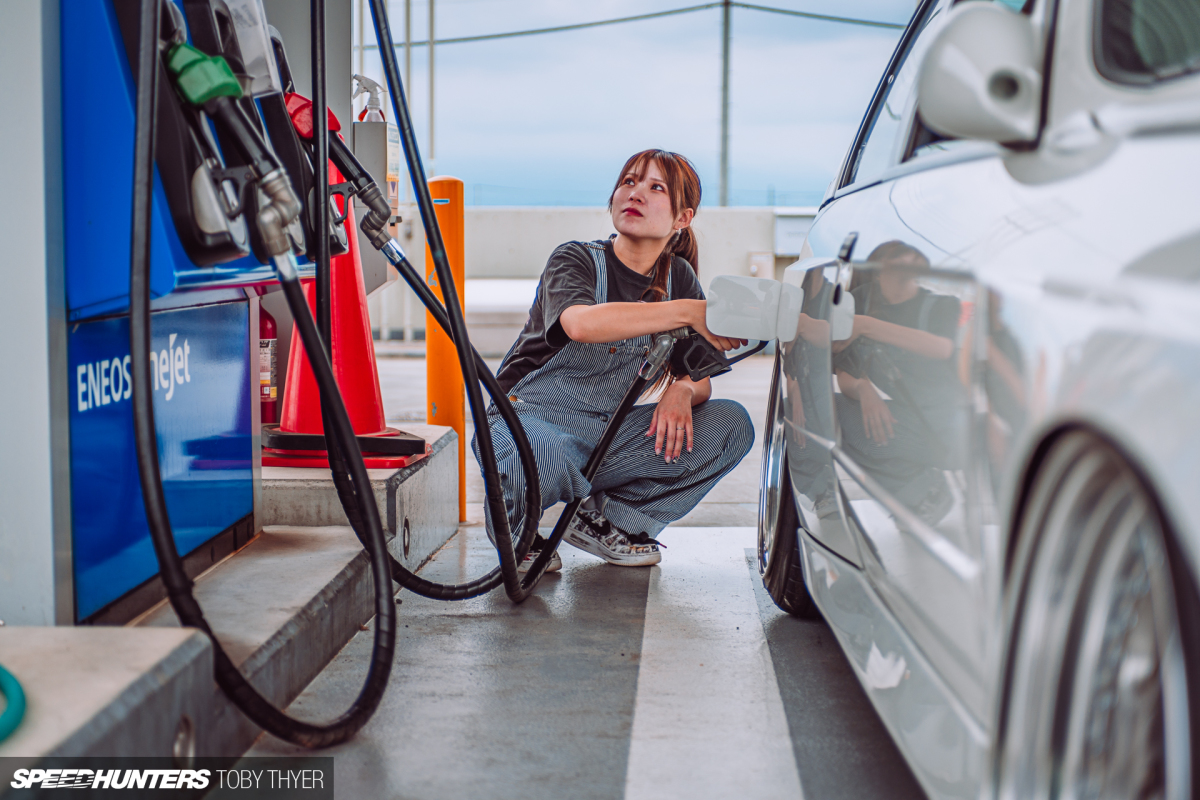 But custom cars make us happy, and regardless of whether your build budget is under $1,000 or over $100,000, the joy they bring makes them totally worthwhile.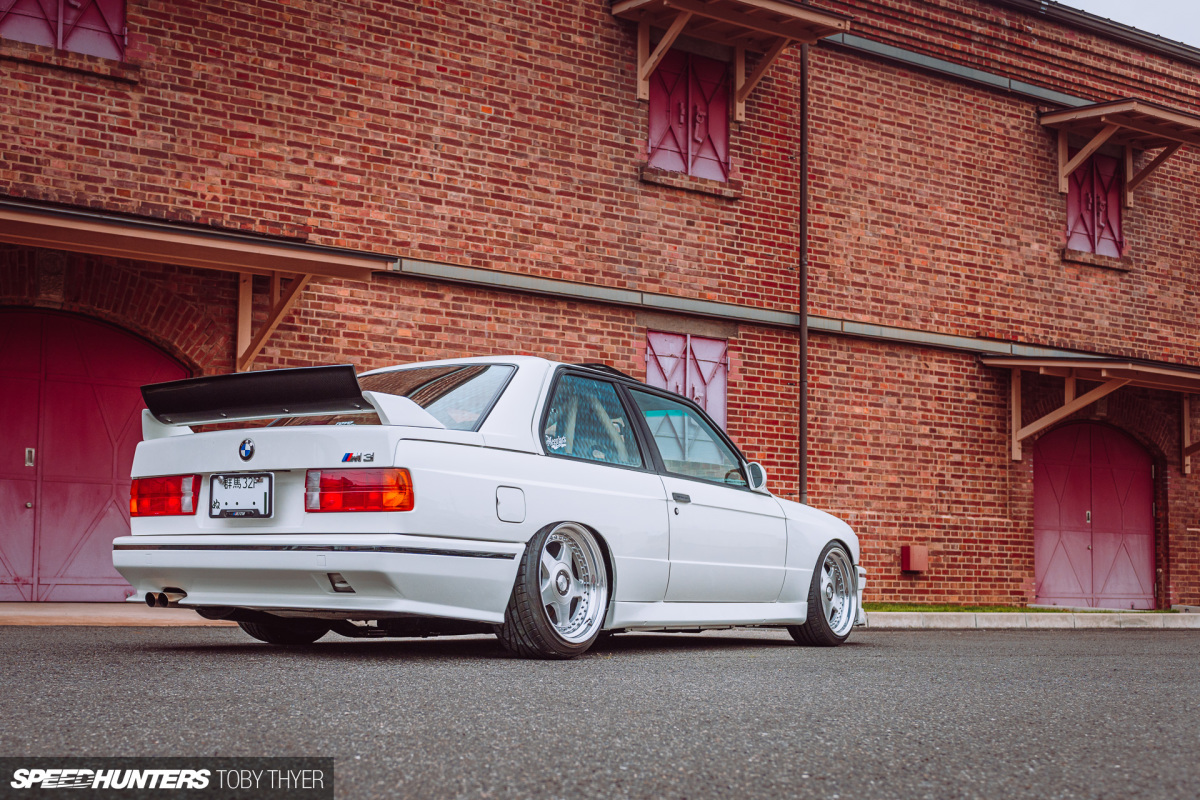 Of course, it's all well and good to invest your time and money into cars when you're young, single and leading a carefree life, but what happens when the pitter-patter of tiny feet casts a monstrous shadow over all the fun? For many, settling down means growing up and selling all their silly toys for security and stability.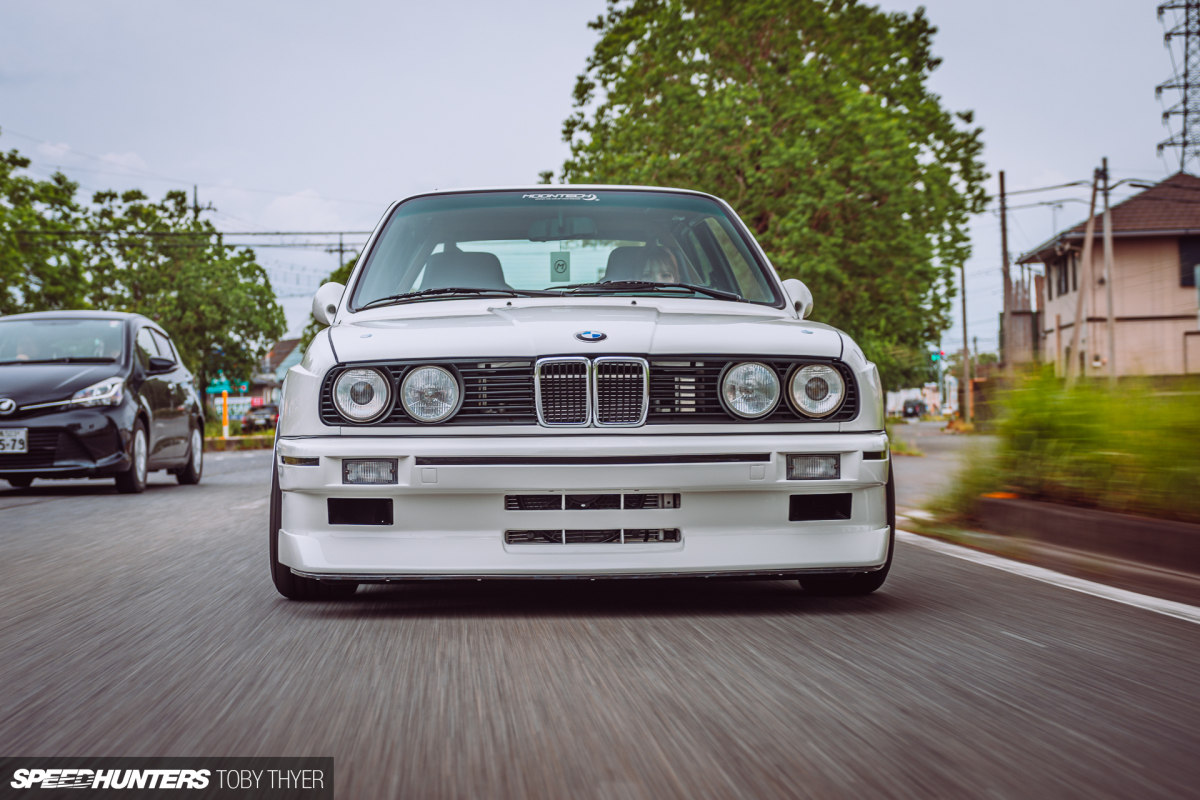 On the face of it, it can be a sad day when you have to trade in your performance car for a pushchair, but pouring cash into an oversized toy hardly screams 'responsible family member'. Unless of course you are lucky enough to have your cake and eat it. I'm not sure whether the baby or the car is the cake in that analogy; I'll let you decide and reflect on your own morality.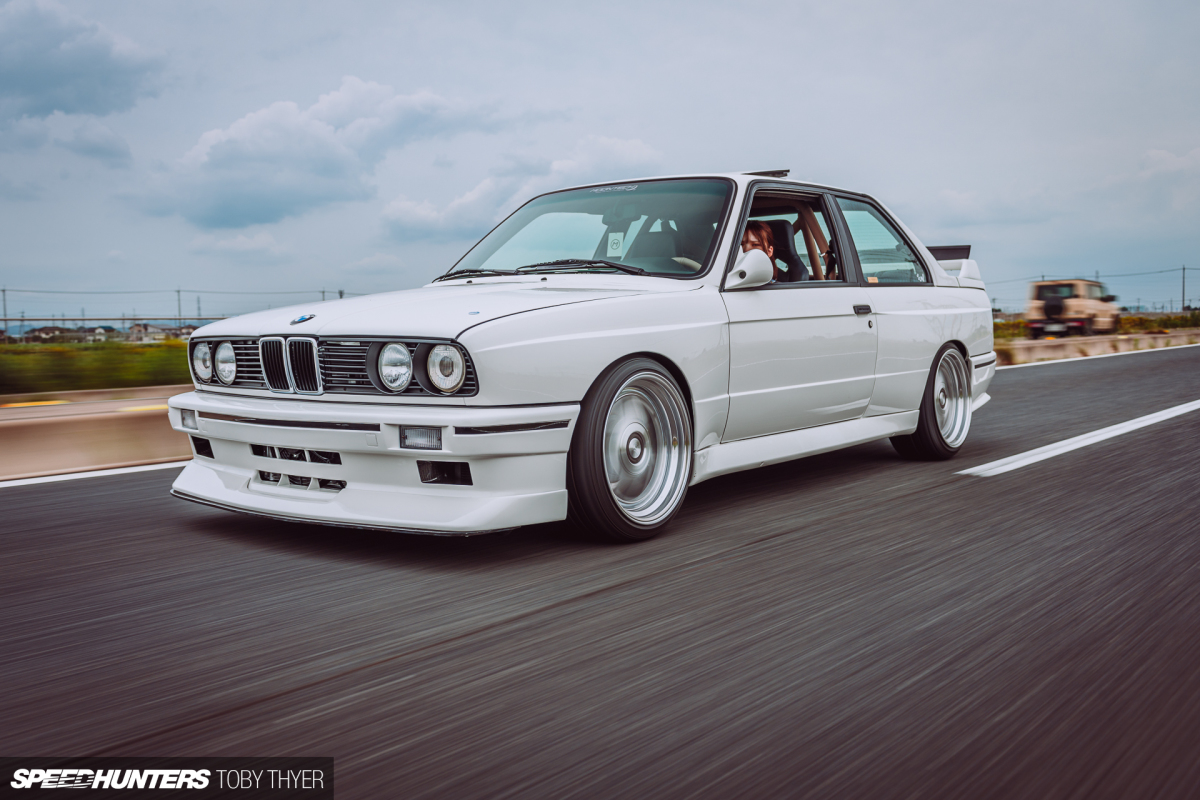 This seems to be the case with Ai-san and Hikari-san. They are lucky enough to be in the position where building custom cars and raising a family go hand in hand. They've got the logistics all worked out pretty nicely too.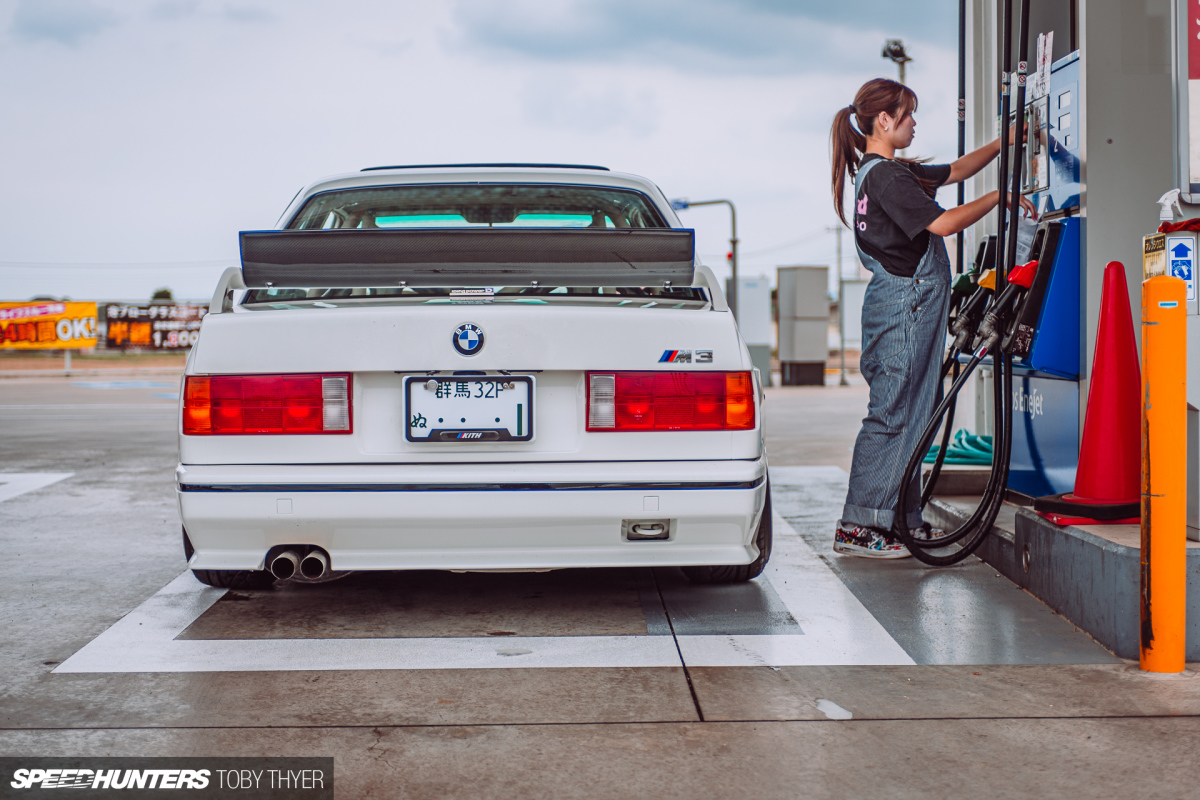 Each has their own toy – Ai-san this fresh E30 M3 build and Hikari-san his Porsche 964 C2. But both toys are coupes, so how do they do their grocery shopping with a toddler in tow? A bagged G21 BMW Touring of course. It looks the business and easily fits a month's worth of baby supplies in the back.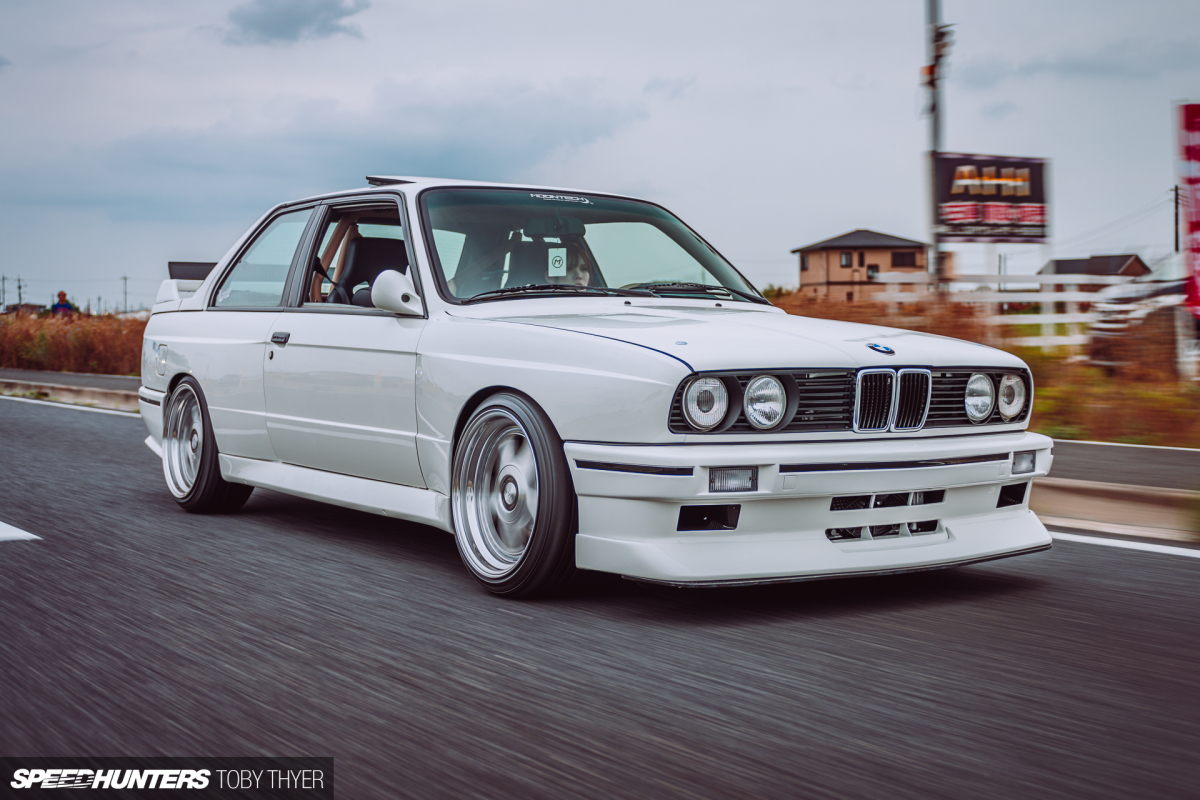 Moontech custom builds generally share a common theme: they're elegantly cool, luxurious and tastefully executed. Ai-san's M3, which was finished just in time for Wekfest Japan 2023 in May, is no exception.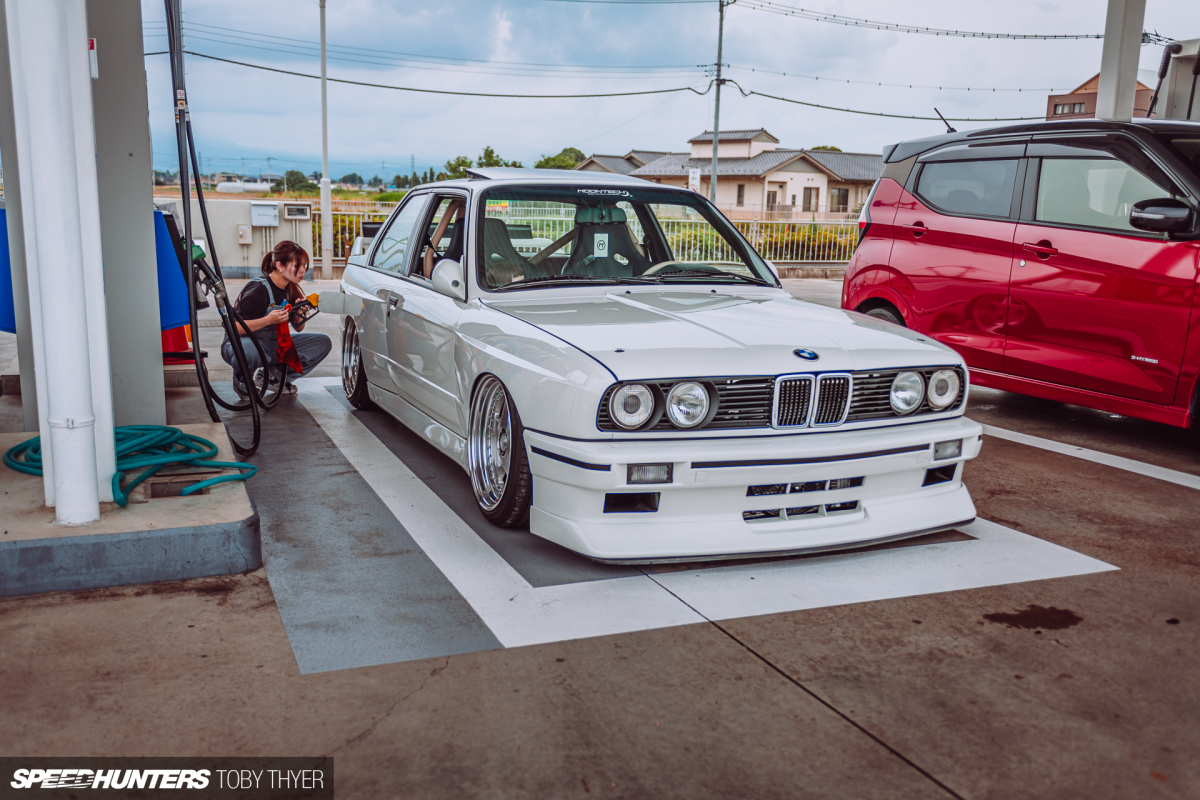 We saw Moontech's wilder side with their 450hp LS-swapped E36 BMW M3 back in late 2021, and while that car shares some visual similarities with Ai-san's E30 build, BMW purists might be slightly less offended this time around.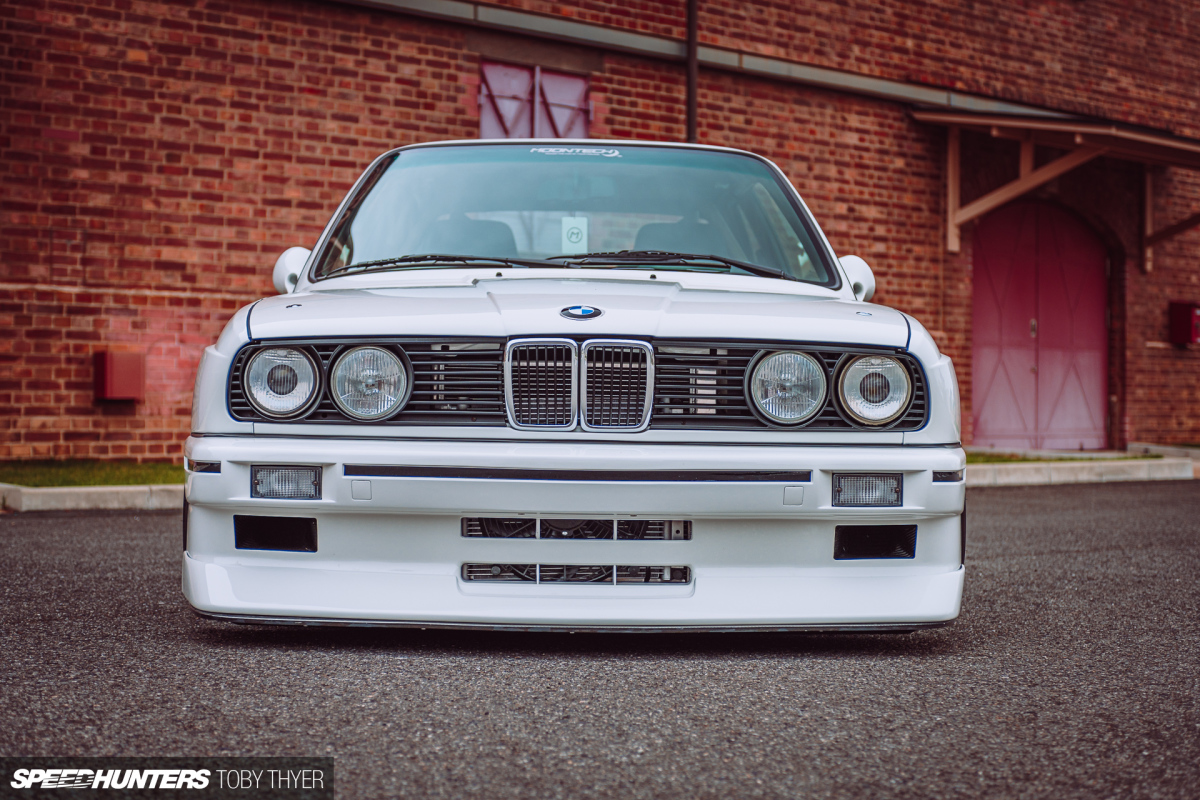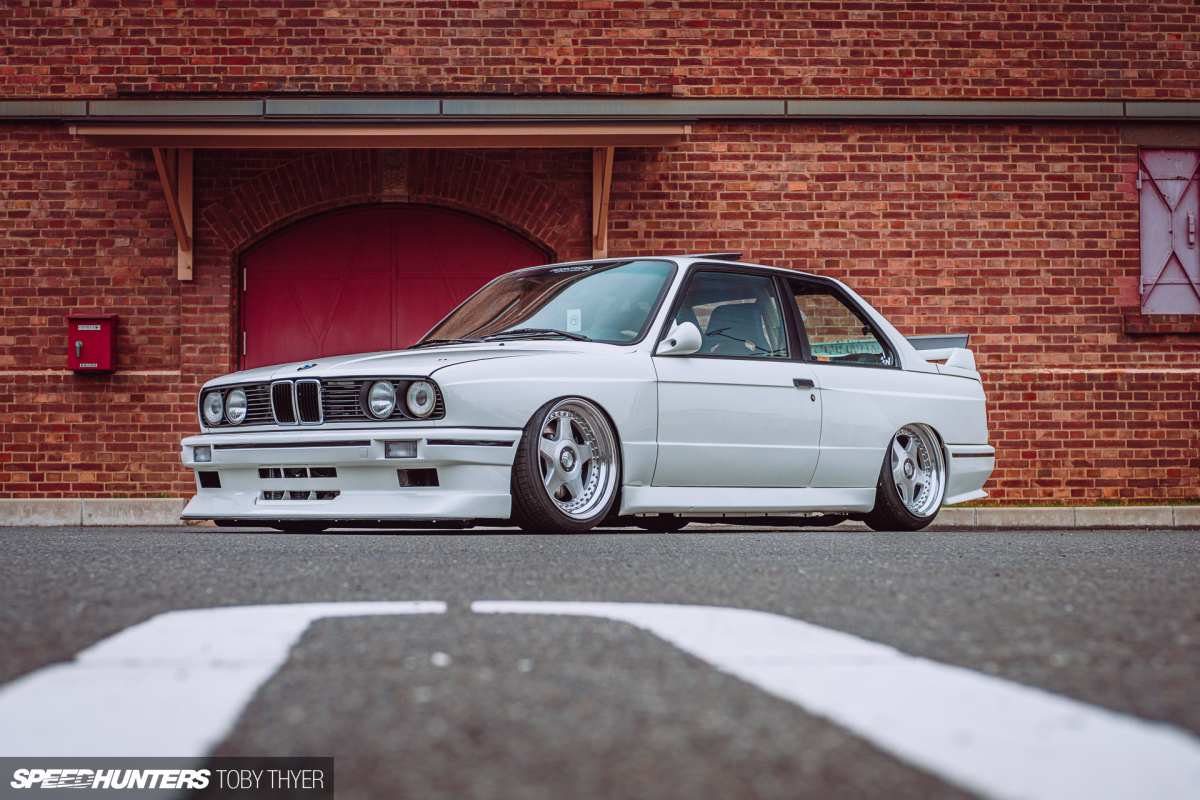 We'll get to the reason why in a moment, but first the exterior, which sports a number of genuine BMW DTM/Group A homologation and competition parts. There's a DTM carbon fibre rear wing and DTM mirrors, plus an Evolution 2 front spoiler in the mix. Aftermarket parts have been kept to a minimum, but you might have spotted the cheeky carbon fibre lip under the front air dam to balance things out.
OZ Racing Futura wheels never go out of style and here they're used in a 17-inch fitment with deep barrels. A combination of Air Lift Performance suspension and stretched Toyo Proxes Sport tyres provide a tight tuck under the M3's factory-pumped fenders. Wilwood brakes – featuring giant 6-pot callipers at the front end – ensure plenty of stopping power.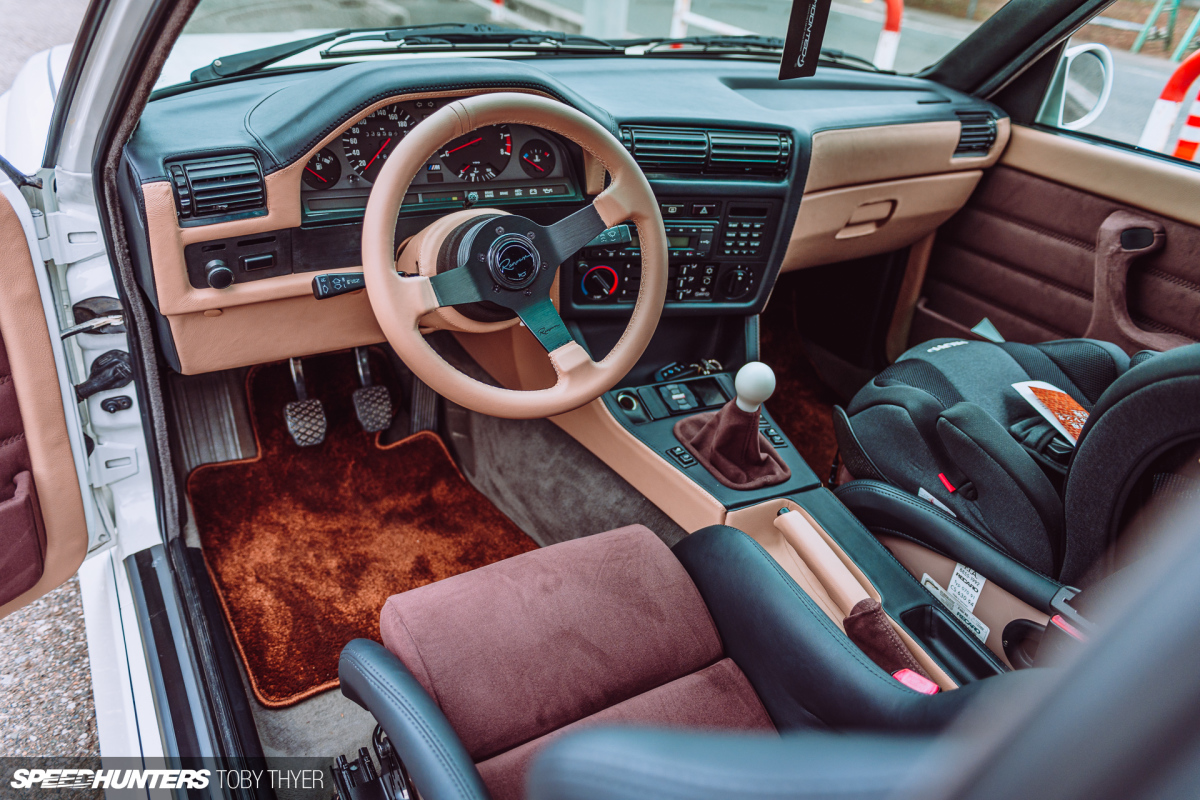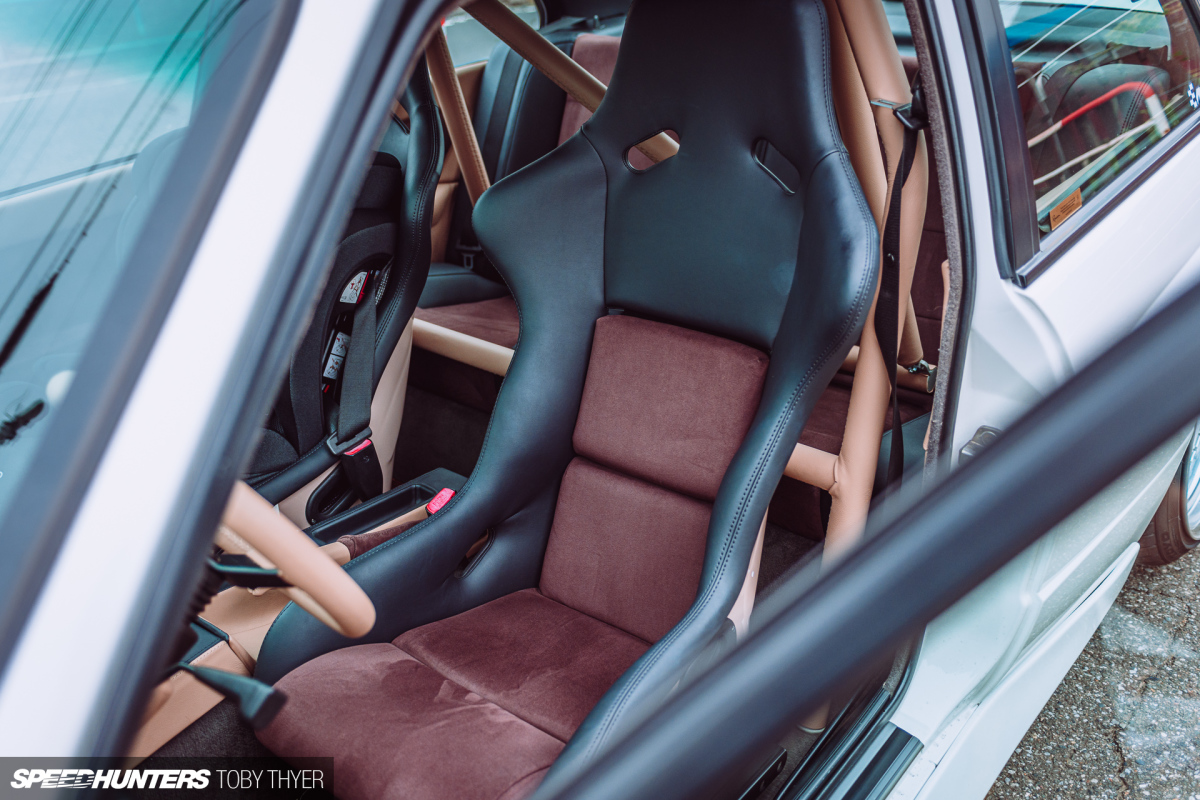 Moontech interiors never disappoint. Ai-san's car features a half roll cage and Recaro Profi SPG seats to set a race tone, but an extensive re-trim in leather and Alcantara elevates the cabin to another level. Not even the roll cage bars were spared the custom trim touch.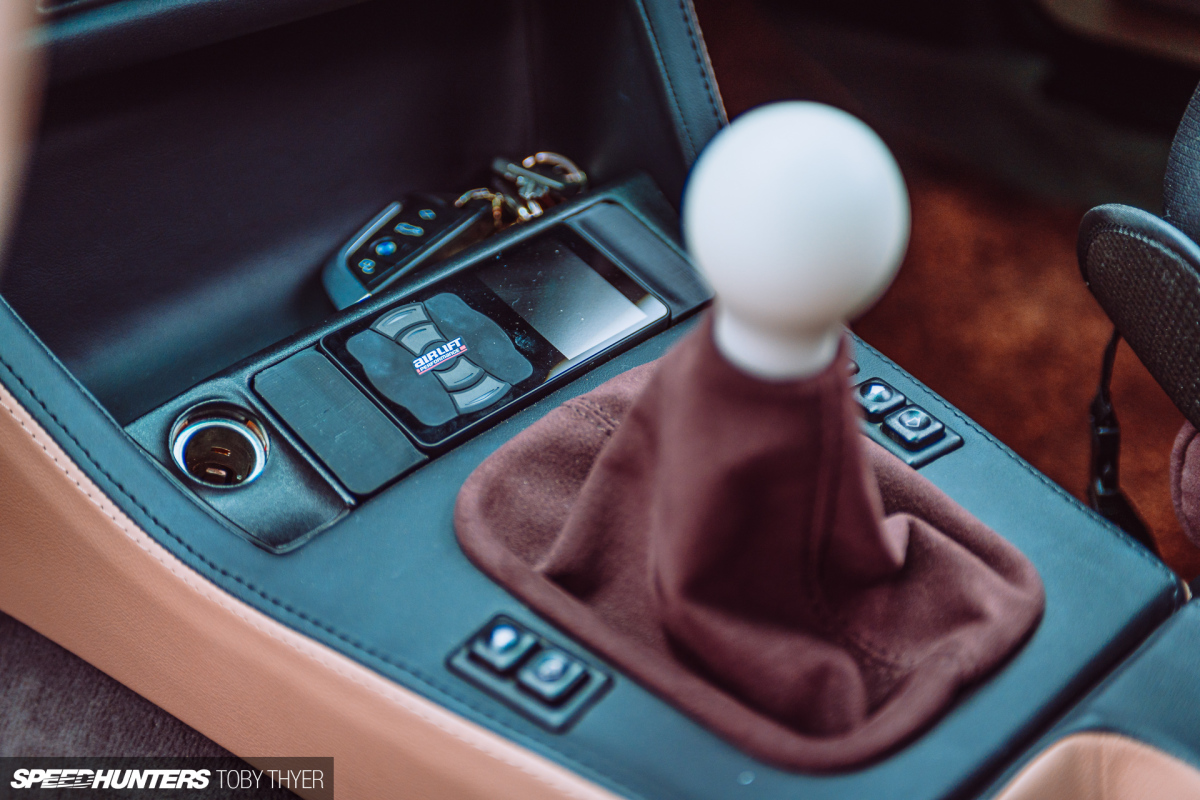 The interior is now also home to a Renown steering wheel, the Air Lift Performance controller and, for the time being, a Recaro J3 Neo Cosmo booster seat for the youngest Taguchi.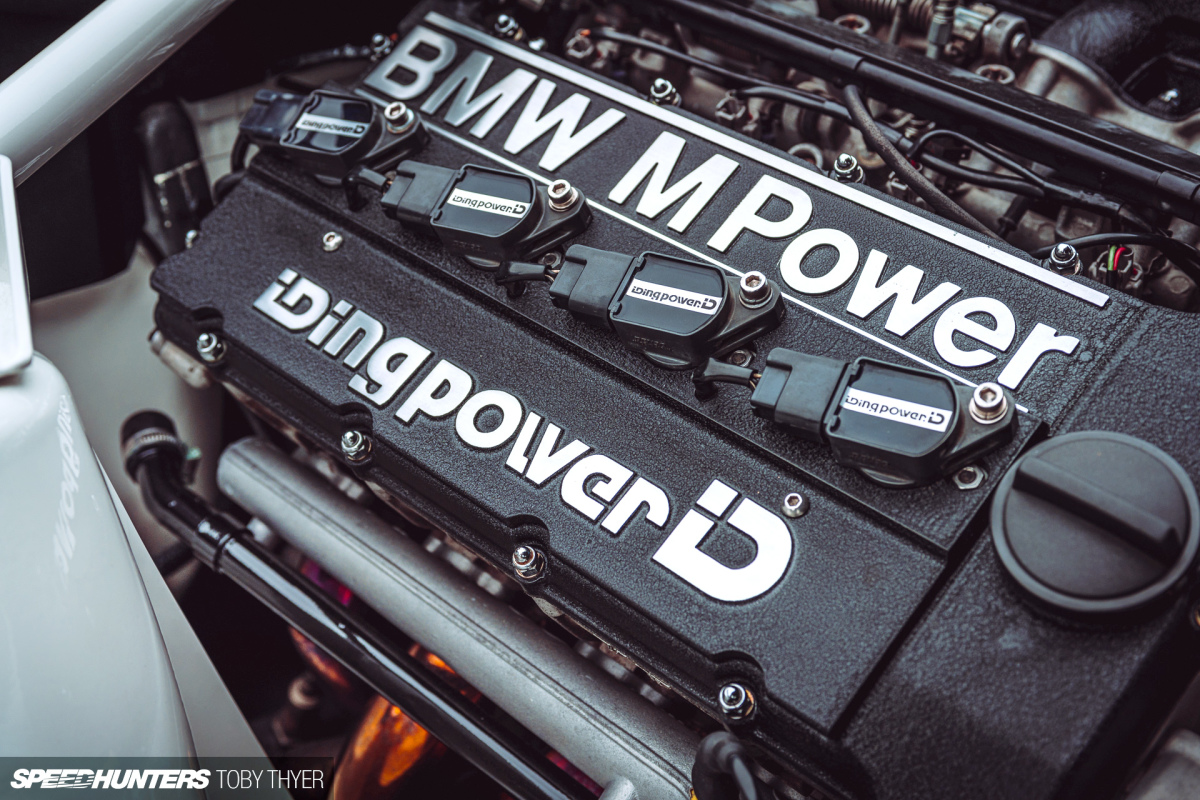 If Ai-san's M3 wasn't cool enough at this point, it's been gone and made extra special with a sprinkling of iDing Power magic.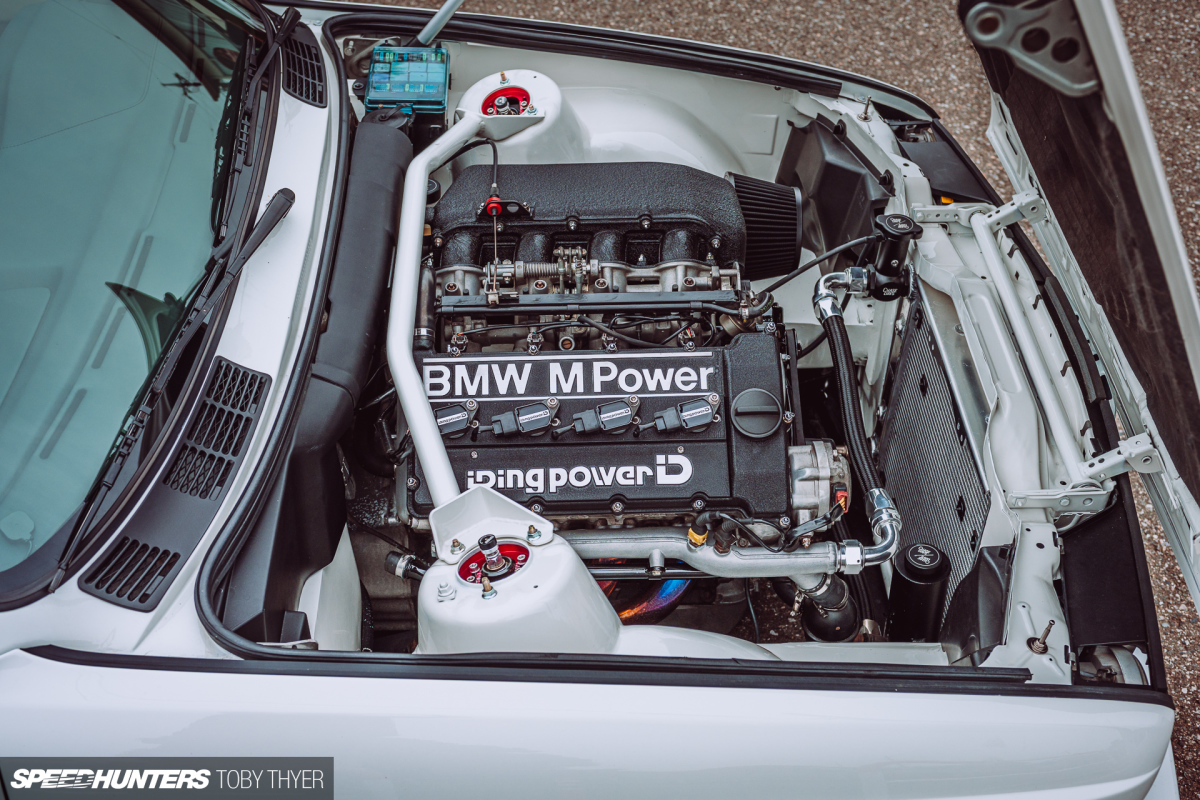 I'd love to tell you about all the bits that have transformed the BMW's 2.3-litre S14 engine into a 2.5-litre 'M3/S2+', but iDing Power aren't ones to divulge much when it comes to how they do things. All you need to know is that the 'Stage 2+' package builds on what BMW's M engineers created in the S14, both in performance and the way it sounds. It also sits in a very clean engine bay.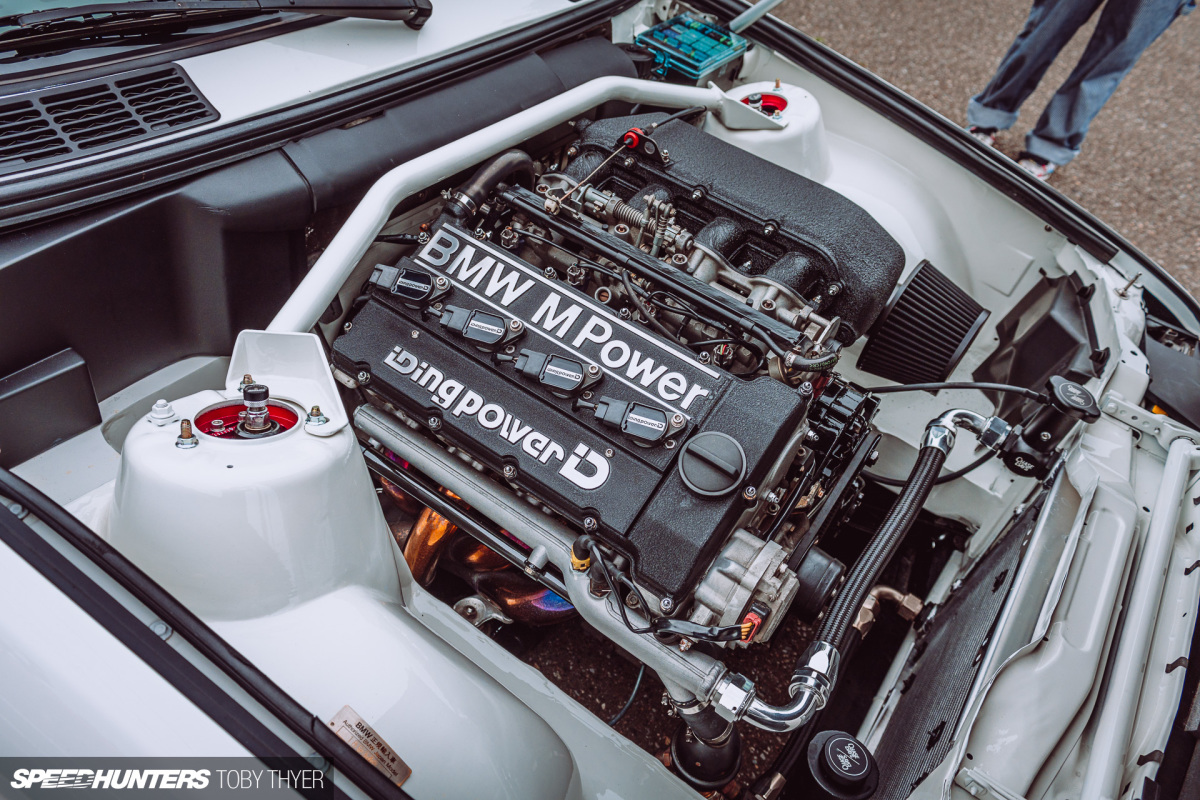 There are obvious intake, exhaust and ignition upgrades, plus the internal work needed to stroke the engine from 2.3L to 2.5L. Overall, the package fits perfectly with the custom nature of the car, and without veering too far from BMW's original script.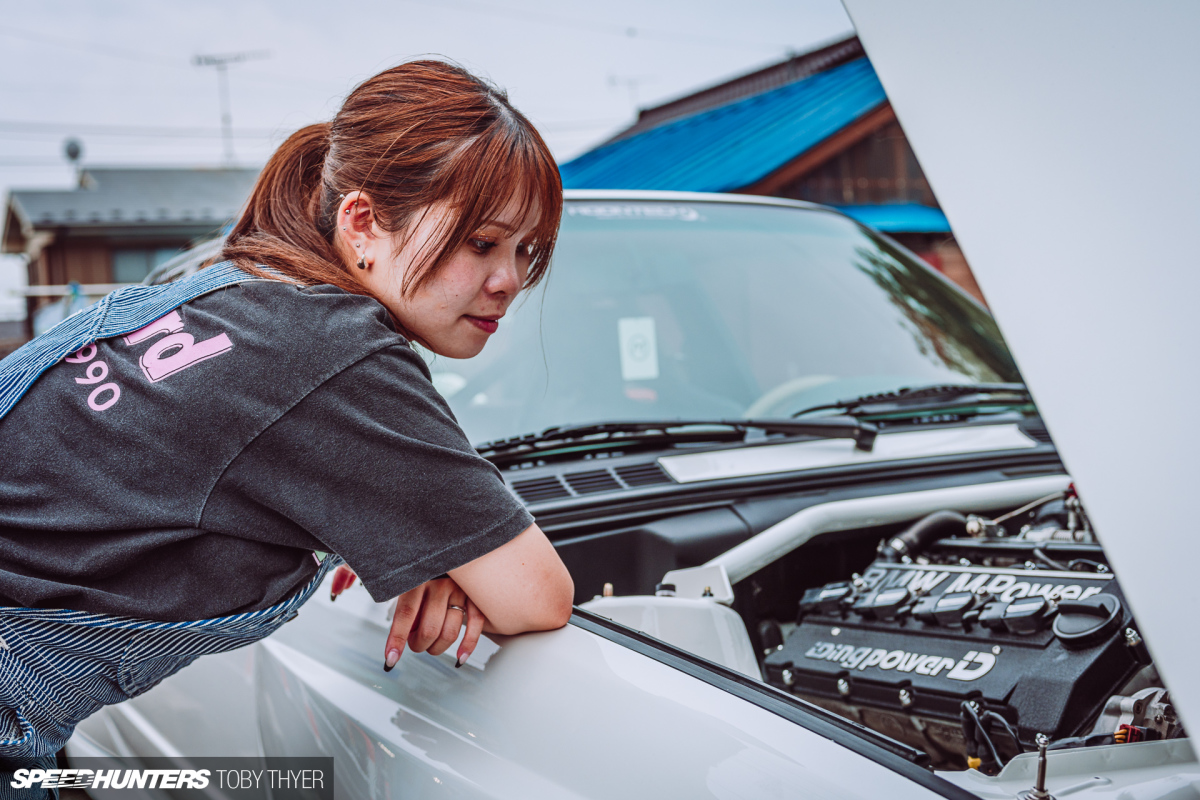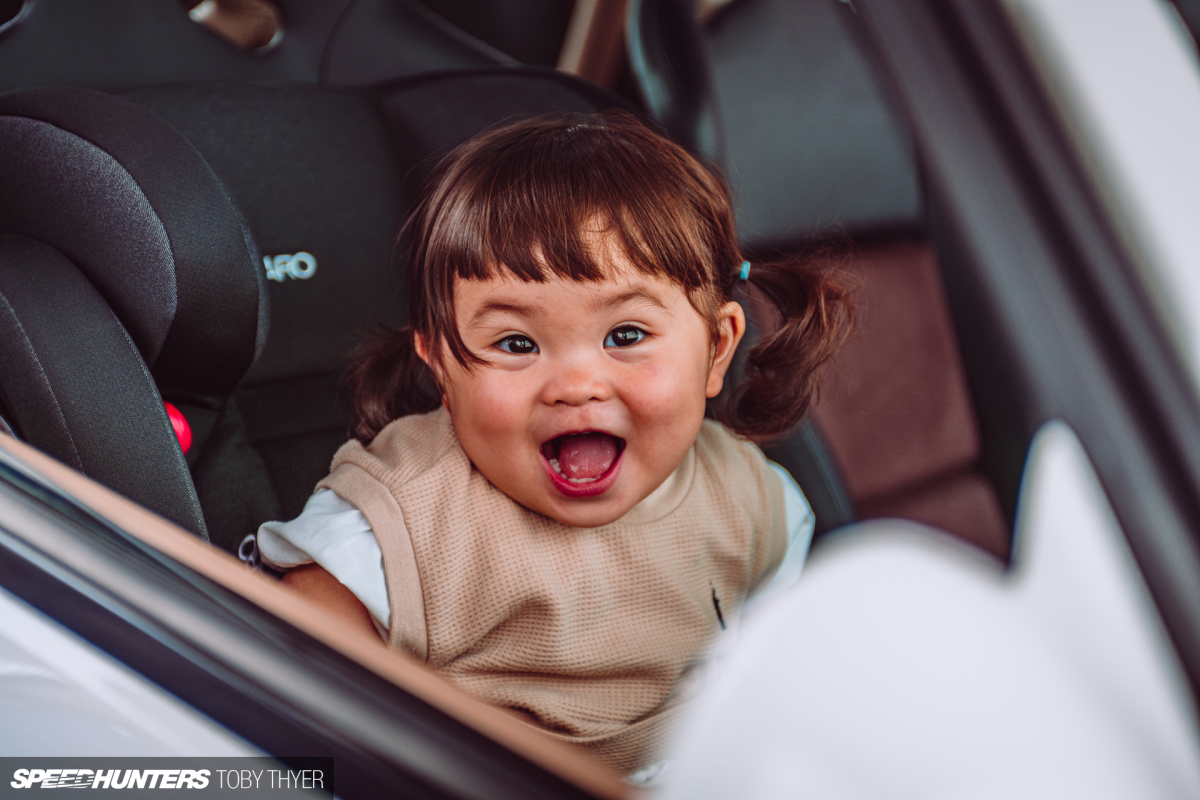 The Taguchis may not be your average 3.1-person family, far from it in fact. From the outside looking in, it seems like they have it all – a three-car garage and new member in the family to bring the kind of smiles that even a 1,000hp Fiat Panda would have trouble eliciting.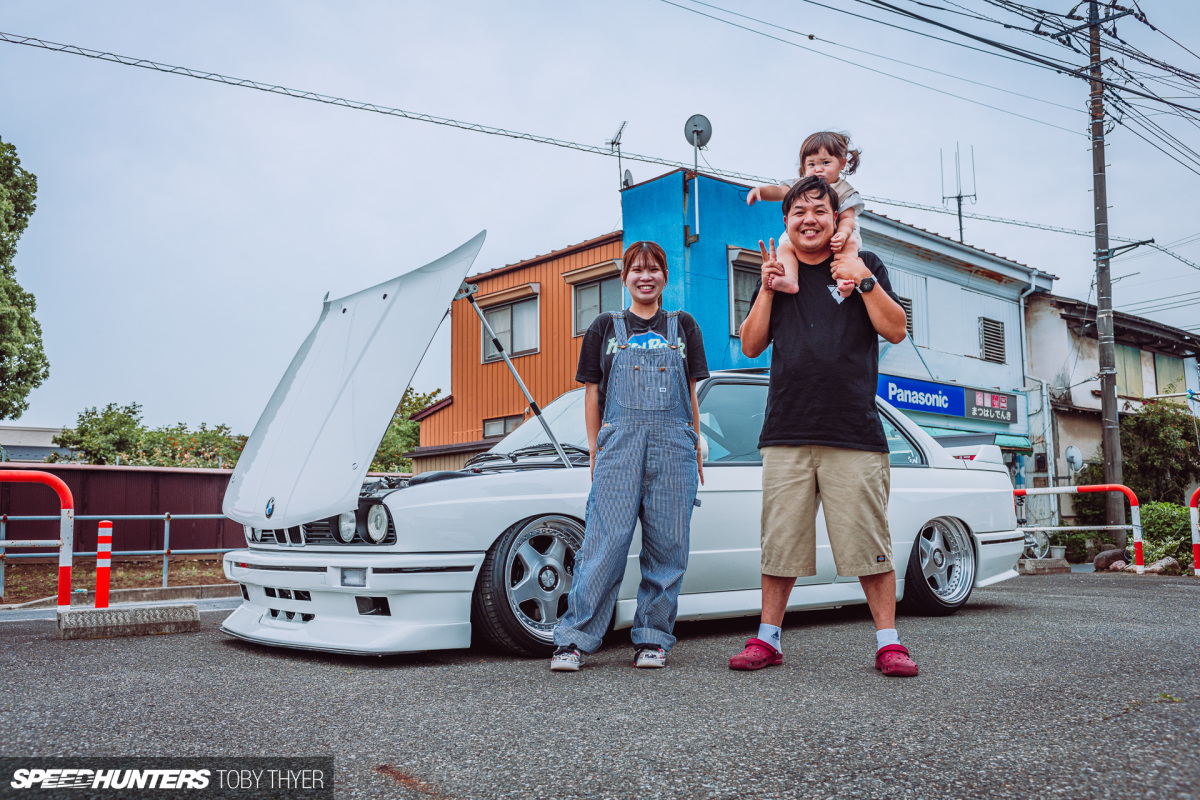 For those of us with limited budgets or partners who aren't onboard with the custom car hobby, we can only dream about the perfect family. Although, I didn't ask Ai-san if they have a dog, so maybe, just maybe, the Taguchis don't quite have everything.
Toby Thyer
Instagram _tobinsta_
tobythyer.co.uk