Tesla is now charging much less for non-peak EV charging at some of its Australian Superchargers.
At Fortitude Valley in Brisbane, non-peak charging is being offered at $0.48 per kWh compared to $0.69 per kWh during peak periods. Others, including Broadway in Sydney, are posting $0.43 per kWh, although it appears the rates may change day by day.
The new variable pricing is likely being implemented to encourage drivers to charge during non-peak times in order to take some of the pressure off the network. It was picked up on a social media discussion group, from where some of the following screen shots were taken.
It is becoming increasingly necessary as the sales of Model 3 and Model Y  EVs reach record highs, with the Model Y now becoming the best selling SUV of any type in Australia.
Queues are growing at peak times, as this screen shot of the Broadway supercharger indicates. It appears most of this off-peak charging is being offered in city superchargers, rather than in country areas.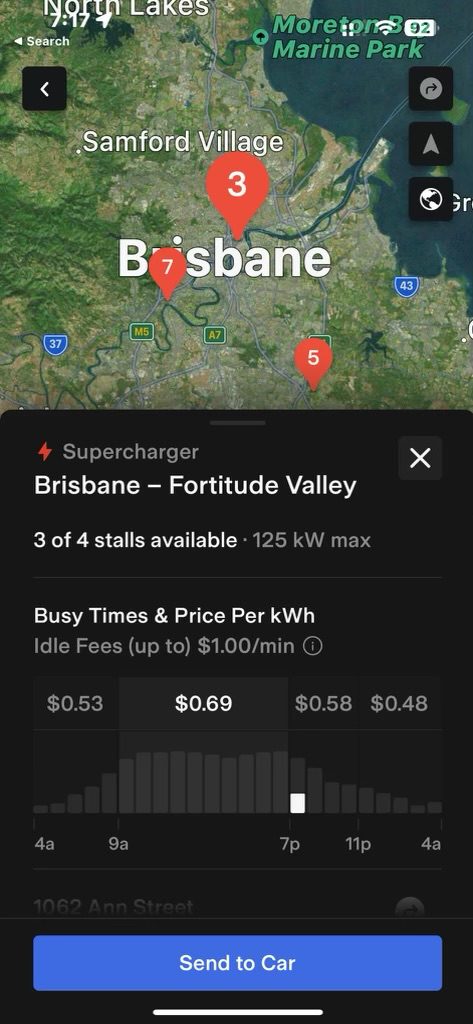 At Indooroopilly, also in Brisbane, peak charging cost $0.54 per kWh while non-peak was priced at $0.43.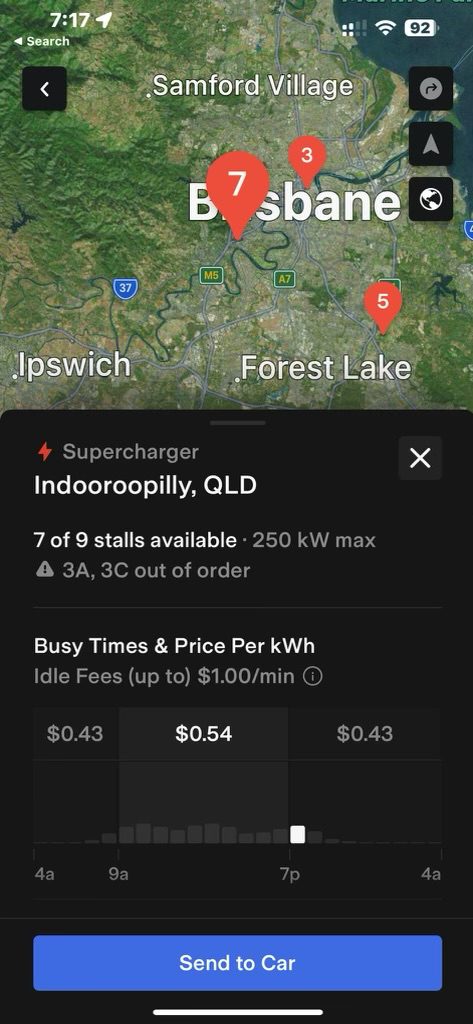 Its unclear whether Tesla has used variable peak and non-peak pricing before, although it has for several months offered lower prices at certain times. The display of when pricing is cheaper – along with average time of usage – appears to be a new development designed to help "flatten the curve" of popular charging periods.
Tesla isn't the only one trying to optimise the charging network. Chargefox recently announced that it would begin trialling idle fees in July at selected charging stations in Western Australia.
Chargefox says idle fees will free up charging stations and reduce waiting times and congestion at popular charging spots.
"Idle fees serve as a gentle reminder for EV owners to be considerate and free up charging stations promptly. They promote a sense of responsibility and encourage drivers to practice courteous charging habits," said Chargefox in a statement.
"This not only enhances the overall EV community experience but also fosters a positive charging culture that considers the needs of all users."
Its unsure whether Tesla has used variable peak and non-peak pricing before but it seems like a great way to help "flatten the curve" of popular charging periods.

Daniel Bleakley is a clean technology researcher and advocate with a background in engineering and business. He has a strong interest in electric vehicles, renewable energy, manufacturing and public policy.