Overall, my experience had been a good and satisfying one. The bike is taken me to many places and thanks to it i have made many new friends and memories which i will always cherish.
BHPian nasirkaka recently shared this with other enthusiasts.
Yesterday I completed 50,000 kms on my BMW G 310 GS, hence the thought to share a small write-up followed by photos of our bonding over the last few years. This is not a typical review but capturing the essence of time spend together with the bike and memories created.
Mine is the first lot bike from the 2018. The purchase story goes like this. I had bought as versys 650 in 2016 with the intent of touring. In late 2016, i suffered a heart attack which turned the life upside down. Lucky to survive and post some months of rehabilitation and recovery, slowly tried getting back to biking. Versys felt too big a bike for my condition and long tours were out of bound. I was looking for a smaller, lighter & comfortable ADV bike and there was not much in-terms of choices available. I had tested Himalayan and did not like the engine. 390 Adv was under the longest of speculations. Xpulse felt too puny downgrading from the versys 650. I had the first gen Duke390 at that time which kept me going for a year or so. Thata when the 310GS was launched and it fitted my requirements well. I was sold on the looks of the bike and a small test ride convinced me to book one. I knew the price was on the higher side, but desperate i was for a small adv bike so went ahead anyways.
The bike was delivered sometime in August of 2018 with a big fan fare. Bangalore BMW dealer Tusker Motorrad was delivering some 40 odd bikes together with festive galore and celebrations including snacks, cake cutting, AV show,talks by BMW reps and the usual hype. As customers we did feel special at that moment only to realist the farce later. Post delivery we were all made to ride in a formation around the city. So that is how the bike came home.
Initial ride impressions are well covered in couple of BMW 310 thread which were very hot at that time. I remember i was very active on those threads sharing ride impressions, issues, niggles, service stories, accessories, modifications, pictures, etc etc. In general, i was very happy with the bike and loved its looks, stance, ergonomics, suspension and hated the service experience. First couple of years of ownership and i rode the bike everywere around Karnataka and Tamilnadu with a few trips to kerela and Goa. Most of those ride experiences and pics are well covered in the 310 thread. In essence, i was enjoying my time with the bike and except a few niggles here and there the ownership was mostly a pleasant experience.
Then COVID stuck and life changed for all. Post lock-down, slowly started small bike rides around Bangalore and realized there are so many interesting trails to be explored. That is the time we also got an Xpulse 200 home. I also had an Interceptor. So the riding time was divided where i started using the xpulse more for the weekend trail explorations and interceptor for the highway rides. 310GS started taking the back seat. Mind you, for a requirement of a multi-day mixed travel case comprising of highway, bad roads, no roads, off roads, trails etc, 310GS would be the 'go to' bike for overall reliability and peace of mind.
Last evening, i realized that i have owned 10 bikes since i started working in Bangalore and this is the first bike where i have crossed 50K kms. Rest were mostly sold in their 30s and 40s.
Not going into the usual details, let me share my thoughts in points on crossing this 50k milestone…
A bike which i still enjoy riding after 5 years of ownership and it still surprises me with its capabilities every once in a while.
One bike where i have not made any seat modification. (never felt the need)
Still love the stance of the bike and its presence. Makes me turn back to have a second look while walking away after parking.
Soft and supple suspension is one of the best features i like, as bike glides over bad broken patches. Must add here that after riding xpulse with a firmer suspension, for 12k kms, i have come to realize that soft suspension is far from ideal over technical terrain and large undulations, rocks, boulders, ruts, etc. That is one of the reasons i would pick the xpulse for such rides. Light weight being the other.
Solid mechanical build with good quality parts. I have subjected the bike for fair amount of abuse and the bike is held itself pretty well. Countless amount of falls, jumps, creators and potholes later, all panels etc are holding together fine. No rattles, squeaks etc. not dents of deformations on alloys. Give it a good wash and its as good as new. Well almost. (I am not a TLC freak, just lube the chain and ride)
Brings me to the point that even chain does not need frequent adjustment. Just lube it and forget it.
Service interval of 10K mostly means we dont have to re-visit service station in between. Yes, the bike holds well for those many kms of mostly rough riding.
There were electrical issues with initial lot BS4 bikes with battery and alternator issues, but touch-wood, my stock alternator is holding fine so far. The stock BMW battery died few years back and i replaced with Excide of similar size and specs and its been holding fine so far.
One main mechanical issue i have had and not just once but twice, is broken spring for the return gear shaft. Could be my way of shifting.
Halogen bulb is fused twice and i am on my third one, thanks to the shaky headlight assembly and all the off-roading.
Stock chain and sprocket lasted around 37k kms and still had life, but i changed it to Rolon anyways.
Am on 3rd set of tyres now.
Switches, plastic panels etc are of very good quality and still feel like new.
Gear box was very smooth initially but last year or so the gear shifts have become rough and hard, especially 2nd to 1st.
Vibrations have always been a part of the bike, and keep shifting from handlebar to tank to seat to foot-pegs depending on if i install a center stand to an aftermarket exhaust of different weight to varied tightening of the engine and tank guard. Many factors affect the vibes and at different rpm, but i have learnt to live with them.
Post warranty period, i stopped going to Tusker for service, TBHP is full of their infamous stories. Getting the bike serviced outside is fairly easy with TVS RR310 proving all the necessary cycle parts.
During these last 5 years, i have tried many alterations to the bike such as an Akra full system exhaust, smaller sprocket, slipper clutch integration, etc and i guess some of these mods have not gone as desired, adding to some of the issues i have had.
Ok, enough of nitpicking. Overall, my experience had been a good and satisfying one. The bike is taken me to many places and thanks to it i have made many new friends and memories which i will always cherish.
Just to summarize the long term ownership:
Likes:
Gorgeous looks
Supple Suspension
Sorted Ergonomics
Superb build quality
Easy to sand and ride
Dislikes:
Vibrations at various places
Feels under-powered for a 33bhp bike
Lack of center-stand
shaky headlamp assembly in BS4 variants
Service experiences
Alternatives that were considered:
Himalayan: Lack of engine refinement
Xpulse: too tiny of an engine which again is not too refined
Versys 300X: too expensive
On-road price
Bike costed close to 4.5L on road in Bangalore and some accessories were extra. The initial lot felt cheated as within less than a year the prices were slashed by a lakh.
In the name of freebie, we got a bmw branded backpack from Tusker. It was so so bad in quality, felt like a badly made local bag with bmw logo screen printed in kalasipalya.
Extended warranties & service packages
Bike came with 3 years warranty and i did not opt for extended package as if an engine can last for 3 years, it will mostly last for more.
Safety, electronic riding aids & related equipment
Bike came with dual channel ABS which has a dedicated switch to switch it on or off. That was enough for my requirement. The new lot comes with many added features like eide by wire, slipper clutch etc.
Accessories installed
handlebar riser from Rox – 2.5″
USB outlet
Aux lights from Rigid
Engine and Tank guard from Adv tribe
Tank side grip from Aliexpress
Lower and wider footpeg from SWmotech
Barkbusters
Louder horn
Tank bag ring
Center stand from SW motech
Top box from hepco
Your usage pattern
50% city daily commuting to work
50% leisure rides (25% from that would be trails)
Styling & design
Guess i have said enough. Its a nice looking and well proportioned bike. looks more like a middleweight then a 300cc single.
Seat height and how it may or may not suit short / tall riders
Seat height is slightly on the higher side for average Indian height. felt this more so on the trails where a missed footing means a fall is almost inevitable.
Visibility & size of mirrors
RVMs are of good quality by themselves and offer a good rear view. Infact they look very similar to size and shape of mirror from GS1200. They do vibrate at certain RPM due to the vibey nature of the thumper.
How are the headlamps?
they do a decent job illuminating the road, but they bob up -n-down like dodo bird which we need to fix with some local 'jugaad' and learn to live with it. Not a big deal over time.
Storage & practicality (including under seat storage). Can it carry the papers? How secure is it?
There is some storage space under seat for basic documents and then there is some space on the side of under seat cowl where we can tuck in small items. some space which is easily accessible, to tuck-in a cleaning cloth would be helpful, esp post rain, to wipe the seat, RVMs etc.
Any other unique or noteworthy points
Good quality of mechanical cables. I am still running on stock clutch, accelerator and brake cables.
Engine performance & drive-ability in the city
This is a good 'jack of all" bike. Does city commuting very well with good posture, good visibility of street and in good comfort. its not to bad to weave around the traffic as well in the right hands. The engine heat is well controlled, but last one year, i feel the heat is a bit more in B2B traffic compared to when bike was new.
Engine performance & drive-ability on the highway
Highway performance is acceptable but some power power would have been ideal. Also at higher RPMs/ speed the buzzing on the pegs and around tank is a bit irritating. Braking is another area where it feels adequate but not he best in the business. Some improvement in braking would do no harm. Seat is comfortable enough to sit for 6-7 hours beyond which it starts to pinch a bit. The shape is such that there is not too much space to move back and forth esp for a rider with generous girth. There is a rising tank in front and a step-up seat at the rear.
Exhaust note – satisfying? Not so?
Its nothing to write home about. Not too bad but not as good like a mojo which is my yardstick for a good sounding single of around 300cc, and i am not including long stroke bikes like Enfield 350, highness, etc.
I had also got an Akrapovic full system exhaust which made the bike really loud. I would have kept it if it made any visible difference to the power, but it did not and was too loud to retain. Had a tough time selling that, and eventually someone from Nepal picked that up for some racing project. Thank God for Olx, recovered half the cost atleast.
Gearshift & clutch (smoothness, effort required, light or hard clutch etc.)
This is one area where i was very happy initially to an extent that i kept praising the gear shifts in all my initial posts on the thread. But over time, the gear shifts have been hard and not as smooth esp between 1-n-2. I have tweaked around with some mods like retrofitting a slipper clutch, not sure if those have affected the smoothness negatively.
Overall NVH levels (including engine vibrations & wind blast)
NVH levels are acceptable under certain speeds and RMP but get a bit harsh towards the top end. I have dabbled with various windshields from Aliexpress to pro-spec to self made ones and they do help to various degrees. These days, i have gont stock to bikini fairing and happy with the light visual mass at the front.
Fuel efficiency: City and Highway
Have never bothered to check in great detail, but tried full tank to full tank method many a times and bike averages around 30kmpl.
Fuel tank capacity & range.
A full tank does about 250 – 260 kms before the low fuel warning light starts glowing. The tank area looks really big but has a puny plastic actual tank inside. Wish the tank capacity was a bit bigger say around 15L.
Suspension & ride quality (at low as well as high speeds)
Suspension is SOFT and not necessarily in a bad way. It absorbs all types of shocks from the road and makes us choose the rough path over the smooth, if both are available. Rebound on the front made some noise initially while going over bigger bumps, but a change of of suspension oil viscosity from 5 to 7.5 weight sorted that. Changing oil is a bit tricky with both suspensions not being identical, and one requires a special tool to completely dismantle it. The soft suspension has its limitations and it shows strongly while going over technical surfaces and also while braking there is an extra dive. Some of these could be experimented with oil viscosity and also quantity and overtime one figures what works reasonable. At higher speeds too, the suspension feels planted and bike stable.
Handling, on-road behaviour, grip levels, stability & turning radius
Bike goes as intended. It may not be a razor like the duke, mainly due to the front 19 and rear 17 Tyre combined with a soft suspension, but fares well in straights as well as corners. However, i feel a bit more confident leaning my 21″front xpulse in corners, could it be the weight? or the CG?
Weight of the bike / scooter (and if it's easy or difficult to manage)
Weight is not an issue as long as one is on any type of road, but off the road, the bike feels heavy. Not to mention the bad habit we have of accessorizing out bikes like a decorated truck, or trying to make it look like the PAPA GS 1200. A simple engine guard is all the bike requires. SW motech center stand it self added close to 7-8 kgs to the bike.
Offroad / trail performance (if adventure bike)
Trail performance is good. Standing and riding posture is good. I have done many rides with other bikes like Himalayan, Xpulse, 390adv, and the bike did not really feel lacking majorly except for personal skills. Going downhill on steep slope with gravel / loose stones is an issue as we do not want to pull the clutch to roll the bike fast and use engine braking, but in doing so, the bike stalls at times throwing us off balance. Low-end torquey bikes like Himalayan fares better. Xpulse fares fine cos of confidence gained out of low weight of the bike. As mentioned earlier, soft suspension is also an issue over deep ruts and rocky surfaces.
Ground clearance
Adequate ground clearance. Have scraped underbelly may times over rocky trails but the plastic underbelly suspended with tall rubber bushes do their job well.
Stand (ease, practicality, how stable on stand)
Lack of center stand is an issue as center stand helps take good pics of the bike. Kidding, but it does help with chain maintenance, cleaning the bike, over shaky grounds, and ofcourse to fix punctures. I have installed a side stand extender from aliexpress, which has a large foot print. It helps keep the bike stable, but we have to tilt the bike a bit on the right side to fold the center stand, else it hits the ground. We get conditioned to this, so not a big bother.
Quality of after-sales service & ease of warranty replacements
Service experiences by Tusker Bangalore had been pathetic to say the least. On more than one occasion, i have given them the bike in better shape in i have received post service. Not to mention the cost of spaces and even more shocking cost of labour. They also have the habit of cribbing foul for smallest of the mods when it comes to claiming warranty and find a way to charge customers. Post warranty, i have stopped going there and get the bike serviced outside. spares like airfilter, oil filter, cush rubbers, brake pads, rotors, calipers, etc are all shared from the RR310.
Sharing pics of the lovely time spent with the bike covering these kms.
The 50k landmark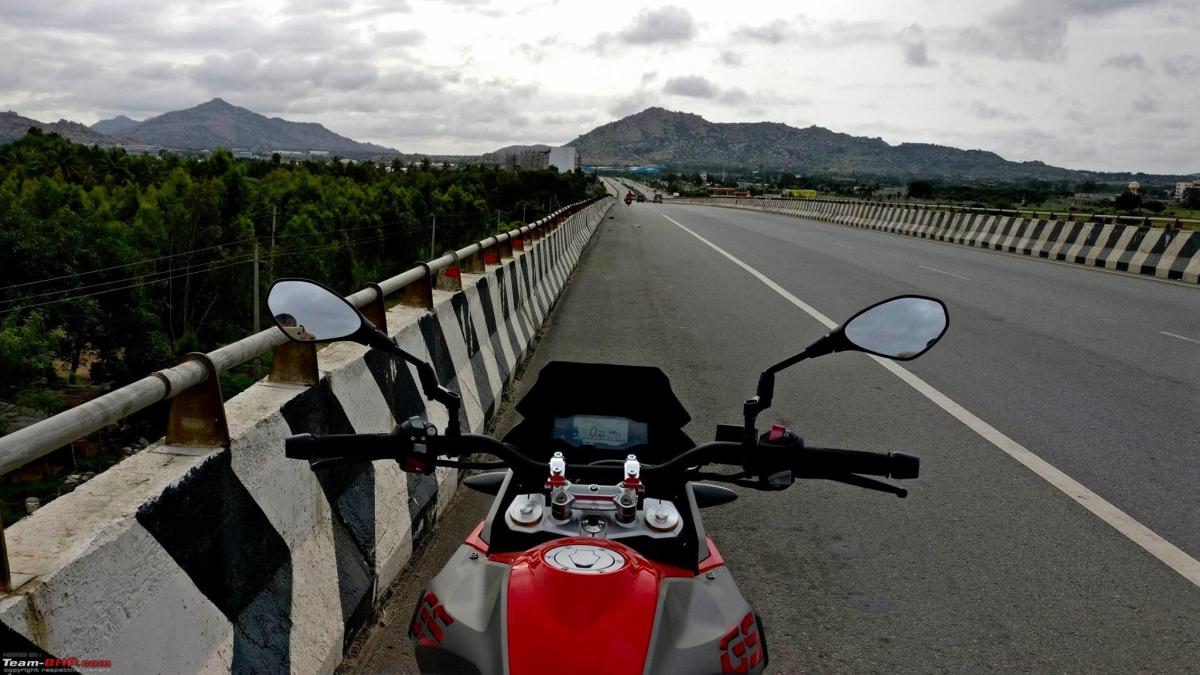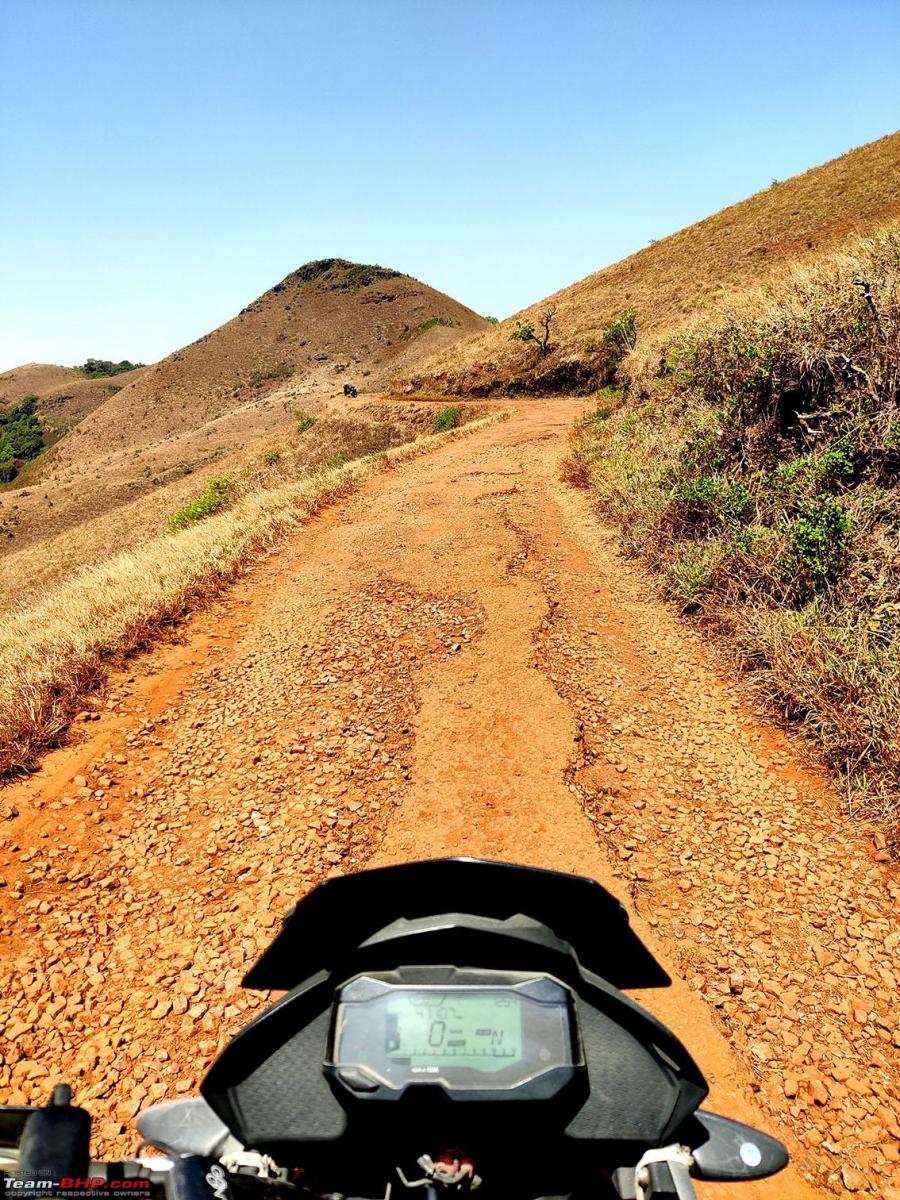 Continue reading BHPian nasirkaka's review of his BMW GS310 for more insights and information.