First appearing in 1966, the BMW 02 series was designed with more sporting intent than the Neue Klasse sedan that preceded it.
Producing 118hp in the 2002 Tii (and a stonking 170hp in the Turbo) the 2002 packed performance far greater than its diminutive proportions suggested, so motorsport success came quickly.
Automotive technology has evolved considerably in the 50-odd years since the 02's heyday, but that doesn't mean you can't have the best of both worlds. Joe Priest's BMW 2002 is a shining example.
When Joe rolled into Eastwood Park at the most recent Queen Square Car Club meet held just outside of Bristol, I knew his '74 2002 warranted a closer look.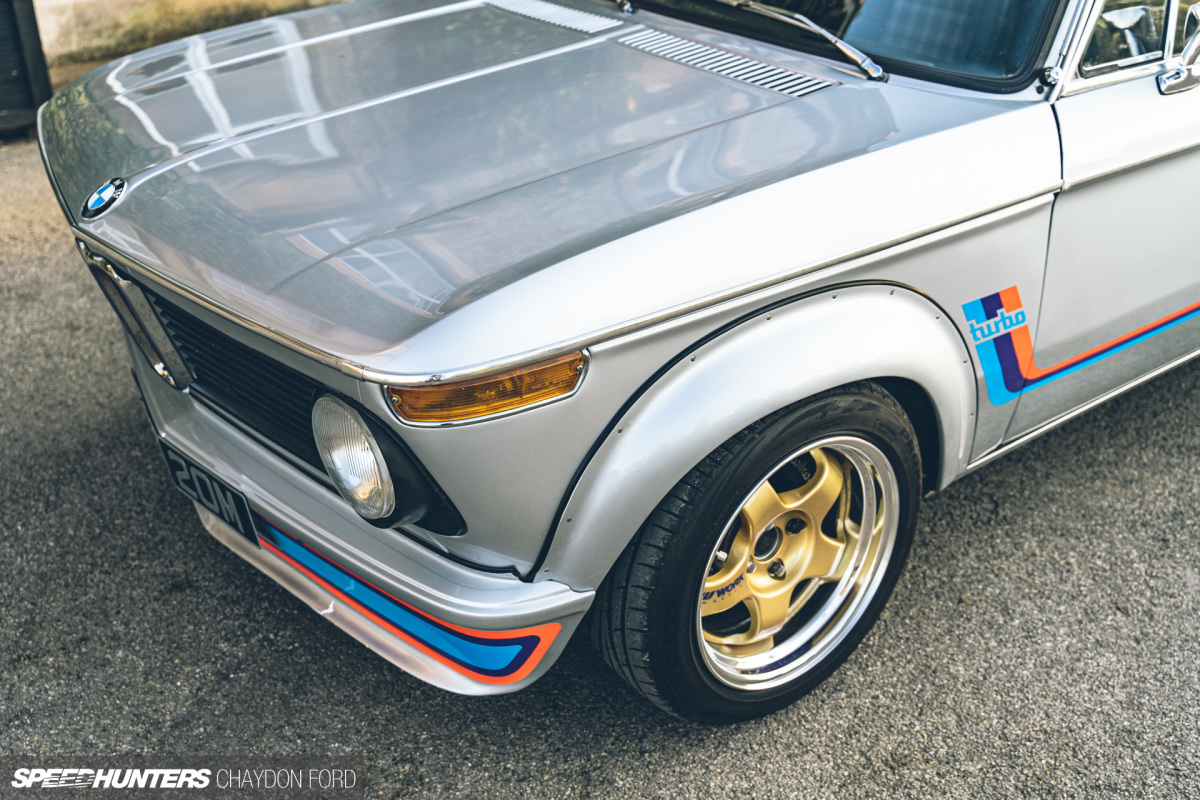 I could easily talk about Joe's BMW in isolation, but a car by nature is an extension of its owner. I genuinely enjoy talking to the custodians of interesting cars, finding out why they've chosen the this particular make and model, those wheels and that engine. Learning these things gives an insight into the journey and often a far greater appreciation for the car itself. With that in mind, the first question I always ask is a simple one: 'Why this car?'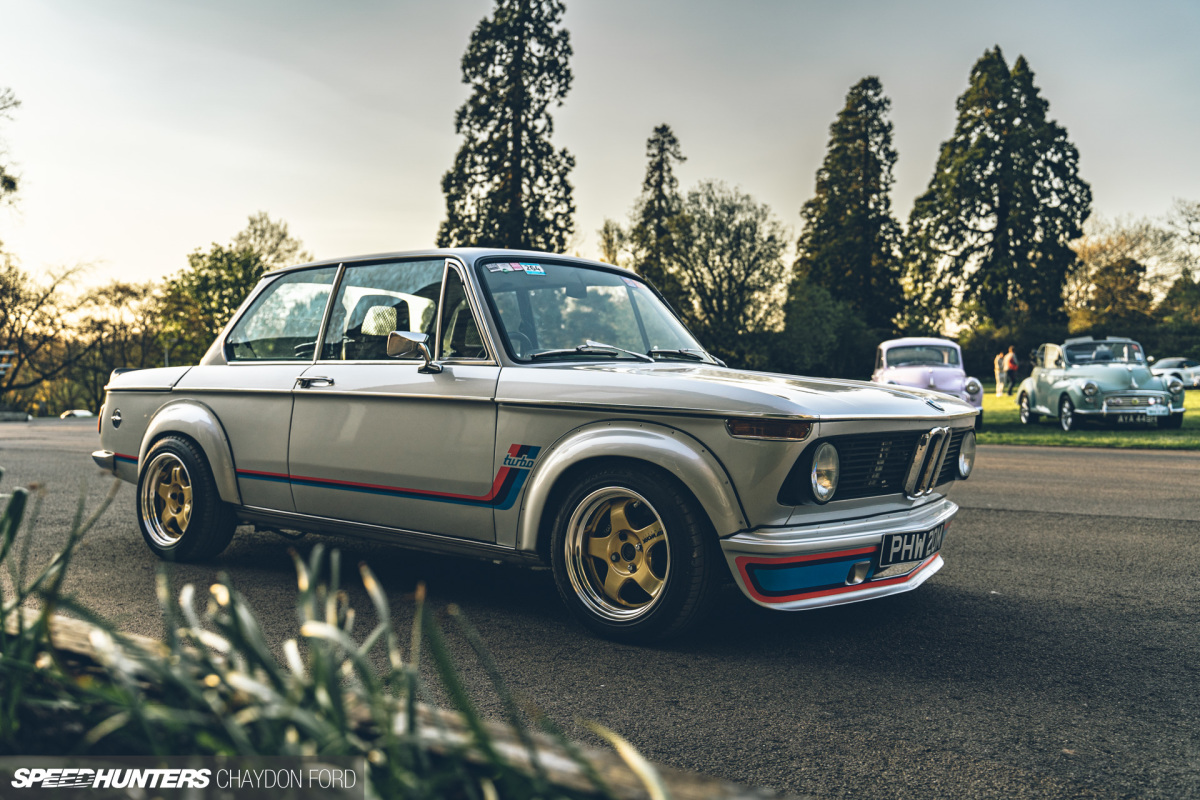 Joe mentioned seeing a BMW 2002 frequent the same track days he ran his EF Honda CR-X at over 15 years ago, and at that time vowed to one day own something similar himself.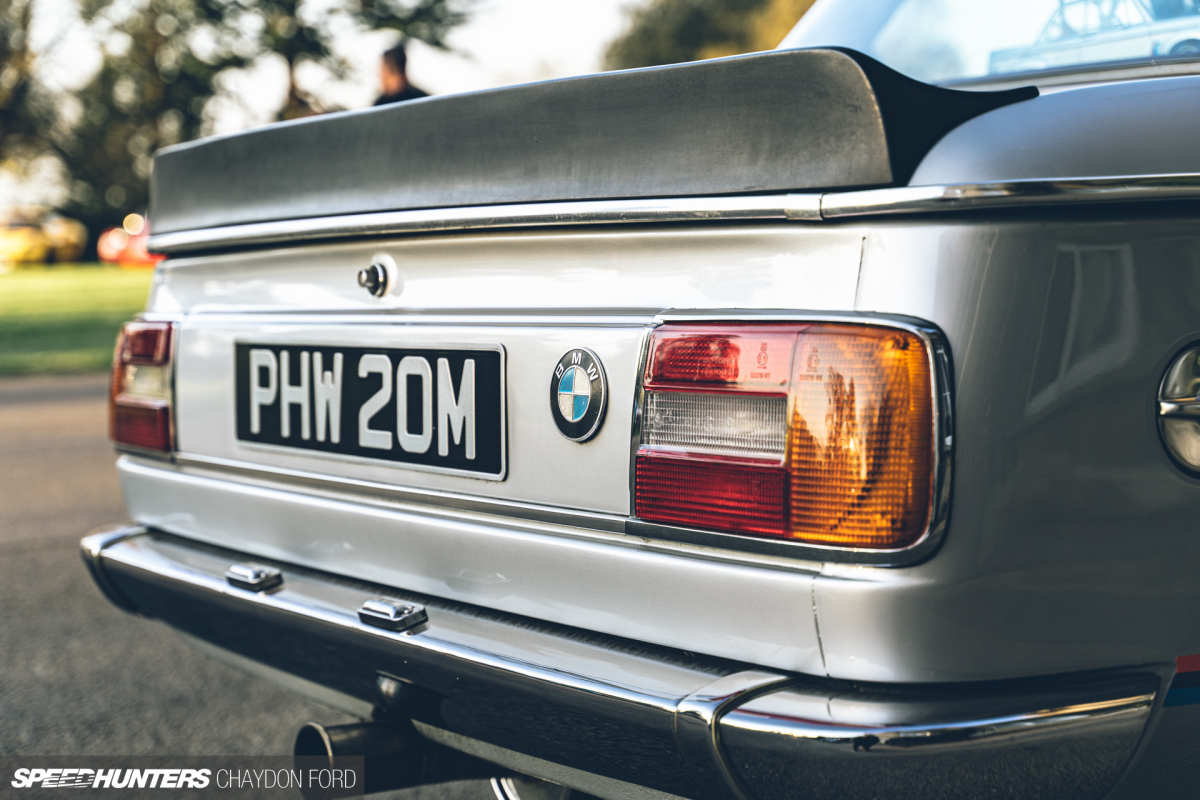 There are a few common routes Joe could have taken, but ultimately the BMW ticked all the right boxes. It needed to be unique, reliable and quick, and because Joe is a family man, a back seat was a must too.
The 2002 fit the bill perfectly. Or at least it would with some select upgrades…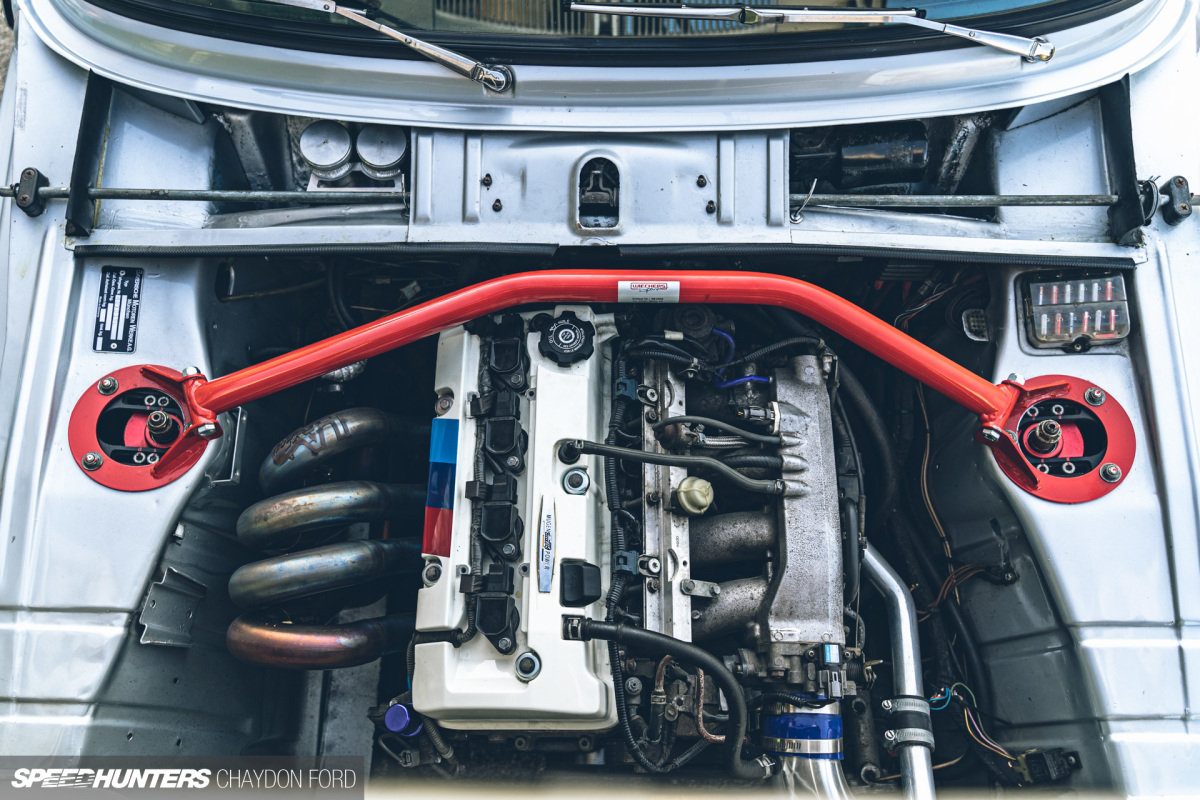 Joe knew it would take a whole lot of money to build up the 2002's original M10 engine to modern performance levels, so he opted to go down a different route altogether. The 2.0L DOHC VTEC F20C from a Honda S2000 was chosen for its high-revving, naturally aspirated characteristics, and it complements the car beautifully.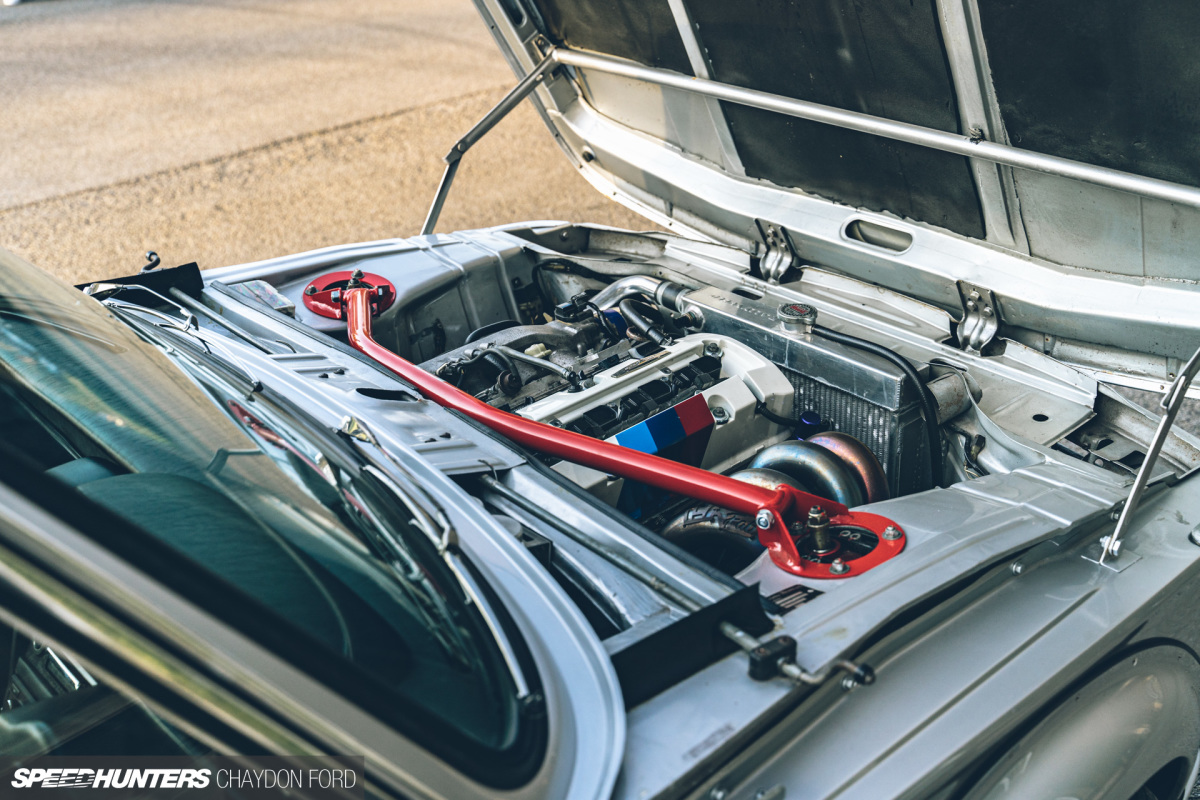 Thanks to an Emerald ECU and LA Fabrication exhaust – complete with octopus-style manifold – the engine puts down a healthy 252hp. Pairing this with the S2000's 6-speed gearbox and an E30 BMW M3 limited slip differential out back makes for impressive performance.
The Japanese inspiration continues with 15-inch Work Meister S1 2-piece wheels tucked under the arches of the 2002 Turbo body kit. Future plans are to have the 'turbo' wording in the iconic side graphics changed to 'Honda', hinting at what lies under the bonnet.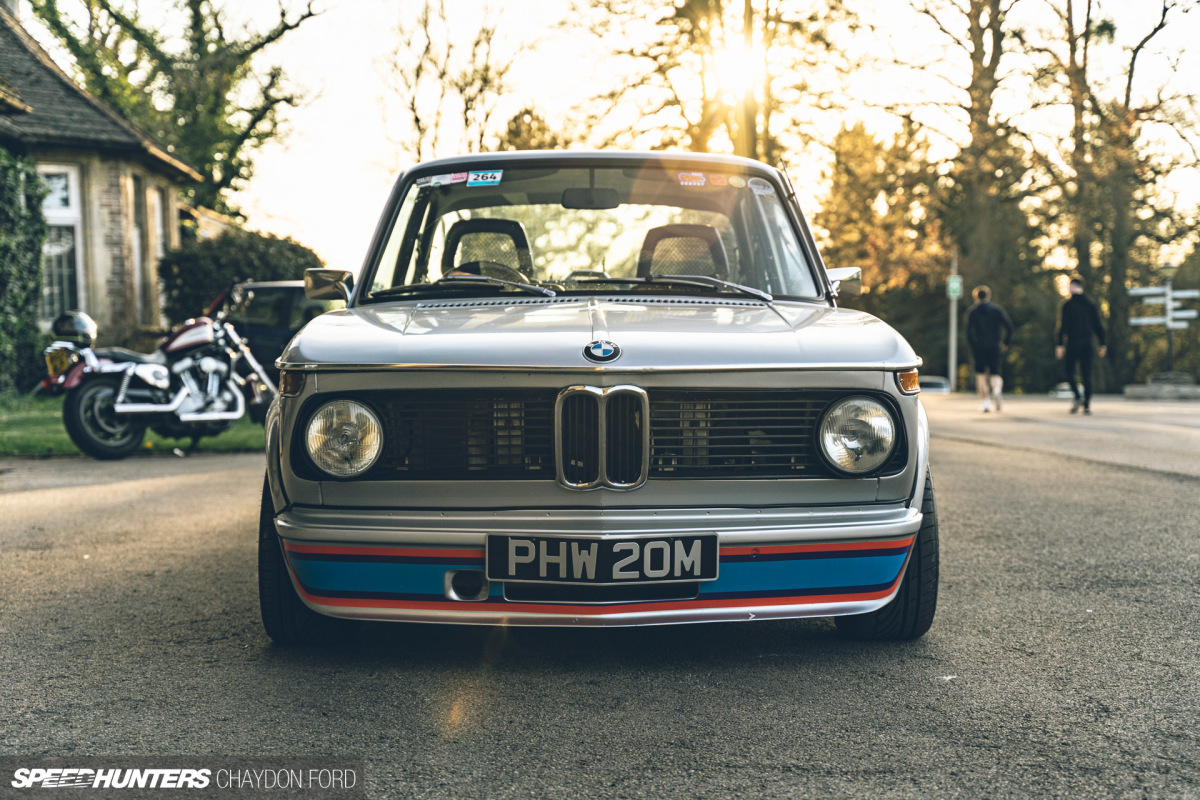 Ensuring the 2002 has the handling prowess to match its newfound power, the suspension has been completely revised with Gaz coilovers, Tii front arms, E30 M3 rear trailing arms and adjustable top mounts.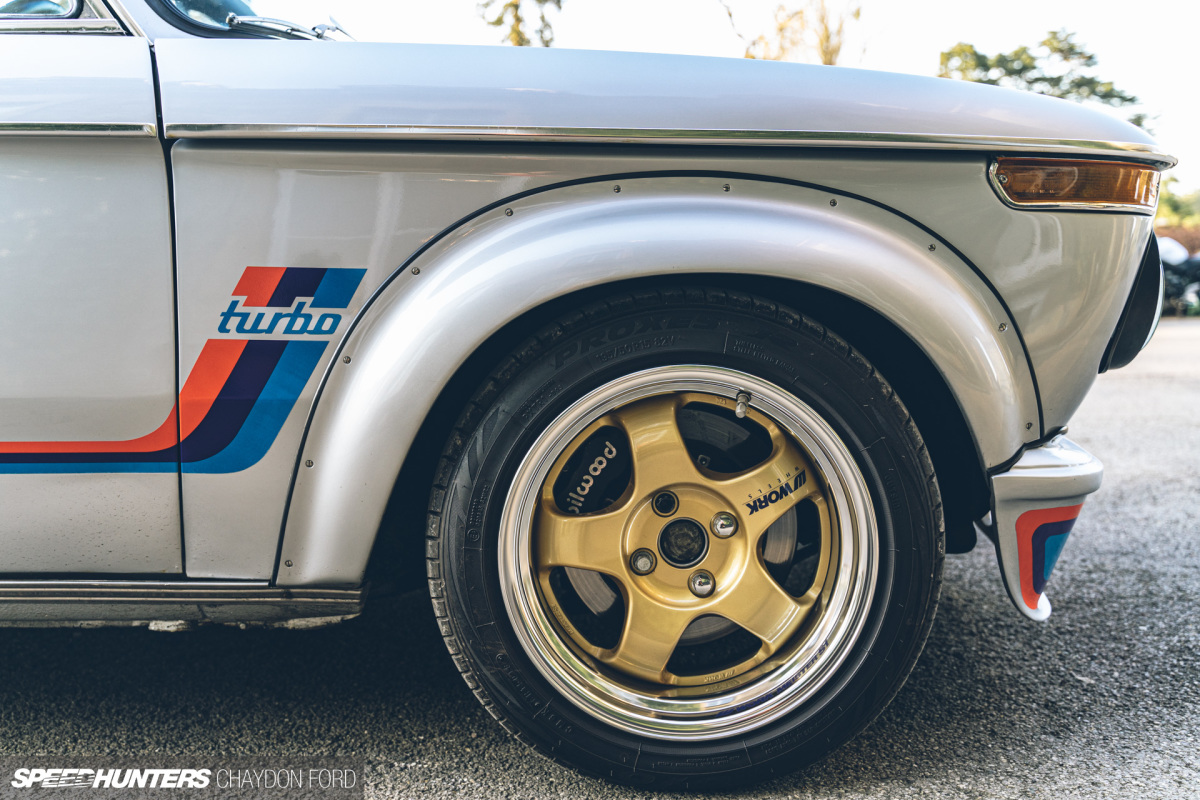 The slow to balance the go is handled by Wilwood callipers and 2-piece front rotors, a rear disc brake conversion, plus Carbotech pads all round.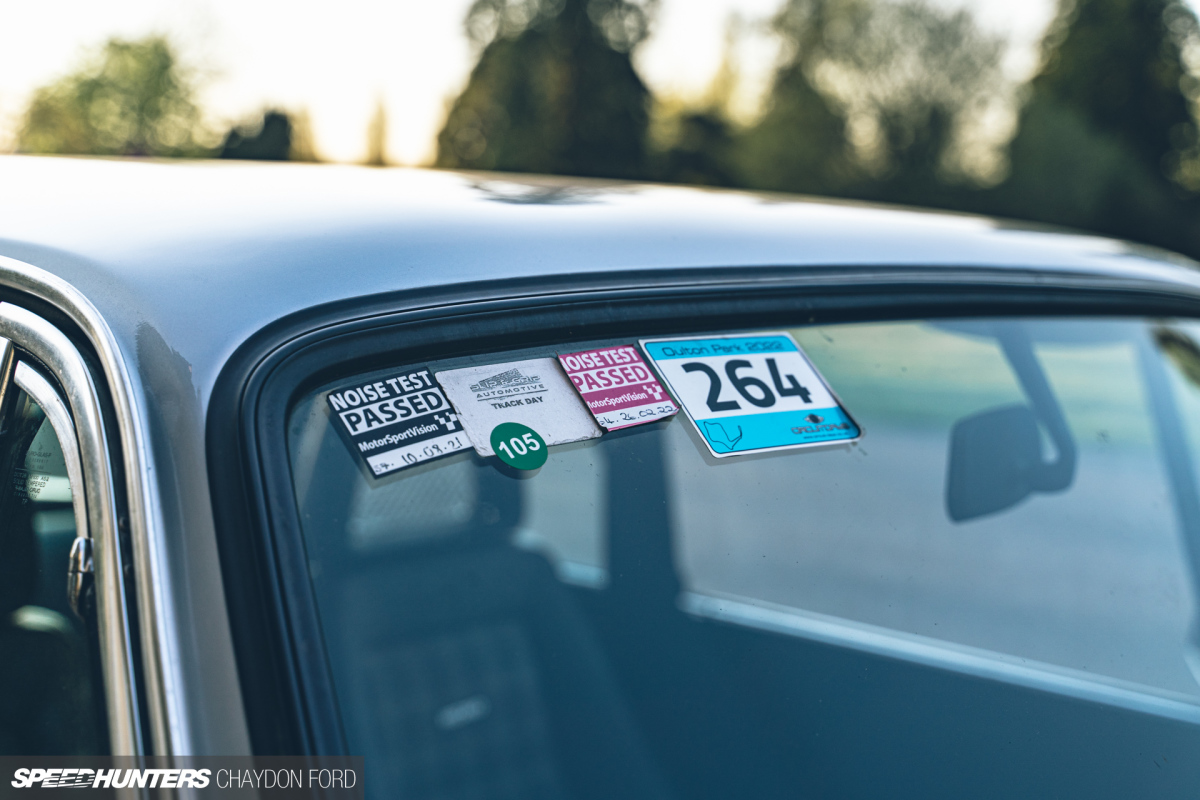 Joe's BMW does everything – the daily commute, auto tests, track days, and road trips, including a journey around the North Coast 500 in Scotland. It didn't miss a beat the entire time, and did the 618-mile jaunt home in one stint, Joe only stopping for fuel.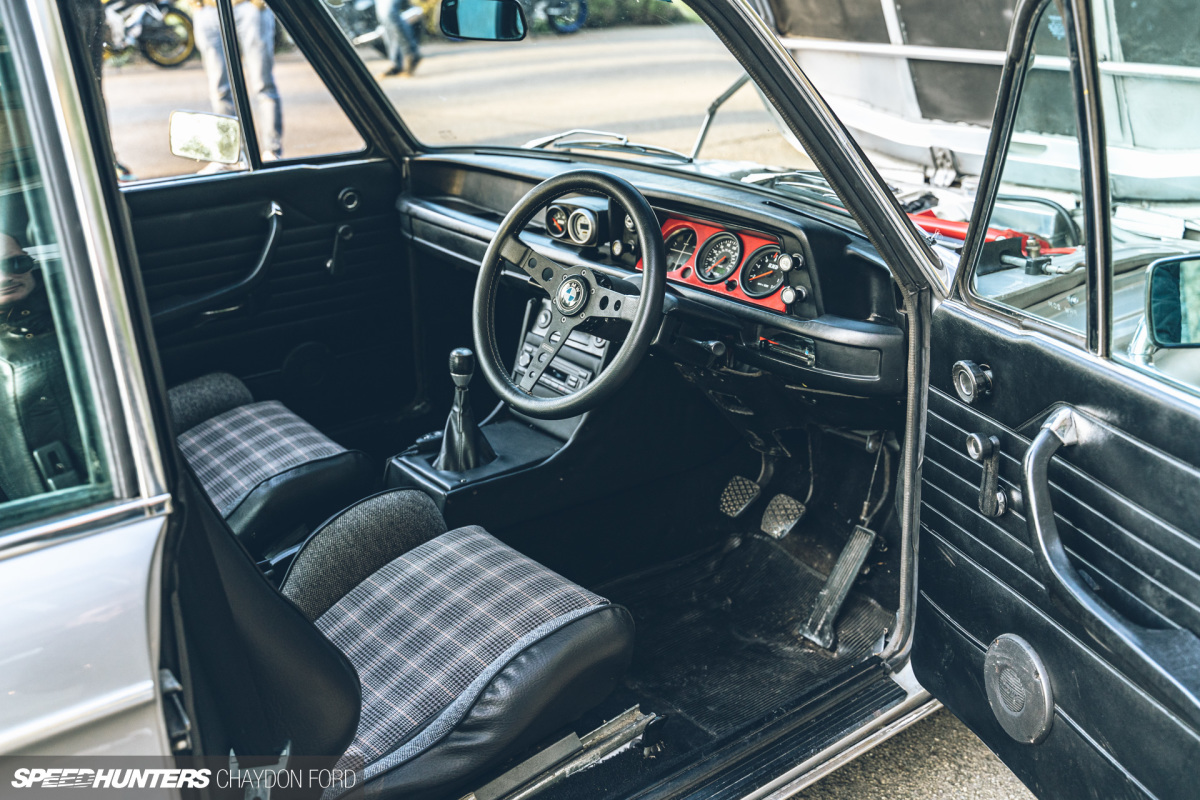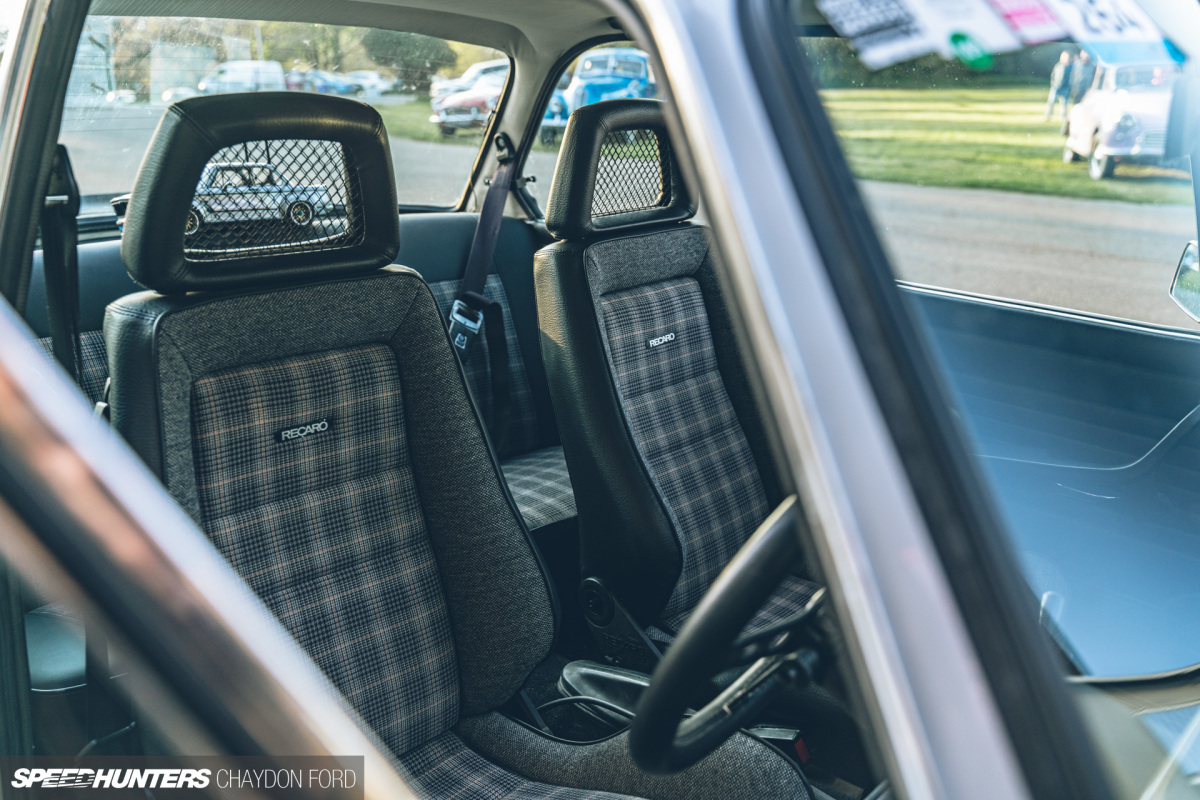 Having a suitable interior for such trips was essential. Classic Recaro front reclining seats, a re-trimmed rear bench, Momo Prototipo steering wheel, deep-pile carpets and Dynamat throughout mean long drives are done in relative comfort.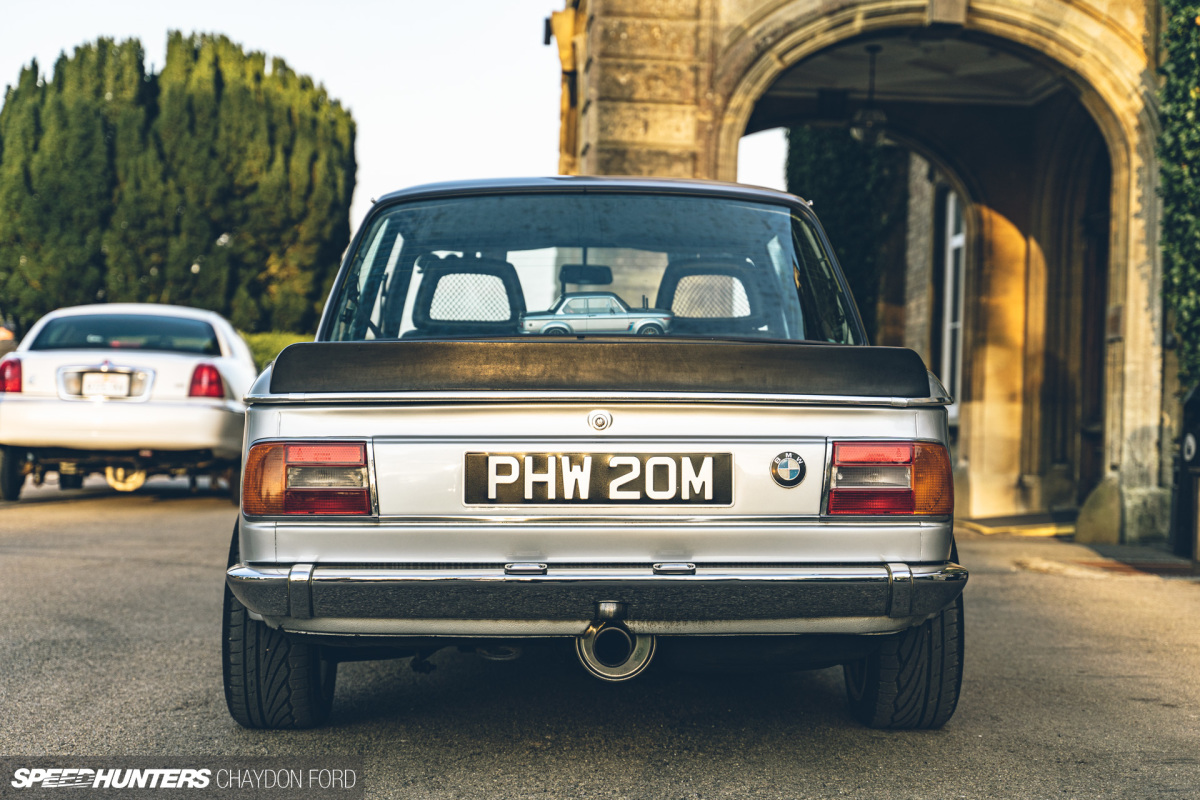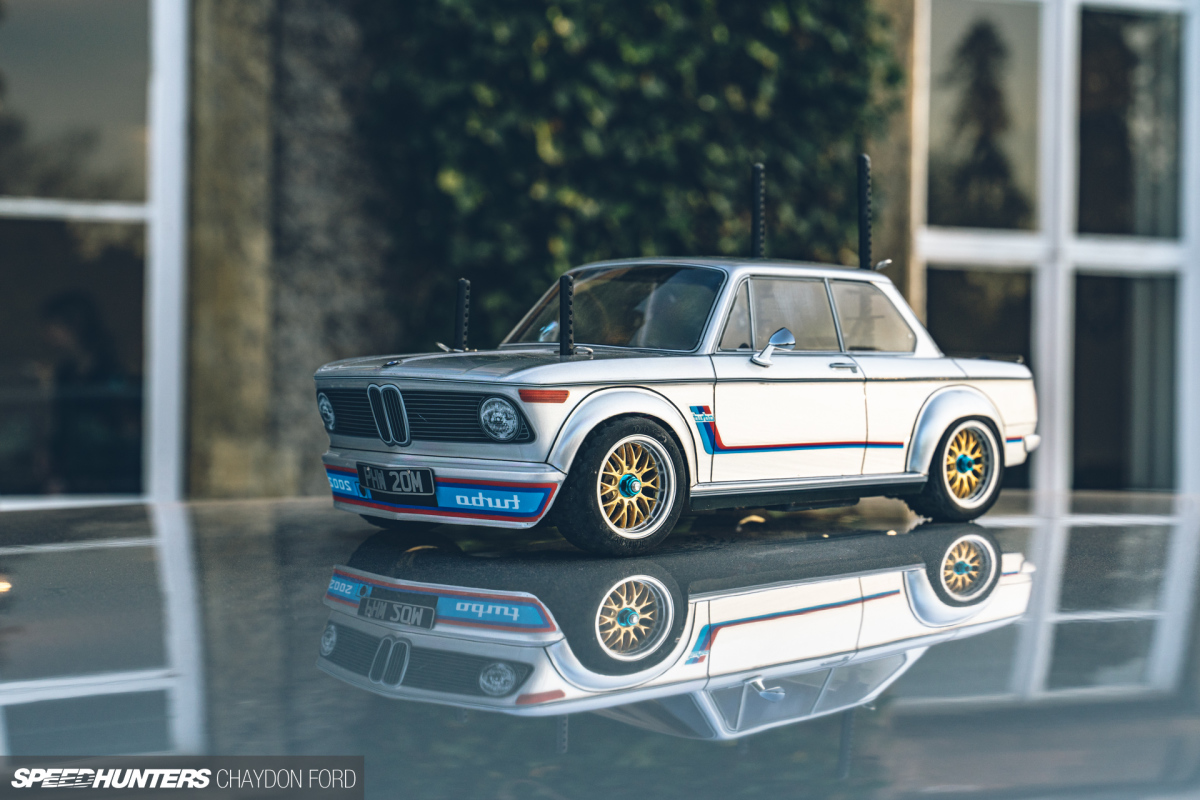 Despite there being a few other cars occupying space in Joe's garage – including an incredibly clean Datsun 240Z and a first-gen Mazda MX-5 with 320hp – his aim is to drive the 2002 as much as possible. Joe is achieving his goal too, having covered just shy of 10,000 miles in the car over the last year.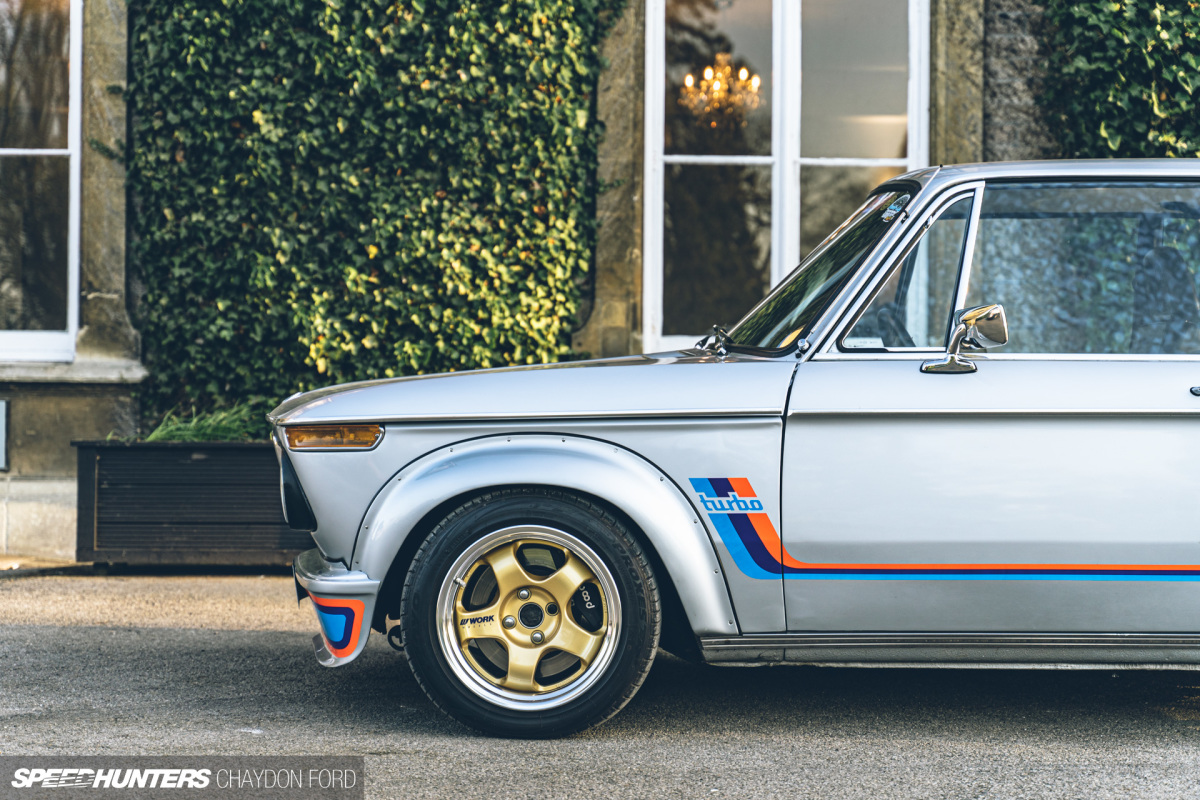 Everything I've mentioned above I'd never have known had I not spoken to Joe. So the next time a car catches your eye, go over and talk to the owner. At the very least you'll find out more about the car; at best you'll understand how it came to be what it is today.
Chaydon Ford
Instagram: chaycore
Joe Priest's 1974 BMW 2002
Engine: Honda S2000 F20C 2.0L DOHC VTEC, K&N induction, LA Fabrication custom header & 2.75-inch exhaust system, WFP600 swirl pot with integrated fuel pump, Rally Weld Fabrications aluminium radiator & pipework, Spal fan, Emerald ECU mapped by J.Cal
Driveline: Honda S2000 6-speed manual gearbox, E30 BMW M3 3.91 LSD
Suspension & Brakes: Gaz Gold Pro coilovers, E30 M3 trailing arms, modified rear subframe, Tii front arms, adjustable top mounts, Weichers strut brace, sustom rear strut brace, electric power steering conversion, Powerflex bushes throughout, Wilwood callipers & floating 2-piece discs front, Carbotech pads, rear disc conversion, CarBuilder brake servo conversion, stainless steel braided brake lines
Wheels & Tyres: 15-inch Work S1 2-piece wheels, 195/50R15 Toyo Proxes TR1 tyres
Exterior: Period-correct 2002 Turbo arches, boot spoiler & front airdam, BMW Titan Silver paint, original chrome trim sourced & refinished, US-spec 2002 headlamps
Interior: Recaro front seats, rear bench trimmed to match by Sew Good Upholstery, Momo Prototipo steering wheel, quick-release boss kit, RMD gauges, AEM air/fuel ratio meter, custom centre console, custom thick-pile carpet, Dynamat throughout interior