The emergence of more mature electric vehicle markets overseas can give us pointers to what we will see in the coming months and years in Australia.
Norway is already above 80 pure electric sales and has set a 2025 as the end-date for internal combustion engine (ICE) passenger and light commercial vehicle sales . In the UK, pure battery electric vehicle (BEV) sales have reached 17 per cent of the market, but it provides an insight into what is coming as EVs move into the mainstream of vehicle sales.
In both Australia and in the UK, the second-hand BEV market has in the past been seriously constrained by the small numbers of new car sales in the preceding 4 to 6 year period.
There have simply been insufficient to create a vibrant second hand market. This has results in relatively high second hand EV prices, well above 'average' vehicle depreciation numbers. But there are signs this is starting to change amid the rapid growth in new EV sales.
A quick look at table 1 shows, in terms of Rogers innovation adoption curve, UK BEV sales passed through the first 2.5% 'innovators' market sometime early in 2020,  'early adopters' sometime in 2020 and at 16.6%, is moving into 'early majority' territory.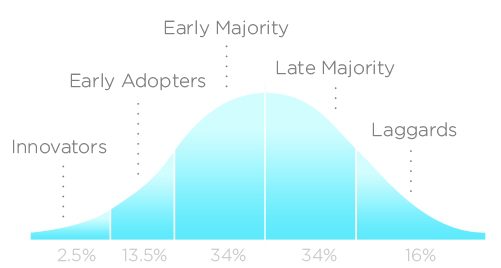 So what has been happening lately to the UK second-hand BEV market? We are starting to see a reasonable number of 2 to 4 year old vehicles, and the UK has now seen a 201% increase in used EV stock appearing in May 2023 compared to 12 months earlier.
And, just the growing supply and a slower uptick in demand has seen used EV prices fall 18.8% compared to the same period last year. This is good news it seems for EV buyers (if not sellers) as they wake up to this new reality.
An interesting corollary of this BEV price fall is the relativity between BEV and ICE vehicle prices, as the UK used ICE vehicle market is still holding steady. As a result, the price differential between EV and ICE (a likely key buying metric for the 'early majority' buyer) is now decreasing.
For example, data recently released by UK based Auto Trader Group shows pricing there for a three-year-old electric Jaguar I-Pace is now £600 (Au$1,100) cheaper than an ICE propelled F-Pace.
In addition, the prices of used Teslas have been dropping, with more Model 3s than ever hitting the market, coupled with a reduction in prices for new ones.
As a result of that double-whammy, the average UK price for a used 3-year-old Model 3 is now £30,700 (Au$50,600). This makes a Model 3 just £3,600 (Au$6,700) more expensive than a BMW 3 Series of the same age. (In comparison, the August 2022 price gap was £22,000/Au$41,000!)
Given Australia hit 3.8% new BEV sales in 2022 and is looking to be more than 7% through calendar 2023 – that puts us perhaps 3 years behind the UK. It would seem logical to conclude that used EV prices here are likely to hold up well above 'average' depreciation till we reach around the BEV market penetration seen in the UK now. 
Private imports of second-hand EVs is one way to address this constraint in the short-term – which for instance is something that Australia is well behind New Zealand in.
However, this item was noticeably absent in the recent Federal National Electric Vehicle Strategy. This is  despite the inclusion of the question asking if the Government should consider ways to increase the supply of second hand EVs independently imported to the Australian market.
Bryce Gaton is an expert on electric vehicles and contributor for The Driven and Renew Economy. He has been working in the EV sector since 2008 and is currently working as EV electrical safety trainer/supervisor for the University of Melbourne. He also provides support for the EV Transition to business, government and the public through his EV Transition consultancy EVchoice.