New data out of Norway shows plug-in electric vehicles have hit a staggering 91% share of new car sales for the month of May 2023.
Of the 13,342 new vehicles sold in Norway in May, 10 773 (80.7%) were fully electric BEV passenger vehicles, 703 (5.3%) were plug-in hybrids and another 725 (5.4%) were new zero-emission vans.
Another 399 (3%) were non-plug-in hybrids and just 435 (3.3%) cars fuelled only by petrol and diesel were sold.
Norway plans to completely ban the sale of all new petrol and diesel cars from 2025, including hybrids. The new sales data shows Norwegian consumers may achieve 100% EV market share well before the ban is enforced.
According to Norwegian outlet TEK 2,691 Tesla Model Y's were sold in May making up 25% of all EV sales. The Volkswagen ID.4 was a distant second with 738, followed by the BMW iX1 with 594.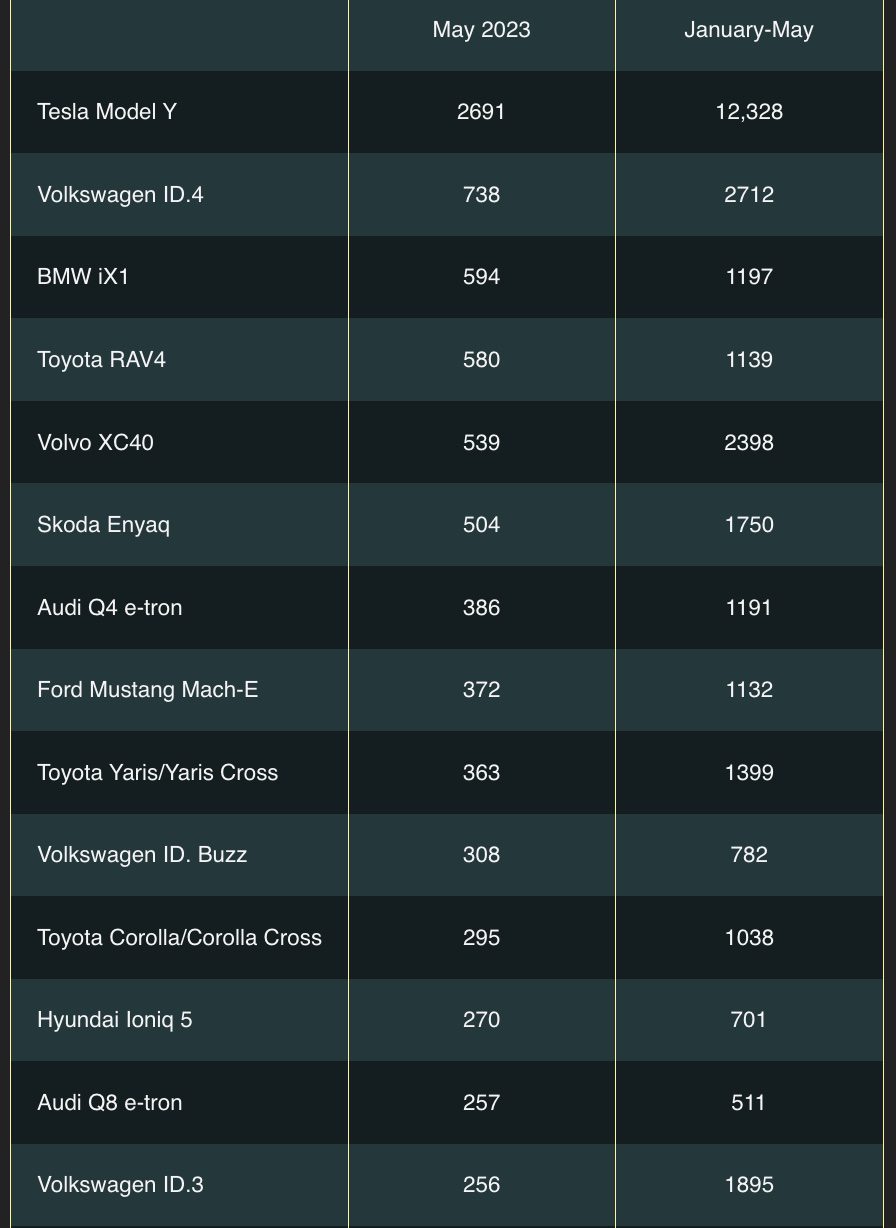 The Norwegian Road Federation (Opplysningsrådet for Veitrafikken or OFV) also publish new vehicle CO2 emissions data showing the average CO2 emissions per vehicle sold in May was just 16 g/km thanks to the country's huge EV uptake.
For reference the average new vehicle emissions in Australia in 2022 was 164 g/km, more than 10 times higher than the Norwegian May figure.
Norway's aggressive EV policy over the last 20 years has put the country miles ahead of the rest of the world on EV uptake. With global road transport accounting for one of the largest sectors for greenhouse gas emissions, Norway's visionary approach to EVs has enabled it to crush its transport sector's emissions as its fleet goes fully electric.
Norwegian citizens are also reaping the benefits of much cleaner air and better public health outcomes.
Meanwhile, Australia remains a global laggard on vehicle emissions. Graphing historic average new vehicle CO2 emissions over the past two decades shows the huge difference between Australian and Norwegian EV policy.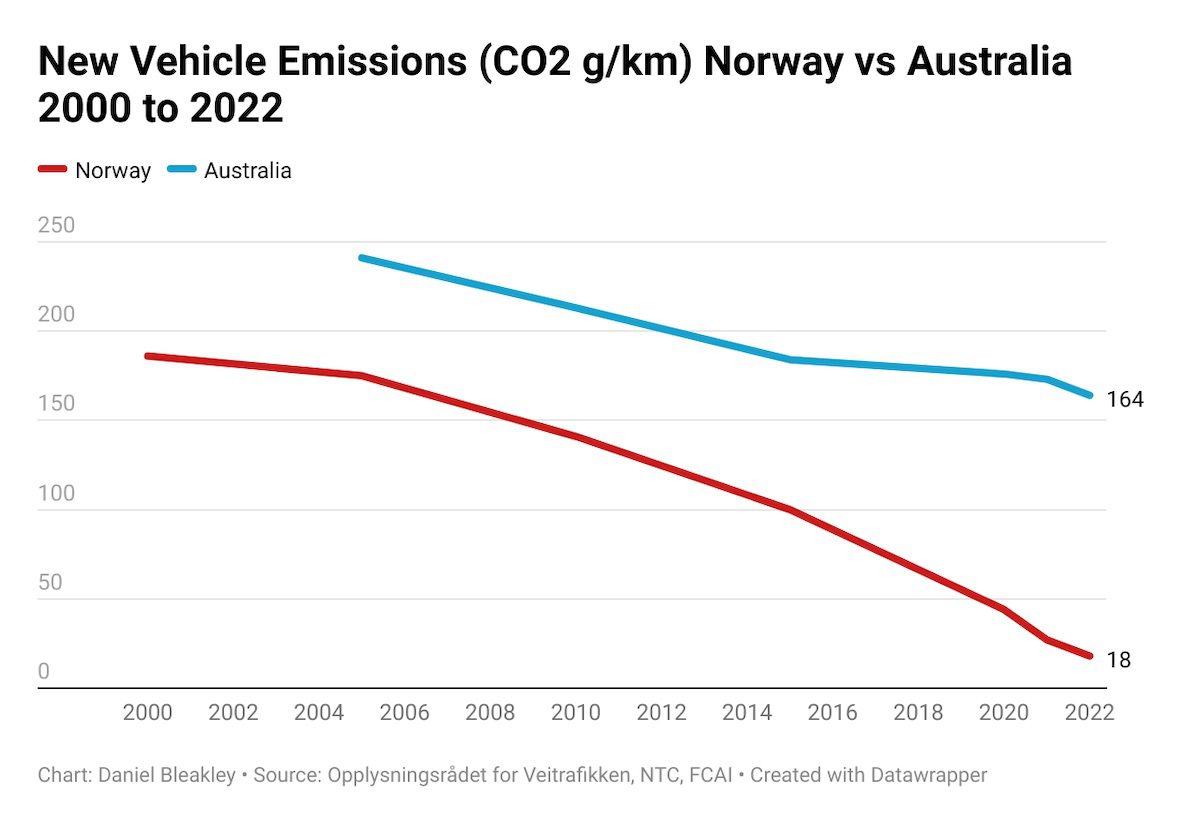 Strong vehicle emissions standard crucial for Australia to bridge the gap
Alongside Russia, Australia remains one of the few countries in the world to implement a fuel efficiency standard. The Australian government recently closed the consultation period for the National Vehicle Efficiency Standard (NVES) with many groups calling for a strong standard.
Australia's Electric Vehicle Council (EVC) recently published its recommendations for the new standard urging the government to resist making concessions proposed by petrol and diesel car lobby groups, including the creation of "credits". The EVC also wants to develop an independent source of new vehicle data to be managed by the government.
Australia's Federal Chamber of Automotive Industries (FCAI) was recently exposed in a new report for its prolonged campaign of lobbying the government to implement a much weaker standard than comparable countries like New Zealand.
According to the report by InfluenceMap, in July 2020 the FCAI met with the Department of Infrastructure to promote its voluntary standard of 98g CO2/km for passenger cars and 143g CO2/km for 4x4s and light commercial vehicles starting from 2030 which is significantly weaker than comparable international standards.
For reference the EU's current standard, which has been enforced since 2021, mandates 95 g CO2/km for passenger cars and 147 g CO2/km for vans. From 2030 the EU standard will cut the passenger vehicle standard by 37.5% to 59 g CO2/km and vans by 31% to 101.4 g CO2/km.
The FCAI says it's no longer lobbying the government on its voluntary standard, although it is yet to provide details on its new position.
With Norway already achieving average new vehicle emissions of  just 16 g/km in 2023, Australia has no excuses left.

Daniel Bleakley is a clean technology researcher and advocate with a background in engineering and business. He has a strong interest in electric vehicles, renewable energy, manufacturing and public policy.