The term 'old school Ford' will have a totally different meaning depending on where you live in the world.
If you're from the land of freedom and cheap gasoline, you'll probably picture V8 Ford Mustangs and Gran Torinos laying down rubber at a moonlit Detroit intersection. If you're from a land down under, you might be imagining an XB Ford Falcon thundering down the Gold Coast Highway with a man wearing some thongs behind the wheel. Britain brings a very different flavour of old school Ford to the table, and what we lack in cubic inches we make up for in attitude.
Rob Maeer's 1975 Ford Escort L – a car I came across at Tucked At The Museum – is a prime example.
It's impossible to look at a Mk2 Escort without imagining it flying through a forest, sideways, with gravel spraying from its rear tyres. Or at a rural Irish road junction, revving its head off while ripping donuts.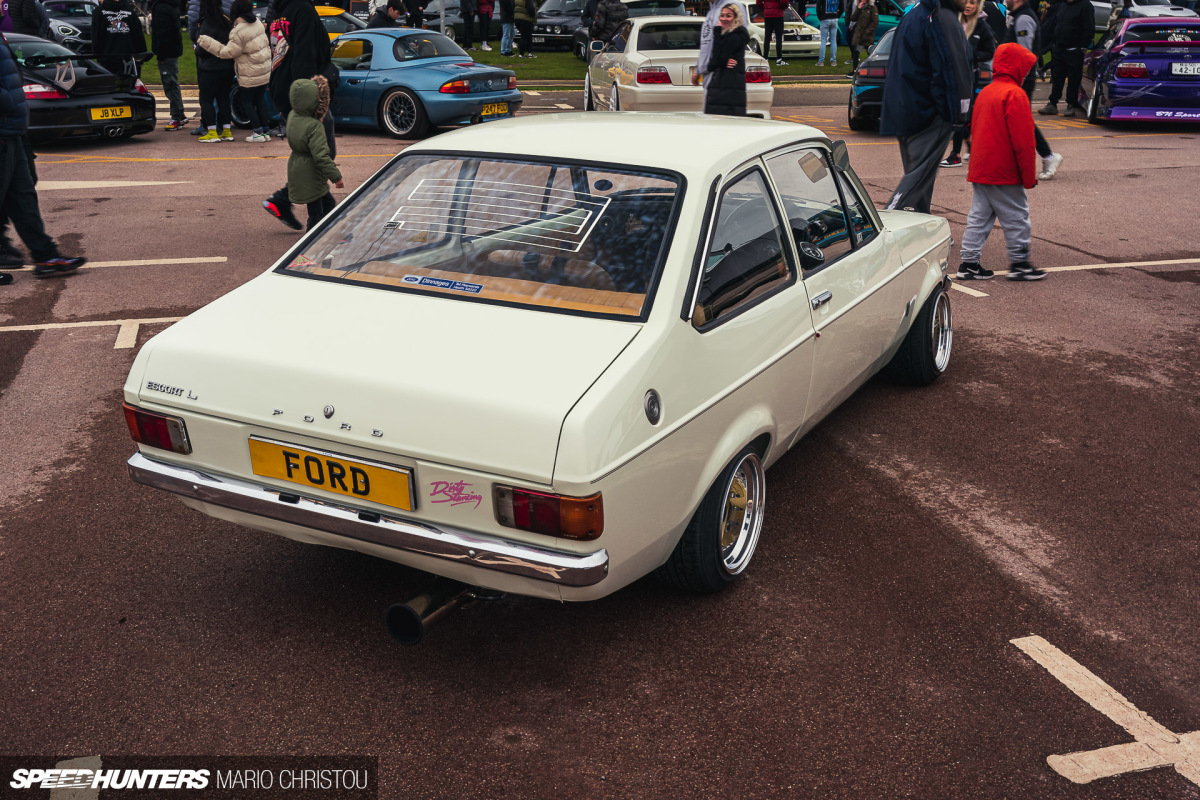 The Mk2's bluff nose, boxy glasshouse and sloping tail are iconic, so most owners choose to leave the body lines as they left the factory.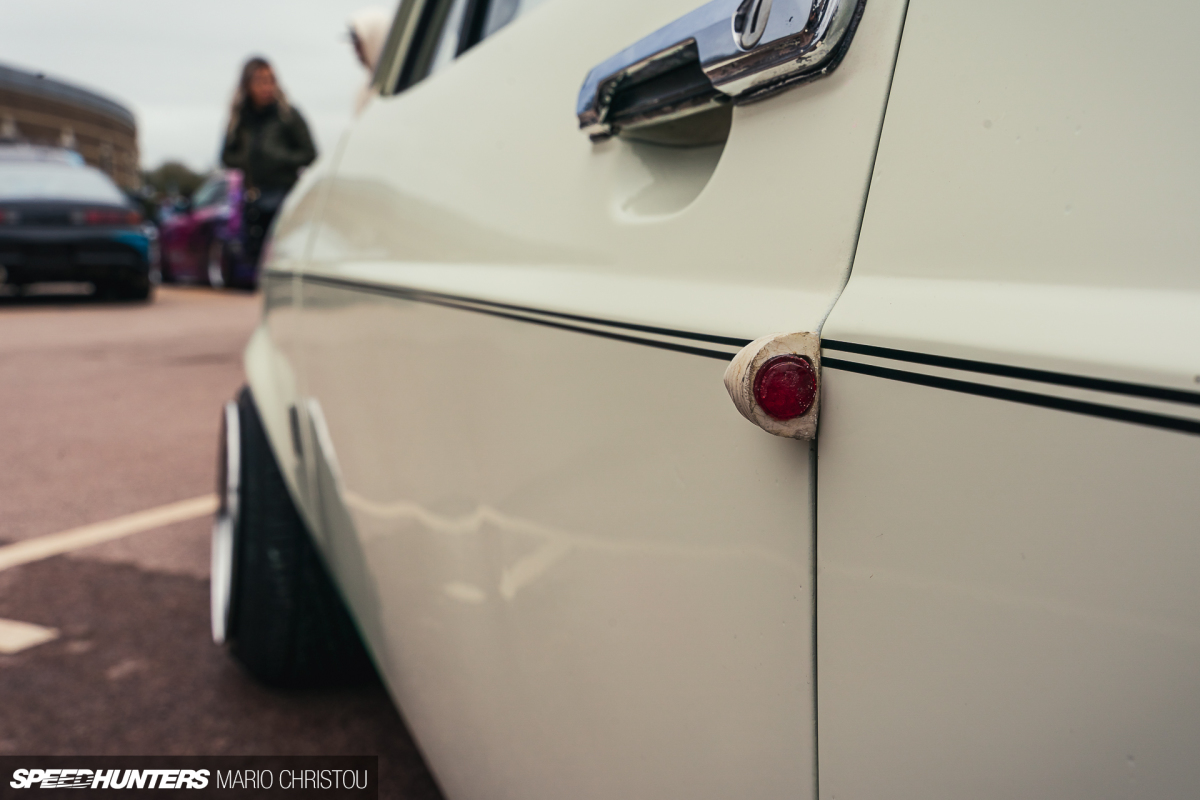 Rob's car is particularly original, with very little in the way of restoration work needed after it was found locked away in a Sussex garage.
As a result, the Escort is covered in curios of years gone by, preserved by the lack of UV exposure and moisture. Car crime was rife in late 20th century Britain, so naturally there are stickers to dissuade potential thieves from trying their luck with this little Ford.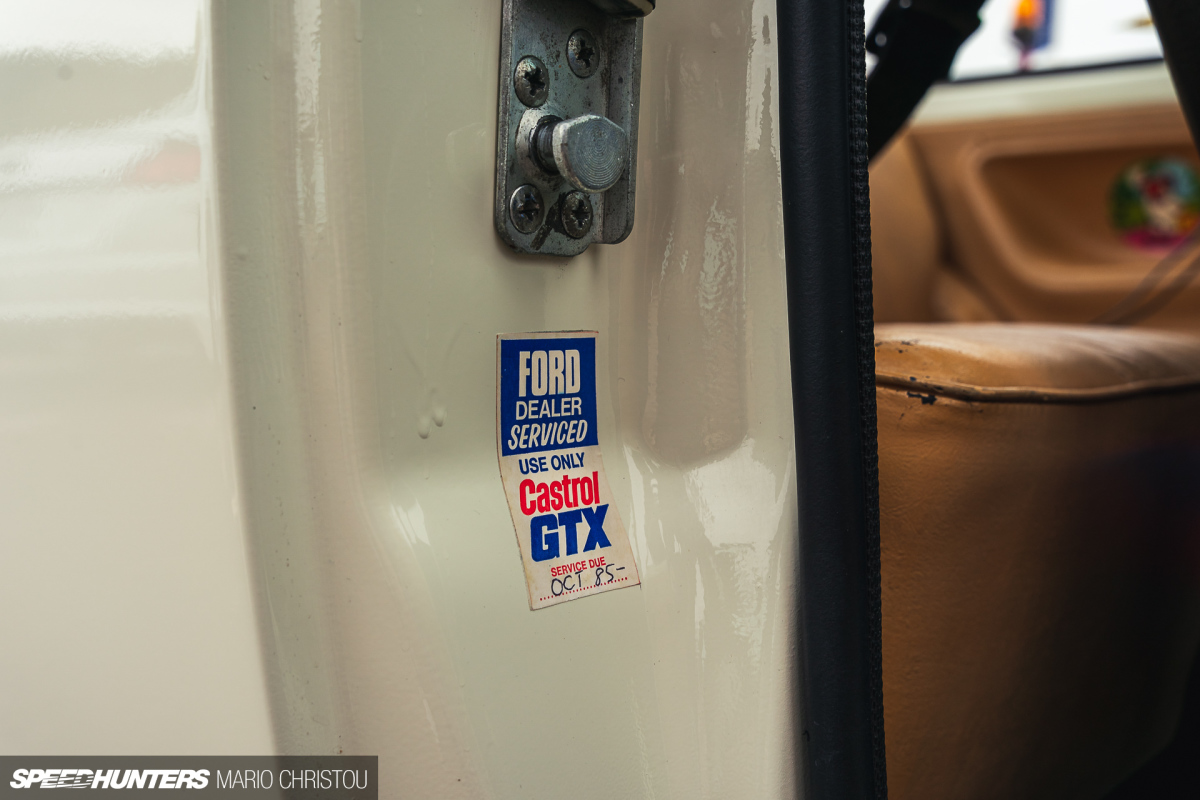 Elsewhere, a reminder that an earlier owner really cherished their Escort, though a service seems a little overdue…
Even the original dealer sticker remains intact on the rear window – a highly sought after detail in today's classic car market. Not that Rob is a stickler for originality, not by any stretch.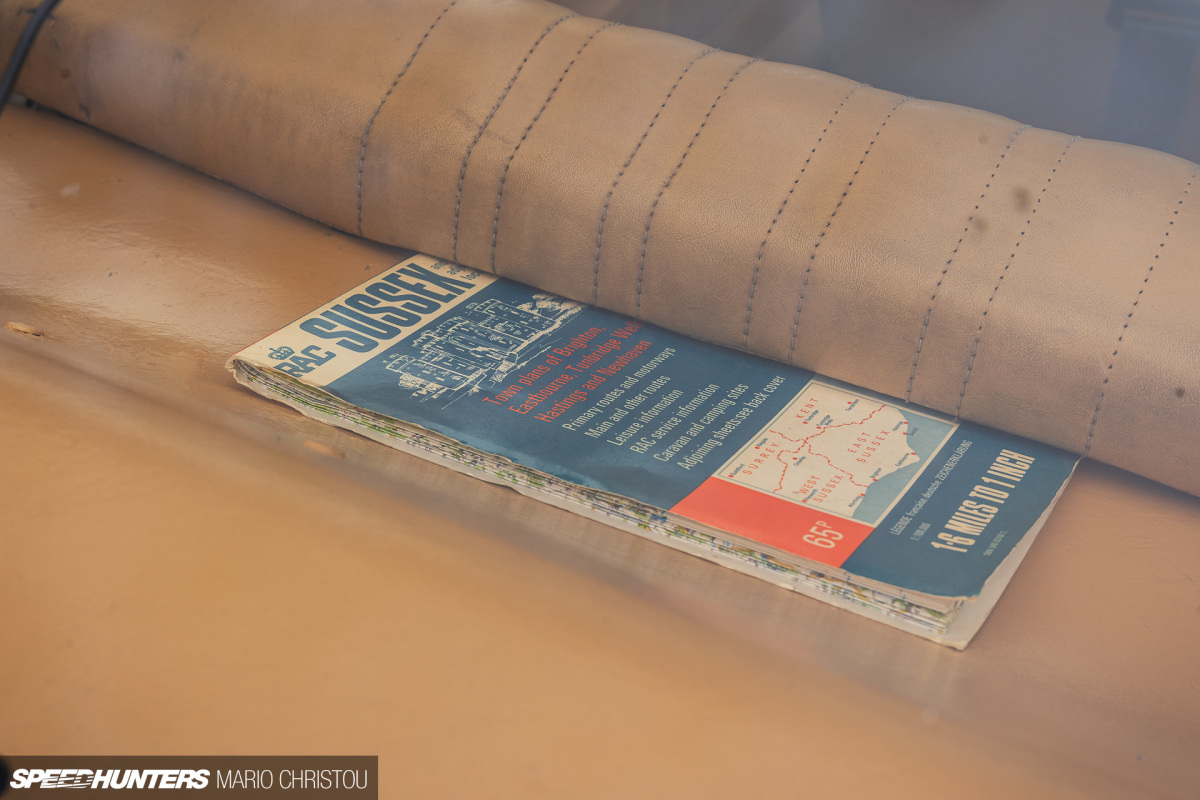 Who remembers road maps? Family trips back in the day; mum violently unfurling the map whilst dad reached his frustration boiling point in a foreign city.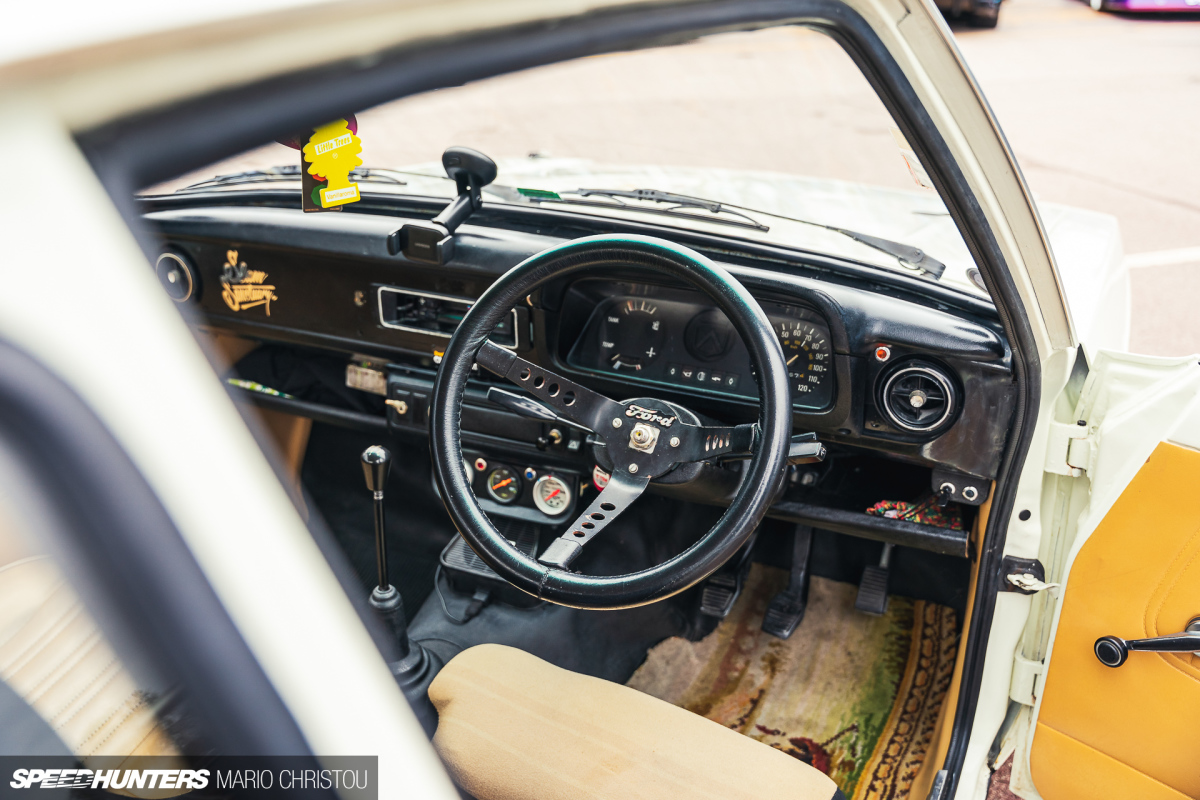 The Escort's interior is just as period correct as the outside of the little Ford, save for a few fixes and upgrades.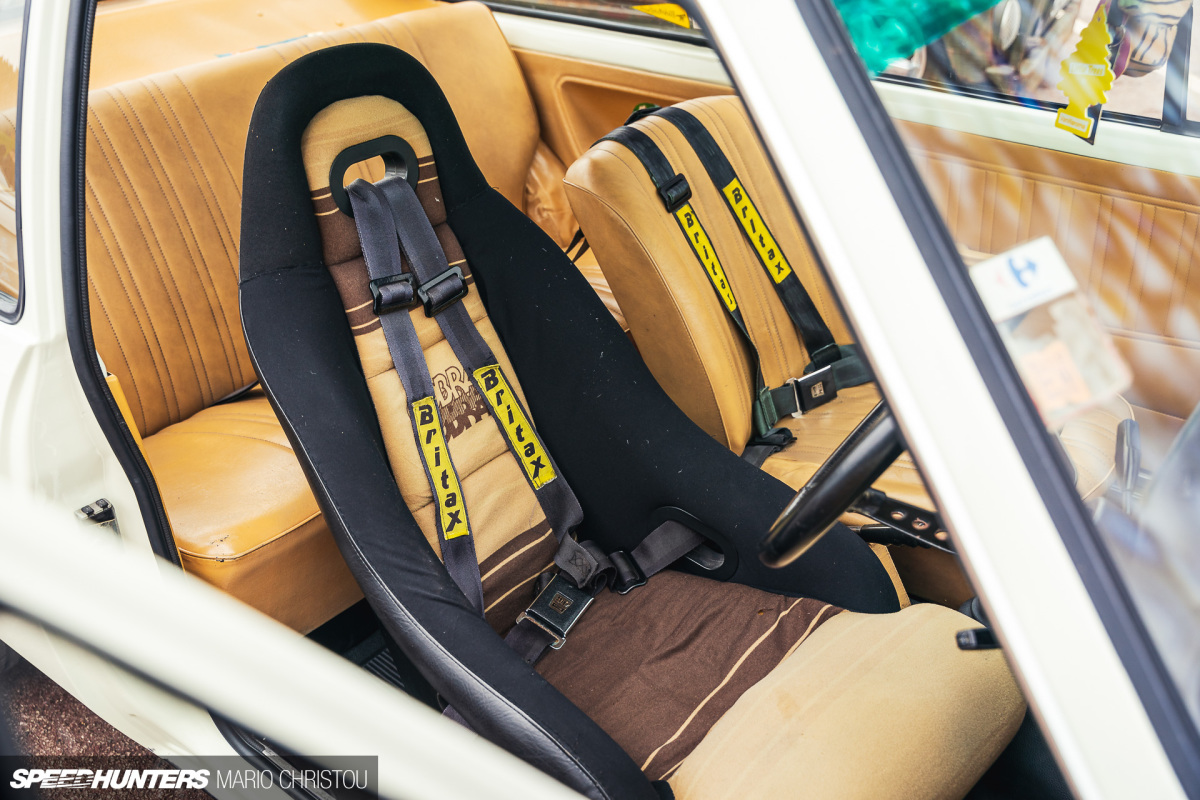 The vintage Cobra bucket seat stands out, not only because all the remaining vinyl seats are original, but from a wider perspective too.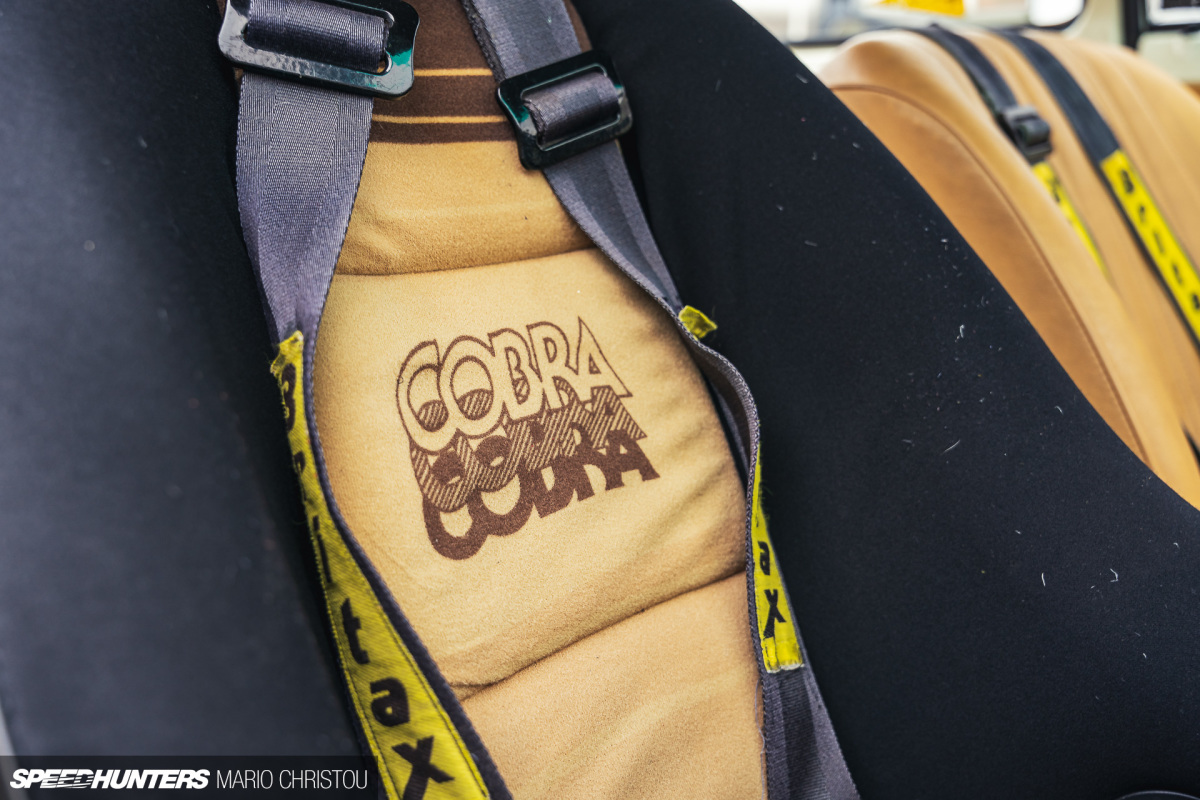 More and more classic car owners are fitting modern bucket seats into their cars, with bulkier bolsters and complex designs. These often contrast against the delicate lines and simplicity of the cars they're in, which to my eyes can cause a clash.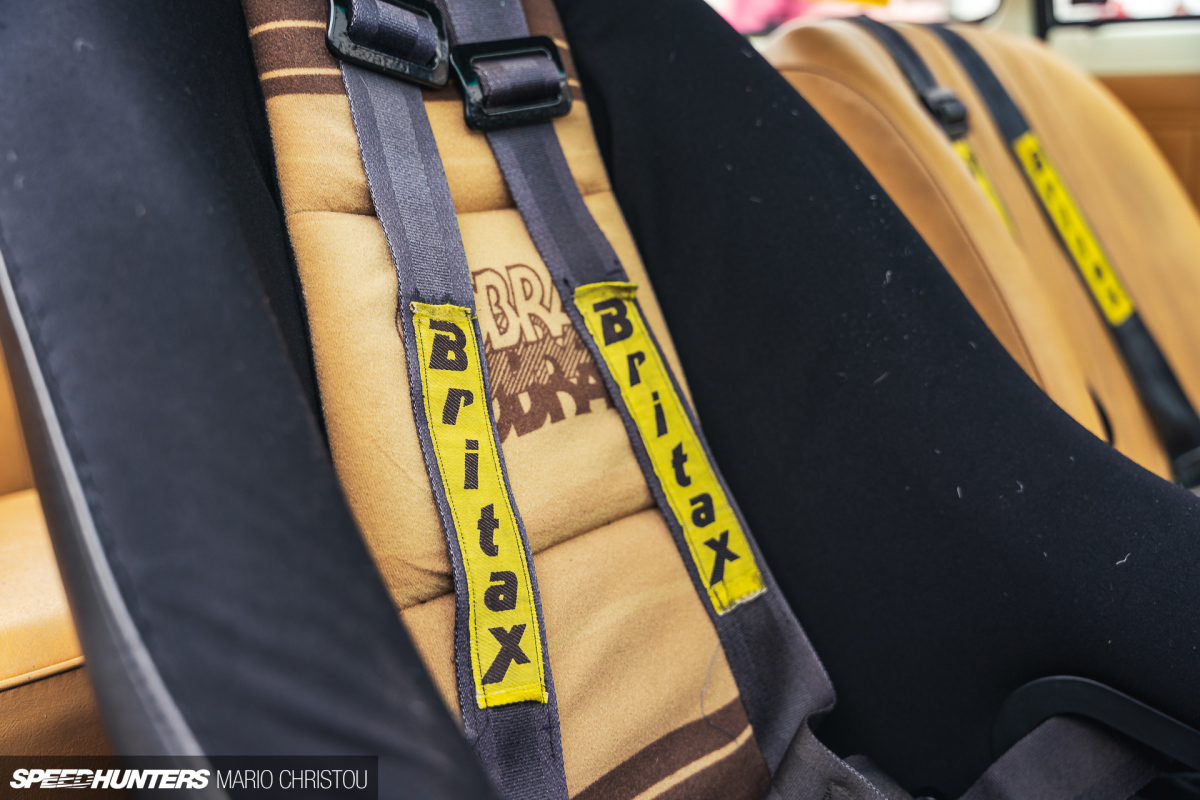 The colour scheme paired with Britax harnesses is oh-so retro, and just how cool is that old Cobra font?!
The carpets appear to have been taken straight from an East London market stall, whilst a trio of gauges emerge from under the dashboard, hinting at something a little more serious under the bonnet than the original 1.1L mill.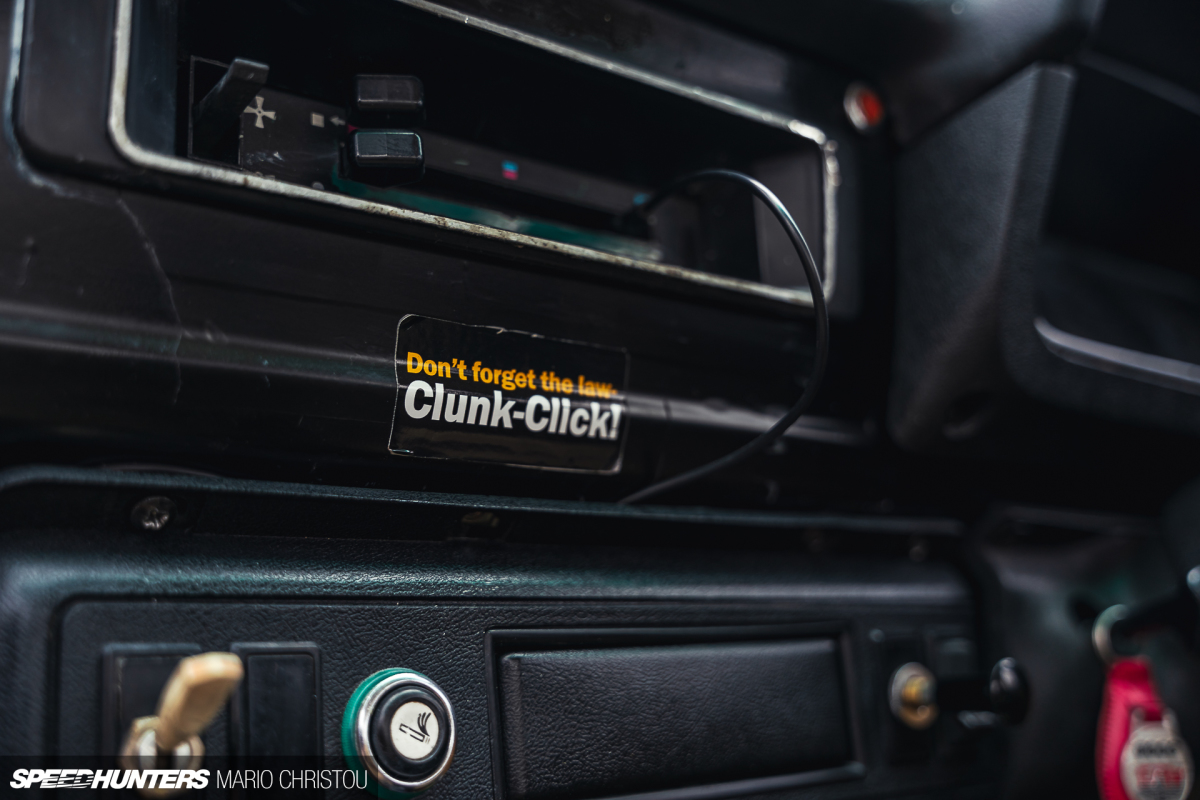 The 'Clunk-Click' sticker on the dashboard is another retro memento from a '70s government campaign to remind drivers to fasten their seatbelts every time they closed their door. The full slogan was 'Clunk-Click Every Trip!' American readers may remember a similar campaign under the slogan 'Click-it or Ticket.'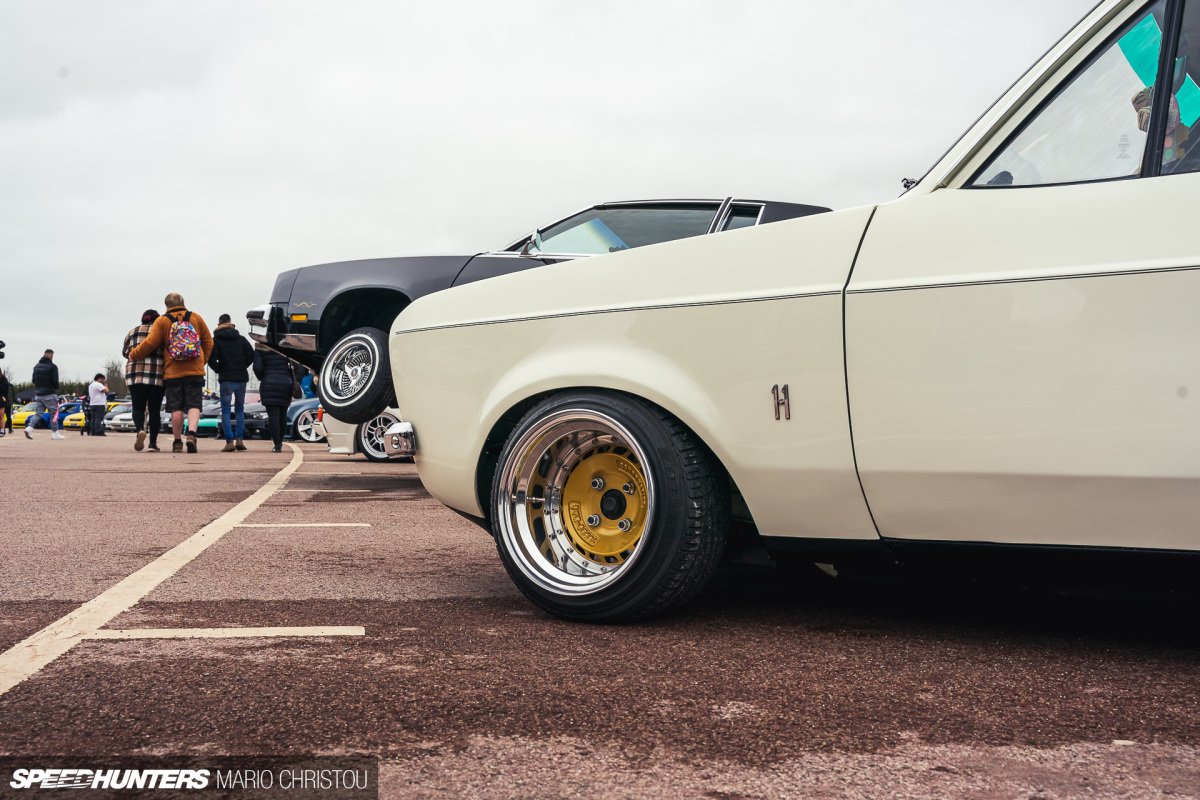 Back to the exterior, and just look at the enormous little magnesium Compomotive Turbo-Mag wheels. Rebuilt with Image Wheels lips and barrels and measuring 13×9.5-inches at all four corners, Rob's setup is extremely aggressive for a factory-arched Mk2. They're barely contained under the little two-door body.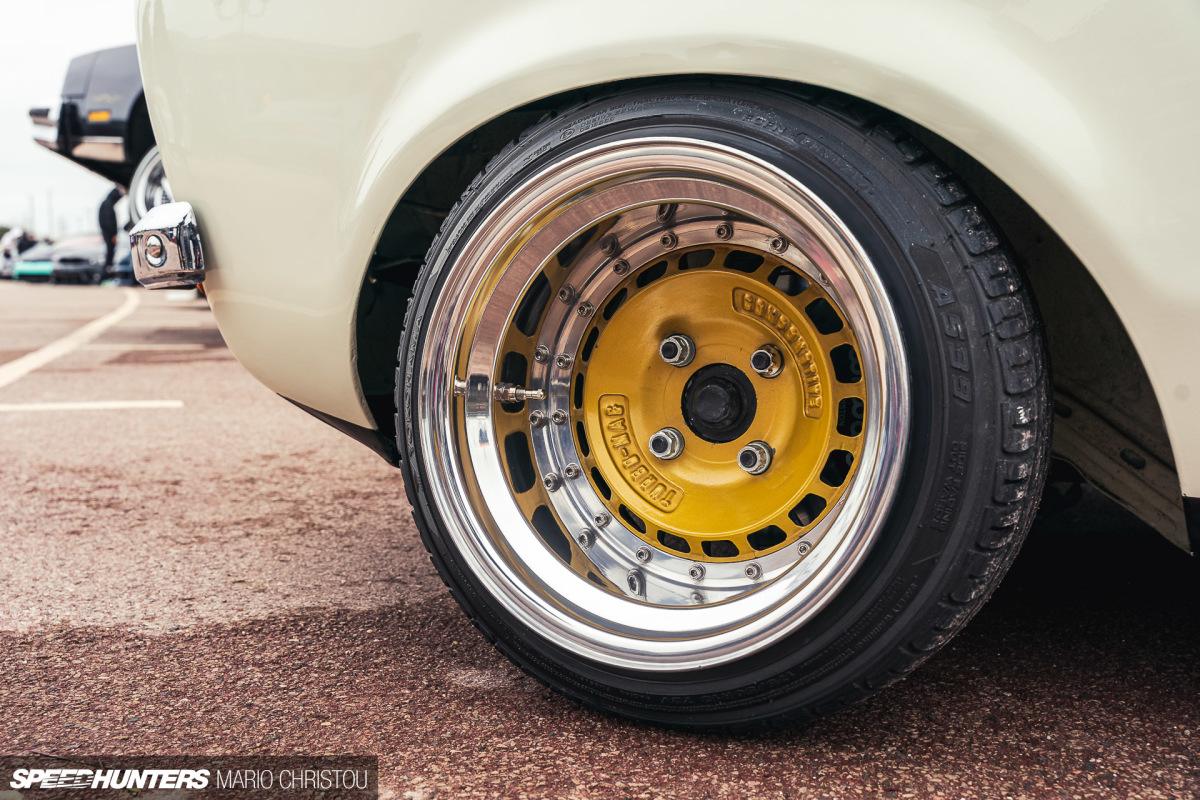 Behind the wheels lie Wilwood brakes, in this case hooked up to a hydraulic handbrake.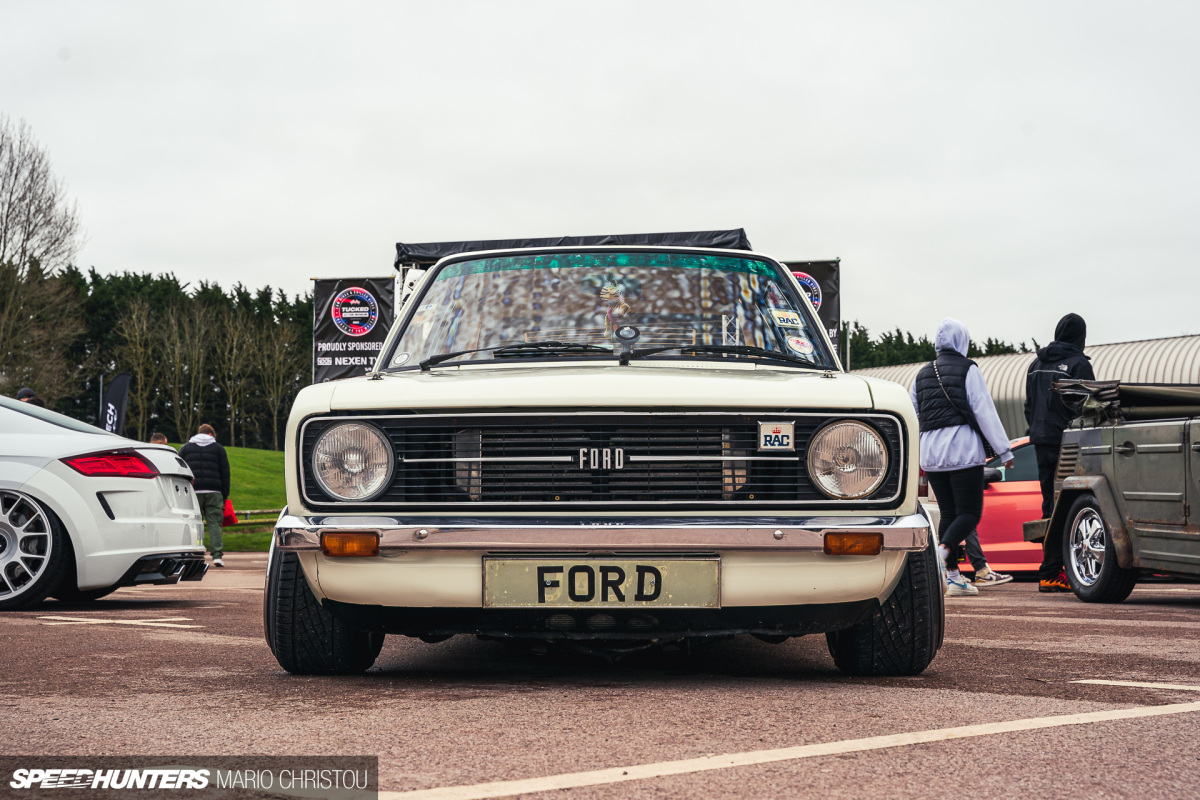 The camber and drop in ride height are achievable thanks to a set of GAZ Gold coilovers, though more work has gone into the rear in order to fit the Compomotives due to the car's solid rear axle.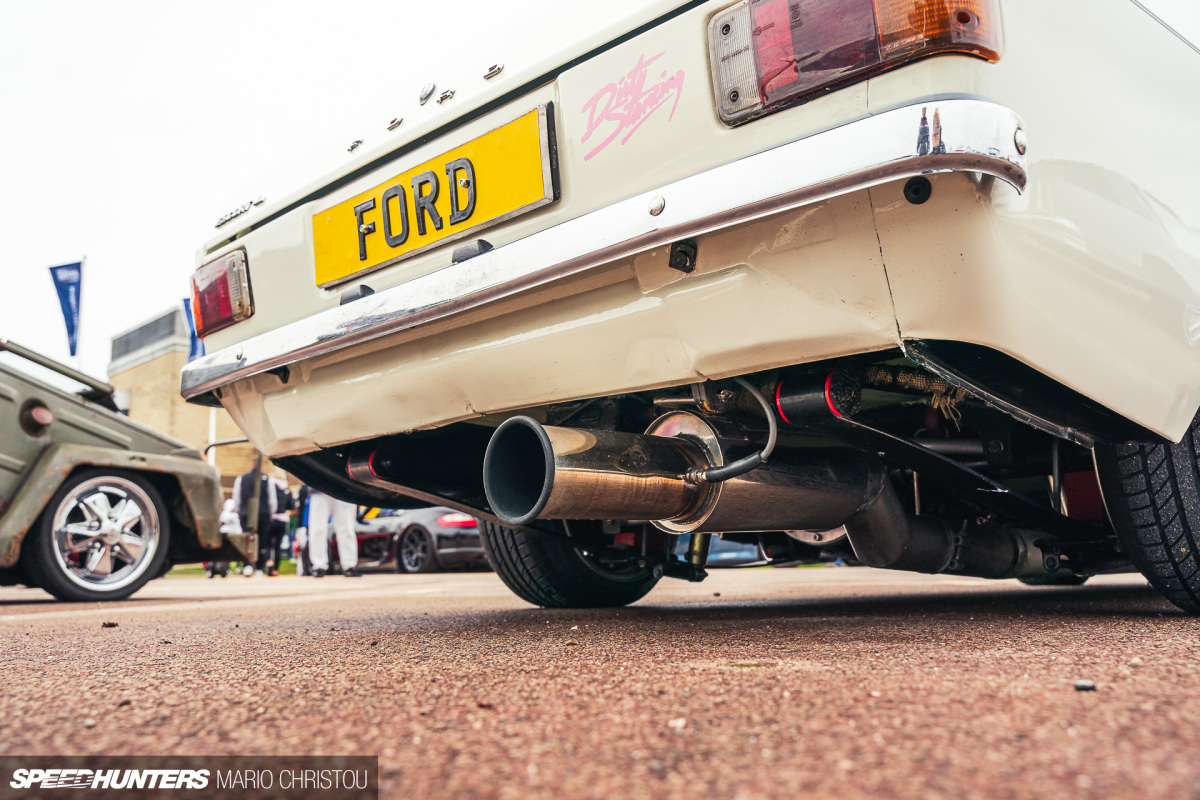 If you dare to peek under the rear of the Escort, past the cannon of an exhaust, you might be surprised as to the extent of modification Rob has subjected the Escort to.
A narrowed, strengthened and ZF limited-slip differential-equipped Atlas axle now lives between the rear wheels, whilst power is fed through a BorgWarner T5 gearbox. Compared to the almost agricultural standard items, the difference is night and day.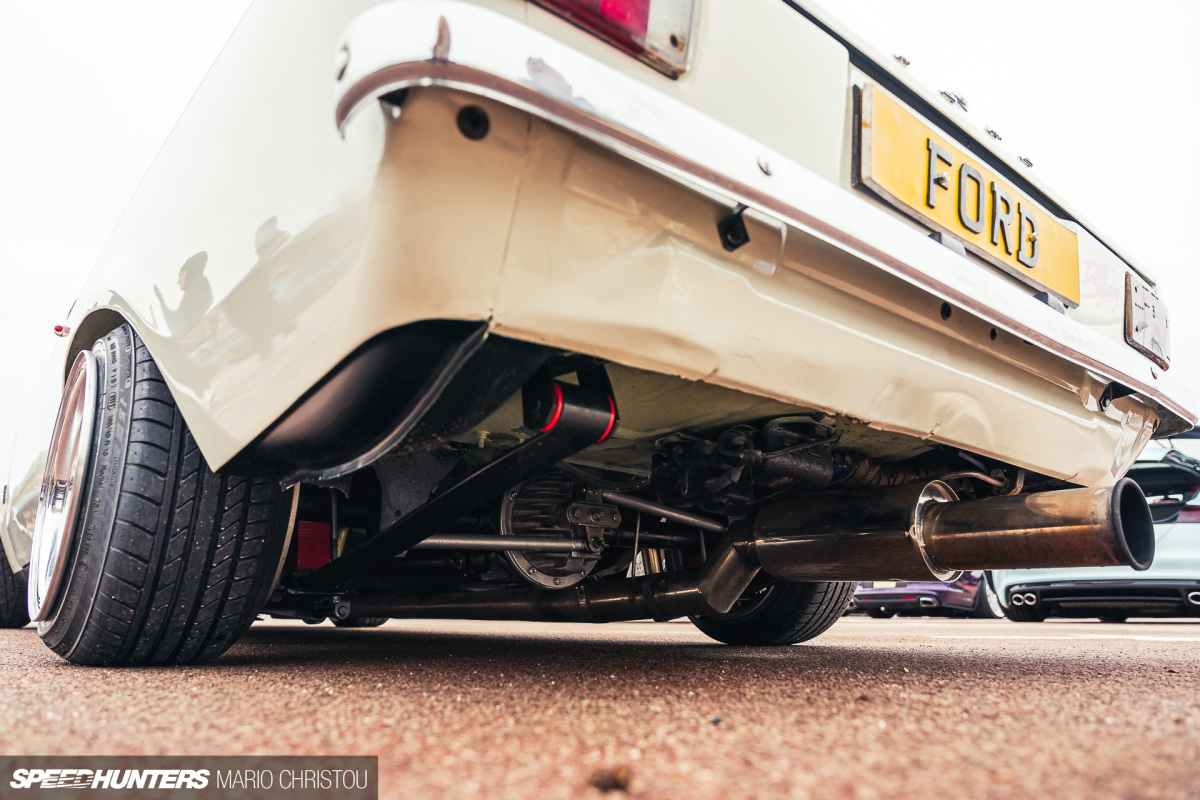 Heavy-duty 18-tooth half-shafts reside within the axle casting to handle the power now running through the driveline, whilst a Watt's linkage mounted to the differential casing minimises side-to-side 'drift' from the rear axle.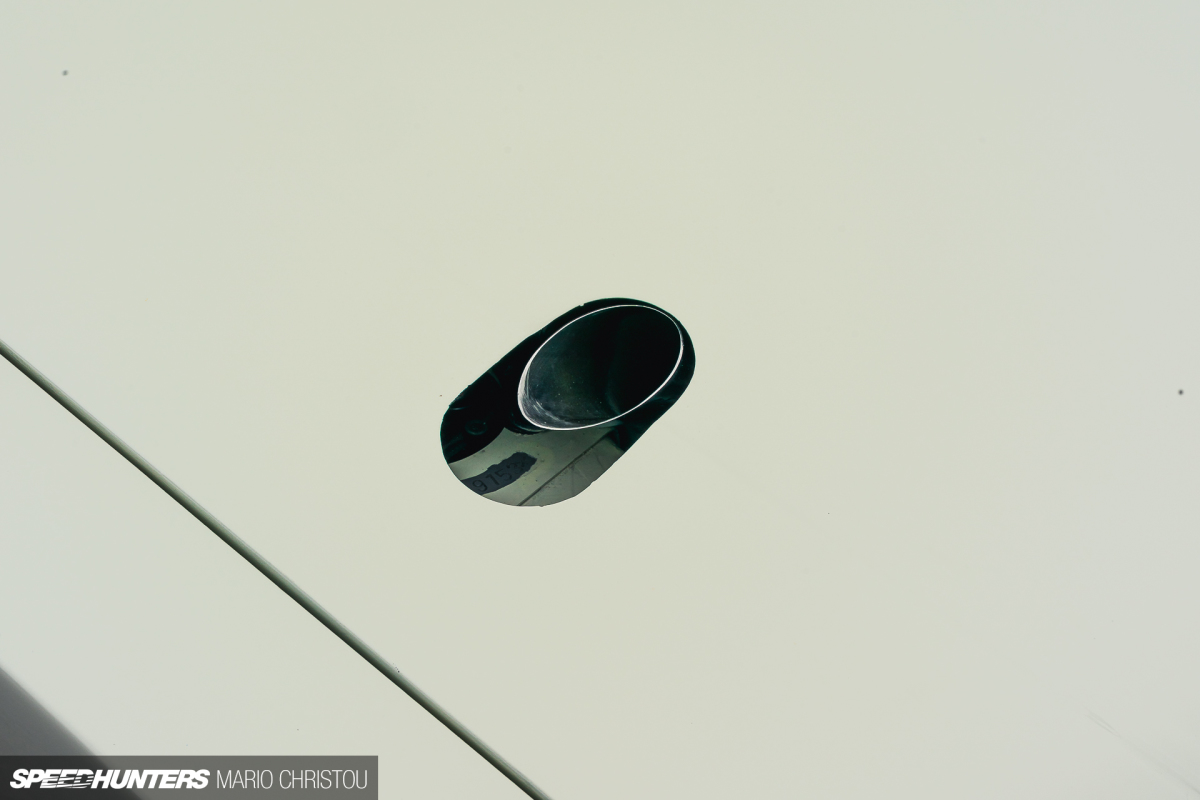 What sort of engine would require such a strong rear-end in such a small car? Well, the screamer pipe fitted up flush to the bonnet is a giveaway that forced induction is involved.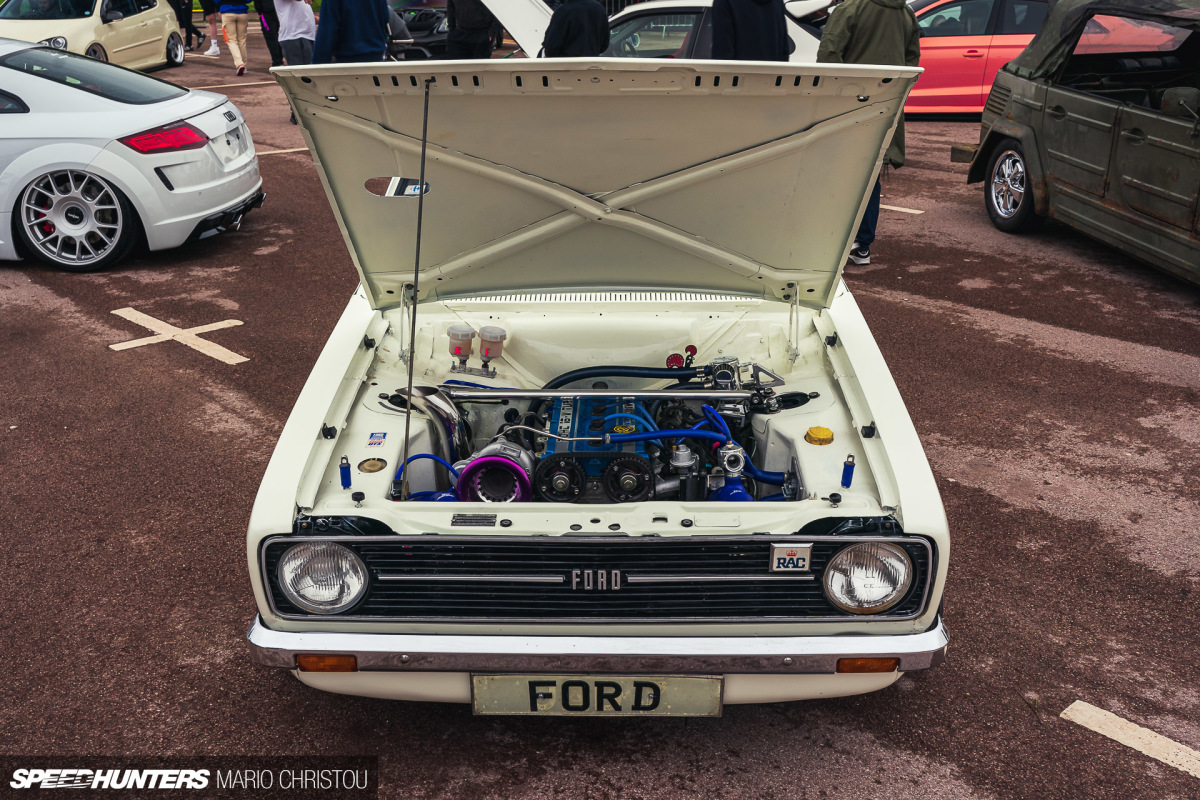 Being a British old school Ford build, it's only right that a 2.0L DOHC 16-valve turbo engine out of a Ford Sierra RS Cosworth now resides in place of the original Crossflow.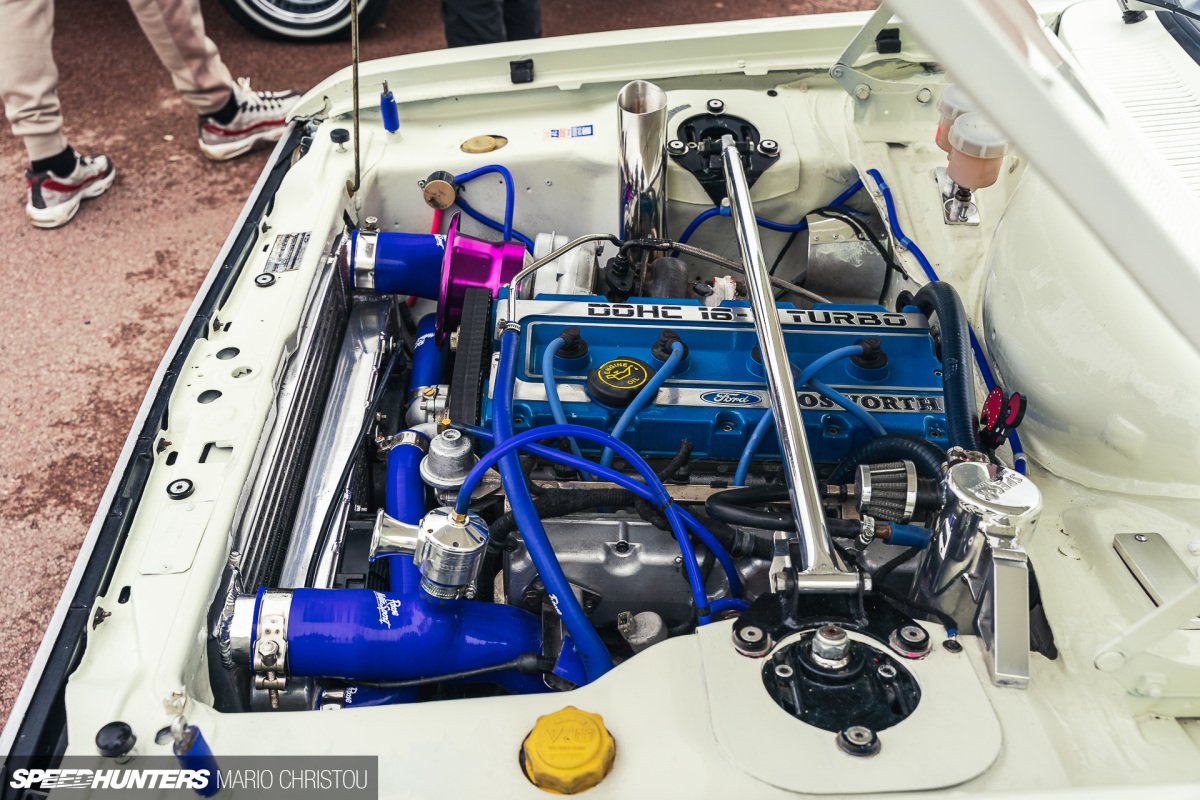 This is a highly sought after engine swap in the Ford scene, thanks in part to the relative ease of the conversion as well as the power gains to be had. The 'YB' was based on the earlier Ford Pinto engine block (unrelated to the American car with a penchant for catching fire). An iron block and motorsport engineering make a very effective combination.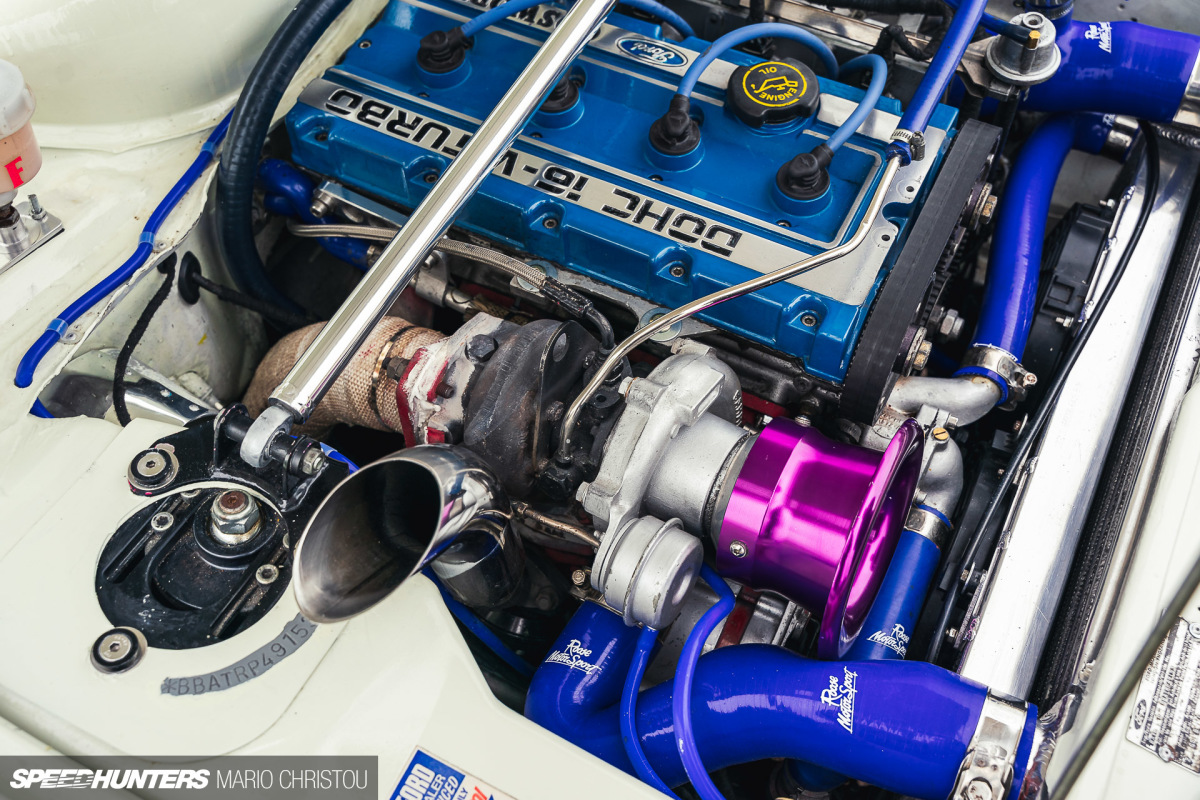 Not only that, but there's a very strong brand loyalty amongst many UK Ford owners. Being a Ford/Cosworth product is a big plus to those who would otherwise be put off by the notion of an engine swap.
As if a near 100% increase in displacement wasn't enough, Rob decided to keep the YB engine turbocharged, now with an upgraded Garrett T38 strapped to the side of the Cosworth-designed head.
A big turbo with no supporting modifications means very little though.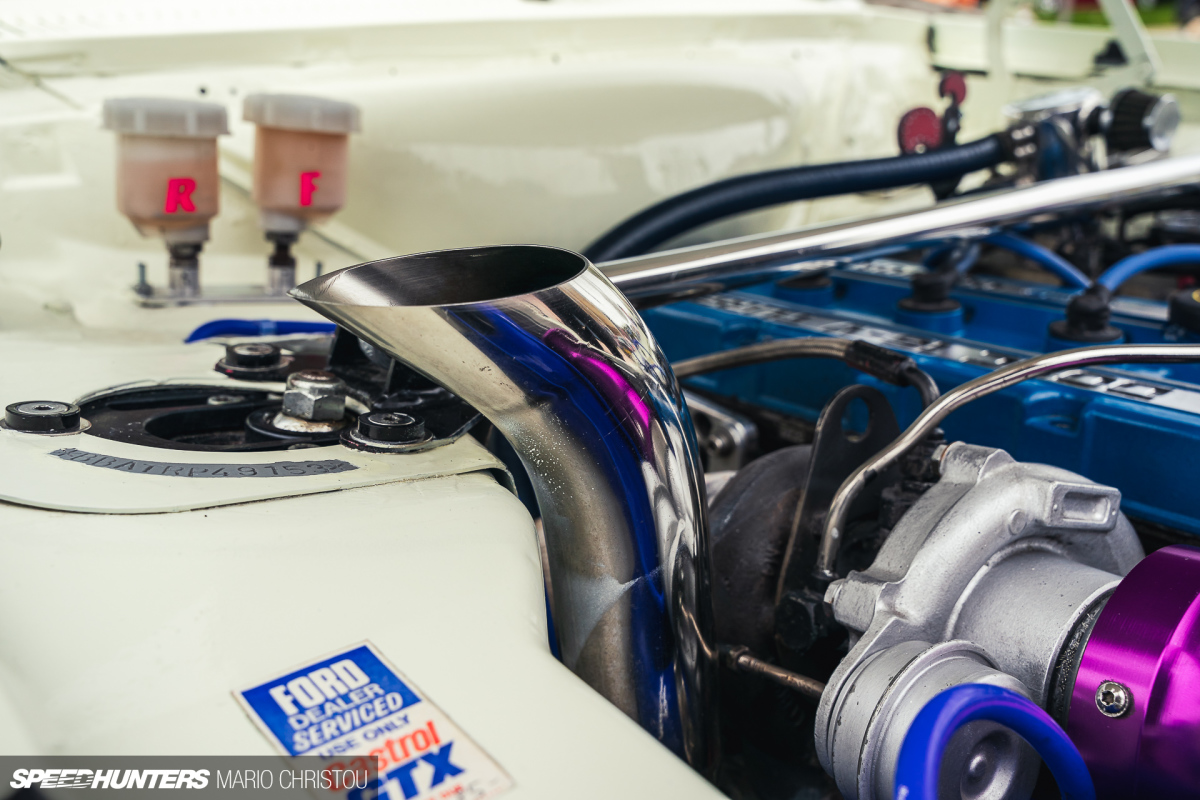 Low compression pistons, aggressively profiled Kent camshafts, uprated injectors and Ford Escort Cosworth L8 engine management allow the little coupé to produce 380hp at 28psi of boost. The pipe venting out of the bonnet sprouts from the TiAL external wastegate.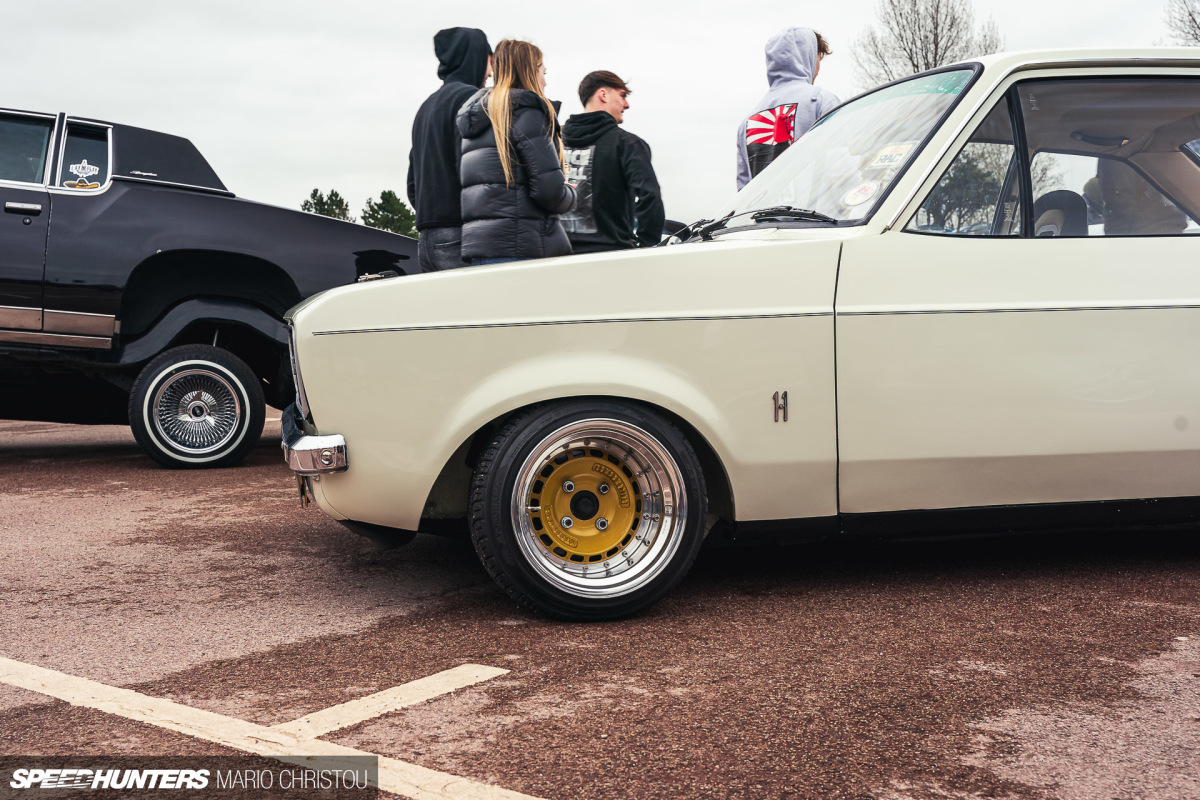 To many international Ford enthusiasts reading this, that may not seem like much. Not when you're used to a big block V8 or Barra inline-six which can comfortably produce up to 1,000hp or beyond.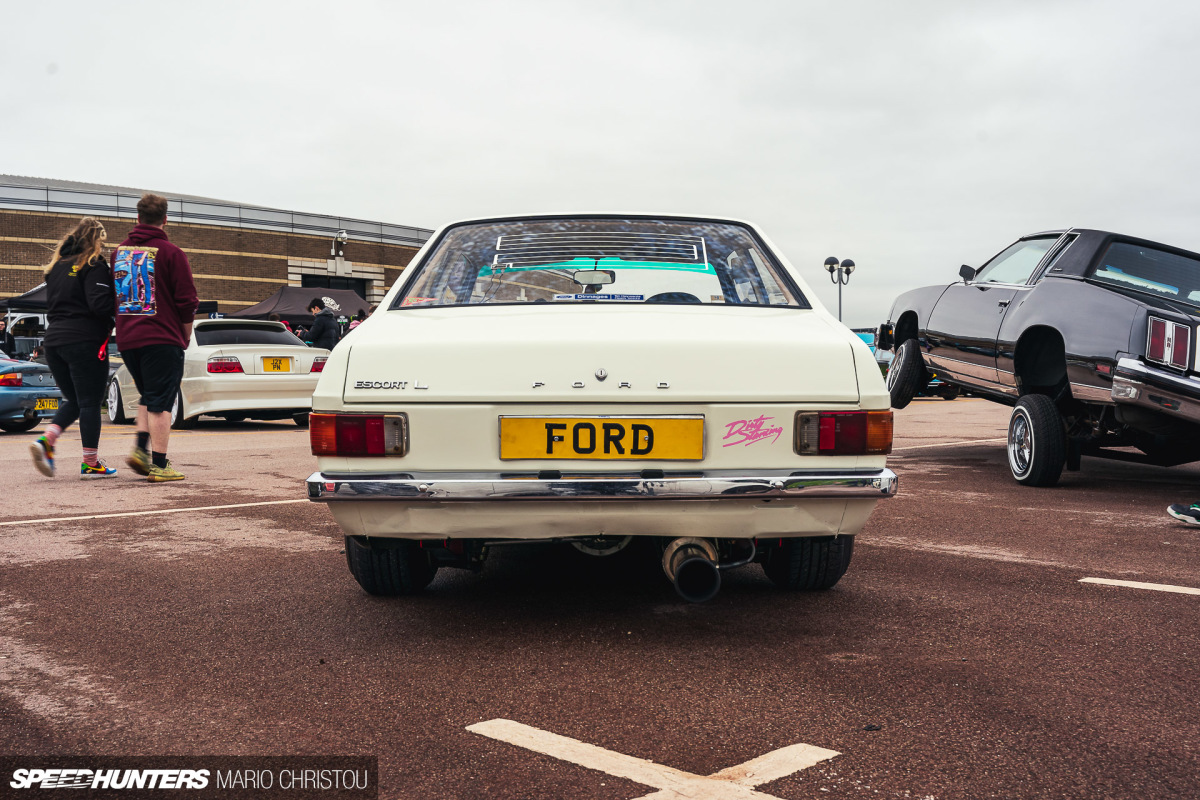 But in the UK, we've learned to do more with less. Our roads are small, our fuel is expensive and our culture is far more reserved. 380hp in a car that weighs less than 1,000kg (2,204lb) is a very healthy number, and enough to find yourself in a lot of trouble very quickly.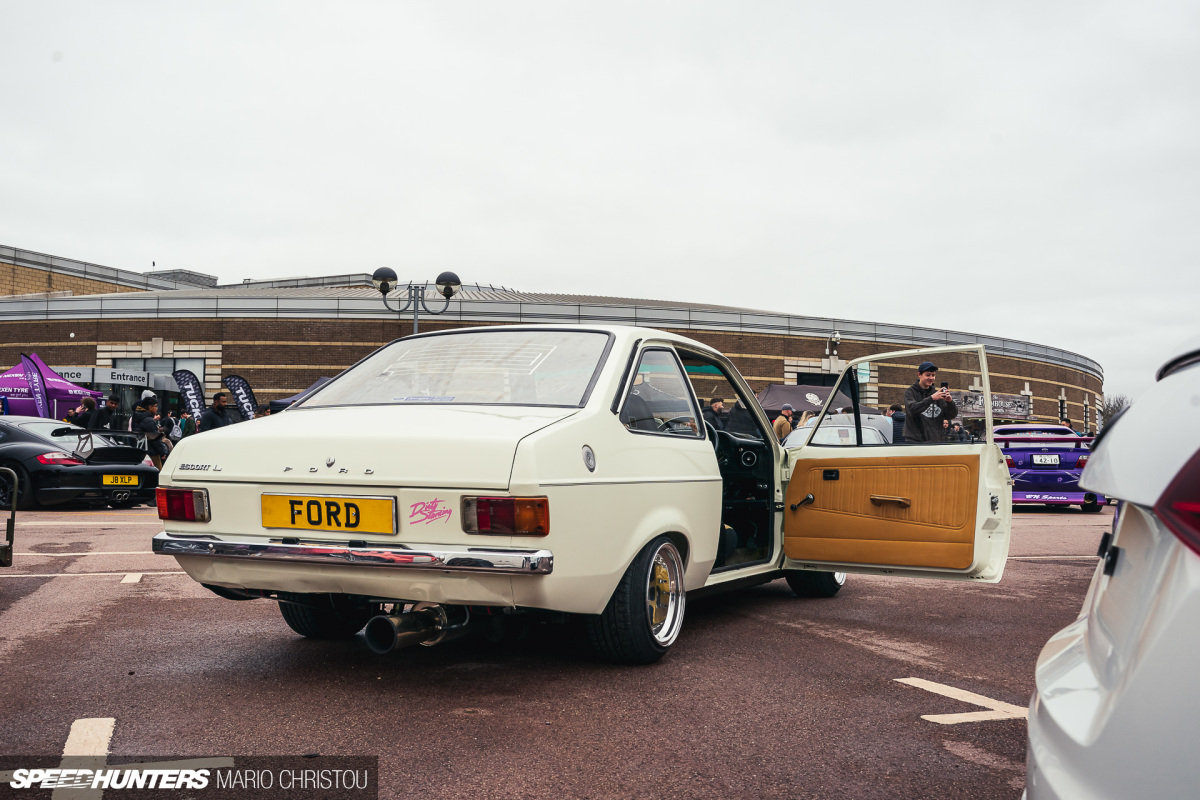 Having grown up buying regular copies of both Classic Ford and Fast Ford magazines, I've always thought I had a good 'base' understanding of what the Ford scene is like in Britain. A common theme was always immaculately restored Escorts, often turned into Mexico replicas with either the original engine rebuilt as new, or a turbocharged powerhouse in the bay.
Cars like Rob's take the tried and true UK old school Ford recipe and switch it up just enough to keep it fresh and interesting.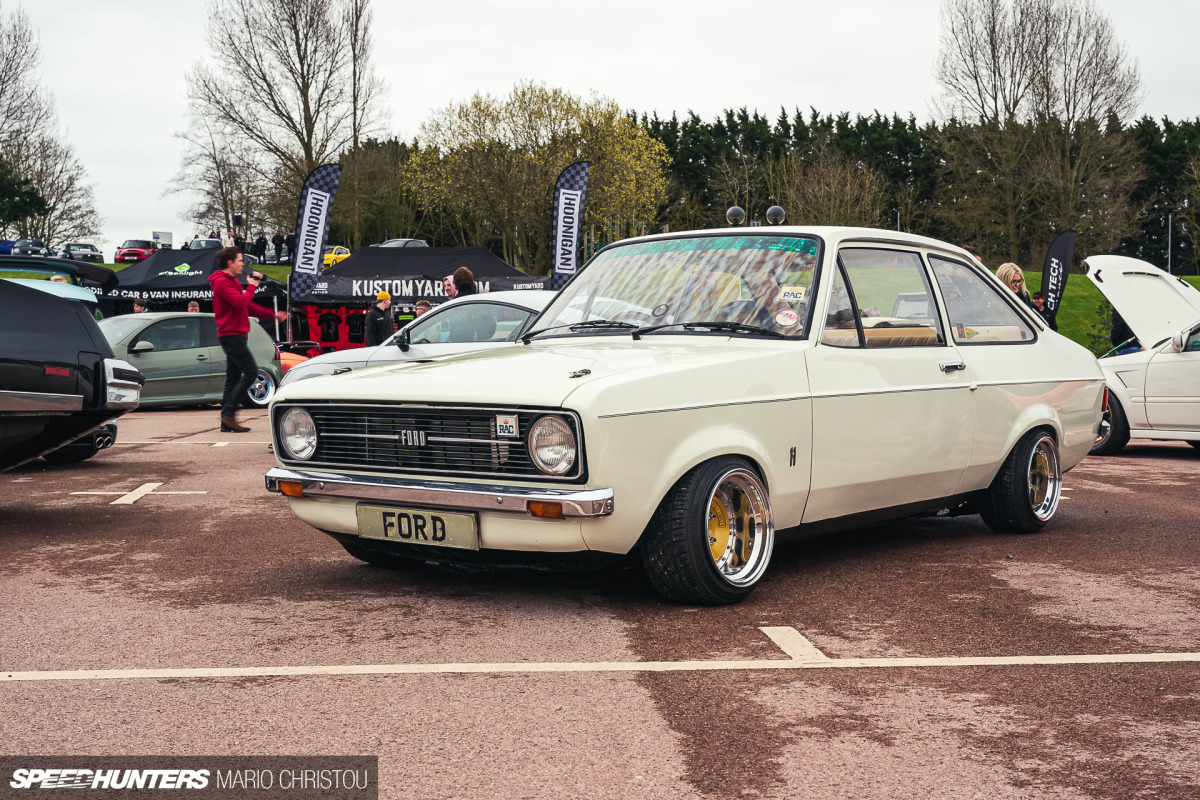 Years of charm in the form of patina and mementos, a heavily upgraded drivetrain and chassis, and an owner who's turned a clean shell into a rowdy little rocket ship to have fun with. If Goldilocks were to own a Mk2 Escort, this would be it. Not too serious, not too silly. This little Ford is just right.
Mario Christou
Instagram: mcwpn