Japan has an ability to push me out of my comfort zone when I least expect it. This is one of those times.
Back in September last year, I made my very first excursion down to the Okinawan archipelago. This short Speedhunting trip was centered around a special meet held inside a U.S. Air Force base.
While in Okinawa, I spent most of my time with Mike and the rest of the guys from MMF AutoworX, a small workshop that predominately helps U.S. military personnel stationed on the island with their modified car needs, by sourcing, prepping, maintaining and selling JDM vehicles.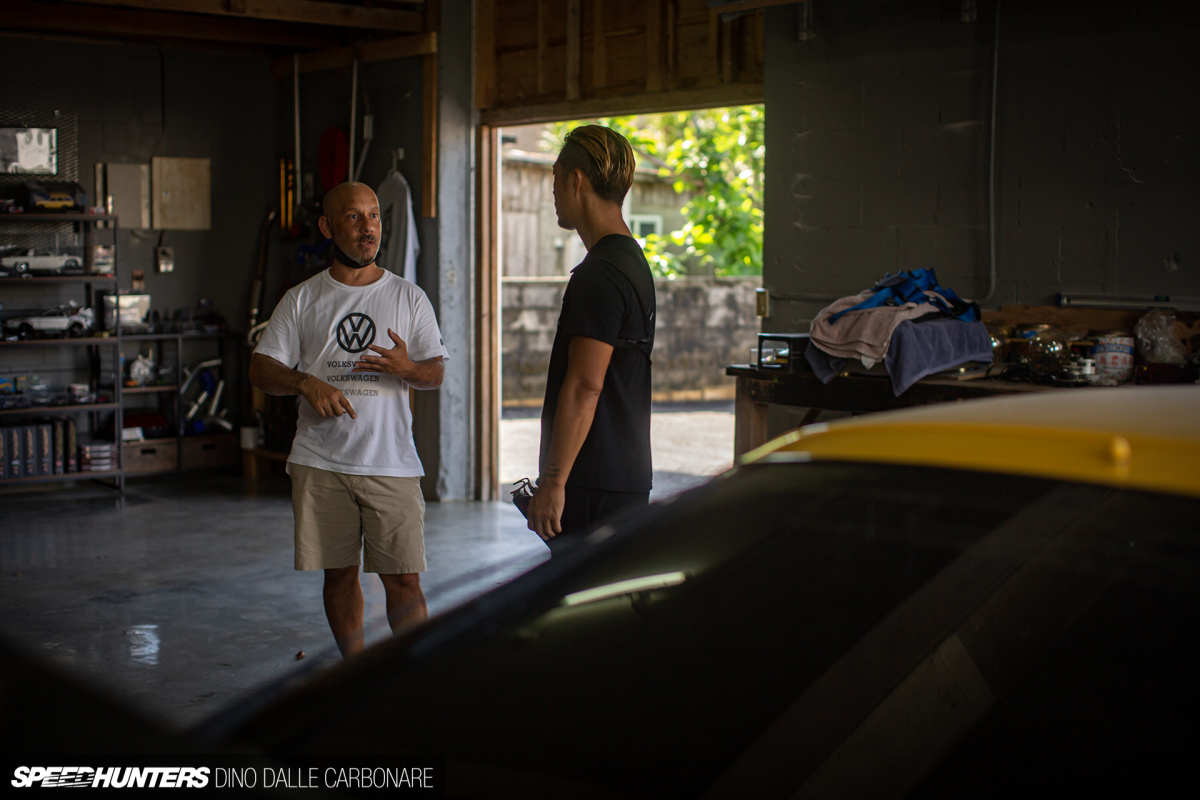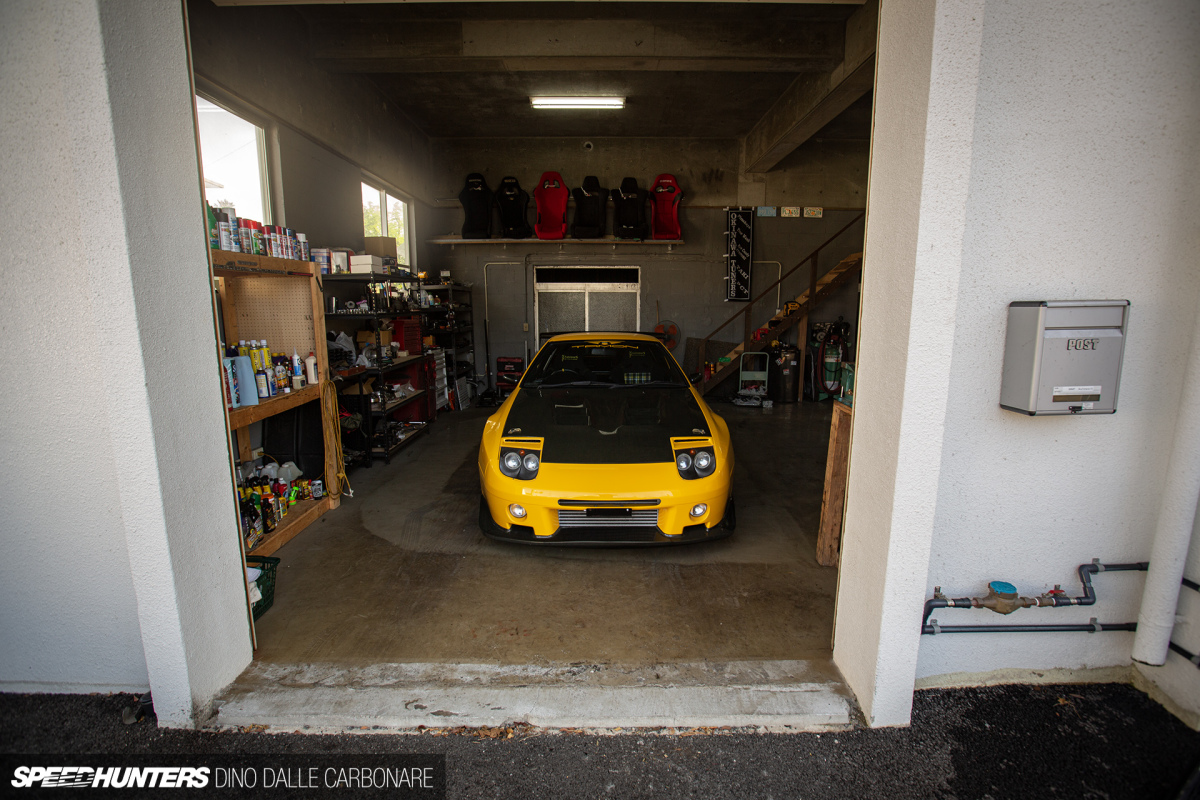 The vibe at MMF was unlike anything I've ever experienced in Japan. But Okinawa in general is a lot like that. It's very much 'Japan', yet has its own distinct character.
MMF AutoworX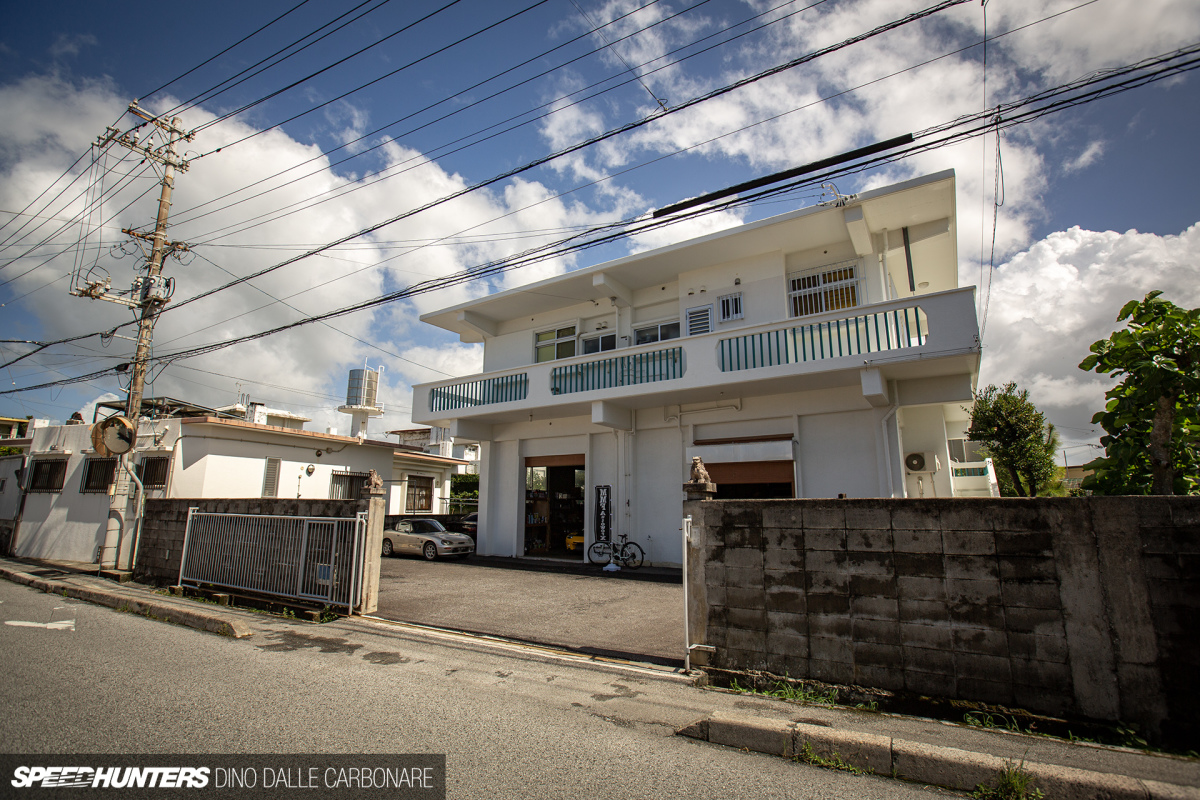 The MMF AutowerX building is located in the small, traditional seaside village of Yomitan. Visiting the area, I honestly felt like I was on the set of The Karate Kid Part II (I'm showing my age here!). Luckily I didn't have to fight anyone to the death.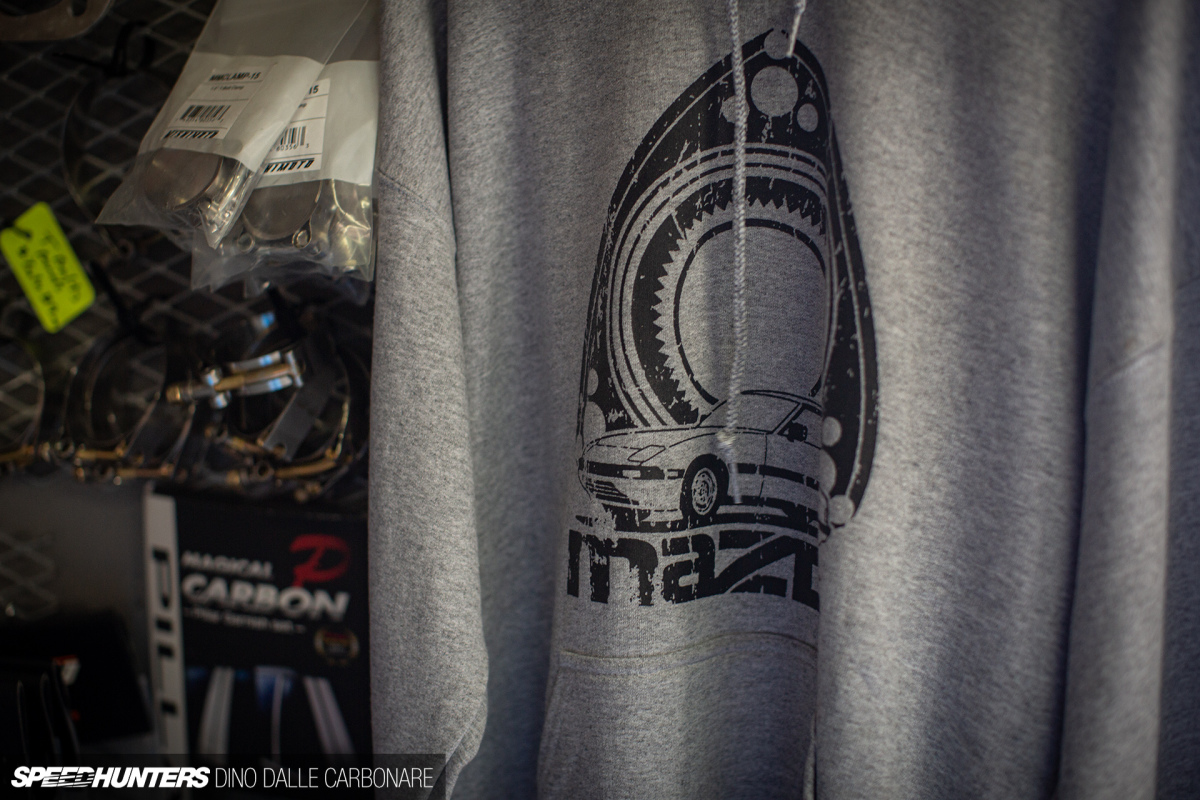 Mike and Steve at MMF have been in business together for seven years, and over that time they've slowly built up a functional workspace with a cool atmosphere.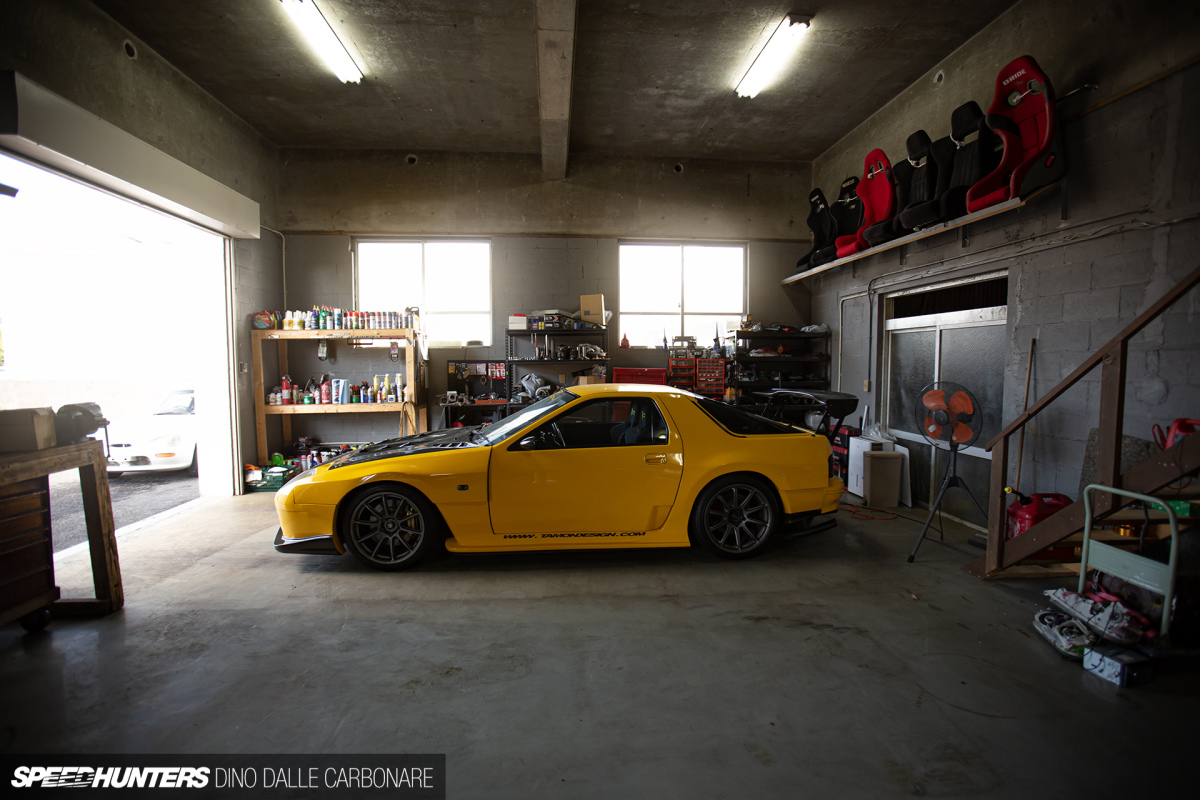 There are a couple of bays to work on cars and an office, while the rest is a mix of storage space and memorabilia. It feels more like a man cave than a business, but that's probably because so many shops I've visited have stuff everywhere and barely any space to move around in.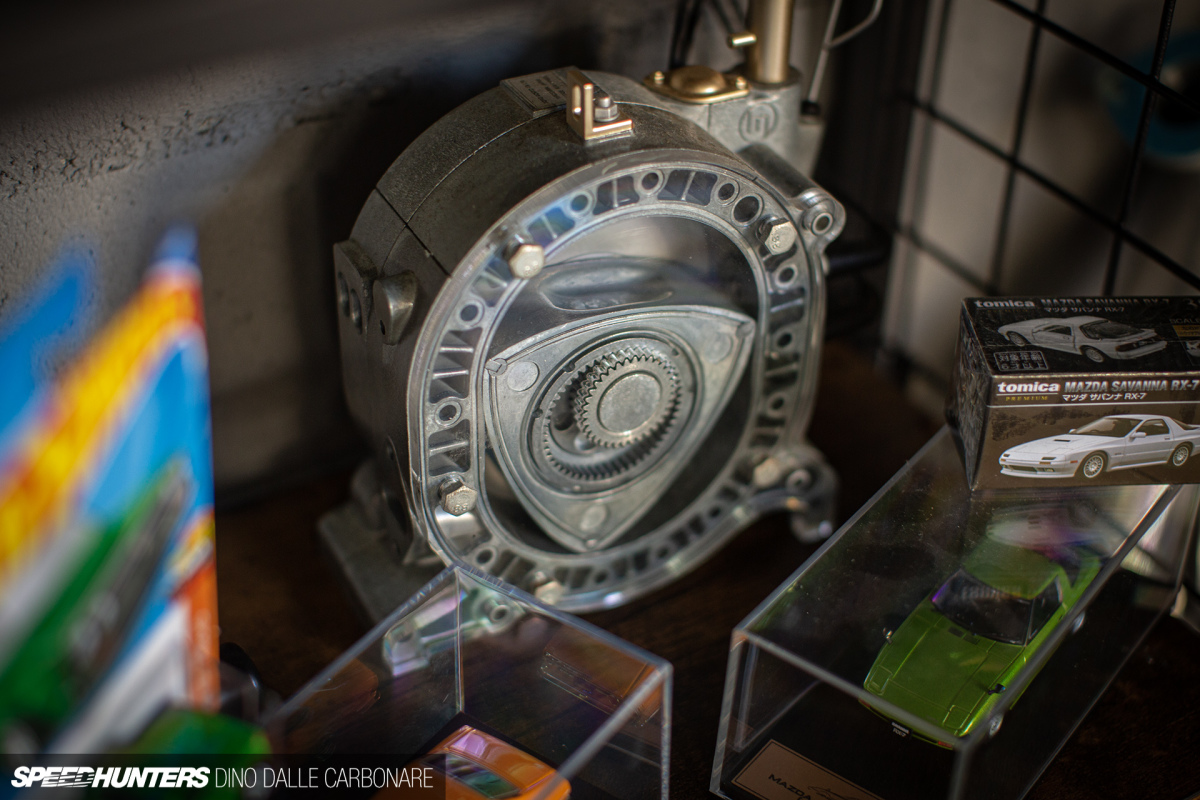 I spent some time nosing around all the interesting stuff on show.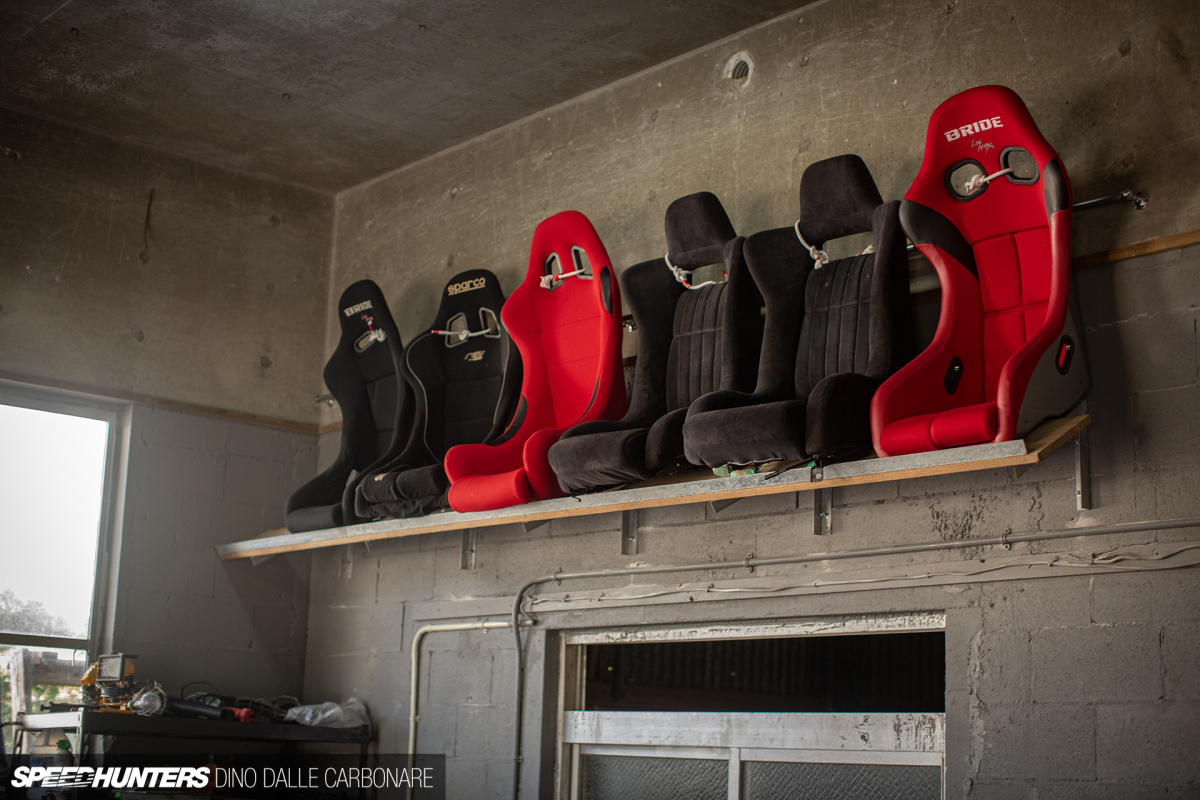 I loved the seat display above one of the service bays. Who knows what car that pair of plush OEM velour seats came out of?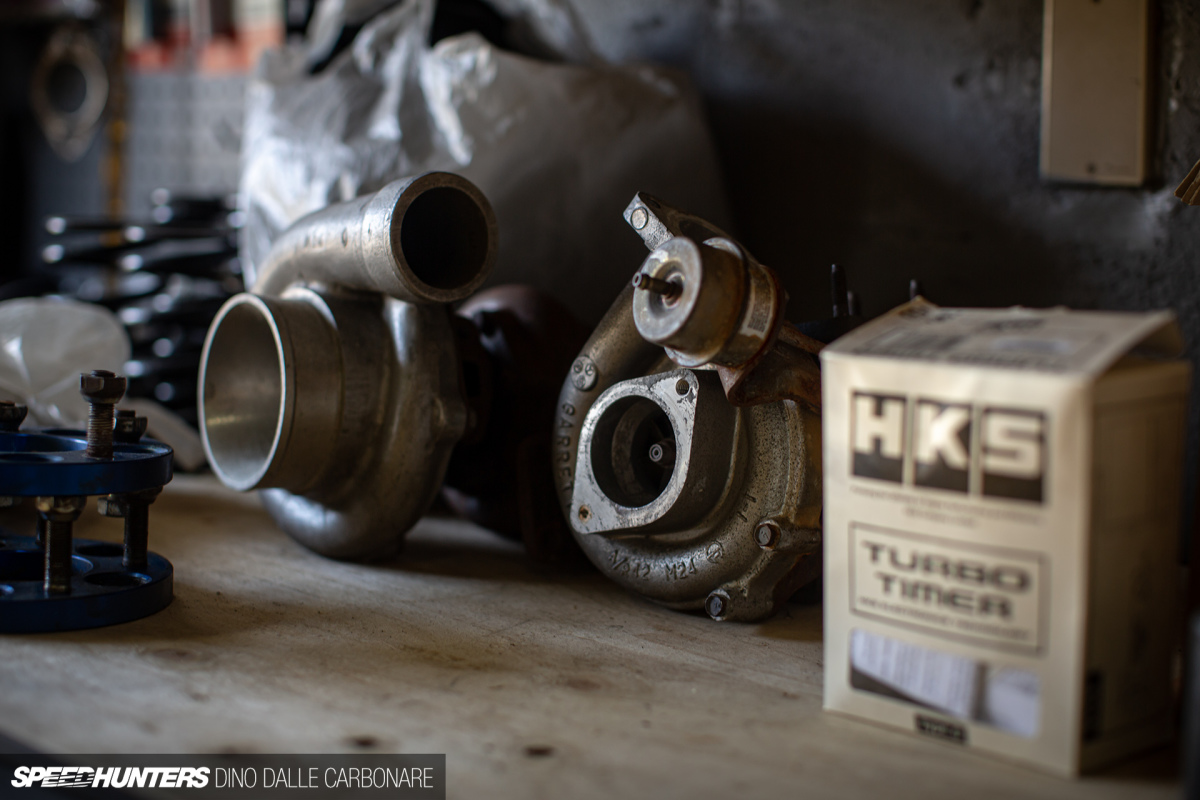 On top of regular maintenance and trouble-shooting, MMF AutowerX does a lot of of basic performance and styling upgrade work.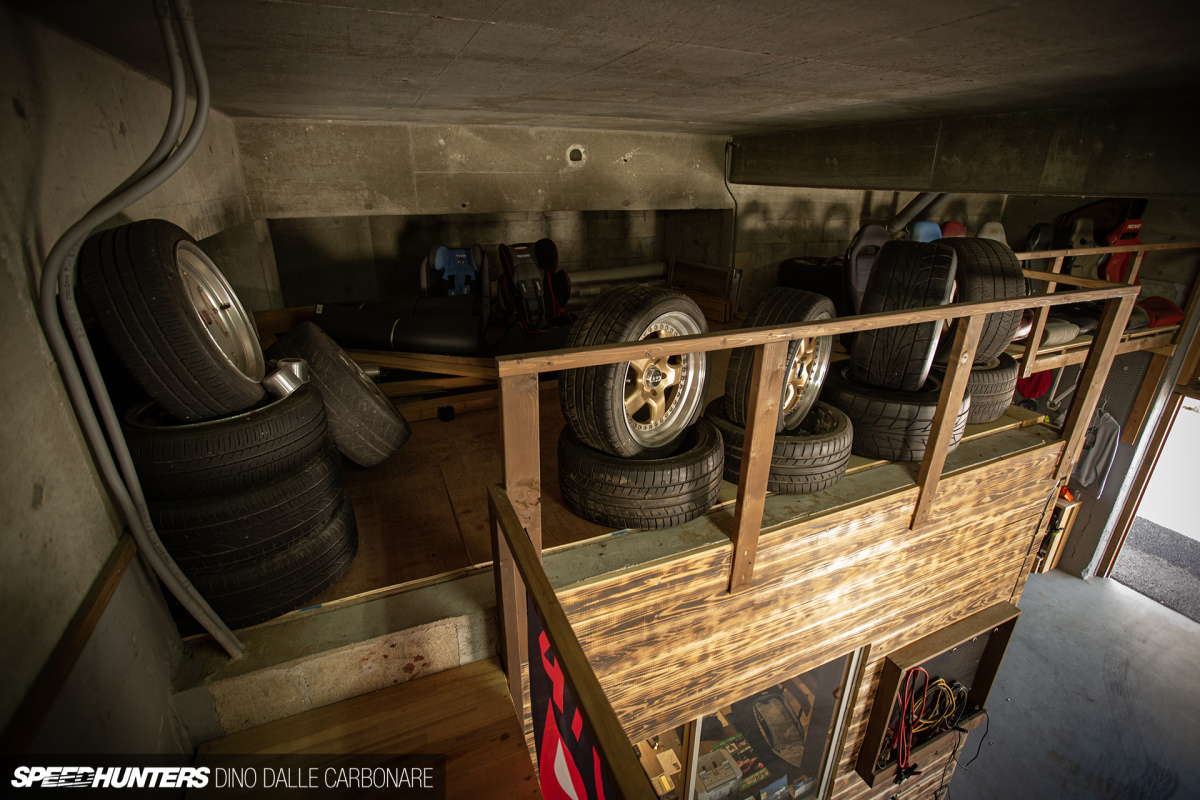 Over the years they have amassed a large collection of second-hand parts available for purchase, and many of these are stored out of the way up on the shop's mezzanine floor above the office.
On one shelf I found these custom sakura-themed JZX100 taillights that Mike has custom made overseas. They come with their own controller that allows you to choose from an array of flashing patterns. They're pretty cool, but don't expect to pass your shaken (roadworthiness inspection/registration) with these fitted!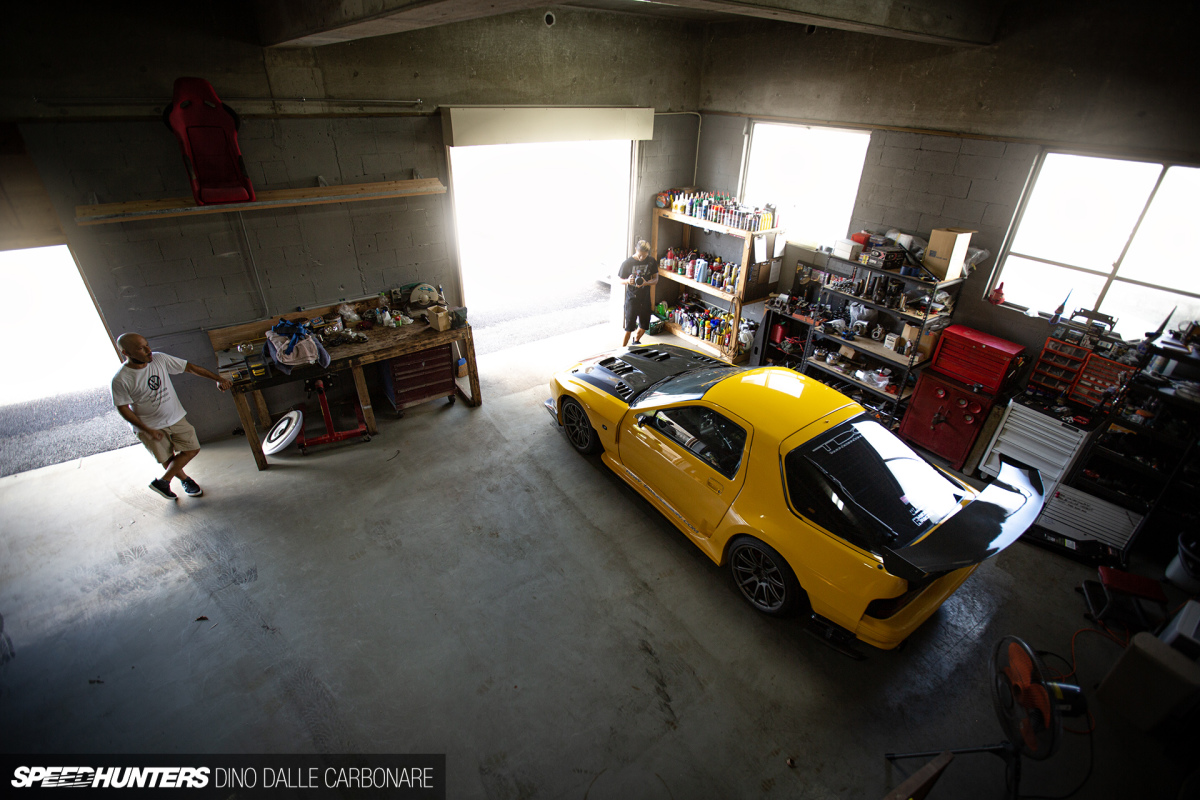 While it was a cool spot to hang out in, the real reason I was here on this particular day was to shoot this – Mike's FC3S Mazda RX-7.
This is a true one of a kind build, not only for the custom exterior which was designed by Shoji Tamon of Tamon Design, but because of the engine which was refined by Japanese rotary royalty, the late Yoshimi Katayama of Katayama Racing.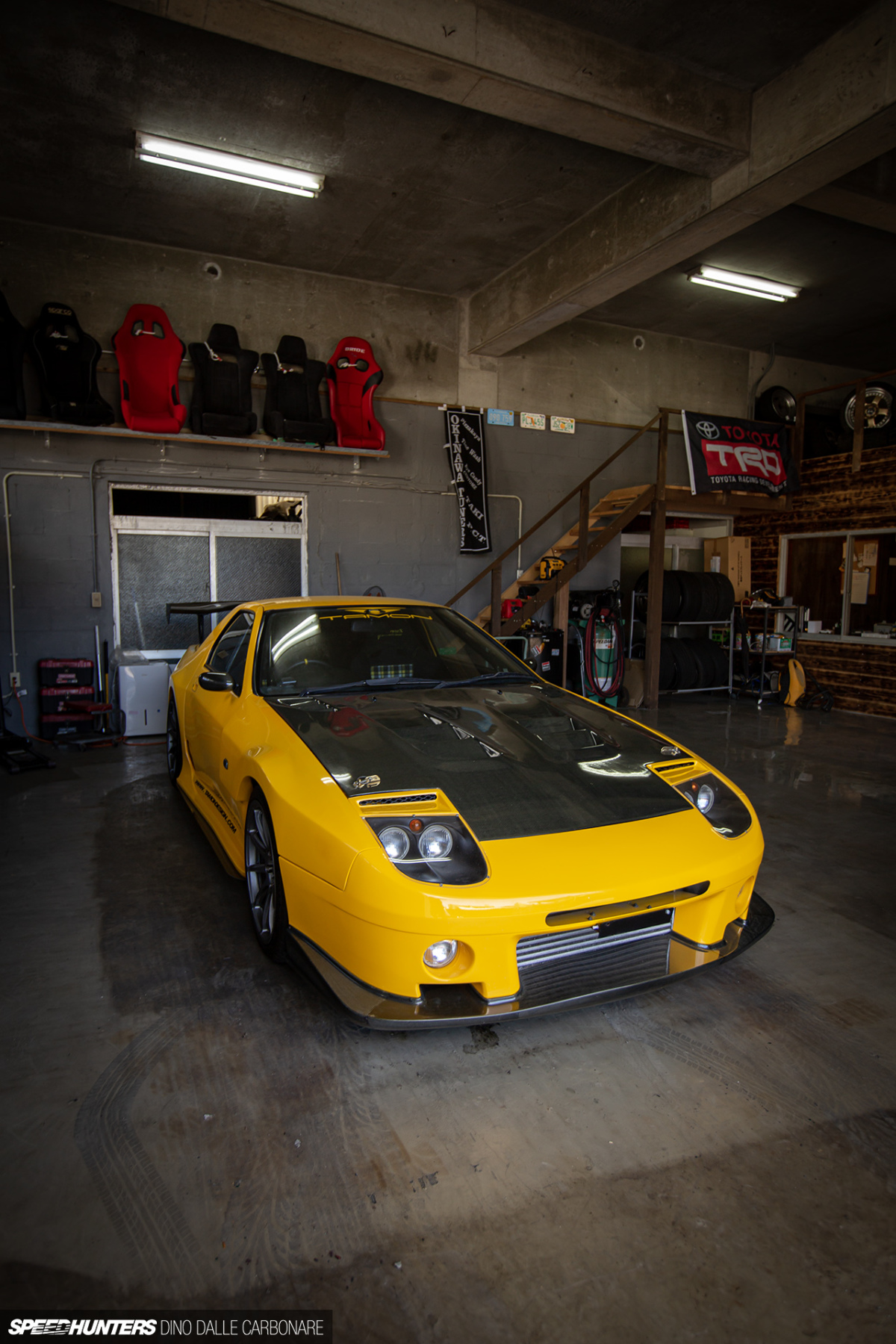 Apart from the odd wheel swap to change up the look, Mike hasn't meddled with the RX-7 too much since he took ownership. I don't think anyone would want to given its uniqueness.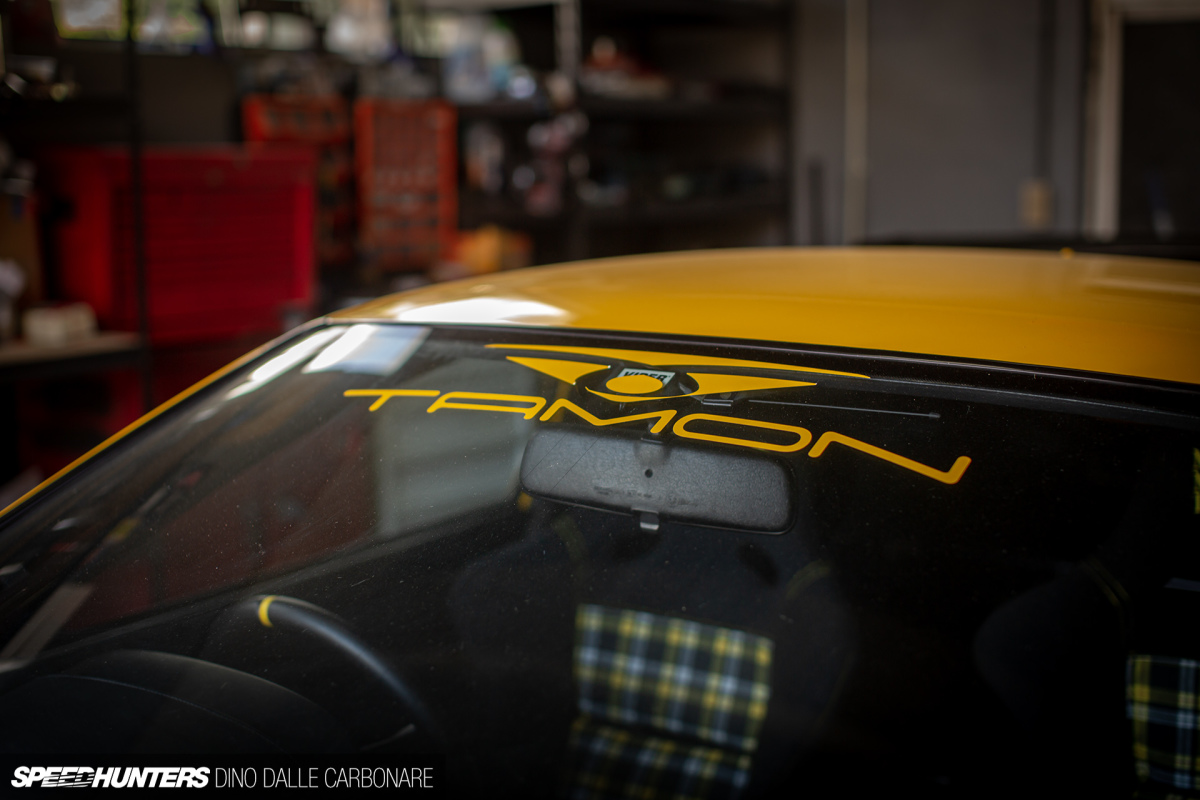 A previous owner commissioned Tamon-san to design the one-off exterior, but it was bodywork specialist Nakamuraya-san who executed the vision perfectly.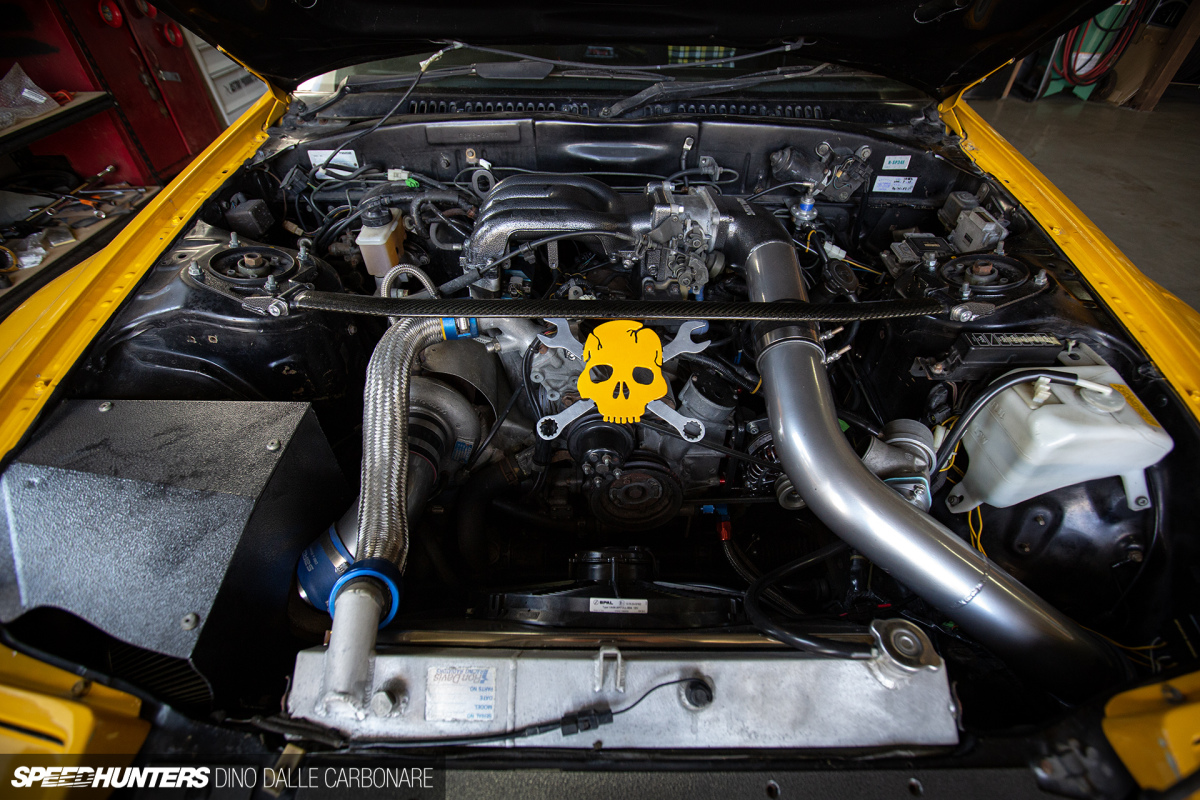 The Katayama-tuned Mazda 13B rotary engine up front benefits from a rather large Trust T67 turbo. It also has a rather large radiator, because Okinawan heat is no joke. I found that out the moment I landed on the tropical island.
To support the level of boost the T67 can produce across the rev range, the fuel system has been upgraded to deliver all the hi-oku gas a thirsty rotary craves. A hard-piping kit plumbs all the other components, like the Trust intercooler, StillWay intake elbow and larger throttle body, in place.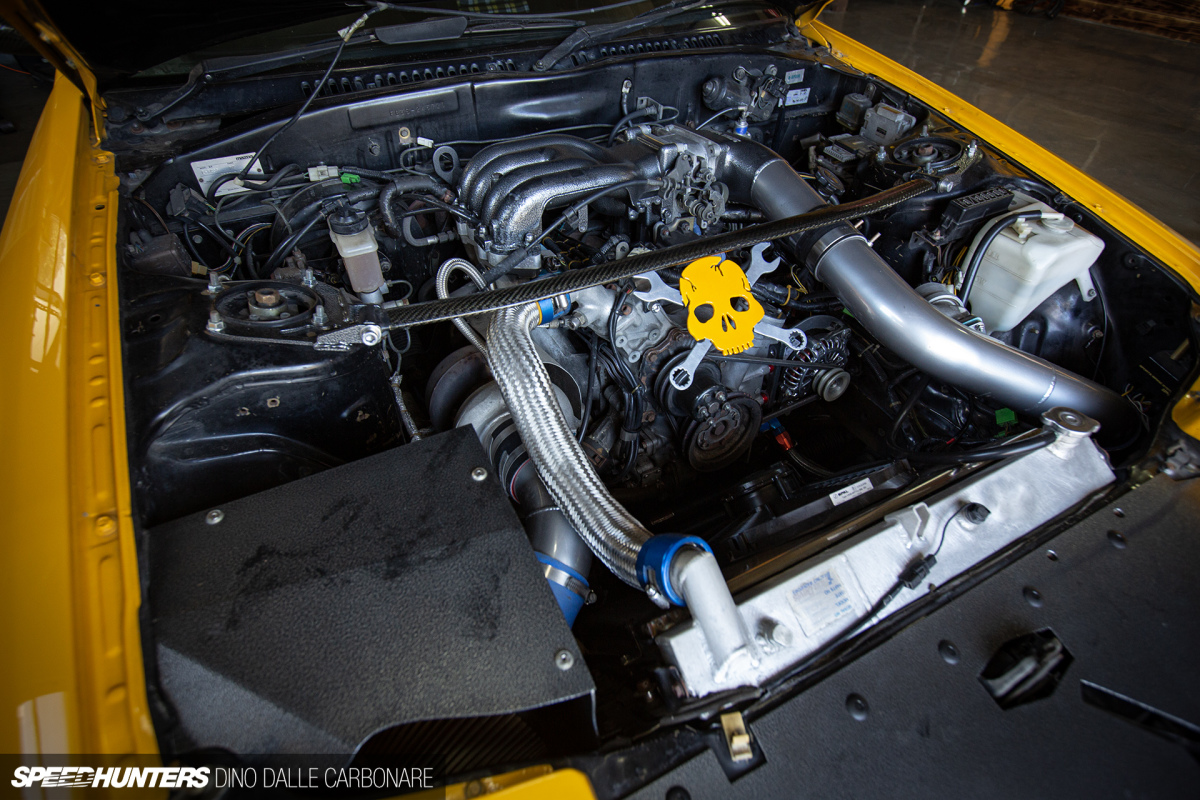 All told, the 13B is producing around 400hp, and Mike has put all of its explosive top end to good use over the twisty roads you'll find on Okinawa's northern side. The MMF skull and wrenches plaque is something Mike affixes in all his cars' engine bays once he deems a build complete.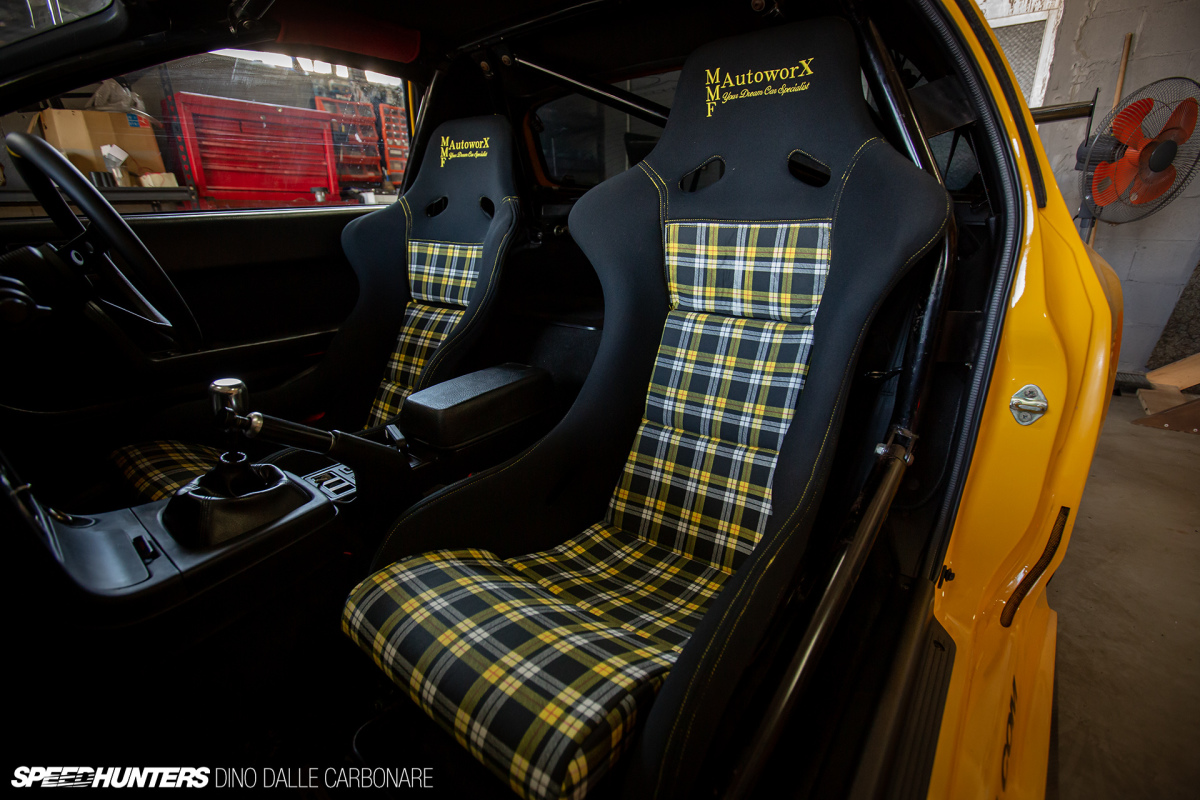 I'm a big fan of the FC's '80s-spec cabin, so I was happy to find this one largely intact, joined only by a few select upgrades. Those include a bolt-in Safety21 roll cage and Momo steering wheel, but the first thing that catches your eye are the custom-trimmed MMF AutoworX bucket seats.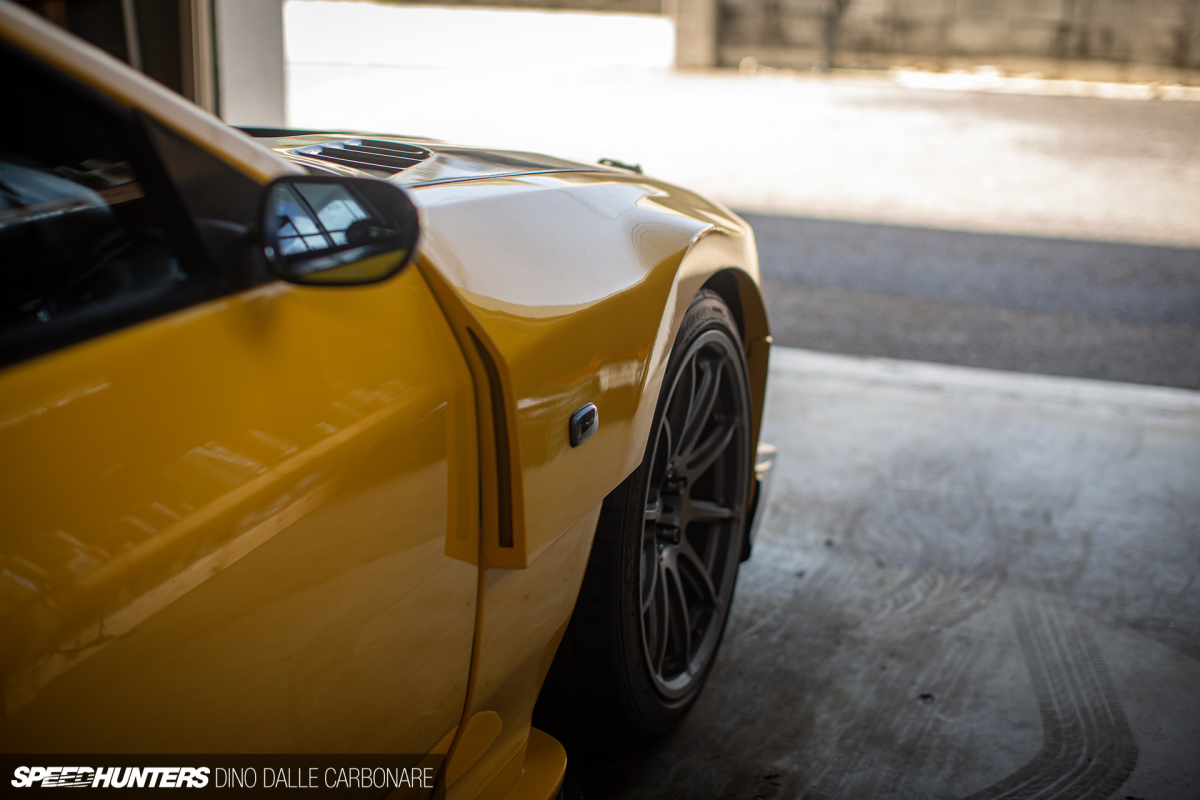 To fully appreciate the car, not to mention hear it in action, we headed out to some fun and picturesque roads nearby.
Embracing Tropical Japan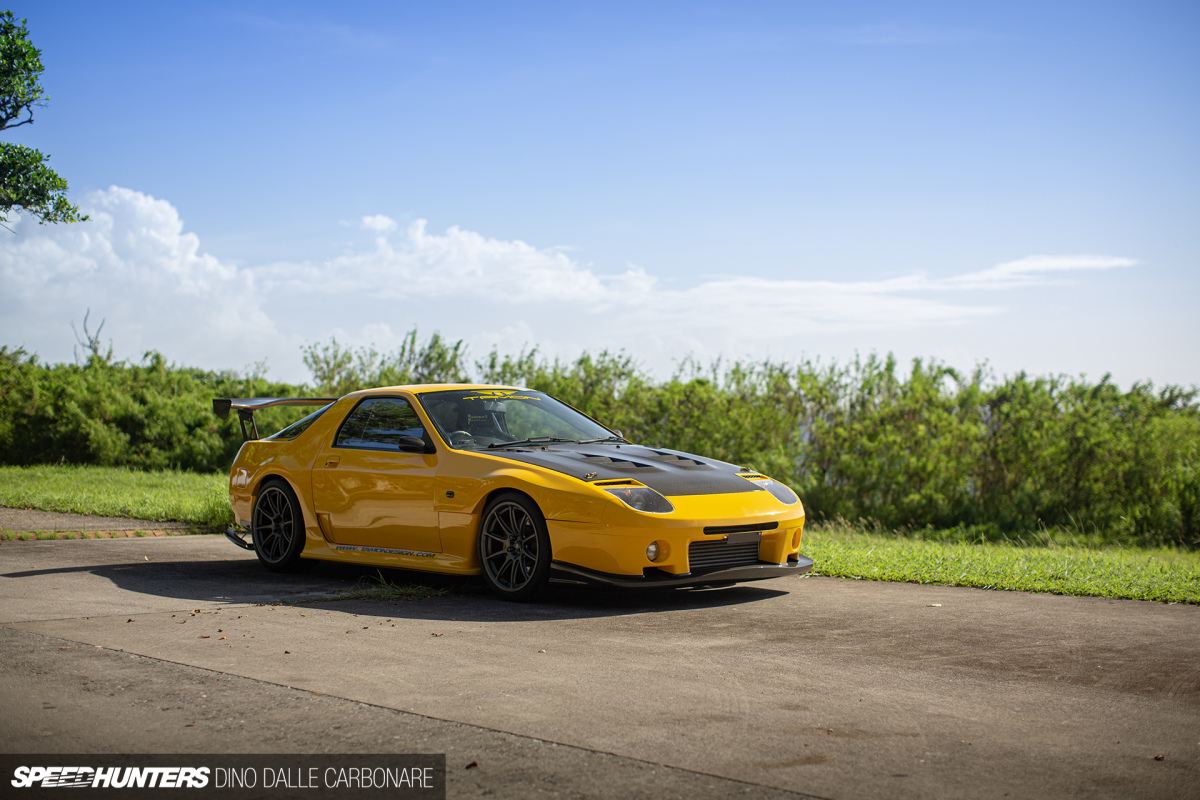 The more time I spent in Okinawa, the more I picked up on its differences to mainland Japan. Sure, you can apply the Japanese cookie-cutter style of infrastructure and urbanization, but the reality is, Okinawa is very much its own place.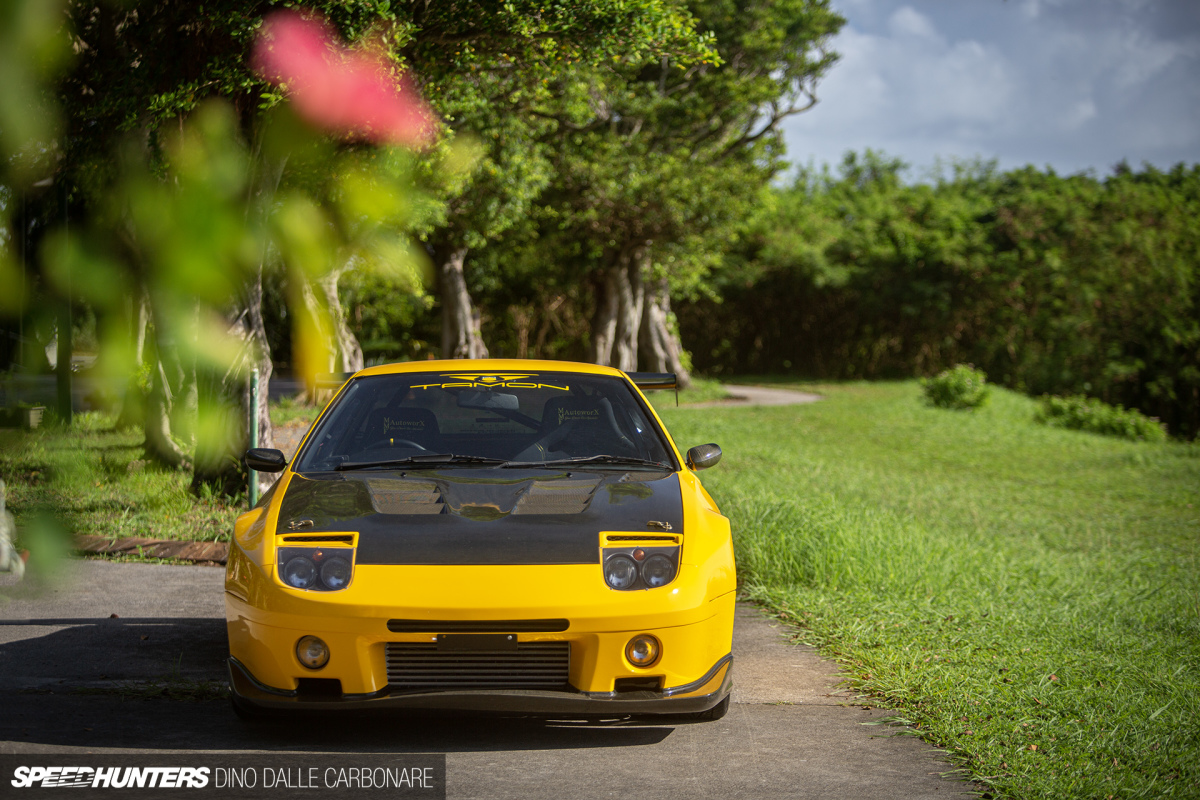 Okinawans are proud people with a very diverse history and culture that has had to abide and align with Japanese society. Sadly though, the island prefecture has largely been left to fend for itself, and that has resulted in a number of issues that will challenge its economic future.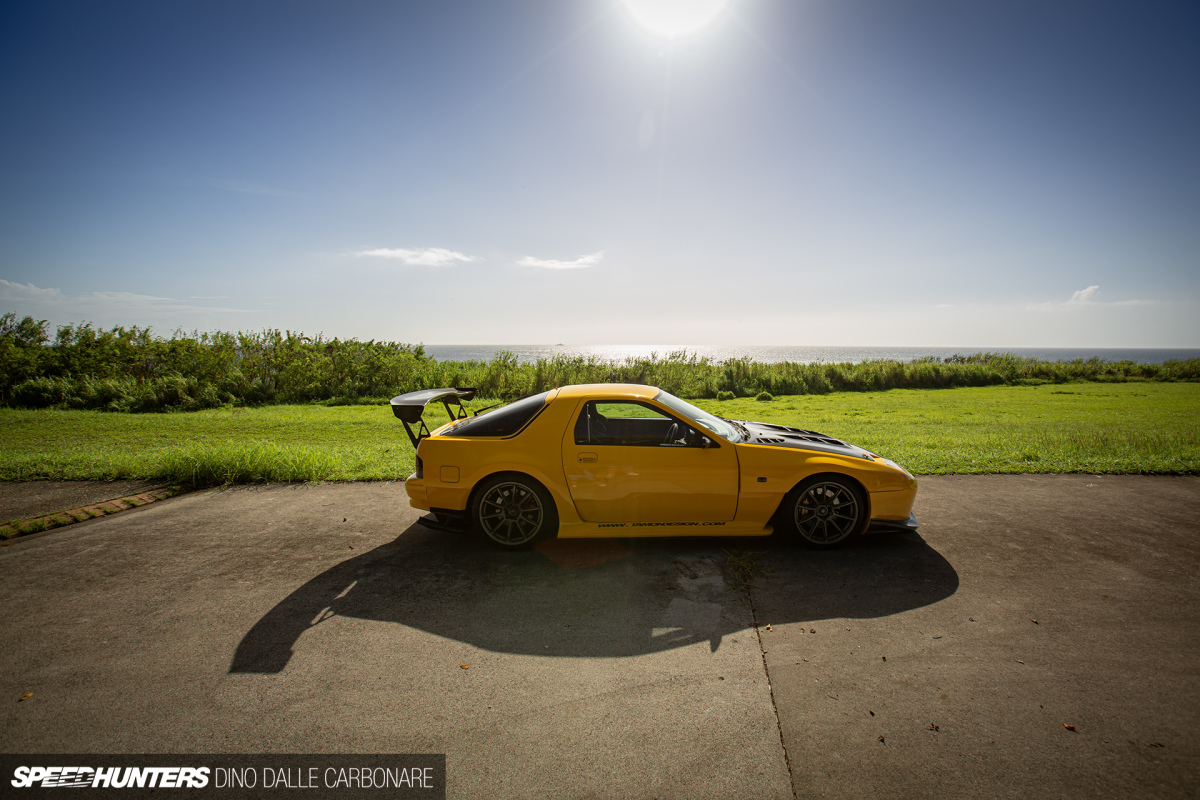 It's a real pity, but for a country that puts its capital city ahead of everything else, not a really a surprise. That said, Okinawa rewards everyone who lives here and visits with simply stunning scenery. It's also an awesome place to shoot cars, and Mike parked his FC up along a quiet road that crests a grassy hill overlooking the Pacific Ocean.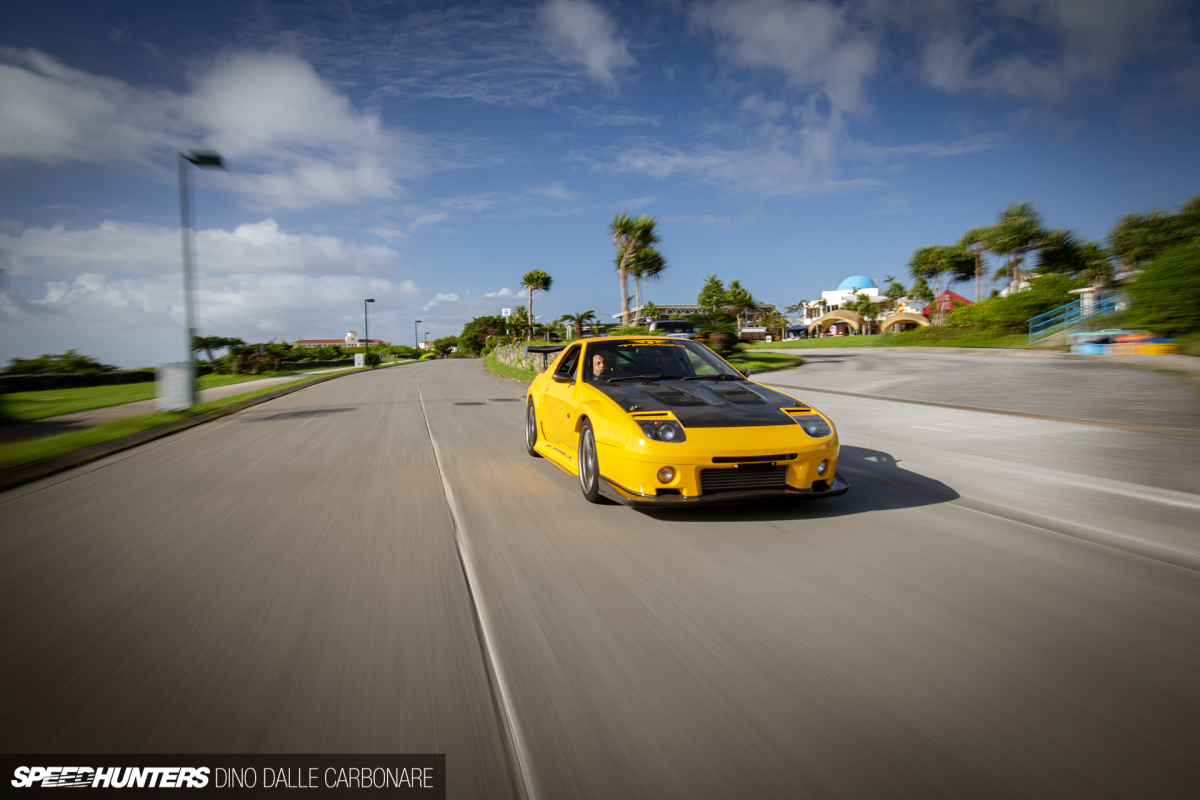 It's the details that really set this FC off, the carbon fiber hood and mirrors contrasting nicely against the bright yellow paintwork. While I'm all for the #savethepopups movement, the fixed projector conversion does give a race car feel to the Mazda.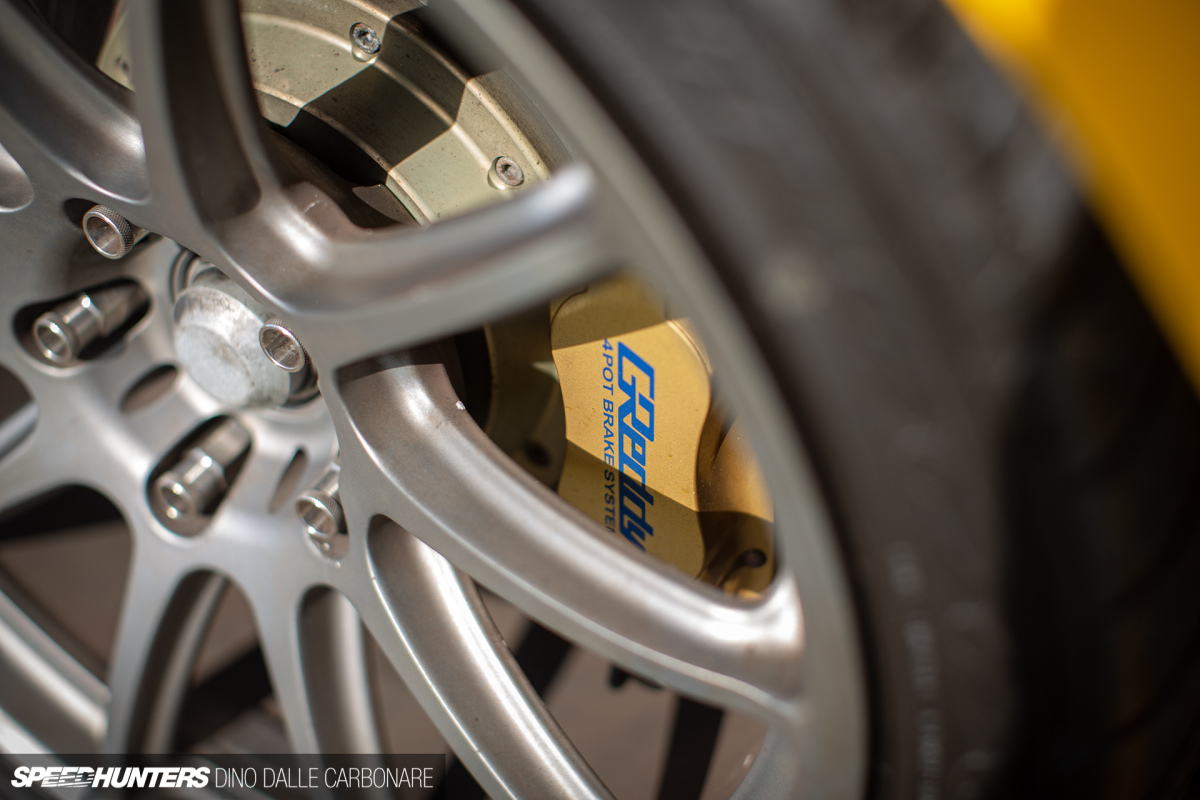 I don't think I've ever seen an FC RX-7 on Prodrive GC-010E wheels before, but they're a good look for the car. Since the shoot, however, Mike has swapped them out for a set of RAYS Volk Racing TE37s, which you can never argue with. The brakes have been upgraded with Trust GREX 4-pot front calipers clamping down on slotted rotors.
Opening the driver's side door, I noticed the period-correct GReddy boost gauge mounted in place of the air-vent. On a good day and with lower temps that needle hits 1.2bar (17.6psi) pretty easily.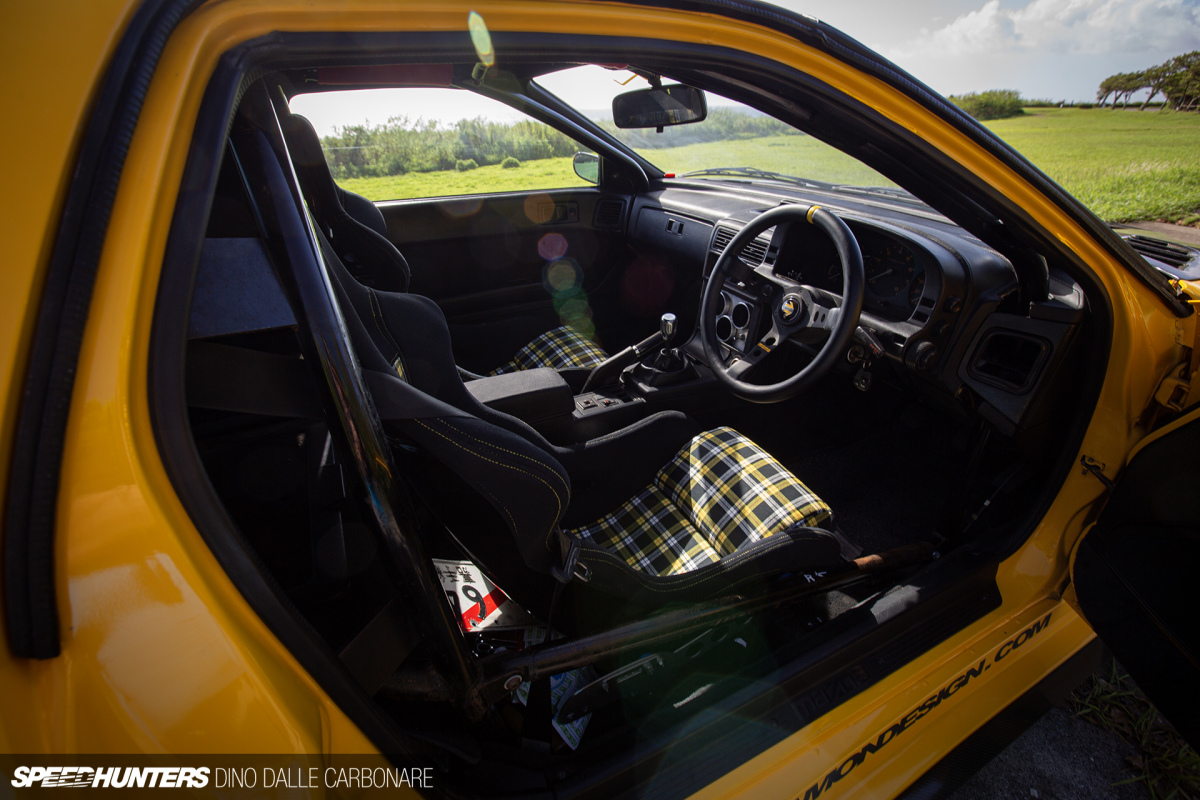 The yellow tartan seat fabric is such a nice way to bring a bit of color into the otherwise totally black cabin.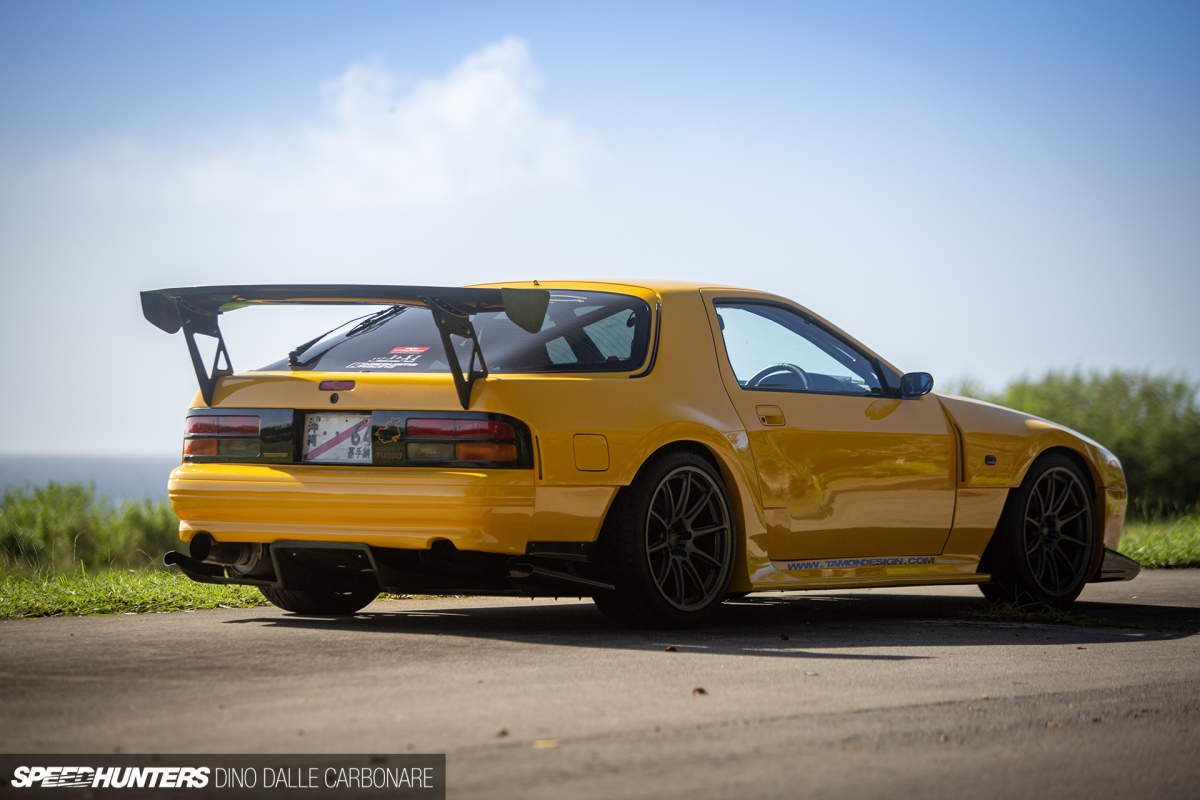 It's in these very visual moments that I always have nostalgic feelings. Being in the presence of these amazing creations from the past, I can't help but wonder if they'll ever be matched.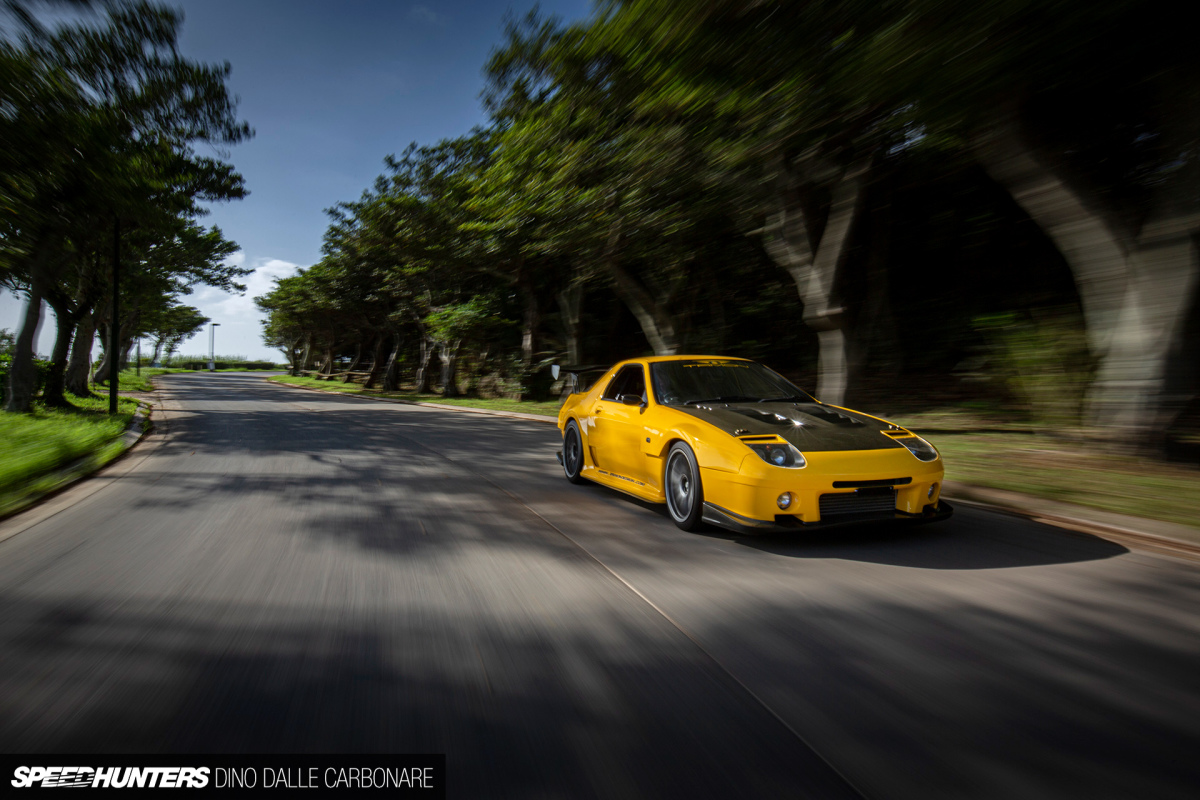 Fair play to Mazda for keeping the Miata/MX-5/Roadster alive, but am I the only one that thinks they've just brushed the whole RX-7 thing under the carpet?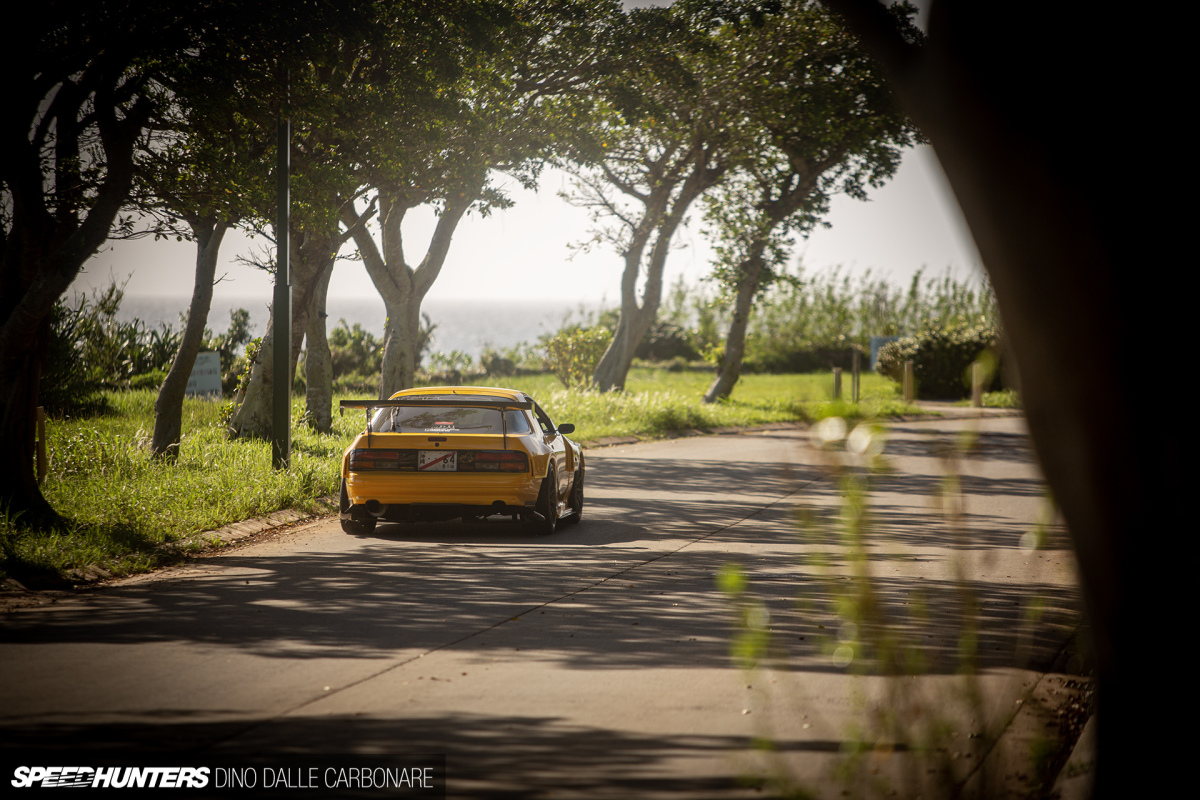 Knowing that he was only going to be a temporary caretaker of such a special build, Mike has recently put the unique Tamon Design x Katayama Racing RX-7 up for sale. He's ticked 'FC3S' off his to-own list, and is now looking to pick up something completely different.
I'm just happy to have had the chance to shoot this one-of-a-kind creation.
Dino Dalle Carbonare
Instagram: dino_dalle_carbonare
dino@speedhunters.com