The car returned an average fuel efficiency of 17.4 km/l for this entire journey.
BHPian paragsachania recently shared this with other enthusiasts.
For lunch to Kundapura from Bangalore via Hubli and Karwar:
Driving has been the biggest stress reliever for most of us including me and impromptu drives with totally unplanned agenda adds more fun to it. On a Wednesday evening, all I had to do was to inform Dad to be ready by 4 am for a drive the next day. When he asked about the destination, I said it is unplanned yet but we will be northbound and later decide where to divert or make a U-turn. Initial thoughts were to simply do a run on fast GQ roads and return but that would mean no fun. So decided that we should take some single-carriageway sections and relish the weekday drive. It was peak summer and that meant we must carefully pick the route considering the weather and terrain.
We started from home exactly at 4:11 am and simply drove on the Bangalore-Pune highway towards Hubli.
Drive on the wide dual-carriageway road was fast and we stopped for our first break after 4 hours and 20 minutes and 392 km away from home, for breakfast at Ganesh Hotel before Hubli.
History in the making…
First break, at 400 km
One of the limited options for breakfast that is now getting crowded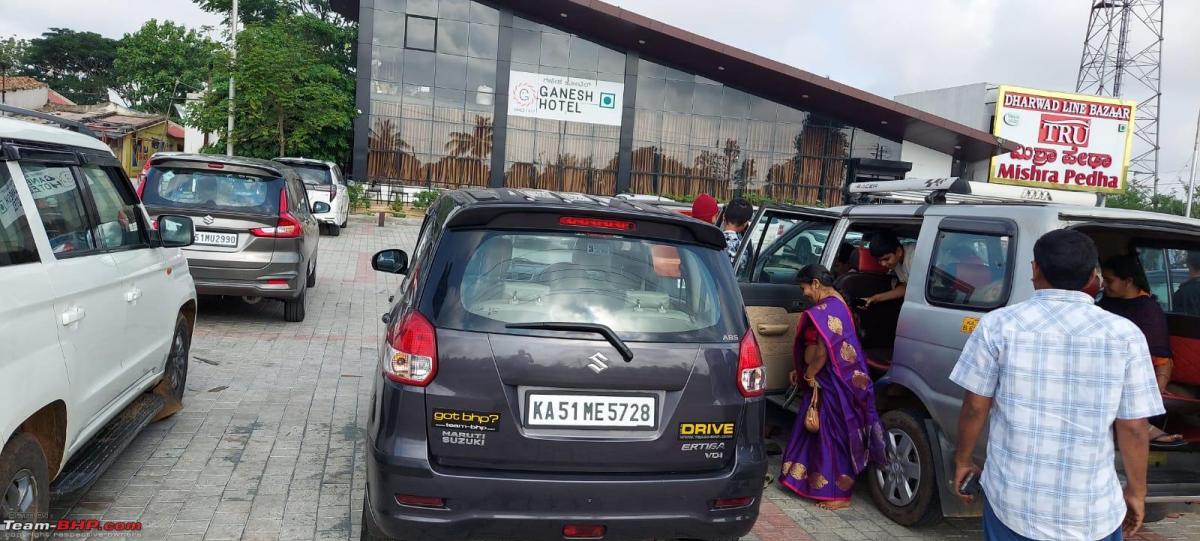 The breakfast break lasted 20 minutes and this is where we were contemplating whether to drive to Belgaum and then reach Vijayapura and return or should we head towards Ankola/Karwar. Considering that it was peak summer and we were heading straight into the hot area of North Karnataka, we decided it was better to hit the west coast as humid coastal weather is something I or Dad would not mind over dry summer conditions elsewhere. I also thought Karwar would make an ideal place for lunch (Amrut or Shweta Lunch Home). Essentially, all we wanted was a full-day drive that would end post-dinner and anything else would mean we will return early.
But then, Hubli-Yellapura-Ankola is a delightful experience to drive as always. Those who have preferred to drive on single-carriageway roads will never deny the beauty of this fast ghat. There are plenty of sections to unleash the potential of your driving skills on single-carriageway roads. We reached Karwar at 11:30 am itself and realized it was too early for lunch as the restaurants I wanted to visit would open only at 12:30pm.
So we decide to drive up north till the turn-off for Sadashivgadh, perform a U-Turn and now started driving in the opposite direction. Darn, we would have gone to Goa for lunch and returned!
Since we didn't want to wait anywhere and waste time, we continue driving back after ditching plans for lunch as it was still 12 noon and decided to stop at IOCL COCO for refueling.
We then planned to stop further ahead either at Kumta or Murudeshwar for lunch and continued driving. The roads were smooth and traffic thin (despite some summer holiday traffic though) and hence we decided to stop for a late lunch at Kundapura itself.
We reached our usual place (for Veg) called NR Nandini at 2:30pm and noticed a lot of rush at the restaurant even at this hour. We had to wait for at least 15 minutes before we were provided with a table.
Meeting BHPian AshtonCastelino:
I may have crossed his territory quite a few times over the last few 2 years alone but we could never meet. I casually messaged him for a super quick meet and Ashton immediately responded that we can. We started from Kundapur at 3:10pm and reached MIT, Manipal campus at 3:45pm and our meet lasted 7 minutes before we proceeded further towards Karkala. It was great catching up with Ashton despite the limited time we had though.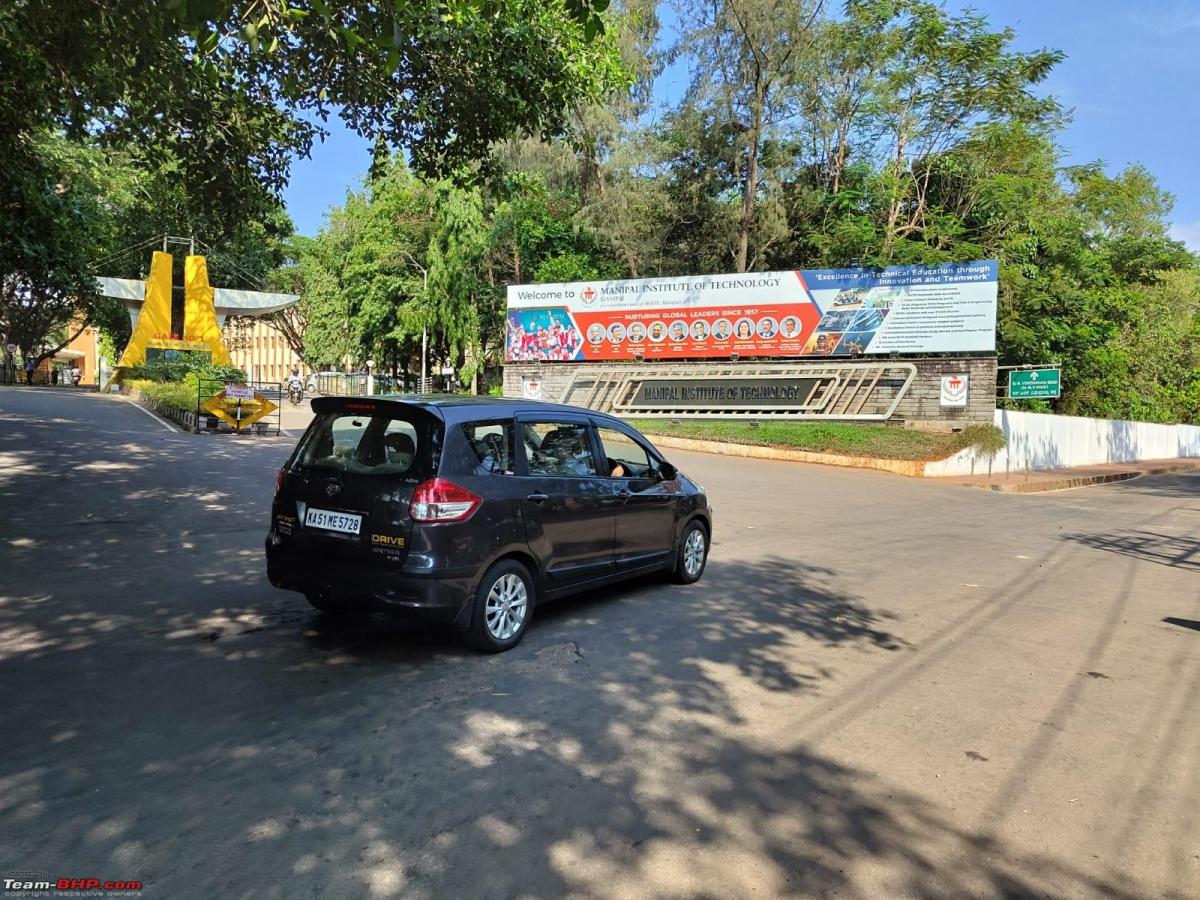 Next we headed to Karkala since we were to take the Charmadi Ghat on return to Bangalore. The route from Manipal to Karkala via Hiryadka is fantastically upgraded, with minor sections still undergoing expansion. Hoping that no speed breakers come up on this stretch too like the way they implemented on Karkala-Padubidre stretch.
Navodaya Circle, Karkala, 4:28pm
Guruvayanakere, 5:13pm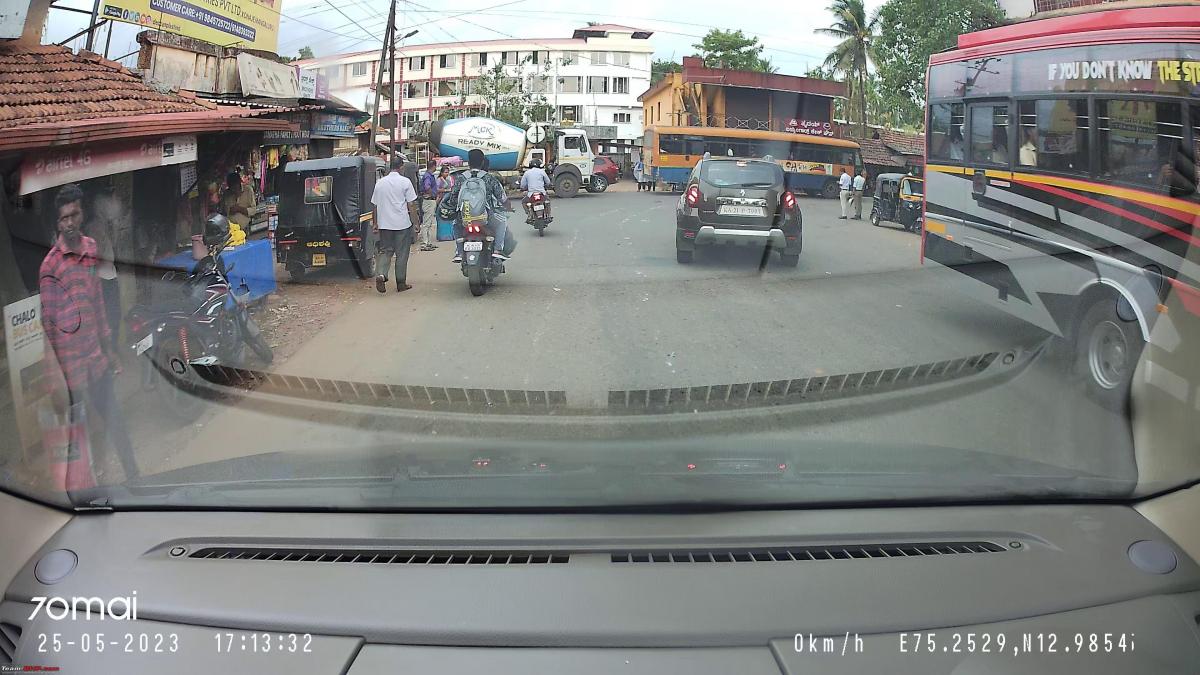 And Charmadi checkpost at 5:48pm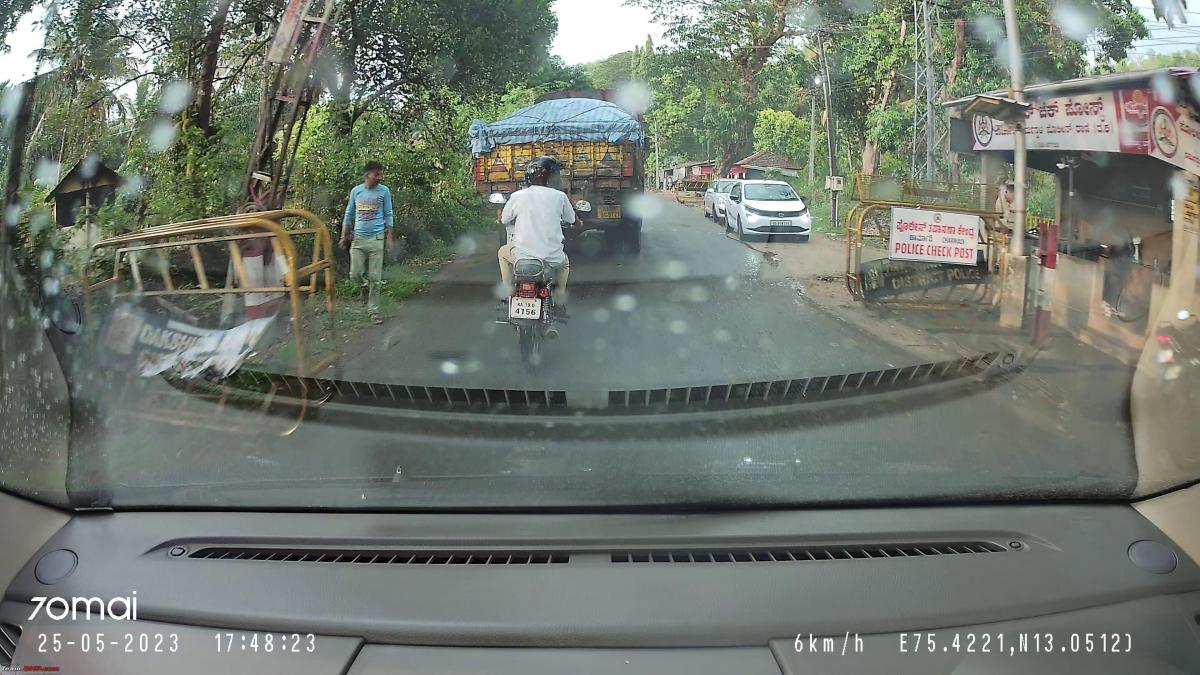 On Charmadi it was even more with a beeline of inexperienced drivers stuck behind a heavy vehicle who would neither overtake nor allow you to, but will ensure to keep their Hazard lights on all the times.
Rains were battering Charmadi ghats specifically which further reduced the pace. Being a Thursday evening too there was equal traffic in both directions giving extremely less opportunities to overtake and wherever they were opportunities, hazardous holiday drivers were not overtaking.
Narrow roads mean one must make way
The loss wasn't significant but still added 15m over my standard timing of 45 minutes that I normally take from Ujire to Kottigehara.
Crossing Kottigehara checkpost at 6:31pm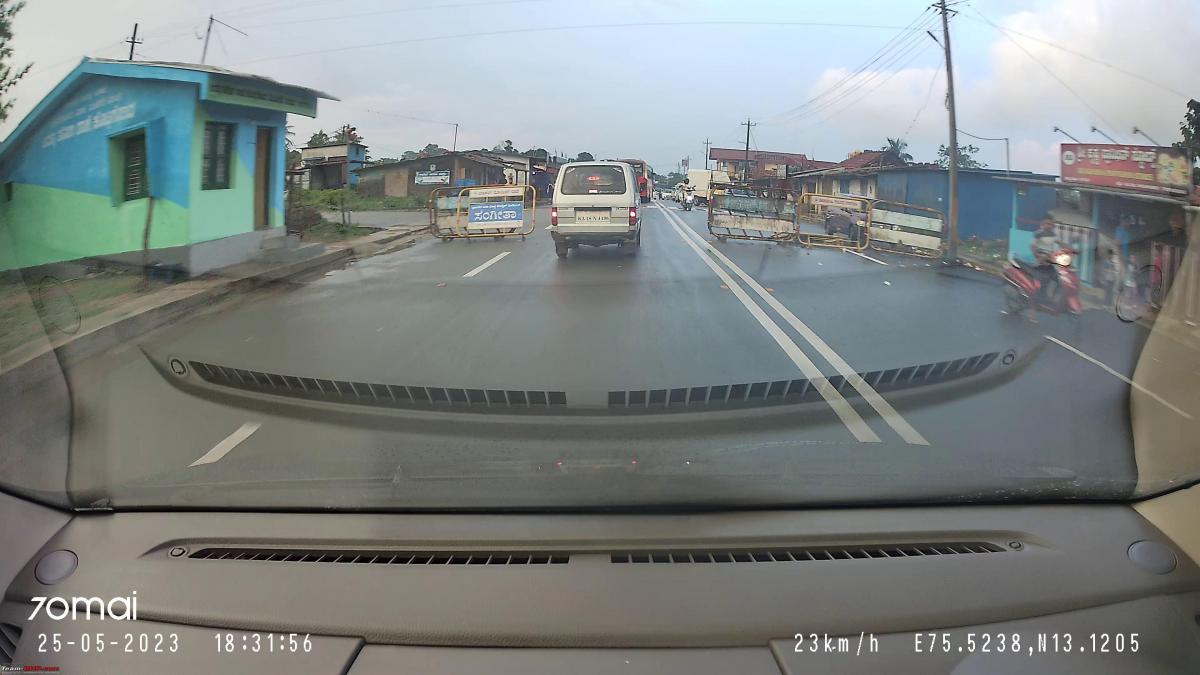 Kottigehara to Mudigere handpost is a splendid 2 lane road with a wide shoulder and perfect banking on curves allowing you to maintain the momentum and pace.
Mudigere to Belur had moderate traffic and allowed multiple opportunities to overtake. It was Belur to Hassan that was most painful. This section badly needs 4 lane and not the expansion to widen the shoulders that they have planned. The only traffic on this route which is significant is the tourist vehicles, all of them returning to Bangalore from Sringeri, Chikmagalur, Belur and even Mangalore/Udupi. Along with this, the numerous speed breakers and unscientific and dangerous medians further slow you down. I have been driving on this route since 2002 when it was getting expanded (Belur-Bilikere road) and loved the way it got transformed. But today, I hate this road to the core for all the reasons mentioned. Traffic has increased multifold that even a weekday late evening witnesses equal traffic in both directions!
This road is also known for a lot of fatal accidents and we passed one 6-7 km from Belur where a couple of bike collided with a truck and died on the spot (2nd article in this source).
Crossing Mudigere handpost, 6:45pm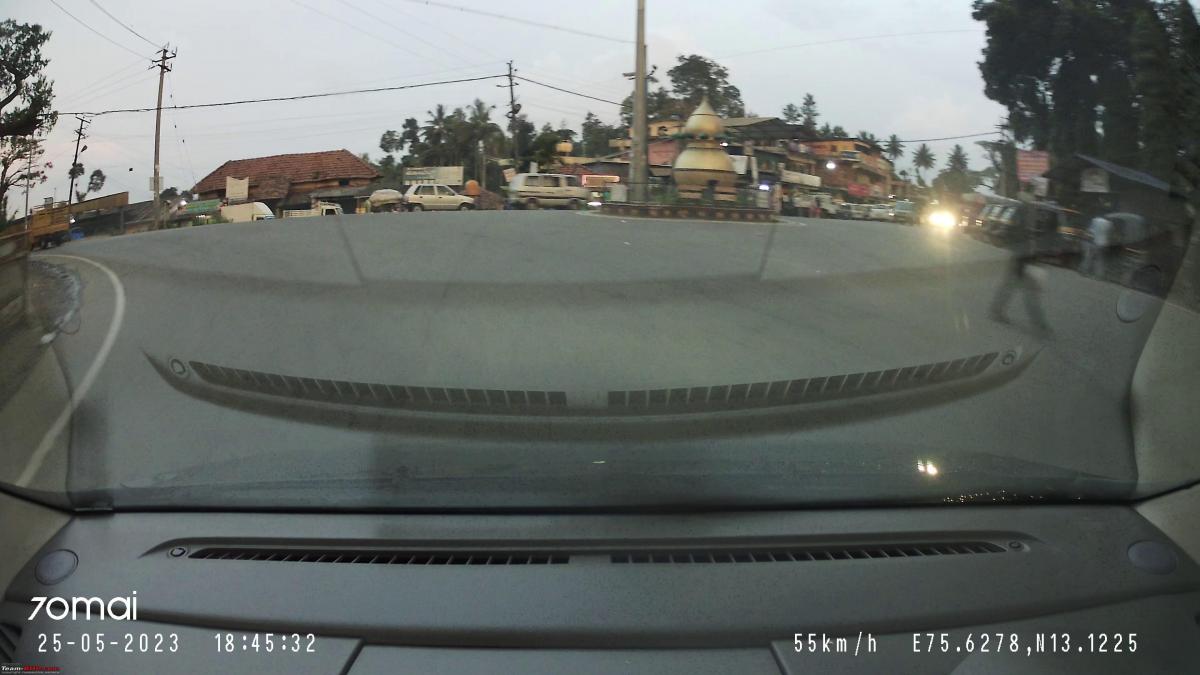 Biker couple were killed after they hit a truck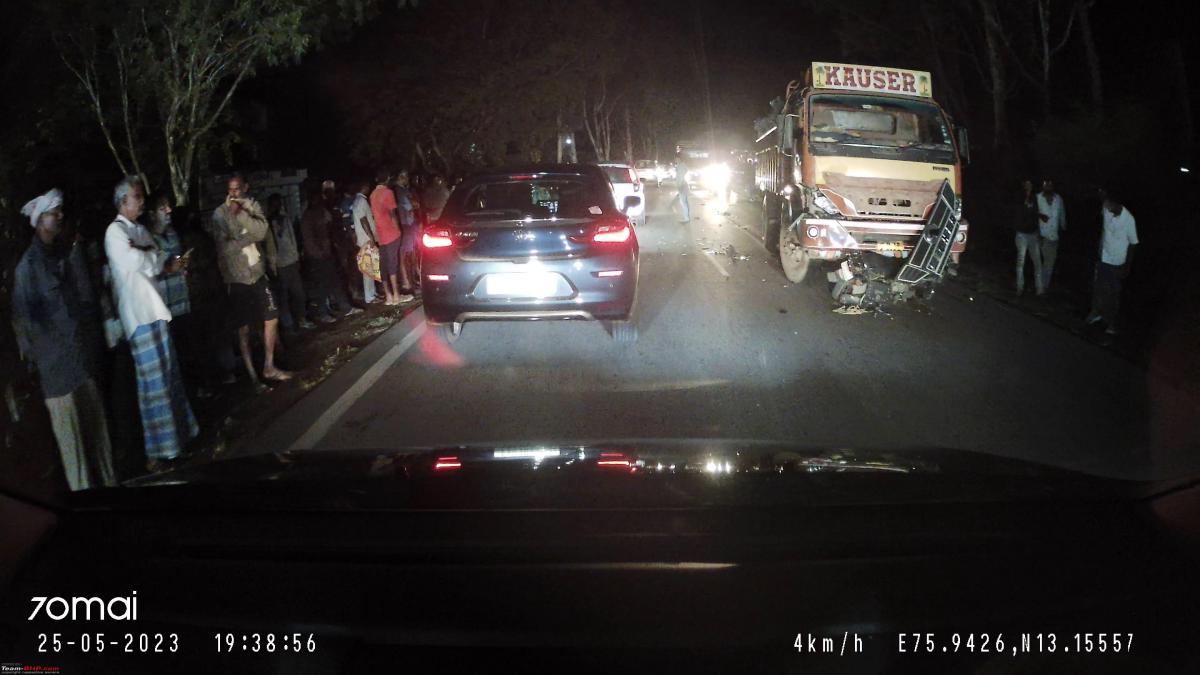 Scenes like these were aplenty for 35 km till Hassan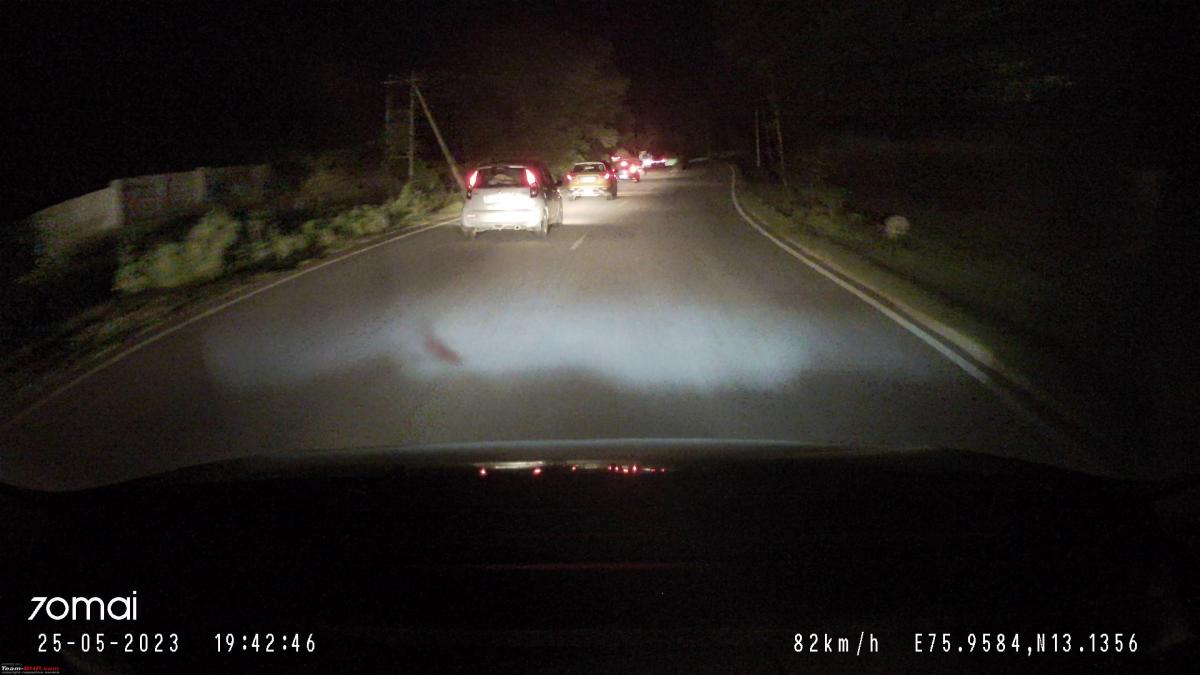 Also, I prefer taking the road inside Hassan city to hit the Mangalore-Bangalore NH instead of the ring road or the bypass itself, both of which are totally useless depending on the time of the day and the day of the week you are crossing the town.
Entering Hassan at Thanneruhalla, 8:11pm
Entering NH75 at the end of Hassan bypass, 8:23pm
Post Hassan, the progress was a smooth affair. Traffic was slowly pulling aside for their much-needed dinner break while we decided to stop by at Swati Delicacy before reaching Bangalore.
At Swati Delicacy, Yediyur, 9:31pm
Home run from here, coming to full circle
Just before the Devihalli Toll before Nelamangala, we encountered this super human who decides to get onto service lane with total disregard to other road users.
It was around 10:35 pm when we hit Nelamangala Junction and 10:52 when we reached Yeshwantpura.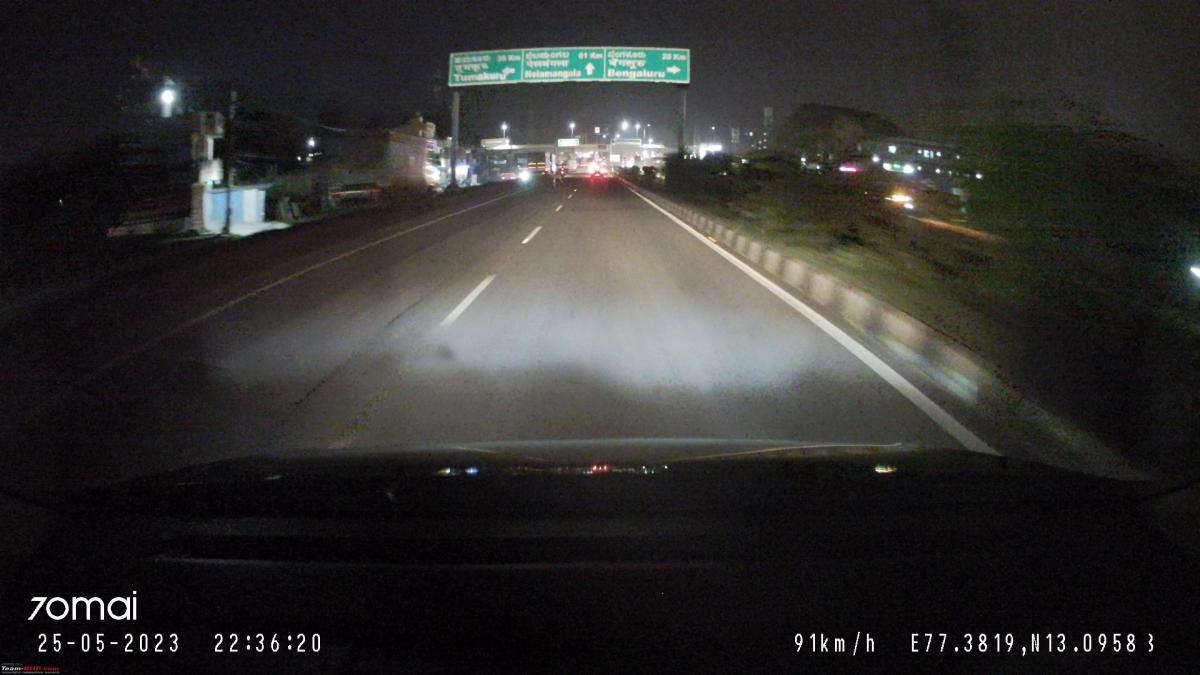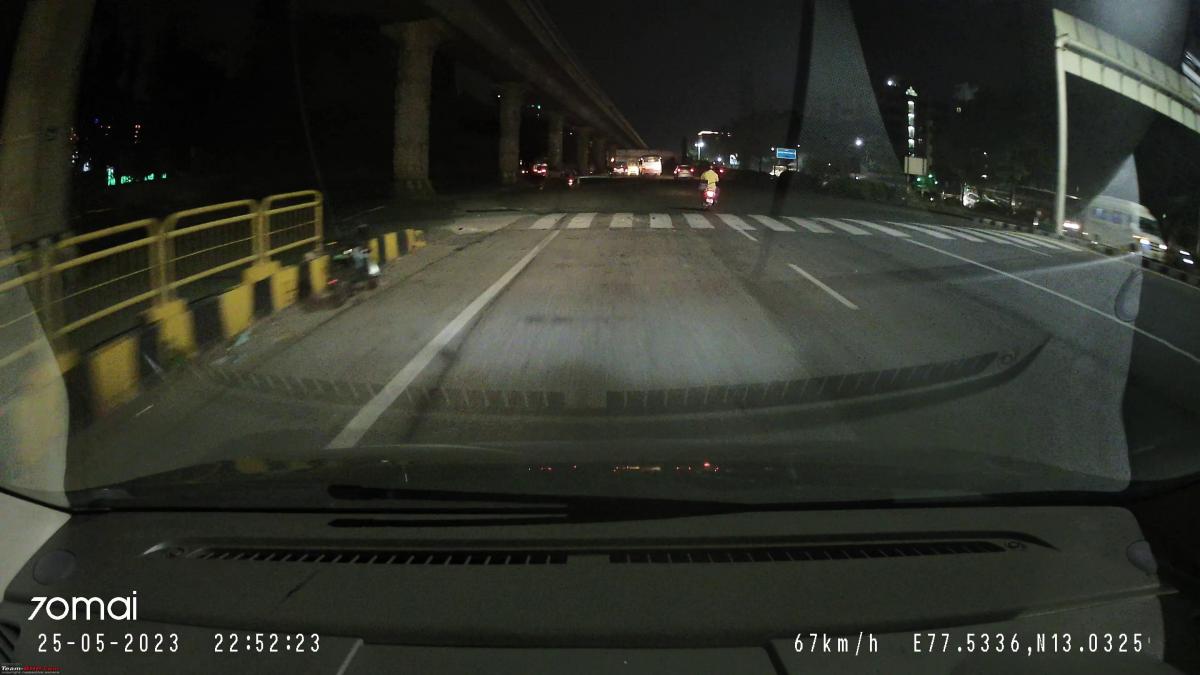 We were home at 11:20pm, after a beautiful driving marathon covering various types of roads and witnessing good rains in the western ghats. The trip meter recorded a distance of 1220 km for this drive and an average FE of 17.4 kpl for this entire journey which included some fast GQ run till Hubli, enthusiastic driving in both the ghats and crawling in 2nd gear in Charmadi ghats with 11 Hairpin curves.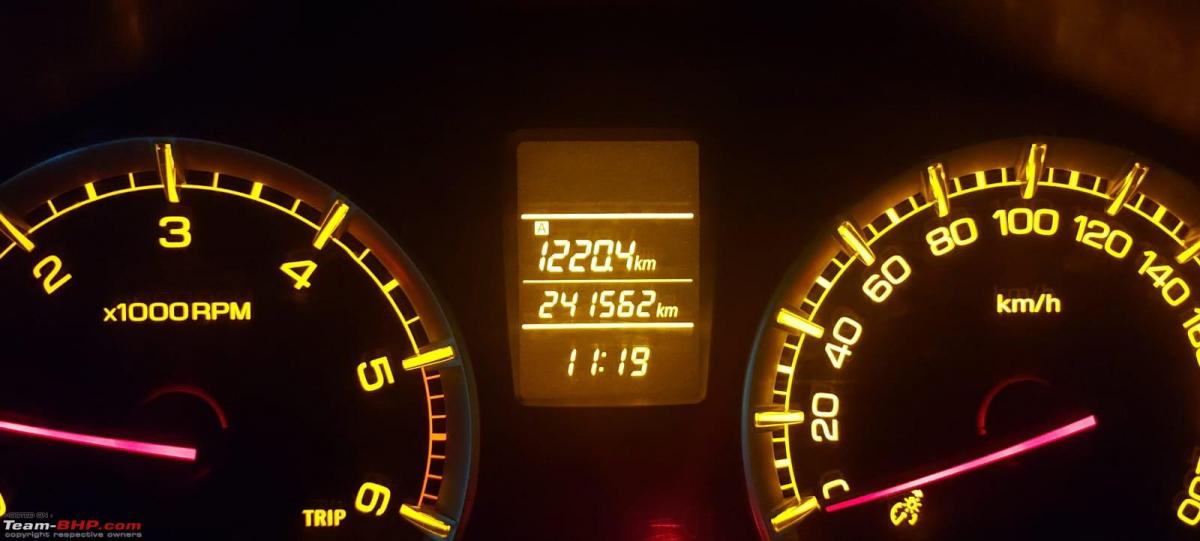 The car is now 9.5 years and 242,000 km old and it runs and performs as good as it did on Day 1 and absolutely niggle-free. It instils the same confidence levels as it did when it was purchased whenever I want to take up such runs and ready to hit the road and run non-stop without a sweat.
All details about the trip:
Total round-trip as per the tripmeter – 1220 km (as per googlemaps location history, 707 miles)
Fuel consumed – 70.57 Liters
Fuel efficiency – 17.28 kpl
Start time : 0411
End time : 23:17
Total time : 19 hours and 6 minutes
Total break time: 100 minutes
Total driving time: 17 hours and 26 minutes
Average driving only speed: 69.71 kmph
Breakfast location : Ganesh Hotel, before Hubli
Refuel : IOCL Ankola
Lunch location: NR Nandini Pure Veg, Kundapura
Dinner location: Swathi Delicacy, Yediyur
Interesting thing I noticed about this trip was that the toll amount paid was exactly 1220, the same distance that the trip was:
Check out BHPian comments for more insights and information.