In recent years, the rise of electric vehicles (EVs) has prompted discussions about the interplay on road safety. One recurring debate revolves around the need for EVs to make audible sounds at low speeds to ensure the safety of pedestrians.
While some argue for mandatory noisemakers, instead of focusing on maximising noise, we should prioritise mandating driver assist systems to enhance the safety of all road users. Overall, with EVs coming in at the top of the market, they are measurably safer than ICE cars on multiple metrics. And Tesla especially so.
A shift in perspective is needed – one that recognises the historical dangers posed by vehicles, the current challenges faced by larger passenger vehicles, and the need for comprehensive measures to reduce accidents and protect vulnerable individuals both within and external to vehicles.
Cars aren't that much safer
Over the past century, advancements in vehicle safety have been made, significantly reducing the number of fatalities on roads. However, it is crucial to recognise that the progress made in this regard still reflects the inherent danger vehicles pose.
We've gone from a massacre to just a slaughter.
Despite improved safety features, there is a continued heavy death toll, particularly in accidents involving larger passenger vehicles such as SUVs and light trucks. It is imperative to shift the focus from solely reducing 'road fatalities' to prioritising the safety of all people including pedestrians and individuals outside the vehicle.
Challenges with Noisemakers
Critics of EVs argue that the quietness of electric vehicles poses a safety risk, especially at low speeds, as pedestrians may not be aware of their presence.
Electric cars quieter
Some say it's a problem
I say an opportunity
Mandate driver assist tech in #EVs
to keep pedestrians safe
Much better than cars filling street/suburb with noise to scare peeps
coz
regulators fail to grasp value of quiet & smart carshttps://t.co/OkSqLMkyTB pic.twitter.com/kZYtnLipNh

— Prof Ray Wills👋 (@ProfRayWills) February 19, 2023
8304
However, advocating for noisemakers on EVs as a solution overlooks the broader context of vehicle safety. Constant noise generated by all vehicles at low speeds is not the answer. Instead, mandating driver assist systems, which offer real-time safety features, holds the potential to revolutionize road safety and prevent accidents.
Actual change needed for real road safety
The most substantive opportunity to improve road safety and reduce vehicle related injury and deaths resides in fundamental changes to approaches on road safety management and how low-speed zones are perceived and managed.
Low-speed zones must be behaviourally and by regulation repositioned as priority zones for people, where vehicle access is seen as a "polite entry" rather than a right or entitlement. This shift in mindset and approach to prioritise livability can foster a safer and more harmonious coexistence between vehicles and pedestrians.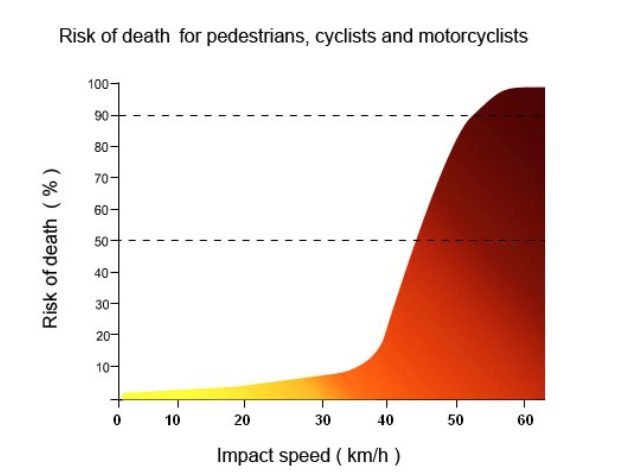 One key aspect of this repositioning is to recognise that roads in these areas should primarily serve as paths for all, where people have the priority, not cars.
This means that vehicles must operate at slower speeds and show deference to pedestrians and other vulnerable road users. Rather than expecting people to be wary of roads in the low-speed zone suburban areas where they live, the onus should be on drivers of vehicles to be cautious and yield to people, ensuring their safety and well-being.
Examples of such approaches can already be seen in certain jurisdictions where the emphasis is on prioritising people over vehicles.
These places implement traffic calming measures, such as speed limits, traffic-calmed zones, and pedestrian-focused infrastructure, to create an environment where vehicles are subservient to the needs of people. This shift in perspective acknowledges that the livability and safety of communities should take precedence over vehicle mobility.
By repositioning low-speed zones as priority zones for people, we can create a more equitable and safer road environment. This change in mindset and regulation not only encourages slower vehicle speeds but also fosters a culture of respect, where drivers are mindful of and yield to pedestrians and cyclists.
Implementing such a paradigm shift on a larger scale would require collaboration among stakeholders, including local authorities, urban planners, and road safety advocates, to reshape urban landscapes and road design.
We are trained on principles of surviving as pedestrians through childhood. Then, at an older age, we get a licence to drive cars, and drivers self-entitlement is reinforced by poor road and infrastructure design that fails to respect and prioritise pedestrian and cyclist safety.
Mandating driver-assist systems
Driver-assist systems, such as automatic emergency braking, lane-keeping assistance, and pedestrian detection, have proven effective in preventing collisions and reducing accidents.
Making these systems mandatory and "always on" for all vehicles can significantly enhance the safety of pedestrians and individuals outside the vehicle. These systems can detect potential hazards, mitigate driver errors, and provide timely warnings, ultimately reducing the risk of accidents.
Addressing Disproportionate Harm
It is crucial to address the disproportionate harm caused by larger vehicles, especially SUVs and light trucks, to pedestrians and individuals not inside the vehicle.
The increased height and weight of these vehicles can lead to more severe injuries and fatalities in pedestrian-involved accidents. Consequently, improving vehicle safety should include specific measures targeting the design and safety features of larger passenger vehicles to mitigate their potential harm to vulnerable road users.
Can we save lives by making the places we live safer?
Prioritising the safety of all road users requires a paradigm shift in the discourse surrounding vehicle safety. Rather than focusing solely on adding noisemakers to EVs, we should be redefining vehicle access as a polite entry and promoting a deferential approach to people.
We can create safer and more inclusive streets where pedestrians and vulnerable road users are respected and protected. This shift in perspective requires a concerted effort to reshape regulations, infrastructure, and societal norms, ultimately fostering a culture of road safety that prioritizes people over vehicles.
Further, we need a greater measure for vehicle safety mandating driver assist systems for all vehicles. These systems can provide real-time safety features, prevent accidents, and protect pedestrians and individuals outside the vehicle.
Moreover, addressing the disproportionate harm caused by larger vehicles is essential to creating safer road environments. By embracing comprehensive measures, we can move towards a future where road safety is enhanced, accidents are minimised, and people are protected, regardless of the vehicle they encounter.
The future is electric.
And quieter.
Professor Ray Wills is managing Director of Future Smart Strategies @ProfRayWills