I have to give credit where credit is due.
If it wasn't for the coverage I saw on Speedhunters and Narita Dogfight long before I started contributing here, I wouldn't have such a keen interest in time attack today. The content coming straight out of Tsukuba Circuit's pit lane garages intrigued me, and ever since I've found myself following the time attack scene on my doorstep here in Sweden.
The Custom Motor Show (AKA Elmia) always brings out some of the country's finest (and fastest) time attack cars, and this year a 2005 Mitsubishi Lancer Evolution IX built by the guys over at Auto-Gruppen caught my attention in Hall X.
I mean, how could it not?!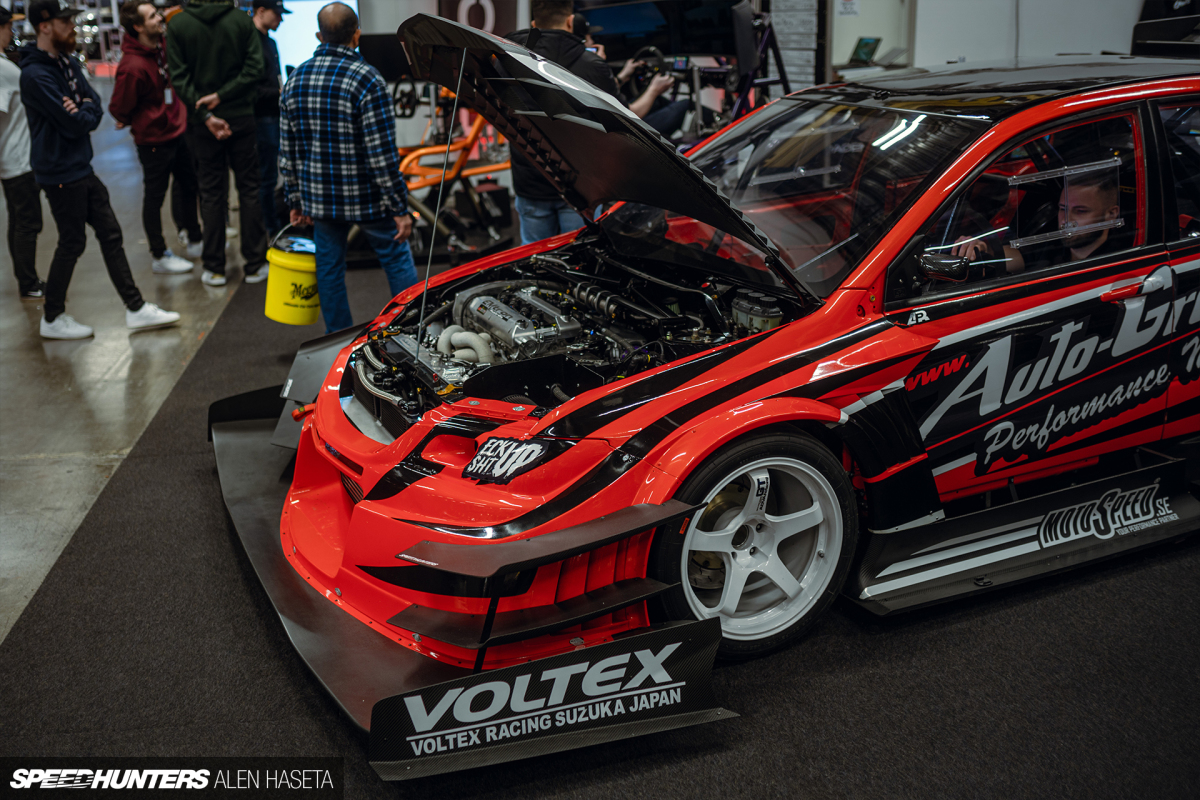 Auto-Gruppen, based in Mellerud, has been involved in Swedish motorsport since 2004. Since then, they have been making a name for themselves as one of Scandinavia's top performance tuners. I met Nader Derakshan, a head technician at Auto-Gruppen, at the Elmia show, and he was happy to talk me through all aspects of this wild build.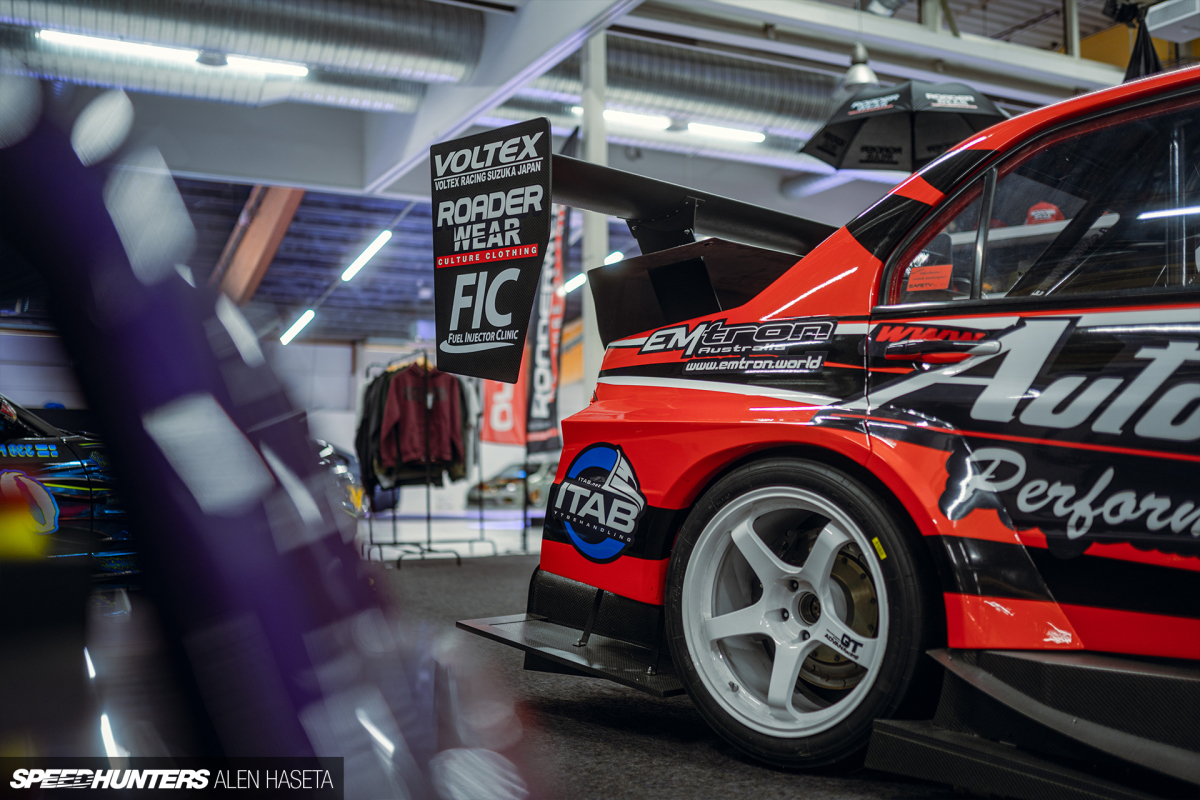 Since Auto-Gruppen purchased the Evo IX in 2018, the team has spent more hours than they can count perfecting every inch of the car, the majority of that time spent on problem solving. Having said that, as soon as the car feels right at each stage, they push on to the next phase of development.
The on-track results to date speak for themselves: Mantorp Park: 1.16.1; Kinnekulle Ring: 51.19 (both laps set running semi slicks). And that's not all. During its debut season in 2020, the Evo received three trophies and shattered two records while Auto-Gruppen were still testing and fine tuning the car.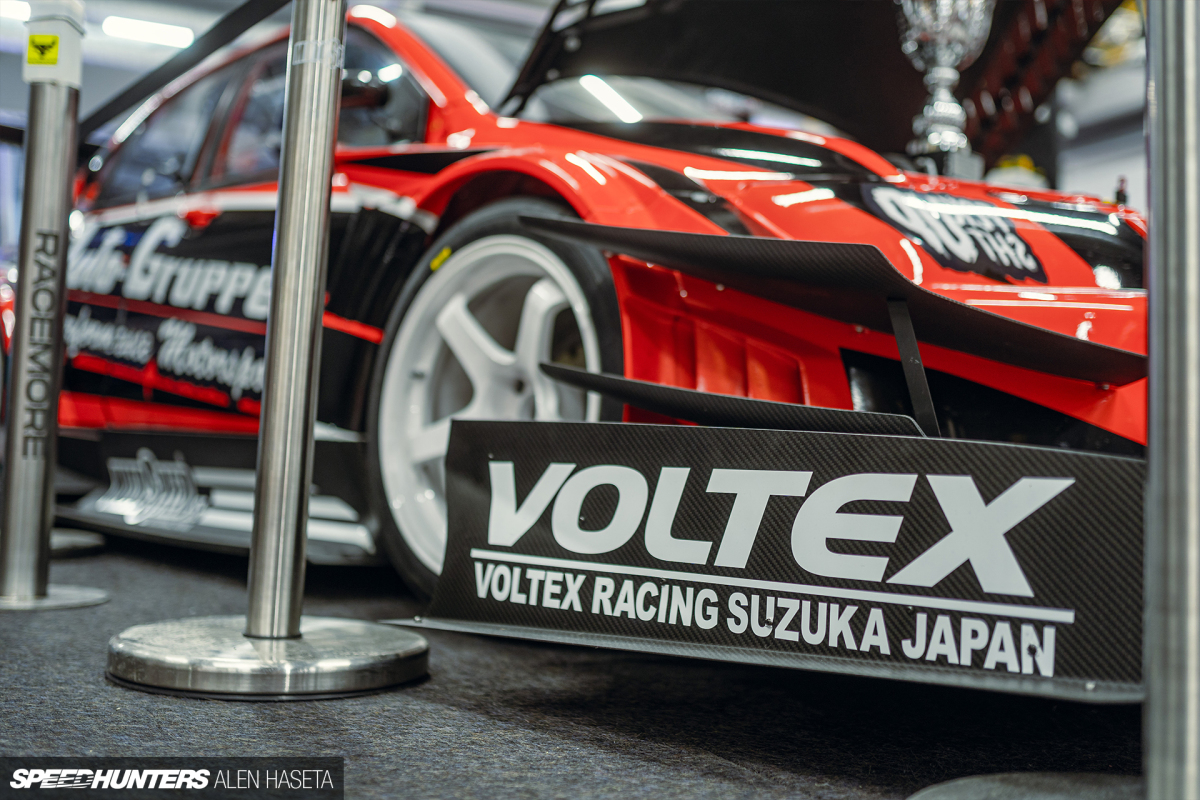 You're never going to break records without quality aftermarket performance hardware, and the Auto-Gruppen Evo is absolutely dripping in it.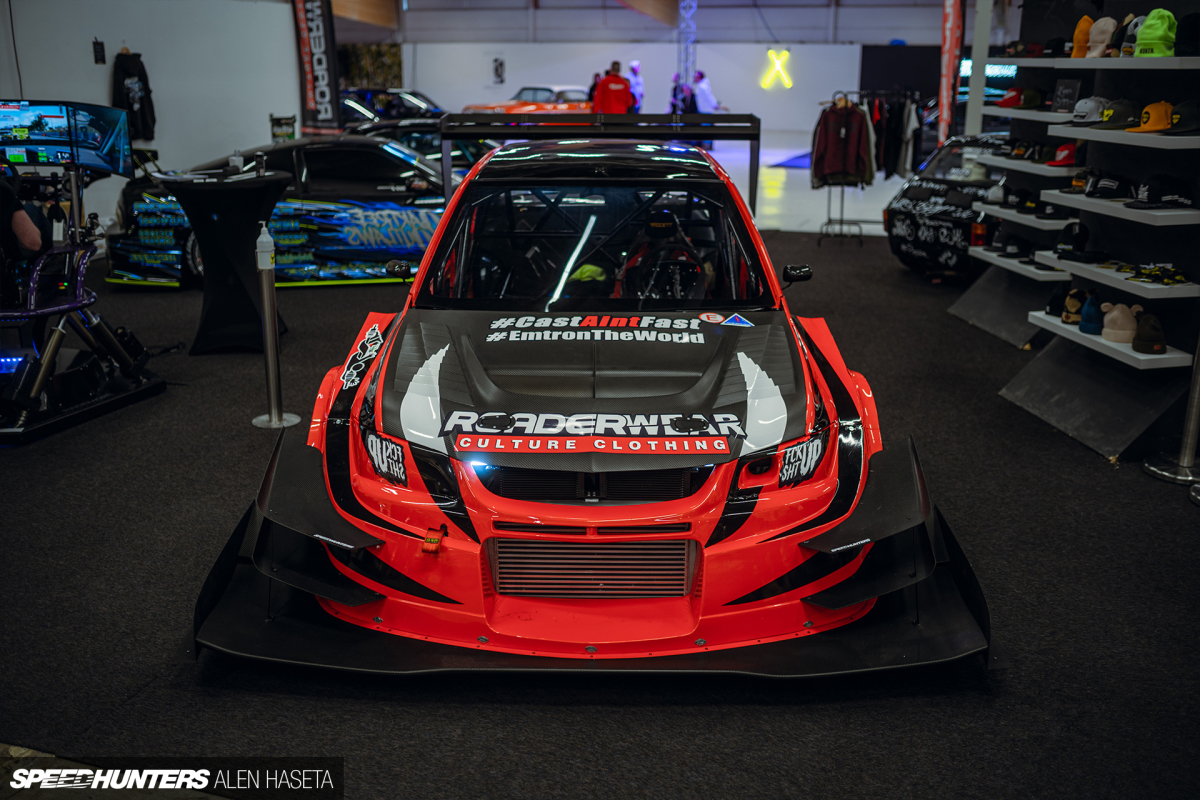 First up, the exterior, which features the full Voltex Ultimate Time Attack G-Force Aero Package. You don't see many cars running this kit anywhere, let alone here in Sweden, but this is serious equipment with a price tag to match – almost US$50,000.
The doors, front fenders and both bumpers are in fiberglass, but everything else is dry carbon. Very few tweaks have been made to the aero in order for it to performance its best on Swedish tracks, and Nader pointed out that at 200km/h, the car now produces nearly 2 tons of downforce, which is just crazy.
With time attack cars of this calibre you'll often an extensive use of tube framing, but the class regulations that the Auto-Gruppen Evo IX conforms to do not allow this. Internal body and chassis frame modifications are allowed though, and for next season the team will focus on further weight reduction.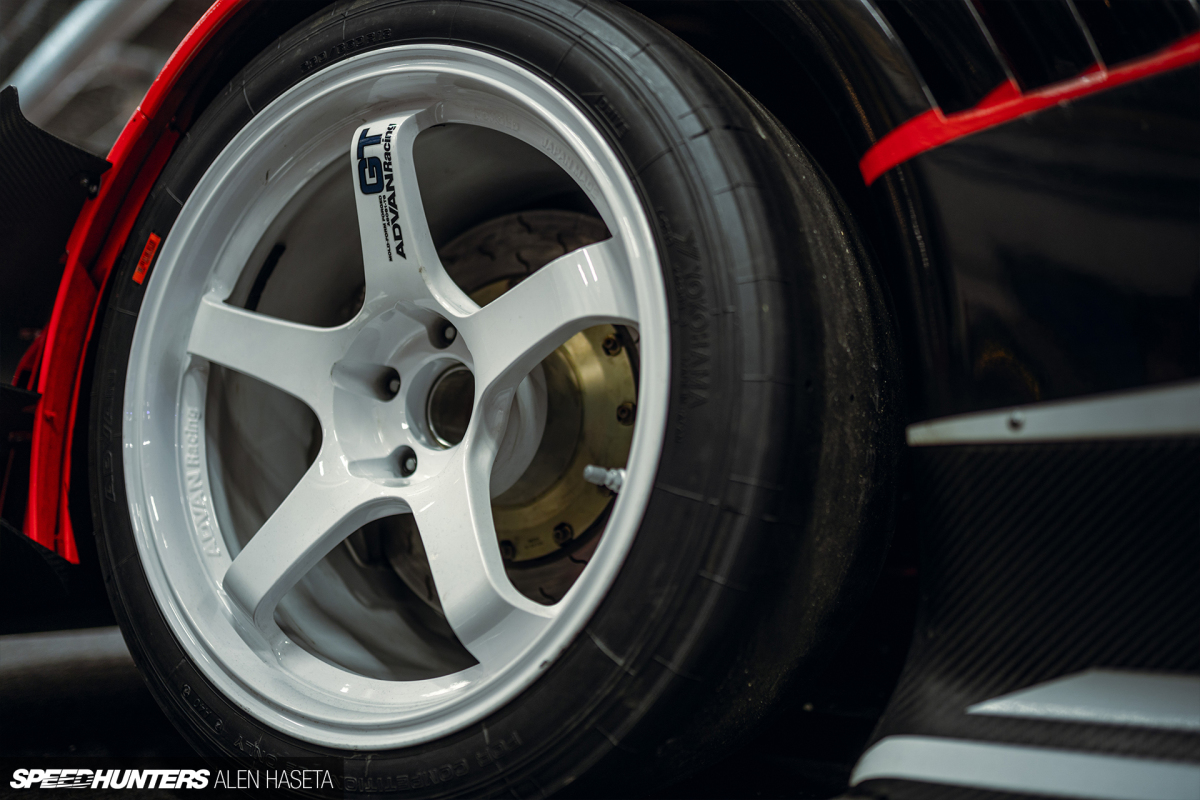 There was no way anything other than high quality Japanese-made wheels would be used on the Lancer, and the square 18×11-inch Yokohama Advan GT setup – currently wrapped in Yokohama Advan A005 280-section slicks – looks right at home. Often, it's the things you can't see that are the most interesting, and for the 2023 season, the Evo runs Izze-Racing laser ride height and TPMS sensors in the wheels. Furthermore, each tyre has temperature sensors that measure 16 channels across the inner barrels, providing plenty of data to better understand and optimize the handling. In total – and taking into account the engine – there are 50 sensors around the car.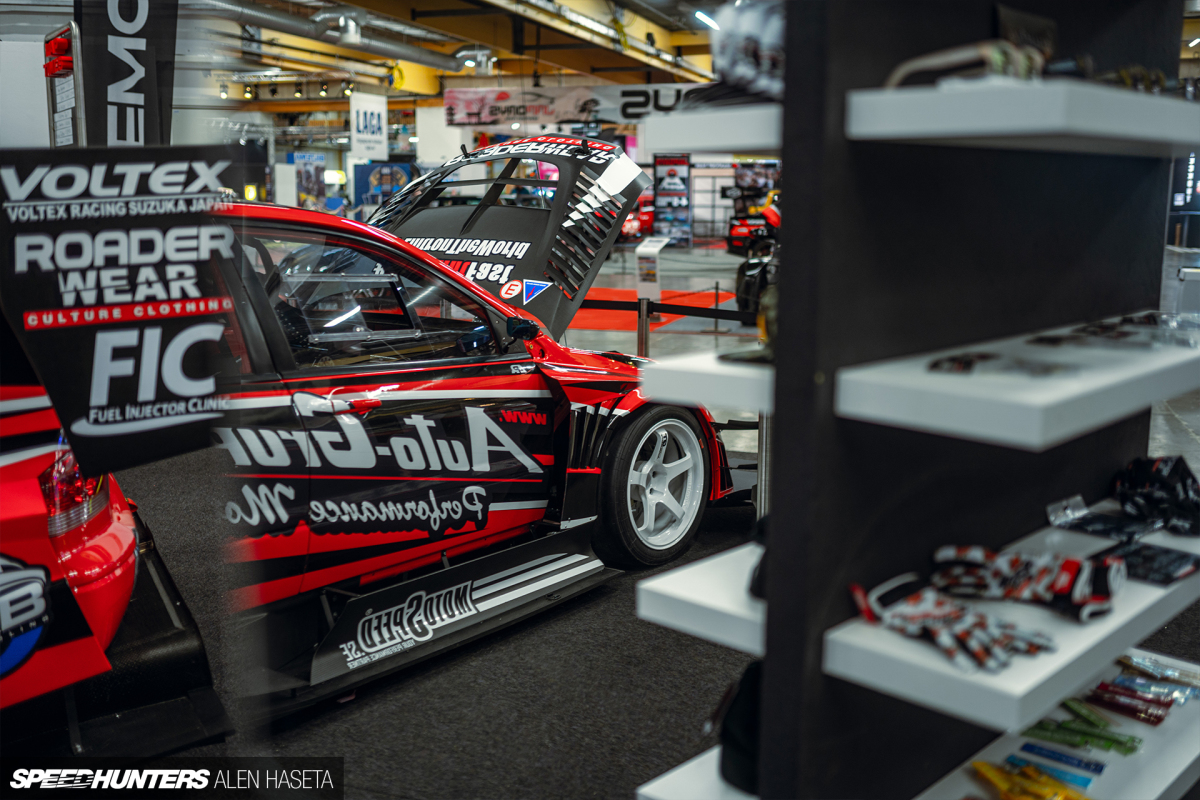 The suspension setup is designed around MCA Gold Series coilovers that were custom-built for the application, and chro-moly RaceFab arms. Giant Alcon Racing brakes feature at all four corners mounted on Brypar billet uprights, with adjustable split via Tilton in-car bias control.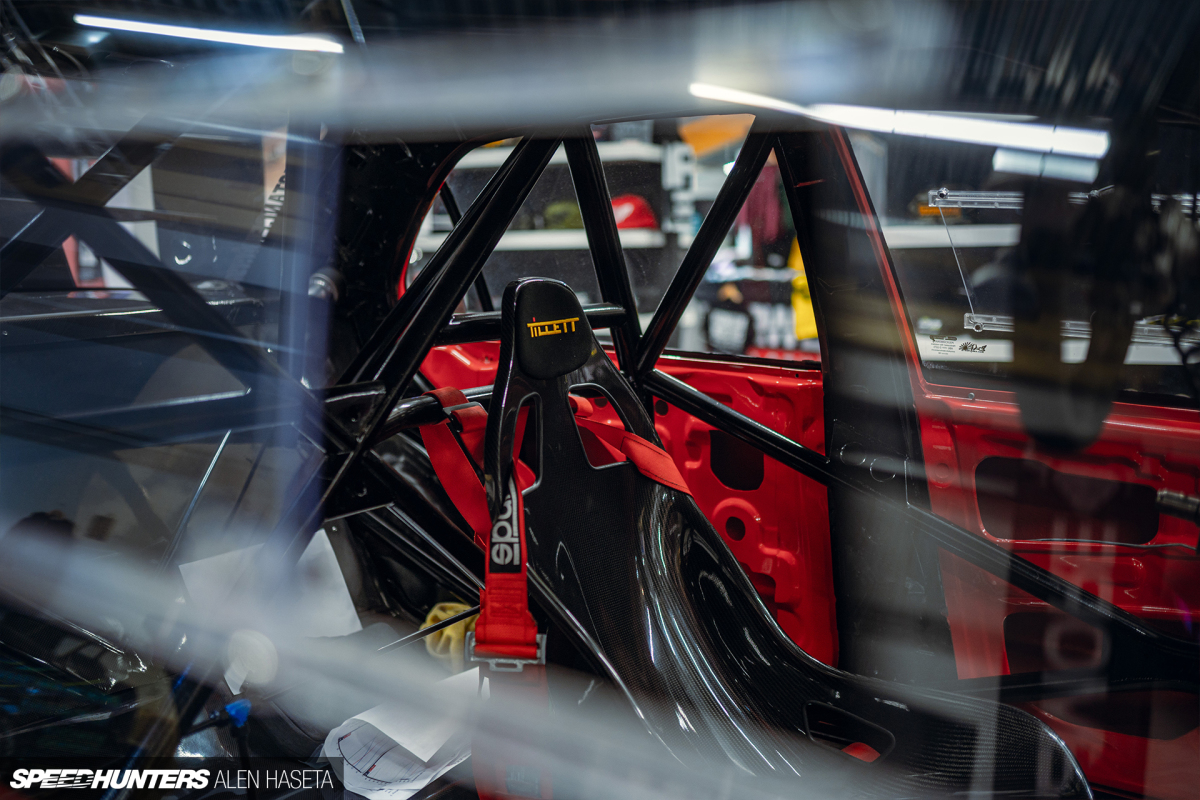 For some reason, I only managed to snag one picture of the interior, but other than the FIA-certified roll cage and Tillet B8 carbon fiber seat paired with a Sparco 6-point harness, Momo steering wheel and Tilton 600-series pedal box there's not a whole lot to it.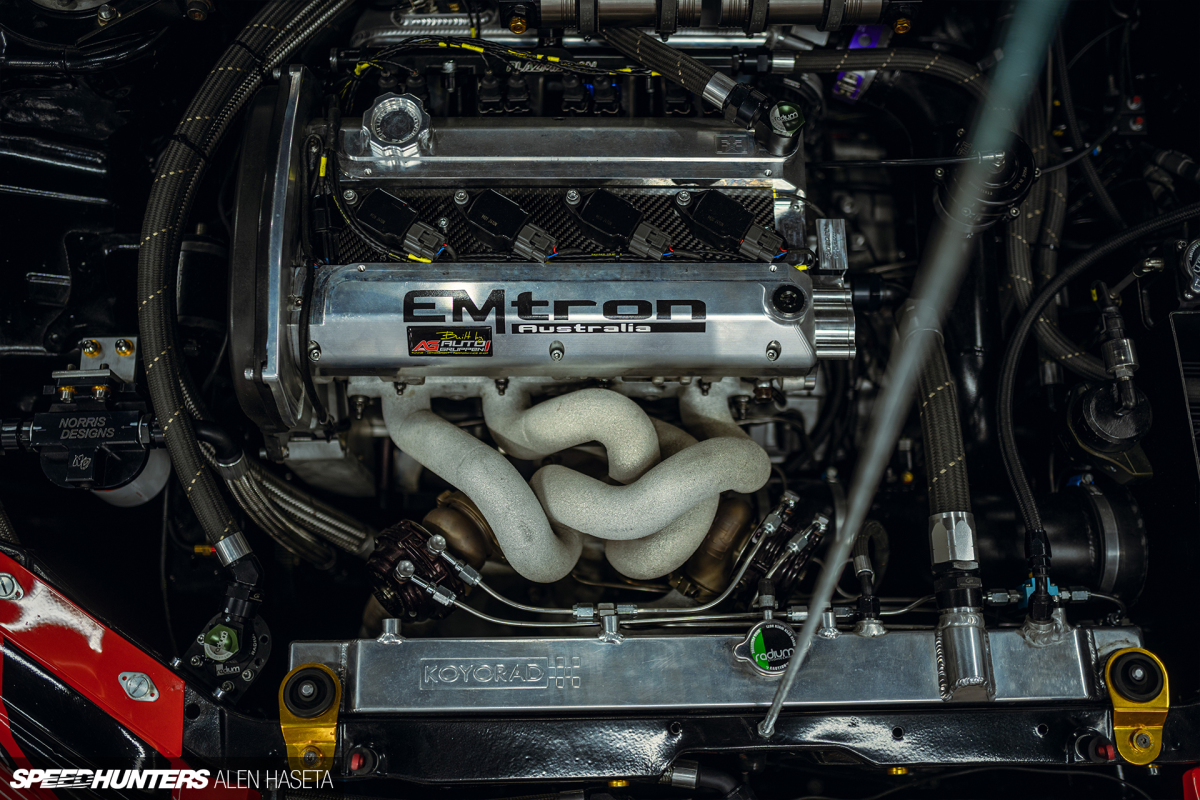 Under the Voltex Tilton Version GT dry carbon hood, a Mitsubishi 4G64 engine has been built up to 983whp. It's based on a Bullet Race Engineering billet block featuring JE pistons, CP-Carillo connecting rods and a Brian Crower 102mm stroker crankshaft. Up top, the MotoSpeed race-spec cylinder head is stuffed full of Brian Crower components.
The turbo is a BorgWarner EFR 9280, the intake is a Plasmaman item, and the dry sump system is from Norris Design. Fuel delivery comes via a Radium Engineering cell fitted with three Ti Automotive pumps that supply a staged FIC injector setup that can supply each of the engine's cylinders a 3,100cc fuel shot. It's all managed through an Emtron KV8 ECU.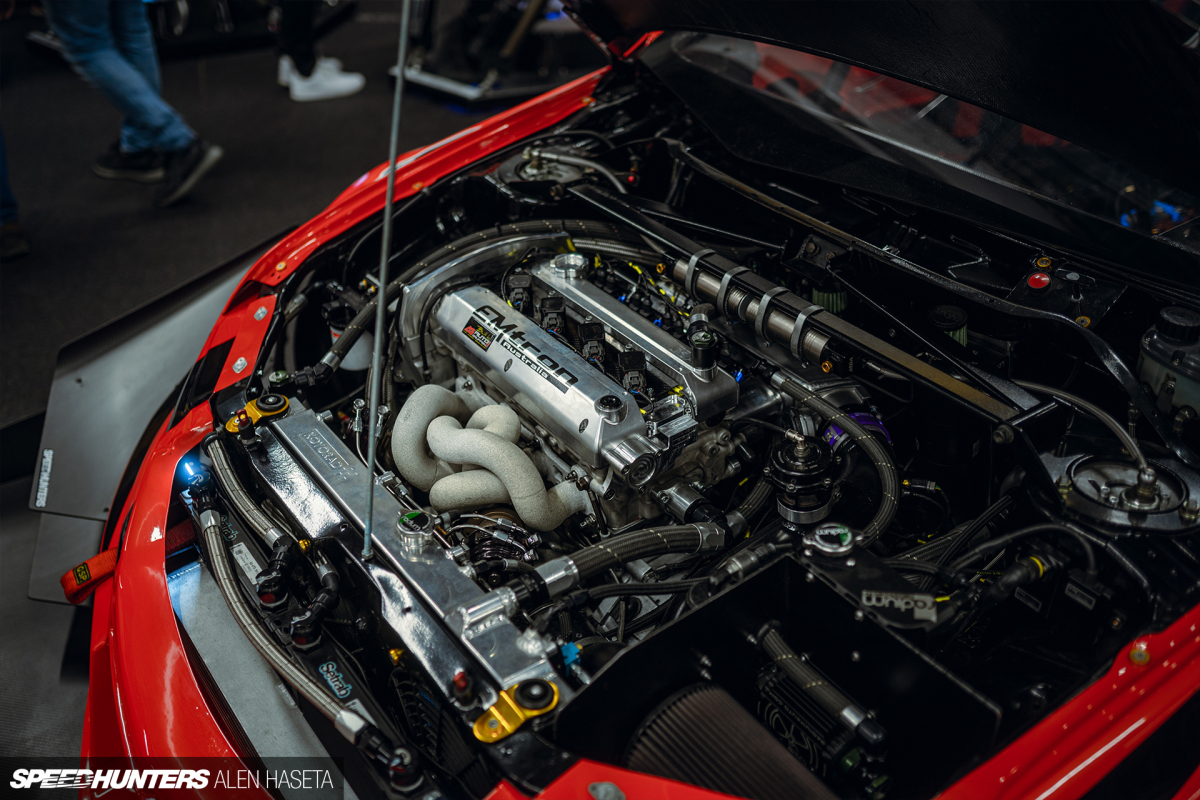 Power finds its way to all four wheels via a Momentum Motorsport Quaife QBE6U sequential gearbox with a Geartronics paddle shift system. The driveline also features a Tilton Engineering twin-plate clutch, Quaife diffs, plus Level 2 driveshafts and a carbon propshaft from The Driveshaft Shop.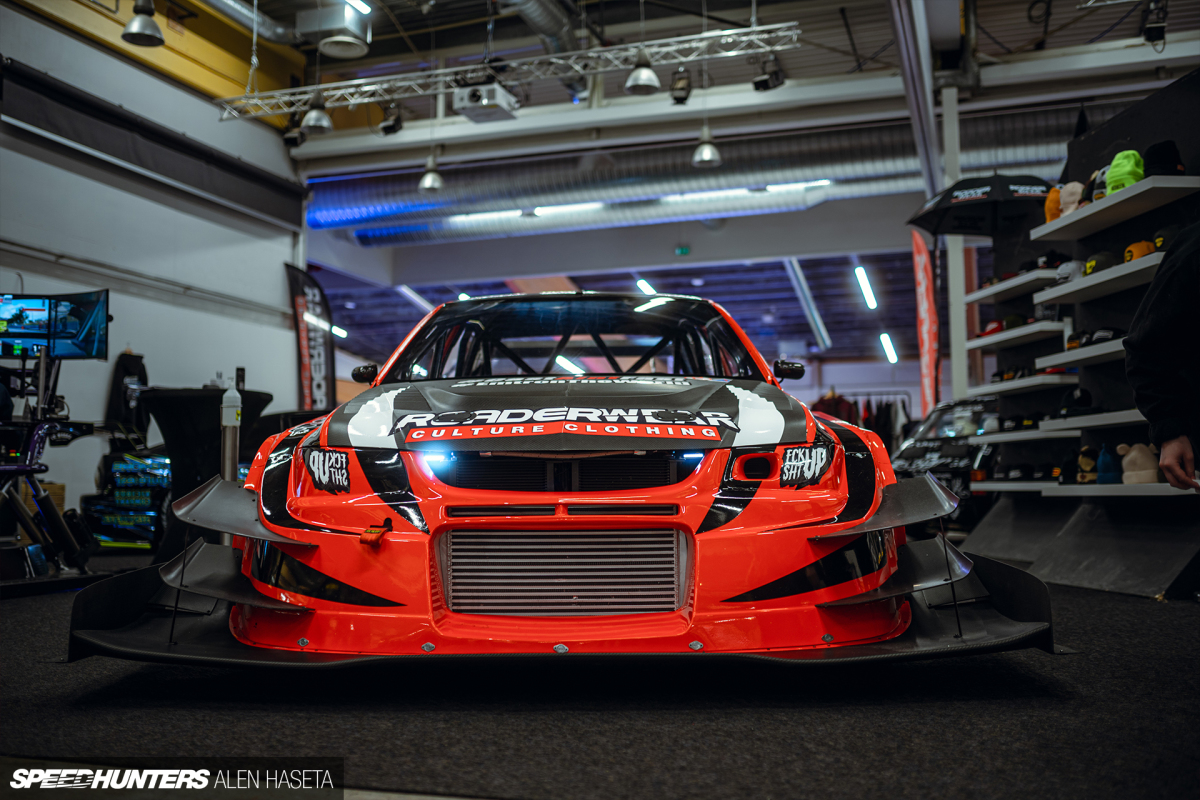 Everything has been built from the ground up at Auto-Gruppen and done so with brilliance. I did mention earlier that the car was set up for the tracks here in Sweden, but the ultimate goal for the team is to take the the Evo overseas. The World Time Attack Challenge in Australia is in Auto-Gruppen's sights, and Nader did give me a hint of a possible visit to Tsukuba Circuit in Japan sometime in the future too.
If that happens, I'll hide in Nader's suitcase and see the car in action myself.
Alen Haseta
Instagram: hazetaa