Easy to live with, and fun to drive. Its a win-win in my books!
BHPian SoupRaw recently shared this with other enthusiasts.
Introduction -The first love
I've always been a car guy. As a kid, I remember visiting Bangalore and naming most cars on the street to the awe of my parents and relatives. I still have a car collection (photos) from newspapers and magazines neatly stickered into a notebook last updated in the mid-2000s. I would bug a particular relative at family events about his then-Mahindra 540 and ask questions to no end, but he was patient enough to answer my questions. Buying car toys was a ritual, and I still have a small collection of hot wheels and other car toys.
However, we never had a car in the family, only 2 wheelers. It wasn't until 2018 that I set out to buy a pre-owned first gen Baleno sedan. After trying a lot and eventually failing to find a decent example, I ended up getting a pre-owned Ikon 1.6.
Nothing quite like a Ford!
I had a short stint of ownership with the car, but it was a pure driving pleasure.
Pros:
Solid low-end torque for an NA engine. Just release the clutch & the car jumped ahead eagerly. The 1.6 petrol engine had a diesel-like low-end nature
Telepathic hydraulic steering. Fantastic feel and feedback paired with point-and-shoot capability was a dream combo that impressed me every time I took her out
Great handling. No surprises here, given the Ikon is a low-slung sedan from the Ford stable. The car had zero body roll & felt like it was on rails
Cons:
My car was a 2001 model meaning it had a handful of niggles. I knew this going into the purchase, but the low purchase cost and the thirst to own a driver's car & my first car made me overlook these concerns. The steering column had leaks despite multiple services and the brief upkeep burnt a hole in my pocket. My FNG at the time also proved to be untrustworthy and a greedy fellow
For how good a driver's car the Ikon 1.6 is, the brakes are its Achilles heels, and that's an understatement. I experienced a heart-in-my-mouth moment on a highway during an abrupt braking scenario
Power tapers off at higher RPMs making for an average top-end. I believe this is a trade-off for the superb low-end torque of the NA engine
While approaching speed breakers (Bangalore, duh) fully pressing the clutch would lead to the car switching off. No amount of rectification from my FNG solved this issue. I trusted this FNG too much while he just wanted to make a quick buck, so I ended up ditching him later
Mileage was around 10-11 kmpl(city) which wasn't a deal breaker for me then
After 3-4 months of ownership, my Ikon was lying around driven very rarely. Due to changes in my work schedule, I couldn't find time to drive the car often. After some contemplation, I posted an ad in OLX and sold the car.
Here is the list of cars that I've driven over the years, just to give you an idea of what I'm accustomed to (in no particular order)
1987 Maruti 800, Alto, Stingray, Figo 1st gen diesel, Swift 1.3 DDIS, I20 1.4 CRDI, Vento 1.6 TDI, Polo 1.0 TSI & even an Audi A4 recently, thanks to friends.
The itch to get a new car was always there. Once you drive a Ford, nothing comes close to the driving experience. So the first option was naturally something from that stable. I generally prefer petrol, but having heard good things about the Ford's TDCI engine (and experiencing many fun diesels myself), I wanted to go with diesel this time.
I chose the Freestyle, considering the limited budget, but the family preferred Ecosport. During this phase, Ford abruptly announced they'd be leaving India. Although the idea of a discounted Ecosport was alluring, I quickly dismissed the idea.
Heartbreak-The XUV 300 saga
Next in line was Nexon. Everyone at home liked it, and the looks of the second-gen had grown on me, albeit the rear design. I registered for a test drive. While waiting, I also considered XUV300. I had my eyes set on this car for some time and read good reviews from enthusiasts. A test drive wouldn't hurt, eh?
I get a call from Mahindra within an hour confirming a test drive. Boy, my excitement levels spiked! As promised, the Mahindra executive arrived shortly at my home with a White XUV 300 W8(O) Diesel.
XUV 300 Test drive impressions:
Pros:
The superb pull of the 1.5 diesel, thanks to the 300NM of torque
The refined diesel motor was a pleasant surprise. Diesels were supposed to be cluttery(from my driving experience with Volkswagen, Ford & Skoda)
Sorted driving dynamics for the body type. Coming from something like Ikon I didn't expect an apples-to-apples comparison but the handling was balanced & body roll minimal
Spacious, airy interiors meant comfortable long drives with the family. The white/beige interiors gave it a breathable ambiance
Solid feel, 5-star crash rating, and 7 airbags provided a feel-good safety factor
Cons:
Abysmal boot space. Long drives to native and outstations needed planning for luggage placement
Annoyingly Long clutch travel paired with a weird actuation point. I noticed RPM automatically rise at the said actuation point while shifting gears. I overlooked this then, but I am thankful I don't have to deal with it now
The rear reverse camera was just okay. Infotainment and dash buttons looked basic, though these weren't deal breakers
Turbo lag was evident, especially during the power buildup in the first gear
Mahindra was not known for its excellent service pedigree. I overlooked this since we were impressed with the car and believed having a good relationship with the service advisor would help
2 weeks had passed since the XUV 300 test drive, and despite multiple calls, we couldn't avail a test drive of the Nexon. Meanwhile, the Mahindra executive was very proactive & followed up regularly and even brought a petrol XUV 300 for a test drive. I found the petrol underpowered compared to the diesel and the three-cylinder thrum was pronounced. We took a couple more days and went ahead with XUV 300 booking. I booked the white W8(O) diesel variant.
The wait began. The standard waiting period was 45 days. Tata reached out to me during this period, but I was quite busy and couldn't find time for a test drive, so I gave up on the Nexon. Meanwhile, I arranged finances.
There was a rumored deletion of the 7th airbag from the W8(O) variant. I immediately contact my executive, and he dismisses the rumor. I am a bit concerned but hope for the best.
Around 40 days after booking, I got the call that the vehicle was dispatched and expected to arrive at the dealership over the week. The airbag question was still in the back of my mind, and I got no clarity from Mahindra. The executive who I dealt with had quit owing to personal reasons. I was now dealing with his manager.
I got notified once the vehicle reached the yard & requested a PDI, informing the manager that I'd arranged for the down payment, and if all goes well with the PDI, I would visit the dealership and begin with the financial formalities. He isn't too excited and tells me we need to discuss something before that. Red flag, right? I didn't think too much of it due to the 'new car' fever!
During the PDI, I didn't find any issues with the car. The ODO read 5kms; there were a few grease marks on the white interior, which was common (I checked a few other cars). But the airbag rumor turned out to be true. The 7th airbag had been deleted. Additionally, front door hazard lights were also gone, and in their place were reflectors.
Despite all these, I decided to proceed because we loved the car. Dad was quite impressed with it. It was fun to drive, which met my requirement. The family loved the looks and interior space. This was a small compromise, I thought. I thought wrong.
Intending to make the down payment, My dad and I reach the dealership with my checkbook, where a nasty surprise awaits me. The manager greets us, scribbles something in the quotation sheet, and tells me that the vehicle price has increased the very next day after I made the booking. I was kept in the dark this whole time. The feature removal, the audacity to hike the price and delete features & the lack of communication from the dealership didn't sit right with me. I bring up the feature removal, and the failure to inform me of any price hike; I told him I would still go ahead with the purchase, provided I get the old price(the price hike was around 16k if I remember correctly). He tells me the vehicle has already been billed with the new price, & can't do anything. My dad, still wanted to proceed with the purchase, but I'd had enough. I was hoping for some negotiation from the manager (I know there are rules in place, but I was hoping for some accessories or any initiative from the dealership side). To my surprise, he isn't bothered and says it is what it is.
I walked away from the deal, a bit disheartened but now with a newfound zeal. There is plenty of fish in the sea. I made the mistake of driving just one car. There were no comparisons, no options to consider, or no parameters set in place. My mistake was apparent too. I'd put all my eggs in one basket.
The family didn't take this as well as I did. This was going to be our first new car, and it was a car everyone liked. The anticipation had played its role, and now disappointment ensued. For them, it was emotional.
I wrote a mail to Mahindra leadership about the incident and my disappointment with the experience. The next day I got a call from the branch manager profusely apologizing for the incident and he wanted me to retain my booking. He mentions since the vehicle has already been billed with the new price, he can deduct half the amount from the price increase and could throw in a few accessories. He gave me a day to decide. Too little, too late. The excitement had waned off, the experience had been muddied and wasn't the same anymore. It was as if a desperate ex was trying to crawl back into your life
After some discussion with my family, who still wanted to go ahead, I decided not to proceed with the purchase. For starters I'd be the one driving, and I was sure there were other good cars. It was now time to explore, test drive, and compare cars. The emotional route had ended up in heartbreak; it was time for logical decision-making.
Rebound – Test drive phase
Thus began the test drive frenzy!
MG ZS EV
A friend who owns an Audi A4 2.0 TDI had booked this and recommended it to me after singing praises about the car. Even though it was out of my budget, I booked a test drive.
Pros:
Mad pull from the electric motor is ridiculously fun! Oodles of torque right from the get-go, is addictive. Puts a wide grin on your face- sports mode is mental!
Spacious interiors and quality in the materials used compared to the XUV 300(yes, this is a segment higher). The 2022 model had a grill which gave it an ICE car character from the outside, which I, like many, found appealing
The running cost savings sounded amazing, provided I primarily charge this at home
The panoramic sunroof provided a permeable aesthetic to the passengers and a sense of airiness
Regen works superbly. Level 3 can almost substitute casual braking
Cons:
Expensive. You pay an upfront premium and an early EV adopter tax. The top-end variant easily went 10 lakhs above my budget
The lower variant lacked a sunroof, connected car tech, and other features. Despite this, I couldn't justify the cost
Zero steering feel. I felt like I was playing NFS game on a computer connected to a steering controller
Long-term ownership was a question mark. Service costs, battery, and reliability weighed heavily towards the cons
No estimated delivery date. 5 months waiting period quoted, and I was told I'd be getting the new model
For 2 days I couldn't get the car off my mind. This is a model car for the EV gang. After two days, logic kicked in and I dismissed the idea of buying an expensive electric car during the infant EV phase.
Kia Seltos
Kia was not even on my list initially. But I thought why not. I requested the diesel automatic. The service executive from PPS Kia promptly brought the vehicle within an hour.
Pros:
The automatic gearbox was a pleasant surprise. As someone who's used to the DSGs from the VW and Skodas, the Torque Converter unit in Kia wasn't bad at all. Gear changes were almost unnoticeable
Excellent handling. The stiff suspension meant minimal body roll for the body type & I loved this
Great insulation. It was hard to believe we were inside a diesel car. The extremely refined CRDI motor is also a major factor here
Seltos is quite the looker. The LED grille lights were attractive and overall the car scored high in the looks department
The interiors felt classy and gave a lounge-like feeling. The ambient lighting and the all-black upholstery were excellent. The family loved it
Paddle Shifters is a welcome add-on. Acche din for aam-aadmis!
Ventilated seats, electronically adjustable driver seats, tilt and telescopic steering adjustment, and a plethora of features gave a premium feel unlike before. These were only available in luxury brands, right?
Cons:
Average power. I was expecting a torque rush, but my friend had warned me about the power, or the lack of it. This was a letdown. The fact that I drove the MG ZS electric a few days before made matters worse
I have a liking for top-end variants, and the GTX variant with all the goodies was beyond my budget
The 3-star crash rating bugged me
Toyota Urban Cruiser
What a surprising entry. At some point, I was disconnected from the car hunt and just gave up. The family members suggested getting a reasonably priced car for the time being. We needed a vehicle when traveling to native as last last-mile connectivity was a royal pain. Enter the reliable Urban Cruiser.
The car didn't stand out in any aspect. Acceptable looks, boring to drive paired with basic interior and features.
My brain somehow came to its senses, and I dismissed this car. This wasn't something I could live with.
Duster 1.2 Turbo
After some online research, I came to know about this beast. A 1.2-liter four-cylinder turbo, in a sea of 3 pots? Sign me up, I thought. While the engine was a cracker, it suffered from major turbo lag and a heavy clutch that was a deal breaker. The gears were clunky to shift and ruined the experience. Moreover, the interiors felt ancient after experiencing the likes of Seltos & ZS. The hydraulic steering had an intrusive kickback that I was fighting at every possibility and was unacceptable.
Sonet 1.0 DCT
My dad got into researching cars after the XUV300 debacle and suggested Sonet to me as a budget choice (the 1.2 NA petrol). I quickly dismissed it, but while researching, discovered the 1.0 DCT petrol variant and was interested, even though it was a 3-cylinder engine. The executive who brought over the Seltos was more than happy to bring the vehicle for a test drive. Good power, and decent dynamics, and the HTX variant fell right into our budget. The family loved the car. So I made a booking immediately.
Sonet 1.5 D AT
Snooping around Team-BHP, I discovered the existence of a 1.5 Diesel automatic variant with the same tune as Seltos and Creta. GTO's approval for the diesel auto variant urged me to go for a test drive. One test drive and I was hooked. This was way more powerful and refined than the petrol variant and the engine pulled better than it did in Seltos owing to the compact size and weight of Sonet. It made a world of difference to me. So, I changed my booking to the HTX D AT variant, and eventually to the GTX variant. Because the safety aspect was a bit unnerving, and the fact that GT line variants came loaded with safety features and 6 airbags, with connected car tech and extra features helped justify the extra price. I intend to keep this car for a while.
A standard 3-month waiting period was quoted, and I was getting restless. During this period I test-drove a few more cars.
XUV700
The petrol manual basic variant fell into our budget so I thought why not? I requested a petrol manual test drive.
Pros:
Gem of an engine with plenty of power. The petrol NVH is commendable.
Spacious and imposing as a true SUV.
Easily maneuverable for a big vehicle. I got used to the vehicle's dimensions within a kilometer.
The family felt at home and was super comfortable at the rear seat.
Cons:
I didn't need a >4M SUV as an only car, especially in Bangalore
Crazy waiting periods
Barebones basic variant, only pro was the powerful motor
I was not looking forward to yet another Mahindra experience
Honda City
Pros:
Refined engine, creamy and musical at high RPMs
Butter smooth, light clutch in a sea of hard clutches. It was fun to switch gears and let the motor scream
Handling was on another level compared to CSUVs and SUVs. It reminded me of my Ikon
Acres of rear space, family loved it. Comfortable ride and a practical big boot
Immediate availability within a week/10 days
Cons:
The NA engine was not exactly fun to drive. Exciting only at the high end of the power-band. The turbos had ruined me
Okayish infotainment system and interiors for the price
Low ground clearance. Even the test drive stretch didn't inspire confidence, so tackling the rural outskirts would be a big concern on a fully loaded car
Kushaq and Taigun
Having driven a friend's Polo and Vento, I knew of Volkswagen's pedigree but had heard horror tales about the infamous fuel pump issue of Kushaq and hence had stayed away. Now that I'd driven so many cars, what's another two on the list?
I drove the 1.0 variant and wasn't impressed. It had enough power but I was aware of the better 1.5 four-cylinder pot and I knew for a fact that it would be a better driver's car. However, the Volkswagen executive was more interested in pushing the 1-liter variant and took a long time to arrange the 1.5 variant's test drive.
Volkswagen/Skoda 1.5 Twins
Pros:
The engine is a gem. What a hoot to drive. Tons of power, fun all the way
Best handling of the lot. Though steering feedback is lacking compared to previous gen VW/Skoda
Quite the looker, particularly the Kushaq in the red shade. Taigun looked a bit more mature, while Kushaq – was a bit flashy
Stopping power from the brakes is confidence-inspiring despite the drums at the rear
Telepathic DSG complements the jewel of a motor
The 1.5 manual had mad torque steer, absolutely nuts. Grinned to oblivion
Cons:
Doesn't look like a >20 lac car from the inside. Tacky interiors, switchgear, rough edges, and the infamous roof upholstery were an eyesore
AC is ineffective and takes too long to cool the cabin. Ventilated seats have a pronounced hiss and aren't as effective as the ones in Kia twins
Taigun 1.5 GT missed out on some important features like ventilated seats. Also, the Taigun 1.5 manual had a hard clutch with long travel, an impending literal pain point in the long run. I assume the Kushaq manual to have the same character
Horror stories about the DSG and the service experience raised concerns, as this would be our only car
I still couldn't get over the prospect of owning a Kushaq 1.5 manual. The Taigun 1.5 manual was so much fun to drive. Skoda didn't have a 1.5 test drive vehicle but I guessed they drove pretty similarly. It retailed close to 20 lacss on road, 3 lakhs more than the top-end Sonet 1.5 D AT. But there were trade-offs on both ends. As a gatekeeper of the manual gearbox, I started changing my tune, having driven some great automatics. But the Kushaq 1.5 manual had been discounted as a late 2021 model.
During this dilemma, my Kia executive calls me out of the blue and tells me about a black Sonet GTX D AT readily available due to a last-minute cancellation. In what I would call a head-over-heart decision, I chose to go ahead with Sonet.
Sonet – The chosen one
First glimpse
PDI was done, and no issues were found in the car. The VIN corresponded to the manufacturing date as a February 2022 model
I made the down payment after completing PDI, and the loan process came through within 2 days
Nothing to complain regarding the delivery experience, usual reveal, and key handover followed by a small demo from the sales person. Kia dealerships are swarming with deliveries throughout the day
Decided to go with Kia insurance for the first year for a hassle-free experience. I opted for a 5 year warranty considering Torque Converters are pretty robust and reliable. No discounts on anything from the dealership quoting the high demand as the excuse
5d mats, Bumper protectors, Door scratch protectors, chrome covers for ORVMs(dad requested this, I'm hell-bent against chrome) car cover, and key cover were the accessories I chose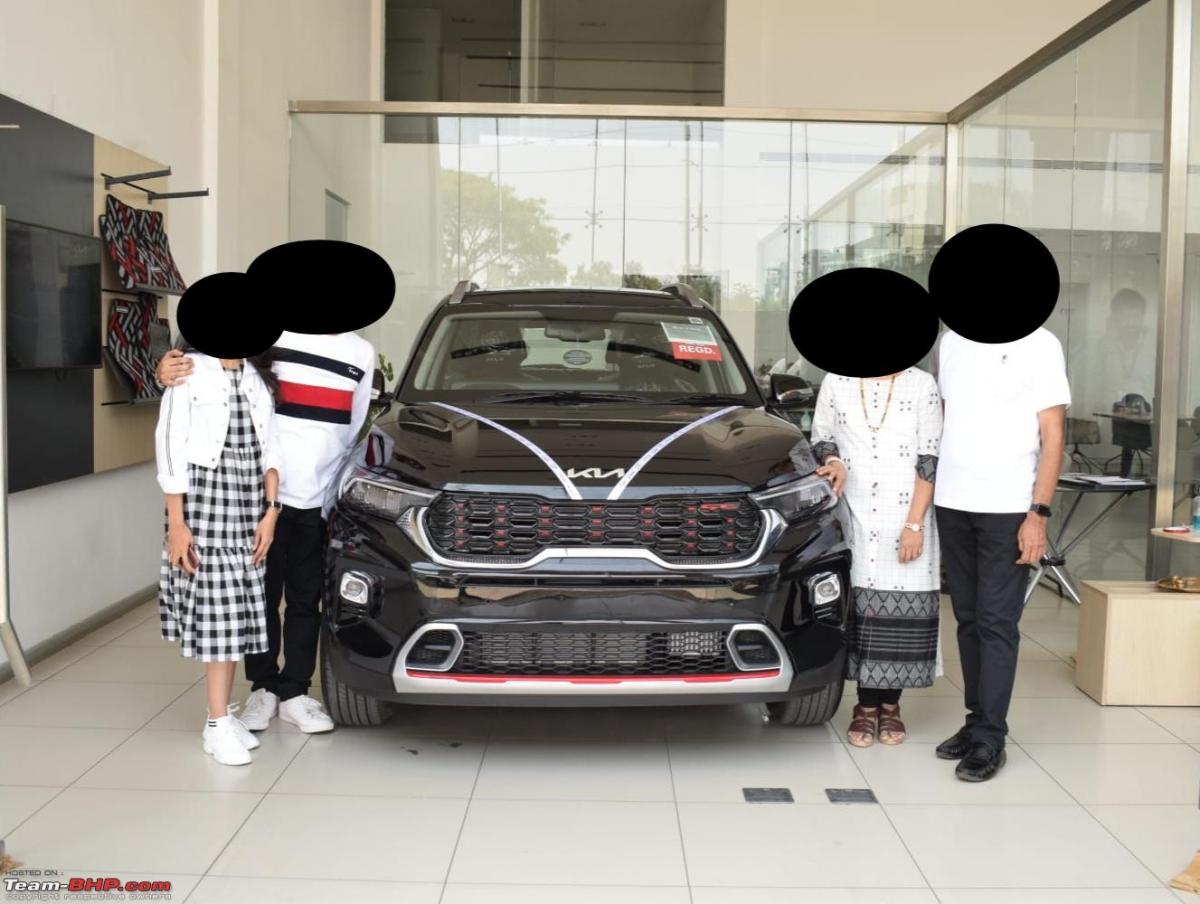 Delivery shenanigans!
First tankful. Look at that range!
Within 3 months, the car had done a drive to Kerala during monsoon and had minor scratches. It's painful to see your brand new car get small dents from stone chips and stray plants leaving scratches. After some contemplation, I decided to get a full-body PPF. I chose Autorush Car Care, owned by Rakshith.
NOTE: I'm not promoting Rakshith or his business; I'm just jotting down my experience.
Rakshith, for one, gave us the option of ceramic coating or PPF but recommended PPF if the purpose was paint protection. He even gave quotes for different films, and different car coverage(areas) but I decided to go with a full-body PPF with Stek. I would highly recommend Rakshith and Autocare owing to my pleasant experience. His work on my car exudes professionalism and even a Kia manager couldn't believe my car had PPF due to the highly professional tuck in process!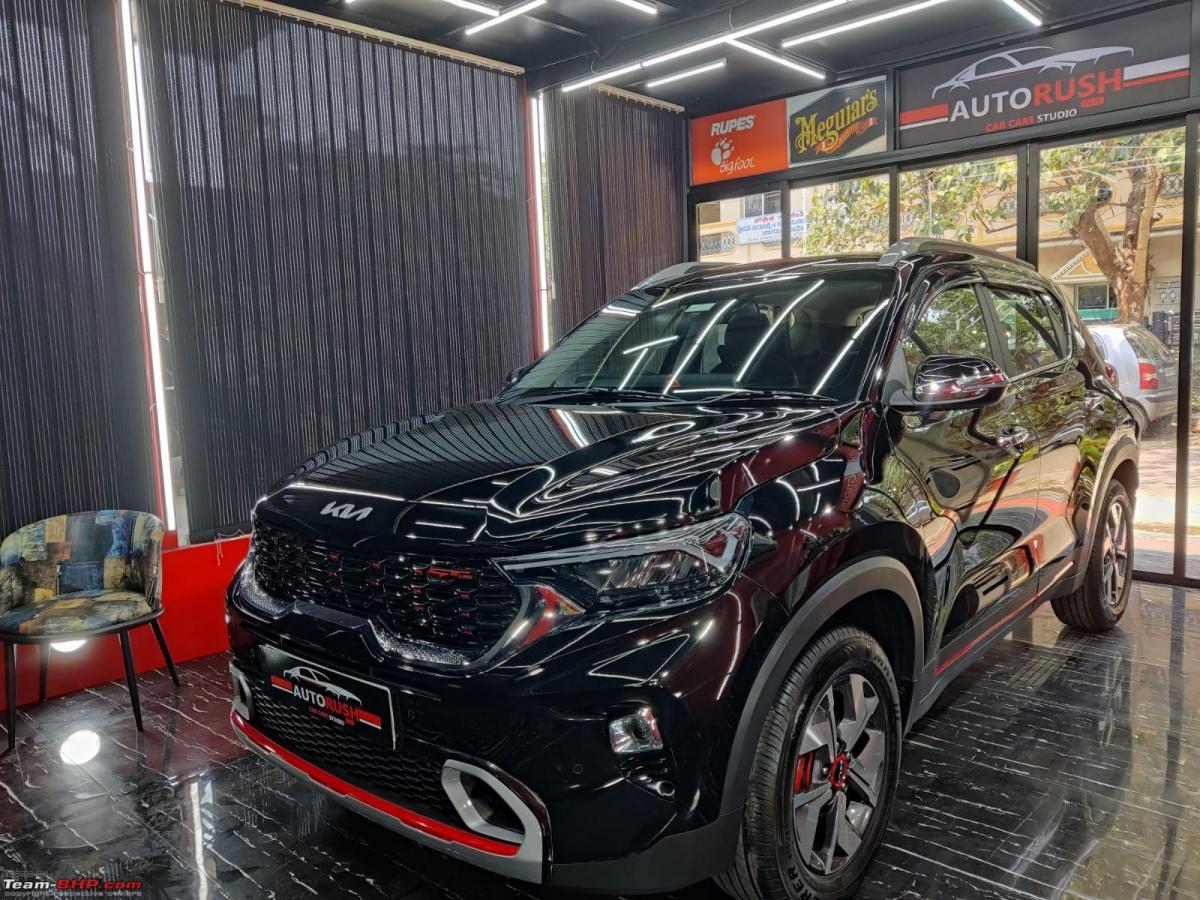 Pampered and ready to roll!
Continue reading BHPian SoupRaw's review on his experience with the Sonet for more insights and information.