The China Association of Automobile Manufacturers (CAAM) has released sales figures showing 444,000 fully electric vehicles were sold in the month of April, making up 25% of the Chinese auto market.
A further 165,000 plug in hybrid cars were also sold, taking the total market share of plug-in vehicles (or new energy vehicles in the local parlance) to 34% for the month.
The April figure was up 109% year-on-year, meaning if the growth is maintained, China could reach an annualised market share of over 40% by the end of 2023. In his recent podcast interview with The Driven technology researcher Tony Seba predicted it could be as high as 50% by the end of the year.
According to CarNewsChina.com BYD led with 88,371 BEV sales for the month, taking 24% of the EV market.
BYD was followed by Aion with 41,012 EV sold, and then Tesla with 39,956 sold. That gave each of those companies around 11% of the EV market. The word's second largest automaker Volkswagen sold just 11,013 EVs, making up just 3% of the China EV market.
Although Tesla still leads BYD on total BEV sales globally, BYD dominates its local market as the vast majority of BYD's sales are in China
BYD sold 18.6 million EVs and plug in hybrids in 2022 however only 56,000 of those were exported meaning 97% of all BYD's sales were in the Chinese market in 2022.
That may be about to change however as the Chinese EV makers reach scale production while the overall auto market in China slows.
Chinese EV makers set to ramp up exports
Although still low, BYD's 56,000 exports in 2022 were up four-fold on 2021.
In its recent report titled The Chinese challenge for the European automotive industry, Allianz says China's rapid consumer shift to EVs has enabled Chinese EV makers to capture the bulk of the new market at the expense of European legacy auto makers.
This has enabled Chinese EV makers to scale significantly in recent years which now opens up export opportunities to the EU.
"Despite its rapid growth, Europe's adoption of alternative energy vehicles comes only second in the world – and a distant second at that," says Allianz
"In 2022, more than 5.4 million battery electric vehicles – two-thirds of the world total – were registered in China, +83% from 2021."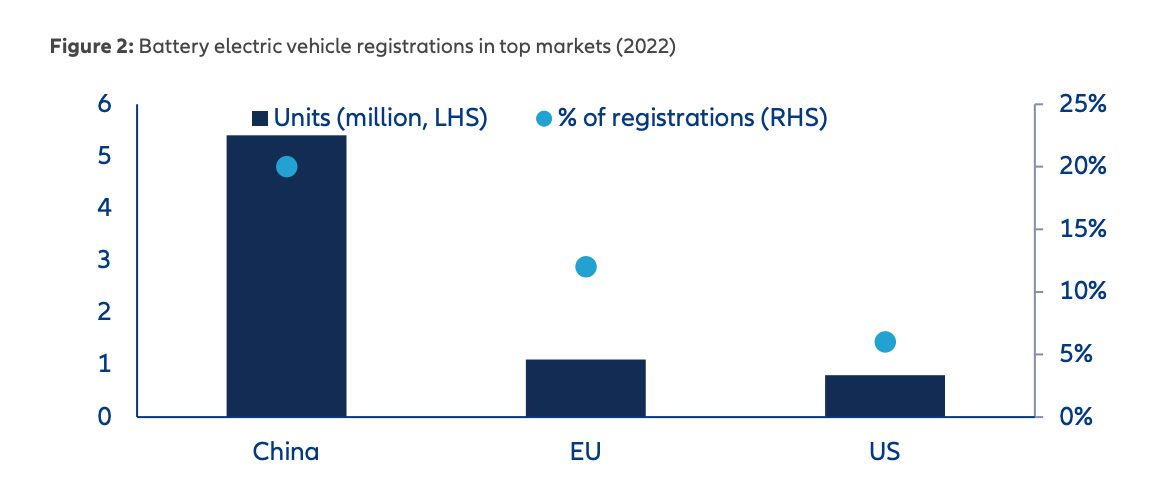 Allianz says that Chinese EV makers are now turning their focus to Europe as the US is now a tougher market to crack after the introduction of the Inflation Reduction Act.

Daniel Bleakley is a clean technology researcher and advocate with a background in engineering and business. He has a strong interest in electric vehicles, renewable energy, manufacturing and public policy.