The 1970 Dodge Challenger R/T SE "Black Ghost" sold for $975,000 at the Mecum sale in Indianapolis—$1,072,500 after fees.
The Black Ghost has joined the National Historic Vehicle Association registry, along with the likes of the Ford Mustang from Bullitt.
This special Mopar inspired one of the final editions of the current Dodge Challenger.
The highly anticipated day has finally come for the legendary 1970 Dodge Challenger dubbed Black Ghost. This legendary Mopar car was street-raced in its day and flexed its Hemi around Detroit's streets. Though, after being stored away by Godfrey Qualls, this potent Mopar became a sought-after myth among collectors and muscle car enthusiasts alike. Since its return to the public eye, this Challenger has been enshrined in the National Historic Vehicle Association, won awards at concours around the country, and, now, has a new owner.
Before his death, Godfrey Qualls passed along this piece of muscle-car history to his son, Gregory, who went on a mission to get this Challenger back on the road and share his father's prized Mopar with the world. This oddly ordered Mopar became a hit at concourses and muscle-car enthusiast shows after its minor mechanical restoration, but now it's time for a new life.
For those out of the loop, the Black Ghost Challenger commands such lore because of how it was built, and what it did under Godfrey's stewardship. Already rare, this 426-Hemi-powered Challenger is backed by a sought-after four-speed manual transmission. Ordered as an R/T SE, this Challenger was optioned with the luxury appointments you'd find with a special edition and the hi-po parts for the R/T. Topping off the mix, the gator-grain vinyl roof was a factory accident but adds to the car's lore.
After leaving the factory, Godfrey used the Challenger as you'd expect: he enjoyed it. This muscle machine did double duty as regular transportation and helped Godfrey haul his Norton motorcycles, while flexing its muscles on the Detroit streets.
If you're wondering if Gregory will miss the car, well, that's obvious. "I will miss the car, but I realize I don't need the car," Gregory says. "At some point in time, when I first got the car out of the garage, I really needed the car. After losing my dad, you know—it was a thing for me to do to remember him. But then, as people started hearing the stories and I started learning things about the stories and about the car, I realized my dad's always with me. I don't necessarily need the car anymore—I can finally let it go. That's where I'm at with it now."
While the Black Ghost might be moving underneath a new roof, the Qualls family will always be attached to the car. Gregory says, "The car will always be known, and my dad's story will always be told. I think, for me, that's the biggest honor of the things that could happen with this car story, is that the car story will live forever."
The latest chapter in this legend's story happened at the Mecum Spring Classic, where it hammered for $975,000. It's hard to predict the future, but we think this piece of history will be celebrated for a long time.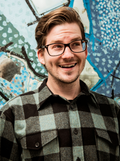 Wesley Wren has spent his entire life around cars, whether it's dressing up as his father's 1954 Ford for Halloween as a child, repairing cars in college or collecting frustrating pieces of history—and most things in between. Wesley is the current steward of a 1954 Ford Crestline Victoria, a 1975 Harley-Davidson FXE and a 1959 Ford Fairlane 500 Galaxie. Oh yeah, and a 2005 Kia Sedona.