Ratan Tata, the influential leader of Tata Sons and Tata Trusts, holds a prominent position in India. Renowned for his philanthropic endeavors, Ratan Tata has established a vast business empire both in India and abroad. However, his passion for automobiles remains a lesser-known aspect of his life. Mr. Tata is an avid automobile enthusiast and boasts an impressive collection of imported vehicles. On weekends, he can often be seen cruising public roads in his cherished cars, showcasing his love for automobiles in surprising ways. It's a sight that never fails to astonish onlookers.
A video showcases Ratan Tata behind the wheel of a left-hand-drive Mercedes-Benz SL500, a vehicle that was personally imported for him. Notably, he is accompanied by a passenger in the co-driver's seat, with whom he engages in constant conversation. The footage, captured from another vehicle, appears to be a few years old based on the surrounding cars on the road. However, it is a captivating find as it offers a glimpse into Ratan Tata's private moments, which many of us had not witnessed before.
Also read: Mahindra XUV700″s first accident shows its build quality
The Mercedes-Benz 500 SL is far from an ordinary car. Equipped with a formidable 5.0-litre naturally-aspirated petrol V8 engine, it unleashes an impressive 306 Bhp of maximum power. It is worth mentioning that Ratan Tata, being a trained pilot, demonstrates his skills not only in the air but also behind the wheel. As a result, he frequently takes charge of the Tata Sons' fleet of vehicles.
Tata also owns a plethora of other Indian and foreign-made cars. Here is a full list.
Tata Nexon
Tata made its foray into the compact SUV segment with the Tata Nexon. This sub-4 meter SUV has enjoyed remarkable success in the Indian market, securing its position as the second-highest selling car in its segment. The Tata Nexon is a relatively recent addition to Ratan Tata's collection, registered under the name of Concorde Motors, a subsidiary of Tata Motors. Mr. Tata's Nexon is a diesel variant, equipped with a 1.5-liter turbocharged engine that delivers an impressive power output of 108 Bhp and a torque of 260 Nm.
Ferrari California
Shifting our focus to the more flamboyant vehicles in Mr. Ratan Tata's collection, the Ferrari California steals the spotlight. This Italian convertible, painted in a striking red hue, has garnered much attention as Mr. Tata can often be seen cruising the streets of Mumbai with the top down. Although this particular model has been discontinued, it holds the distinction of being Ferrari's first-ever front-engined car. Under the hood of the Rosso Red Ferrari California lies a robust 4.3-liter V8 engine, capable of generating 490 Bhp of power and 504 Nm of peak torque.
Honda Civic
The Honda Civic brought a distinct flavor to the sedan car segment in India, carving out its own unique niche. Ratan Tata, too, recognized its appeal and couldn't resist owning one. His pristine white Honda Civic served as his daily commute vehicle, with Mr. Tata frequently taking the driver's seat. The Civic is propelled by a 1.8-liter VTEC petrol engine, generating an impressive power output of 130 Bhp and a torque of 172 Nm.
Land Rover Freelander
The car aficionado within Mr. Ratan Tata led him to acquire the prestigious Jaguar Land Rover brand from Ford in 2008, showcasing his passion for exceptional car manufacturers. Among his collection, the Land Rover Freelander SUV stands out with its stylish red interiors. This vehicle is often spotted chauffeuring Mr. Tata to significant events and occasionally serving as his mode of transportation to work. Interestingly, despite his association with Land Rover, Mr. Tata does not own any Range Rovers, the flagship SUV of the Land Rover brand.
Mercedes-Benz W124
Just like every other Mercedes-Benz vehicle, the Mercedes-Benz W124 was in a league of its own. Unsurprisingly, Mr. Tata is the proud owner of this remarkable car. While it may not be frequently seen on public roads, it has been meticulously maintained throughout the years, attesting to Mr. Ratan Tata's discerning taste in automobiles.
Cadillac XLR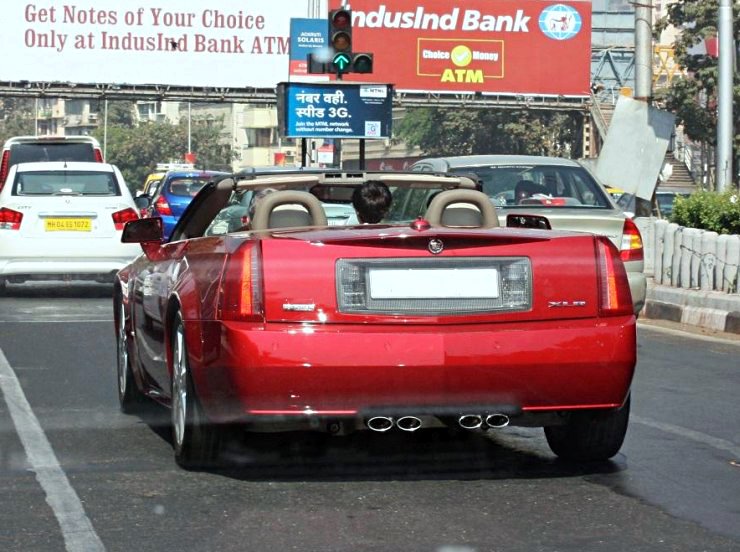 Adding to his collection of extravagant luxury cars, Mr. Tata has a striking Cadillac XLR convertible in his garage. This impressive vehicle features a folding hardtop and is equipped with a powerful 4.6-liter Northstar V8 engine, manufactured by General Motors. With 320 Bhp of power, the Cadillac XLR boasts a sporty red exterior and can often be seen cruising the roads of Mumbai.
Chrysler Sebring
The Chrysler Sebring is the final known sedan with a convertible top that Mr. Ratan Tata owns. Although there are no photographs of him driving it in India, he confirmed ownership of this car during one of his interviews. In his statement, he expressed his fondness for the color of his Sebring. Interestingly, he also used the same color to paint the Indian for the Tata Indica showcased at the 1998 Geneva Motor Show.
Tata Indigo Marina
Mr. Ratan Tata's purchase of the Tata Indigo Marina was driven by his love for his dog. This car serves as a means to take his dog out for a drive, and he has even customized it to provide ample space as a playroom for his beloved pets. The rear seats have been completely removed to create this additional space. While there are no available pictures of him driving around with his dogs in the Tata Indigo Marina, we eagerly await the opportunity to see this heartwarming sight.
Mercedes-Benz S-Class
Mr. Ratan Tata is no exception when it comes to owning the prestigious Mercedes-Benz S-Class, a car that is a staple in the garages of influential individuals, particularly in India. His S-Class is elegantly finished in a glossy black shade, exemplifying the flagship limousine from the renowned German automaker. Mr. Tata has frequently been seen in the back seat of this luxurious sedan, using it as his daily driver for an extended period.
Tata Nano EV
Electra EV, a company specializing in electric vehicle powertrain solutions, has developed an electric vehicle based on the Tata Nano. In a notable development, they recently delivered a Nano EV to Mr. Ratan Tata, seeking his valuable feedback on the vehicle.
Also read: 10 DC Design cars & how they look in the REAL world: Maruti Swift to Mahindra XUV500