Apart from the Mahindra Thar, we also had other 4×4 vehicles like the Force Gurkha, Mitsubishi Pajero Sport and Jeep Compass.
BHPian abhikb recently shared this with other enthusiasts.
Event Report
The Border Quest event was concluded successfully, it had a good turnout of 34 cars, most of which were new Thar owners. We went through one of the unexplored roads, had the opportunity to explore places which have been untouched and unexplored.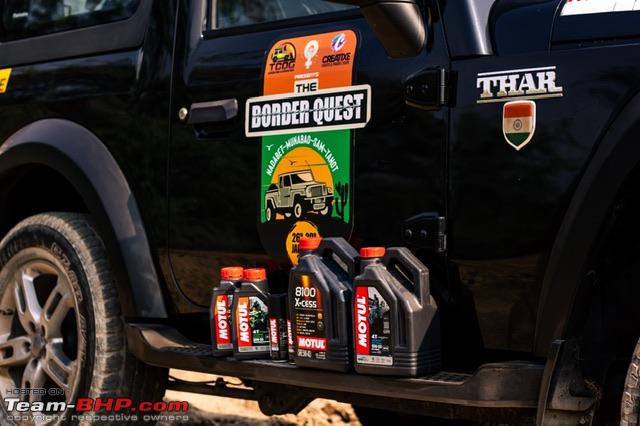 Final Itinerary & Route Plan
Day-0: Reporting at Tharad
Day-1:
Tharad to Nadabet
Flag-off at Nadabet Indo-Pak Border
Nadabet to Munabai via Mavsari, Sata, Dhanau
Munabao to Sam
Day-2:
Sam to Longewala
Longewala to Tanot border via Ramgarh
Tanot to Sam
Day-3:
Dune Bashing
Event Gala Dinner on Dunes
Day-4:
Essentials we carried
Tyre Inflator
Puncture kit
Engine oil
Coolant
Coolant pipe
First aid kit
Mosquito repellent
Basic meds
Sunscreen
Tyre inflator/deflator
Garbage bags
Toilet tent
Jump Starter
Headlight bulbs
Car RC and insurance, in case the owner is not present authorization letter in the name of the driver
Other details
No. of 4x4s: 34
Key Border Points touched: Nadabet, Munabao, Longewala, Tanot (Bawariya Check-post)
Dune bashing: Check
River Bed Trail Drive: Check (20 Kms)
Unique 4x4s: Gurkha BS-6, Pajero Sport & Jeep Compass
Briefing session
Briefing session was held at Ahmedabad on 22nd January, 2023 in order to explain the route map, preparation to be done at the participant's end and much more. The session was streamed live through our Instagram page live feed for outstation participants.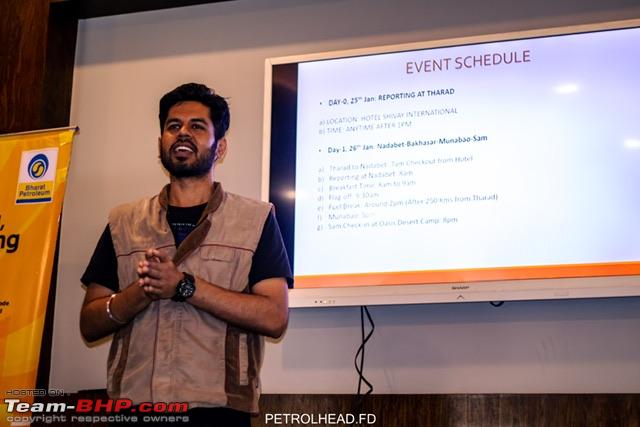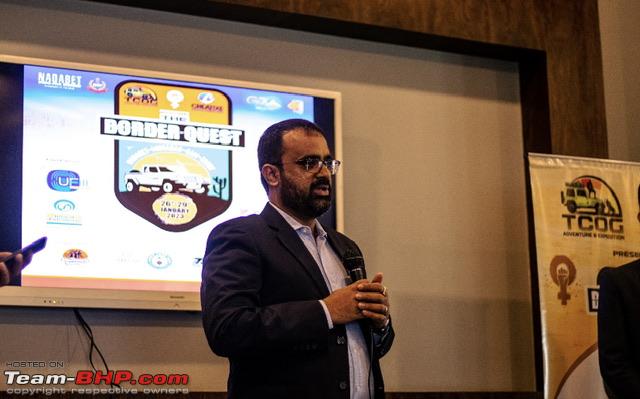 Day-0, 25th Jan-23, Reporting at Tharad
Our flag-off Point Nadabet was 200 kms from Ahmedabad which is a 4 hour drive, hence, we had planned for Reporting at Tharad which is 60 kms away from Nadabet.
The convoy was formally flagged off from BPCL Outlet near Helmet char rasta at Ahmedabad, BPCL's state head came down personally to greet the participants. Post flag-off all the participants were to report at Tharad directly and check-in at the hotel.
Day-1, 26th Jan-23, Tharad-Nadabet-Munabao-Sam
All the participants were required to assemble at Nadabet by 8:30am, a short information about Nadabet is as mentioned below:
Nadabet is designed to take the visitor on a journey of grit and resilience.

Right from the gates till the very Indo-Pak border located 25KM inside, it is an enthralling experience where every visitor entering, will leave a patriot.

T-Junction and 0-point offer tourists a wholesome experience along with many other attractions. A high watch tower is especially designed to give the visitors a view across the zero line, as well as a number of scenic spots.

It is jointly managed between Gujarat Tourism and BSF.
The Border Quest event flag off was part of the event proceedings at Nadabet, the team got a grand reception as the flag off was done at the hands of IG-BSF GJ frontier.
Post flag off the convoy rolled from Nadabet and took the State highway upto Mavsari, from there on we had to cross a 20 kms river bed and move upto Bakhasar. From Bakhasar we had to travel up to Munabao using Bharat mala road via Sata-Gagariya-Gadra Road. On such a drive, refueling points are a must, in this regard, BPCL team ensured hassle-free transit at their petrol pumps on Bharat mala road.
We had arranged lunch for the participants at Serva on Bharat mala road itself. The departure from Nadabet had been delayed slightly hence, the convoy could reach Munabao around 6pm right before sunset. BSF had arranged for Tea and refreshments at Munabao for all the participants and we were allowed to go upto Zero Point which otherwise is not allowed on this stretch.
Short information about Munabao is as follows:
A 1,000 mm (3 ft 3+3⁄8 in)-wide metre-gauge line from Luni to Shadipalli, in Sind, was built across the Thar Desert in 1902 and the line from Shadipalli to Hyderabad (now in Pakistan) was regauged.The Luni–Barmer–Munabao section was converted to 5 ft 6 in (1,676 mm) broad gauge in 2004.

During the 1965 war, the railway station came under the control of Pakistan.

According to a 1929 issue of the Railway Gazette, the Sind Mail used to run on this route between Ahmedabad and Hyderabad, Sindh. The route was in use with through services between Jodhpur and Karachi till around 1965. On the Pakistan side, Khokhrapar was the terminus of a metre-gauge branch line from Hyderabad, Sindh via Mirpur Khas, 135 km from the border.

The rail link across Munabao–Khokhrapar border was restored in 2006. As per the agreement between Indian and Pakistan railways, the Thar Express travels once a week from Karachi during a six-month block, crosses the international border, and the passengers change over to an Indian train at Munabao for their onward journey to Bhagat Ki Kothi in Jodhpur.

On the Indian side the Thar Link Express runs non-stop once a week from Bhagat Ki Kothi (near Jodhpur) to Munabao and back. Pakistan Railways have set up a new railway station at Zero Point. There is a passenger train linking Munabao to Barmer, which ran on all days except Monday.

The train connectivity has now been stopped since 2019 escalation of tension between India and Pakistan.
The final leg of the journey between Munabao-Sam was around 170 Kms, 3 hours drive on Bharatmala road and followed with a Narrow stretch of road through the dunes. We started from Munabao around 7pm, since the route was desolated and mobile network was not available on this route, the entire convoy rolled together on this route and we made it to the resort right on time around 10pm.
During the registration session this communication was made to the participants that the first day's drive will be 13-14 hours, this helped to prep up the participants for the day and also through our food partner Kabhib, food packets were distributed at Munaboa to keep people charged for the last leg of the journey.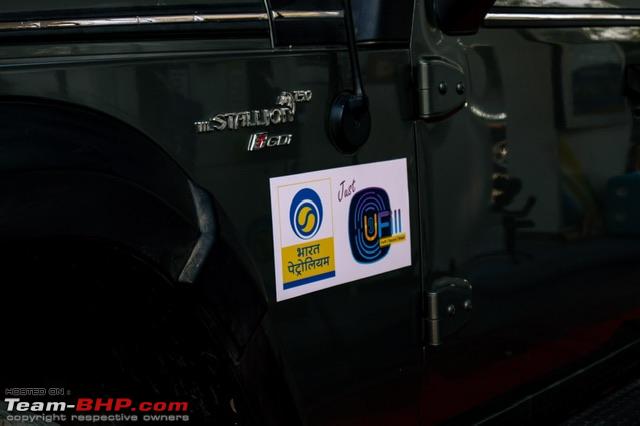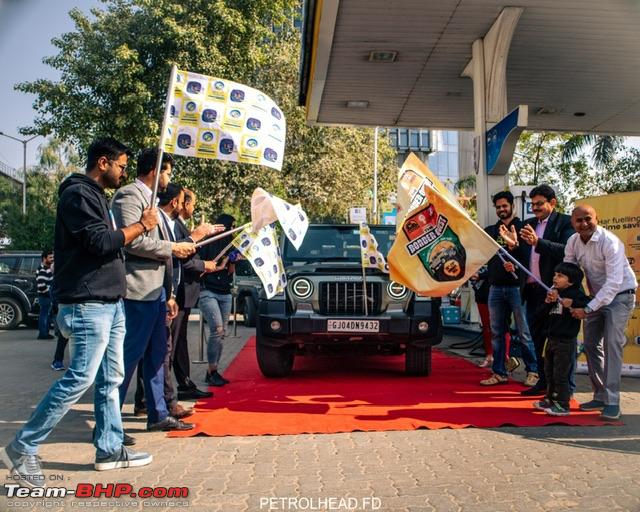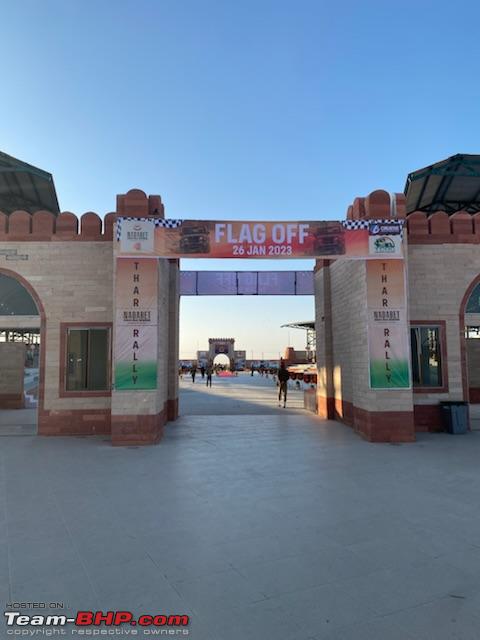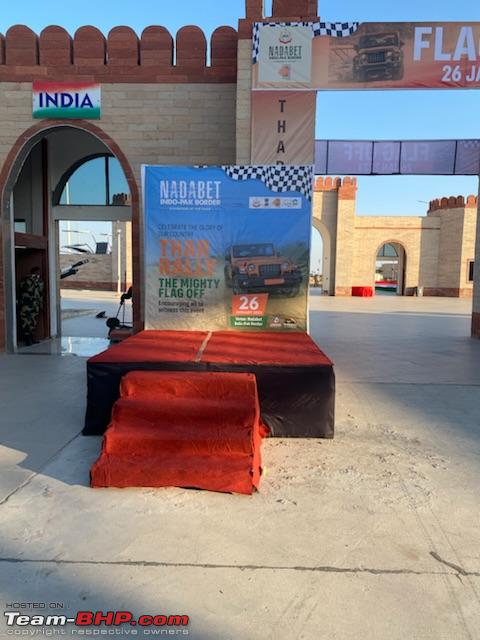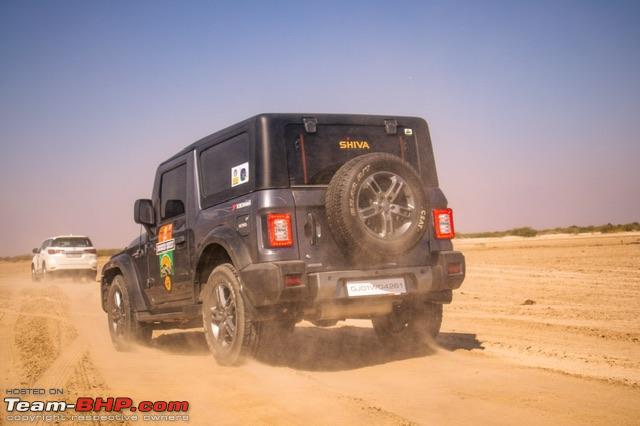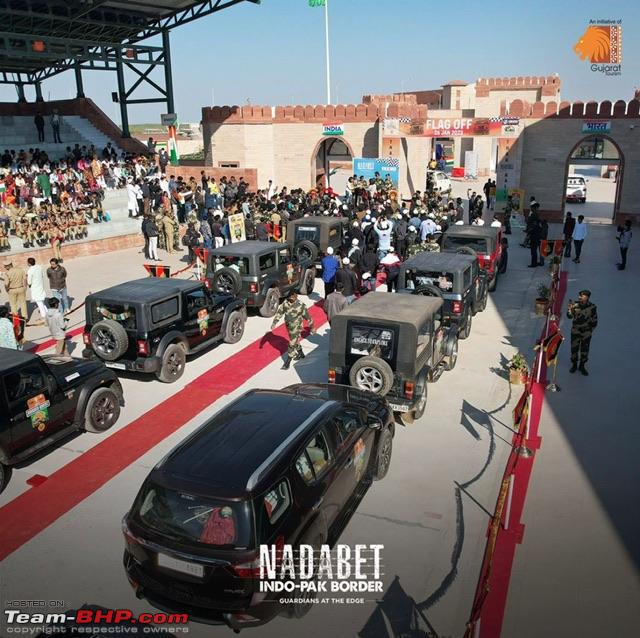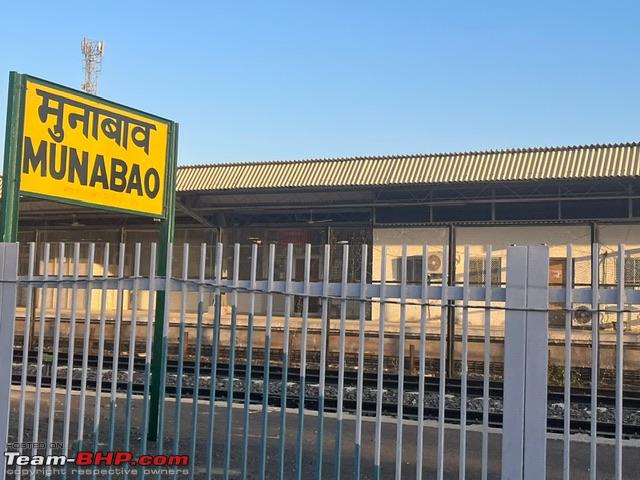 Continue reading about the Border Quest event for BHPian comments, insights and more information.