Hertz has started the first quarter of 2023 off with a major milestone in its fleet electrification journey. As of April, the hire car company has 50,000 EVs, making up 10 per cent of its overall fleet.
EV rentals are also expected to increase fivefold to two million trips in 2023. This is a massive step up and shows the demand for cleaner EVs as rentals are increasing exponentially as the company's zero-emission fleet grows.
"Our continued investments in the business, particularly in the areas of technology and electrification, are improving our operational cadence, extending our reach in rideshare, and enabling the revitalization of our value brands, all with a view toward delivering sustainable returns for our shareholders," said CEO and chairman Stephen Scherr.
During the first three months of 2023, Hertz's revenue was $US2.0 billion, driven by strong demand for rentals moving into spring in the northern hemisphere.
The company also started taking deliveries of its non-Tesla EVs from GM and other brands to provide more options to its rental customers.
Along with that, the lowering of EV prices in Q1, particularly for its Tesla fleet, also helped the company's outgoings to kickstart 2023.
Hertz has a target of 25% of its fleet to be full electric by the end of 2024, so it has under 18 months to add another 75,000 EVs to its fleet and decommission the same number of ageing ICE vehicles.
In 2022, Hertz announced its partnership with Polestar to buy up to 65,000 electric vehicles over the next five years.  The Polestar deal has already kicked off in Australia as of the second half of 2022 with local travellers able to rent Polestar vehicles from Hertz across the country.
This partnership was on the back of placing an order for 100,000 Tesla EVs back in 2021. This large order pushed Tesla shares to be valued at over $US1 trillion back in October 2021.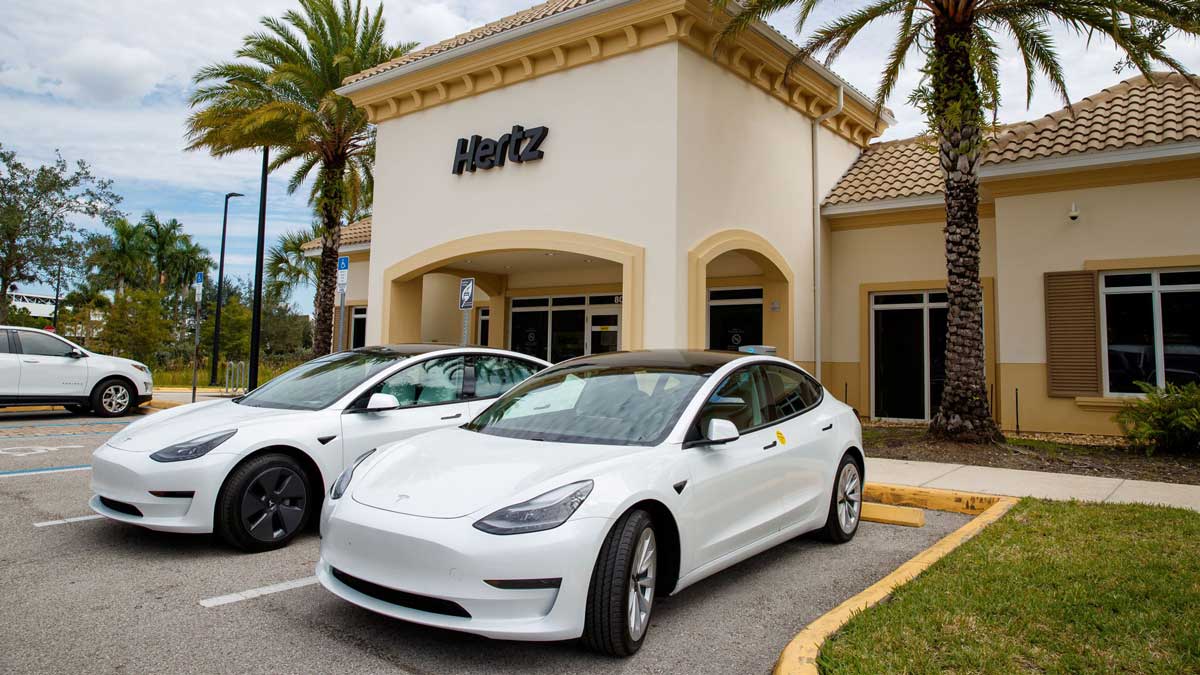 Other EV deals include 175,000 EVs from GM which would include Chevrolet, Buick, GMC Cadillac and BrightDrop EVs in the coming years. 
Hertz is starting to ramp up efforts outside of the US too with the announcement of an expansion of its partnership with the ride-sharing company Uber. 
The hertz-Uber partnership in the US includes a combination of Tesla and Polestar EVs which is now being expanded out of North America. 
For Europe, the company plans to deploy 25,000 EVs as part of its initiative to aid greener ride-sharing.
The company says EVs are 50% cheaper to maintain than similar petrol or diesel vehicles.  They also have higher fleet utilisation and lower downtime for maintenance.

Riz is the founder of carloop based in Melbourne, specialising in Australian EV data, insight reports and trends. He is a mechanical engineer who spent the first 7 years of his career building transport infrastructure before starting carloop. He has a passion for cars, particularly EVs and wants to help reduce transport emissions in Australia. He currently drives a red Tesla Model 3.