Many people think that EVs are still too expensive, but the ticket price or upfront cost is just one part of the picture. When you factor in fuel costs and maintenance over the lifetime of the vehicle, the economics of car ownership is starting to favour electric vehicles.
As part of its Impact Report released this week, Tesla has once again highlighted the fact that the total cost of ownership of  a Model 3 RWD over just five years is similar to that of a Toyota Corolla.
"While the "sticker price" of a Model 3 is similar to the equivalent BMW or Audi, over the lifetime running costs of EVs are lower than those of ICE vehicles due to lower maintenance costs, cheaper electricity and the high residual value of used Tesla vehicles." said Tesla in the report.
Tesla says that the total cost of ownership over 5 years or 60,000 miles (96,000 km) for a Model 3 is $US0.49 per mile ($A0.46 per km) while a 2023 base model Toyota Corolla is $US0.46 per mile ($A0.44 per km).
This means the Toyota Corolla total cost of ownership is just $0.02 per km cheaper than the Model 3 over 5 years equating to a $2000 difference after 100,000 km.
Add in federal and state government incentives like Queensland's recent announcement of a $6,000 rebate on EVs and the Model 3 actually comes out cheaper.
Tesla's 3rd generation platform to cut production cost per vehicle by 50%
If the total cost of ownership of the current Model 3 is already on par with the base Toyota Corolla, Tesla's 3rd generation vehicle is going to tip the scales considerably
During its Investor Day presentation in March, Tesla said the production costs of next generation vehicle will be 50% less than current vehicles. According to Morgan Stanley Tesla's current cost of production per vehicle is around $US39,000 so a 50% cut in costs would put it under $US20,000.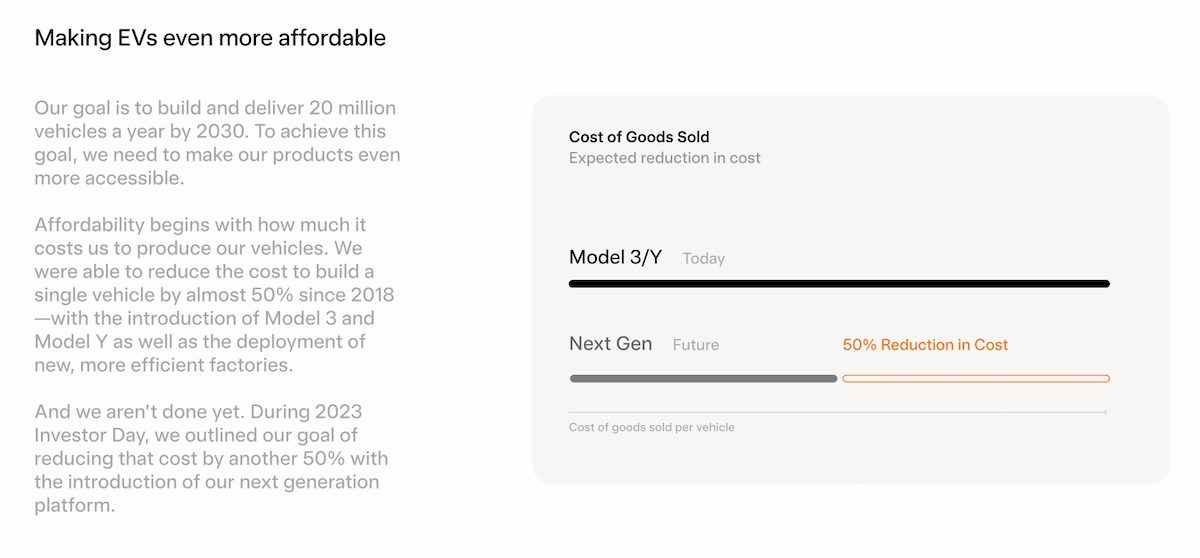 Tesla will begin producing it's 3rd generation vehicles at its new Mexico factory which its building over the next 12 months.

Daniel Bleakley is a clean technology researcher and advocate with a background in engineering and business. He has a strong interest in electric vehicles, renewable energy, manufacturing and public policy.