With over 1,100 exhibitors and more than 200 club presentations on show at Messe Essen, the 33rd Techno-Classica event was a huge affair.
It's the show to attend for anyone with an interest in classic cars, and not just for those living in Germany but the whole of Europe and even further afield too. The number of languages and accents I heard while doing the rounds at Essen only further cemented its status as a truly international event.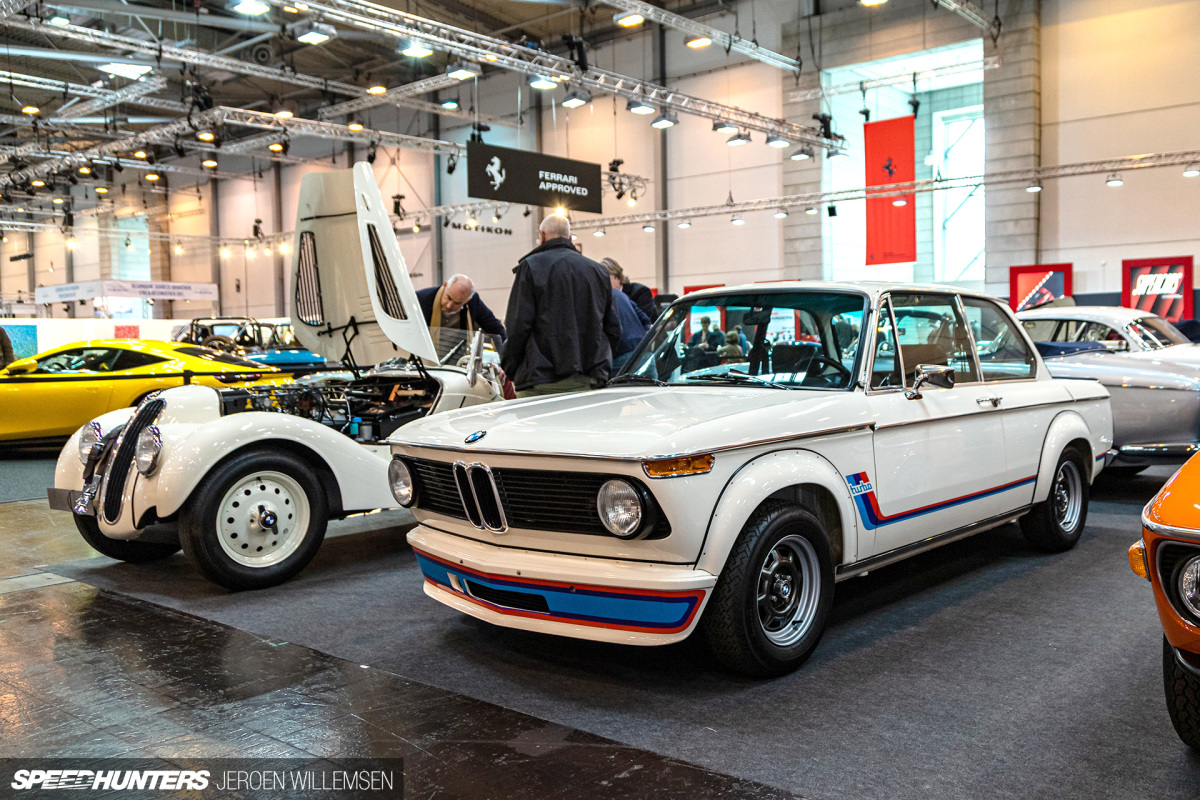 Personally, I love attending Techno-Classica just to spend a day with cars you never see in your day-to-day life. Some you'll rarely see anywhere.  
I gave you a little taste of last week's event a couple of days ago, but now it's time to get really stuck into Techno-Classica 2023 with the greatest hits of this year's event. Trust me, whittling down the cars to those that made the cut in this post was not easy, such was the sheer amount of automotive awesomeness on display. Let's get started…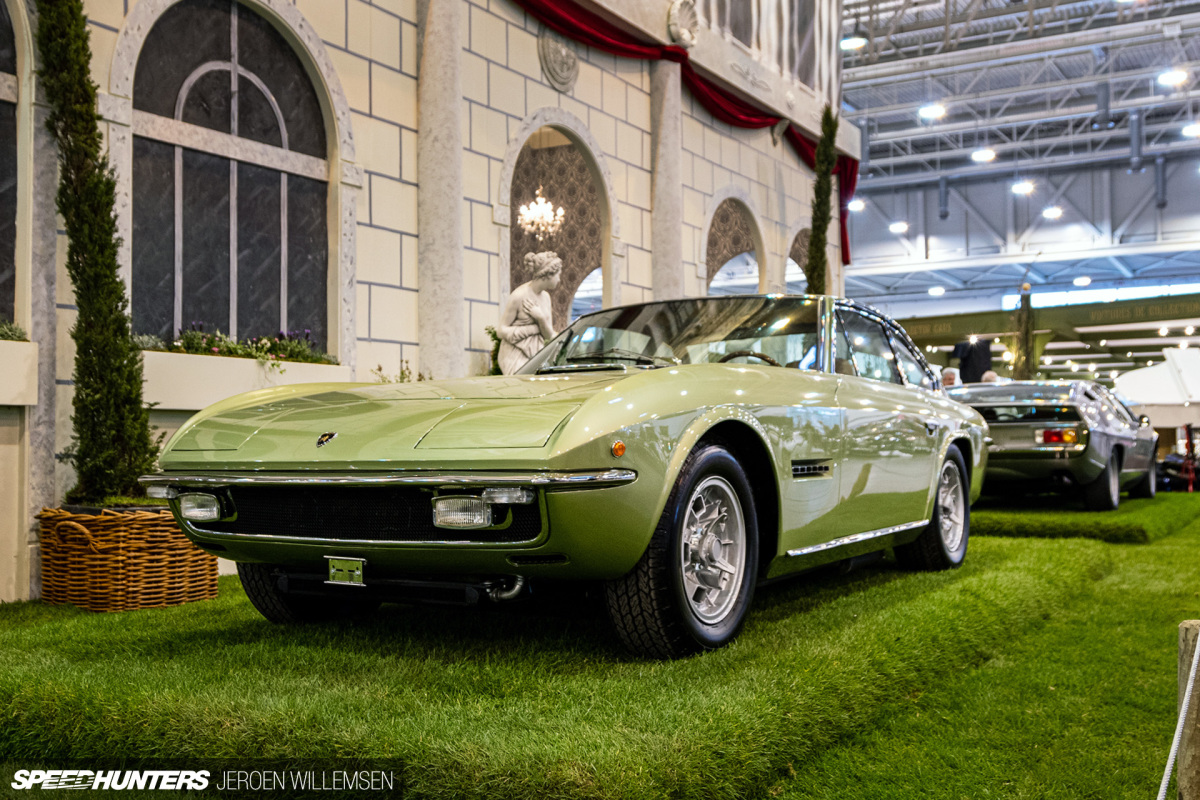 Lamborghini Islero
The Lamborghini Islero is one of my personal top three best-looking cars, purely based on design (in case you're wondering, the other two are the Mercedes-Benz 300SL and the BMW 507). Powered by a 4.0-liter V12 engine that produced 320hp and wrapped up in a body designed and built by Mario Marazzi at Carrozzeria Marazzi, the Islero replaced the 400 GT and was produced from 1968 to 1970.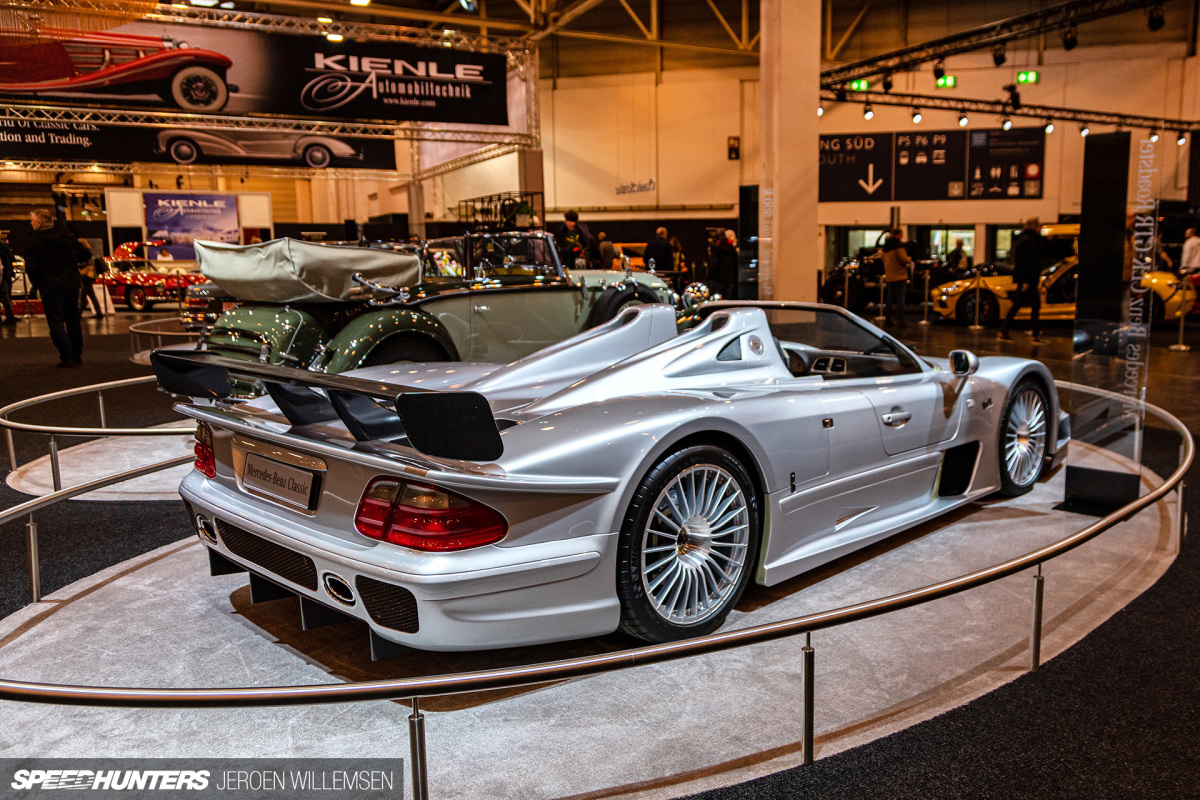 Mercedes-Benz CLK GTR
I mentioned in my initial Techno-Classica 2023 post that Mercedes-Benz still brings out some of their prized possessions to this event, but I never expected to see a prototype CLK GTR. The 6.9-liter V12 GTR was built between 1998 and 1999 to compete in the FIA GT Championship, with a limited number of road cars also manufactured. By 'limited' I mean just 25 coupes and 5 roadsters, but did you know that Mercedes-Benz built two more road cars? The prototype pair were used for development and demonstration to customers and the press, and this is one of them. Talk about the holy grail!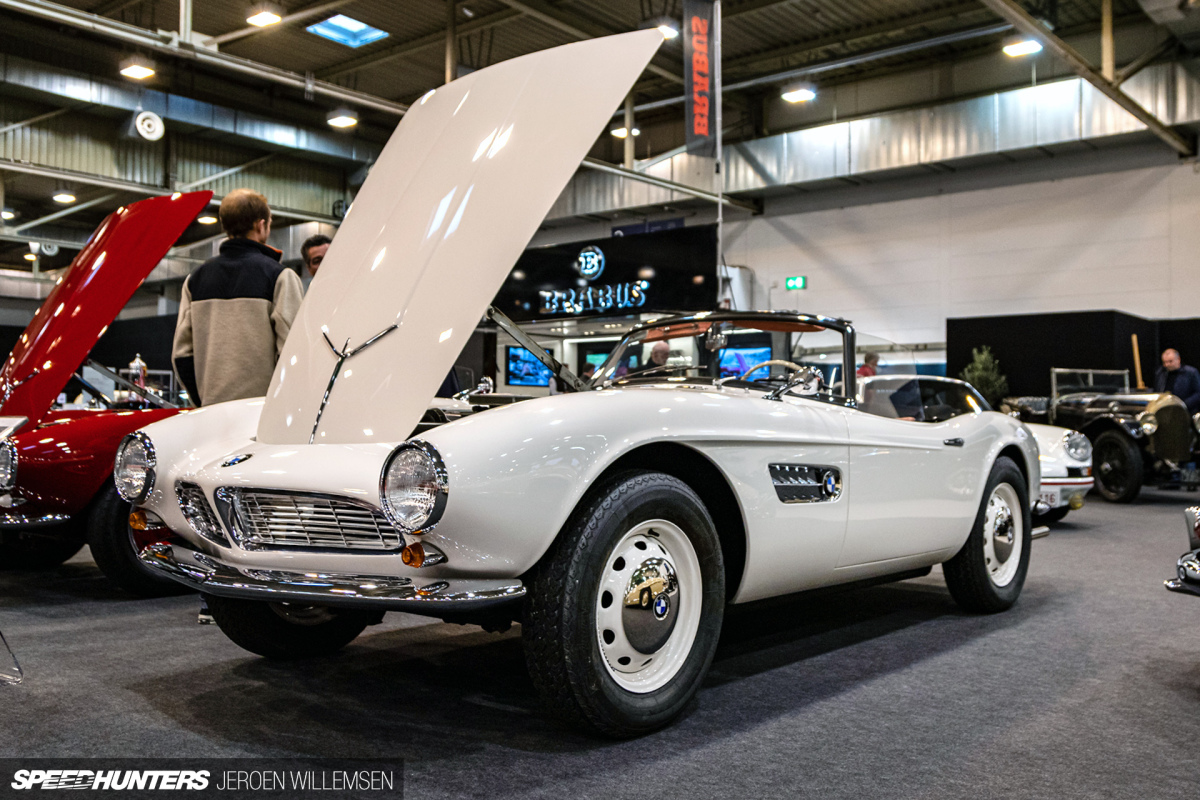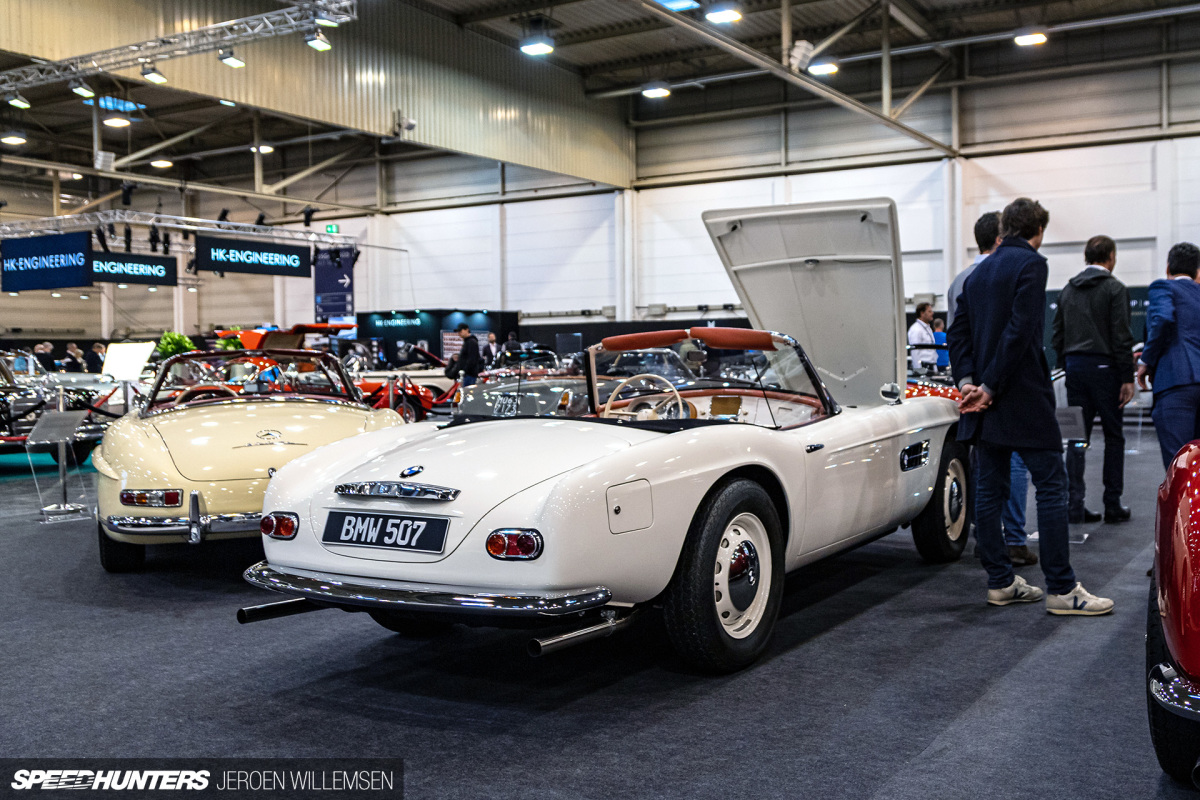 1959 BMW 507
The striking BMW 507 might have been built as a direct competitor to the Mercedes-Benz 300SL, but it was far from the commercial success its manufacturer had envisaged it would be. The 507 was expensive to produce, expensive to buy, and in the US market where BMW expected it to thrive, was short on performance when measured against domestic offerings. Only 252 units were produced during the 507's three-year production run, making this an extremely rare car today.

Porsche Carrera RS 2.7 Lightweight
There are so many faithful homages to the Porsche Carrera RS 2.7 that it's often hard to pick a real car from a replica. There was no mistaking this being one of the 1,580 genuine articles built between 1972 and 1973 though, in part because the plaque in front of the car said so. But it's even more special than that, as it's one of approximately 200 'Lightweight' cars. According to the information provided, the car's first owner specced it with four extra options: A limited slip differential (#220), headrests left and right (#258), a Blaupunkt Coburg radio (#454), and yellow H3 fog lights mounted below the front bumper (#459). Documented options like these only make a car like this even more desirable, hence why it's for sale with an asking price of US$1M.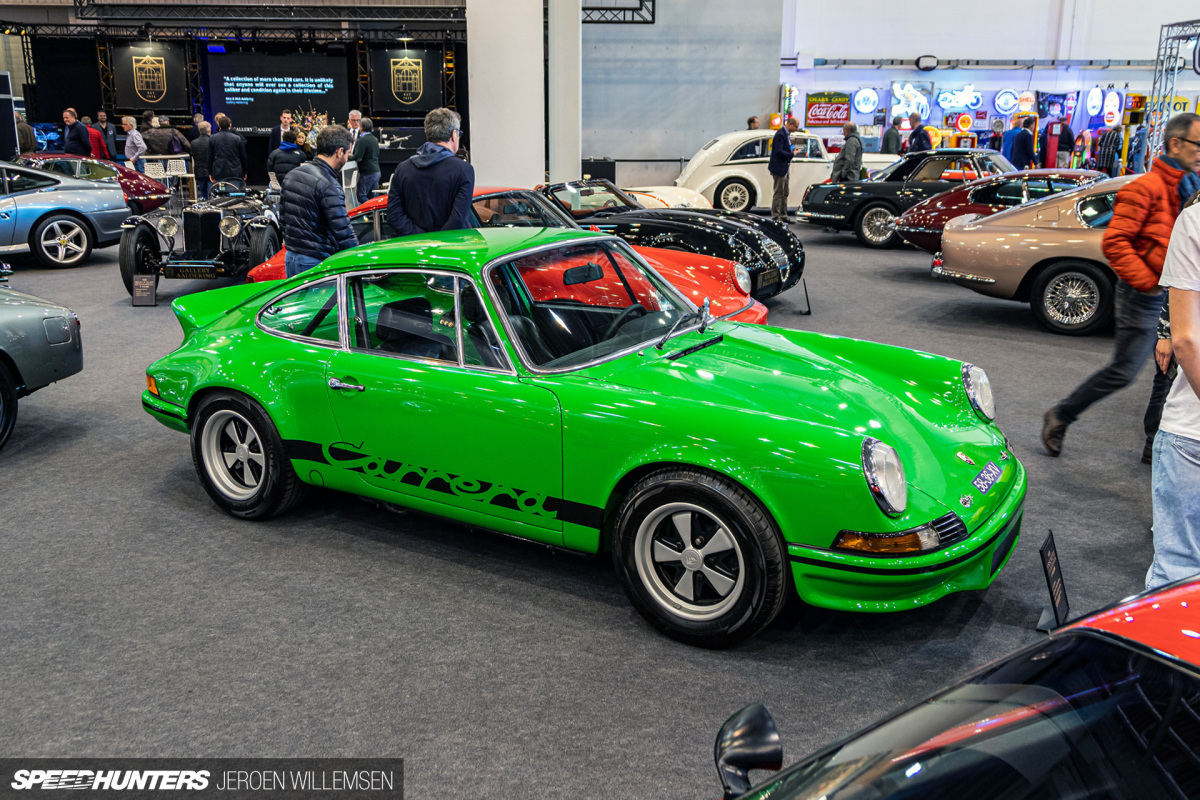 Porsche Carrera RS 2.7 Replica
See what I mean about it being difficult (at first glance) to distinguish a genuine Carrera RS 2.7 from a recreation?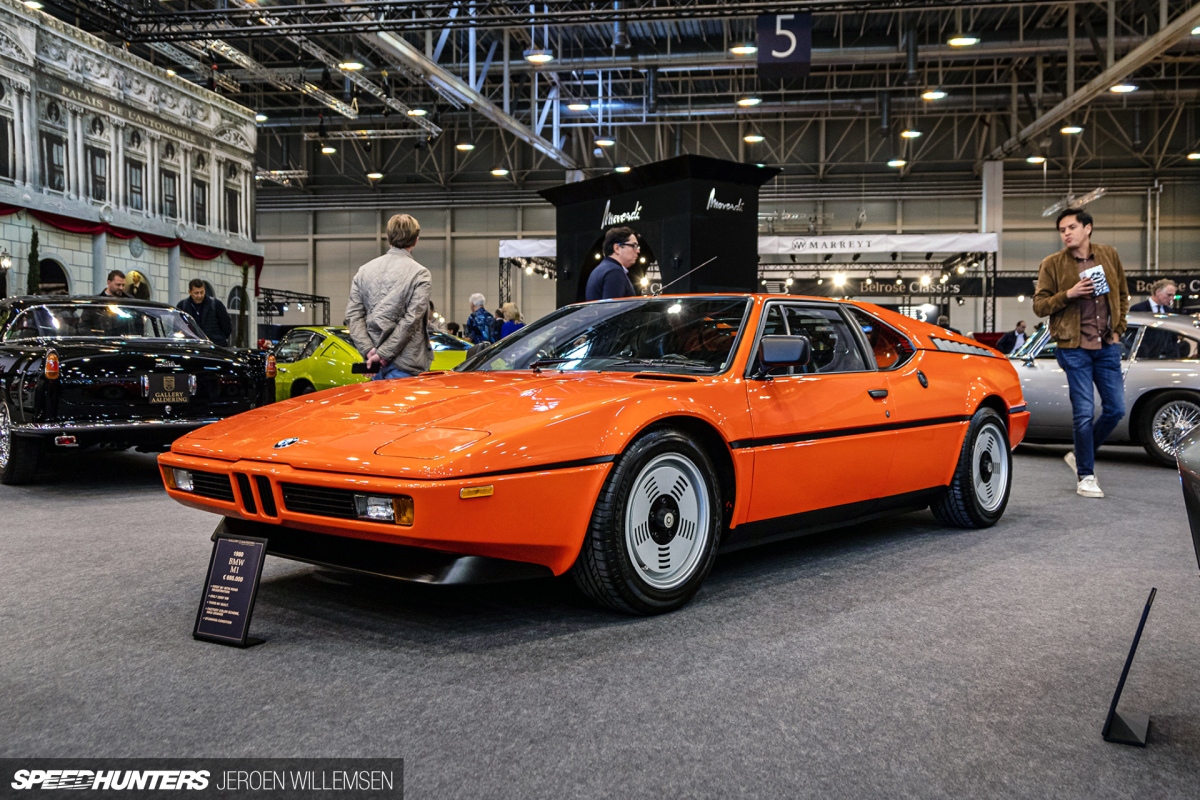 BMW M1
There were five M1s in total at Techno-Classica 2023, but every one of them had its own story to tell. According to factory production data, the M1 above was the third example ever built and the first production car delivered to a dealer in Germany. Initially, it served as a training car at BMW service centers before being sold to Alf Gebhardt, an avid BMW fan and successful racing driver. Gebhardt, who had close ties to BMW, owned the car for around six years and drove it approximately 1,000km per year in that time. The second owner, who held onto the M1 for 30 years, only recently sold it to it current custodian, who now has the BMW back on the market with an asking price of €695,000 (approximately US$765,000).


1980 BMW M1 Procar #80 (BASF)
Of all the BMW M1s produced, this BASF-liveried race car is arguably the most recognizable. It participated in BMW's M1 Procar Championship in the early 1980s, a support series for Formula One that was contested by pro drivers that included F1 stars. Hans-Joachim Stuck took the BASF M1 to third place in the '80 championship.
1980 BMW M1 (Modified by BMW Motorsport)
The final M1 I want to show you is the car Franz Reuther – someone better known as Frank Farian – took delivery of brand new in February 1980. Farian founded the 1970s disco pop group Boney M, and in the '90s the Latin pop band No Mercy and the infamous R&B duo Milli Vanilli. During his decade-long ownership, the car was modified by BMW Motorsport to mimic the wider, more aggressive look of the M1 Procar.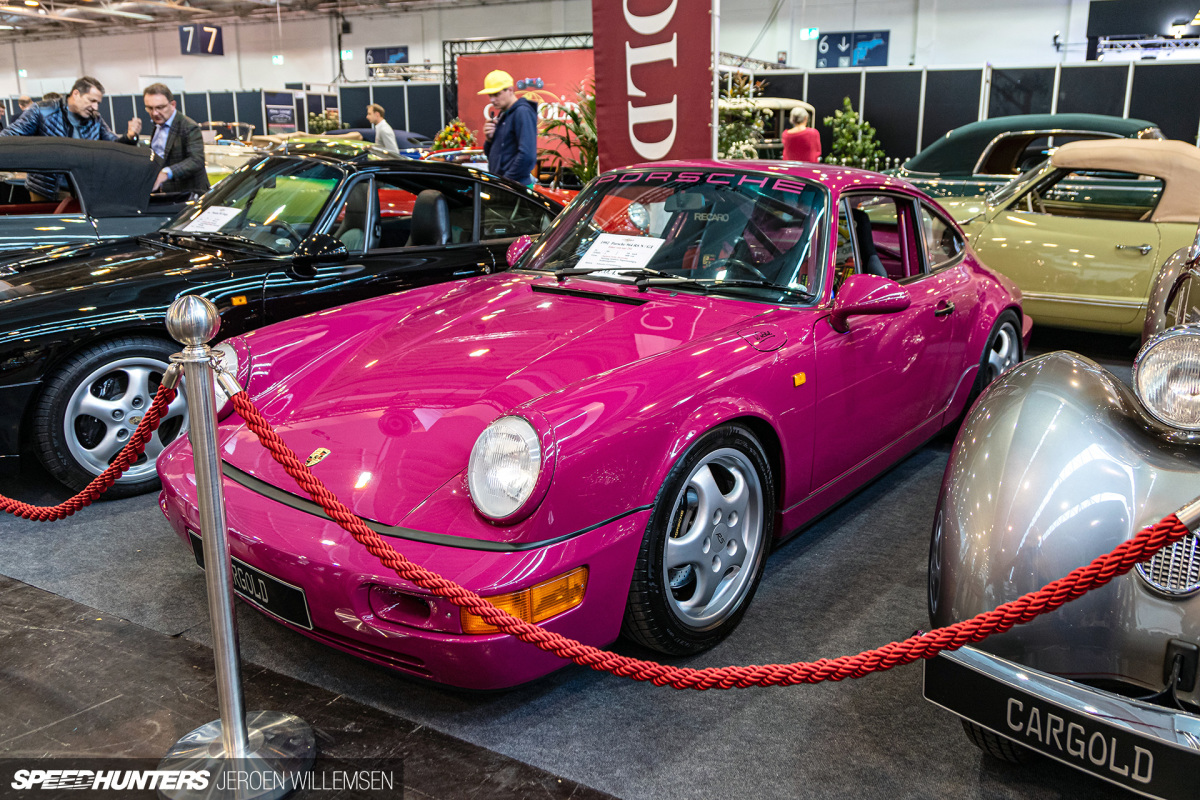 1992 Porsche 964 RS N/GT
The Porsche 964 RS N/GT is considered special for several reasons. First, it was a limited edition model with just 290 units produced. It was also designed with competition use in mind, and featured several performance enhancements over the standard 964 RS model, including a revised suspension, upgraded brakes and a lightweight body construction. One of the most notable features of the 964 RS N/GT is its engine – a 3.8-liter air-cooled flat-six that produced around 300hp. In terms of aesthetics, the 964 RS N/GT had a distinct appearance that set it apart from other 964 models, namely a unique aerodynamic package that included a front spoiler and rear wing. The interior was also stripped down and race-oriented, with lightweight bucket seats, a roll cage and minimal sound insulation. Overall, the combination of rarity, performance enhancements and unique aesthetics make the Porsche 964 RS N/GT a highly sought-after model among Porsche enthusiasts and collectors.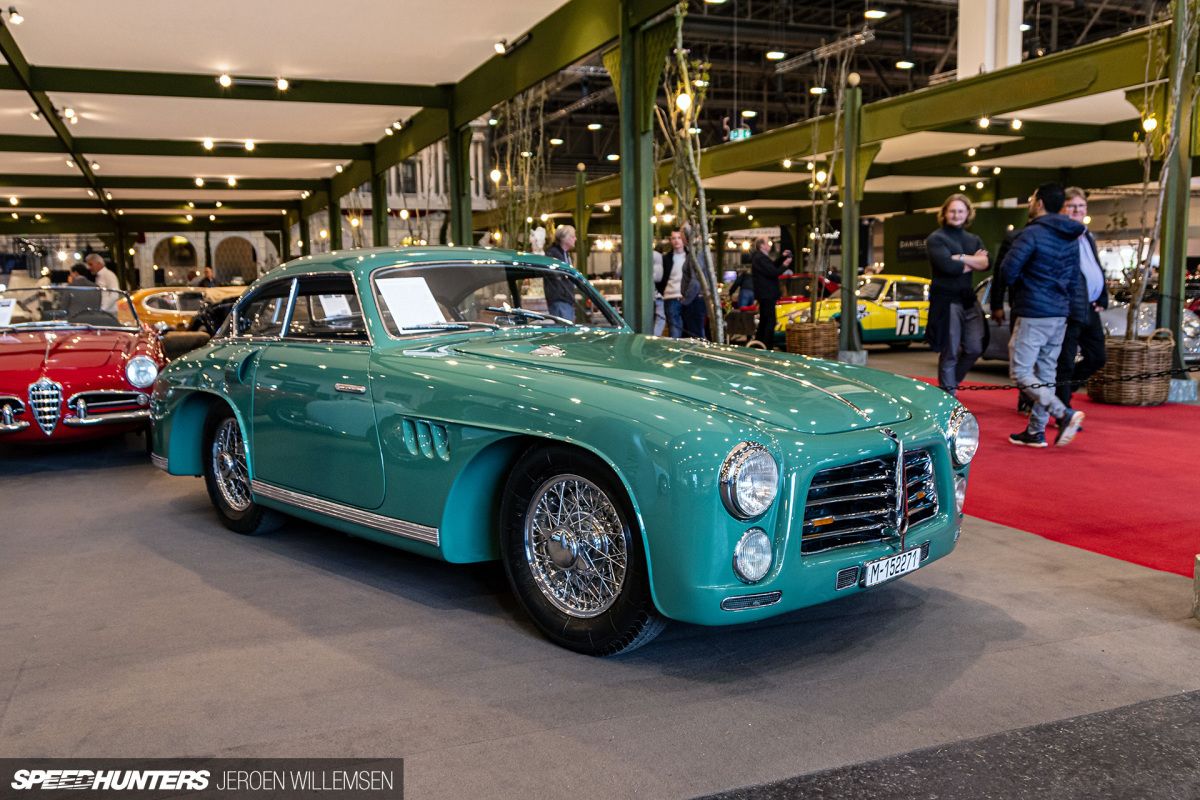 1951 Pegaso Z-102 GT Berlinetta Enasa
I'm not sure what it was that lured me for a closer look at this car – perhaps the color or the sleek bodywork – but I'm glad I took the time to check it out. The spec sheet told me it's a Pegaso Z-102 GT Berlinetta Enasa from 1951. The Z-102 was first introduced in '51 at the Paris Motor Show and was seen as a radical departure from the conventional cars of its time, not only by the way it looked but also because its performance credentials which were built around a high-performance 2.8-liter quad-cam V8 engine that produced 165hp. Designed by Carrozzeria Touring of Milan, Italy, it was billed as the ultimate version of the Z-102 model.
As part of the Concours d'Elegance element of the event, a jury of experts selected this car as the most beautiful classic at Techno-Classica 2023.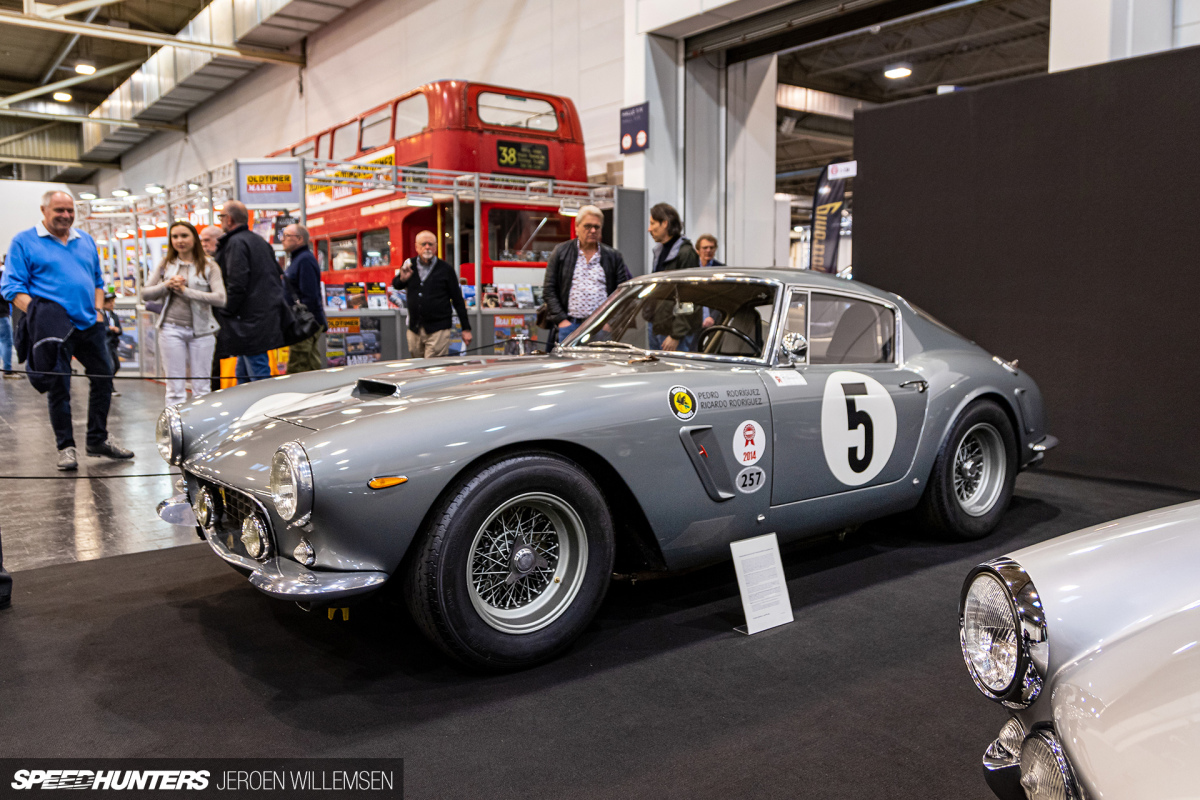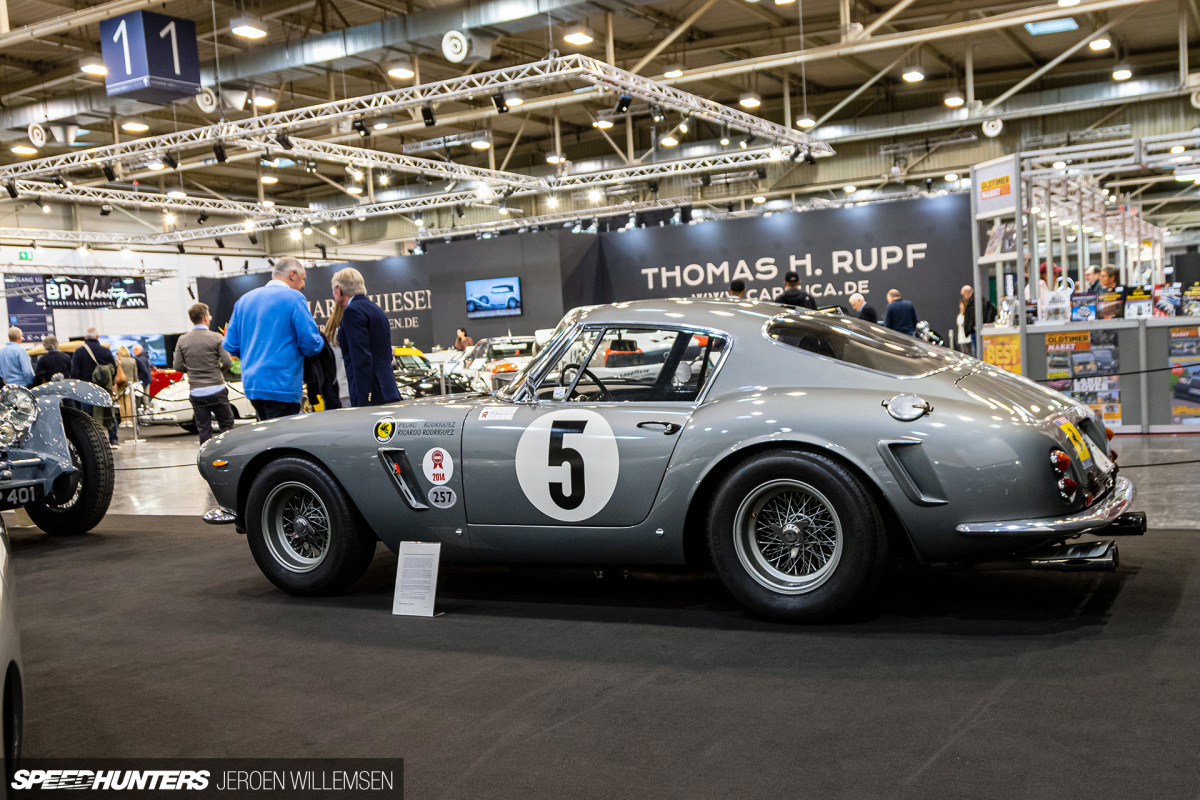 1961 Ferrari 250 GT Berlinetta SEFAC Competition
This particular Ferrari 250 GT Berlinetta is one of the last SEFAC ( Società Esercizio Fabbriche Automobili e Corse) Competition versions. SEFAC was Ferrari's racing department in the early 1960s, and the team was responsible for preparing and running Ferrari's competition cars in various motorsport disciplines. The term 'SEFAC Competition' typically refers to a specific model of Ferrari that was built or modified by the SEFAC team for use in competition, and this car is powered by a 3.0-liter V12 engine that produced around 280hp. It also featured a thinner-gauge aluminum body and chassis specification and other features designed to make it as competitive as possible. This SEFAC Competition 250 GT Berlinetta is an important piece of Ferrari history: it was an official NART team car and won the 1,000km of Paris with both Pedro and Ricardo Rodriguez behind the wheel.

1993 Alpina B21 5.7 Coupe
Based on the 850CSi and powered by a modified version of BMW's 5.6-liter V12 engine, the Alpina B12 5.7 Coupe (produced from 1991 to 1994) is something special. For a start, only 57 units were ever produced. Upgrades over the standard 8 Series included larger brakes, stiffer suspension and a limited-slip differential. The exterior was modified with a front spoiler, rear wing and Alpina wheels.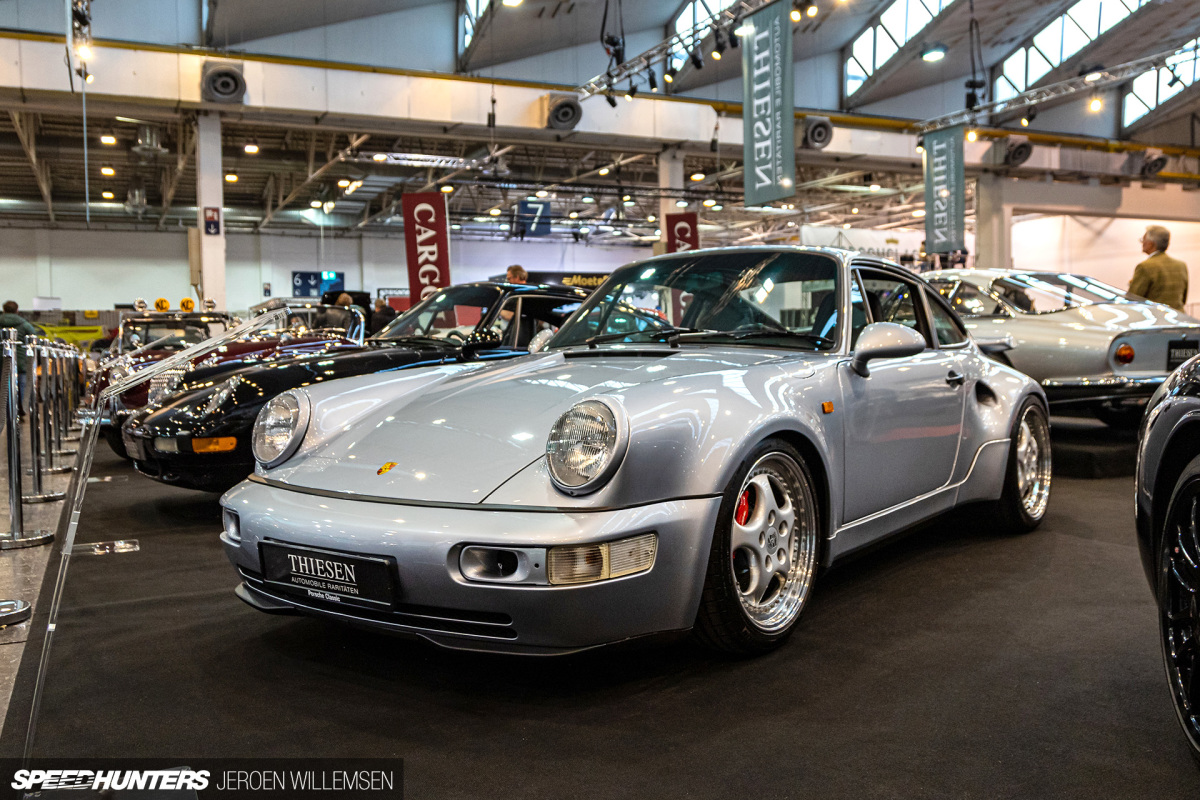 1992 Porsche 964 Turbo S Leichtbau (Lightweight)
This is a car I did not even know existed before Techno-Classica 2023. The 1992 Porsche 964 Turbo S Lightweight is one of the rarest (only 86 were made) and most powerful versions of the Porsche 964 Turbo. An extensive use of aluminum and other lightweight materials reduced the car's mass, while an upgraded turbocharger and intercooler lifted engine output to 380hp and 361lb-ft of torque. Other performance upgrades included larger brakes, stiffer suspension and a limited-slip differential. The Porsche 964 Turbo S Lightweight had a top speed of over 180mph and could accelerate from zero to 60mph in just 3.5 seconds.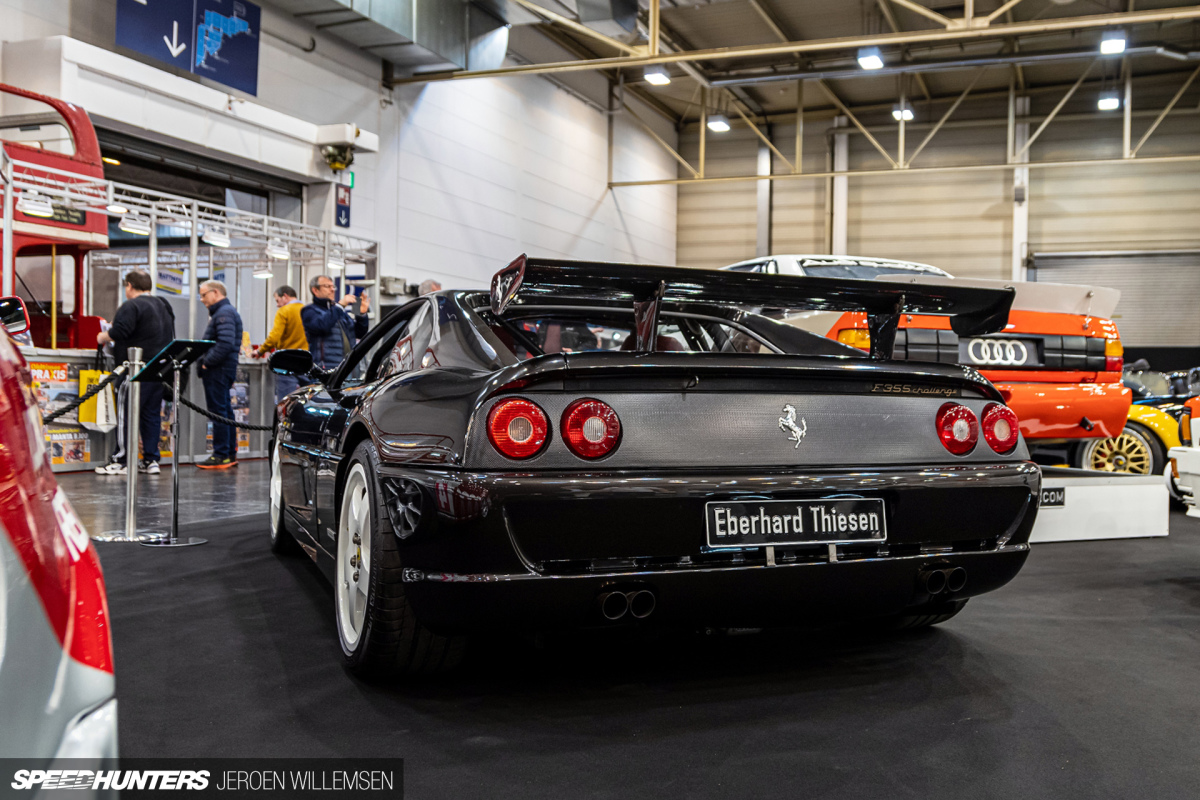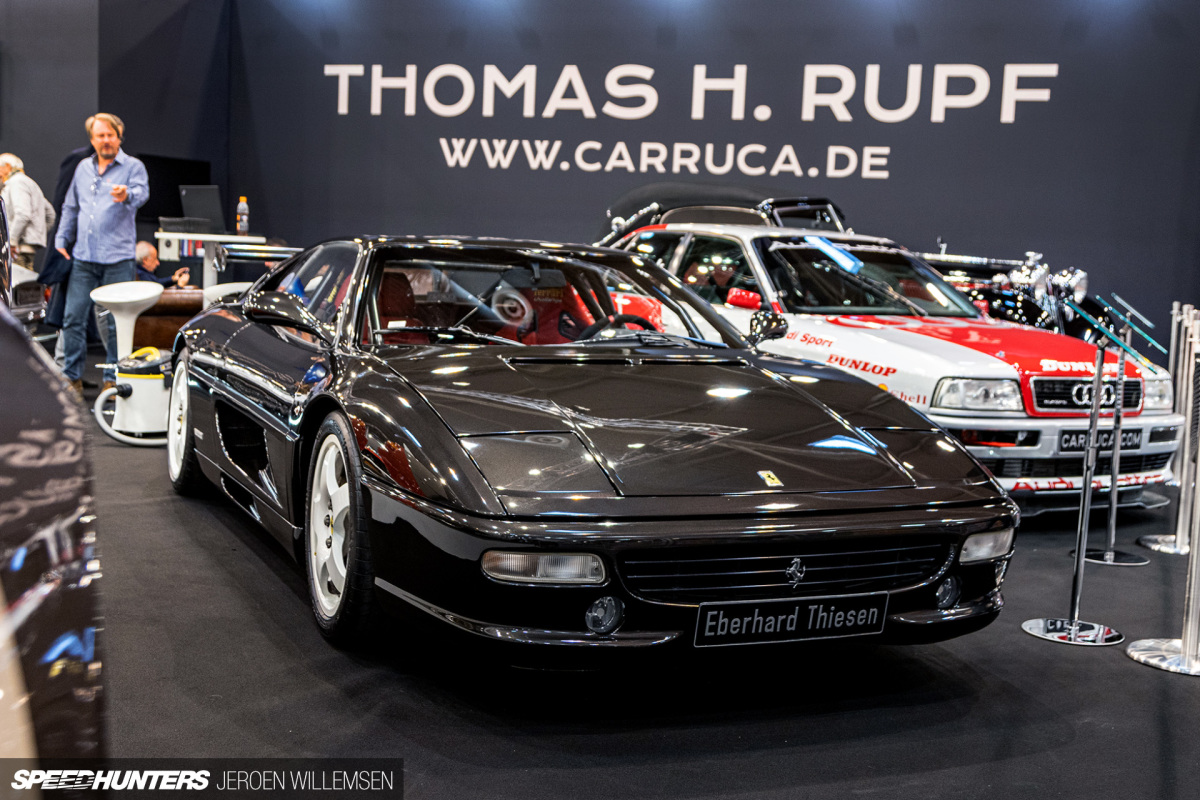 1996 Ferrari 355 Challenge Stradale
One of my favorite cars at the show was this modified Ferrari 355 Challenge Stradale, complete with F50 brakes, a rare black exterior scheme and red interior. Compared to the standard 355, the Challenge Stradale featured a number of performance enhancements including 25hp more output from its 3.5-liter V8 engine (total 380 horsepower) and 120kg (265lb) less weight to carry thanks to the use of lightweight materials and the removal of non-essential components. Other modifications included stiffer suspension, larger brakes, a faster-shifting F1-style gearbox, revised aerodynamic package and carbon fiber racing seats.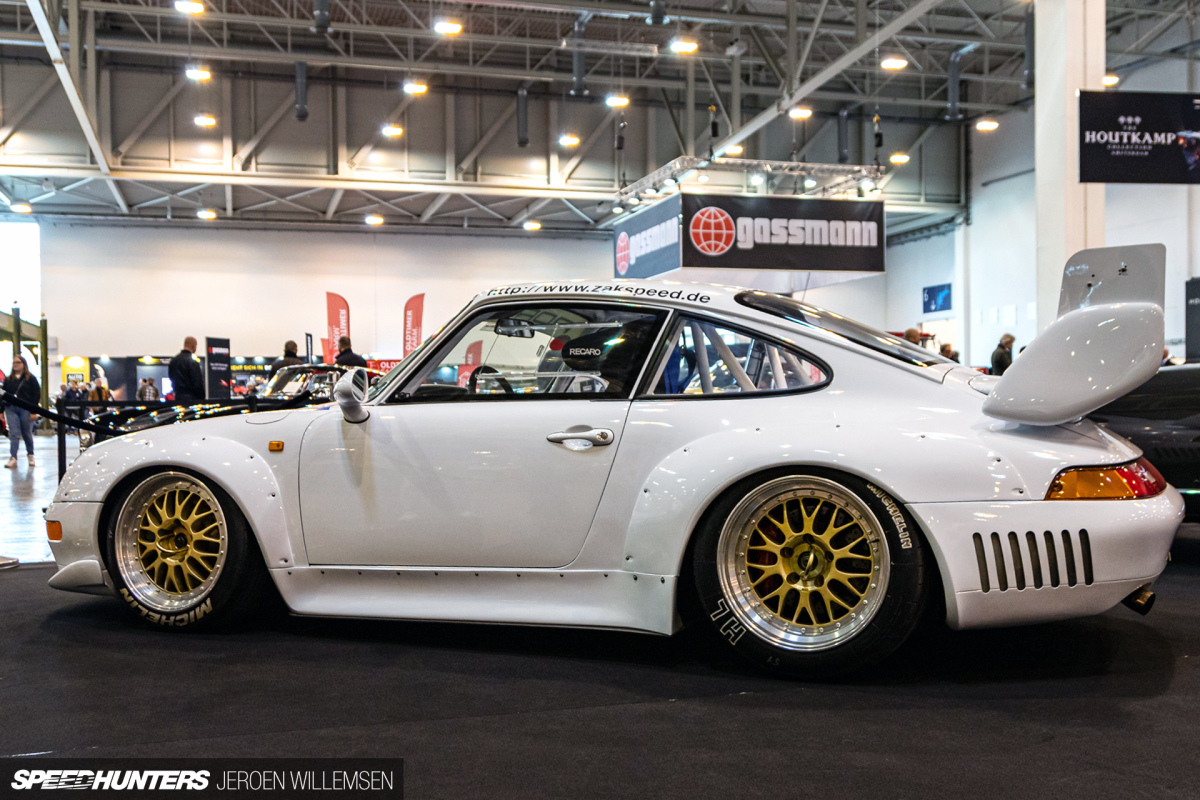 1998 Porsche 991 (993) Cup 3.8 RSR
The Porsche 991 Cup 3.8 RSR car is pretty special in itself, but this one is even more special because it was the final of its type to be built. Among the exclusive production of only 45 3.8 RSR units, the last batch of 15 were designated as 1998 models, and in March '98 this particular RSR was delivered to Zakspeed Racing. Currently, the vehicle is equipped with the Le Mans package, comprising of a full carbon fiber underbody, a modified front spoiler with carbon fiber wings, Kevlar doors for reduced weight, a lightweight engine lid with a Le Mans rear spoiler, 380mm brake discs, Le Mans fender flares, larger BBS outer rings and an un-silenced Zakspeed cross-pipe exhaust.

1974 BMW 3.0 CSi
This E9 BMW 3.0 CSi was taken off the road in the '90s for restoration, but it wasn't until 2020 that work finally began at Scuderia Sportiva Colonia in Germany. The beautiful coupé is presented in Anthracite Metallic with an elegant red leather interior and matching red carpet, as well as its original BMW Petri sport steering wheel. In addition, it's specced with a stainless steel exhaust system, Bilstein suspension and 16-inch Alpina-style wheels.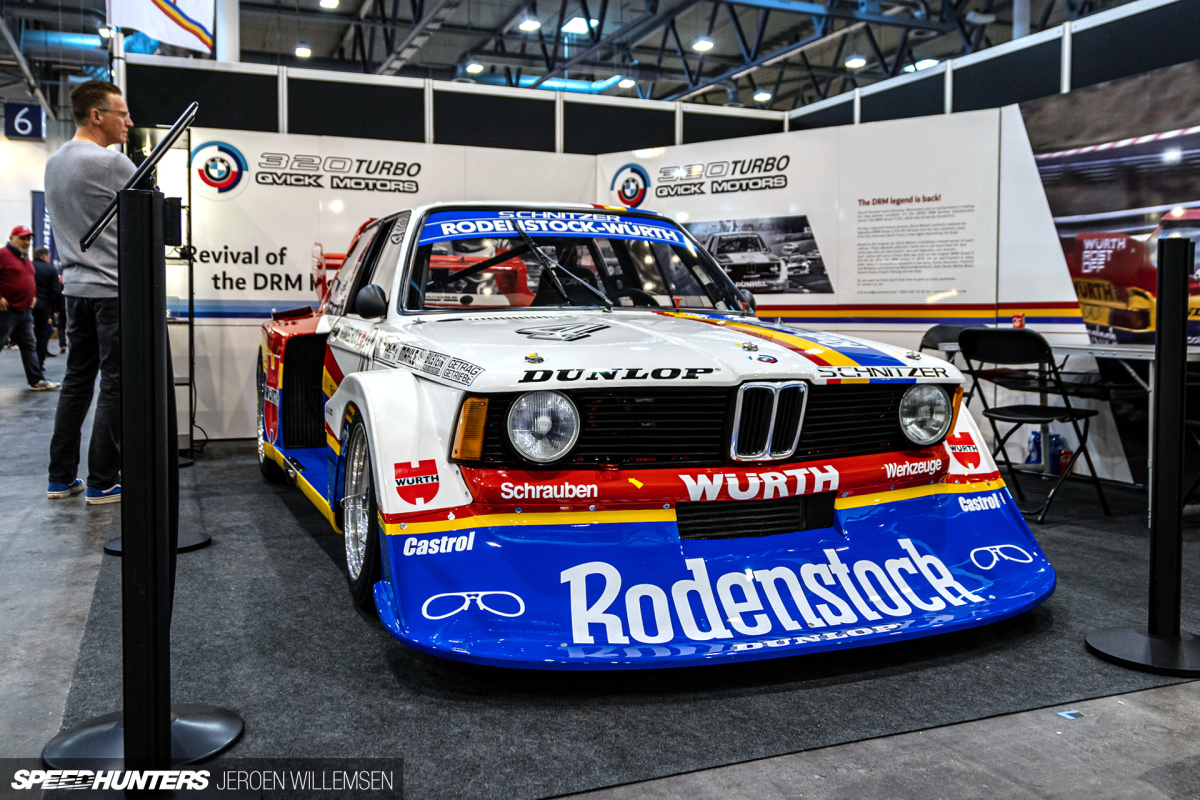 BMW 320 Group 5 Turbo Schnitzer Replica
I was really looking forward to seeing this BMW 320 Group 5 Turbo Schnitzer built by Qvick Motors in Belgium in person, and it did not disappoint. The E21 is a faithful recreation of the car that won the 1978 DRM German championship, and was famously driven by Harald Ertl. After a long and meticulous process, Qvick Motors successfully restored the legendary BMW Group 5 E21-R1-26 to its authentic state, and then used the original as a blueprint for a limited series of exacting replicas. More detailed shots can be found here.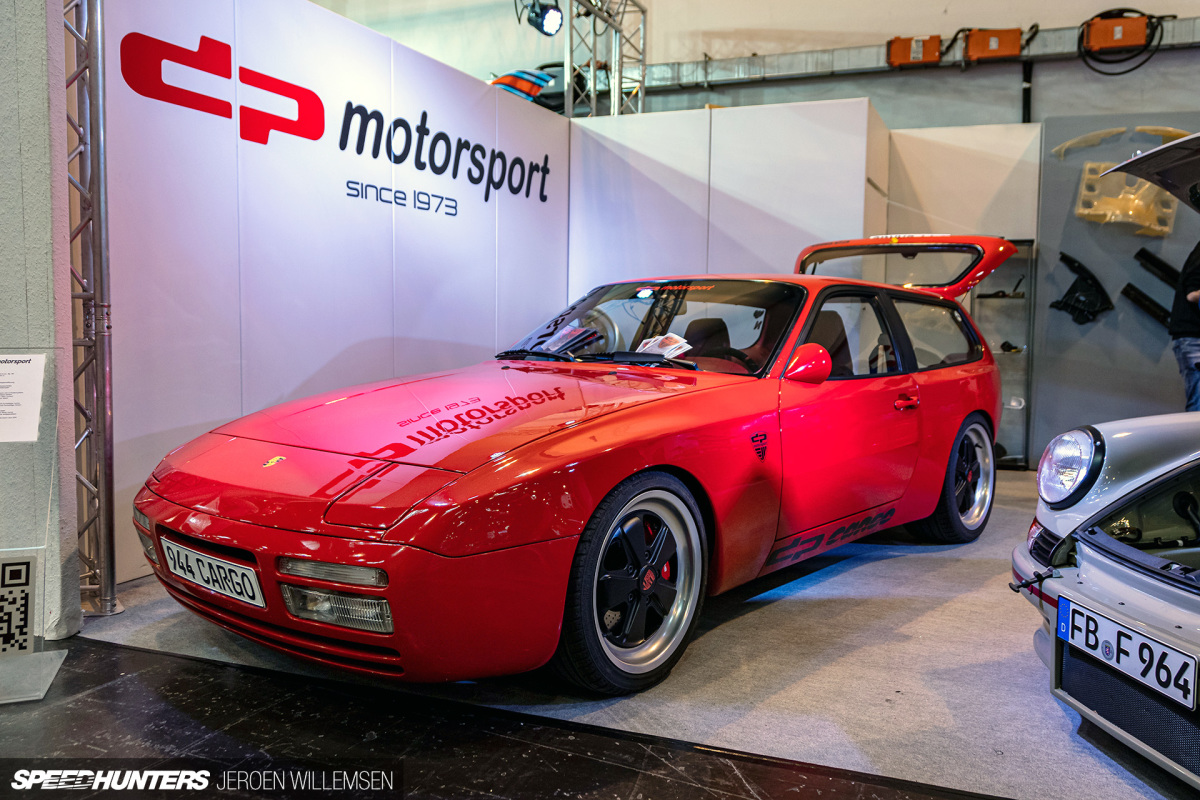 1984 DP Motorsport DP44 Cargo
The DP44 Cargo was a custom-built Porsche 944-based utility vehicle designed by German tuning company DP Motorsport way back in 1984. Utilizing a custom body and cargo bed at the rear, the DP44 Cargo was designed for a variety of purposes including hauling cargo, transporting equipment, and even serving as a mobile workshop. Only a few examples were produced in period, but DP Motorsport plans to create another 10 in the future.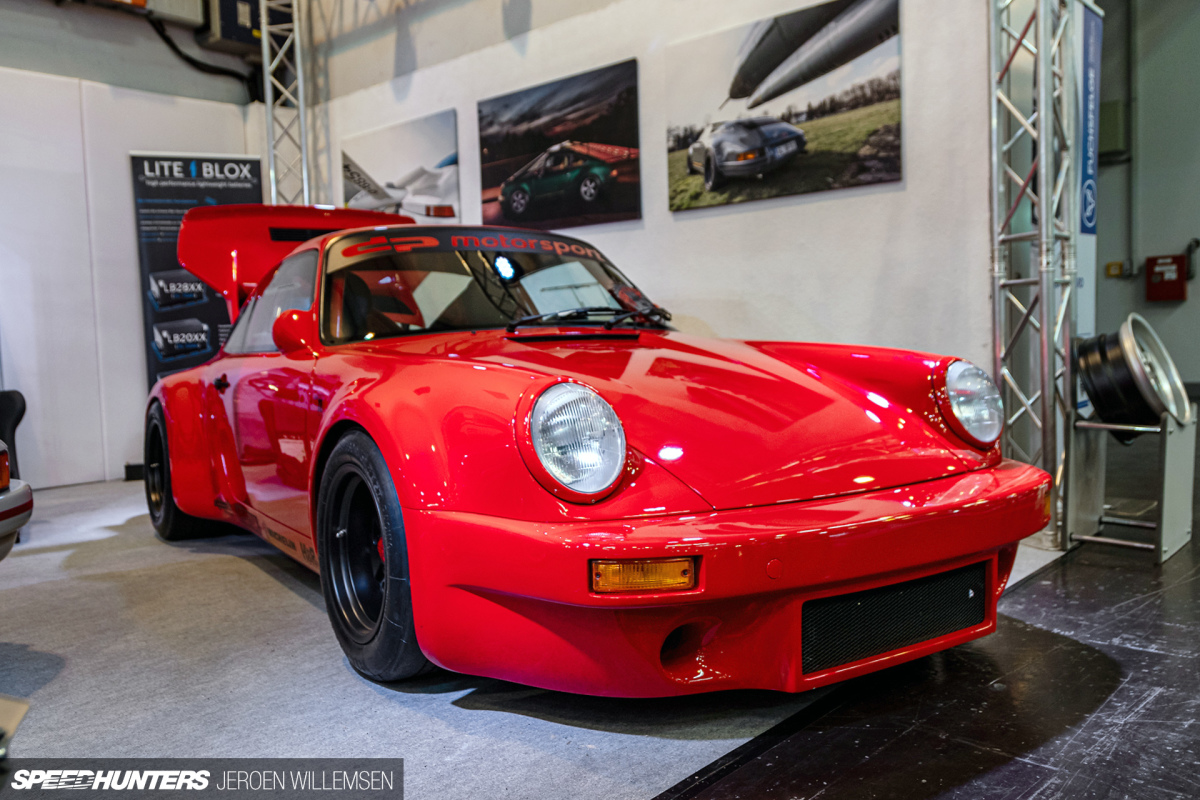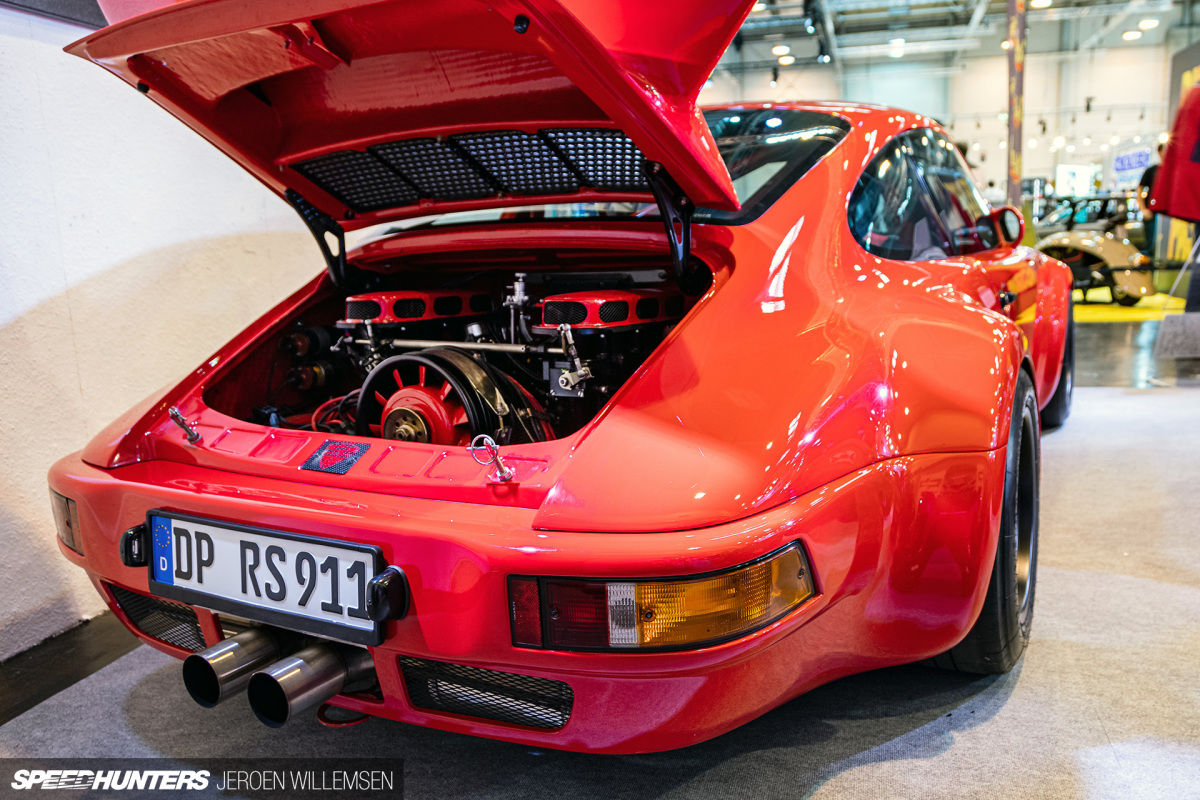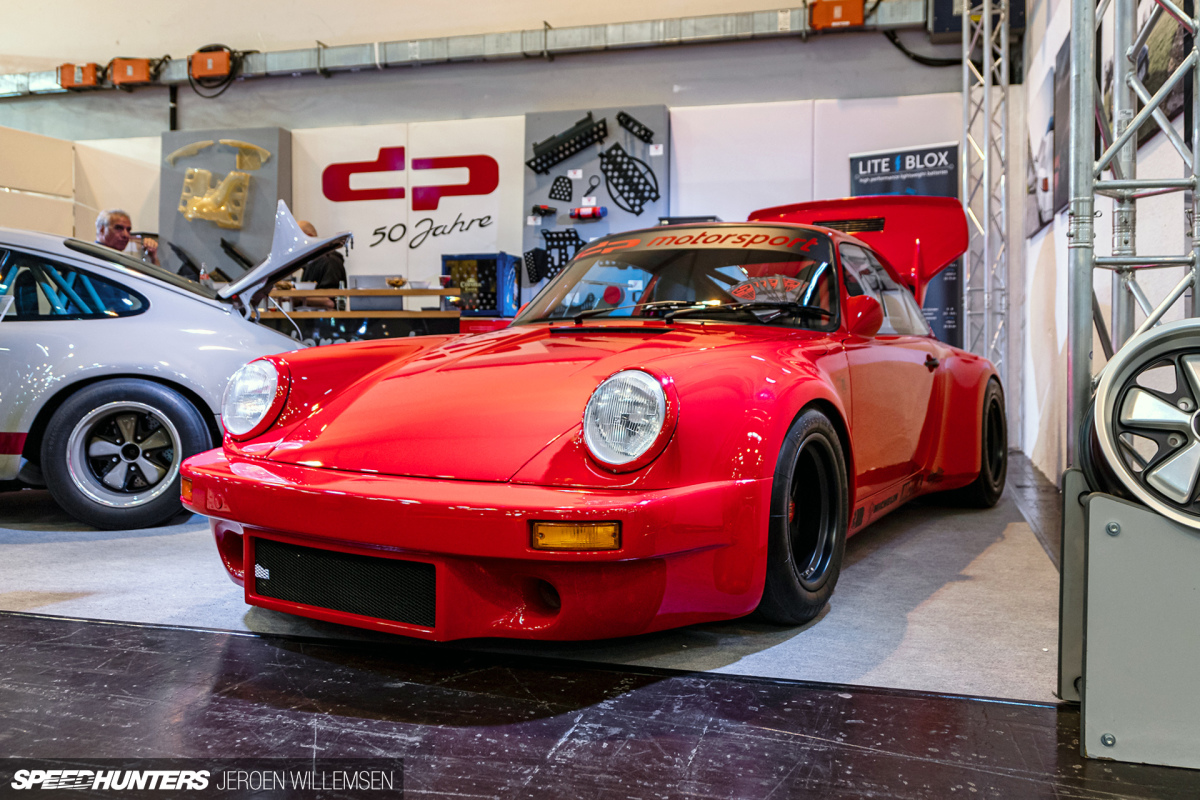 DP Motorsport 911 Red Revolution
Sticking with DP Motorsport, this India Red Porsche 911 has been around for a very long time and was originally built by DP's founder Ekkehard Zimmerman. The 'Red Revolution' features redesigned and optimized wheel arches, side skirts, front and rear bumpers, with all body panels either made from carbon or fiberglass. The 3.5L engine uses 911 RSR camshafts and is fitted with a mechanical fuel injection system featuring individual throttle bodies and a dual ignition system. With 374hp and a curb weight of just 940kg (2,072lb) without fuel, I'm sure it's quick!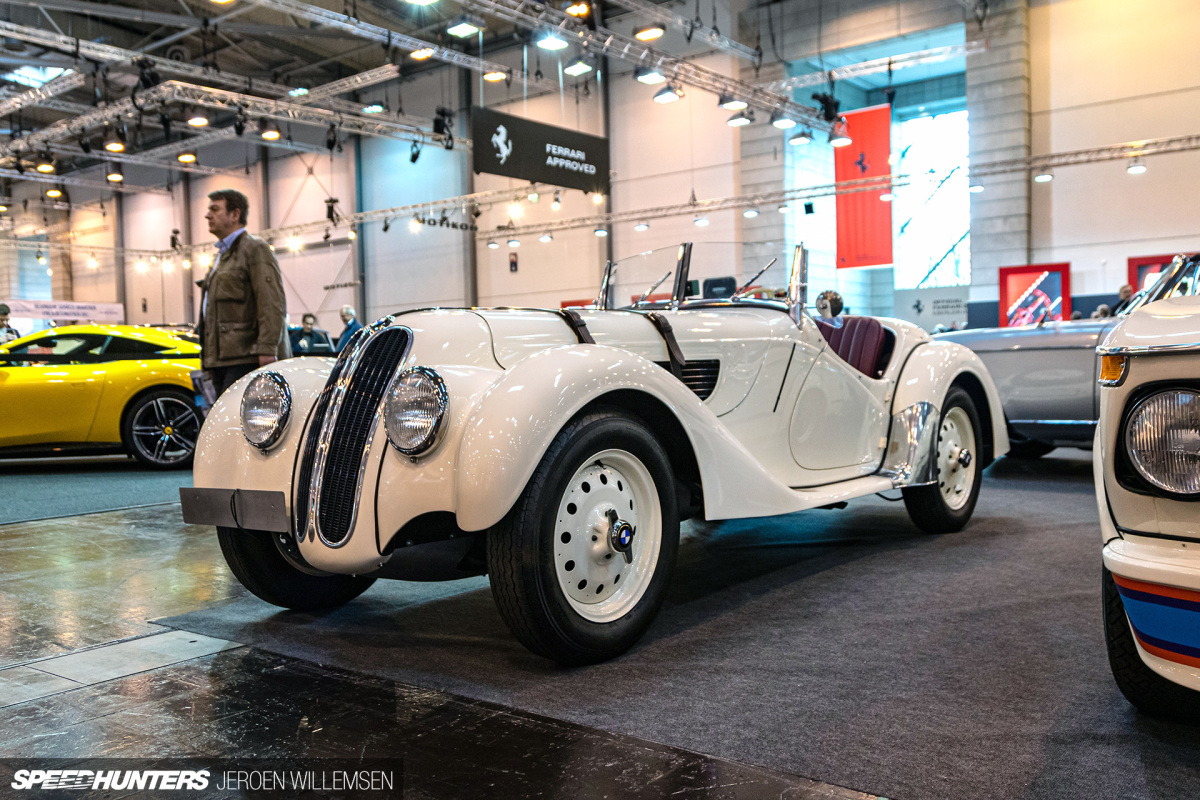 BMW 328
The BMW 328 was produced from 1936 to 1940 and is considered one of the most successful and iconic sports cars of its time. A 2.0-liter inline-six that produced 80hp provided zero to 60mph acceleration in nine seconds and a top speed of around 93mph (150 km/h). One thing I noticed inside the engine bay was a copper hammer, which was used to fit the spare wheel if you got a flat tire. Who even needs lug nuts? I guess roadside assistance wasn't a thing back in the late '30s…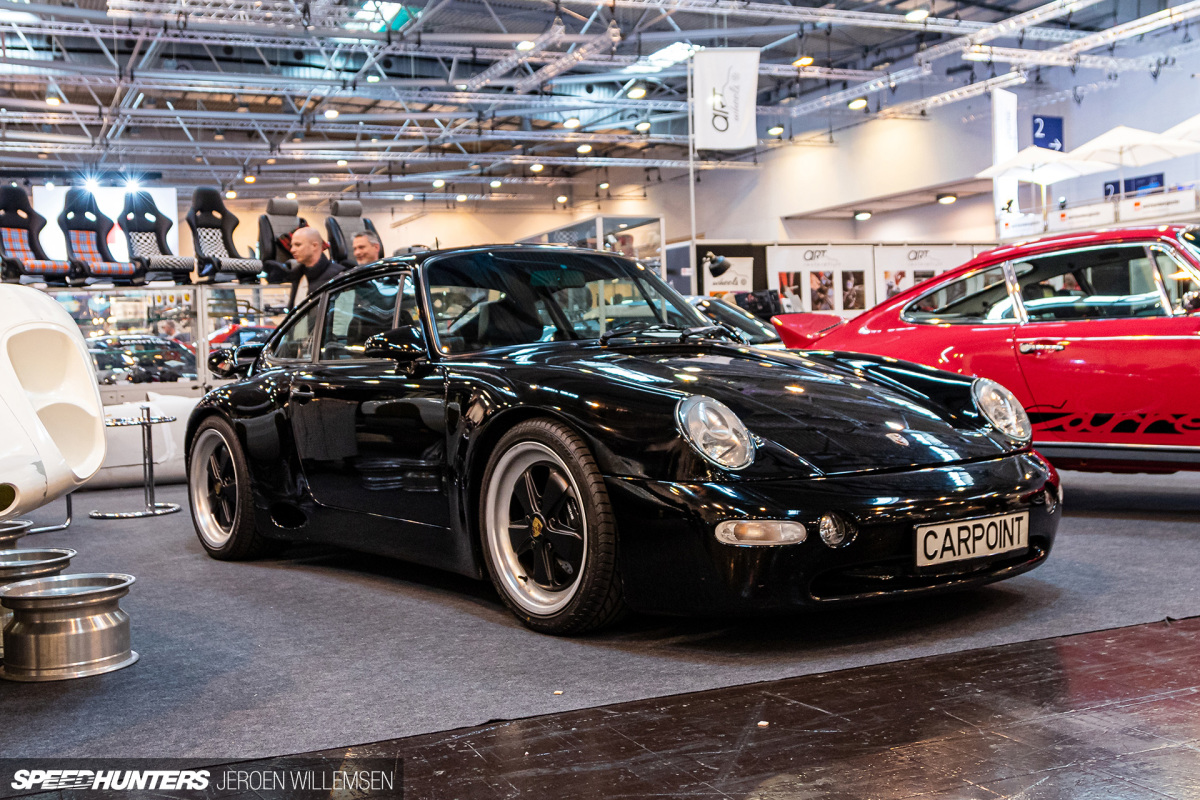 1992 Strosek 964 Turbo S
You're looking at a one-off, customized version of the Porsche 964 Turbo, modified by the German tuning company Strosek Design. The Strosek 964 Turbo S features custom bodywork, including a new front bumper, side skirts, rear bumper, a distinctive rear wing and custom-designed Strosek alloy wheels. The interior features leather upholstery, unique door panels, a new dashboard layout and custom steering wheel, new gauges and carbon fiber trim. Performance upgrades lift output from 360hp to 430hp, with suspension and brake changes to suit.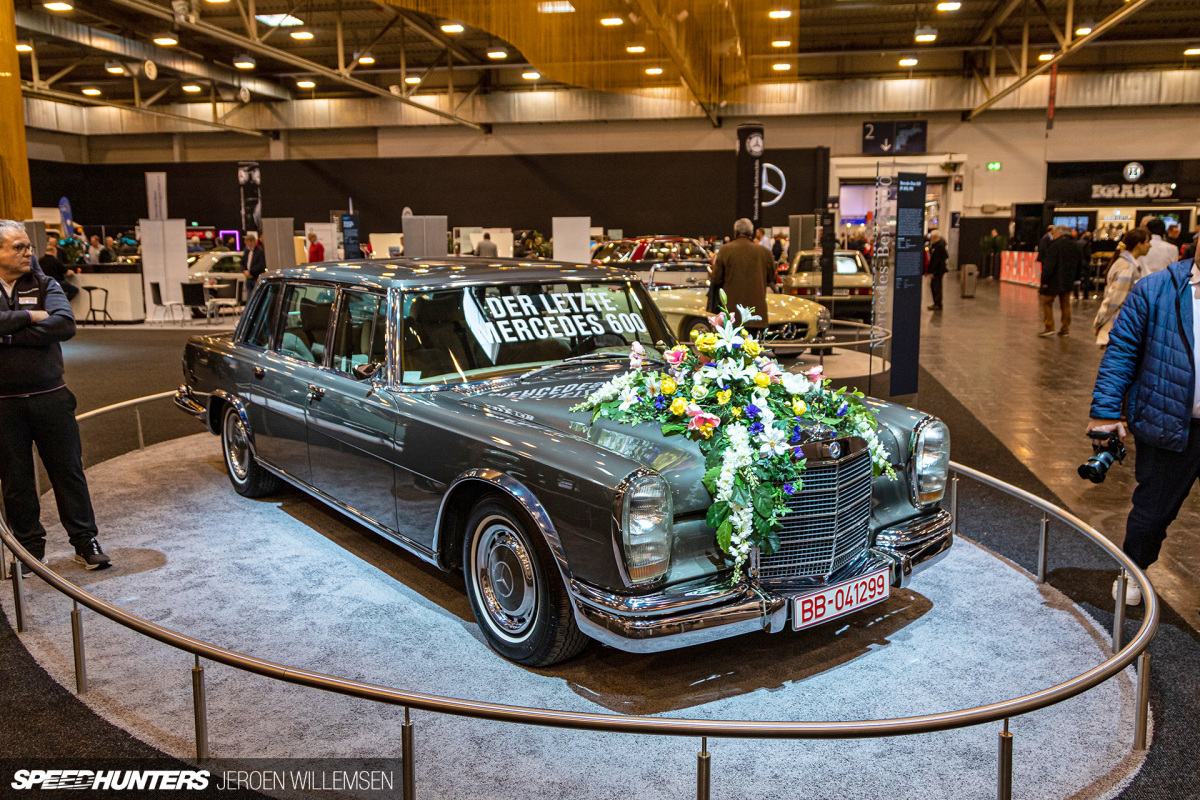 1981 Mercedes Benz 600
The final Mercedes-Benz 600 was produced in 1981, and it's been in the factory's collection ever since. The model was powered by a 6.3-liter V8 engine and came with a long list of advanced features for its time, including air suspension, power-assisted steering, power windows, and a hydraulic braking system.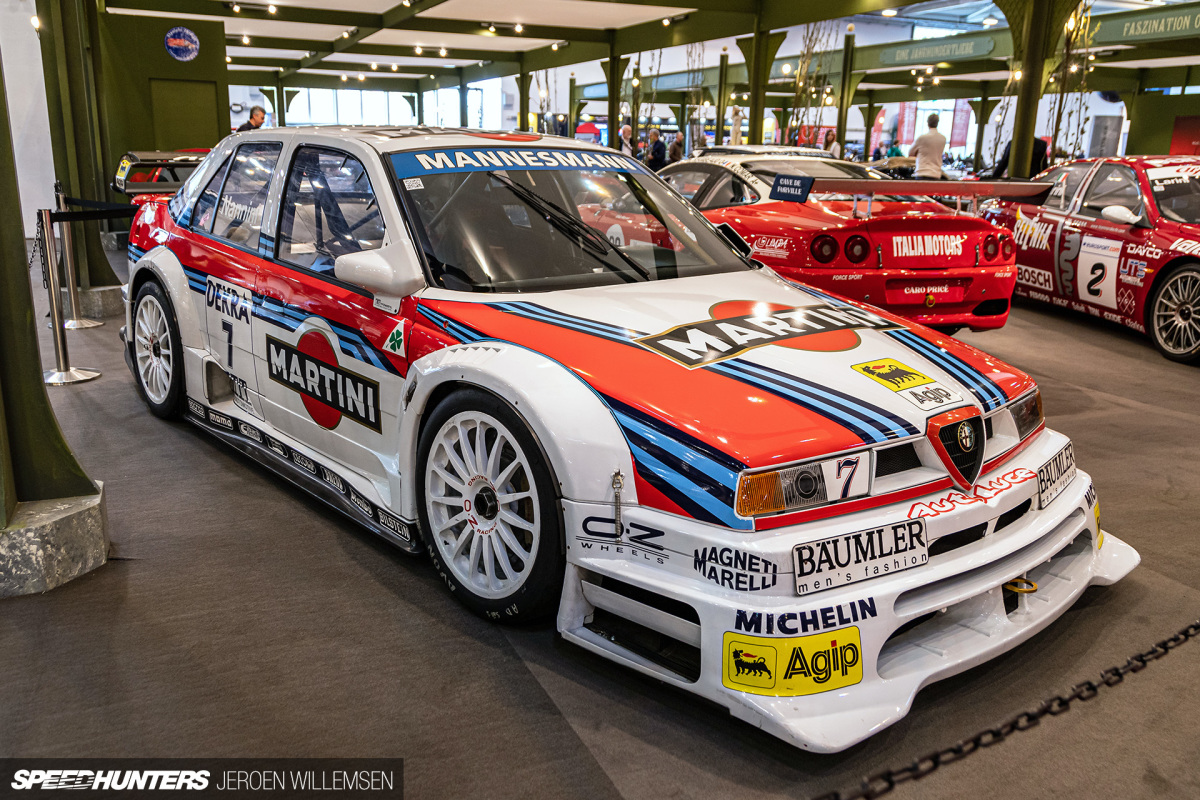 Alfa Romeo 155 V6 TI DTM
As far as race car liveries go, they don't come much more iconic than Martini stripes, and this Alfa Romeo 155 V6 TI DTM wears the look well. The car competed in the German Touring Car Championship (DTM) in the mid-1990s, and was driven by Alessandro Nannini who had previously raced in Formula One. Nannini had a successful season in 1993, finishing 4th in the championship standings and winning three races.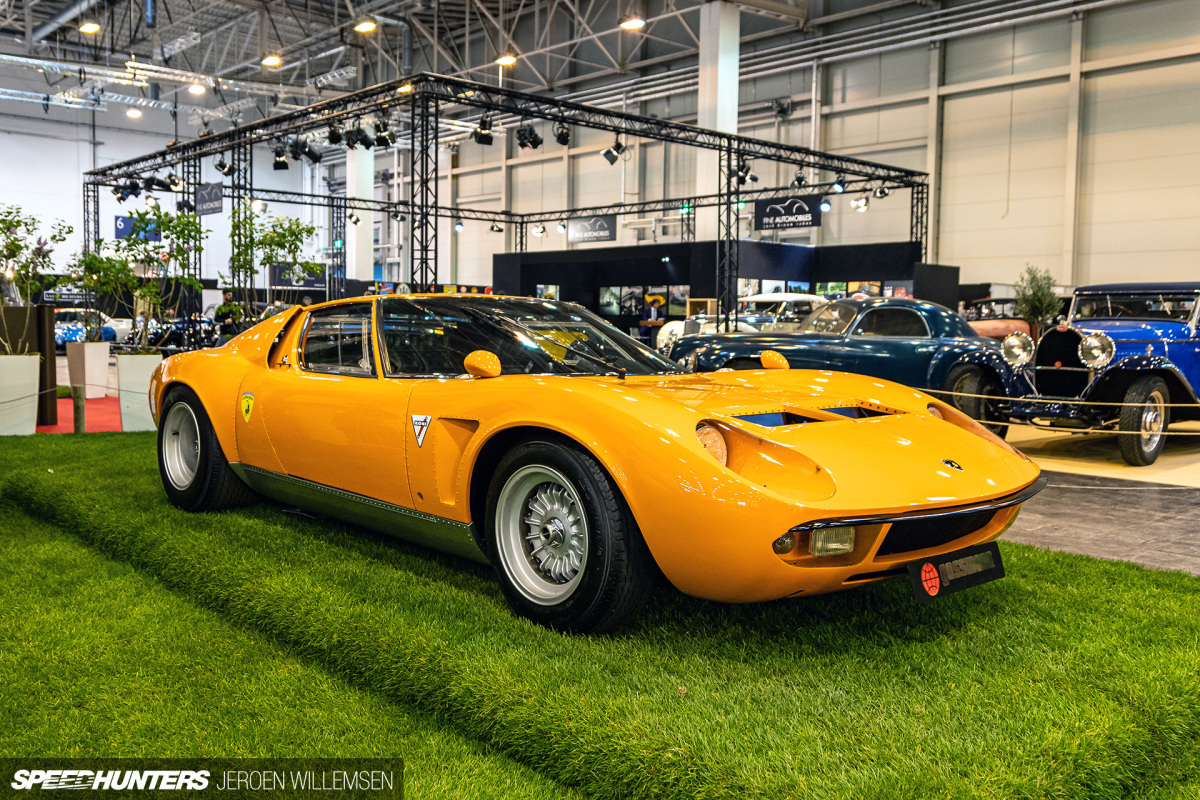 1969 Lamborghini Miura S Jota Replica
At first, this Lamborghini had me puzzled, but after some research I identified it as a Miura S that's been converted to look like the ill-fated Miura Jota. The Jota was a track-oriented model spearheaded by development driver Bob Wallace that underwent significant modifications, shedding hundreds of kilograms from the weight of the standard model and increasing the engine output to beyond 400hp. Unfortunately, the original was involved in a fatal accident in 1972. Between 2006 and 2013, this Miura S underwent significant changes to bring it up to Jota specification.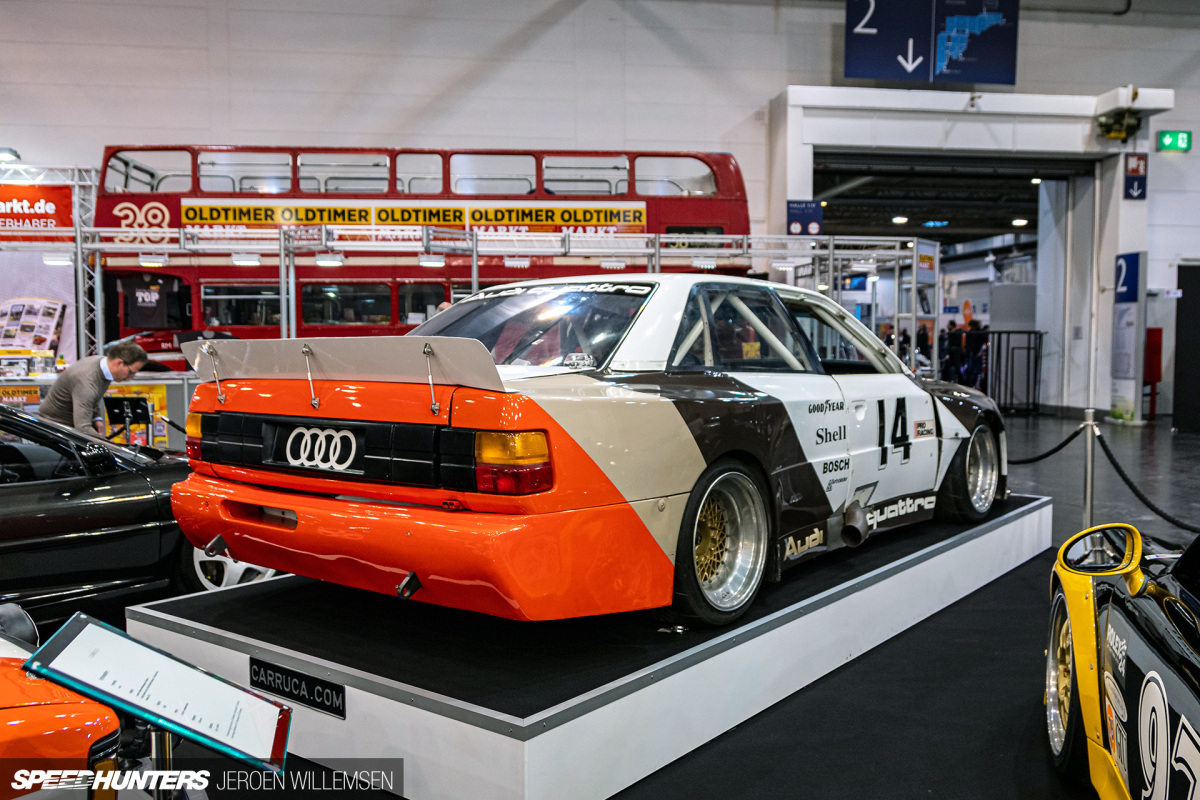 1988 Audi 200 Trans AM
You're looking at a werksprototyp, or factory prototype of the Audi 200 Trans Am built for the 1988 North American Trans-Am season. The car was based on the Audi 200 Quattro, but featured a spaceframe chassis and a lightweight body made of fiberglass and Kevlar, and a turbo 2.1-liter inline-five that produced around 510PS.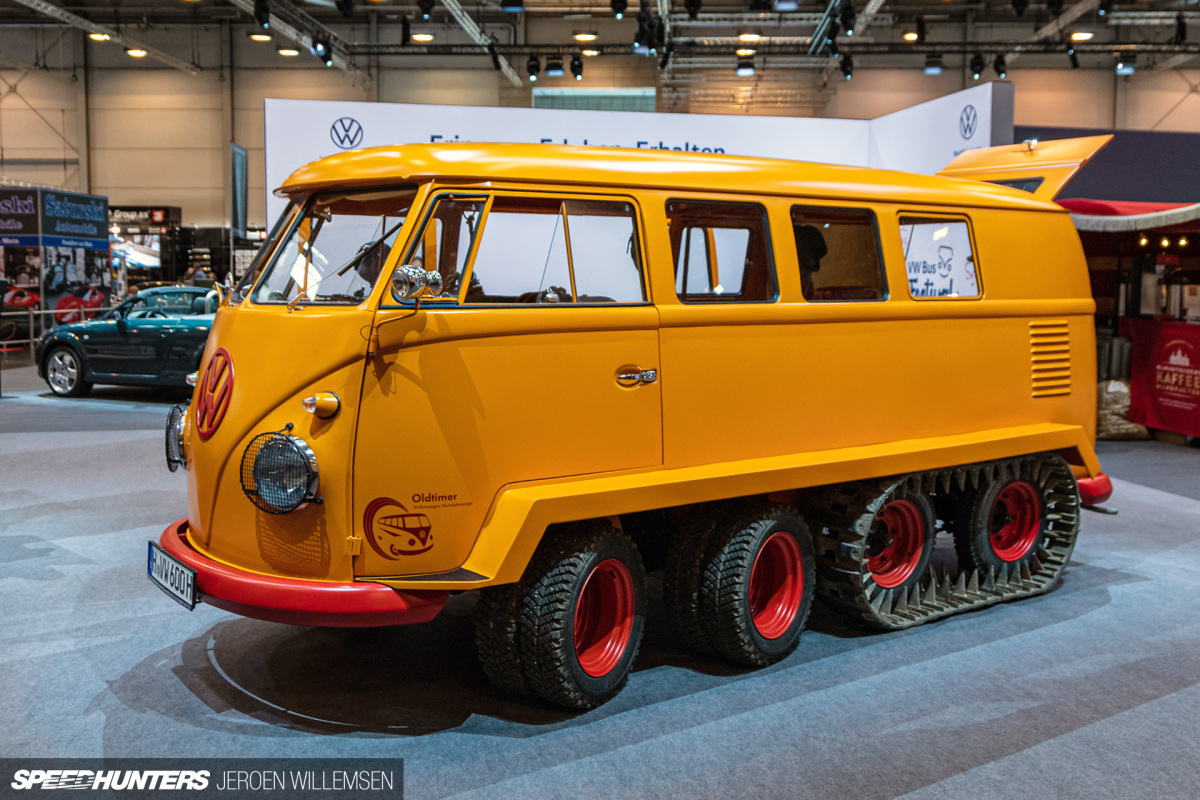 1962 VW T1 Raupen-Fuchs (Tracked Excavator)
In May 1962, this Volkswagen T1 was produced at the Hanover factory before being delivered to its buyer in Austria. After a short life as a normal T1, it was repurposed for snow use by a resourceful VW mechanic in Vienna. Historical sources say that Kurt Kretzner was an enthusiastic skier who observed a shortage of high terrain-capable transporters in the Austrian mountains, so decided to build something himself. Kretzner converted the bus with four axles, two of which were equipped with a chain drive and two with twin steering wheels. It's since been fully restored by the Volkswagen Nutzfahrzeuge Oldtimer association. I just love seeing wacky odd-ball builds like this in between million-dollar cars.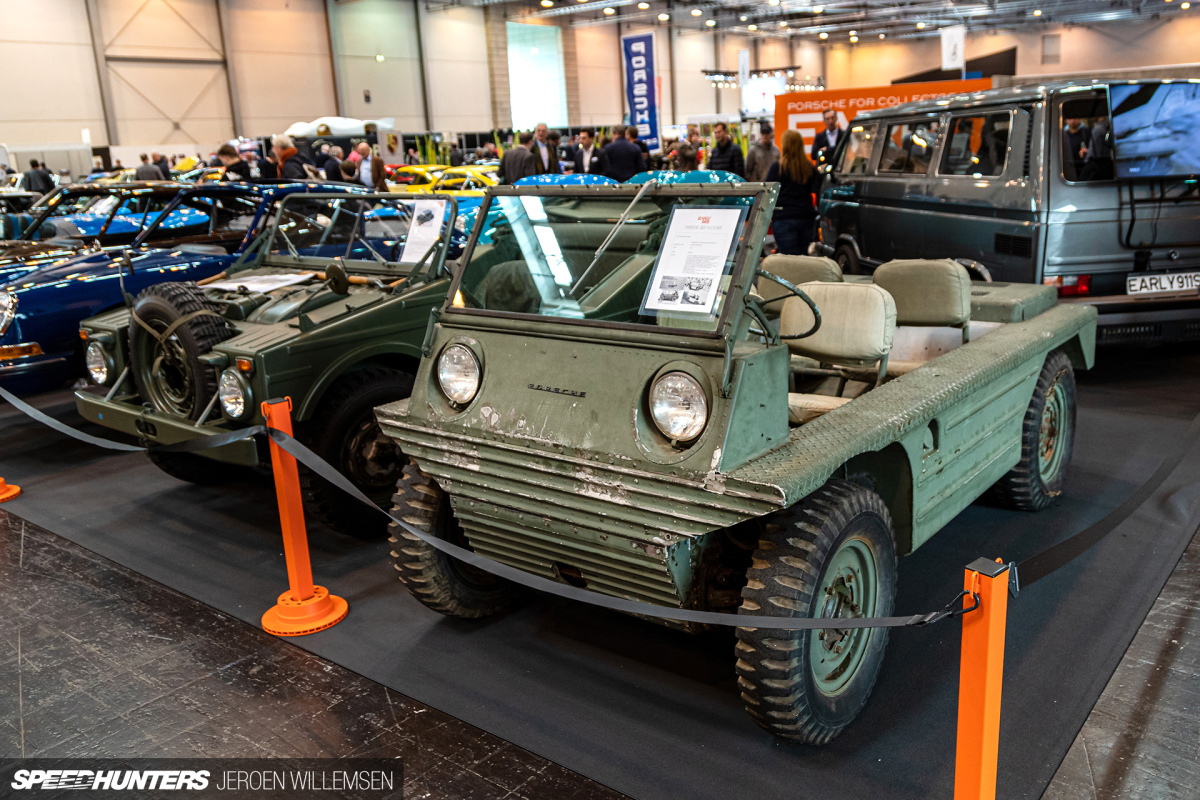 1952 Porsche Jeep Fletcher
In the autumn of 1952, Ferry Porsche and Wendell S. Fletcher, who owned the the Fletcher Aviation Corporation in Pasadena, California, began negotiations on a special collaborative model. The result was the Airborne Jeep – a model that featured a Porsche engine and chassis (including suspension) from the amphibious Schwimmwagen built by Volkswagen and used in WWII.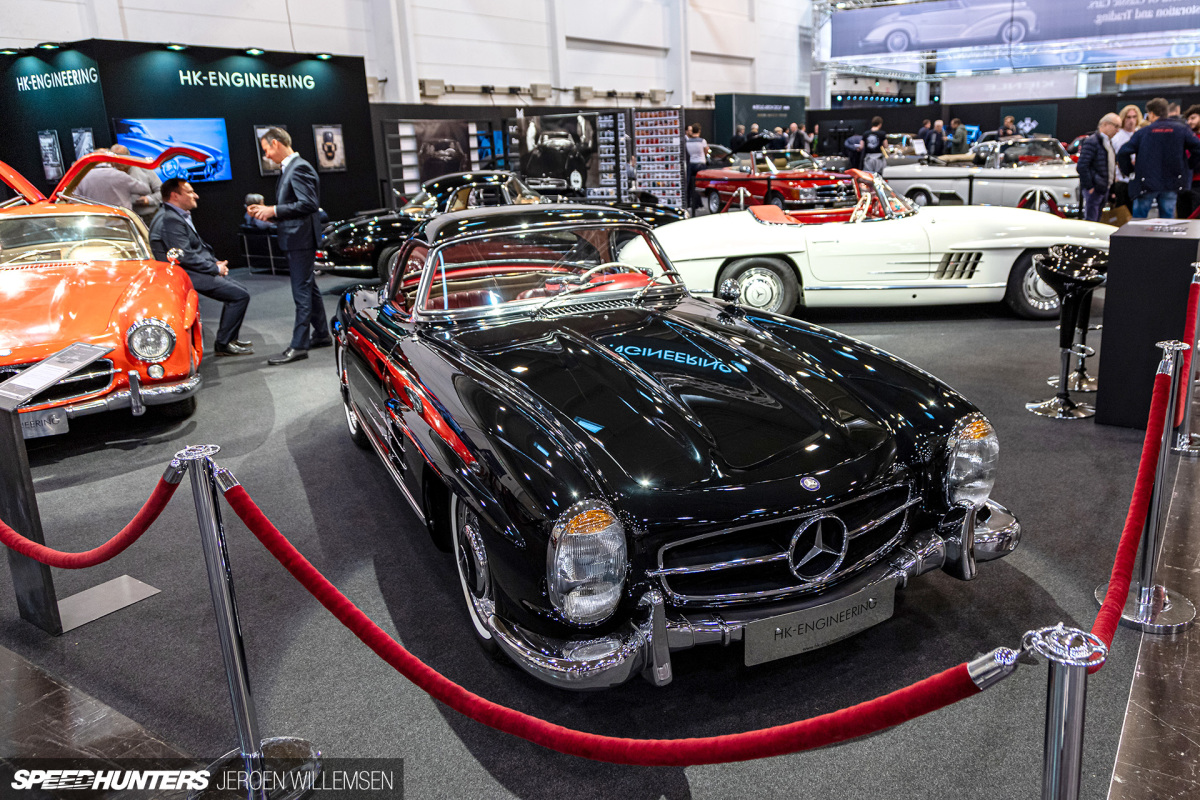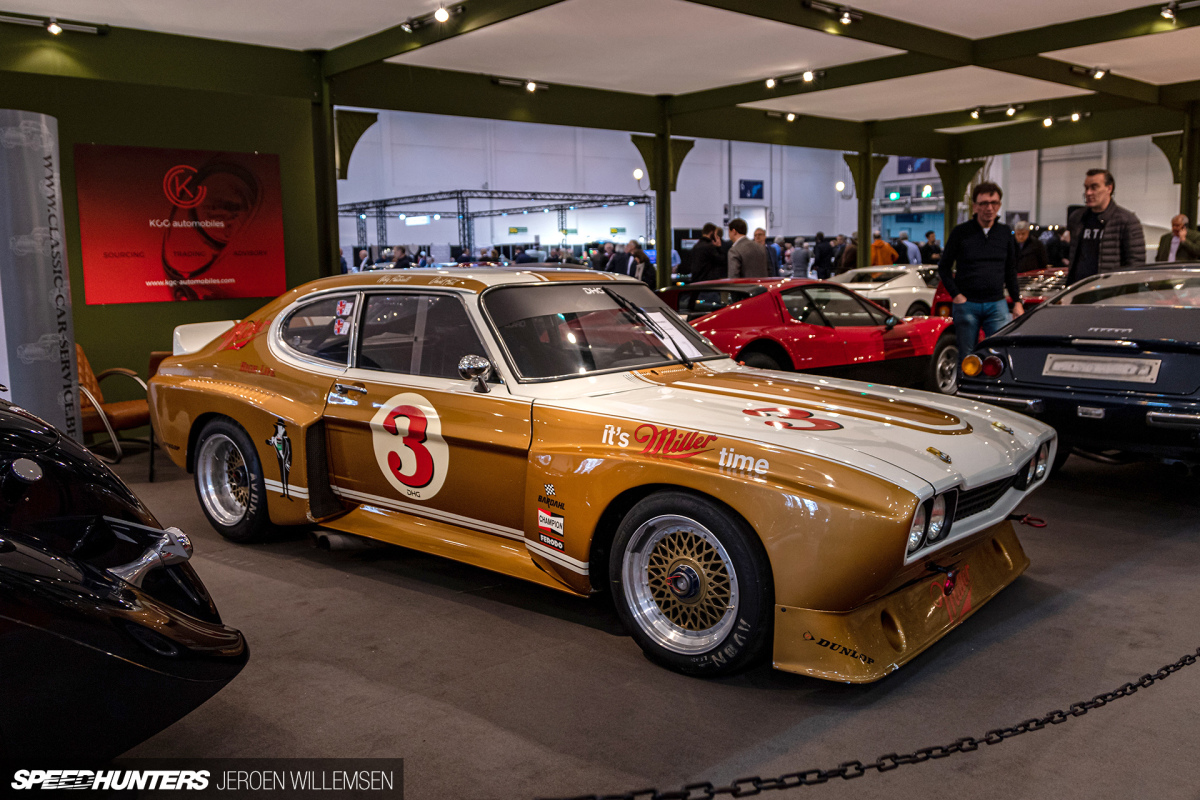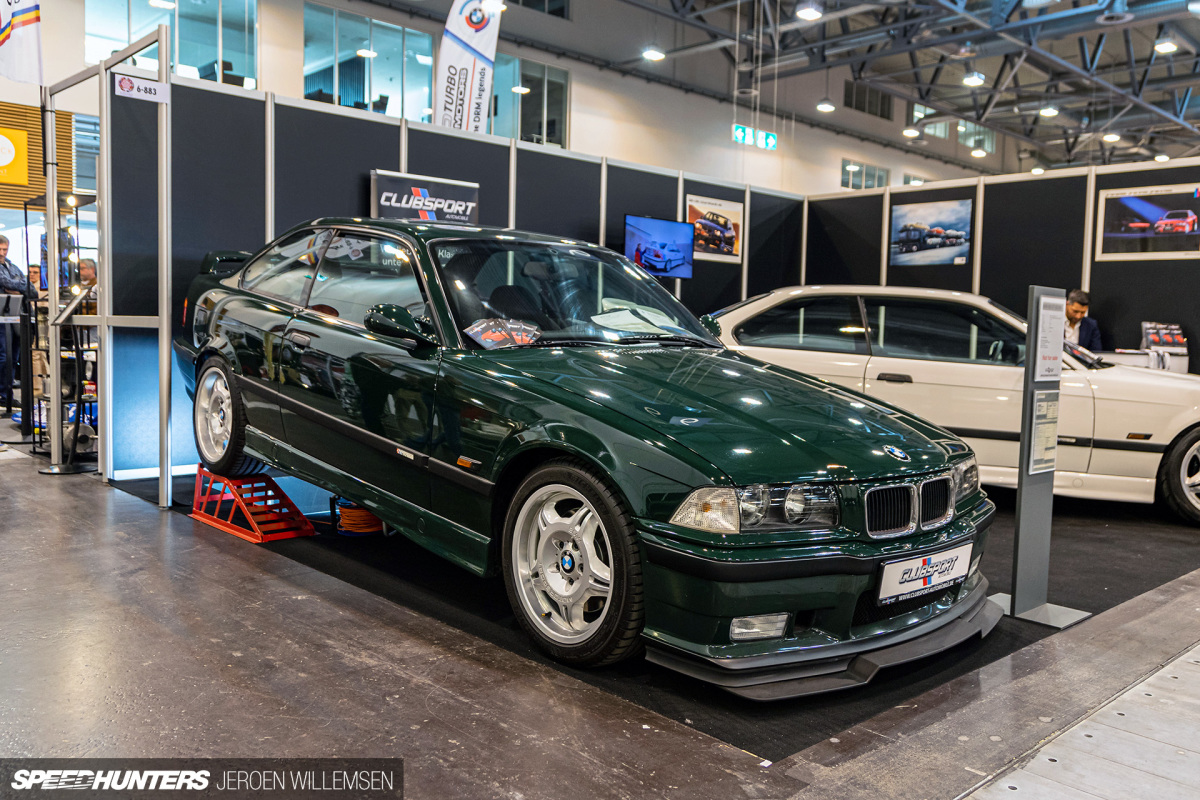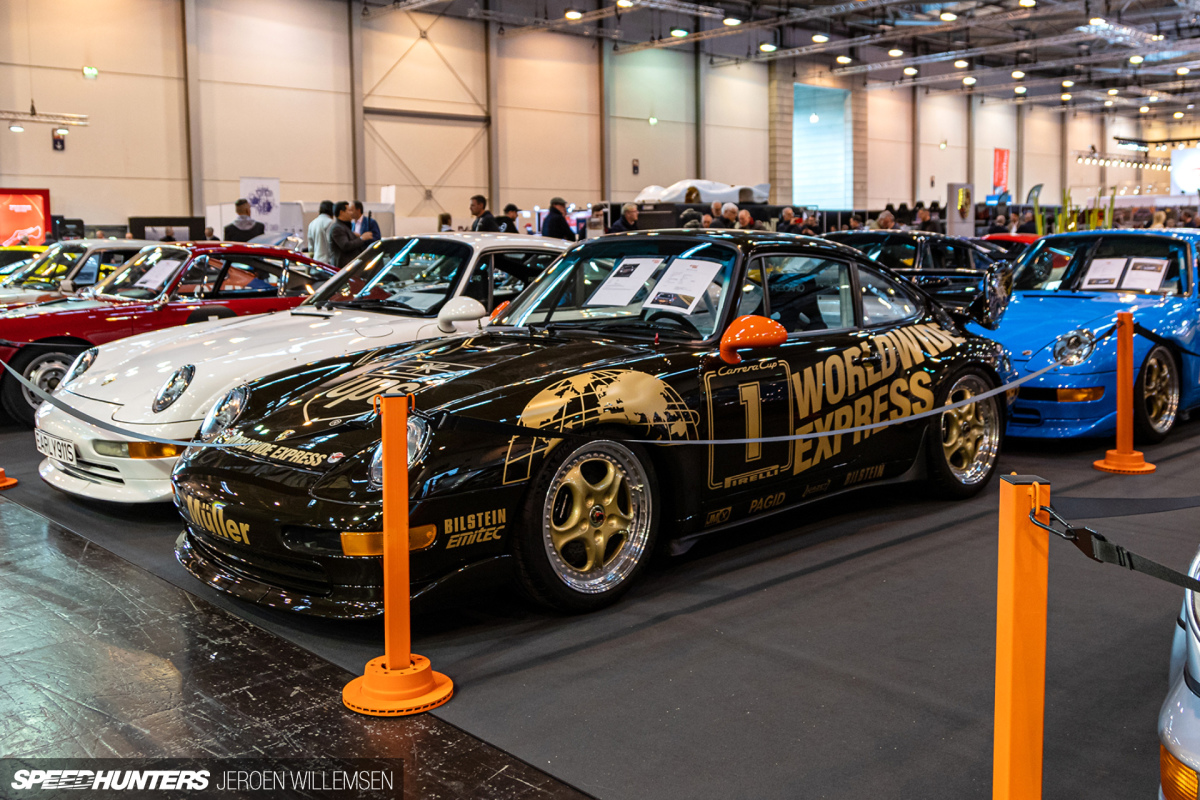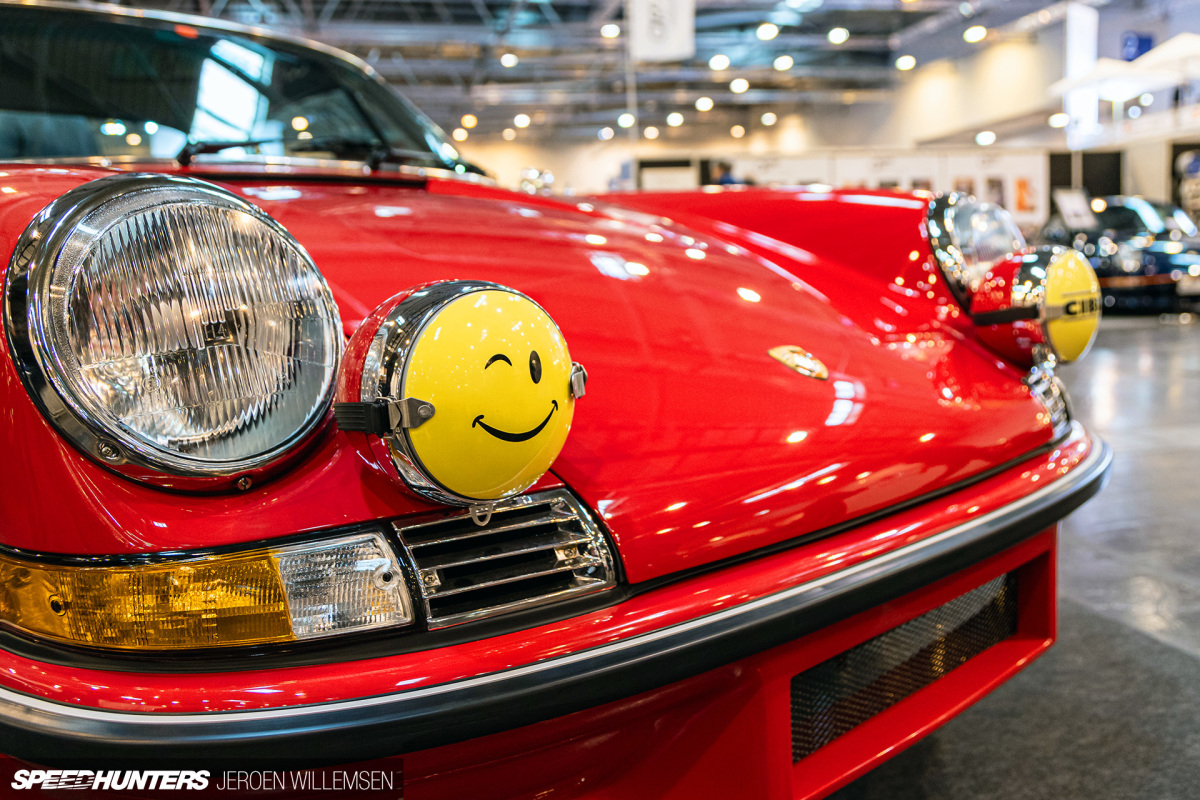 As always, Techno-Classica delivered, and I hope you've enjoyed the coverage. If you can't tell, I'm already looking forward to the 34th edition at Essen in spring 2024.
Jeroen Willemsen
Instagram: jaccojeroen