Chris Johnston's love for the FD3S Mazda RX-7 began during childhood. The FD's sleek, timeless lines paired with its unique rotary performance and sound is alluring to many, and Chris is no exception.
Back in 2005, he attended his first SEMA Show in Atlantic City, New Jersey. At that moment in time, Chris set himself a goal to one day have a build worthy of being shown at the main event in Las Vegas. The first step towards that reality came about on one lucky day in 2009 when a bone stock, automatic, Montego Blue '93 FD3S RX-7 came up for sale about an hour north of him, priced at just $7,000. There was no way Chris could let such a golden opportunity pass him by.
With many ambitious dreams in his mind, Chris couldn't wait to start re-crafting the FD. However, on the trip home the car broke down. Many would assume the worse, being a rotary and all, but luckily for Chris it was just a minor electrical issue. Luck, however, didn't stay on his side for long.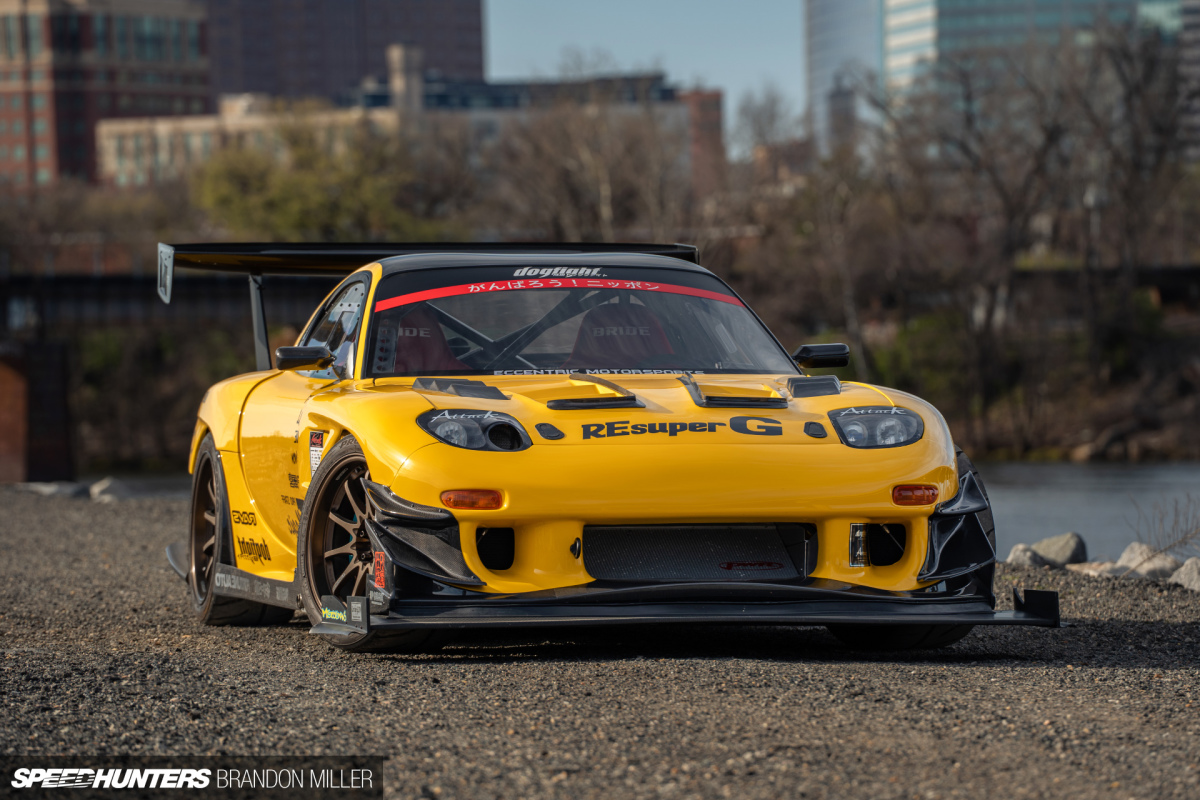 After just a few months of ownership, the RX-7's engine lost an apex seal to rotary heaven. Broken, the car was transported to Chris's local Mazda dealership where a fresh, remanufactured 13B engine was to be fitted. In hindsight, this was a big mistake.
Eight months passed before the Mazda was running under its own power again, but right away it was not running well. Despite Chris's concerns, he took the car home. Once again, it didn't make it.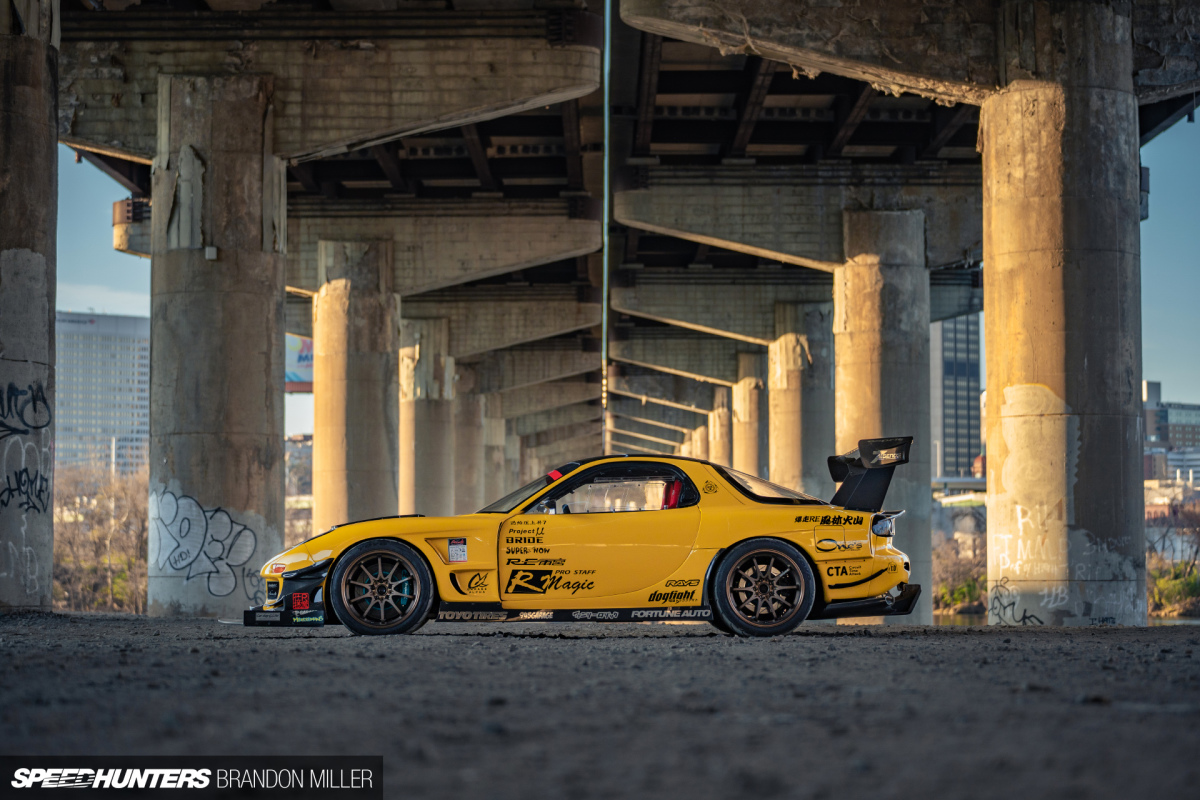 After a battle with the dealership, Chris decided to go a different route. He purchased a used JDM engine and 5-speed manual transmission combo from Japanese parts importer JSpec, and employed the services of a trustworthy mechanic to complete the swap. Finally, success. The transplant went off without a hitch and in short order the RX-7 was up and running again. Of course, by this time the rotary performance bug had well and truly bitten, and Chris started thinking about more power.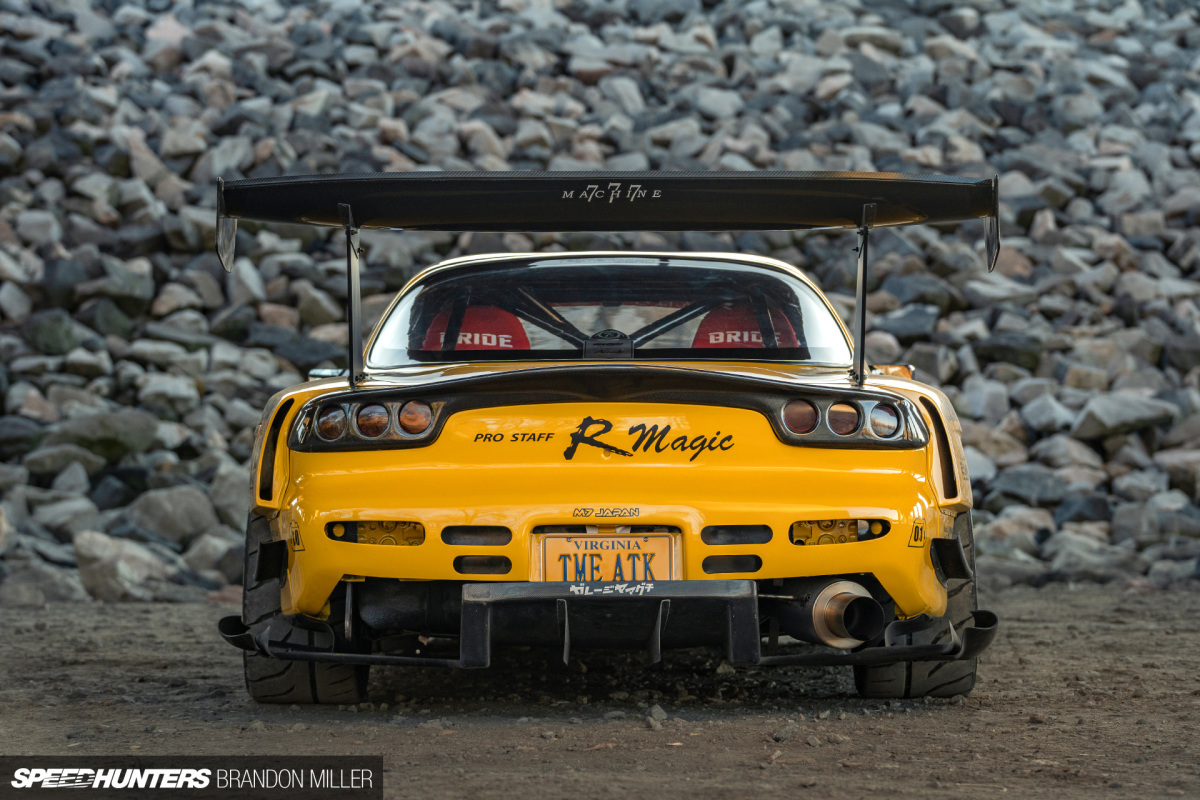 While the JDM 13B turbo engine ran fine with its stock tune, how it would hold up to extra boost running through its veins was an unknown. Erring on the side of caution, Chris decided to have the engine rebuilt with bigger power in mind. Ultimately, output increased from 255whp to 420whp thanks a Garrett T04Z single turbo conversion, a v-mount intercooler, larger injectors and subsequent tuning through an A'PEXi Power FC.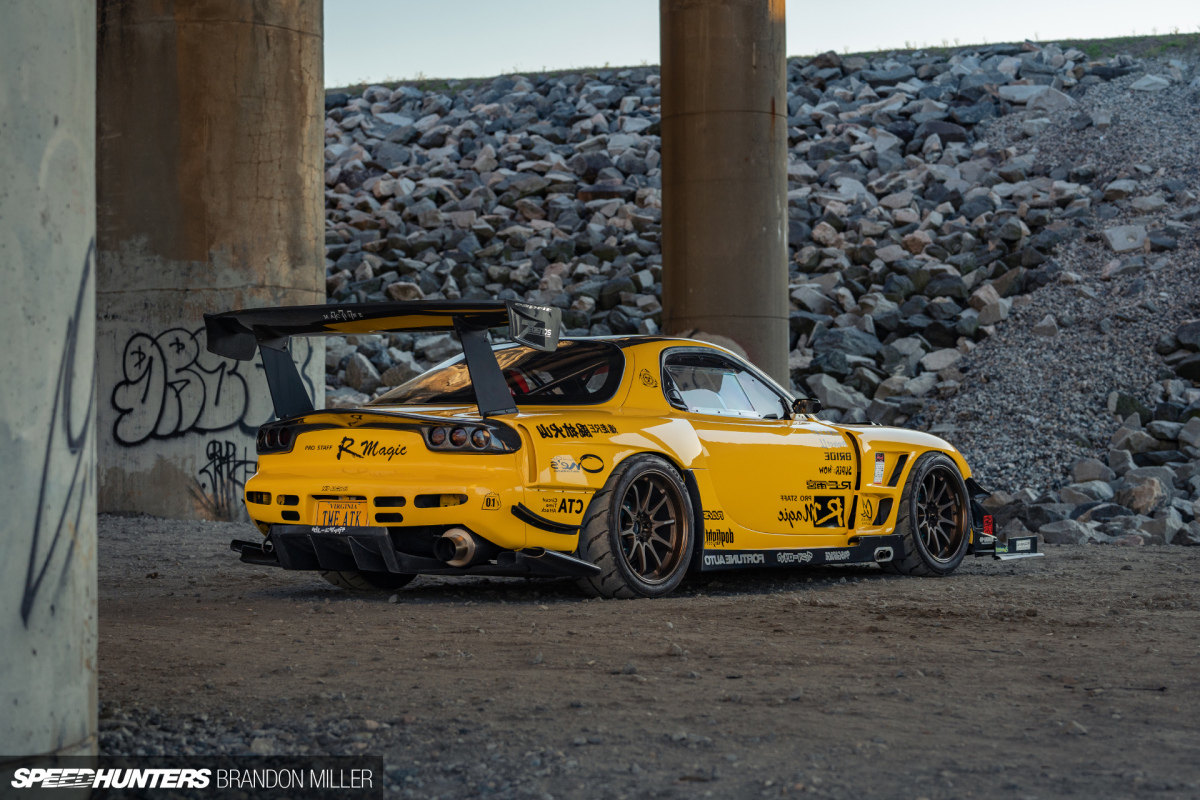 At the same time the engine work was being carried out, Chris went to work on the rest of the car. First came a set of Fortune Auto coilovers, quickly accompanied by a set of then newly-released RAYS Volk Racing TE37SL wheels. A '99-spec front lip followed, as did FEED side skirts, along with sleek headlights, a tail light cover and rear diffuser from RE Amemiya.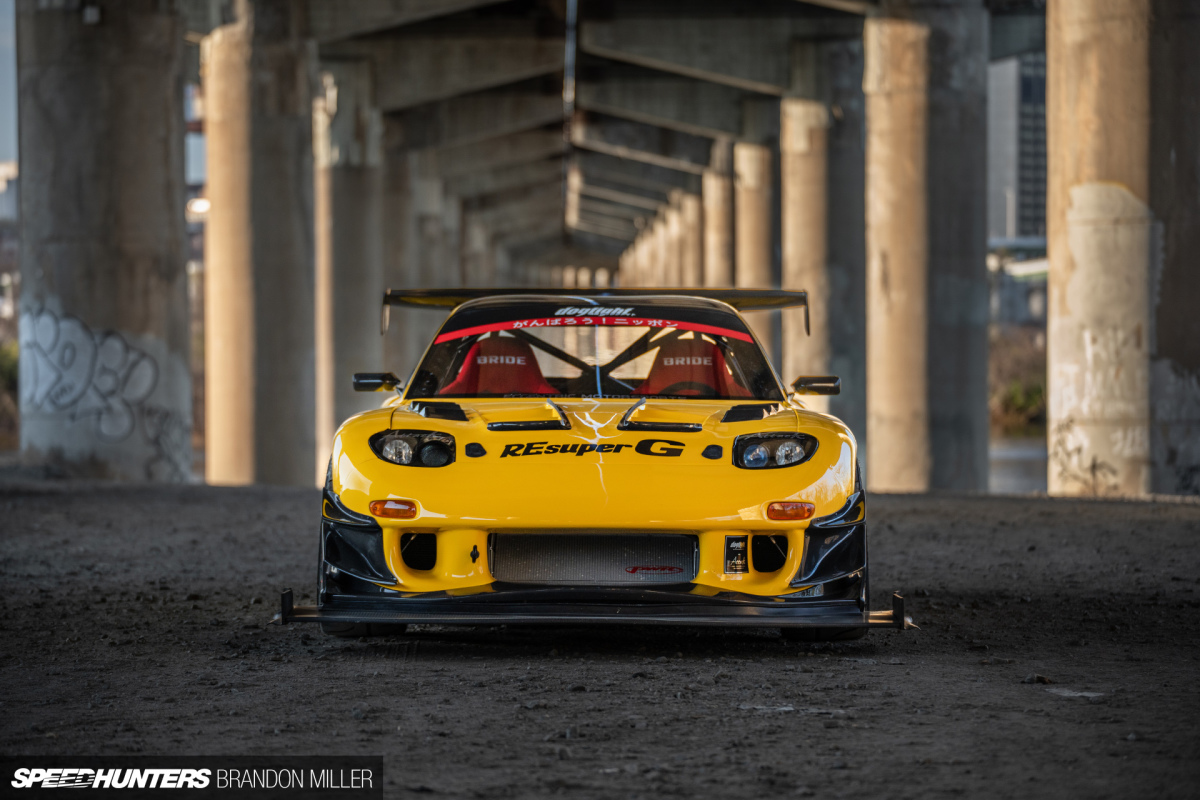 Chris's RX-7 now had plenty of power and an entirely new look, but really it was just the beginning. After a few years spent enjoying the car, Chris decided to step things up another notch. This time around the catalyst was a FEED wide-body kit that came up for sale locally.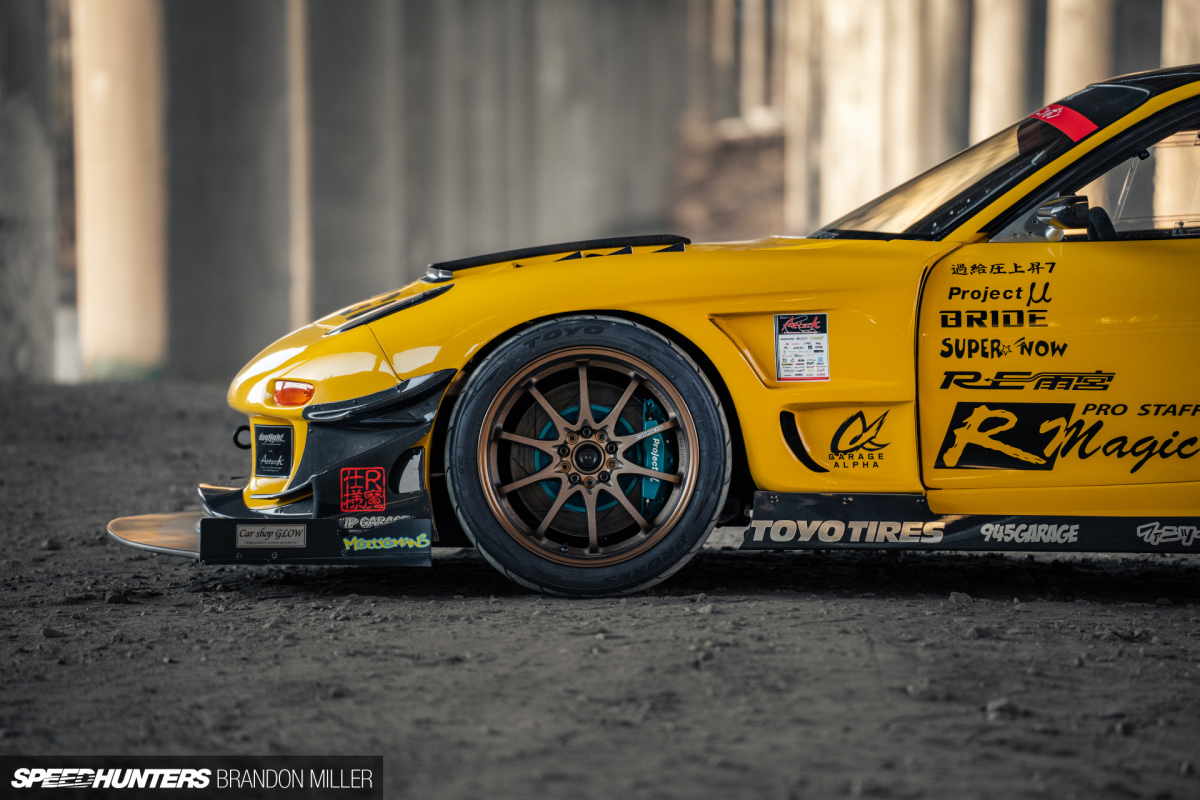 Having settled into a career as an automotive painter, Chris was up for a new challenge. He fitted the kit and resprayed the entire car in its original hue. Final touches then came with an RE Amemiya GT wing and a fresh set of Work Meister wheels.
I say 'final' but looking at these images you'll know that wasn't the case. Despite the new look, the RX-7 was still a long way from Chris's end game vision.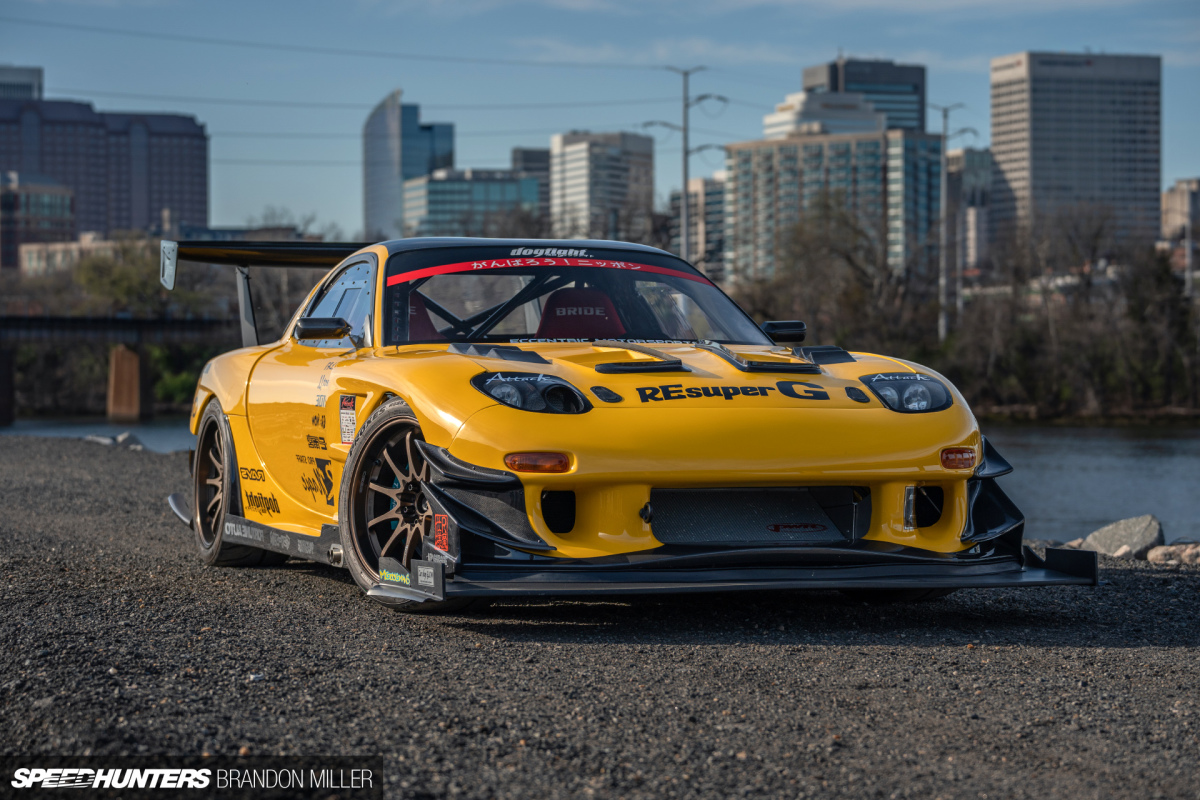 That vision began to take shape in late 2014 when an engine problem reared its head. Sound familiar? It was the push Chris needed to create his ultimate RX-7, but he wasn't in a rush.
From the initial sketches and video game representations of what he wanted his FD3S to look like through to the actual car's completion, seven years passed. The process was slow, but Chris wanted no detail to be left untouched, nor did he want to make any compromises. Looking at the Mazda today, I think we can all agree it was time well spent.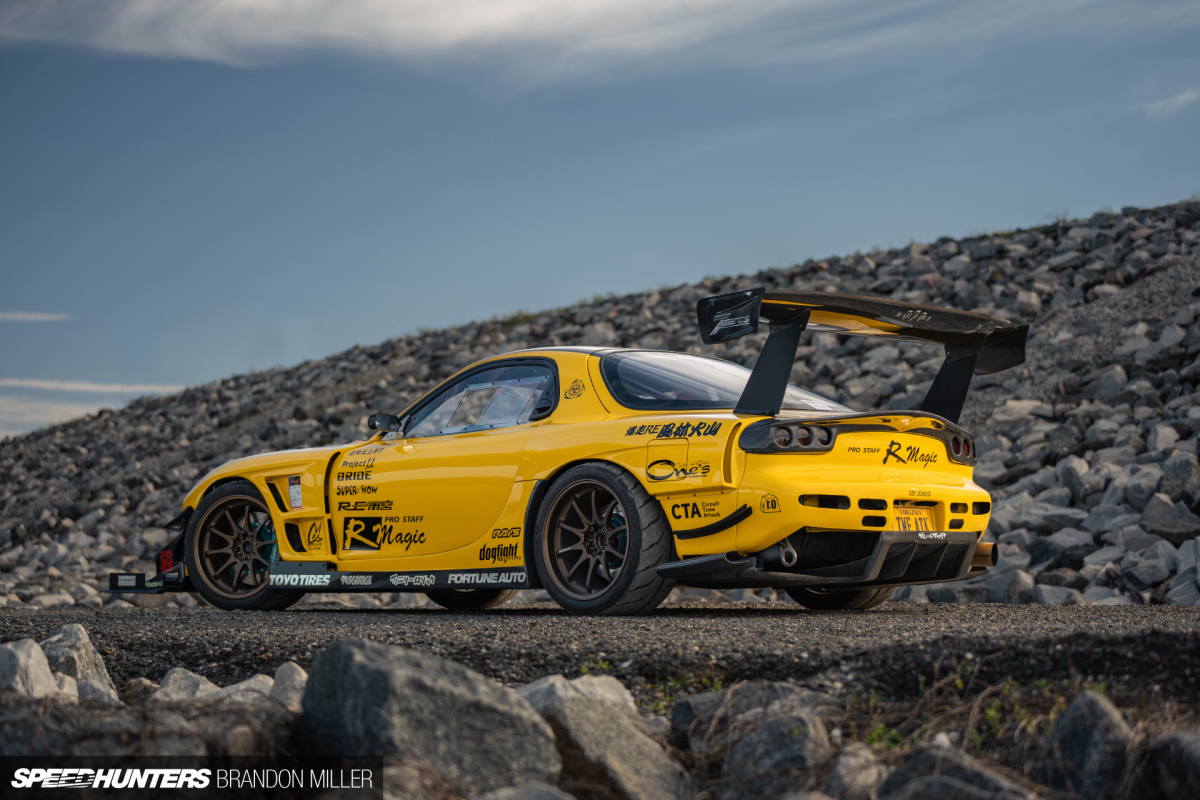 It's hard to miss the RX-7's late-'90s/early-2000s Japanese time attack theme. Chris was determined to bring this style to the US, but knew it had to be executed to perfection.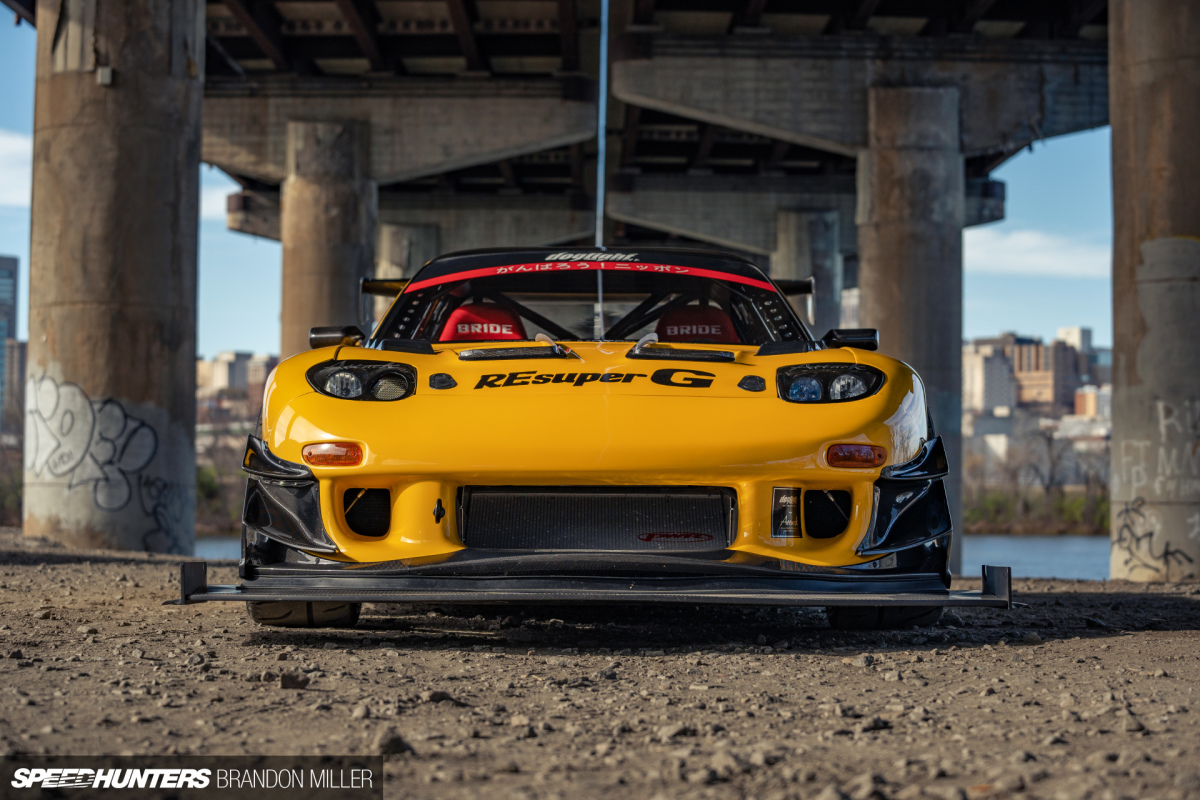 The aero is a melting pot of authentic Japanese gear. RE Amemiya parts on the front end include a first-gen N1 bumper, sleek lights and hood, and these pair perfectly with a modified R-Magic wide-body kit. An Esprit GT wing, Car Shop Glow diffuser and carbon fiber add-ons only complement the body panels.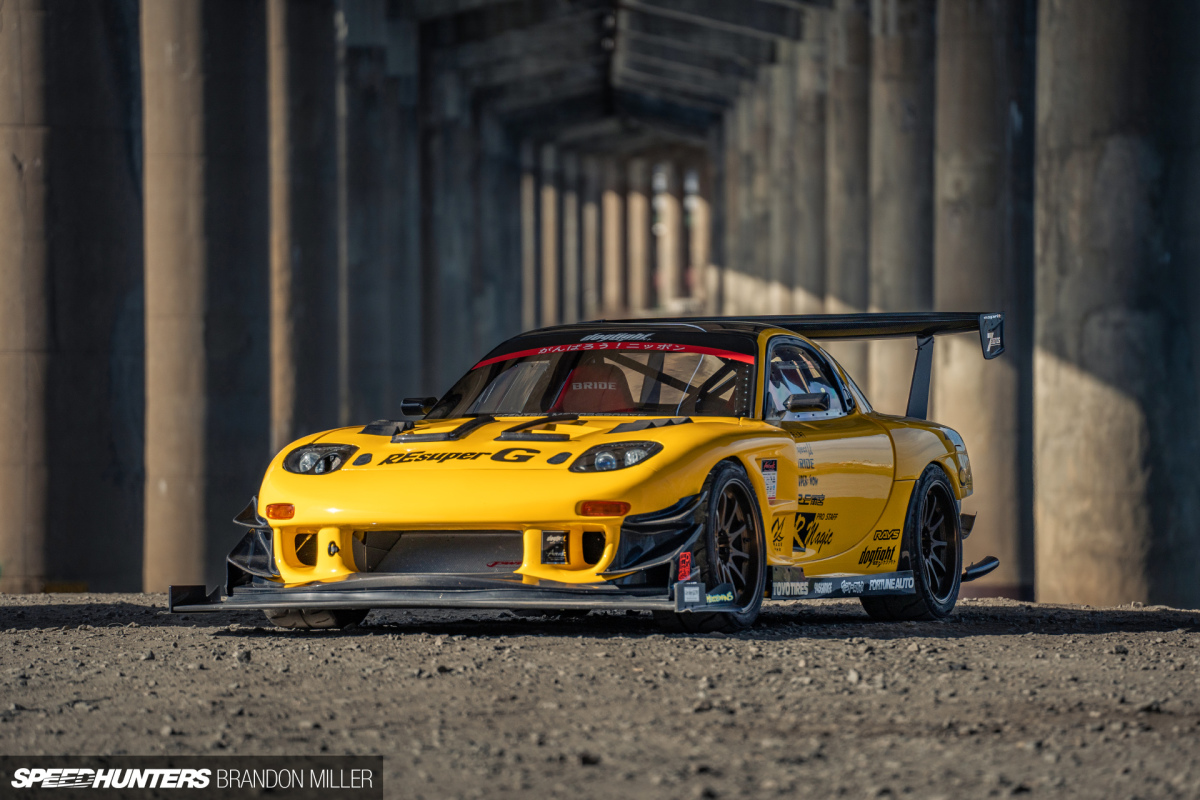 Speaking of carbon fiber, the RX-7 now also sports a massive Klaus Composites carbon splitter, Marsh Composites full carbon roof, and Seibon carbon doors and hatch. Chris specifically chose these parts to stay in keeping with the '90s/'00s aesthetic form he was going for.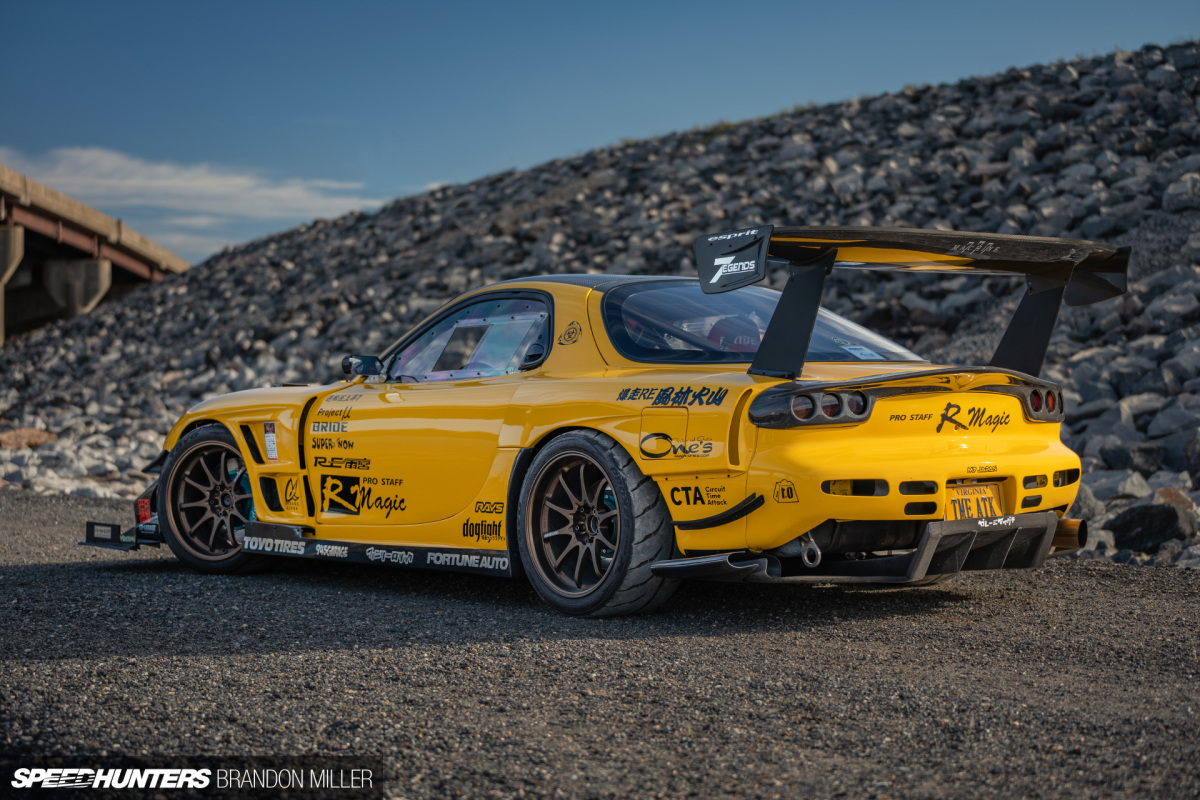 A new kit meant new paint, and this time around Chris resprayed the car in Mazda's captivating Sunburst Yellow, having been inspired by Keisuke's iconic Red Suns FD from Initial D.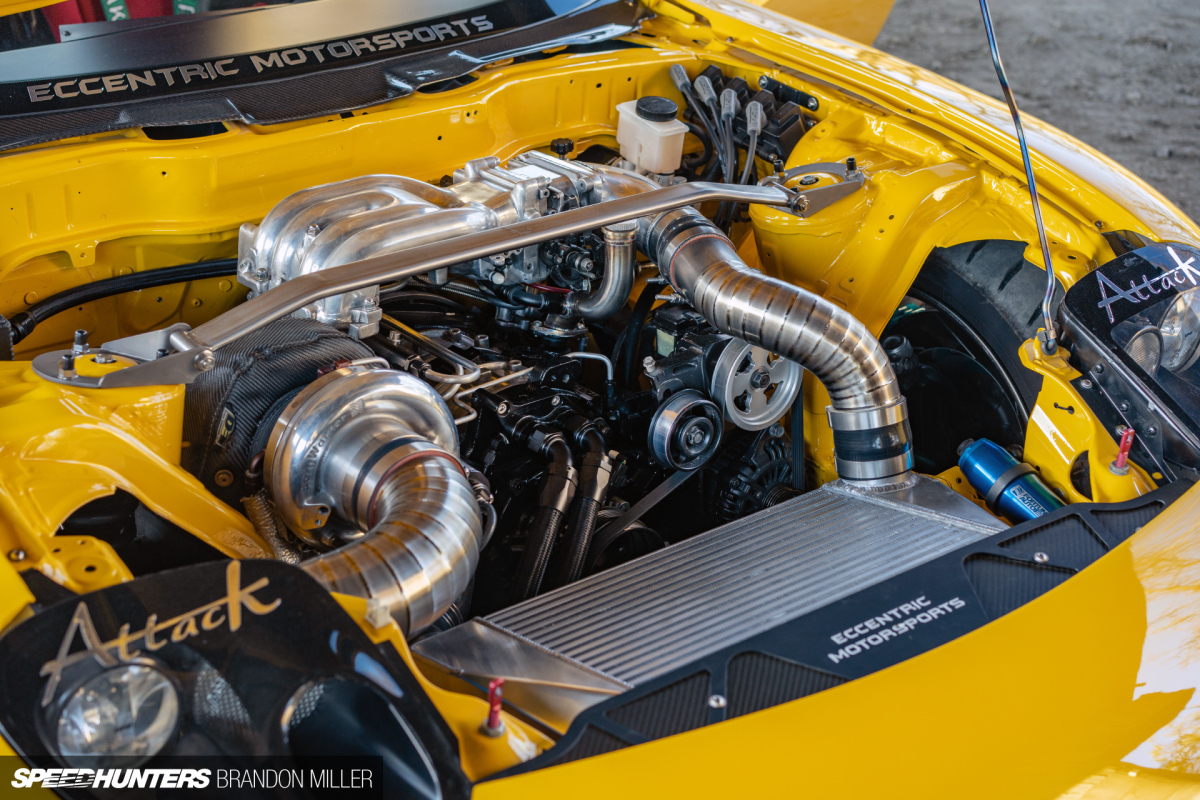 The new engine setup was pieced together by the amazingly talented twins of Eccentric Motorsports. The bridge-ported 13B puts down an impressive 521whp at 20psi boost with the help of a BorgWarner EFR 8374 turbocharger, Haltech Elite ECU and numerous other quality parts. Given the RX-7 weights just 2,300lb (1,043kg), it's a seriously quick machine.
Eccentric Motorsports not only handled the motor build itself, but also the fab work, wiring and a ton of odds and ends on the car. The attention to detail is second to none.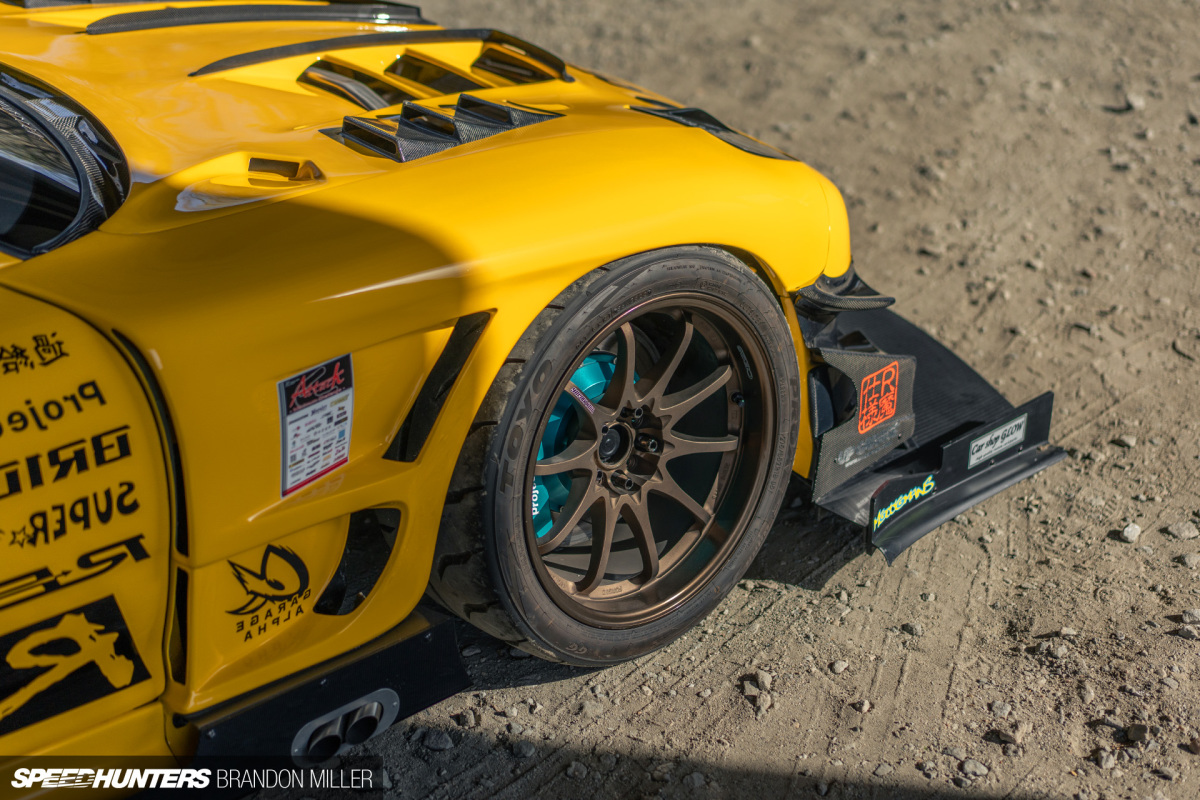 Chris started with a set of RAYS Volk Racing wheels on the car, and he's ended back up there too, this time with OG CE28Ns in classic Bronze. For track use, Chris runs a newer set of CE28Ns in Diamond Dark Gunmetal.
Further enhancing its competition capabilities are Fortune Auto Pro 2-way coilovers, plus a full suite of extra suspension upgrades from J-Auto.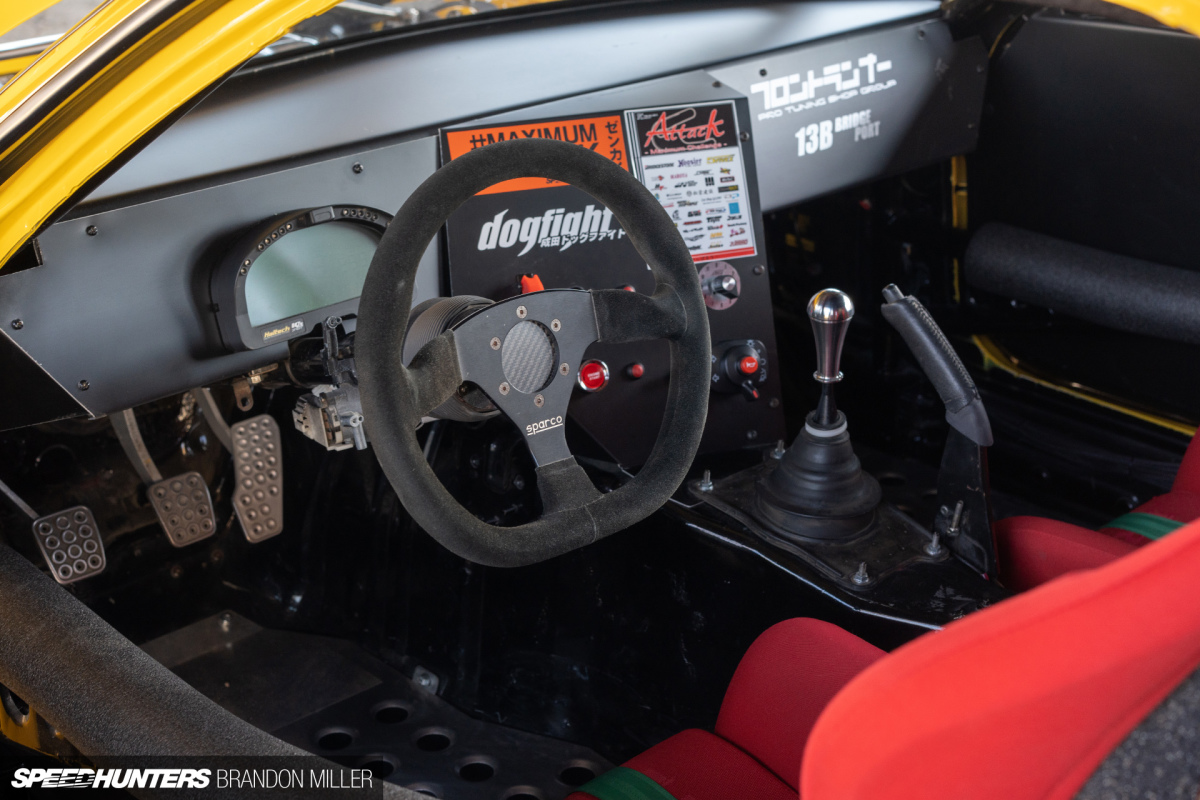 The interior is all business, with just the essentials. There's a custom 10-point roll cage by 945Garage, an aluminum race dash plus door and heel plates by Bubble Tech, a quick-releasable Sparco steering wheel, Bride seats, TAKATA Racing harnesses, Racebred Components shift knob and a super-light Antigravity battery.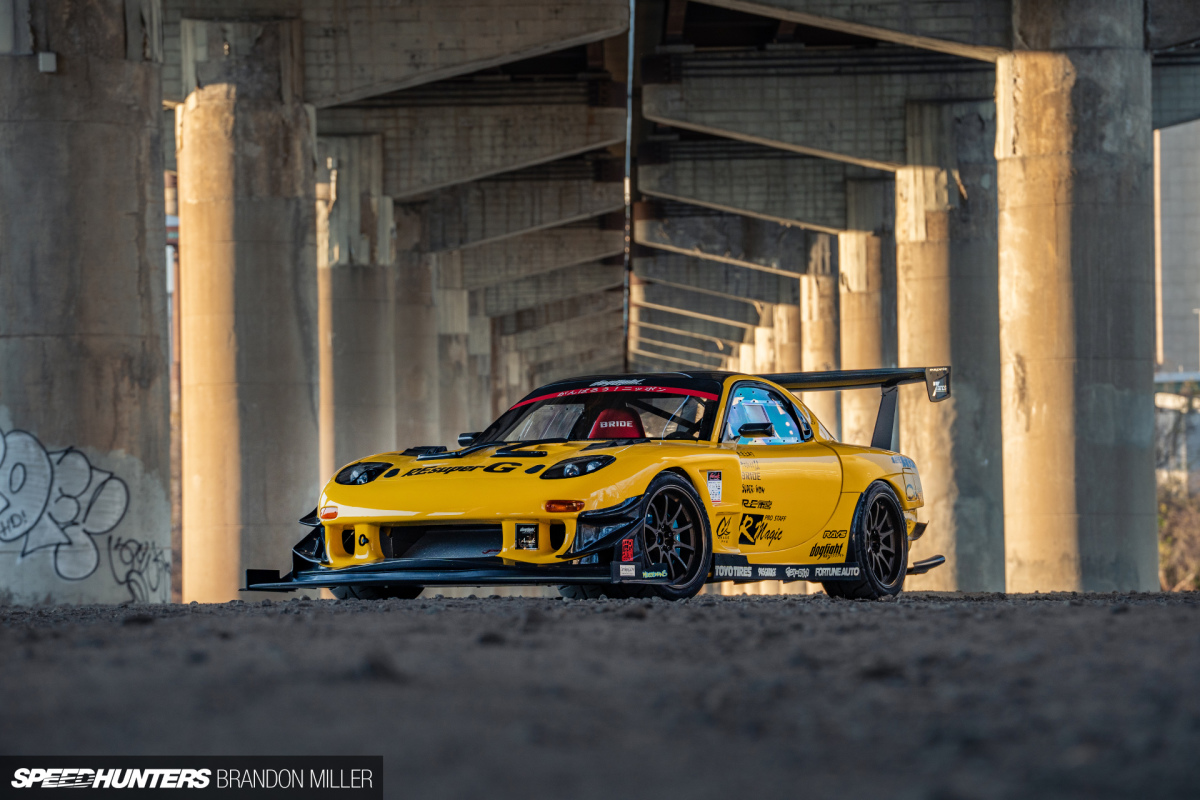 Remember that first SEMA Show in NJ that Chris attended back in 2005? Well, in 2021, some 16 years later, the dream of showing his own car at the big SEMA event in Las Vegas became a reality with its public debut at the Fortune Auto booth. It was a surreal moment for Chris.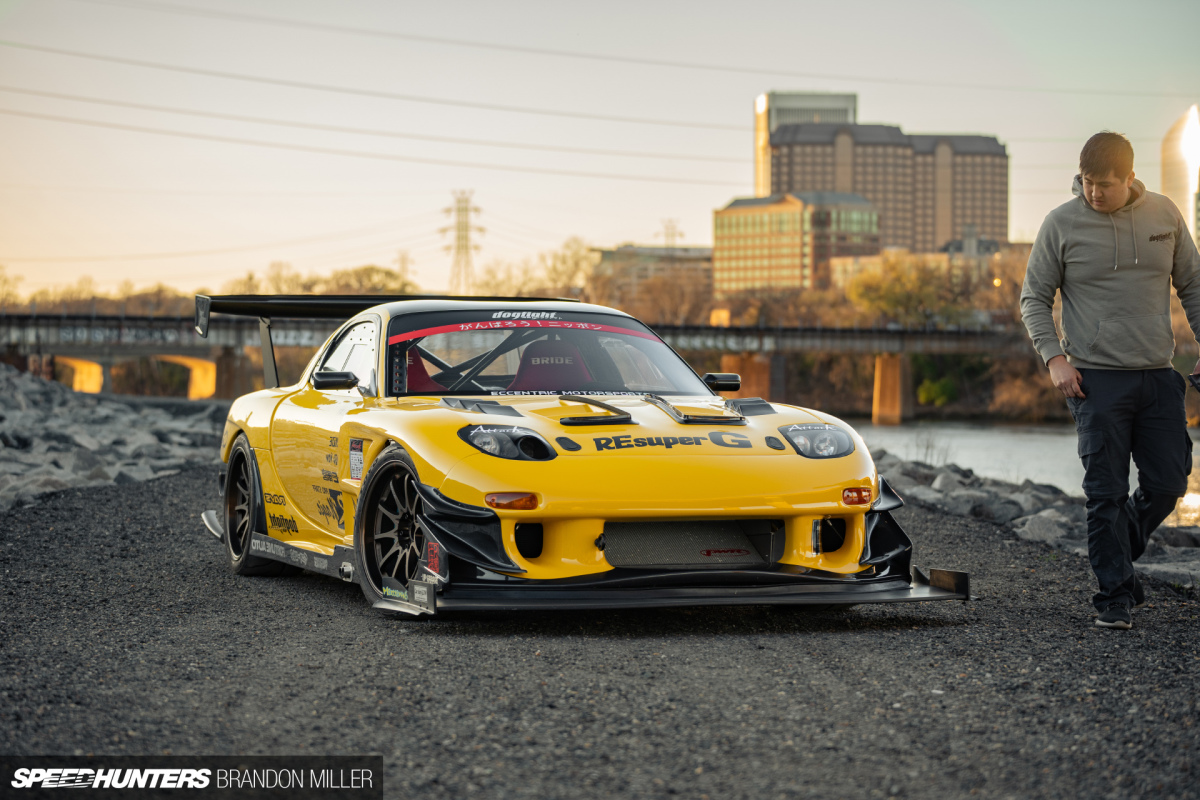 Social media tends to make it look like anything can come together overnight, but like any great car build, Chris's ultimate FD3S RX-7 project was not quick or easy. It took almost two decades of never settling and never giving up, and required the help of some great friends to see through to completion. If it wasn't for Zach and Klint at Eccentric Motorsports, Terry from Fortune Auto, Danny from 945Garage, Benny from Bubble Tech along with many more helpful hands, the car you see featured here today would simply not exist.
With great friends, enough time, dedication and desire, this RX-7 really is proof that anything is possible.
Brandon Miller
Instagram: rvae38