The car in question is a 2002 HA12 Alto. It's a PKDM variant which originally came with an F10A engine.
BHPian Ovais recently shared this with other enthusiasts.
Hello all! I hope everyone is doing well. I have been lurking around on the forum but this is the first time that I'm posting here. I'd like to share my ALTO project with car guys and car gals in India.
I'm in the process of swapping a Honda L13A iDSI (1339cc) with a CVT transmission into a 2002 Suzuki HA12 ALTO. The swap is being done in Islamabad, Pakistan.
The car in question is a 2002 HA12 Alto. It's a PKDM variant which originally came with an F10A engine. The engine was a little over 300,000km driven but it was still running strong. I was getting around 14km/l within the city with not-so-exhilarating performance.
The idea behind this swap was to improve the fuel average of the vehicle with the insane fuel prices these days and to convert the transmission to auto. If I could get better performance, that would also be a plus. Now I could go the safe route of a K6 auto swap to get a better fuel average but that wouldn't have cut it because of the lack of power. I could use a K6 turbo instead but that wouldn't help me achieve the fuel average figure that I was after. K10 or K12 are not easily available engines in Pakistan, so they were not an option as parts for them would be scarce.
Therefore, with limited options to achieve what I wanted, I decided to swap in a Honda L-13A IDSi with a CVT transmission into it. Why an L-13A I hear you ask? a) It is known to have good fuel average, even in heavier cars such as the Honda City, Civic and the Honda Jazz/Fit, b) It would have a CVT Transmission, therefore helping achieve the auto transmission bit and c) with 85hp and about 120nm torque, it would offer good power to weight ratio in a car that weighs a little shy of 700kg.
Here are some specifications of the engine.
Engine Code: L13A
Engine Capacity: 1339cc (Offered in the 1.4 Honda Jazz GG/Fit GE, 1.4 Honda Civic FD)
No. of Cylinders: 4
IDSi – Intelligent Dual Sequential Ignition, which means there are Two Plugs per cylinder, sequentially fired for better efficiency.
Power: 85hp @5700RPM / 120nm Torque @2800RPM
Compression Ratio: 10.8:1
7 Speed CVT-Transmission (SWRA)
Most of the work on it is done in-house, which includes mechanical, fabrication, electrical and aesthetic. So let's begin the process.
The car, just before going under the knife.
On jack stands and dismantling started.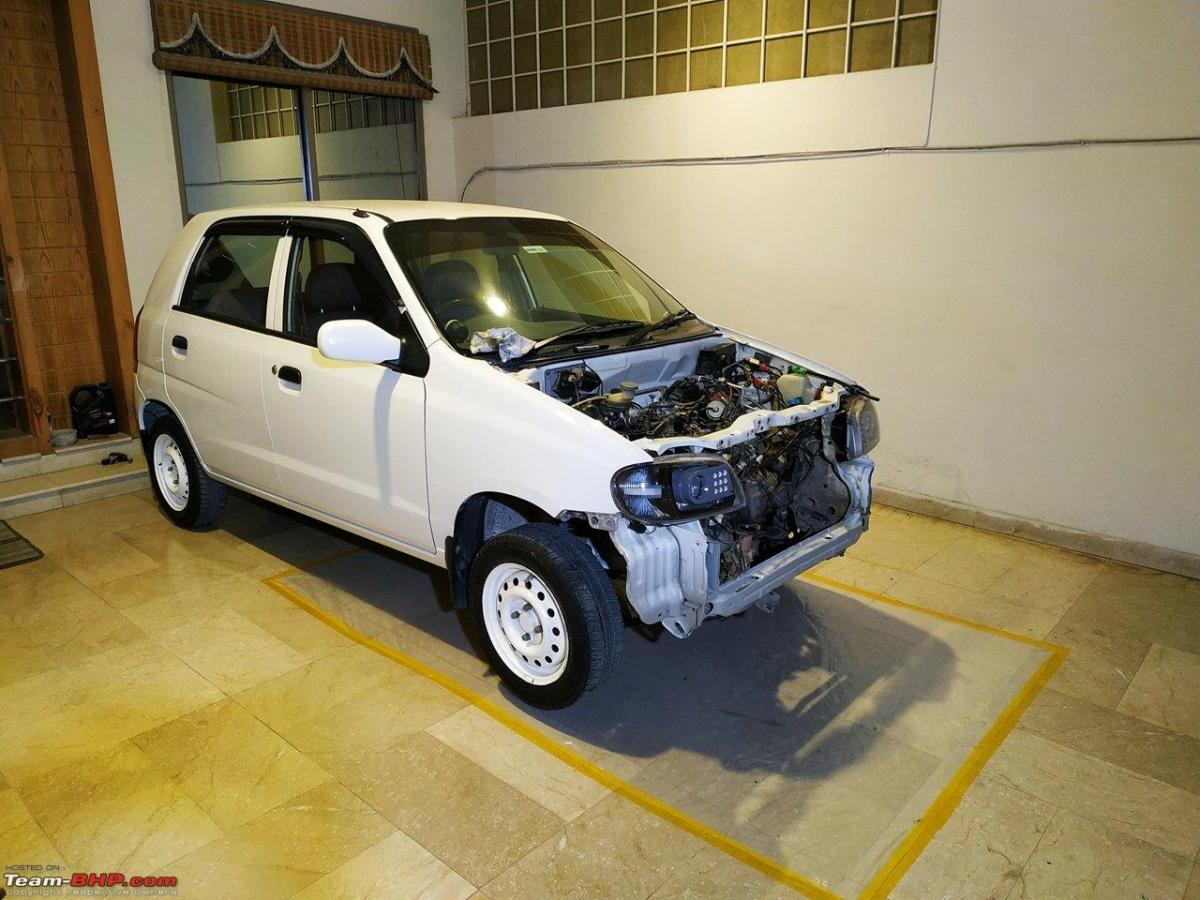 The engine bay before the swap.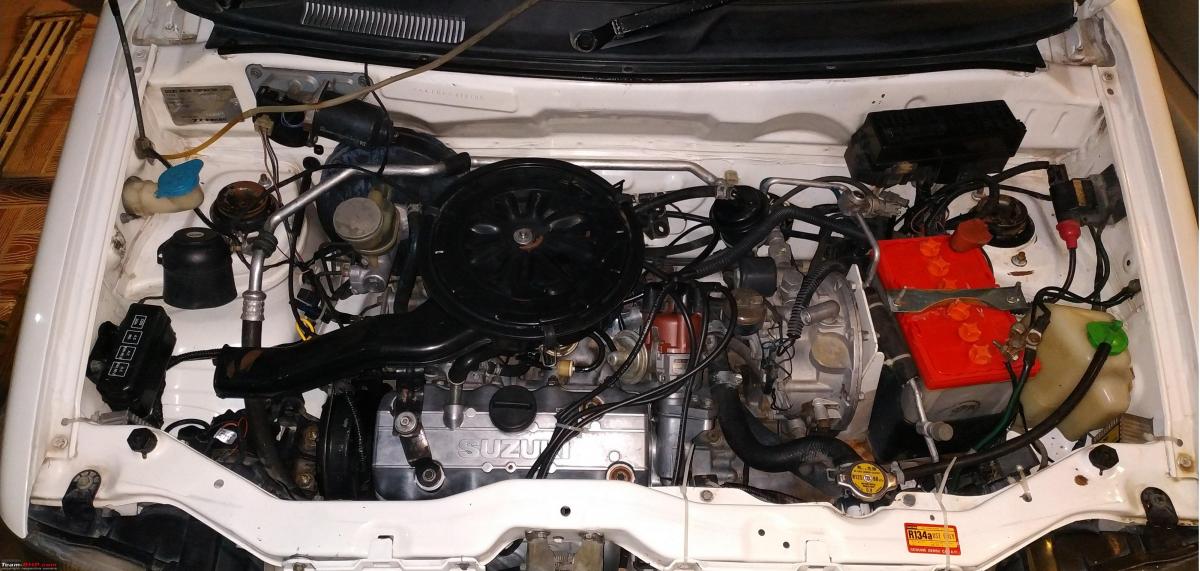 The old engine, the F10A coming out.
The engine is out and the engine bay thoroughly cleaned before doing anything else. The battery of the car leaked at some point in time which damaged the paint on the left chassis leg. Good thing that it was only surface rust which was cleaned and then painted later. Other than that, there was no damage at all in the entire engine bay, rust or whatever.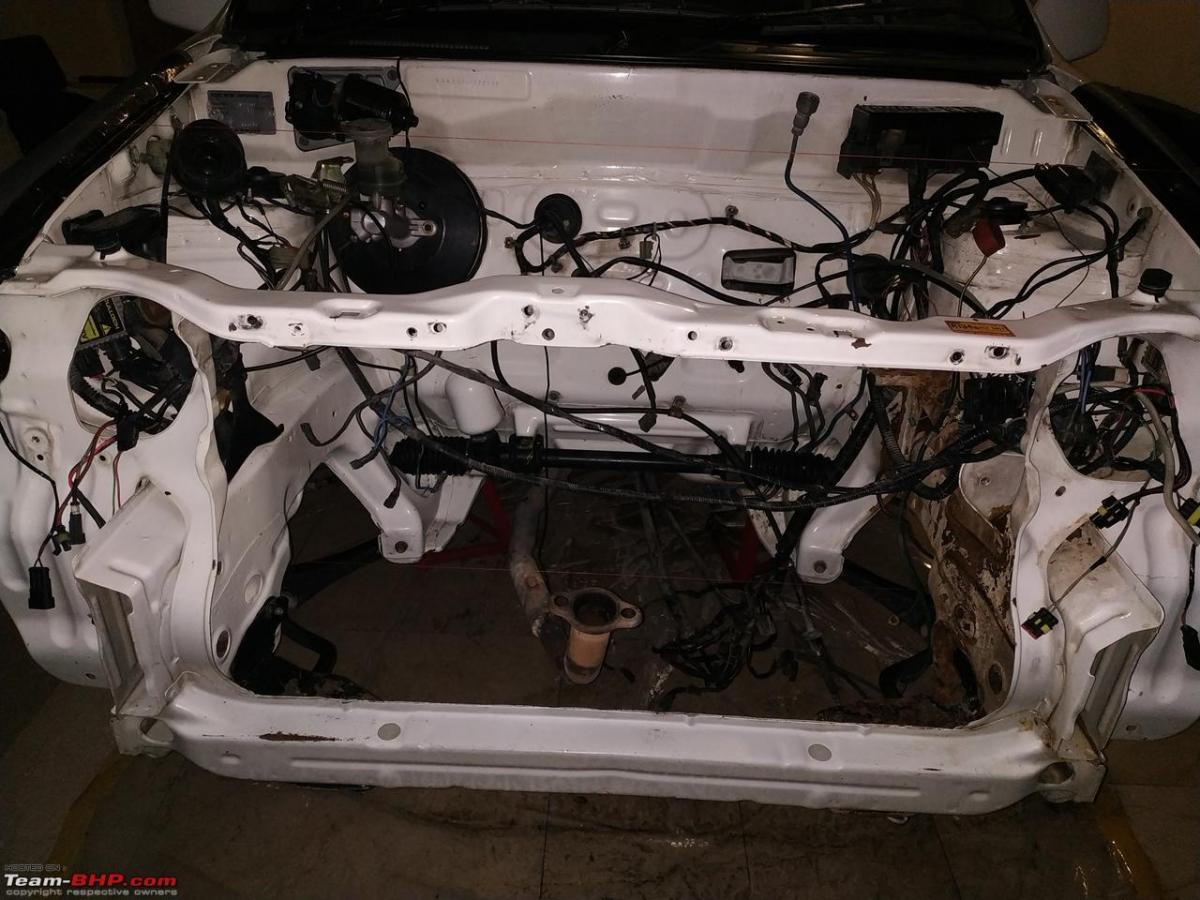 I was able to source a dummy Honda L13A engine with a CVT transmission for a mock fit. Getting a dummy engine was important at this stage to check if its actually going to fit the engine bay or not. Had I gotten the actual engine, and it wouldn't have fit, it would've been a waste.
Continue reading BHPian Ovais' thread on the Alto engine swap for more insights and information.