'Second glance car' is a name I've been using for years. I even made sure to work it into my first ever Speedhunters article back in 2019. 
Plenty of cars receive fleeting second looks from passersby, but to me the term only applies to cars which pique interest on the first glance, then command your attention on the second.
To many people, Charlie Williams' 1995 Audi S2 is 'just another' 1990s Audi lowered on a set of split rims. Whoop-dee-doo. Yet to those who who know a little about '90s German performance cars, the changes Charlie has done to make this Audi his own stand out in a big way.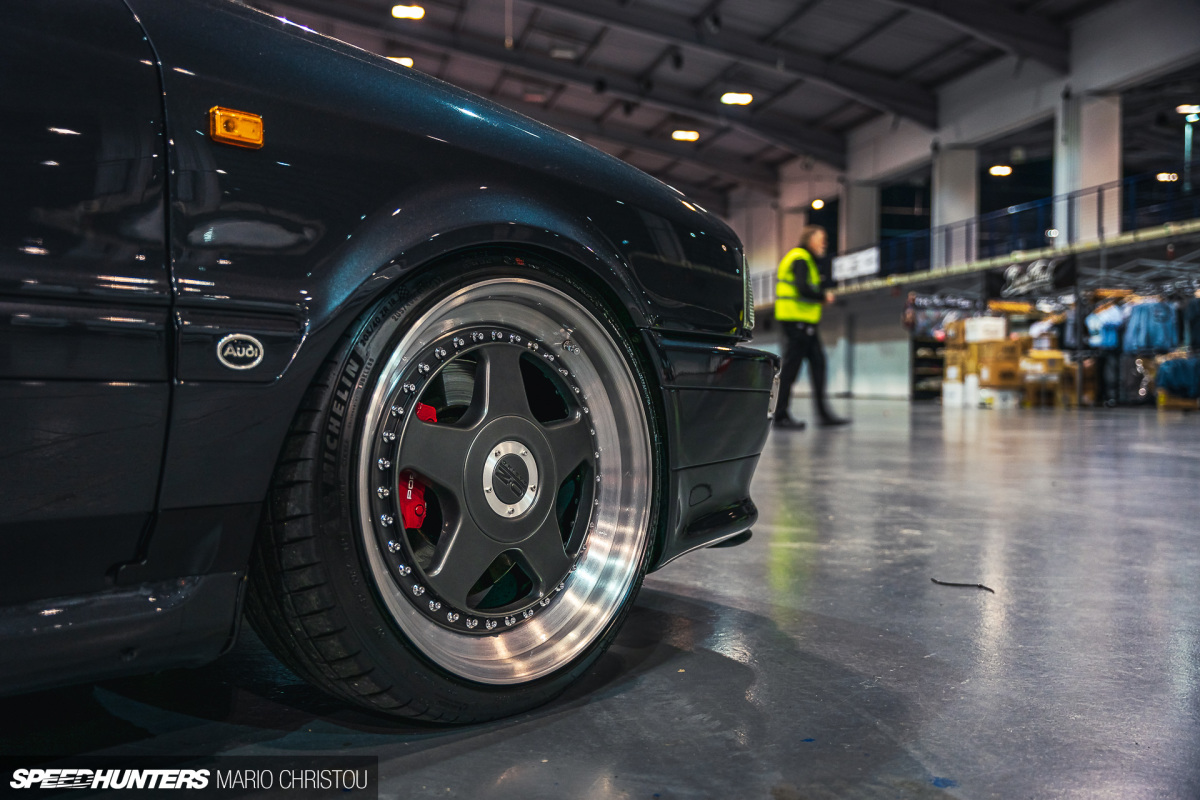 Let's start with those split rims: a classic set of OZ Futuras. (I spy a trend with this year's Ultimate Dubs spotlights…)
To most, a set of 18-inch Futuras is somewhat rare but nothing to write home about. In Charlie's case, however, he has taken a set of 17-inch wheels and stepped them up to 18×8.5-inch using new lips and barrels.
Why don't the wheels look stepped up though? Well, that would be because they have been converted from a 'sandwich' mount wheel to a 'face-mounted' wheel, meaning the lip and barrel now mount directly to the back of the wheel centre.
But why even bother? Because Charlie wasn't keen on the full lip being visible with the smaller 17-inch face. Face mounting the wheel centre in a dark satin grey hides almost two inches of brushed metal, bringing the wheels' proportions back into balance.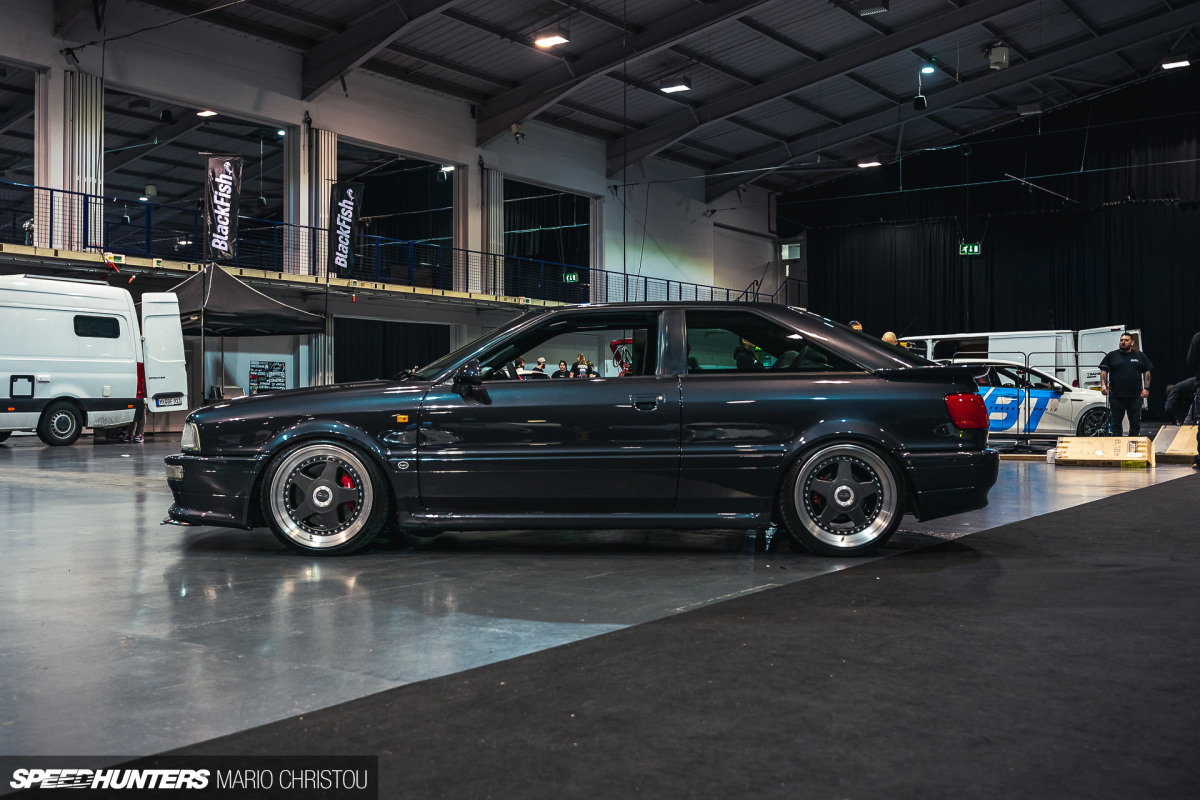 Behind the Futuras are Porsche 996 brake callipers for extra stopping power, while BC Racing coilovers and a suite of restored/uprated suspension arms, bushes and chassis components tighten up the handling of the nose-heavy coupé.
And it's a rather pretty coupé, isn't it? Even as an unconventionally shaped two-door car.
Being a retro five-cylinder Audi, you have an enormous front-overhang with a bluff nose. In this case, a nose with extra aggression thanks to a smoothed bumper, genuine Audi RS2 grille, custom S2 badge and a competition front lip.
Follow the sharp (for the '90s) shoulder line as your eyes make their way to the back of the S2 and you'll find a pair of abnormally smooth mirrors for such a square car. Well, as per the other nods to the Audi RS2, Charlie has opted for a set of teardrop-shaped mirrors, á la Porsche 964.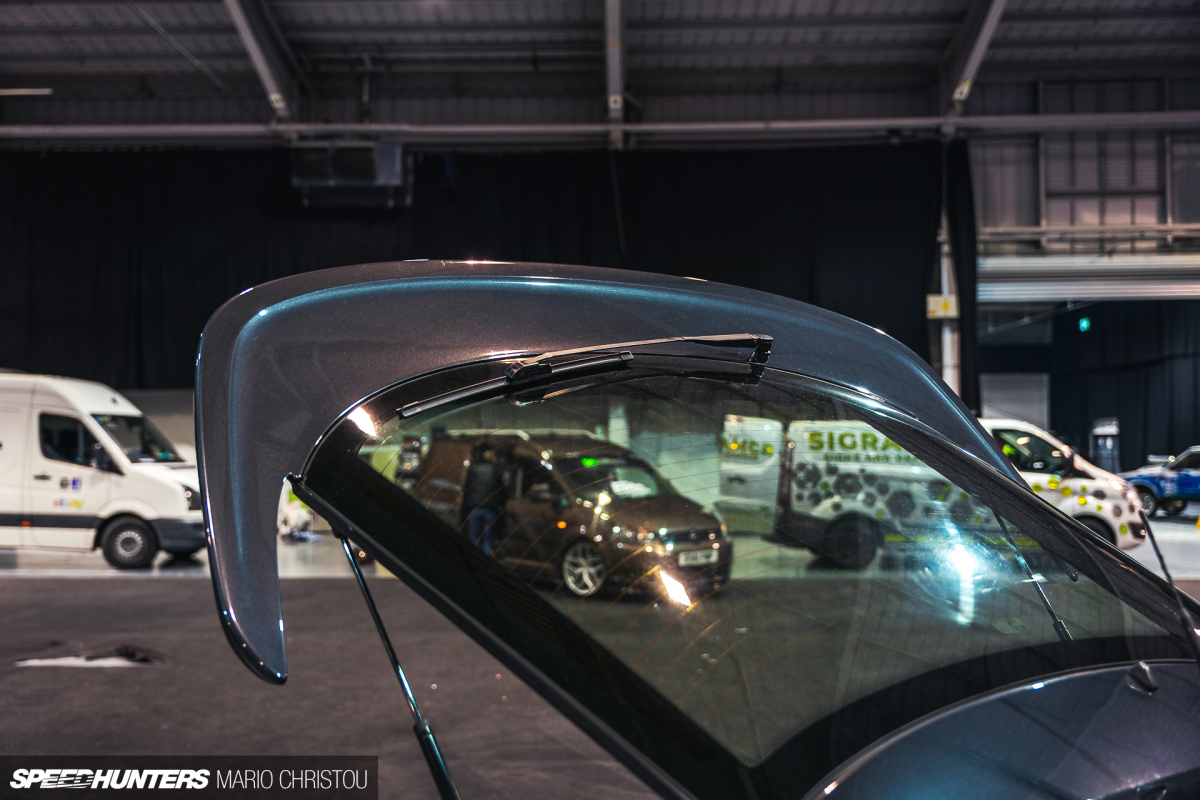 At the back is the epic wraparound rear lip spoiler, with a partial de-badge and stainless steel exhaust tips to tidy things up.
This exhaust isn't just for show, oh no. Thanks to an Audi RS2 turbo and exhaust manifold, larger intercooler, injectors a 3-inch valved turbo-back exhaust, this '90s executive express now puts down 375hp and 404ft-lb of torque.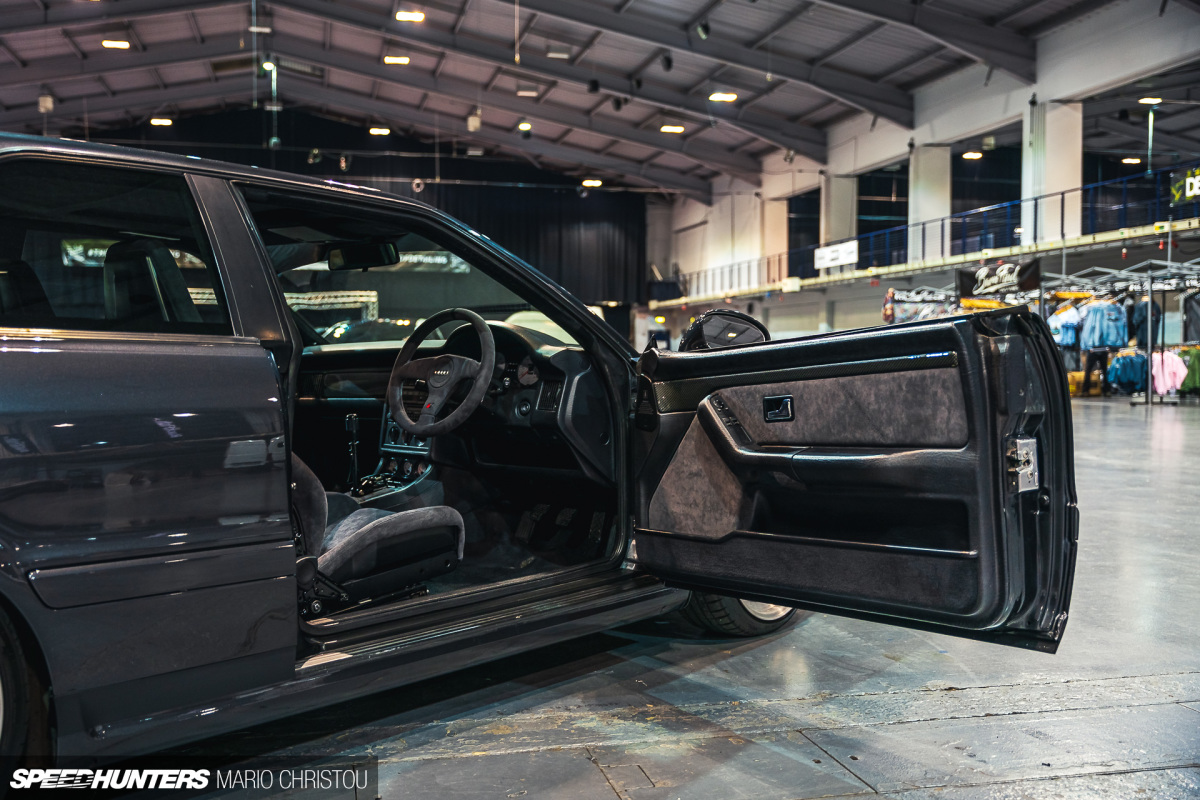 But even the punchy power figure with rare parts is overshadowed by the S2's interior.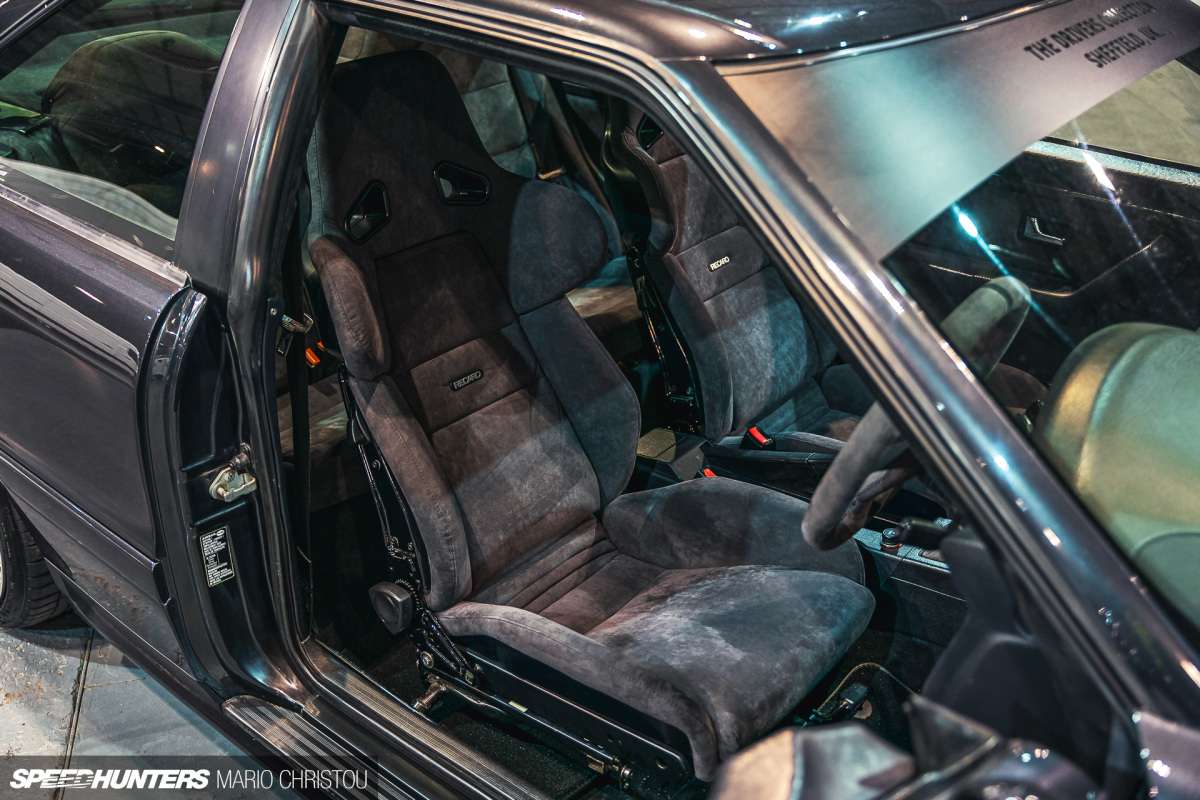 The grayscale colour palette makes them easy to overlook, but as a retro German tuning nerd a pair of period-correct Recaro A8s warm my heart.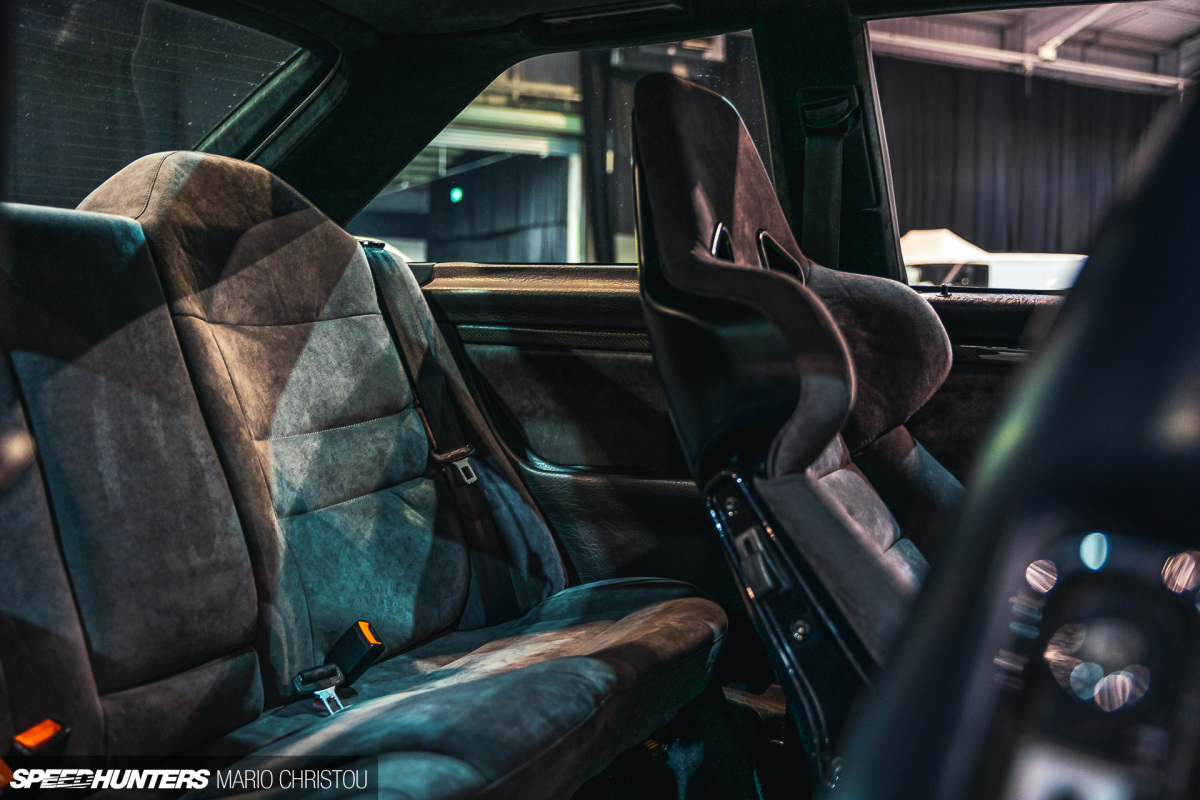 The stickler for detail in me is even more impressed by the extent of the re-trim, with almost every major interior element having been wrapped in grey or black Alcantara.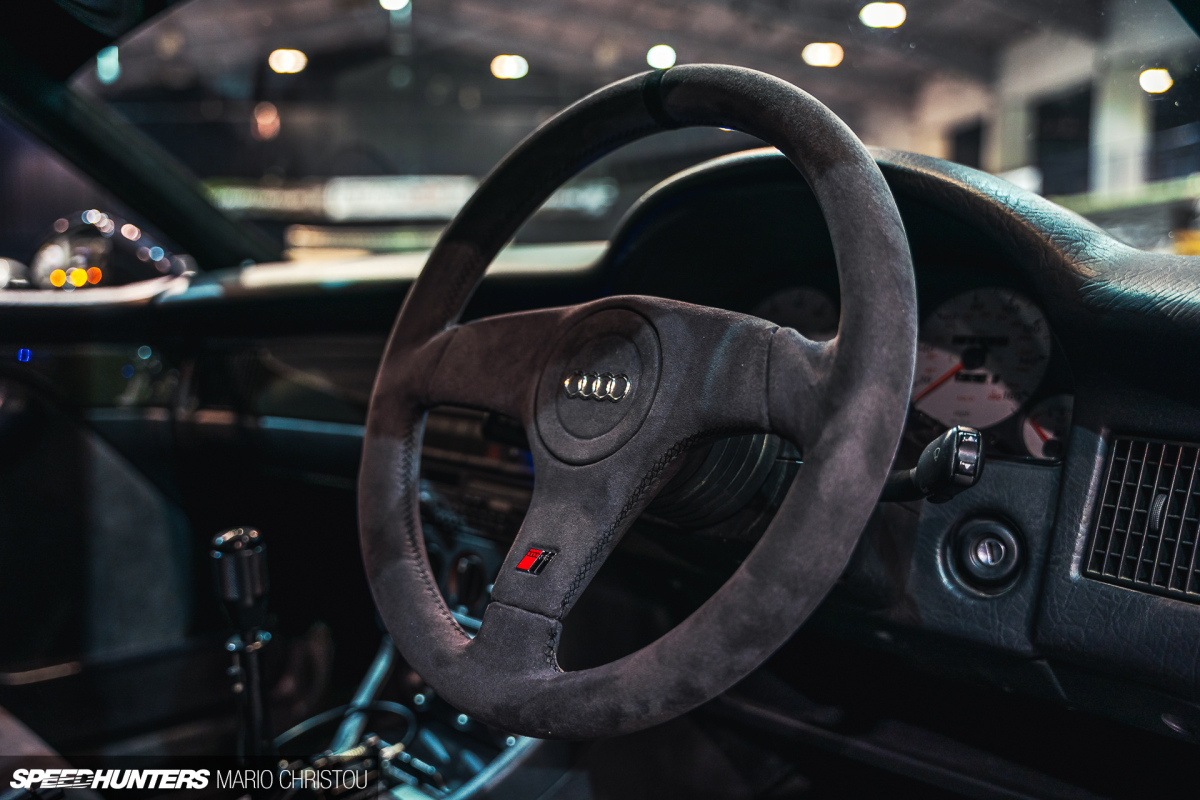 It's too easy to lose detail in such an interior, yet small touches such as the steering wheel 'lines', bright badges and glossy carbon fibre trim pieces contribute both a colour and textural contrast to the swathes of grainy Alcantara.
Black headlining, A/B/C pillars and boot trim are a surefire way of making sure you're not lost in a sea of grey upon very gently lowering yourself into the Recaros. They have a habit of cracking bolster frames with some ill-placed weight…
A Coolerworx tower shifter completes the interior, with custom gear linkage mating the shifter to the gearbox to shorten and tighten the gear changes. Charlie makes a point of the throw not having been shortened all that much upon first fitting, but with some fiddling and a custom-made trimmed panel the shifter now looks at home and feels sportier.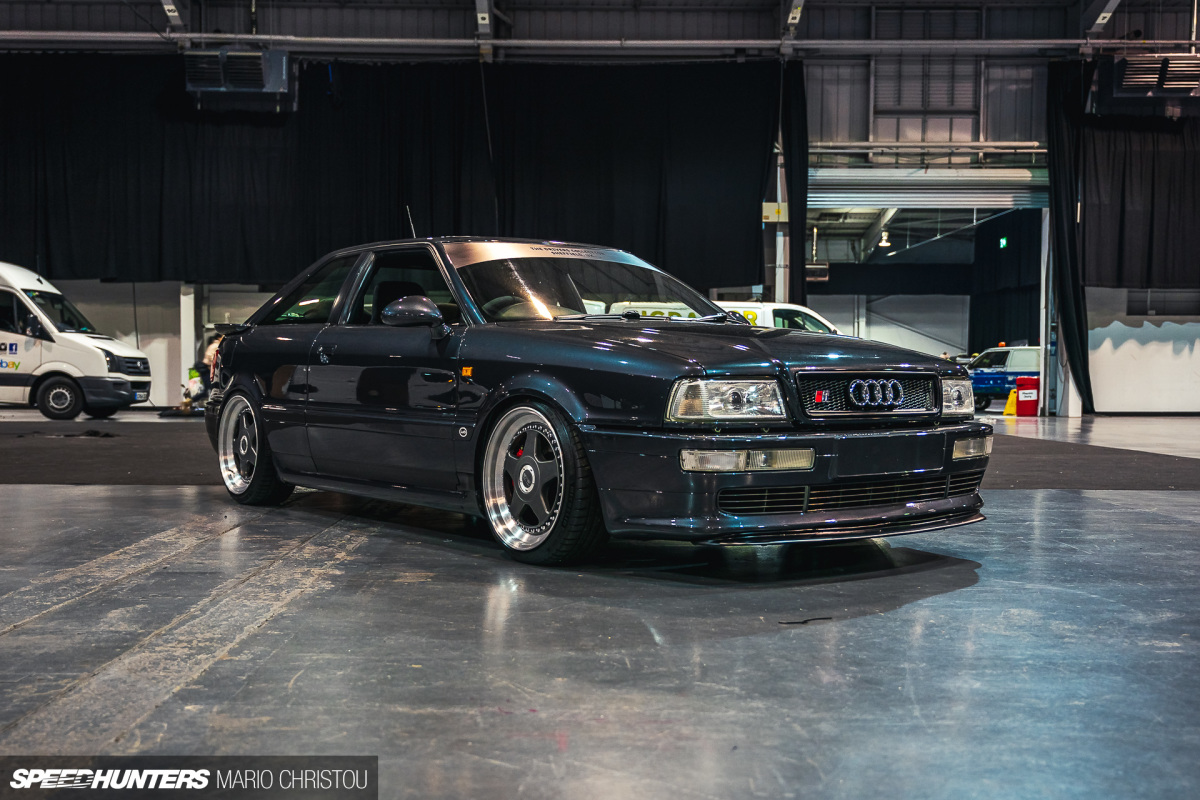 My favourite detail? The work that's gone into the wheels. Not the finish or proportions, but the safety of the build. OZ Futuras do not have enough 'inner flange' to seat both the lip and barrel safely when face mounting the centre. To do so is risking sheared perimeter bolts and potential disaster.
In Charlie's case, each wheel face was machined to accept press/bolt-in dowels, locating the face, lip and barrel safely and securely.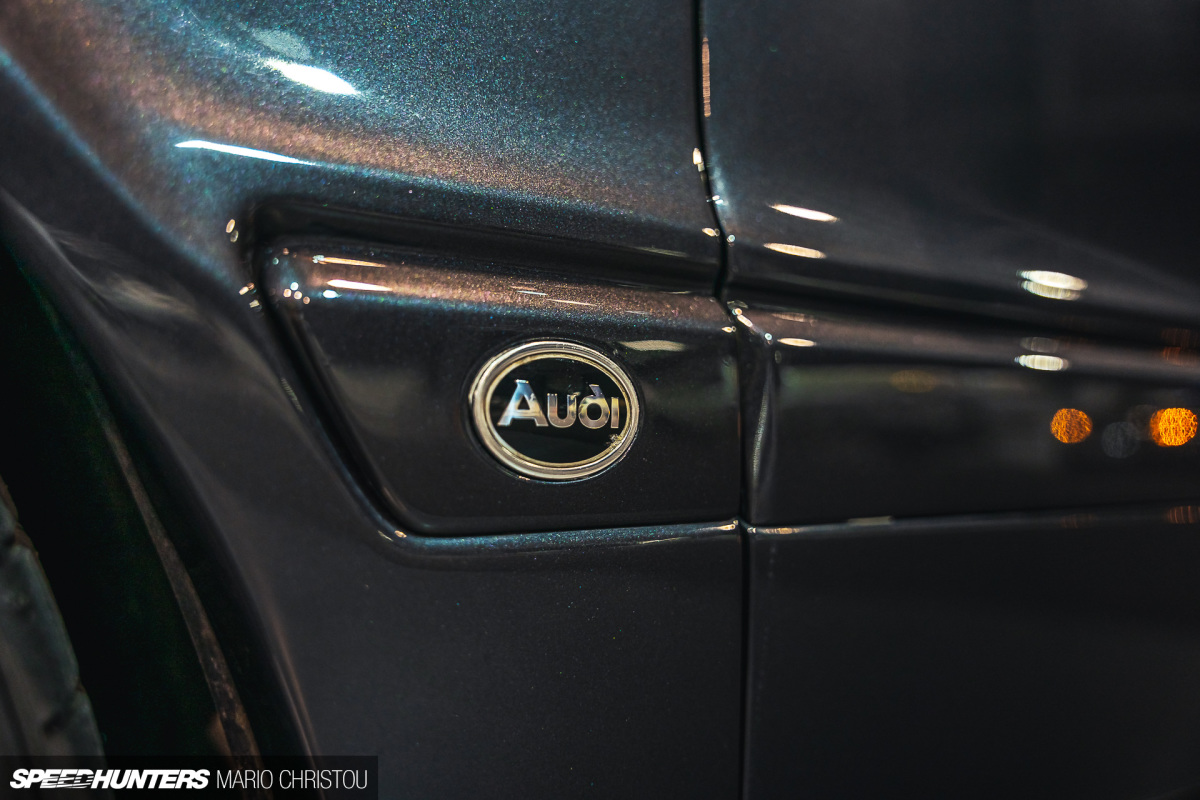 Charlie Williams' Audi S2 is exactly my definition of a 'second glance car.' Not only did it steal my attention at Ultimate Dubs, it has yet to give it back.
Mario Christou
Instagram: mcwpn