A new report titled "Ute Beauty! from the Climate Council has found that Australia's transition to clean transport is being heavily undermined by our obsession with dirty diesel utes.
The report says that emissions from light commercial vehicles, including utes, have jumped by around 20 percent in the past decade and new ute sales have risen from 16 percent of all new car sales in 2012, to 21 percent in the 12 months to October 2022 (over 217,000 utes).
The report also lists the emissions and fuel costs for Australia's top ten selling ute models. 50% of the top ten models have average tailpipe CO2 emissions of over 200g/km while the Toyota Landcruiser ute and Ram pickup are as high as 280g/km.
For contrast, the European vehicle emission standards for passenger cars is 95 g/km while the limit for commercial vans is 147 g/km. Some of the utes mentioned in the Australia report have emissions more than 50 per cent higher that those standards.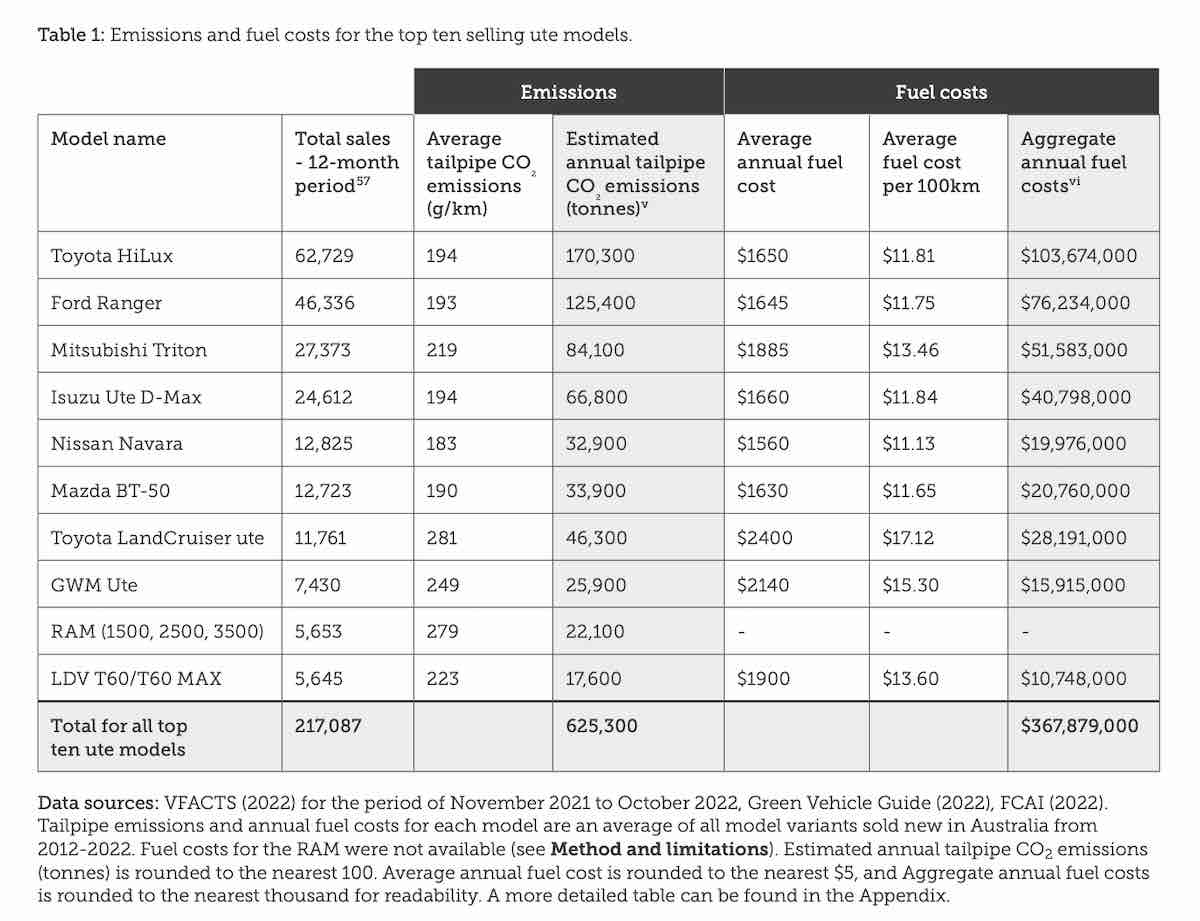 The report has four key findings.
To get to net zero, the way we get around in Australia needs to change
In Australia, ute sales are growing and the most popular vehicles are also among the worst performing, and most polluting. This isn't sustainable.
Electric utes are on the horizon and we can hasten their arrival with strong fuel efficiency standards.
Lower-emissions options are available now while we wait for electric utes to become more widely available, and more affordable.
While the Climate Council is suggesting people move to "lower-emission" options the fact is we really need to stop the sale of petrol and diesel utes altogether.
People should be encouraged to go electric even if that means the vehicle isn't a ute. The "lower-emissions" options still produce a huge amount of emissions and contribute to air pollution in our cities. A better option for people who don't really need a ute for work is to advocate buying an electric vehicle for their regular car and just rent a ute when they need one.
The report also lists out EV utes and pickup trucks that will become available over the coming years.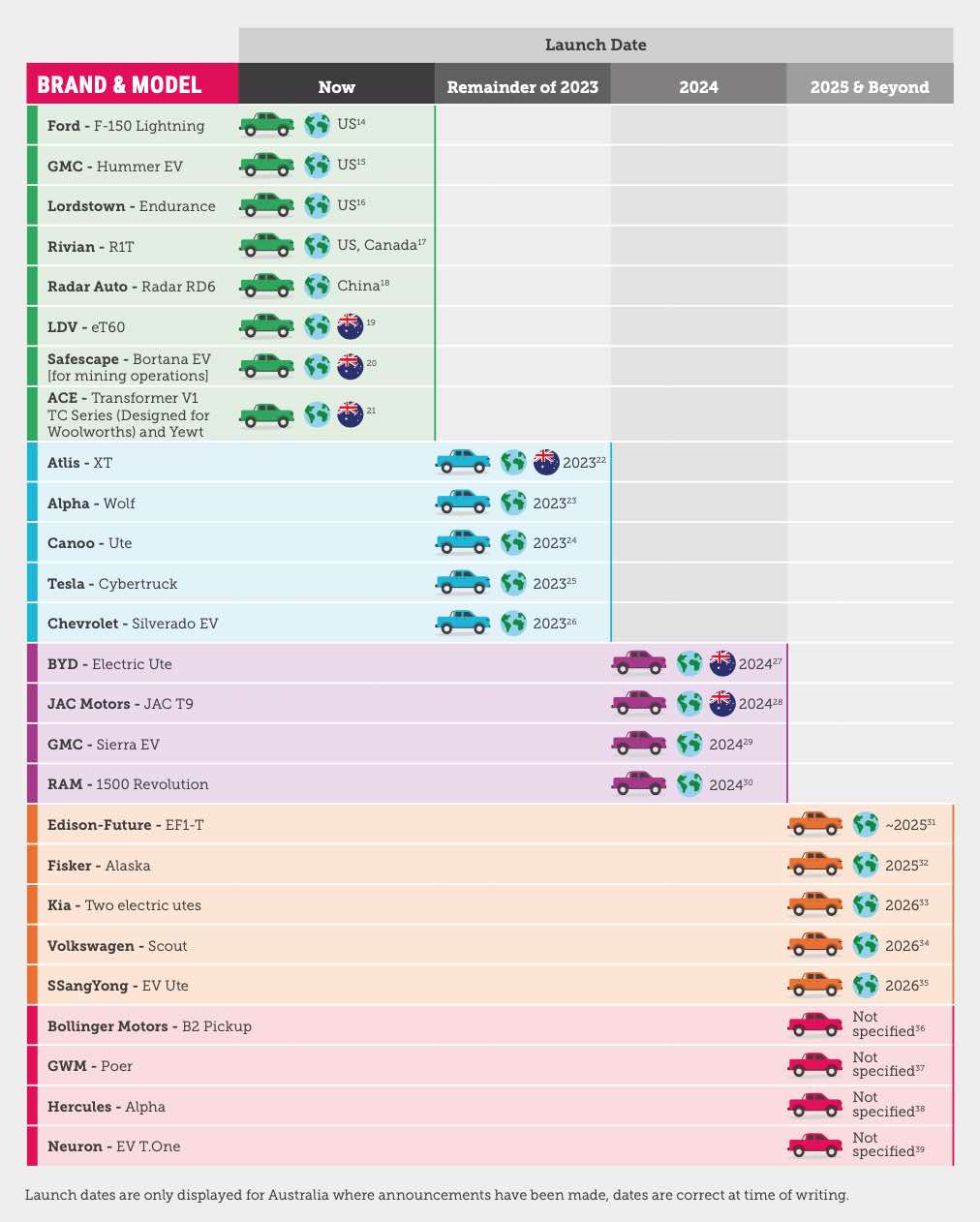 The report says that councils are already exploring cleaner utes to reduce their carbon footprint.
"We need to be at the forefront of the electrification journey and guide the fleet industry's direction within local government." said Gladstone Mayor Matt Burnett.
"We don't want to be left with a fleet of internal combustion engine (ICE) vehicles in a market that only wants electric vehicles (EVs) or hybrid vehicles.
"That is a real risk to the business. Further, it's our responsibility to do what we can to reduce our carbon footprint today. We cannot wait until the transition has already happened and then play catch-up on these fronts."
Climate Council says strong fuel efficiency standards are key
The report says electric utes and vans are projected to make up more than half of light commercial vehicle sales in Australia by 2030 but given the closing window to avoid locking in harmful climate change, the sooner the transition the better.
The Climate Council says countries that have strong fuel efficiency standards already have a growing range of electric utes and if we follow with strong standards of our own we'll see a faster uptake of electric utes here too.
The report says that transport accounts for 19 percent of Australia's greenhouse gas emissions, and is the third largest source of emissions behind only electricity and stationary energy. While many other sectors have begun a necessary decline in emissions, personal transport is one of Australia's fastest growing sources.
It's not just about EVs
But the Climate Council also points out that decarbonising personal transport involves more than simply swapping petrol cars for EVs. "We need to shift the focus of transportation away from being dominated by private cars altogether" says the report.
"Increased uptake of active and public transport is the best option for reducing emissions, and it's better for our health, hip pockets and liveable cities too."

Daniel Bleakley is a clean technology researcher and advocate with a background in engineering and business. He has a strong interest in electric vehicles, renewable energy, manufacturing and public policy.