They say you can never really go back, even when your memories are coloured by your circumstances. Genuinely revisiting your past is impossible, or at least it is a reflection warped by experience.
For me in the car world, my past is the air-cooled VW scene. Whilst I've been around older cars since I was a child, the first 'scene' I was really involved with was centred around Volkswagens.
I had a 1972 VW bay window van, back when such things could be picked up for a little over a £1,000. For someone without a garage or much mechanical inclination it was probably a poor choice, but I got to feel part of a scene.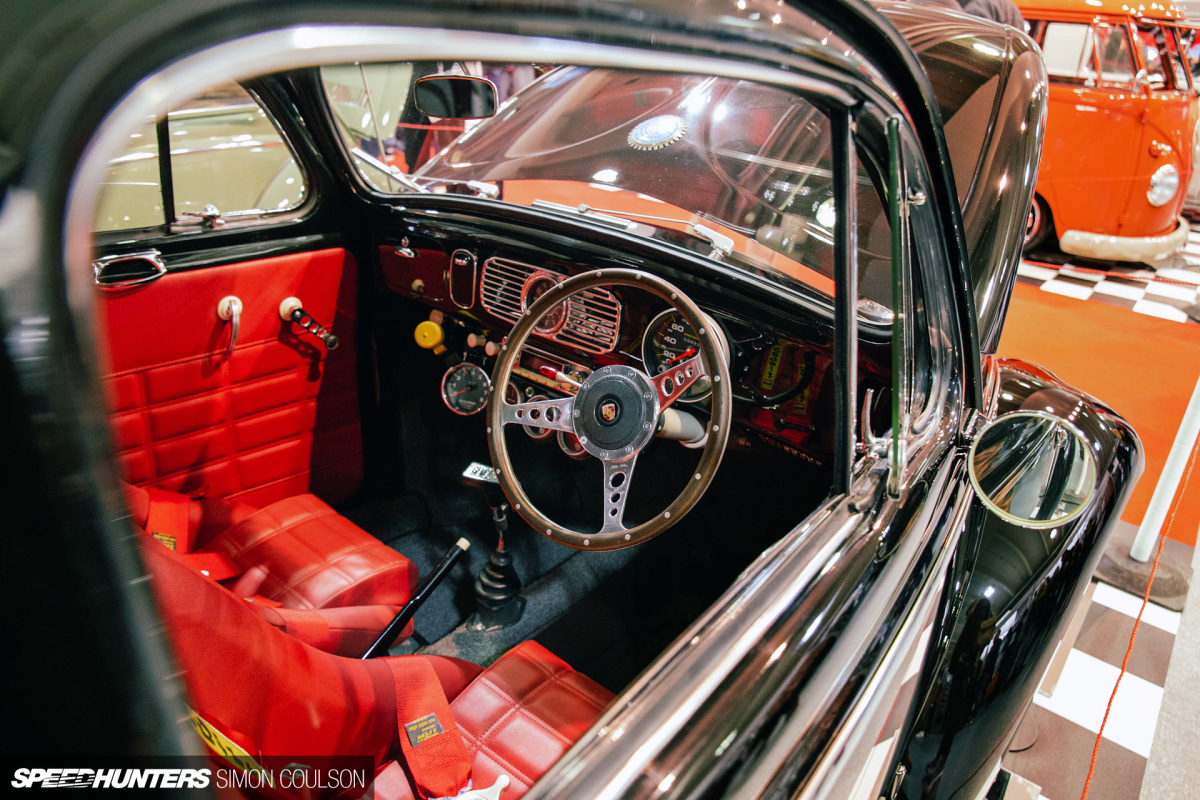 At the same time, my wife had a 1966 Beetle on twin Webers as her daily driver. We were living the dream. By which I mean we had two totally inappropriate cars we used daily, that were a total nightmare when they went wrong. Which they did with incredible regularity.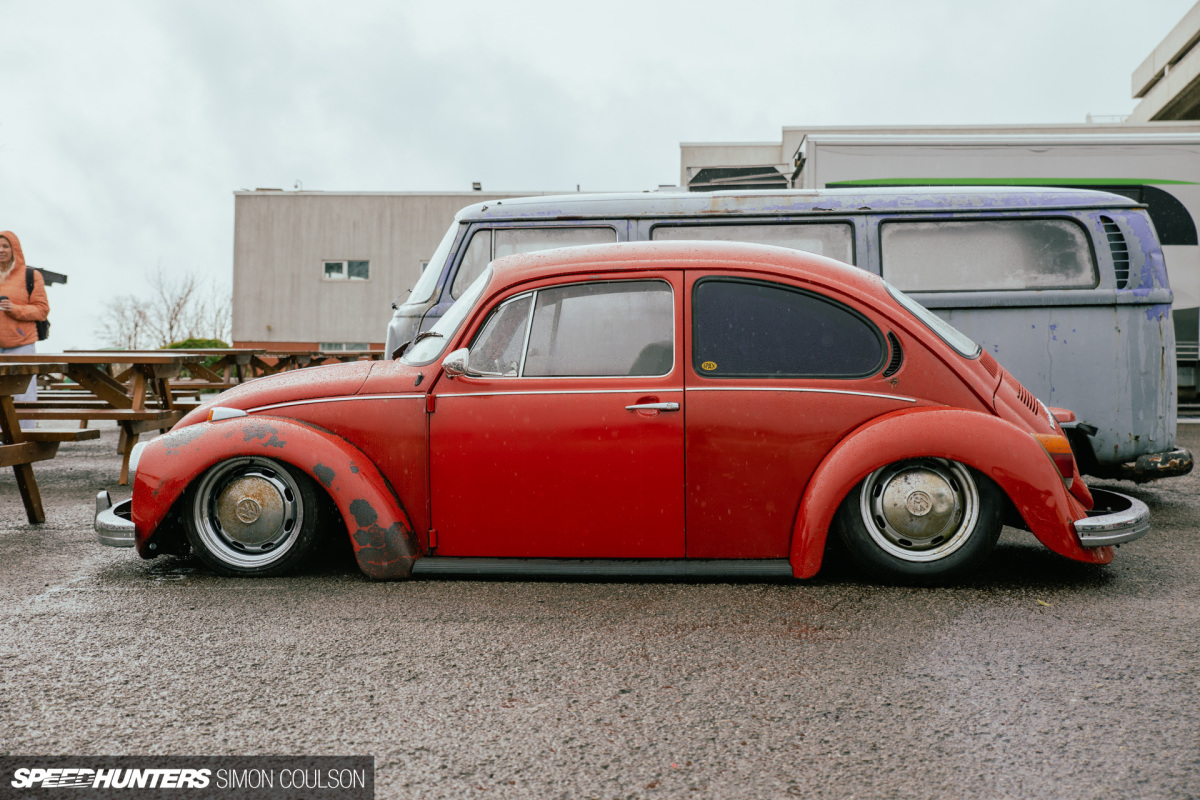 That is the reason the VW love affair ended. Our local garage saw us coming and we were naive enough not to realise how badly we were regularly being ripped off. This is my memory of air-cooled Volkswagen ownership, the lens through which I still view it.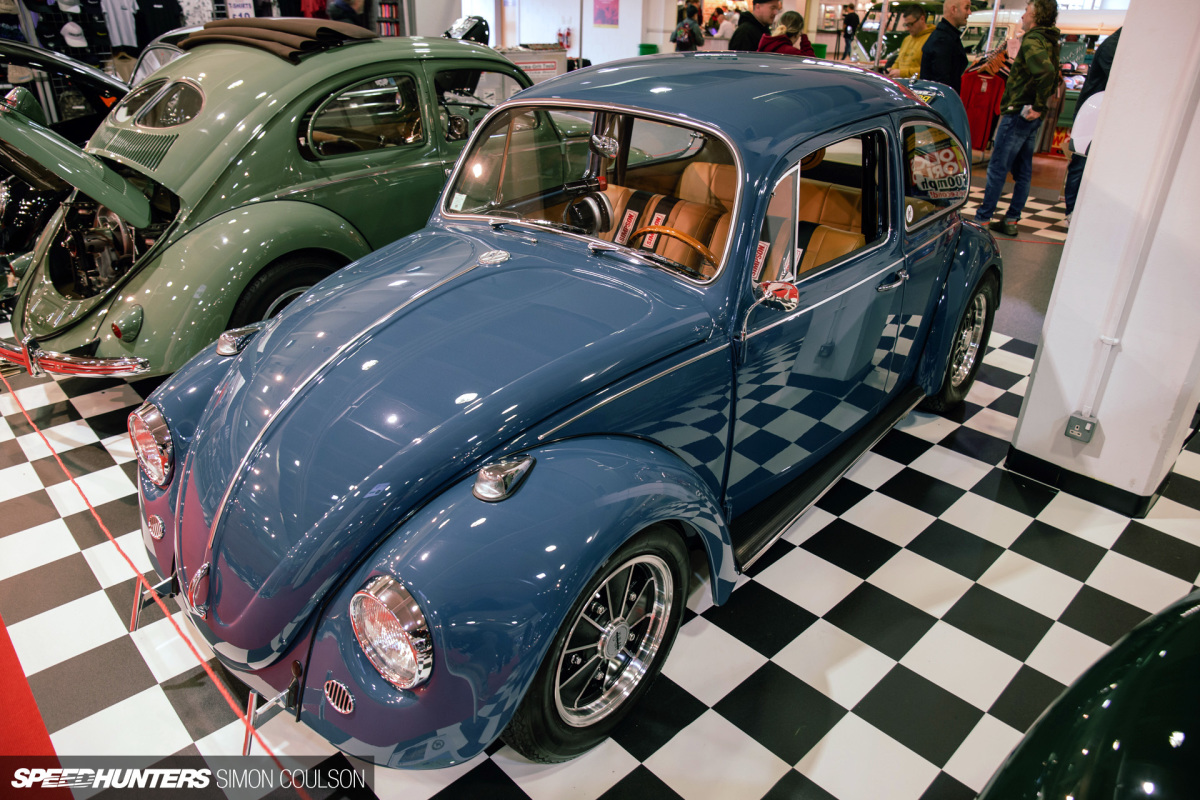 On the flip side, my local VW club was full of lovely people. They ran a local show which I did photography for at least once, back when it was all film and slides. It was relatively early days for car enthusiasts on the internet, but there were a few thriving forums which really made you feel you were part of something.
Then there was the magazines, or should I say the magazine: VolksWorld. The monthly bible of all things happening in the VW scene, the finest feature cars, events listings, tech features and for sale ads to pore over.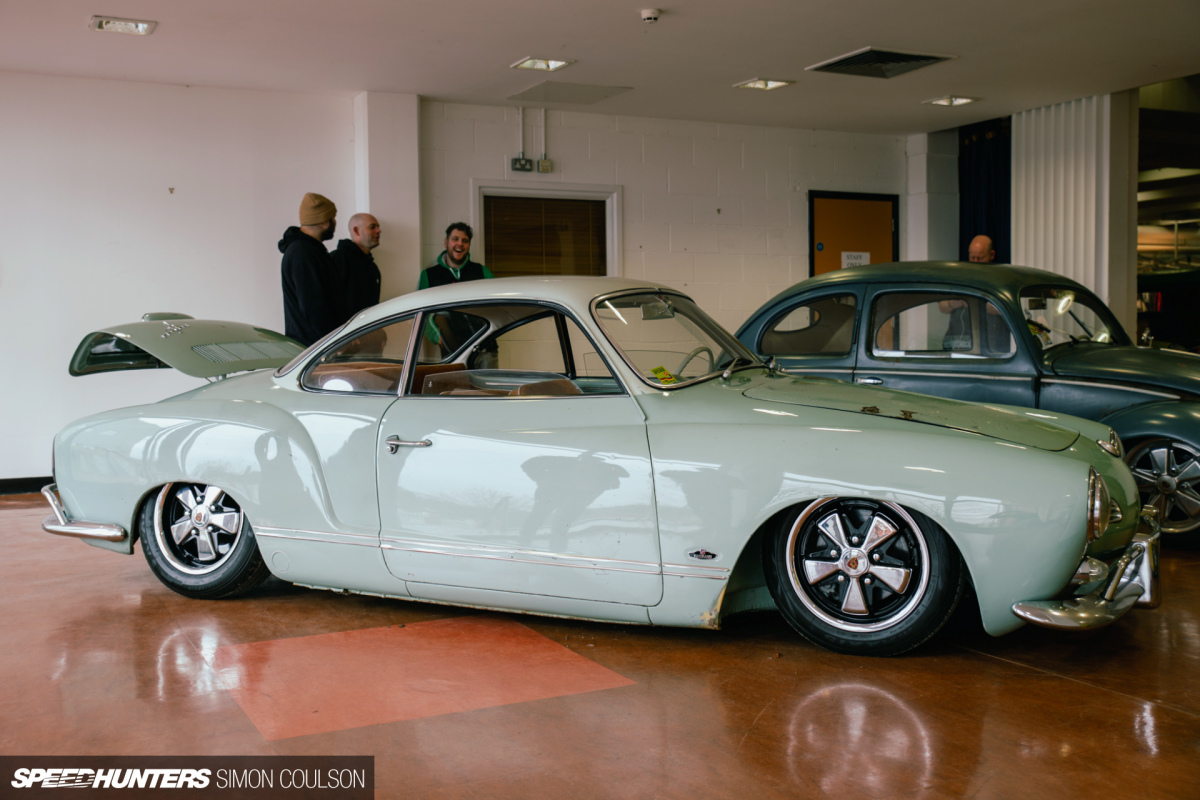 The crown jewel in the VW show calendar – at least for those of us who wanted to see the best of the best show cars – was VolksWorld, held at Sandown Race Course in Esher. I made the trip to the show twice in the period when I had my VWs, and each time I was blown away with the quality and innovation. It was an era when the cars were still affordable and the dedication to quality, and competition to be the best, was high.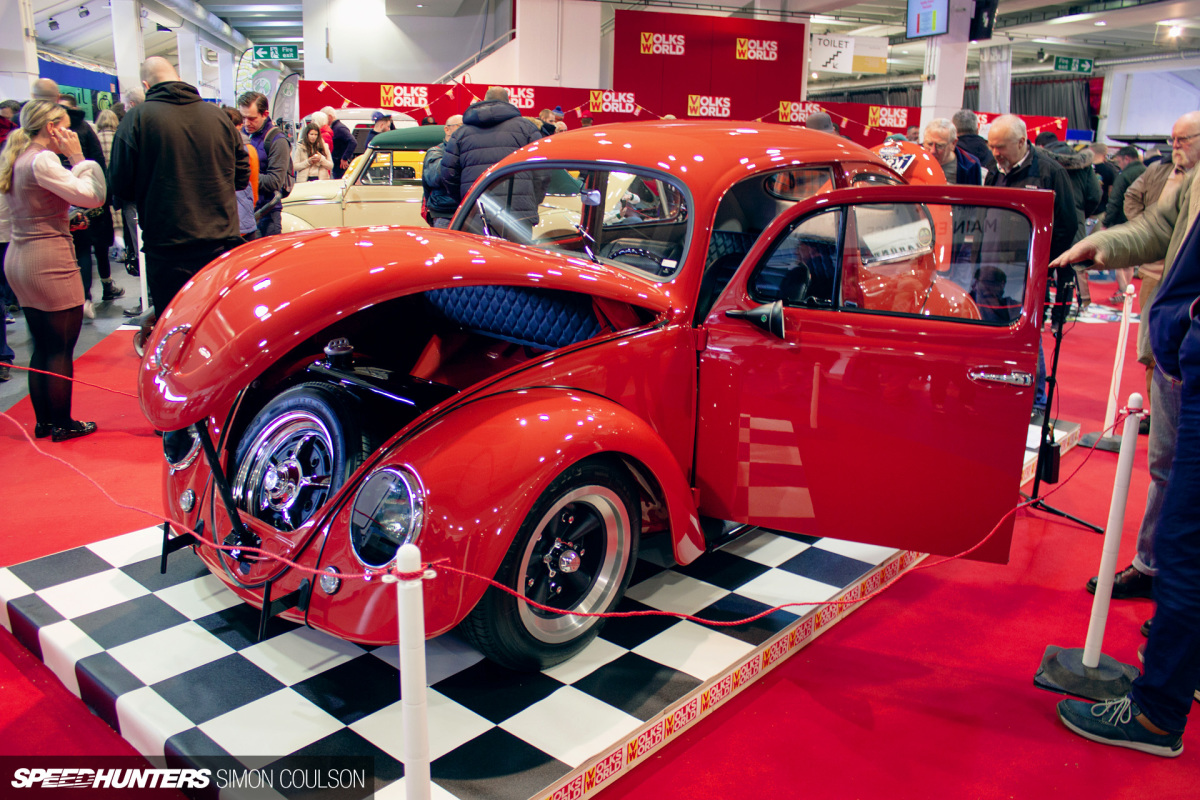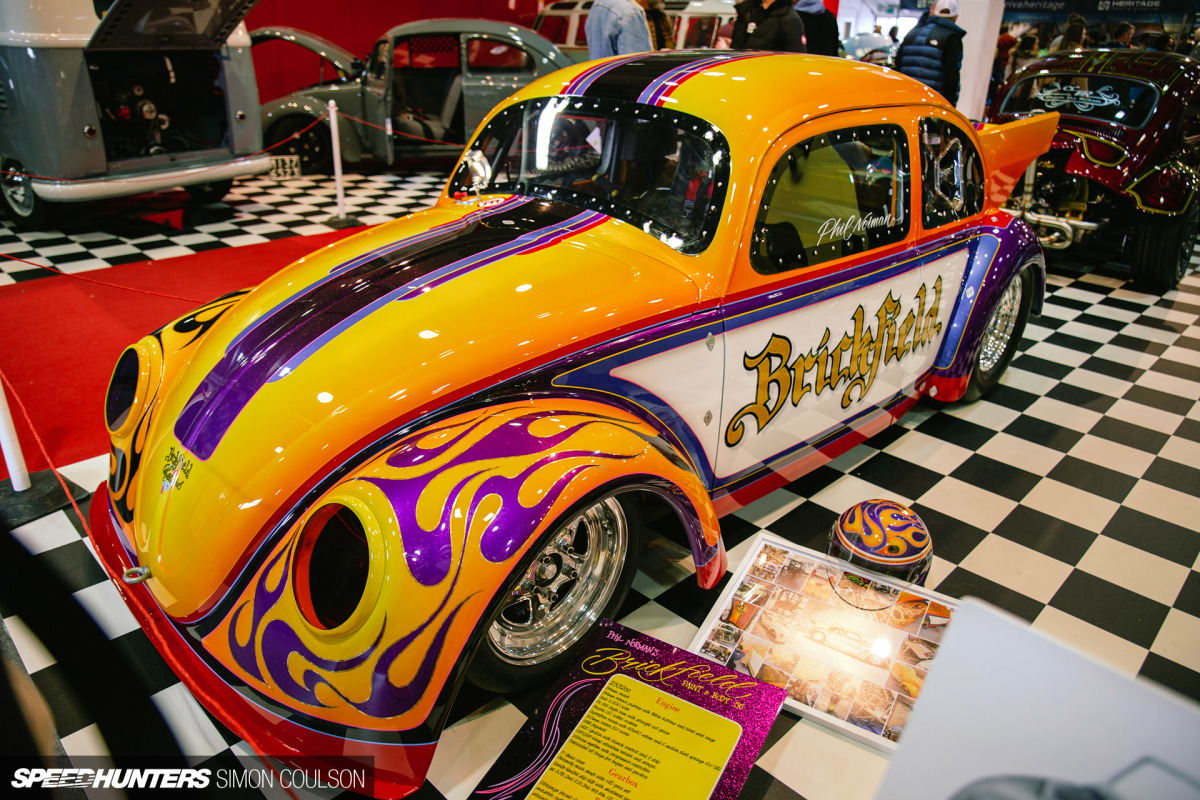 Cutting up and doing wild things with these cars didn't feel like sacrilege. Or at least didn't feel like you'd just removed all value from a car, because they didn't have that much to start with. The competition high water mark for me during this period was Brian Burrows' VW Type 3 Squareback, powered by Porsche 993 GT2 running gear. It remains one of my favourite modified cars of all time. That car debuted in 2004, just as I was starting to break away from the VW scene. We'd sold the Beetle, my camper van was on borrowed time, and I eventually gave it to my dad who fancied it as a project.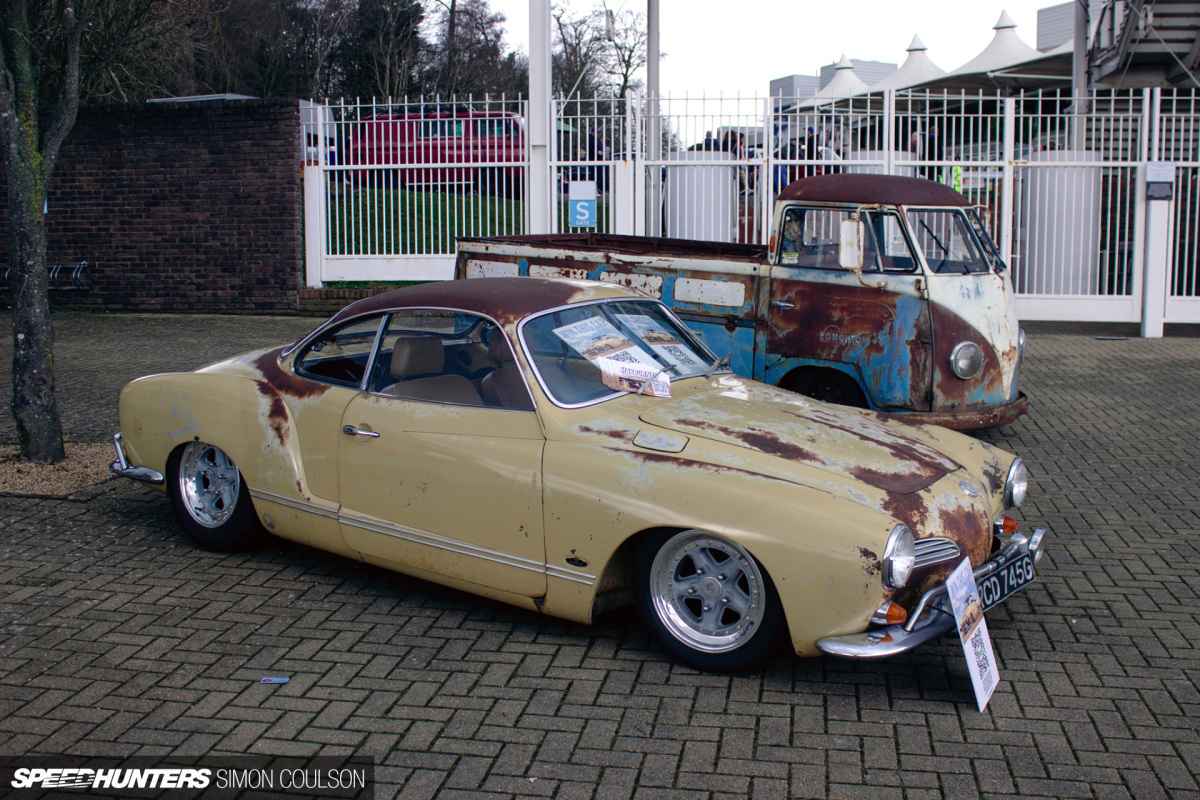 In parallel to this, the nascent retro scene was starting to find legs and I started a forum about older cars that encompassed more than just VW. Simultaneously, VadGTi was posting pictures from Daikoku Futo on VWVortex and exposing the world of shakotan cars to an international audience in a way that hadn't really happened before. The horizon suddenly got broader and we found our home on Retro Rides to feed each other's desire to talk and discover these things.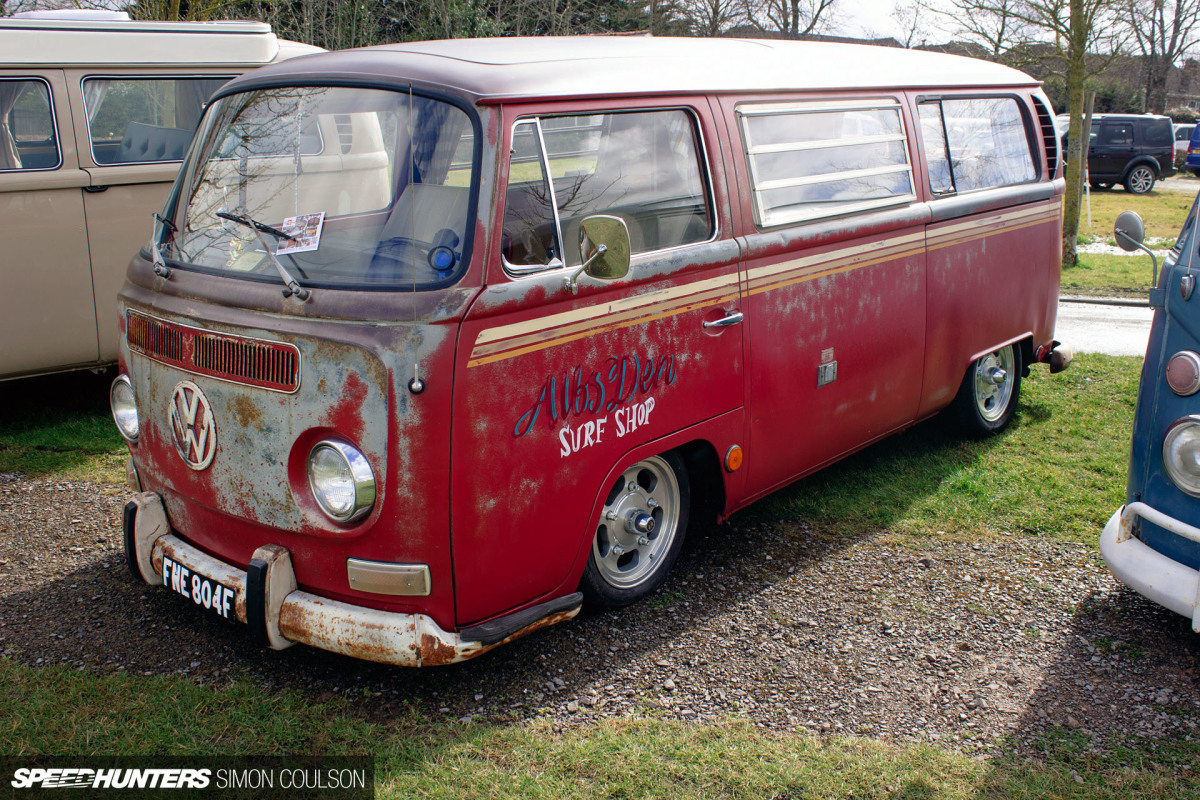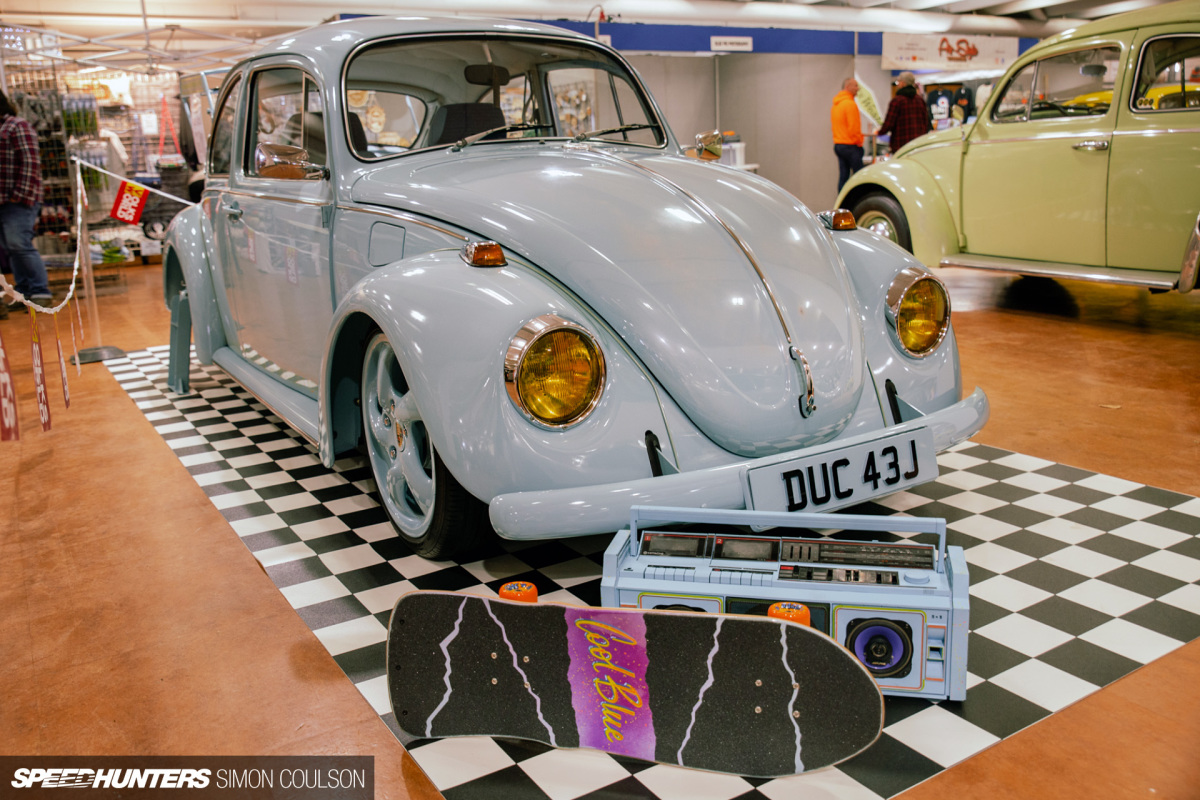 Being introduced for the first time to the existence of Berg Cup cars, Gatebil, VIP, the Australian scene, the wider international scene, drifting, and moving deeper and deeper in to Japanese car culture, all of which meant the air-cooled VW scene receded for me. Our new scene was a melting pot of all that we had come from: VW, Mini, Ford, British Leyland, Italian stuff, Scandi stuff, all of that mixing and pull in these new revelations from the outside. Stir it all together and, whilst it was still enjoyable, the VW scene seemed quite small and parochial.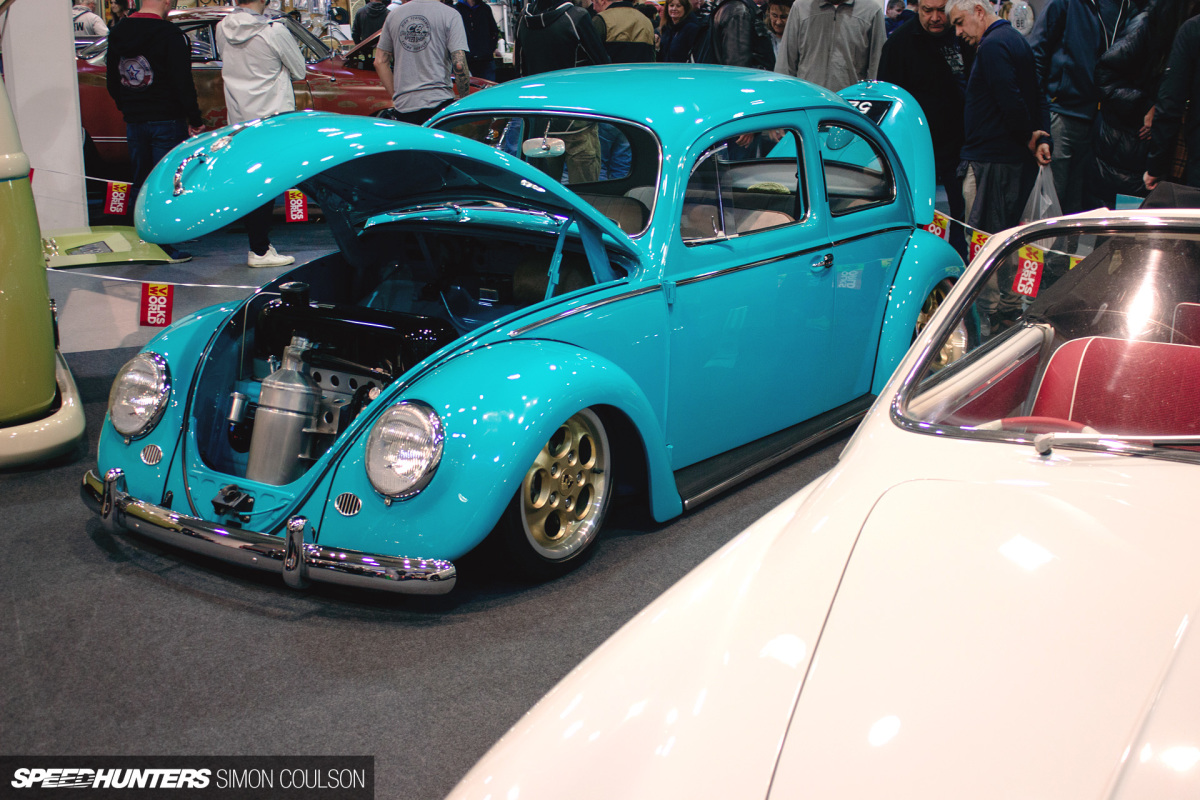 I did return to VolksWorld during this period, but it wasn't the epic pilgrimage it had once been. With my new eyes and awareness of what was possible the show felt very insular, very unimaginative. In fact, I had probably gone at the worst time, as prices had started to go up. Type2s in particular were becoming eye-wateringly expensive. The scene seemed to be coming down from the creative epoch it had reached in the early 2000s and arrived at a place where just about everything was a Cal looker of some kind, or a what I like to call a Jamie Oliver van. These are very nicely turned out, two-tone vans, tastefully lowered, not too much though, usually over Fuch rims, probably with a roof rack and white or cream interior. The quality was second to none; everyone building and owning was clearly coming from a place of love, but it wasn't for me. Not anymore.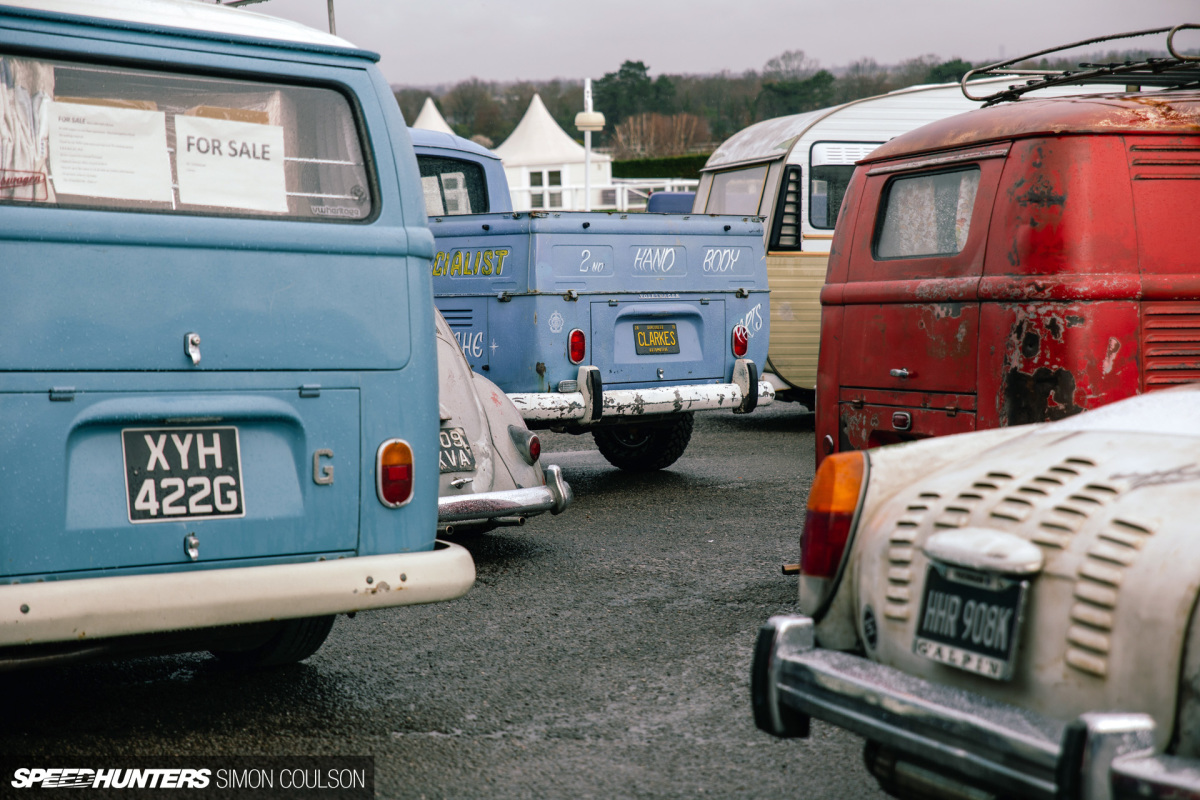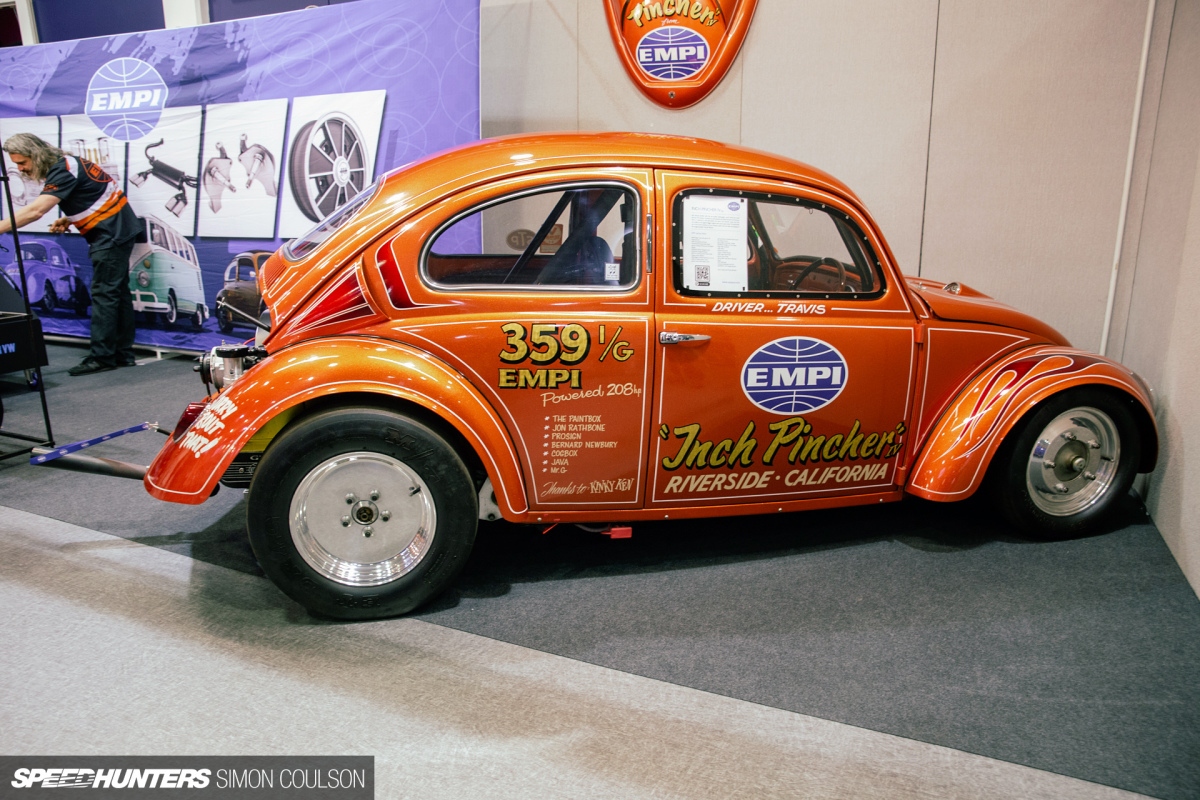 Now here we are at VolksWorld 2023. I'm still doing the retro thing, which has gone from strength to strength. The period of discovery and exploration has flowered in to the broad church that will take everything from a pre-war racer to a VIP Toyota Crown to its heart and love them equally.
One make, static shows are very much the antithesis of what Retro Rides is about, but even so I was drawn back to VolksWorld. If I was going to see the best of what the current air-cooled VW scene had to offer, this is where I was going to find it.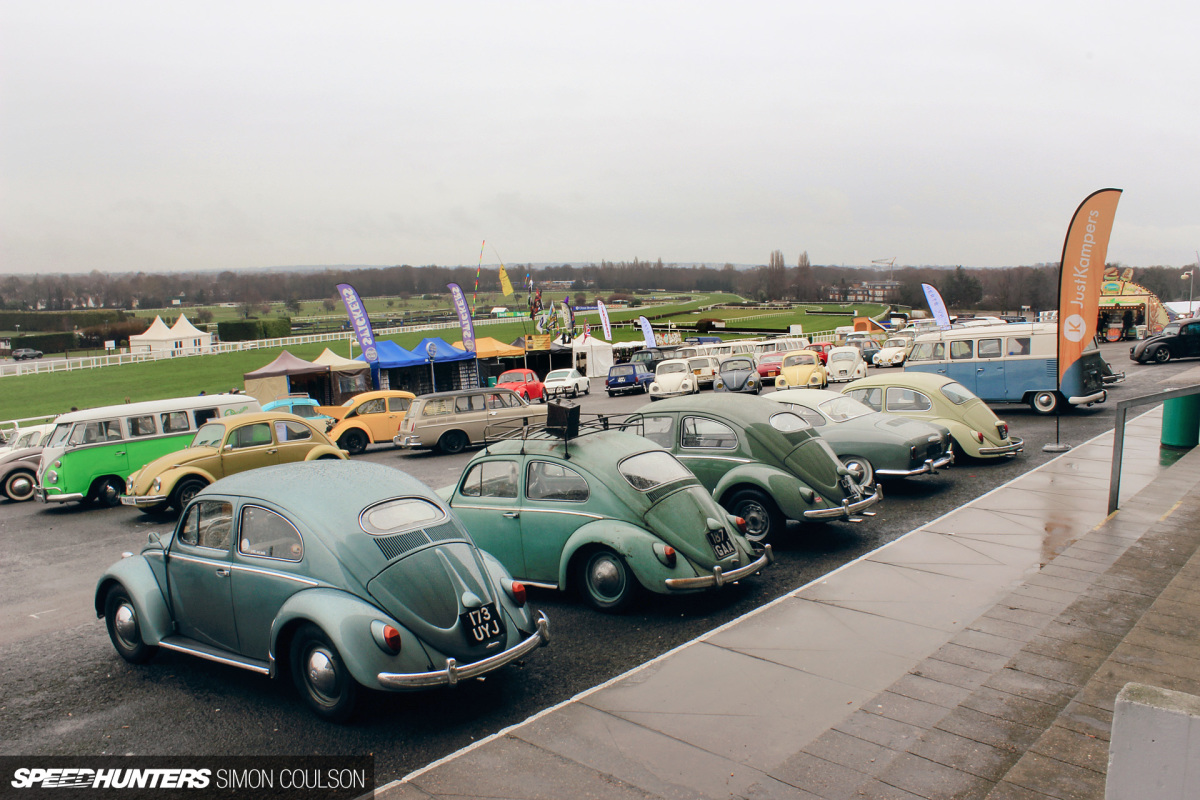 The VW scene has ended up in an interesting place. Whilst the prices certainly haven't come down for a good split screen, it has moved through the tick-box exercise and into a place more akin to the world of high value restomods.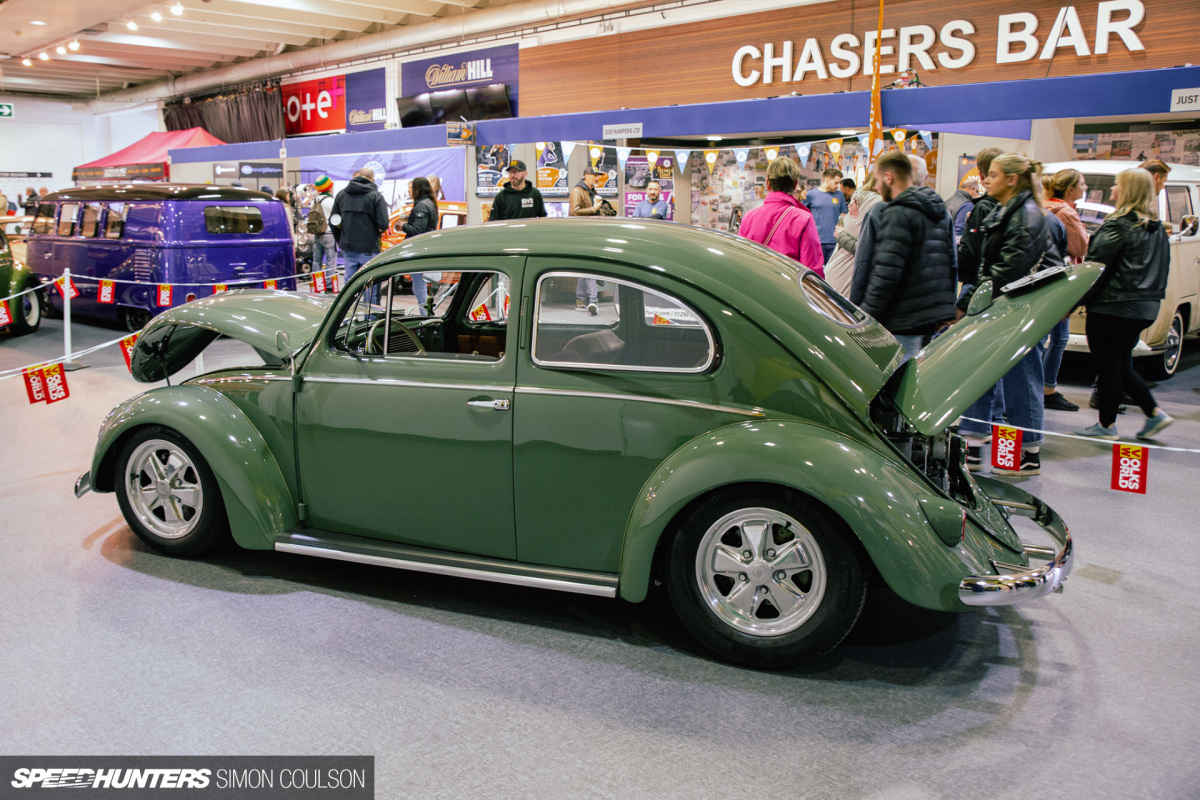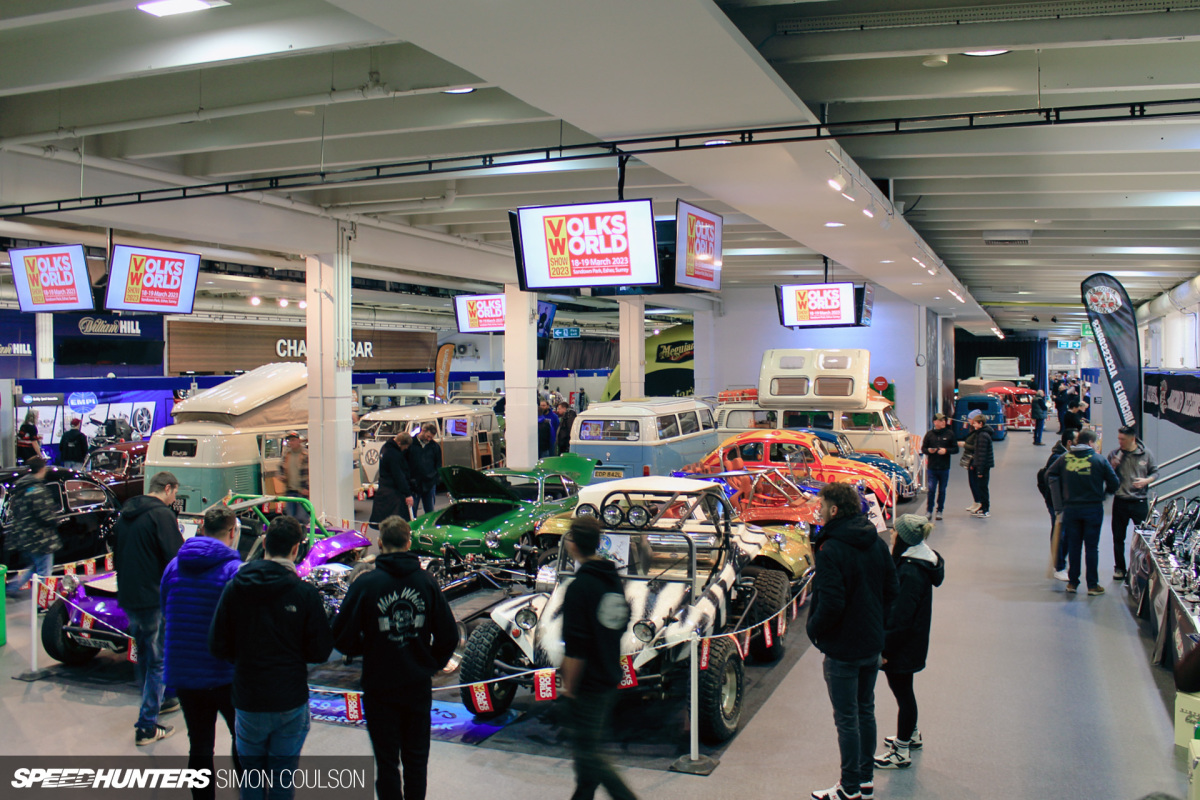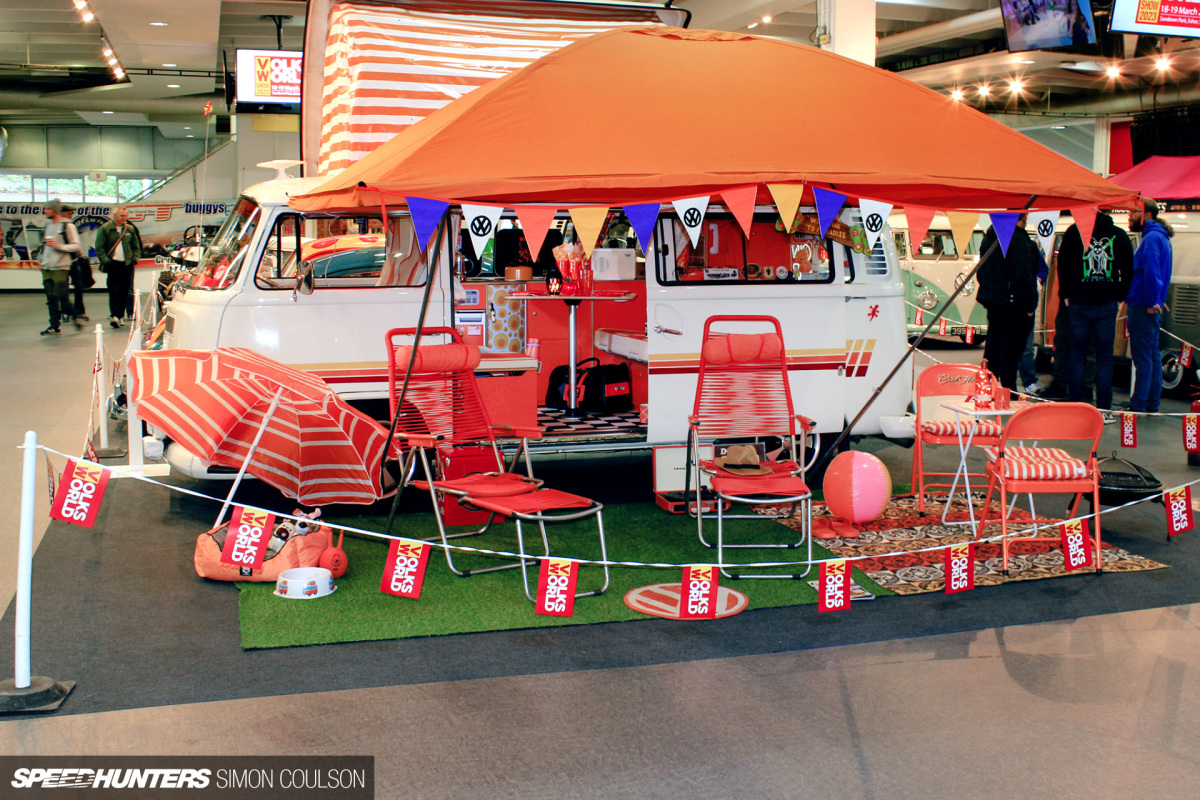 The vans inside were all very individual in approach, made with the excellence I'd been expecting, but an individuality that had been missing last time I was there. At this point in the history of the VW world it is all in the details, the interior trim, the carpet, a very early steering wheel here, unusual frameless windscreen pop-outs there (a key pointer to what my erstwhile photographer Simon has coined the "margate look"). Or it is about the absolutely radical, a wild Baja with modern wheels and lowrider-esque paint, tube-framed race cars with show car quality finish, or a Škoda Octavia body on a Beetle floorpan built to perfection.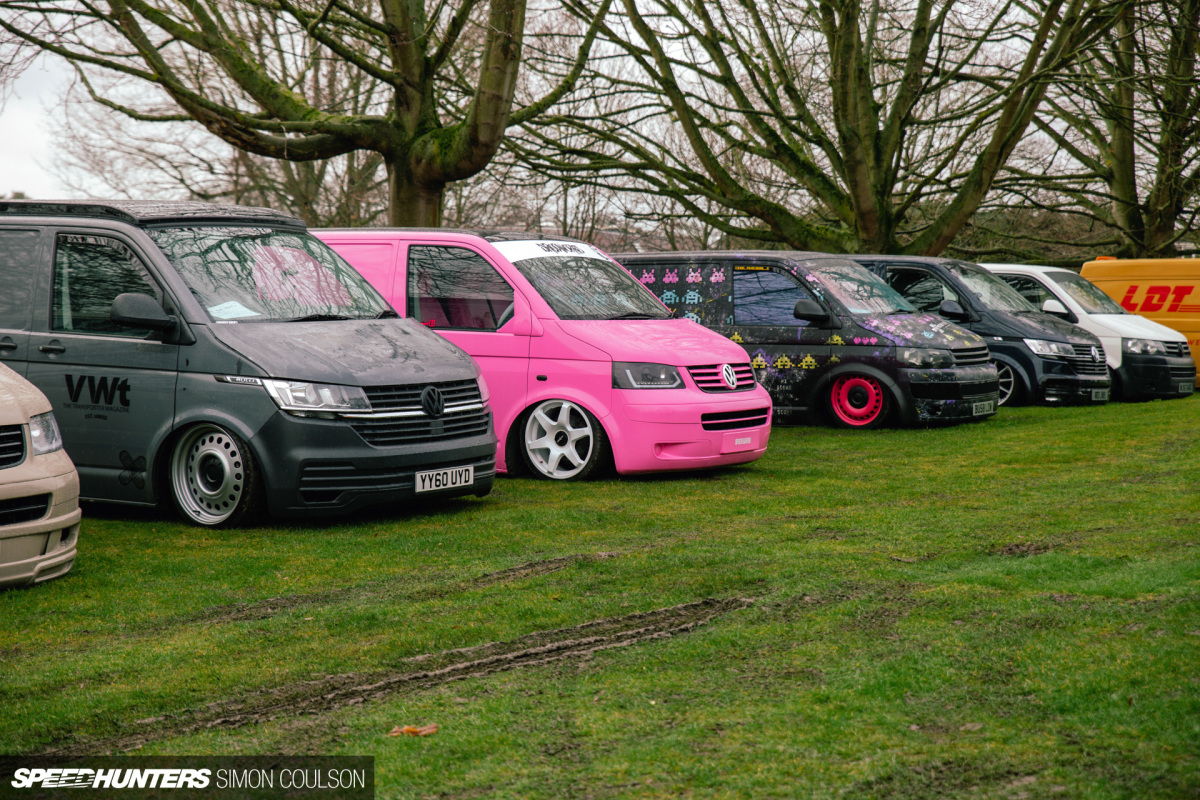 Sneaking in with all the air-cooled goodness were a range of more modern vans outside. As splitties and bays became more valuable, coupled with the realisation that they really aren't very good as campers, people started to move on to more modern stuff. T4 and T5s seem to be an accepted modern water-cooled alternative now, with a good showing here. Maybe a sign of a scene expanding and embracing an inevitable future.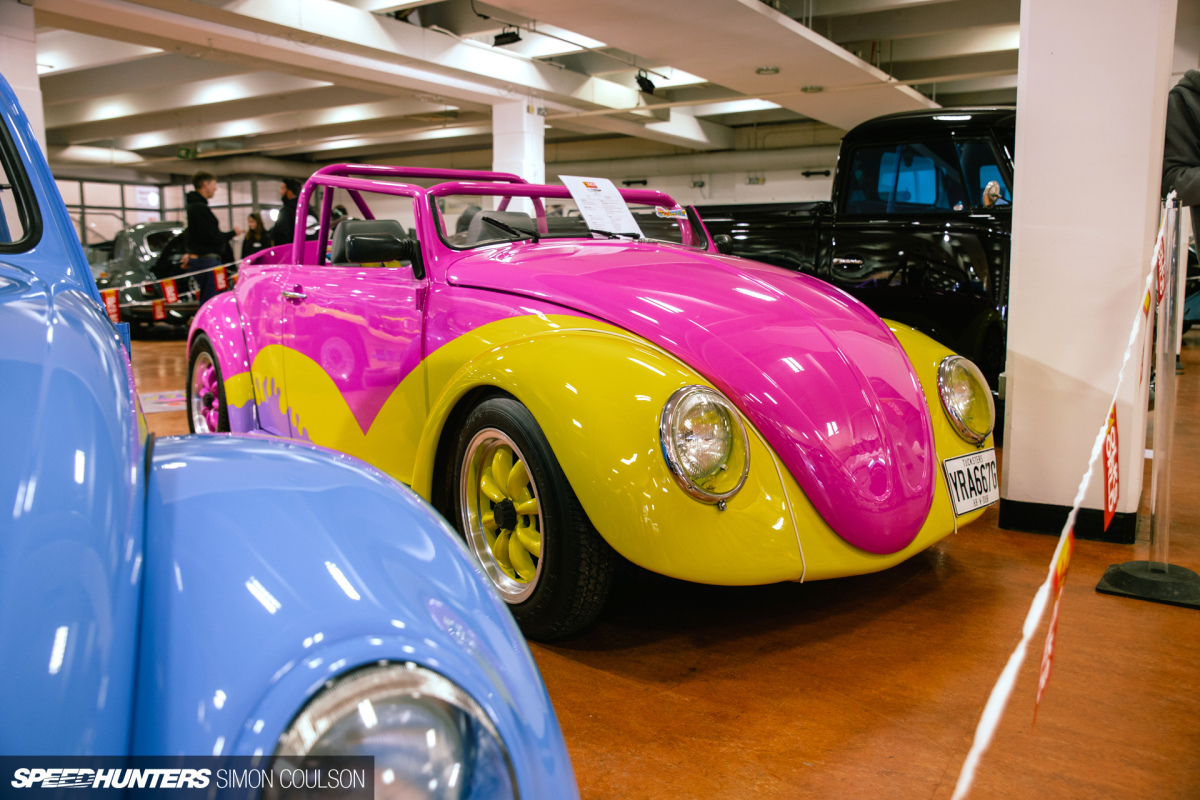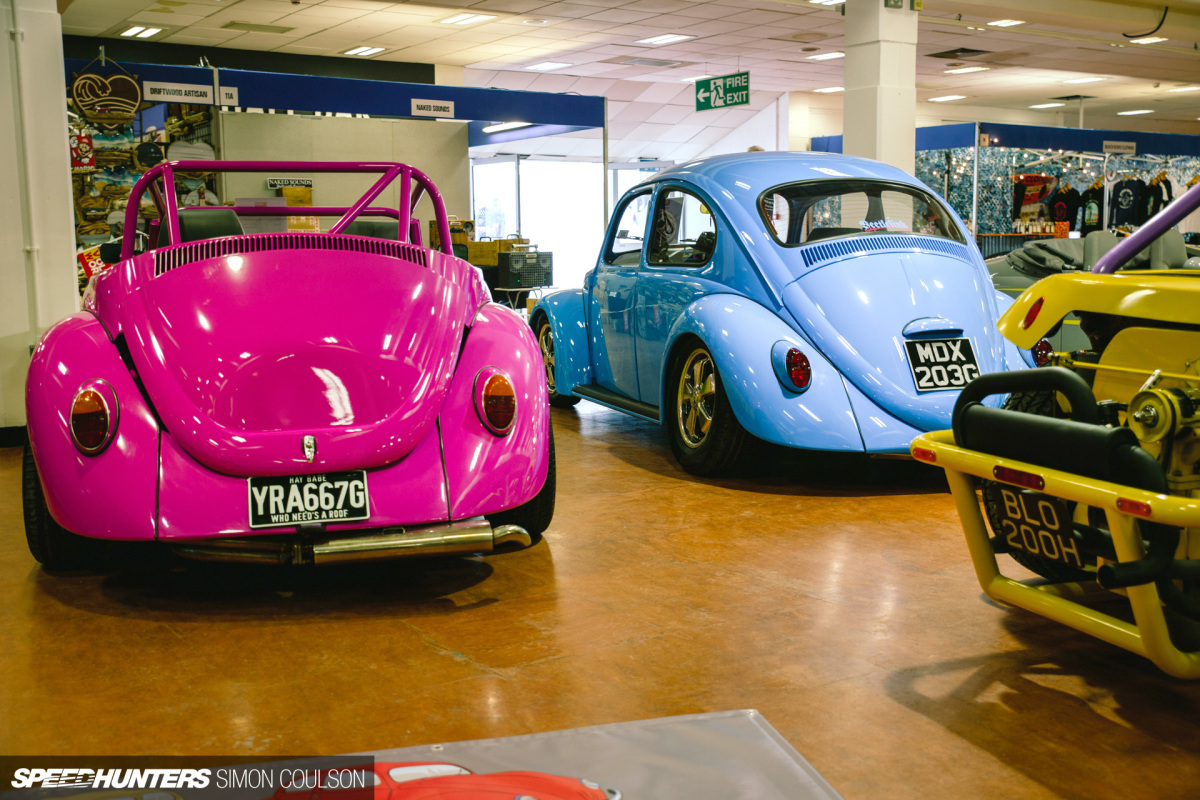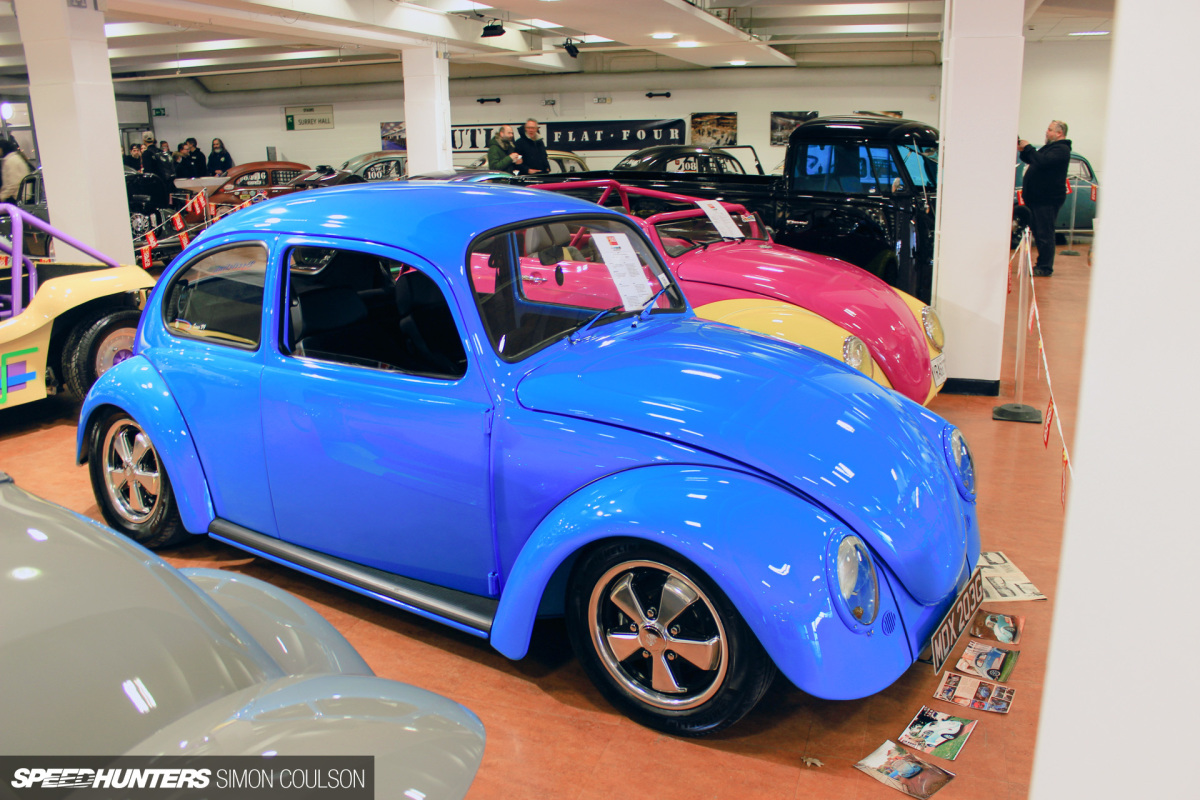 Mixed in this are the older builds, a nostalgia for a time when people were a bit more free in their approach, the rules were unwritten, and even if they were they weren't to be followed. Downstairs the Back289 display brought out old show cars, and cars they inspired.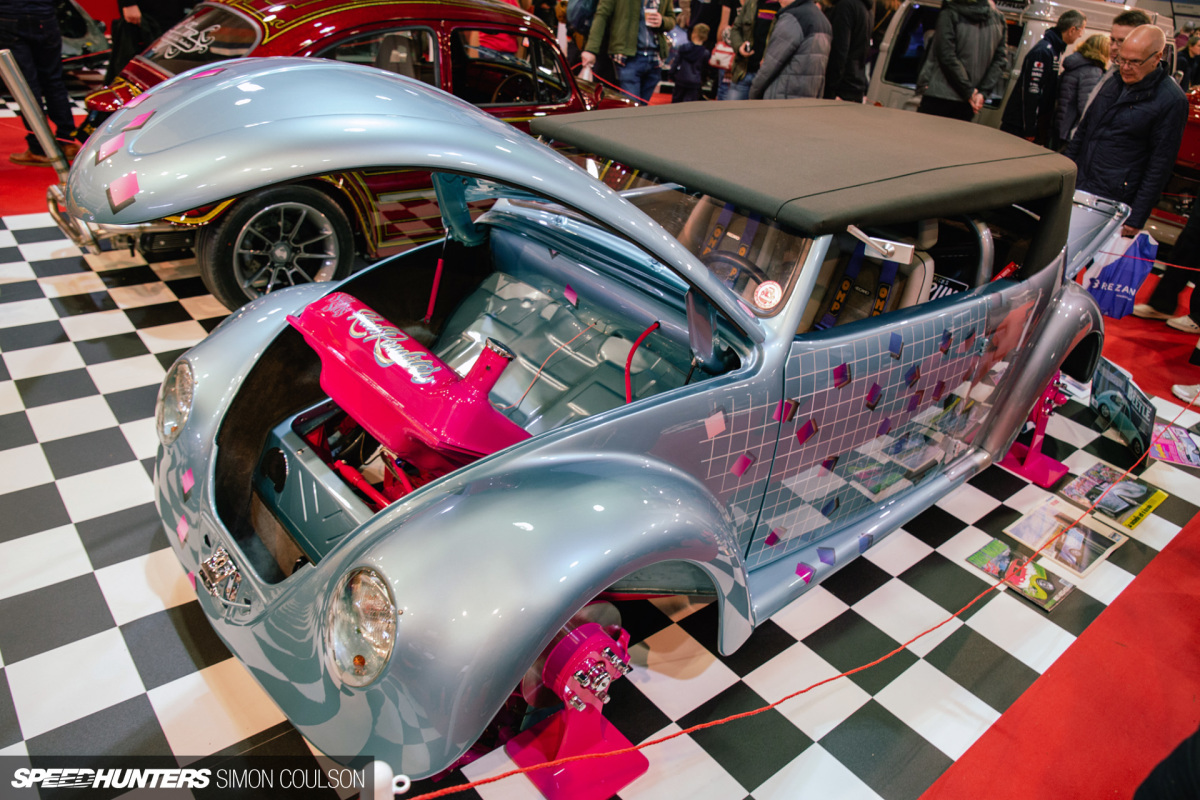 Upstairs, The Rad Roadster has been rebuilt, to a level of quality we expect surpasses its initial build. A time capsule no more, now a fresh build again, something to inspire.
Walking the car park at any event is usually a must; there is always interesting stuff floating around and VolksWorld is no exception. Seeing Josh Gresswell's slammed Toyota GX61 lurking near the entrance was a nice connection back to where my head usually is at now days. The excellent BMW Neue Klasse on the opposite side was also a welcome sight.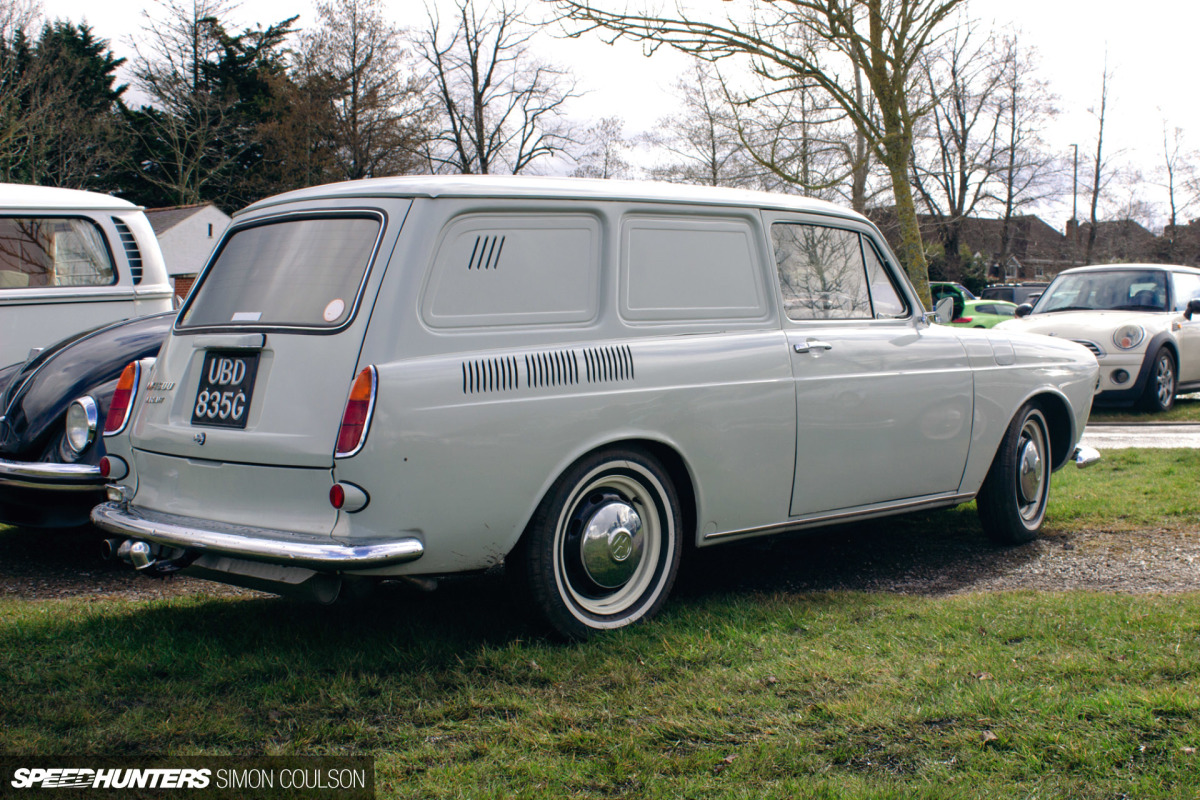 However, my star of the car park was the rare and very cool Type 3 square-back van, a model high on my list of most-desired VWs.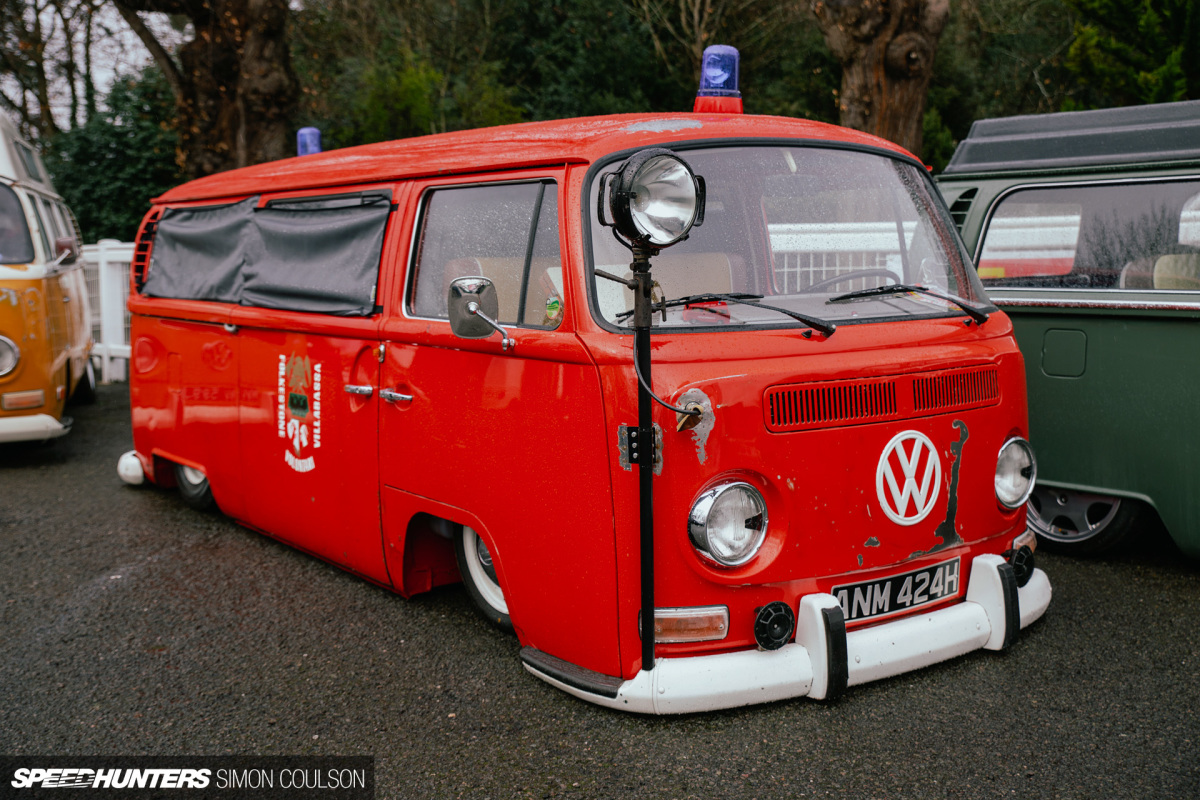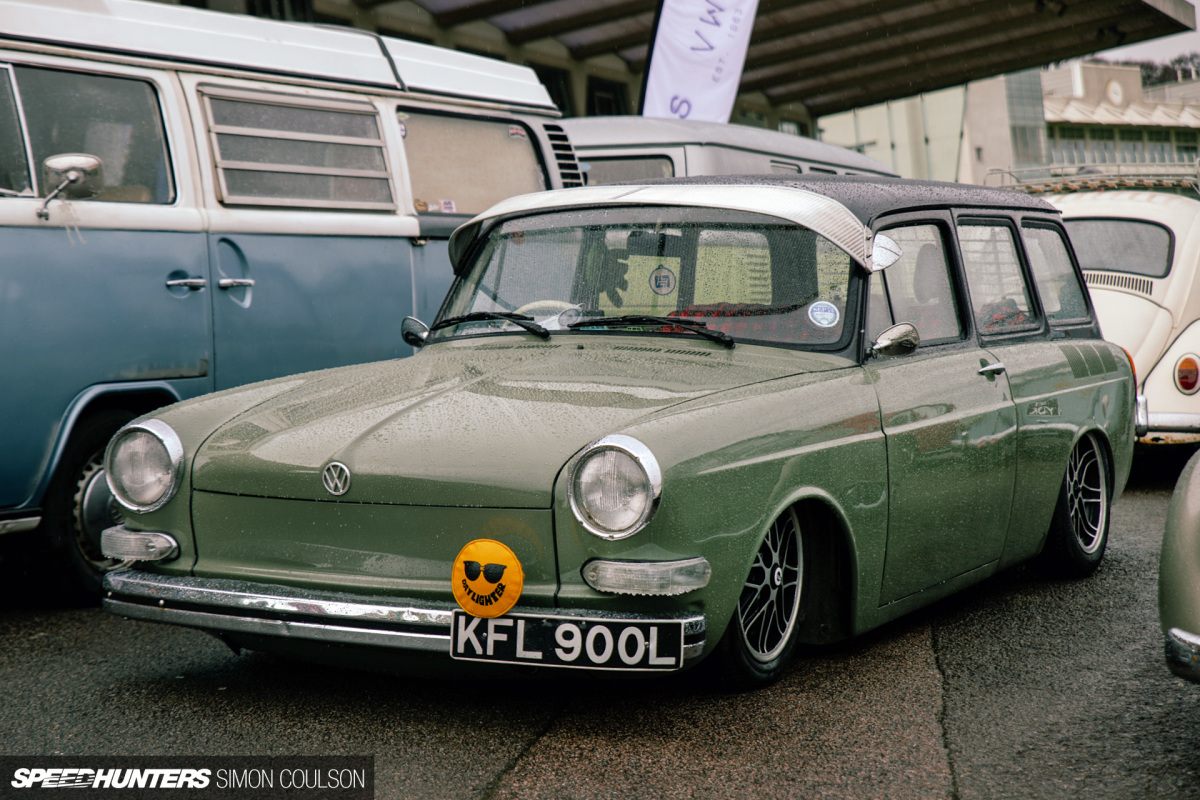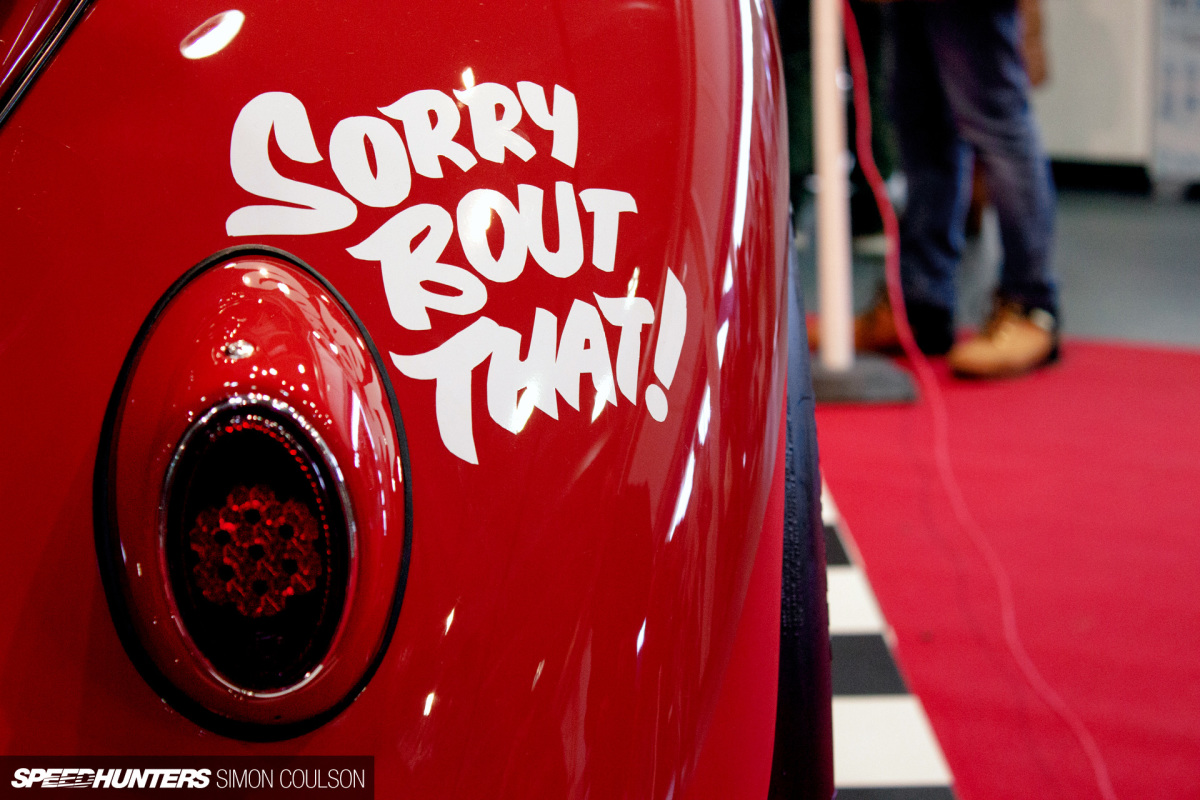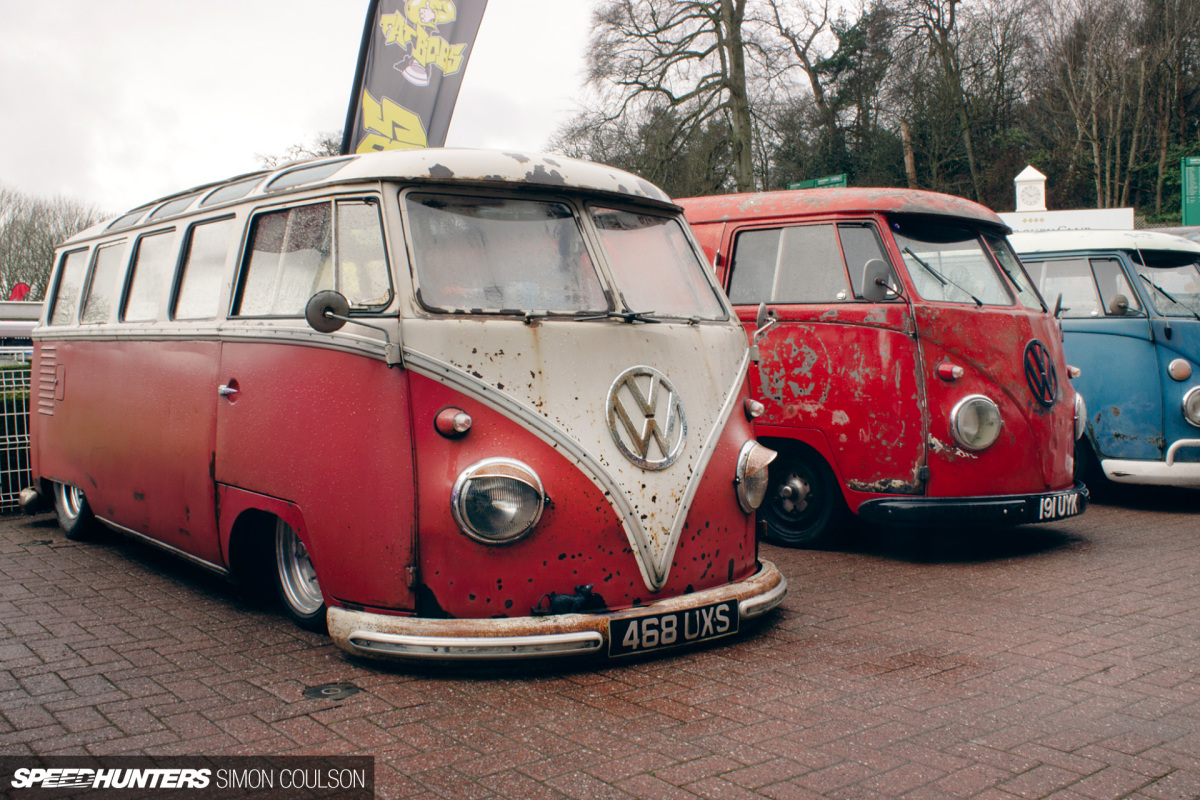 The for sale section was sparse on the Saturday when we went, but I did end up back home on the internet idly looking at various marketplaces. Whilst VW Bus prices have disappeared in to the ether, humble Beetle values have stayed at a fairly reasonable level. When we went off chasing cheap Japanese cars that no one loved we couldn't have predicted that they would rocket in price the way they have. Now the Beetle looks like a bargain, an entry point to a scene that has great parts supply, a great history, and plenty of room for interesting innovation.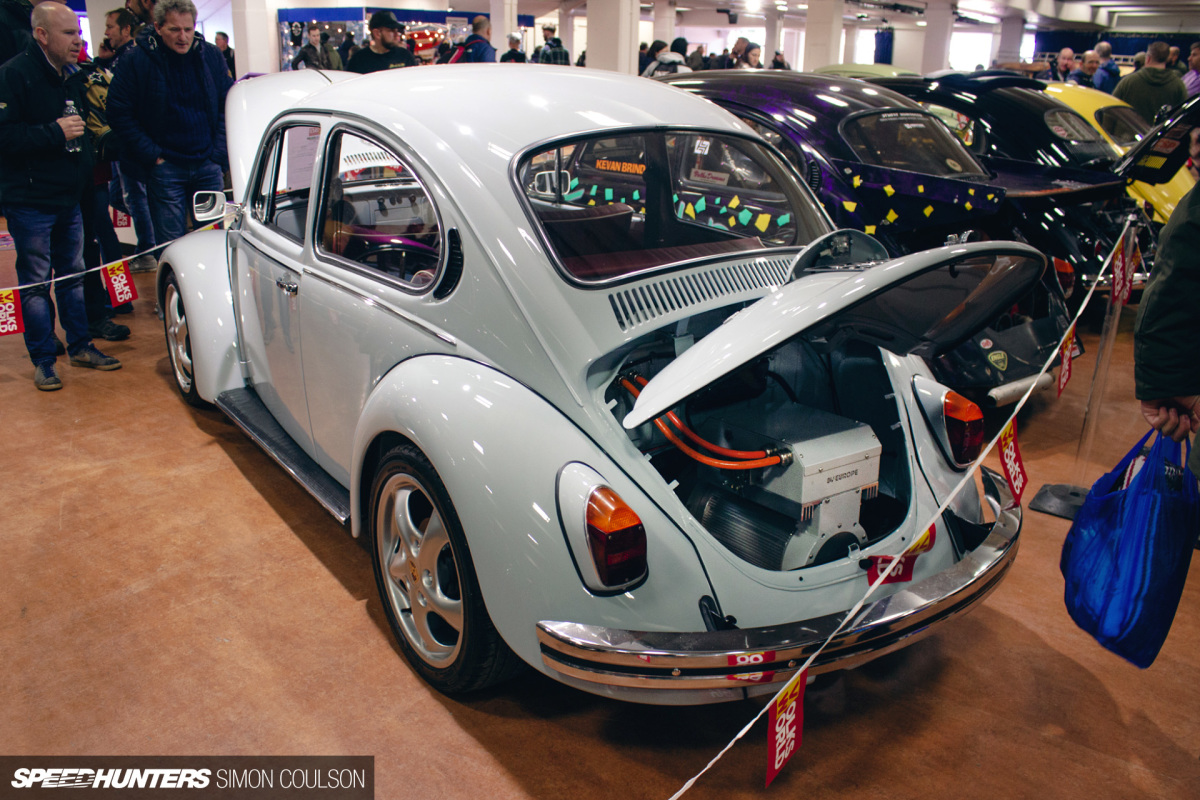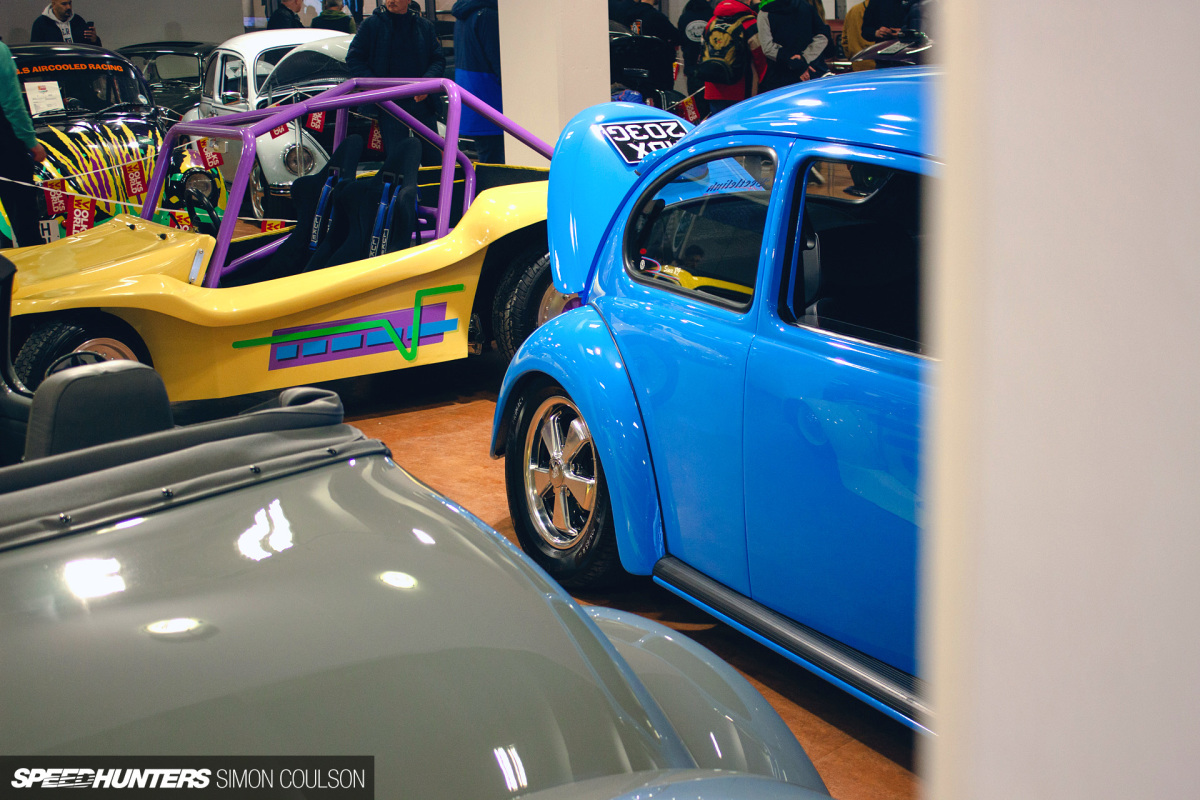 To me, these halls of cars no longer feel like an oxbow lake with an inward looking ecosystem. Now I'm looking at it as somewhere to take all that has been absorbed over the last 20-odd years and have some fun, unconstrained by expectation of pre-existing norms. What could be better than that?
David Murphy 
Instagram: retroridesofficial
retro-rides.org
Simon Coulson 
Instagram: fromthecarchive