I have a 2012 Subaru Forester, extremely economical but it is diesel, so highly polluting. Done close to 280,000 km and about to get retired. What's the best EV equivalent for this? The Subaru Solterra is underwhelming.
We use this for our family camping trips as my kids are into astronomy and birdwatching. We do some off-roading but only if necessary and as much as the Forester can safely handle.
Chargers are extremely scarce in the bush so long range is a must. Ground clearance is also important and that rules out the Model Y. I was reading here that EVs don't have spare wheels? Is that so? For our travels we do need a proper full size spare wheel as help is often out of reach if we're without mobile signal.
We do use a roof rack with an aerodynamic cargo box on top and not sure how that will affect range. Does air conditioning running all time also reduce the claimed WLTP range?
Budget is $80,000 (we bought the Forester $36000 at the time so I'm allowing a significant increase as much as I can afford. What's available or coming soon to fit my needs? Considering buying a PHEV as that might be best of both worlds?
Thanks
Stefan
Hi Stefan – Reader Questions come in from the [email protected] address but you managed to circumvent the process! Your query in the comments section of my recent article on how Australia's choice of electric car models has jumped from 5 to 50 in just five years was such a good one, I've transferred it to this forum to five a full answer and wider audience.
As I noted in the article: EV options are starting to appear across the gamut of current ICE (internal combustion engine) niches, so if EVs are to fully replace ICE, the edge-cases need addressing too. The point of that article was that we are finally starting to see that happen.
A little bit of history to start with though: given an EV the battery is placed both low and central within the car, the depth of the battery comes into play when manufacturers set the ground clearance. For EVs that share the platform with an ICE equivalent, that means the ground clearance is often slightly lower than its ICE equivalent.
For instance, the Kona electric has a ground clearance of 158 mm whilst the ICE has between 170 and 178 mm. (Depending on variant). On the other hand, MG has worked a bit harder and the ZS EV is little different to its ICE equivalent: the electric version is 161mm and the ICE version is only 3 mm more at 164mm.
As batteries get thinner (the battery in the upcoming Renault e-Tech Megane will be only 110mm high) that issue will reduce and ICE and electric will have equivalent ground clearances.
However, thus far into the EV transition the manufacturers have been focussing on road-going EVs. Given ground clearance is generally low on that buyer's checklist – the manufacturers haven't really prioritised making higher ground clearance road cars like your Subaru.
Your 2012 model Subaru is well higher than the average ICE car at 225mm – and even the latest Forrester model is still around 220 mm.
So what sort of cars offer that sort of ground clearance? Dating back to their L series, Subaru has long been the choice for semi-off road uses with its higher than average ground clearances. In fact, even for ICE selections, outside of Subaru there are not a lot of 220+ mm ground clearance cars … unless you move into the serious 4WD arena.
For ICE cars, you only have the small SUVs of the Peugeot 2008 or Subaru XV, but that's about it. Even in medium ICE SUVs, only the Subaru Forrester offers that sort of clearance.
Moving into serious off-roaders, the 70 series Landcruiser is barely more at 230 – 235 mm and the Nissan Patrol tops out at 273 mm. Even the ubiquitous dual cab ute that seems to be the rage these days also don't offer those sorts of clearances unless they are four wheel drive (4WD) – for example the Toyota Hilux two wheel drive (2WD) is only 174 mm. (The 4WD is 216 mm).
Coming back to EVs: this all means that finding an EV to match your 225 mm ground clearance all-wheel drive passenger car is always going to be a hard ask, even when all cars are electric!
The options for all wheel drive (AWD) electric EVs with decent driving ranges are listed below. As you can see, on paper the Solterra looks a reasonable match to your specifications and price range.
Personally, I wouldn't write the Solterra off your list yet – take one for a test drive once they arrive and make a decision then. Hopefully that is within your current Subi's lifespan!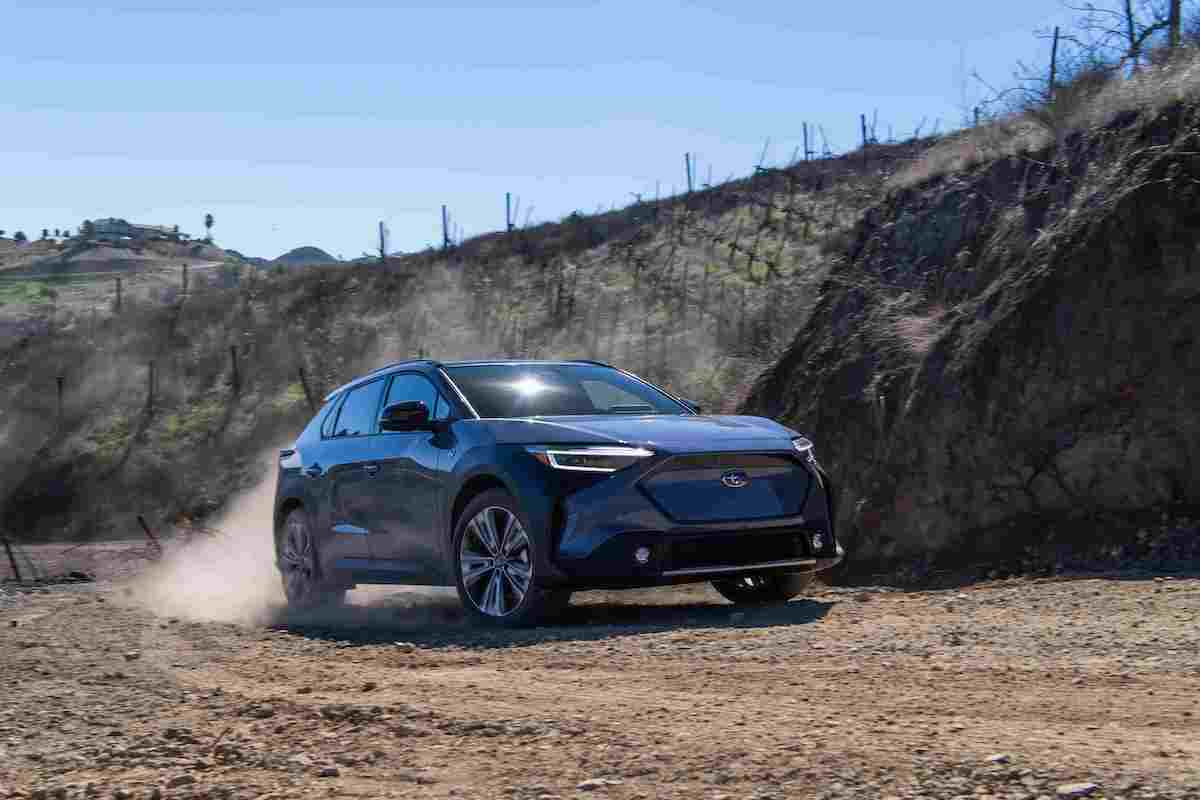 In short though, given Subaru have pretty much cornered the high ground clearance semi off-road segment for many years and they are dragging their heels in making the EV transition (the Subaru Soltera is a rebadged Toyota BZ4X with some Subaru mild off-road additions) … it might be a while before a more attractive Subaru EV that meets your particular set of specifications becomes available.
You also mention carrying an aerodynamic roof box on long trips: that shouldn't affect the range of an EV too much. (Maybe 10 – 15%?). I've found in the past that it is un-aerodynamic roof loads at highway speeds that do the damage! Air conditioning also doesn't affect range much – perhaps 5% at most.
Heating by the way is another matter. If the heater is a reverse cycle air conditioner/heater using a heat pump, it's not a problem and the loss is the same as air-conditioning.
On the flip side, if it's a resistive element heater that loss increases to 10 -15%. Thankfully, EV manufacturers are slowly moving to the more efficient heat pump and overseas models of both the Solterra and BZ4X include reverse cycle heating/cooling systems.
You also mention a concern for running out of charge in out of the way places (often termed 'range anxiety'): I can assure you that this is not as big a problem as it at first seems. A recent survey out of Canada shows range anxiety quickly recedes once you own an EV. Even with a 15A supply (as found in caravan parks) you can get close to a 100% charge overnight.
As for replacing your current diesel Subaru now – if most of your driving involves daily commuting under the EV-only range of a PHEV, it might be worth considering a second-hand PHEV to tide you over for a couple of years until Subaru offer you a different EV more to your liking (assuming no-one else moves into that EV space).
Unfortunately, as detailed in my article late last year, PHEVs are very niche in terms of whether they are/are not a low emission alternative. You would have to do the sums very carefully to work out if a particular PHEV model would work for you as a true low emissions option. Personally, I'd probably look for a second-hand lower mileage petrol Forrester or similar Subaru as the fill-in car if the Solterra really doesn't look like working for you.
If buying a temporary ICE replacement, even in a couple of years' time you will have more than just the Solterra to choose from. By then there will be several EVs from other manufacturers in the AWD higher clearance niche – and hopefully Subaru will have pulled their finger out there as well.
By 2025-ish we should see several 4WD dual-cab utes and, for the more intrepid off-roader, even (perhaps) the Munroe 4×4 out of Scotland. (And don't forget the electric Mercedes G Wagon due in 2024 or 2025. However that one, like all G Wagons, will definitely be out of your price range!)
As a final note: the lack of a spare tyre is not an especially EV thing: manufacturers have been quietly doing away with them for years and few cars (EV or ICE) come with one now. For long trips in my Kona EV, I am reduced to carrying a space saver spare that (just) fits under my boot floor.
Bryce Gaton is an expert on electric vehicles and contributor for The Driven and Renew Economy. He has been working in the EV sector since 2008 and is currently working as EV electrical safety trainer/supervisor for the University of Melbourne. He also provides support for the EV Transition to business, government and the public through his EV Transition consultancy EVchoice.