This is for the benefit of all those who are considering to buy or restore an AX100.
BHPian v12 recently shared this with other enthusiasts.
Ever since I completed restoration of the Yamaha RX-100 in 2021, my hands have been itching to get another old motorcycle. And not just any motorcycle, but I wanted to get something that :
I actually grew up with.
I had always wanted
piqued my interest
Was rare
My search started with the Yamaha RX-Z and the Suzuki Shogun, one of the first motorcycles I have ever owned. But looking at the current prices that are being quoted for un-restored bikes, I decided to turn my attention to other interesting bikes of the 80's and 90s. Started recollecting the other bikes that had interested me back then, and I started making a list. Models which are now too expensive to buy were immediately struck off.
The one that were struck off :
Yamaha RD350
Suzuki Shogun
Yamaha RX series
Jawa /Yezdi 250
RE ( for no particular reason)
The ones that I did consider :
Suzuki AX /Max
Suzuki Shaolin / Samurai
Vijay Super
Hero Honda Street
Hero Honda CD 100 models
Honda Eterno
Bajaj Cub
Kawasaki KB models ( came very very close to buying one)
Bajaj Enduro
Kinetic Honda
Olx had become my best friend too all of this treasure hunt. I would spend hours and hours searching for these bikes across India. And while I searched the entire length and breadth of the country, little did I know that I would find one just a few metres away from my house.
Classic case of "Bagal main chhora, sheher mein dhindora"
Anyways, before I continue with the story on my AX-100, let us get to know the Suzuki AX 100 in more detail. This is for the benefit of all those who are considering to buy or restore one. If you are aware or have more details of the Suzuki AX100, please do share.
Would also like to read Similar stories of other Indo-Japanese motorcycles like the Kawasaki Bajaj KB100, Hero Honda CD 100 and the Yamaha RX100.
Please note that most of the information below has been gathered on various websites ( mentioned within).
I am not adding any YouTube videos because there are plenty of them and are very easy to search.
I will start with cross posting some information shared by our late Behram Dhabhar sir on his thread.
The bike came with everything Japanese except for two tyres and two mirrors. Wheelrims are Tokaidenso. Lights are Kioto and Nipponsenso. All parts have "made in japan" etched on them, including the side indicator lenses, which still retain their original orange colour (no fading). The speedometer is Nippondenso, indicates speed and distance covered in miles, not in kilometers. All bulbs are still original and working. I used the bike regularly till recently, always on 93 Octane petrol. It is totally original and I will never change its characteristics in any way. Now it is retired and parked in my parking place. I have drained all fuel and covered it up. If I have to use it, I just have to put some fuel in it and start it, that's all. That's Japanese quality for sure.
The following information was posted by Anand Kumar 2 years ago on this YouTube video comments section. I have broken them into various parts for better readability. Many many Thanks to him for sharing this information and hope he continues to share more about other models in the future. of anyone knows him, please do invite him to join Team-BHP.
Anand Kumar'sViews on the AX100 featured in the YouTube video.

Awesome restoration and it looks better than stock.

Kudos to the seat.I love the indicators, mirrors and the tail lamp. It's really hard to see a stock original TVS SUZUKI (because most parts are compatible and swappable between their other models).

This is fully original as per version except for the tail panel, seat and grabrail (which are from Supra).

I earlier had a doubt whether CKD units of Ind Suzuki AX100 did feature supra tail panel just like the Japanese AX100 (which was also sold in Bangladesh), but actually they weren't. Besides that, the grabrail underneath is from 9.65 bhp supra, which is the same as Ireland export Suzuki AX100.

Evolution of the Suzuki AX100

Let me explain the evolution of ind Suzuki AX100.

First came the dealer copy with Suzuki embossed meter (it had a gear indicator too, and calibration was in both kmph and mph), Suzuki tank monogram, Suzuki embossed engine cover (but the letters and the space around are different from the later MAX Samurai Shogun Shaolin engine covers).

Then the next iteration came with Suzuki embossed meter (but no gear indicator now), ind Suzuki tank monogram, Suzuki engine covers.

The next model had Ind Suzuki in meter, tank and Engine cover

The next batch came with TVS SUZUKImonogram

All the aforementioned models had swing arm mounted foot rest and also the silencer had Integral end cap and inbuilt baffles (3 nos.)

Introduction of TVS Suzuki

In 1987, when they launched the AX100R, they gave that foot rest to AX100 (now they again gave Ind Suzuki tank monogram for AX100, and TVS SUZUKI monogram for AX100R – may be for easy distinction), and also the silencer now had end cap and the baffles were shifted to the core (3 for AX100, Supra and Supra power up, 2 for AX100R, MAX and Samurai).

TVS tried too many permutations and combinations in R&D and hence some later AX100 has the squish type head from AX100R. The manual also says a few things like old AX100 and new model AX100 and also specifications differ for before and after September 1986 models. Even a few AX100 were launched with 7.8 bhp Engine instead of the stock 8.25 bhp – the manual says so. It seems like they have used two different 16:18cylinders with regard to inlet port – one with slit and the other without it).

AX100 Supra and Supra power up have 3 reedpetals functioning, while the AX100R andMAX/Samurai have a small vent and henceonly two will function.

Ind Suzuki AX100 has 7 fins in the cylinder (only the Indian models of joint venture between TVS and Suzuki have 7 fin bore) Suzuki AX100 has 6 fins in the cylinder.

We really need to squeeze our brain in order to get information on any indo Japanese collectible.

Hope my information will be useful for collectors and restorers.

This is the second Suzuki two in this channel (after your shogun video) and I'm really much glad to see it here in a pretty good condition. The exhaust sound is mesmerising (sounds like Supra – may be because of 3 baffles inbuilt), please check whether the carburettor is 234-40 or 234-41. Awaiting to see more Suzuki two-strokes in this channel.

Please ask the owner to check whether the carburettor's number is 234-40 or something else; it is of utmost importance because this may be one of the rarest edition of AX100, unlike other ubiquitous AX100 bikes. Also please check what make is that tail lamp [Ind Suzuki embossed tail lamps were made by 4 different vendors (Halogen – France, Lumax, NTTF and one more firm with an inverted triangle logo (I don't know its name))]

Detailed information on all iterations of the AX100.

AX100 came in different iterations.

1. Dealer edition came in very little numbers and it had the international AX100 model's tank monogram 'SUZUKI' (yes, not IND-SUZUKI) and it was 'Suzuki' everywhere (Meter front view, meter top view, horn cover, tank monogram, engine covers) and the meter had a 7 segment display in the place of neutral light, to indicate the gear (besides having an mph + kmph console).

2. Limited Edition : Then came the limited edition first batch with mph + kmph console but not the gear indicator; now this one got Ind Suzuki monograms but the engine covers are still Suzuki.

3. Then came the normal kmph meter.

(All the above had tokaidenso Japan make tail lamp and ind Suzuki emboss was not there; besides that, alk the above models' crash guard and saree guard were having IS embossed rivets while the below models featured the same made by a brand calked 'PERFECT industries, pune'.the4.

4. Now the next batch is the one with halogen brand headlamp and tail lamp with ind Suzuki emboss in it.

(All the above models had Suzuki embossed meters made by Nippon Denso; besides that all of them had an option to have a key-less tank lid!)

5. Then came the one with ind Suzuki engine covers but still the meter is Suzuki embossed.

(All the above models had ISSZ made in japan head, while the below ones had Indian made ind Suzuki embossed head: some had 3101020 emboss while some didn't- both the heads are non squish type).

6. The next edition was having ind Suzuki embossed meters (so all the three places have IND-SUZUKI now – meter, tank, engine covers), and gradually the meter outsourcing vendorship changed from Nippon Denso to Nippon seiki.

All the above models had the same silencer as in this video where the end cap is welded and the baffle plates are inbuilt, just like any other two stroke manufacturer. Due to this, the rear wheel axle bolt can be inserted from left to right only and not from the other side. The silencer had 3 pits (just like the ones in Unicorn Shine etc.) so that the axle nut thread won't collide with the silencer, especially when you ride over a pothole).

In the middle (somewhere) the 'Ind-Suzuki' horn cover was introduced and it came as an option.

7. Now in 86, TVS changed the tank monograms as TVS-SUZUKI (yes, AX100R and Supra AX and Supra PU are not the only ones to feature that monogram – few AX100s too came in 86-87) and the silencer and baffles with an end cap and the baffle plates were welded on the muffler core (to remove and clean the silencer easily) and also a new swing arm and axle bolt where it is easy to service and also we can insert the swing arm from both the sides; earlier, it was difficult that we need to thrust the shock absorbers or remove silencer etc to do even a minor work in the back wheel area, but still all these models had the pillioner footrest at the swing arm which was not comfortable for the pillioner (but that feature was a comfortable one for rider in case of mass-centralisation!)

8. TVS introduced an AC version of the AX100 too! Besides the absence of battery, It didn't have indicators also, actually nor the holes too were present in the headlamp mounting bracket for them! The switch in the yoke too was dummy and there wasn't any aperture!

9. In September 86, TVS changed the internals of the carburettor but still the carburettor is VM20 234-40. TVS refers to them as Pre sep-86 and post sep-86 AX100 models (at first they referred to the post sep-86 as New-ax100 until they launch another model called the 'New AX100').

All the above models had swing arm mounted footrest.

Meanwhile, Nippon Denso gave licence to Yenkay and the meter dial was having Yenkay licenced by Nippon seiki but still the dial didn't have the stoichiometry mark.

Later, the meter had a green patch of stoichiometry mark near 30-40 kmph (just as in AX100R and MAX100/R meters).

10. Now, TVS again gave ind Suzuki tank monogram to the AX100 and most importantly did another important innovative thing besides the silencer changing: they gave the L bracket footrest for the AX100 (as it is the time to launch the AX100R and the Supra, but a few supra too had swing arm footrests – a different story).

Now they are having the AX100, AX100 AC, AX100R 6V, AX100R AC, Supra; of these, the AC models (but the DC model Supra too) had the aperture on the right side cover to check the oil level and the oil reservoir had the lens near that provision.

11. Then they launched the New AX100 with 18 mm carburettor. AX100 carburettor – VM20 234-40

New AX100 VM18 234-60

AX100R-1 VM18 234-60

AX100R-2 VM18 234-61

Test iter Supra VM20 234-**

Then Supra VM18 234-50

Later Supra VM18 234-51

Supra PU VM20 234-70

12. Then the last batch after 1988 was a mix match of whatever remained.

Few AX100R [Version-1 6V (built tough to last long) – not to be confused with Version -2 12V (Ride of your life)] had ind Suzuki meters in the early batch. Few later AX100 bikes had TVS Suzuki embossed, TVS Suzuki front stickered meters in the last batch.

I hope I've covered the AX100 chapter , but the headache isn't over yet because I need to cover too many other chapters because the above story is about only one model – the ind Suzuki meters in the last batch.
Here is an article on a rare imported Suzuki AX100 written by our very own on anjan_c2007 on deRivaz and Ives Magazine
If you have read the above post, this is the very first iteration of the AX100.
Please click the link to read the entire article with detailed pics.
When I first heard about such a bike in mint condition with a very caring owner, by the editor of this magazine, I was taken aback and contacted the owner Arvind Reddy, who very readily agreed to share details of his very rare 1983 Suzuki AX 100, made fully in Japan without the 'Ind' prefix. According to him, only three such bikes were imported by TVS Group purely for showroom display purposes when they opened booking: one for Bangalore, one for Pune and one perhaps for Chennai.
Here is what Suzukicycles.org has to say about the AX100.
Please read the entire article on the above link.
Suzuki AX100 is a 2-stroke, simple commuting bike, launched in 1983. It has a 98 cc air-cooled 2-stroke engine with piston porting and a simple carburetor. It has a 4-speed transmission. A full chain guard and simple drum brakes keep maintenance tasks simple and parts inexpensive to buy.

The Suzuki AX100 was the product of the alliance between the Suzuki Motor Company in Japan and the Indian manufacturer TVS, made purely for the Far Eastern commuter market. The model was marketed in China as Suzuki Samurai. There was also TVS-Suzuki Supra, a derivation of the AX100. In India, the AX100 was sold with a Ind-Suzuki badge on the tank.

Various Chinese companies like Baccio, Jiancheng, Guerrero, Ayuco or Akt also copied the design and produced mechanical copies under various names such as Dayun.

In the 1990's the AX100 gained a great momentum throughout the Asian region. It started as the first 100cc motorcycle launched in India, later it became the best selling model in China.

Later, in 2000, Suzuki and TVS broke their previous agreements and the entire project passed into the hands of the Chinese manufacturer Jincheng. Some time later Jincheng would put a 125cc engine in the chassis to launch the AX125.
Other important information / details available on the Suzuki / Ind Suzuki / TVS Suzuki.
How to identify your Suzuki AX100.
Obviously back then, many Asian countries had not adapted to VIN (Vehicle Identification Number), the Chassis Code / Engine Code can be used to decide your AX100.
Suzukicycles.org has summed it up pretty well.
Chassis Number
The chassis number is 11 letter alpha-nuneric where the first 5 letters identify the model and the next 6 digits identify the vehicle serial number.
The first five letters on my chassis number reads BE11A######, where
B – denotes Vehicle Category – Business model, commuter
E – denotes Engine Capacity – 90—99cc
1 – denotes Engine Type – 2-stroke, single
1 – denotes Design Sequence – This digit tells the model version. The first version uses 1, the second 2 and so on.Letters A, B, C… are used after the 9 is used.
A – denotes Model Variant – Generally an A is used for the base model with non-restricted (full) power output.Different letters can be used for new or special editions of the same model.
Engine Number
The chassis number is 10 letter alpha-numeric where the first 4 letters identify the type of the engine and the next 6 digits identify the vehicle serial number.
The first 4 letters on my Engine number reads E103###### where
E – denotes the Engine Capacity – 90—99cc
1 – denotes the Engine Type – 2-stroke, single
03 – denotes the Design Sequence – Unlike type, the sequence number for engine uses a two-digit number starting with 01. Because of the late introduction of this code system, the engines used on several Suzuki models don't use this system
Country Code
The code that tells you the country for which the motorcycle was made for is actually not carved in you bike's frame or engine but can be found at brochures, manuals or parts lists. Here follows the list of the country codes I know of:
E-00 – Japan (domestic home market)
The code for India is not listed on his page , but do check their website for details of other countries.
Does anyone have a photo / scan of the AX100 Manual or Brochure to validate the Country Code?
Suzuki / Ind Suzuki / TVS Suzuki AX100 advertisement / brochures.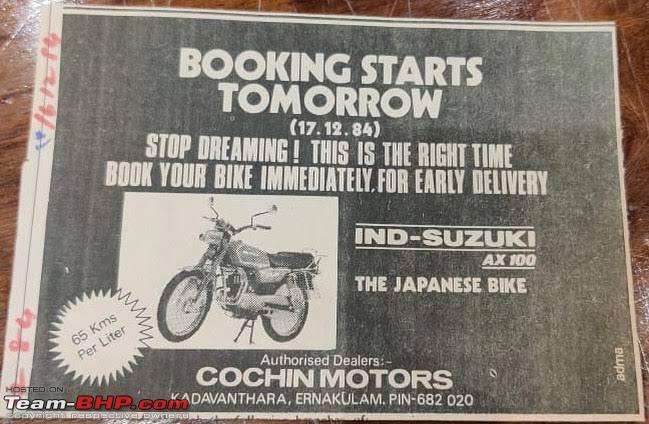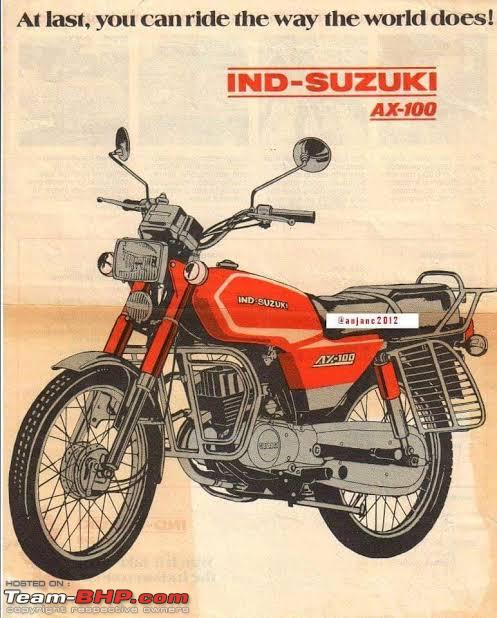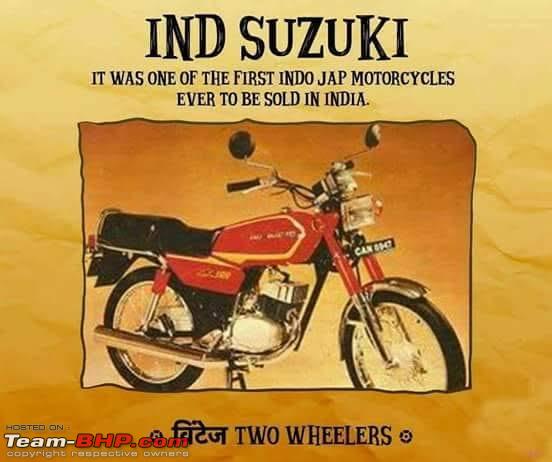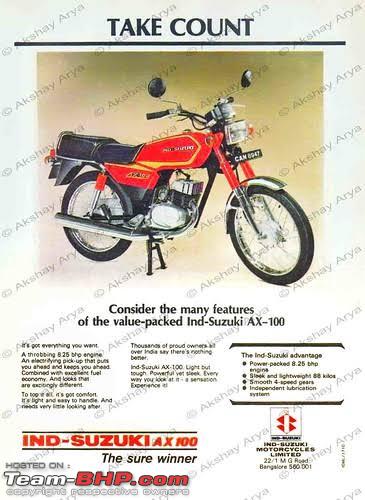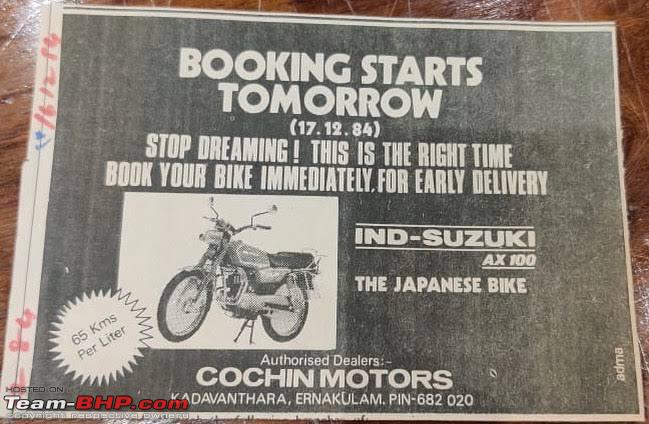 Downloads
TVS Suzuki AX100R Owners Manual
Continue reading BHPian V12's thread on the Suzuki AX100 for more insights and information.