Yackandandah seems like a great place for a global car giant to launch the latest in its growing offerings of electric cars. The small town south of Albury Wodonga in Victoria is going 100 per cent renewable, and might just get there in the next five years.
The local community – led by the Totally Renewable Yackandandah (TRY) group – got together to buy the town's struggling petrol station a few years ago and since then have funnelled some of the fossil fuel profits into rooftop solar and battery storage, as has the local folk festival.
That's a pretty neat analogy for the challenge facing the global car giants, who have made squillions out of the sale and maintenance of petrol and diesel car sales, and who are trying to bring themselves to invest an increasing share into the inevitable electric future, before the climate, and our health, is completely trashed by the fossil fuel emissions.
Hyundai is one of those car makers having a fair old crack at it. It started out tentatively, adding some electric drivetrains to some existing models, and even though full battery electrics still only account for a small 3.5 per cent of its global sales, it's what Hyundai has done with its dedicated electric car platform e-GMP that is really impressive.
First there was the multi award winning Ioniq 5 electric SUV, then the high performance EV6 SUV from sister company Kia, and the stunning GV60 from its luxury brand Genesis. All are high quality vehicles, making the most of the electric possibilities – performance and space – with great style, and some really interesting design lines.
Now, there is the Ioniq 6, the first sedan produced under this platform. That's why we were in Yackandandah, at the Star Hotel where we had just completed a fun 160kms drive through the valleys and hills to the east, and taking them for more short drives, photo shoots, and playing around with its vehicle-to-load capabilities.
Long range, more than 600kms
There's a few things you should know about the Ioniq 6. The first is that the base model – the Dynamiq – comes with a mighty impressive range of 614km, thanks to its 77.4kWh battery and – because it is very efficient – it has a very low wind resistance of 0.217.
I later drove one from Yackandandah to Canberra, and while you won't get 600km range sitting at 110kmh on the freeway (where the consumption seemed to be around 16kWh per 100km) you will get at least 450 kms. And that's pretty impressive. I don't doubt that 550km at least is possible at lower speeds. And really, that's all you need.
The more costly variants – Techniq and Epiq – have the same sized battery, but less range (a rated 519km) because they have two motors instead of one and these, along with the higher performance, use more of the battery.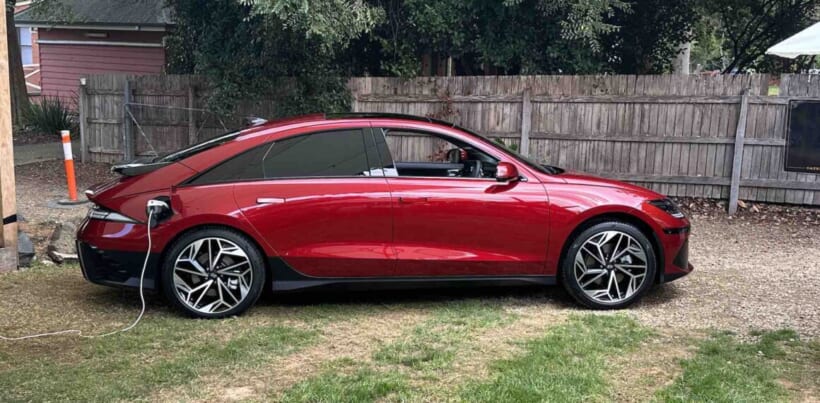 The second thing you need to know about the Ioniq 6 is that it has striking looks. One of the great ironies of car design has been that over the last few years big brands like Porsche seem to be trying to do everything to make their cars, particularly their SUVs, look like a Hyundai.
The last laugh's on them. Hyundai is now drawing on their heritage as a basis for its its EV range. The Ioniq 5 was based around a 1970s Pinto, a model that never saw the light of day, and the Ioniq 6 looks like the offspring of a union between an old Porsche 911 and a model it met in a parking lot. Which means it has a very nice backside.
But the inspiration for the Ioniq 6 actually goes back further than a 911. Its part of what Hyundai describes as its "prophecy concept", a homage to vintage cars of the 1920s and 30s, which had sweeping, smooth, coupe-like designs, and cared about aerodynamics.
Opinion seems to be divided about its overall "streamliner" look, but I can report I have had more people noticing and asking about the car than any other EV I have driven since I first got into an Ioniq 5. Hyundai have hit on something good here with their retro stylings.
The third thing you need to know about the Ioniq 6 is that it is great to drive. Like really good. I'm not sure what it is with professional car reviewers (I'm a relative novice at this) but they feel compelled to drive any car given to them as fast as they possibly can, particularly when the route takes you through winding foothills.
For the first 80kms I was in the passenger seat (we were all paired to optimise the number of hacks and cars), squeezing my butt muscles as the car was thrown around corner after corner. Fortunately, the driver seemed to know what he was doing, but I still couldn't bring myself to let him know that he was still in Eco mode.
High performance
The car handled it really well. In this part of the day's events we were in the Techniq variant, which has two motors instead of one, a sunroof, bigger tyres (20″ vs 18″) and it holds the road quite beautifully.
When it was my turn to drive I feigned great surprise to find the car still in Eco mode, and promptly switched it to Sports, where it can do 0-100kms in 5.1 seconds with the Techniq (7.4 seconds in the Dynamiq). Not that you really need it, because my partner proved there was fun enough in Eco.
But if it's thrills you're after, then sports mode it is. Hyundai is likely to take it to another dimension with the release of the high performance N series, much as Kia did with the GT additions to the EV6. That will be a machine.
That's the advantage of EVs – even in Eco mode you get instant torque and its low centre of gravity which – thanks to the battery packs spread along the base – means great handling. And the suspension on the Ioniq 6s feel well tuned.
Add in regeneration and it is a perfect mix. At the highest level "i-pedal" rating, which I prefer and which my co-driver discovered half way through, you barely needed to touch the brakes, even on tight corners at speed.
Inside, Hyundai has created what it calls "mindful personal space", which I think means they have had a think about it. Unlike the Ioniq 5, it doesn't have the moveable console and feeling of acres of space, it has chosen a "cocoon" style set up, as the focus – they say – is more on the drivers.
Mindful space
But they've done it well. Electric drive trains allow that because it pushes the wheel forward and wider, creating more space for the passengers and drivers. The Ioniq 6 is not a big car, but it in no way feels cramped.
The centre console does have lots of useful storage (they were mindful after all), and thin seats (thanks to advanced materials) means there is plenty of leg space front and back. Hyundai says it is the most leg room in any one of their cars.
They've also done some interesting things with button controls (for windows and locks), taking them away from the front doors and putting them on the centre console, which has pushed the gear change to another paddle next to the wheel, and created more room in the front.
There's also ambient lighting, that adjusts with the light and speed, over the air updates and "Bluelink" connectivity.
There is a sunroof from the Techniq model up, where you also get "relaxation" and "ventilated front seats, heated rear seats and a heated streering wheel. For an extra $4,500 with the Epiq you get a heat pump, battery heater and digital side mirrors.
And, of course, it has the vehicle to load capabilities, with plugs available both outside and in, which means you can power appliances at home or away, or simply charge your laptop or other while driving.
The charging is also pretty fast – at a 350kW rated super fast charger at Gundagai, the Ioniq 6 was charging at just over 200kW, which means that it was one third full by the time I bought a carrot and hummus. A top up was all I needed.
Good value or not?
So, is the Ioniq 6 good value? The answer to that question is not easy. In the current pricing range of EVs, it probably is, but that's because EVs are still around 30 per cent more expensive than they need to be, or even should be.
The best value among the Ioniq 6 variants is surely the Dynamiq. It gives the added range (100kms more than the Techniq and Epiq), and most of the comfort points in the others. It comes in at $74,000 before on roads, meaning it can creep under the stamp duty exemptions in most states, but is outside the rebates available to competitors like the Tesla Model 3.
It certainly presents interesting competition to the electric sedan class. It sits around the same space as the Model 3 and the Polestar 2. With each it may come down to personal taste, price (Model 3 wins out here at least on the base version), and brand loyalty. But it's not bad that we're already at the this point with three quality and exciting sedan offerings.
The Techniq adds in a sun roof and other bits and bobs and with the second motor that the price leaps to $83,500. The Epiq costs $88,000 before on roads, and adds in a couple of other things, including digital mirrors which – in the words of Yes, MIniters' Sir Humphrey Appleby – is a courageous design move, and an unnecessary one.
I've driven with them in the GV60 – and more about that another time. You kind of get used to them going forward, just don't try to reverse. I don't care if mirrors get wet in the rain, I want them outside.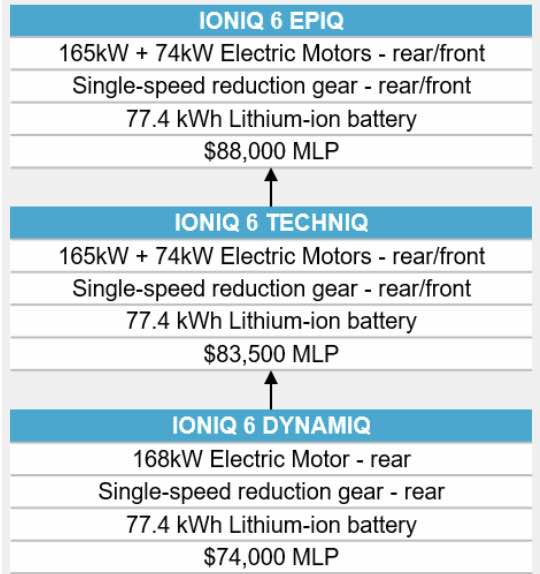 Giles Parkinson is founder and editor of The Driven, and also edits and founded the Renew Economy and One Step Off The Grid web sites. He has been a journalist for nearly 40 years, is a former business and deputy editor of the Australian Financial Review, and owns a Tesla Model 3.