I've been trying to feature Charlie Dunn's Audi RS4 for a literal year, over five countries and numerous shows.
Whenever the opportunity arose, the vibe was off or something was ever so slightly not right. Charlie and I even did a 1,500-mile road trip from the UK to Berlin, Germany and back together with his RS4 and my BMW 740, and somehow didn't have the time to do a 'proper' shoot.
But enough was enough, and it was fitting to use the halls post-Ultimate Dubs 2023, seeing as UD '22 was the first time I saw the car up close in person.
Let's start with the obvious… or not so obvious to the untrained eye: the RS4's award-winning paint job.
The moment Audi debuted its Galaxyblau metallic hue on the Q8, Charlie knew his once-black RS4 had to go the same colour, albeit with tweaks to the flake and pearl to really show off its curves.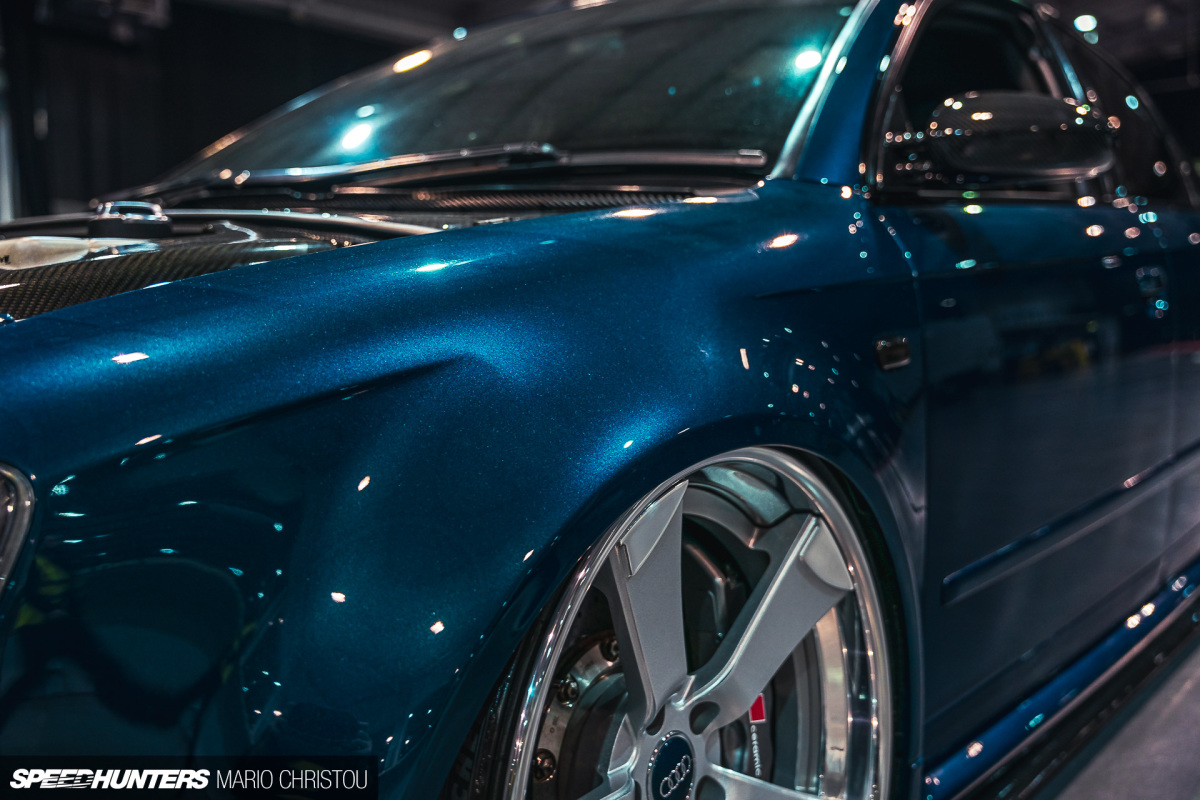 My biggest struggle, and Charlie's only complaint about the colour, was bringing the green out in pictures. It's a beautiful hue, but an absolute PITA to translate into the digital realm.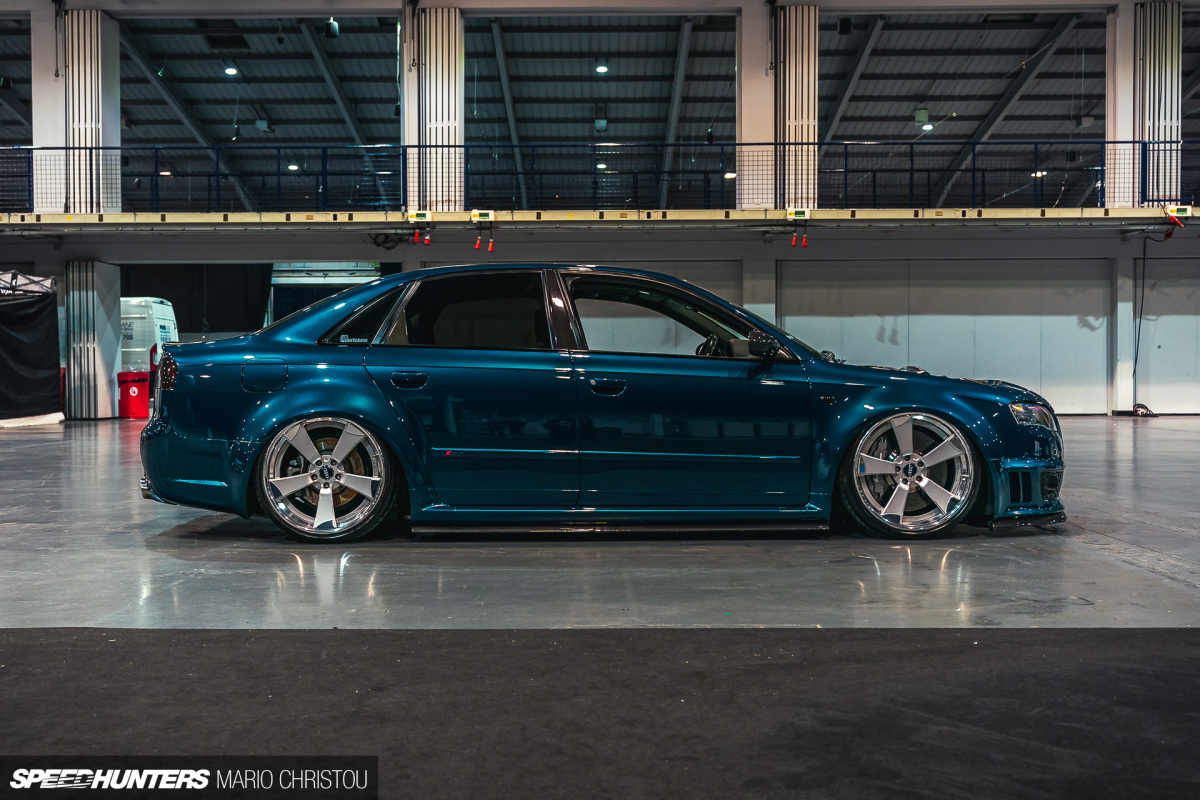 Sticking with the visual modifications, you'll notice that Charlie has dispensed of all the brightwork around the car, aside from the wheels and exhaust tips. As much as he's an RS man, he's never been fond of the brushed 'aluminium' trim that they come with. Charlie's opted for a full suite of carbon fibre instead.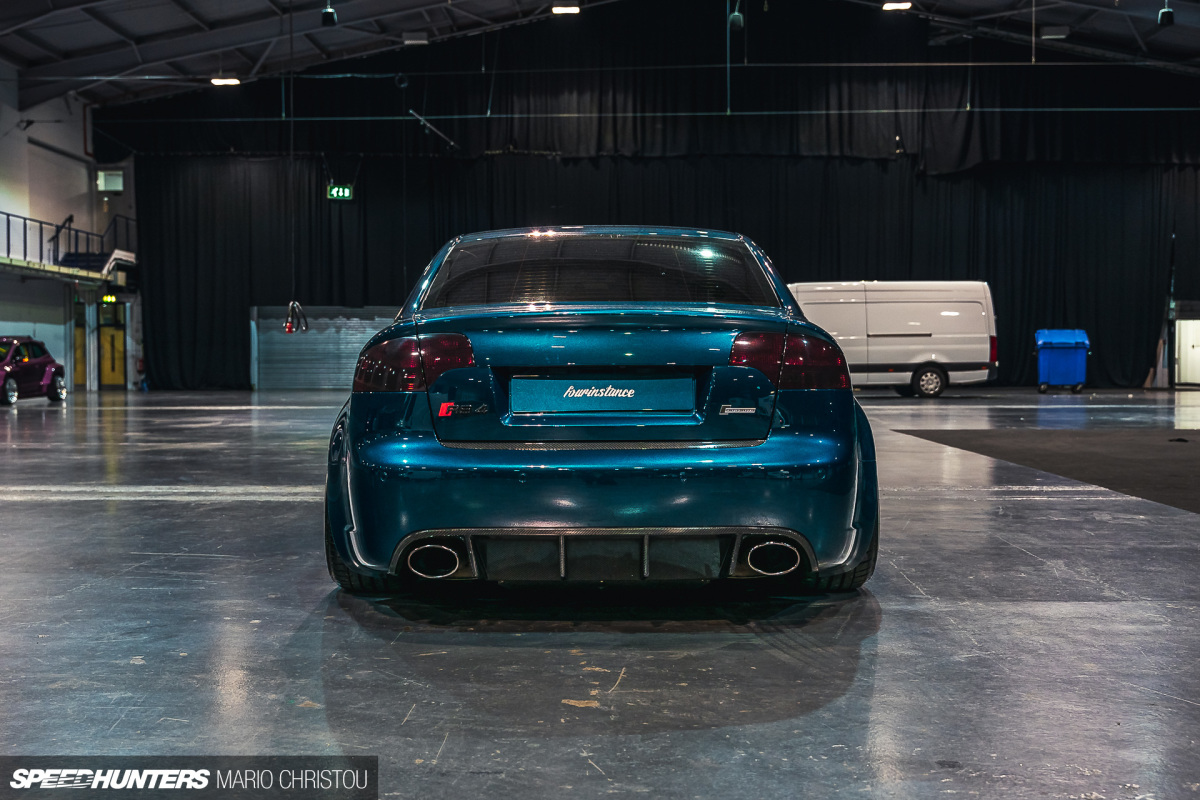 Now, was Charlie to have bought a BMW M3 instead of an Audi RS4, this would be a simple change to make. BMW M owners absorb more carbon than an average sized rainforest on an average day, so the market for carbon fibre accessories is plentiful.
For an Audi RS? Not so much. That's why certain parts such as the grille, mirrors, splitter, skirts, diffuser and more were custom made for Charlie's car.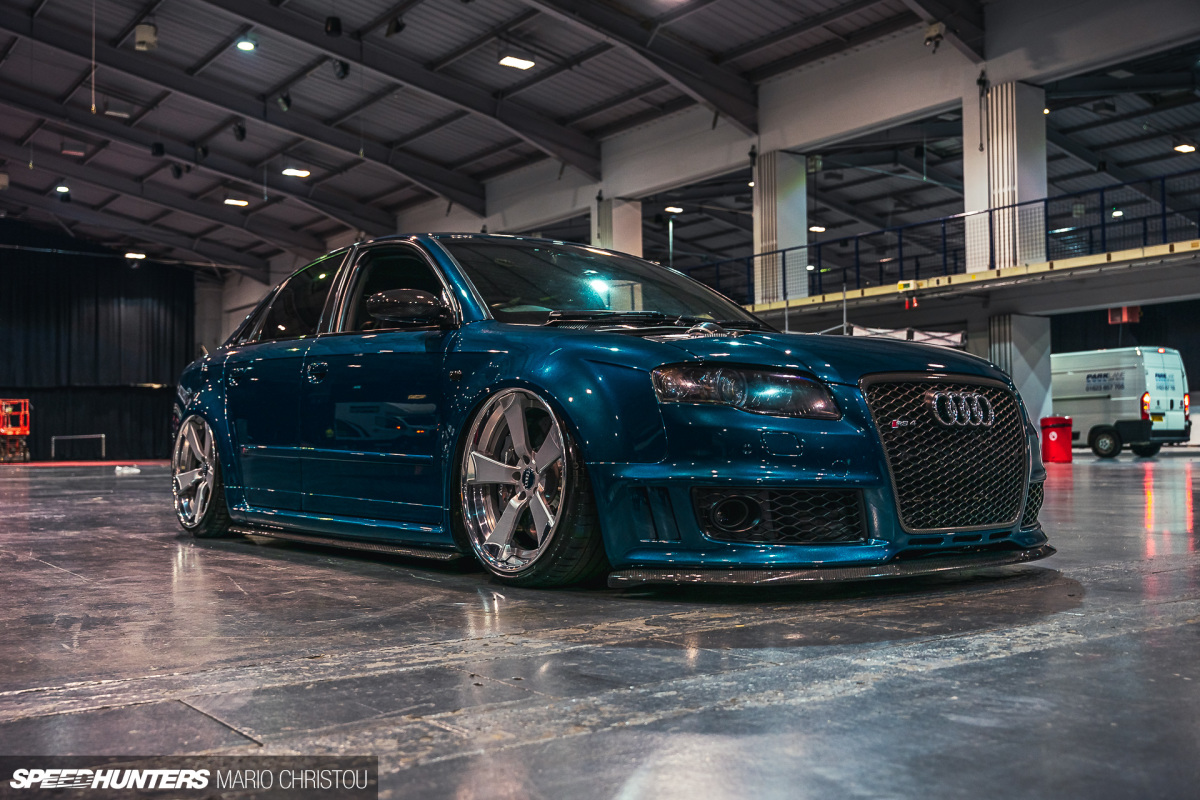 The grille itself is made from a combination of OEM Audi and RS grilles, which have been cut, moulded and blended together to make a single 'carbon framed' mesh item. This new grille retains the integrated parking sensors whilst doing away with the licence plate bar.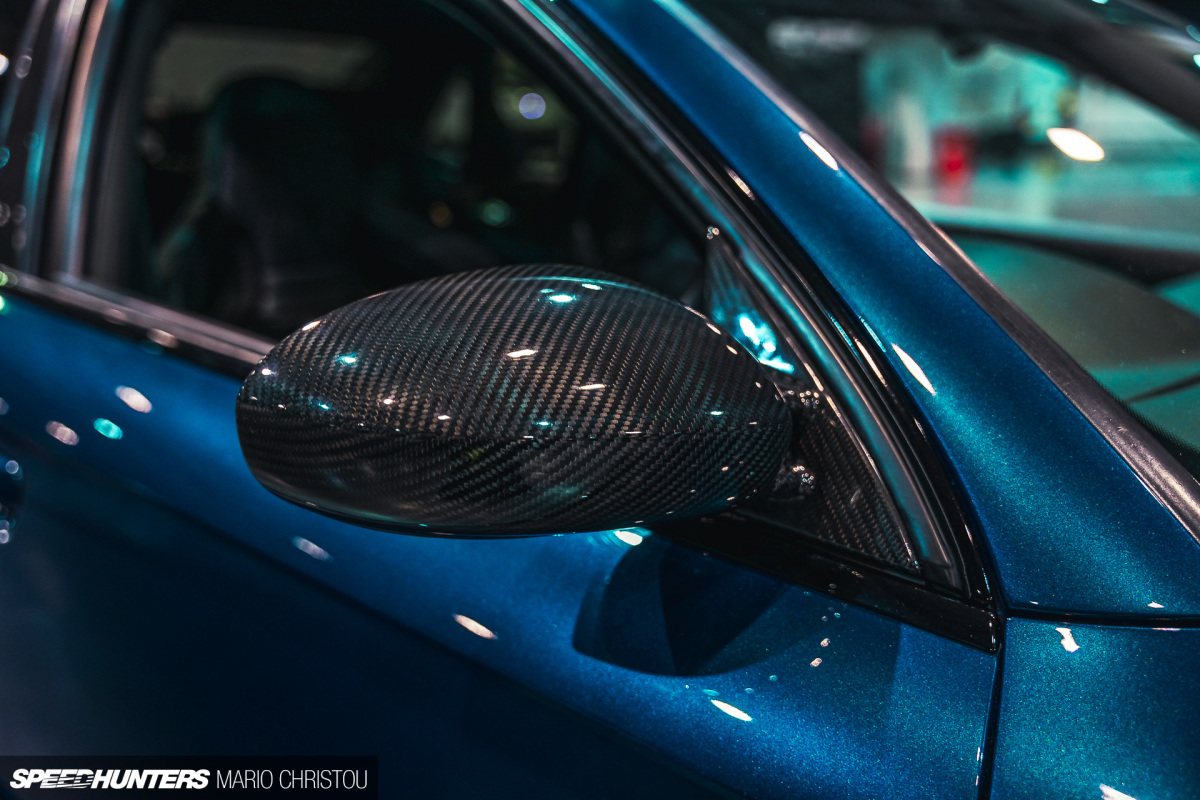 The mirrors, meanwhile, are one-of-a-kind complete wet-lay carbon items. That includes the mirror bases; there's no carbon skinning here.
Not carbon, but very cool nonetheless are the EM Tuning headlights, which feature Audi RS logos on the projector lenses and dark inner housings.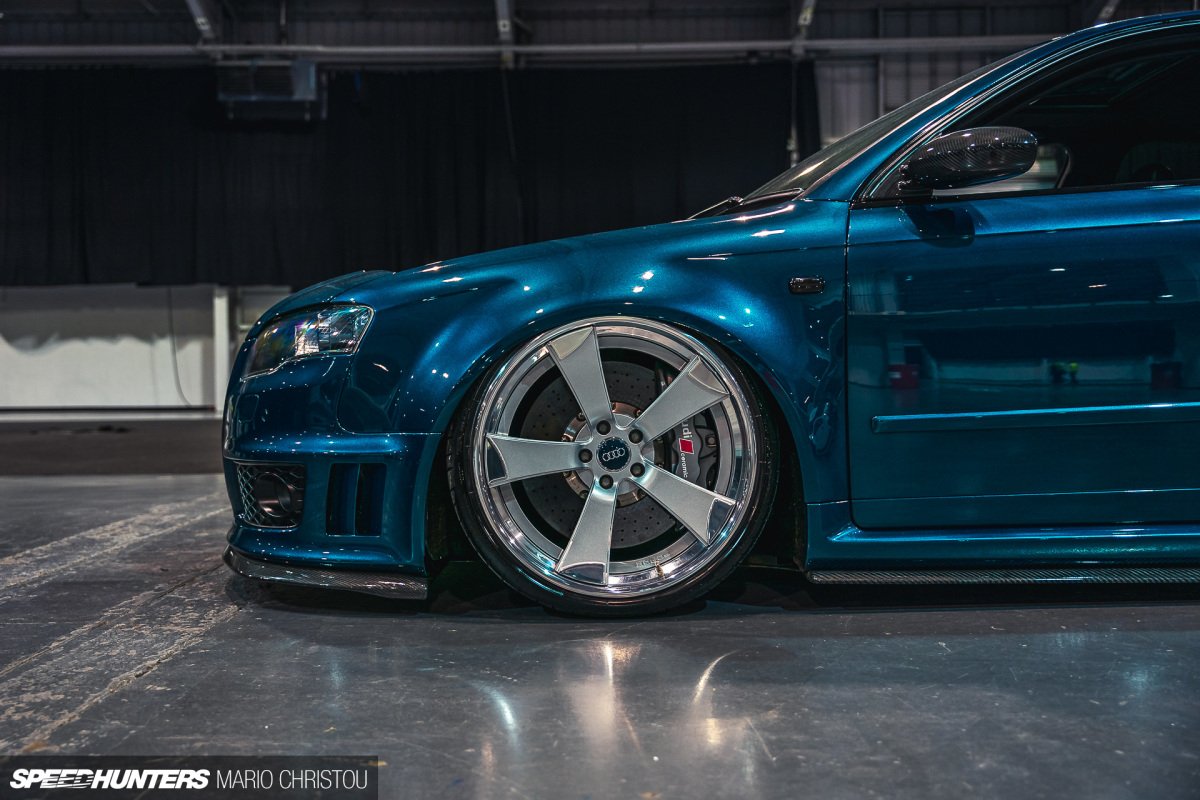 Wheels and suspension? Well the 20-inch wheels may look like OEM Audi Rotors but, once again, they're bespoke – 3-piece split items made by Forge Wheels USA. Silver powder-coated faces with mirror-polished rotor tips, lips and hidden hardware blend an OEM and aftermarket look.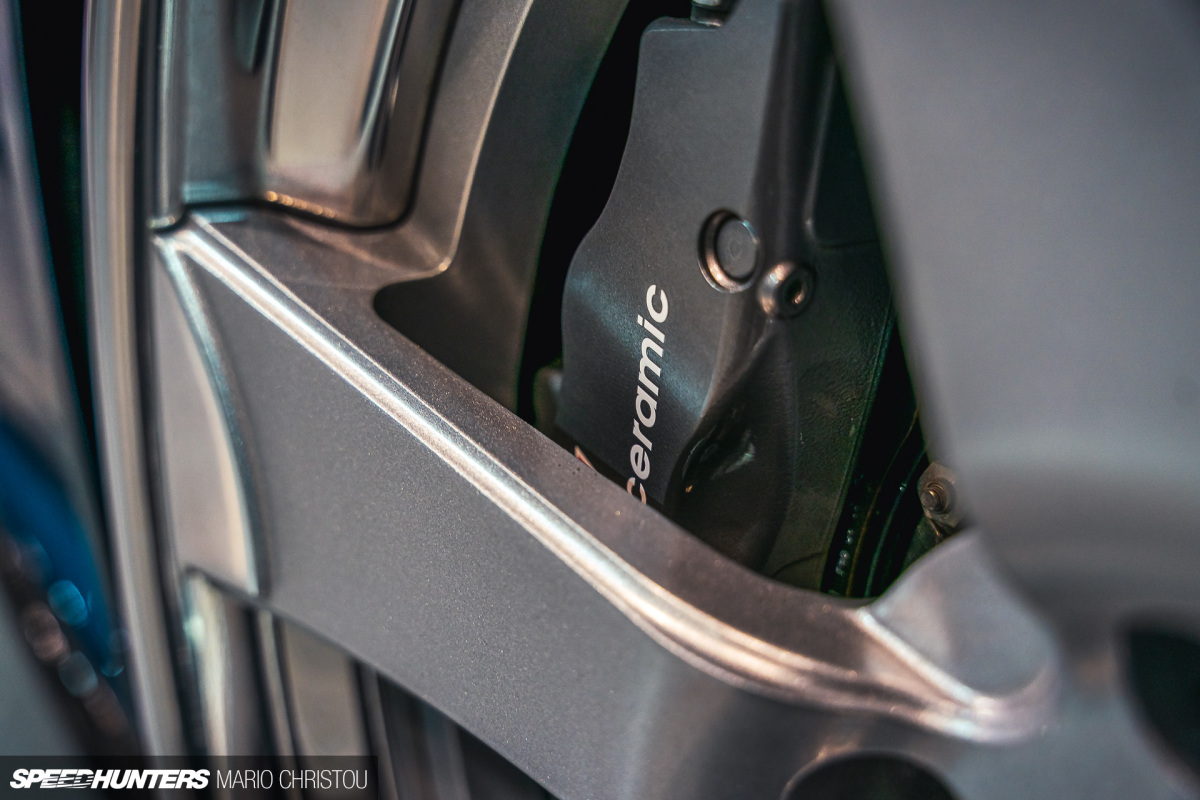 Behind Charlie's front wheels are a gargantuan set of Carbon Ceramic brakes, and the RS4 is laid out courtesy of Air Lift Performance suspension with a hidden boot build. Poly-bushed suspension components and H&R anti-roll bars remove sloppiness from the driving experience.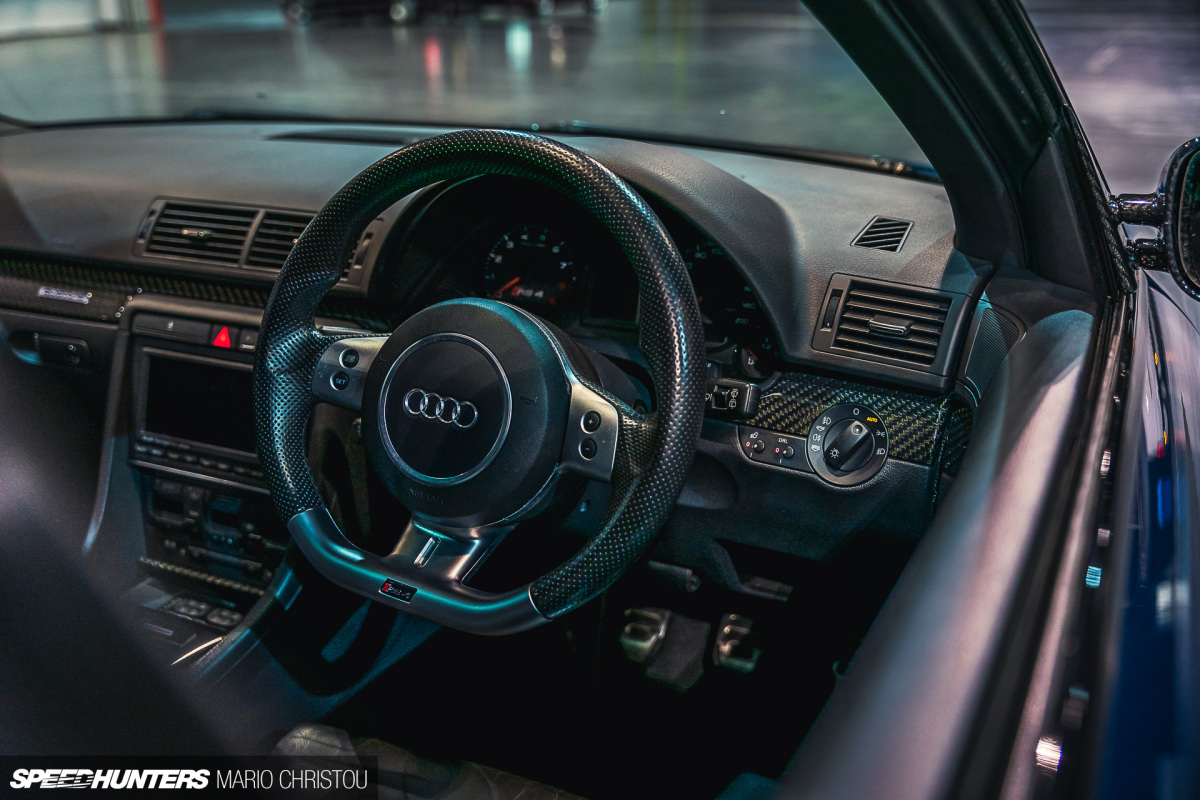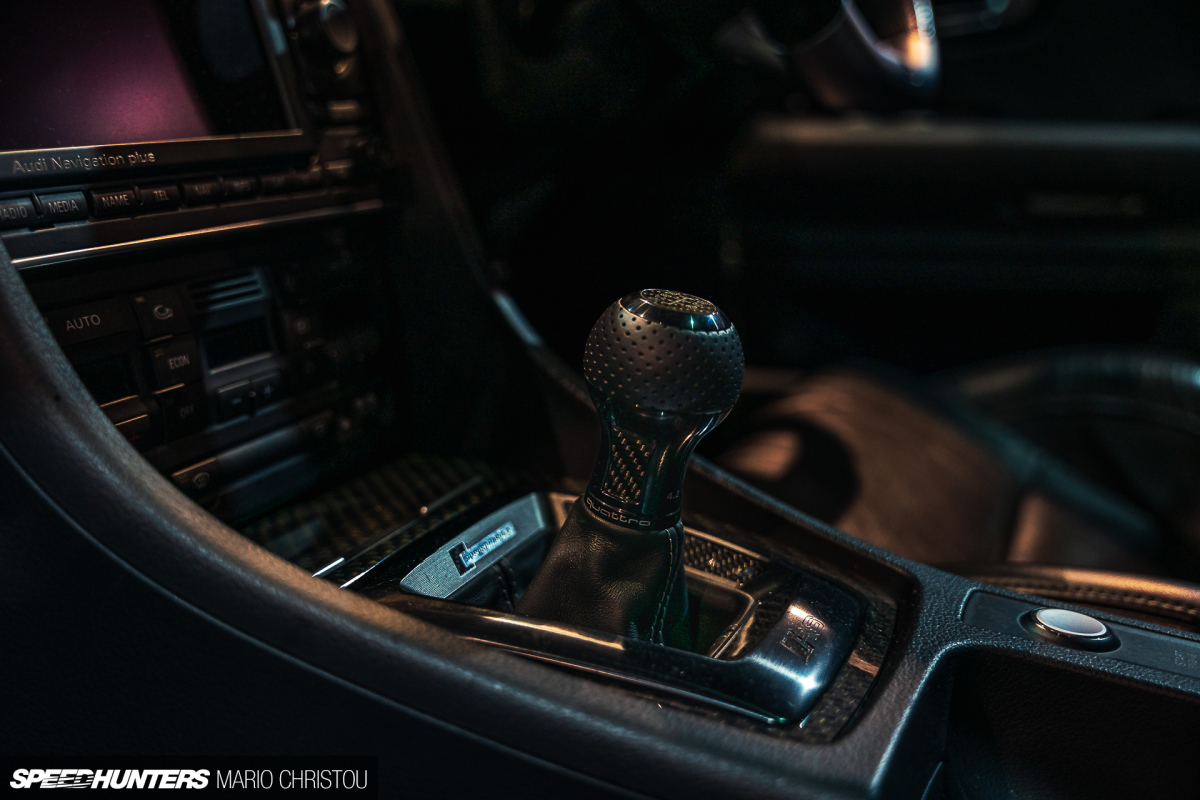 Inside, the car is mostly as it left the factory aside from, you guessed it, some bespoke carbon fibre components. Dashboard trims and end caps are subtle, but the gear knob/shifter are CNC-milled with a matching billet gaiter surround.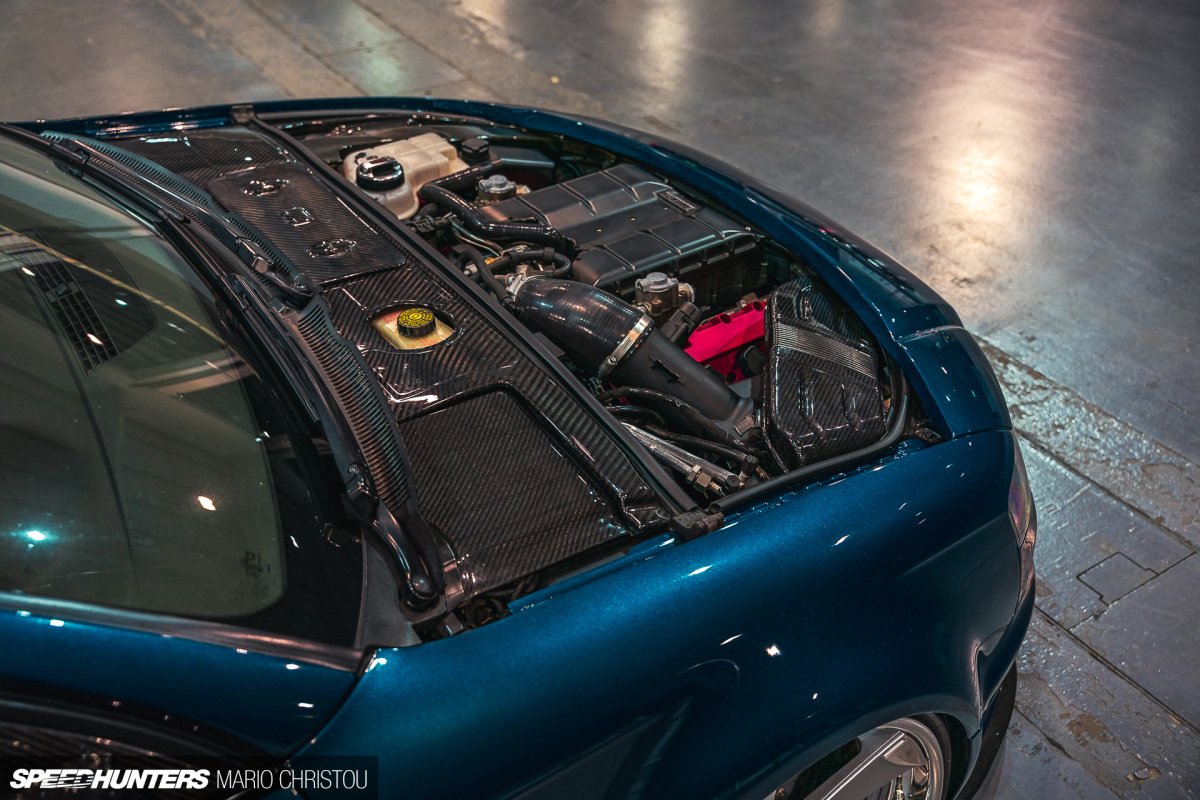 It is impossible to discuss Charlie's RS4 without mentioning the engine upgrades though. The B7 RS4 left the factory with 414hp, though this is a figure which falls rather rapidly with age. We've even mentioned it previously on Speedhunters.
It's an issue Charlie addressed… and then some.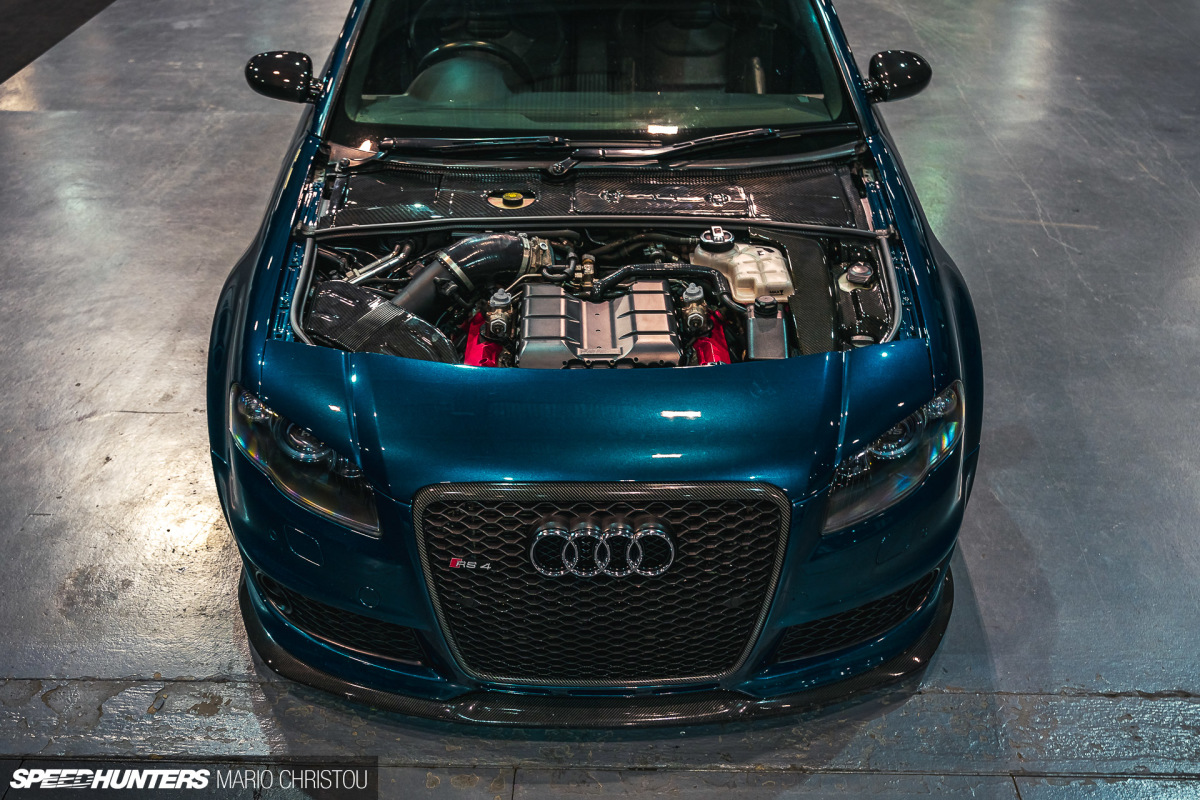 Today, proudly displayed behind the cut show bonnet is a TTS/Rotrex C38 supercharger kit with 'Stage 3′ MRC Tuning software. This is mated to a cold air intake as well as de-cat down-pipes and a custom 3-inch exhaust with x-pipe. The system is finished off by custom slash cut/angled exhaust tips on the TubiStyle back boxes to follow the curve of the diffuser.
A party piece is that the RS4 is mapped for Charlie to be able to 'flat shift' without taking his foot off the accelerator. The B7 RS4 has a 6-speed manual, after all.
I can tell you now, when Charlie puts his foot down, this car simply f**ks off into the distance. Hardly a surprise with 634hp, Quattro 4WD, and Michelin Pilot Sport 4S tyres.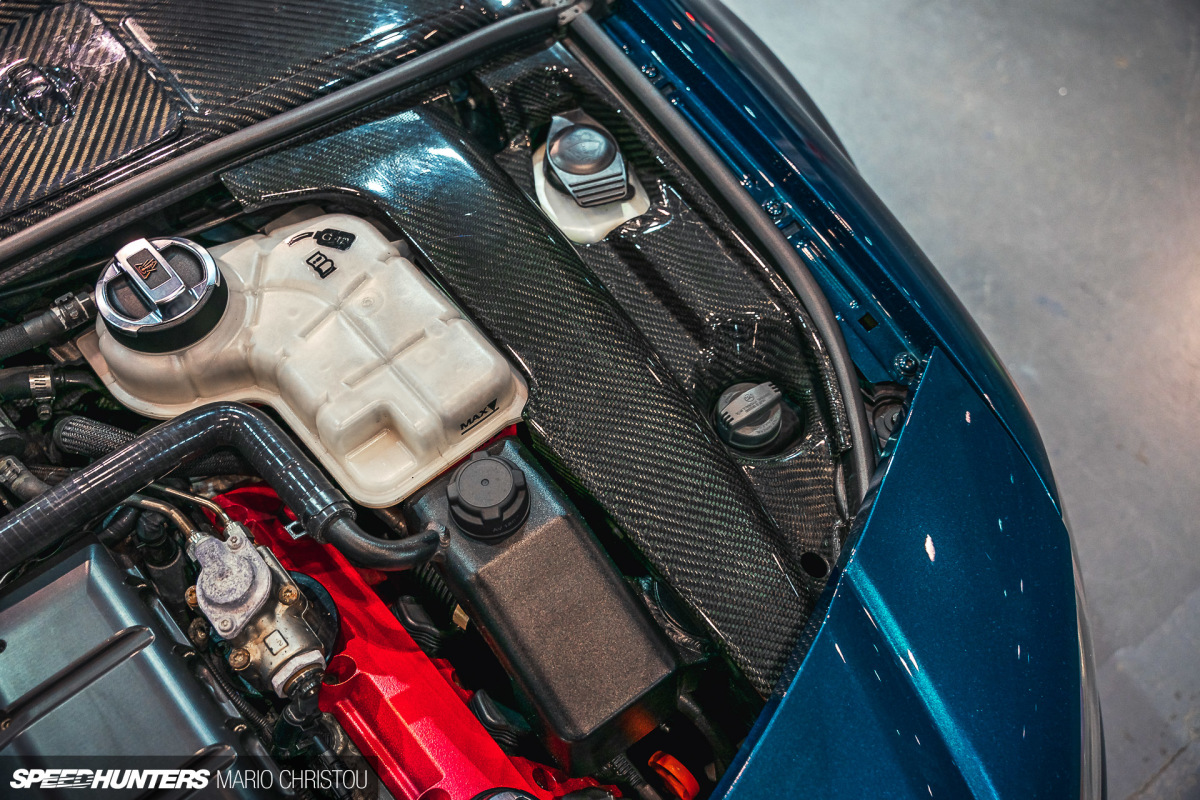 If the supercharger plenum itself wasn't enough eye-candy for you, the rest of the bespoke engine bay carbon fibre should do the trick. I'm not surprised Charlie wants his engine bay on show.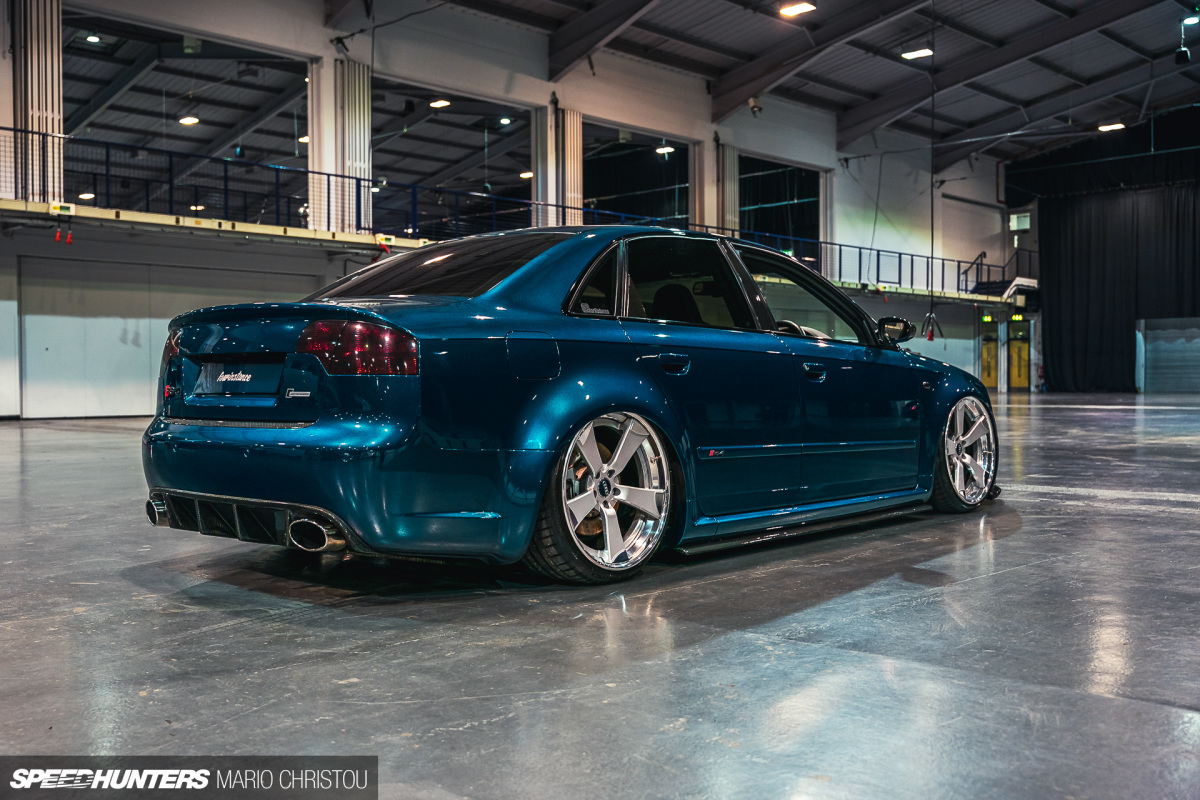 This is one of my favourite examples of a B7, and it's a proper show car through and through.
What do I mean by that? Well, 'Big Chaz' has left no stone unturned in his quest to personalise his RS4.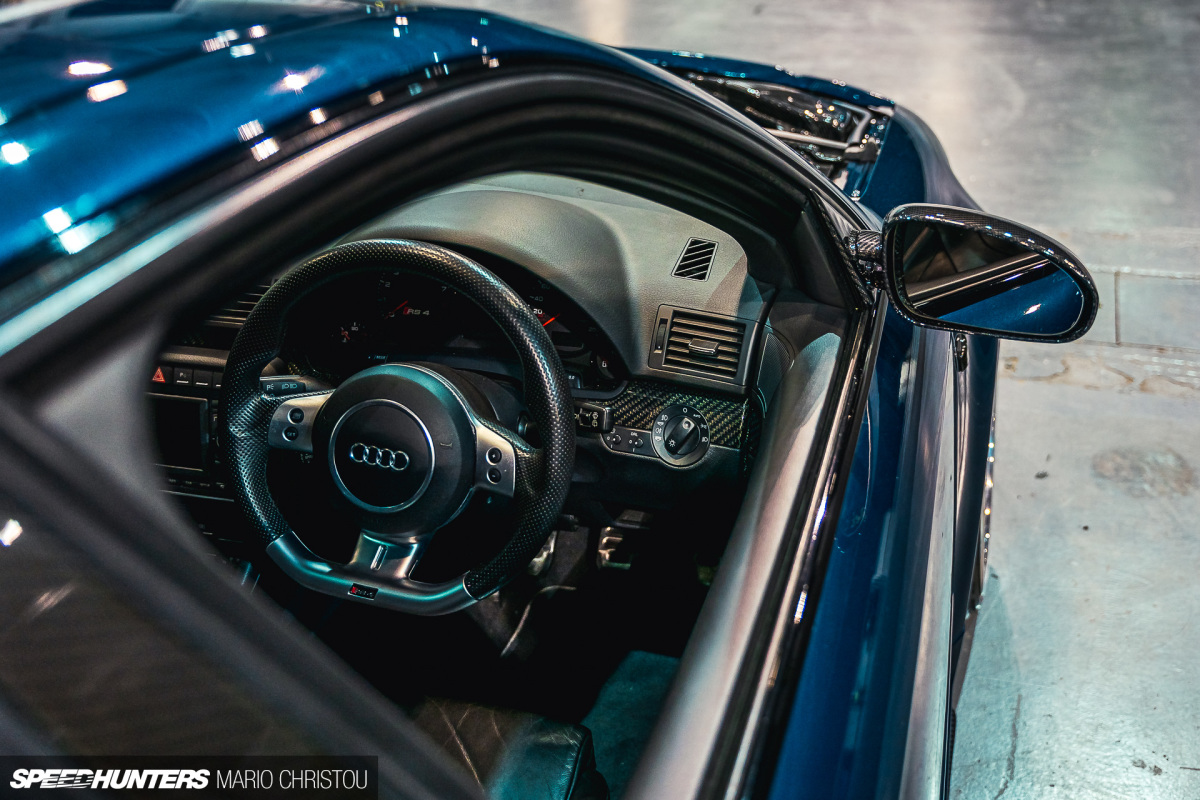 In fact, leather aside I can't think of any part of the car which hasn't been modified, and I know a re-trim is next on the cards, along with a potential colour change and a set of upgraded rear brakes to match the fronts.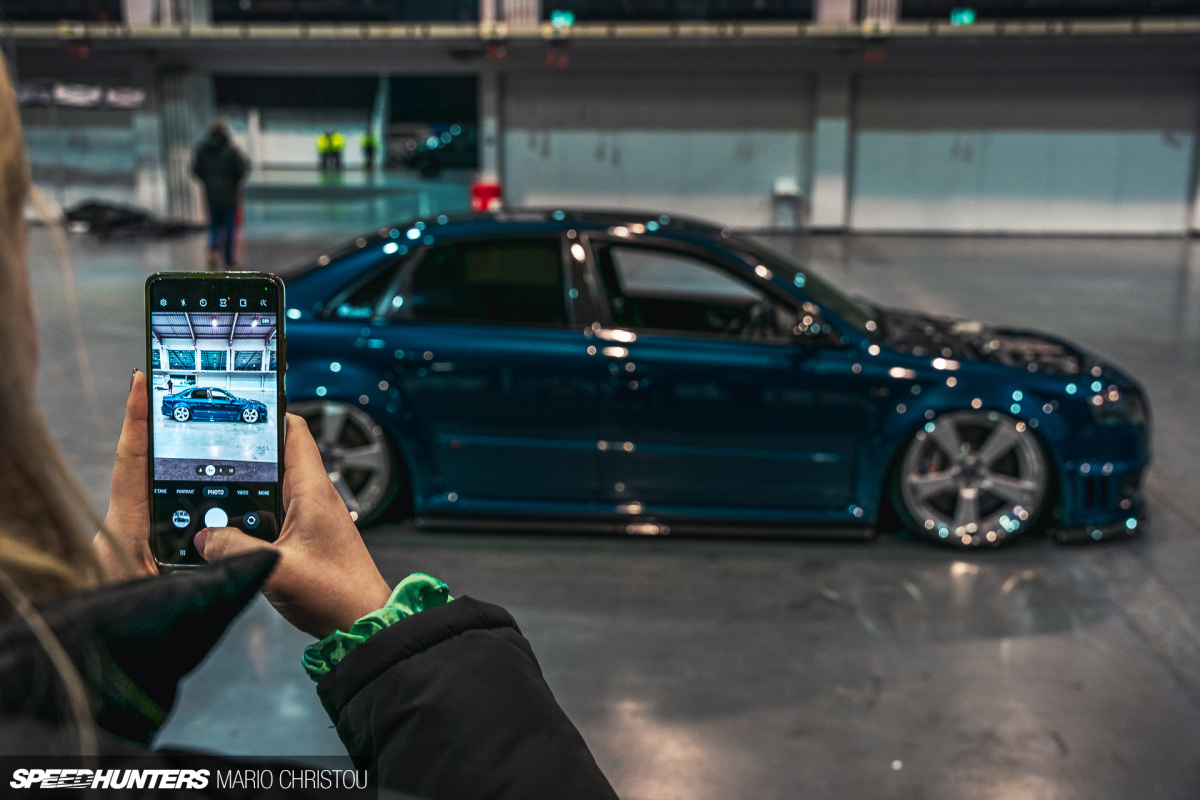 But the most impressive thing about Charlie Dunn's Audi? The sheer amount of mileage he has done and continues to do with it. Show winner, summer cruiser and European grand tourer – this Audi RS4 does it all.
Mario Christou
Instagram: mcwpn