In the last decade, the number of expensive luxury cars and SUVs spotted on Indian roads has increased manyfold. Unlike regular cars, these expensive vehicles are a bit more expensive to maintain, and not everyone who can afford to buy them can maintain them properly. Some luxury car owners often try to find cheaper solutions to repair their expensive vehicles. British car manufacturer Bentley launched its first SUV, the Bentayga, in India a few years ago. The SUV quickly became popular among businessmen and celebrities. An image of a Bentley Bentayga has gone viral on the internet after it was spotted being repaired at a roadside mechanic.
The image was shared by Automobili Ardent on their Facebook page. In this image, we see a Bentley Bentayga, a luxurious multi-crore SUV, being repaired by a roadside mechanic in Mumbai. While we are unsure of what the mechanic is doing, the picture shows that the fuel filler cap is missing, and the grille of the car is also not seen here. In the image, however, we can see a mechanic sitting in front of the car with its bonnet open. It looks like the mechanic was working in the engine bay. However, the Bentayga appears to be in good condition and not broken down.
Also read: 10 DC Design cars & how they look in the REAL world: Maruti Swift to Mahindra XUV500
From the looks of it, the mechanic is doing a paint touch-up job on the luxurious Bentayga. Paint jobs for high-end cars can be expensive, as they require multiple layers of coats to keep the sheen for years. While it may not be possible for roadside mechanics to provide the same finesse as professionals, they can still work just fine for small dents or scratches. For instance, a regular mass-segment car does not cost much to fix such issues, but it's not the same for high-end cars. In many of these expensive cars, customers often opt for custom paint jobs, which increases the price of the car. In this case, painting a Bentley Bentayga from an authorized dealership would cost the owner lakhs, but a roadside mechanic would only charge thousands.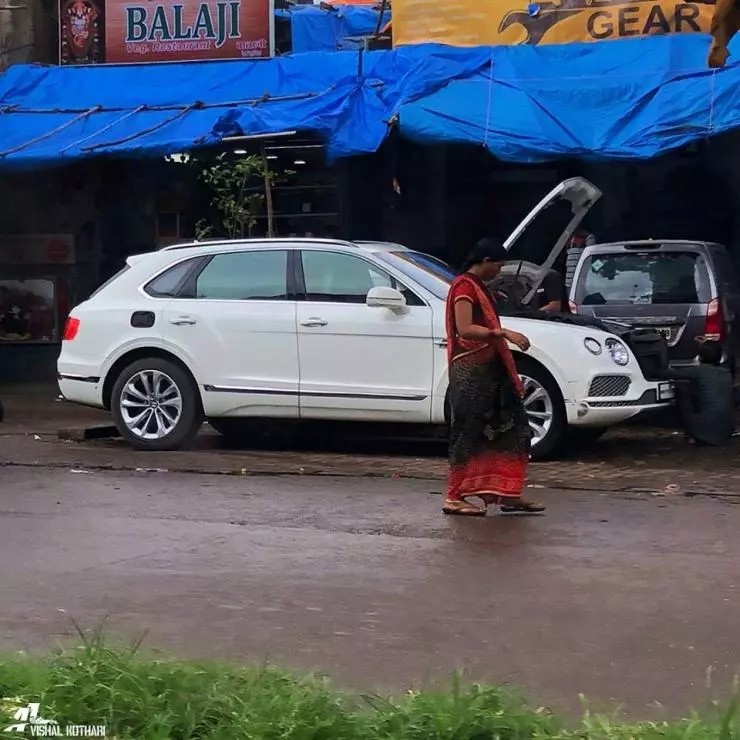 The Bentley Bentayga has gained popularity in India since its launch, with the billionaire Ambani family owning four Bentaygas of different specifications. Bentley sells both V8 and W12 models in the Indian market. The W12 version of the SUV will be discontinued from the market in April 2024. Like many other car manufacturers, Bentley will also be focusing on electric vehicles. The Ambanis, who have one of the largest private collections of cars in India, own both W12 and V8 variants. The top-end version of the Bentayga is powered by a 6.0-liter W12 petrol engine, generating a maximum power of 600 Bhp and a peak torque of 900 Nm. The Ambani family uses this car frequently, with Akash Ambani spotted driving it on multiple occasions. The lower-powered version gets a 4.0-liter V8 engine that generates a maximum power of 542 Bhp and peak torque of 770 Nm. Other than Ambani, businessman Adar Poonawalla owns the Bentayga EWB version, and Indian businessman Yusuf Ali also owns a W12 Bentley Bentayga.
Also read: Upcoming 2022 Maruti Suzuki Vitara Brezza rendered