Ultimate Dubs 2023
Well, ladies and gentlemen, we've survived the Ultimate Dubs weekend.
If you haven't yet read my preface to UD 2023, I suggest you quickly pop over and do so before carrying on with this main show coverage. It'll inform the rest of this article to no end.
Now, as with most Ultimate Dubs Sundays, I may or may not have had an early start with a fairly fragile head and a mild aversion to bright lights. After all, being the season opener means UD is as much a reunion for friends as it is a car show. Combine that with my mate's birthday and, well, it was nothing a solid breakfast and black coffee wouldn't fix.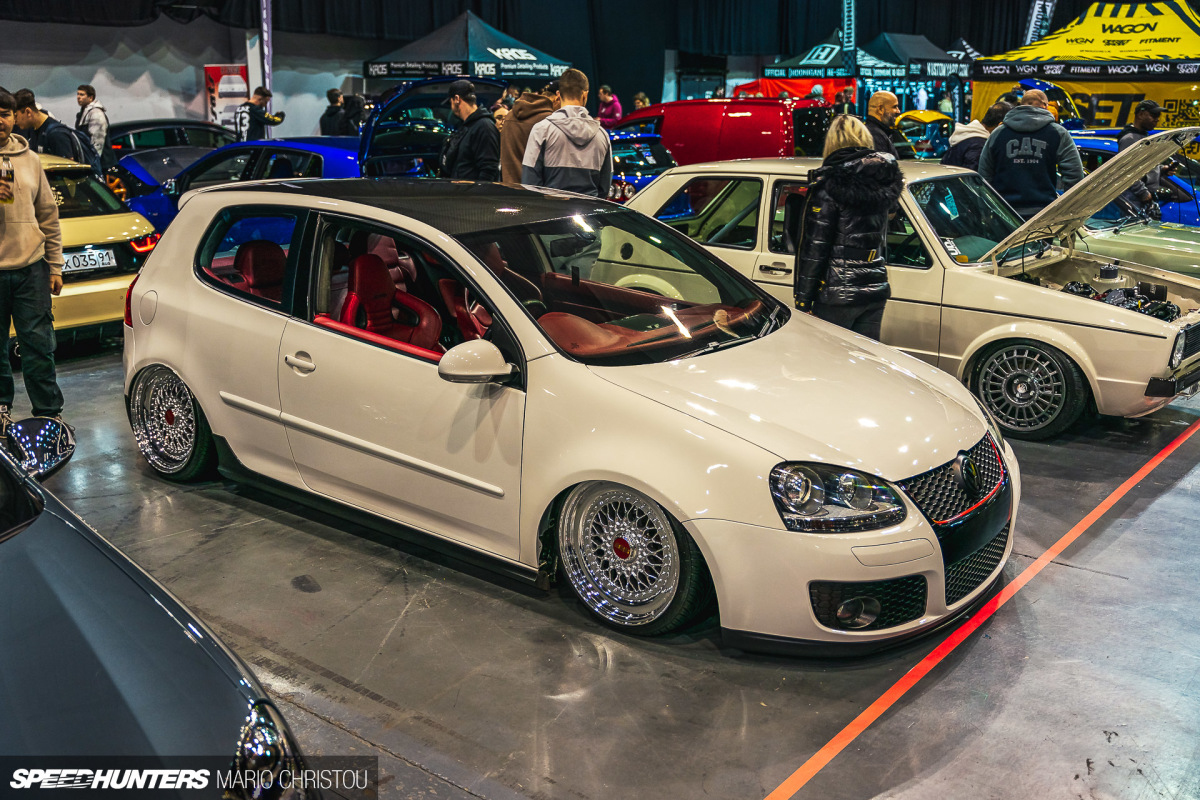 My mission was still clear though: find builds that stand out or that I simply like too much to not share with you.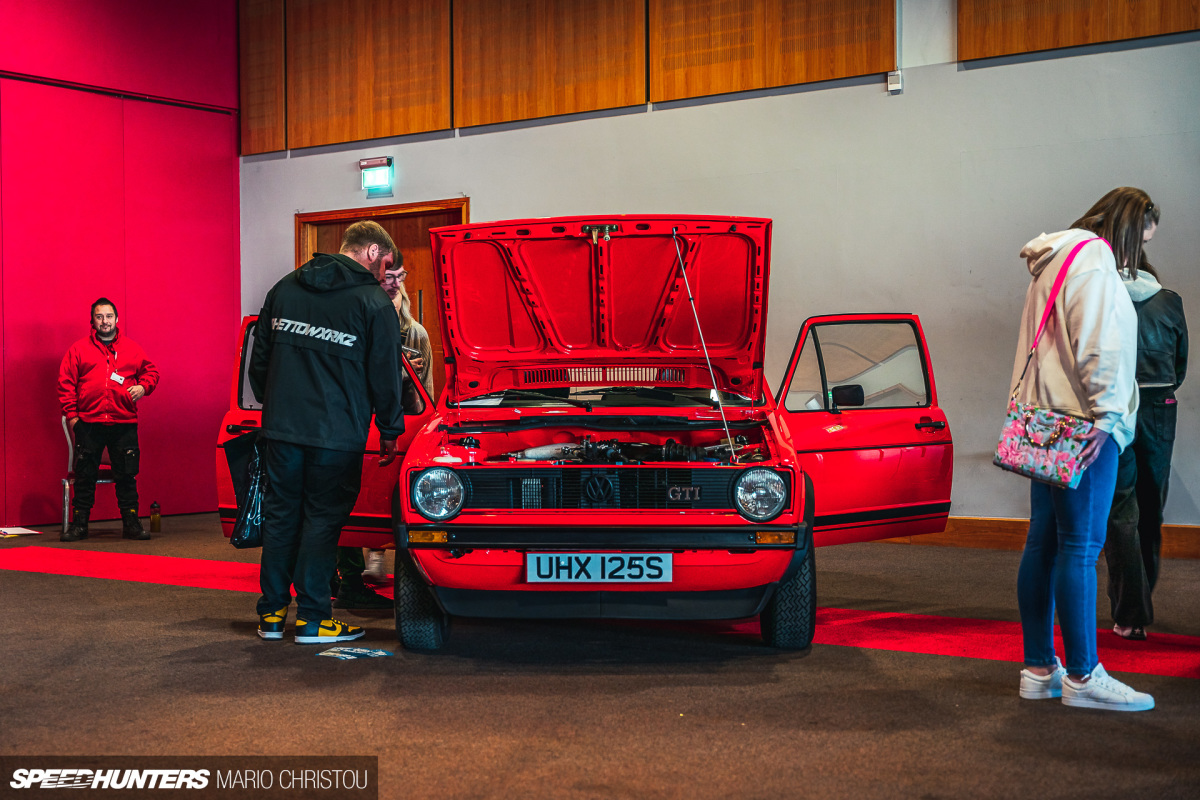 This year, I decided to start from the VIP hall, also known as the Red Room…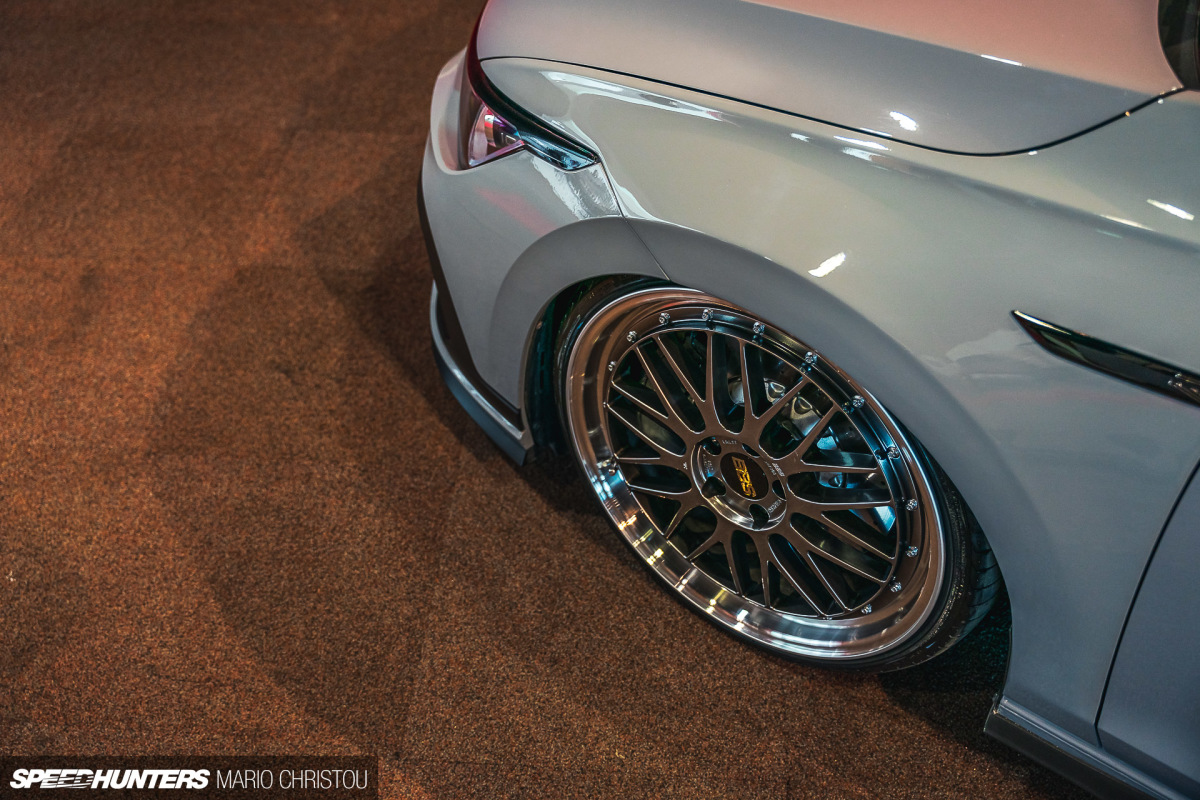 It was here that I immediately noticed a trend. I have three words for you: Baumgartner, Brand, Schiltach.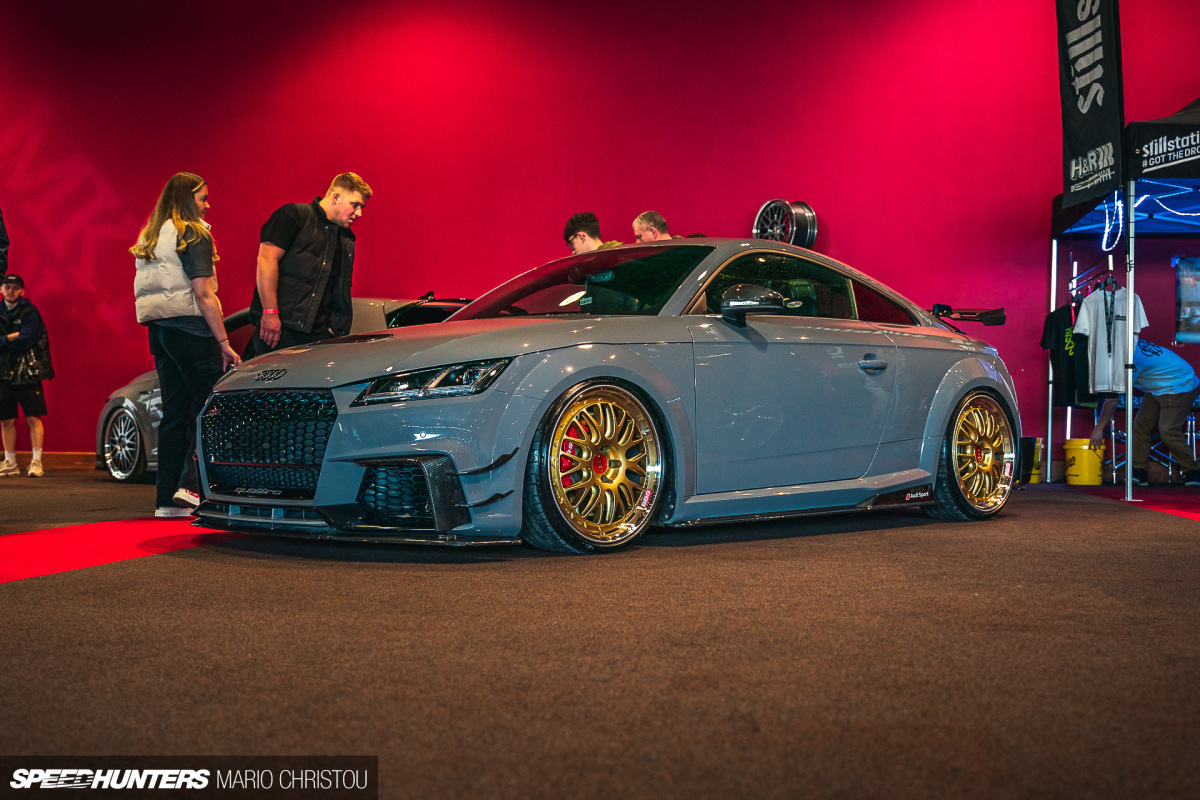 BBS wheels and VAG cars are absolutely inseparable, and it's been this way for the best part of half a century.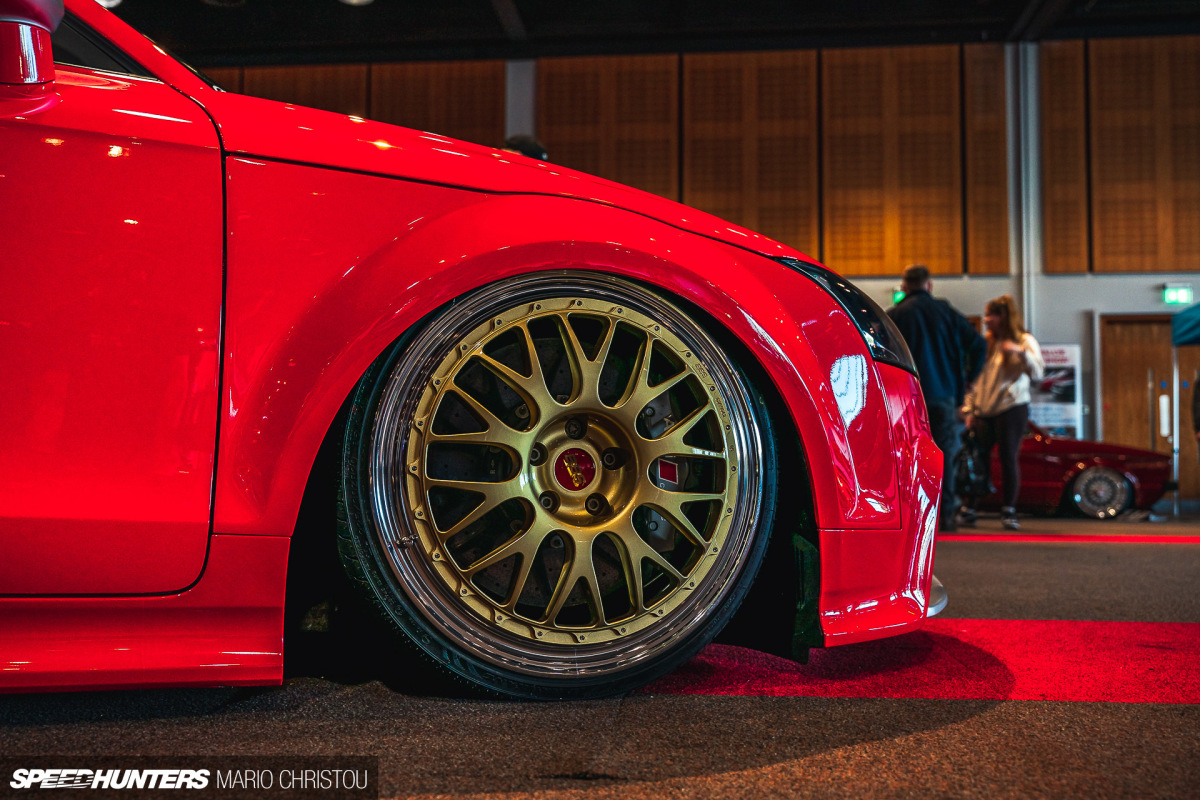 This pair of Audi TTs – a Mk2 and a Mk3 – on what I gathered to be BBS RT88 and E88s, proved why the combo works so well. The clean, sharp and slightly curved TT lines go hand in hand with the mildly convex yet defined spokes of the BBS faces.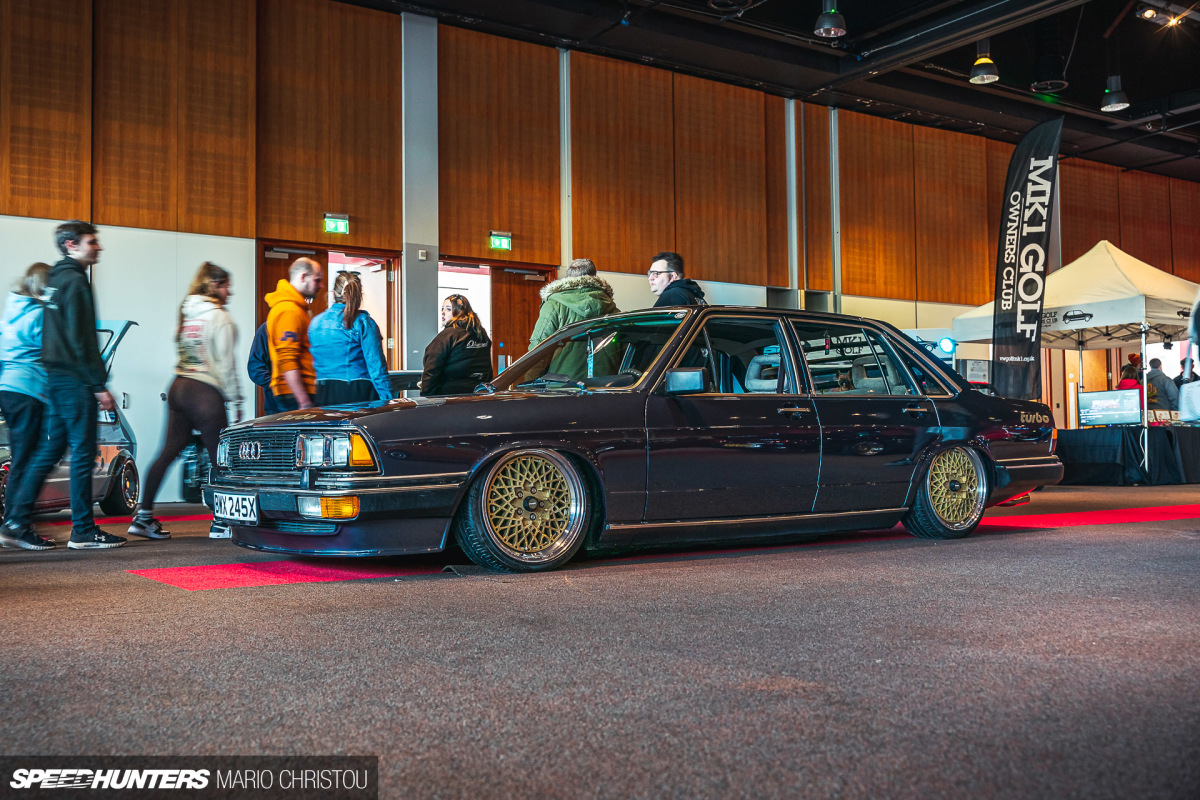 Down the hall, this Audi 200 5T gave my heartstrings a good old tug. I have a huge soft spot for the C2 generation Audi 200; its fantastic proportions and handsome features make this my '70s Audi of choice. Air Lift Performance suspension combined with a set of BBS E50 wheels only improved the appearance of this slab of Ingolstadt luxury.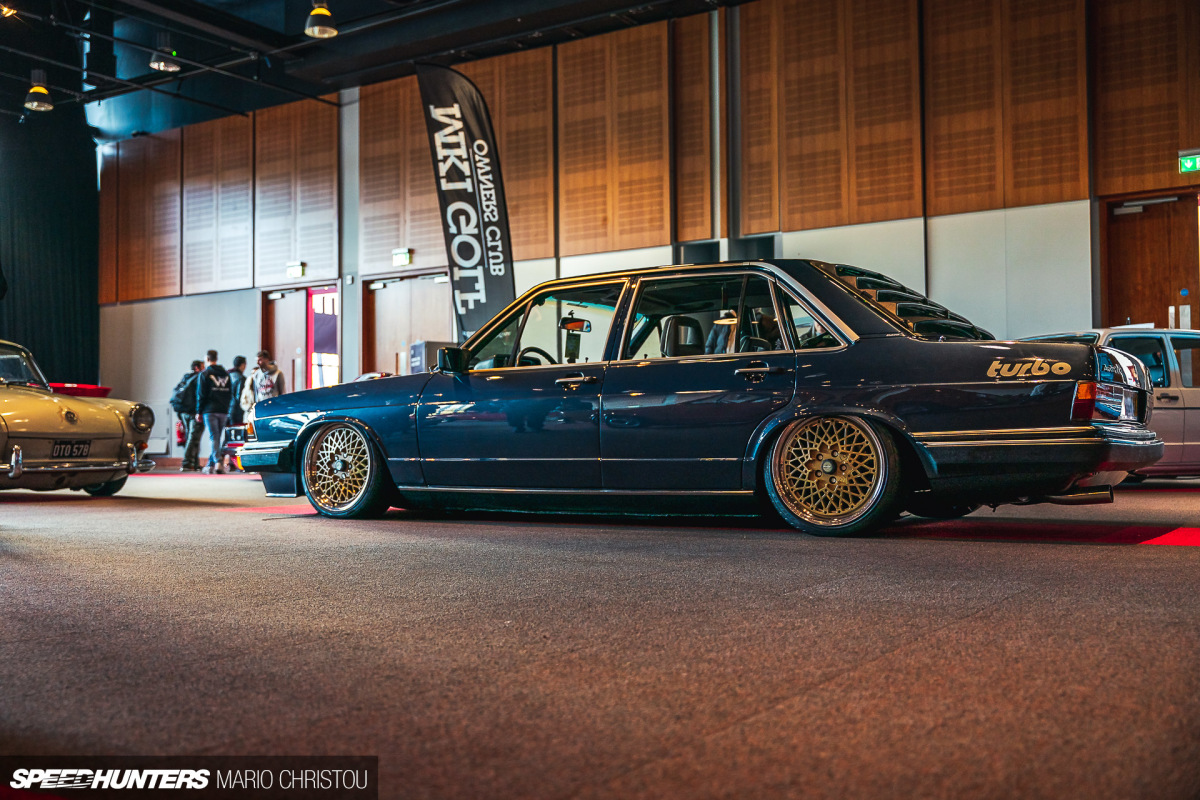 This 200 was one of the cleanest I've ever seen, and it had scarcity on its side too. Just 500 5Ts came to the UK back in the late '70s/early '80s, making this one rare luxury barge.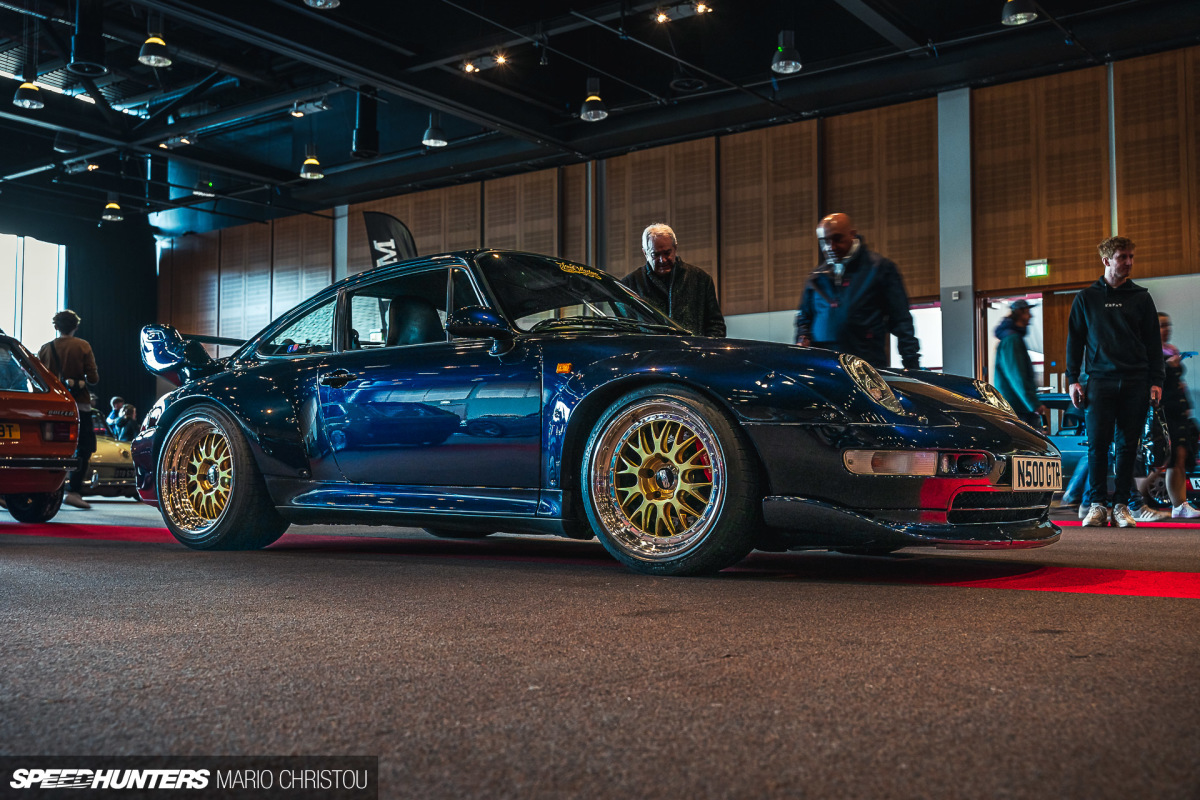 It was at this point my heart skipped a beat, then proceeded to imitate a Super Bowl marching band. It's no secret that I'm a big Porsche fan, so to have a right-hand drive 993 GT2 in a paint-to-sample colour in front of me was alone worth the visit to Ultimate Dubs.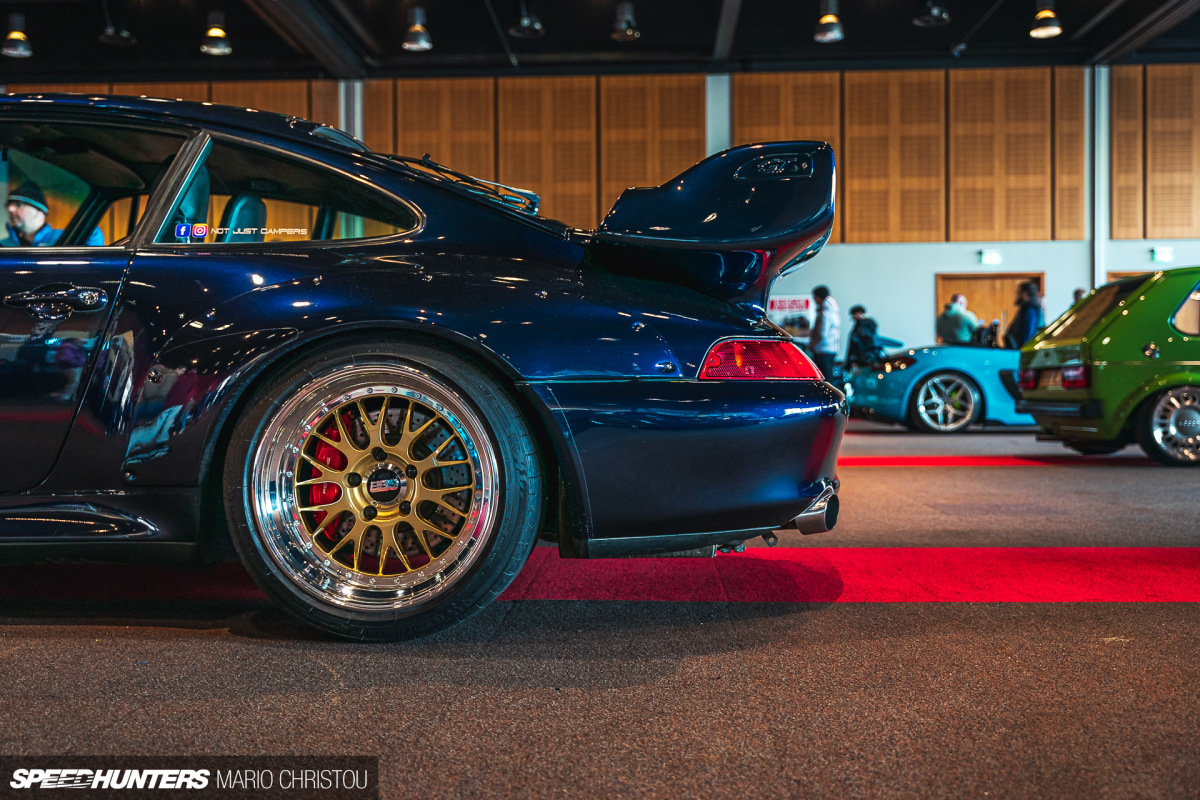 The exact numbers are still disputed, but less than 200 street-legal GT2s were produced, of which less than 25 were right-hand drive. With 424hp driving the rear wheels only for homologation purposes, it's safe to say the 993 GT2 is a handful to drive fast.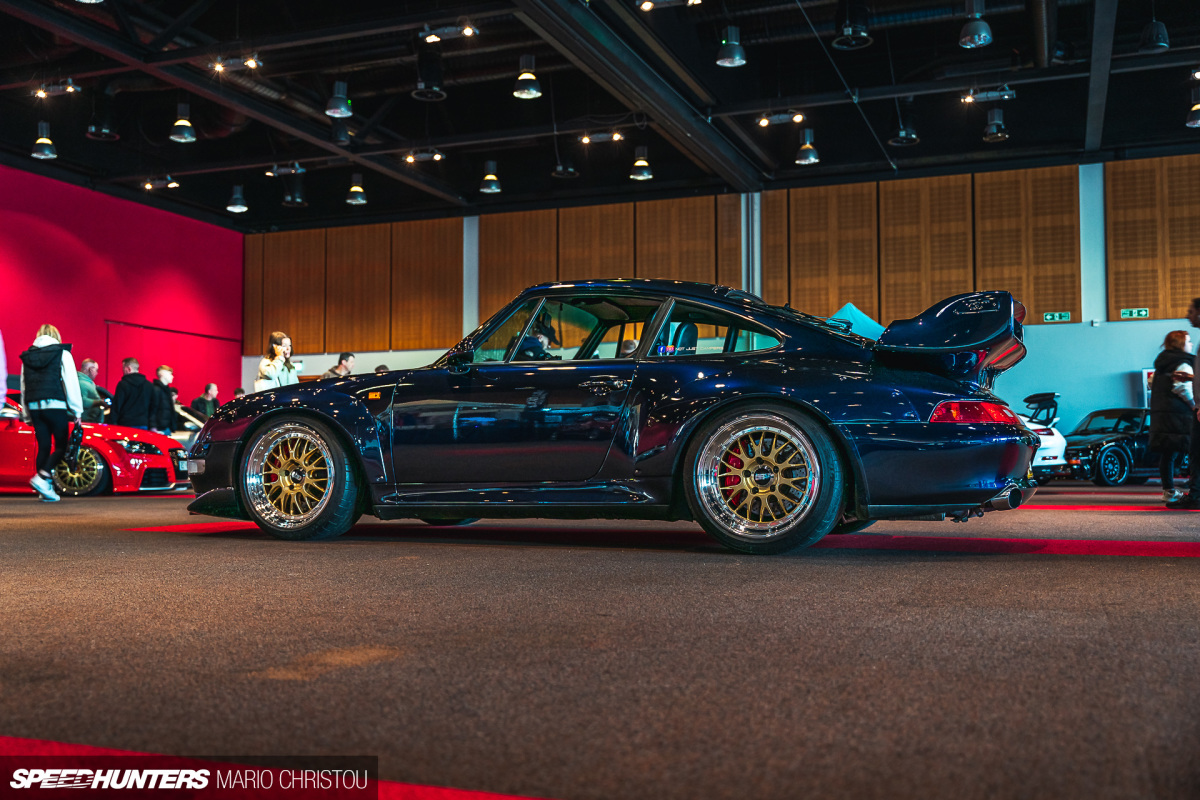 Just look at that side profile, what a machine.
More of the usual high-quality, show-standard machinery could be seen around the room, including a rather nice Air Lift-equipped BMW E30. But it's what was next to it that made me crack a huge smile.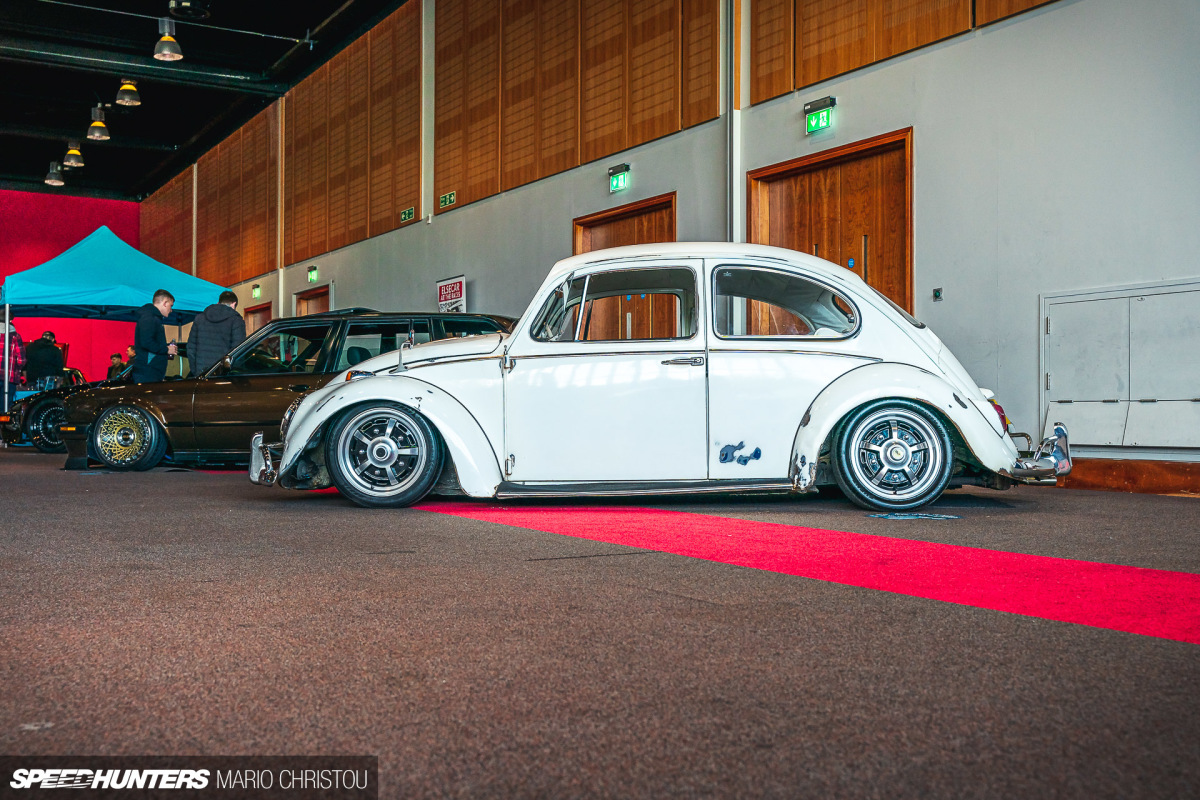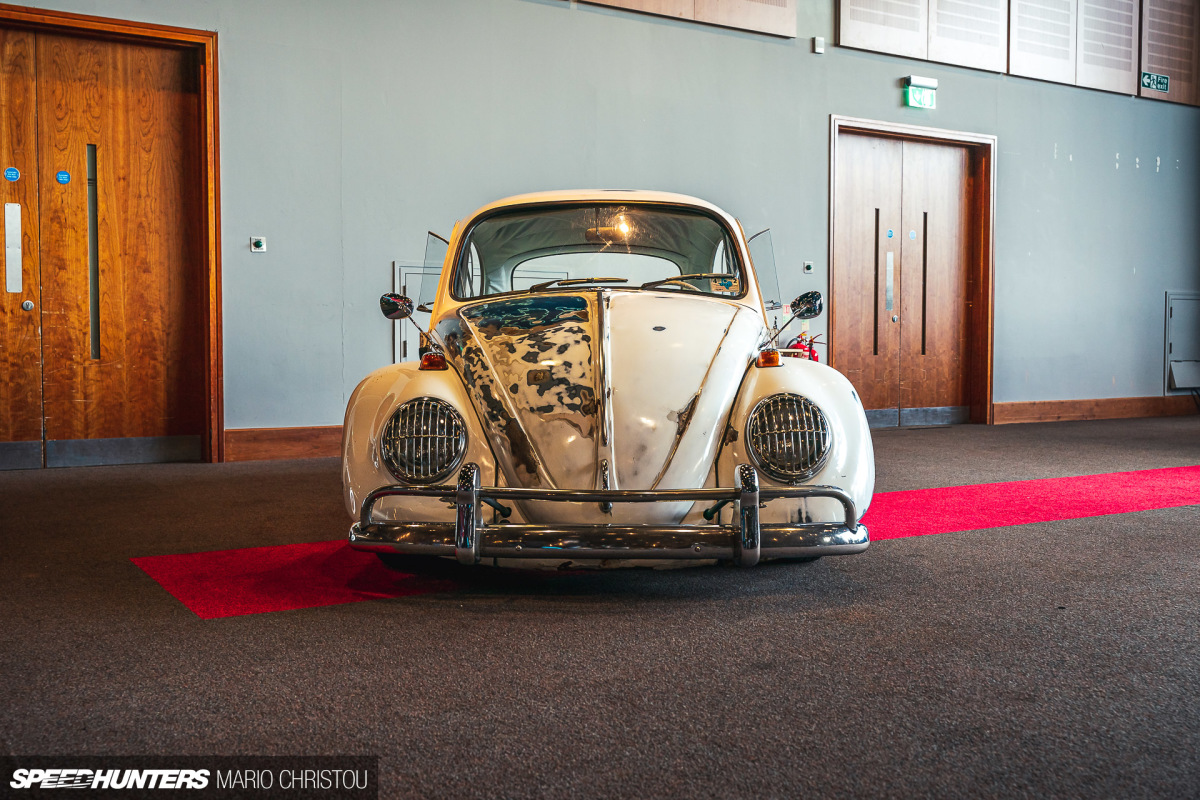 Air-cooled VWs exist in a strange realm of my car interest. Hell, I still don't know whether I like them all that much, but there's something about their quirkiness and the adversity they overcame that wins me over. Give me a 1303 Super Beetle and I'd be a happy man. Ask me to pay money for one, though? Maybe not…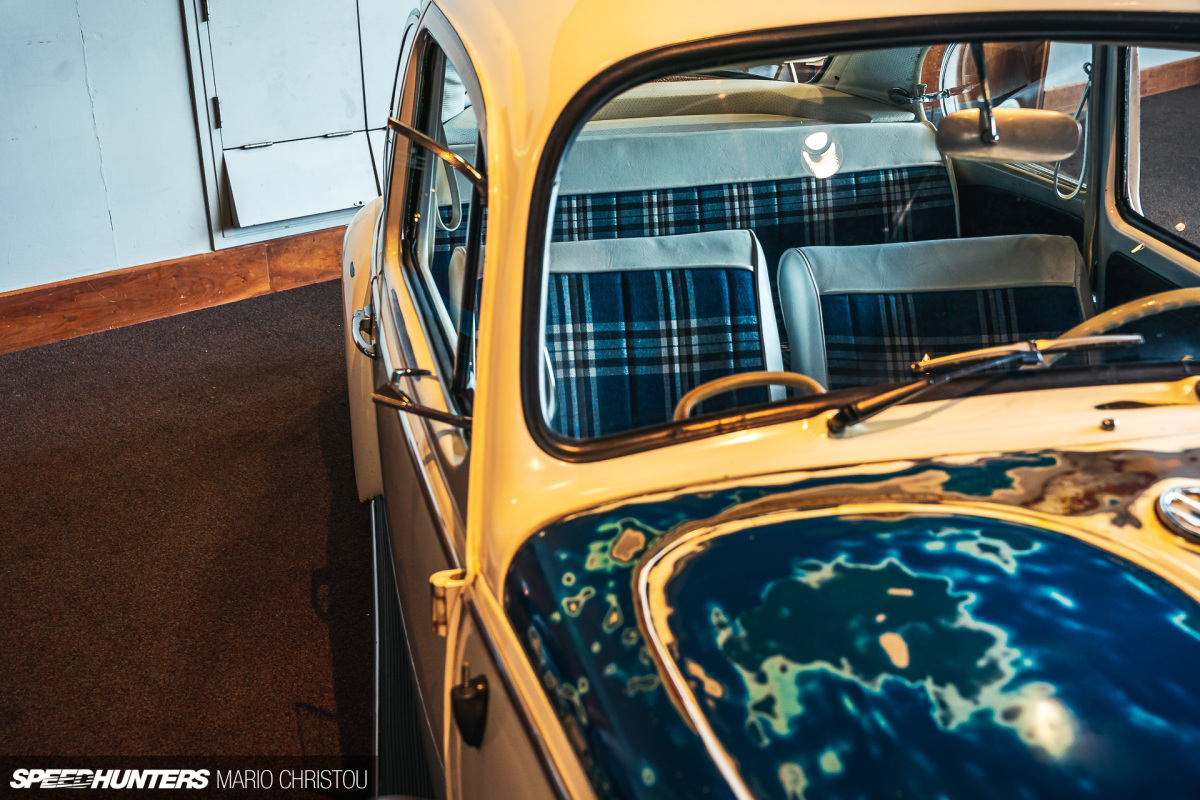 Whichever way, this white Käfer got my attention thanks to its patinated frunk and matching interior. The old layers of blue paint and an interior trimmed to suit is absolute genius, and it was one of my favourite details at UD 2023.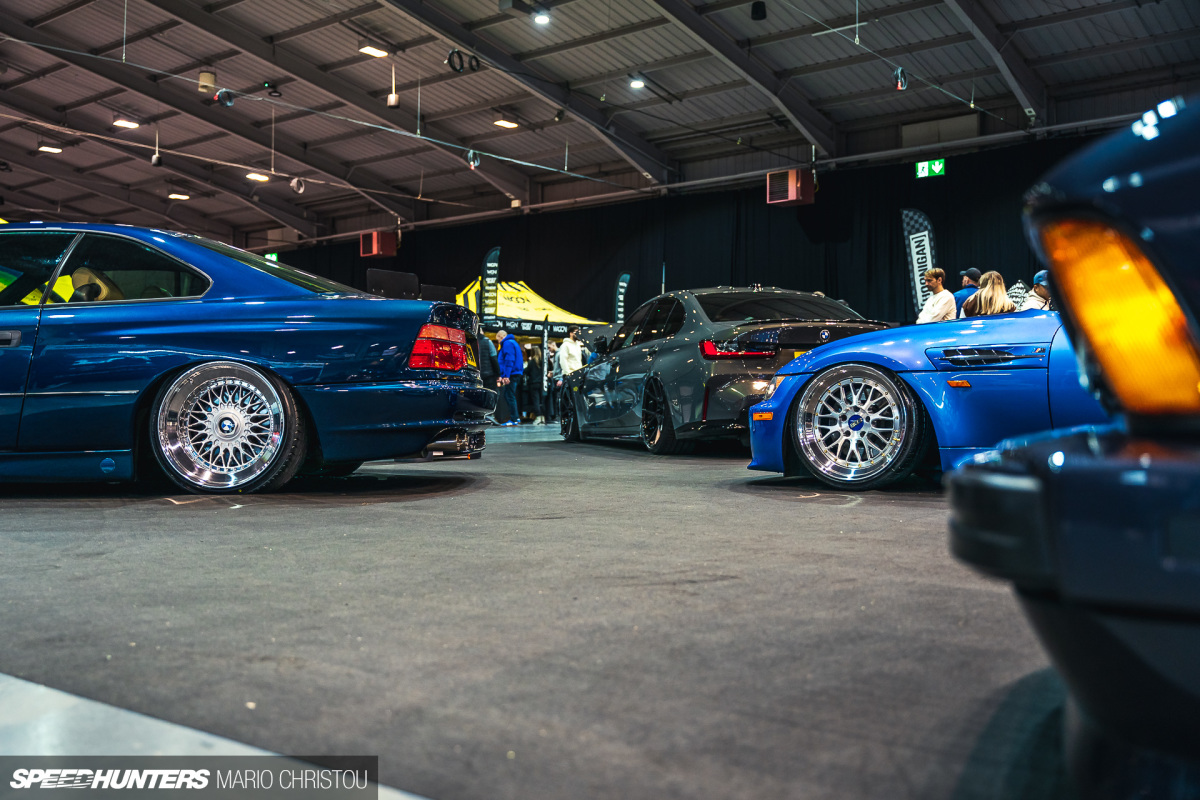 It's hard to miss the Air Lift Performance stand at Ultimate Dubs, with is seemingly growing year after year. For 2023, it was almost as if they curated it just for me.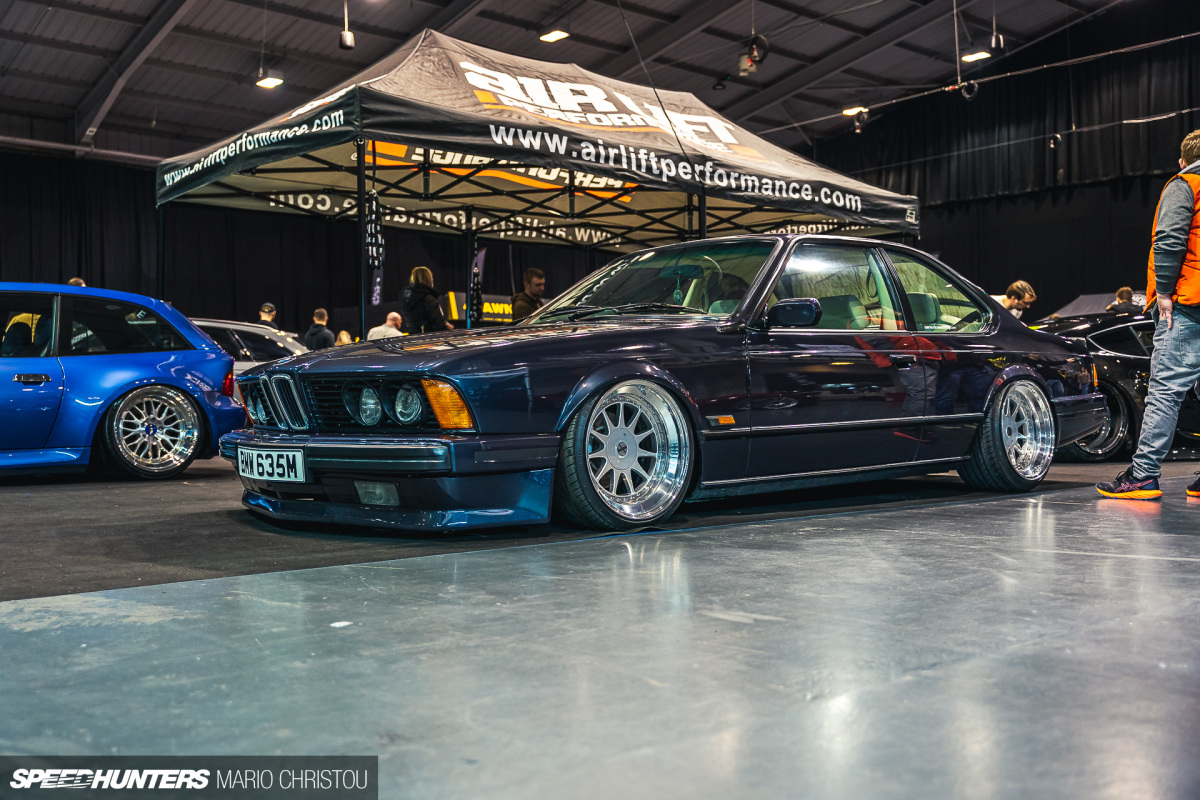 Raj Sangha's BMW M 635CSi Highline on Hartge Design C split rims – stepped up from 17- to 18-inches – is a reminder to all that BMW was absolutely on top of the world in the late 20th century when it came to car design. Oh how the mighty have fallen, but not before some more hits…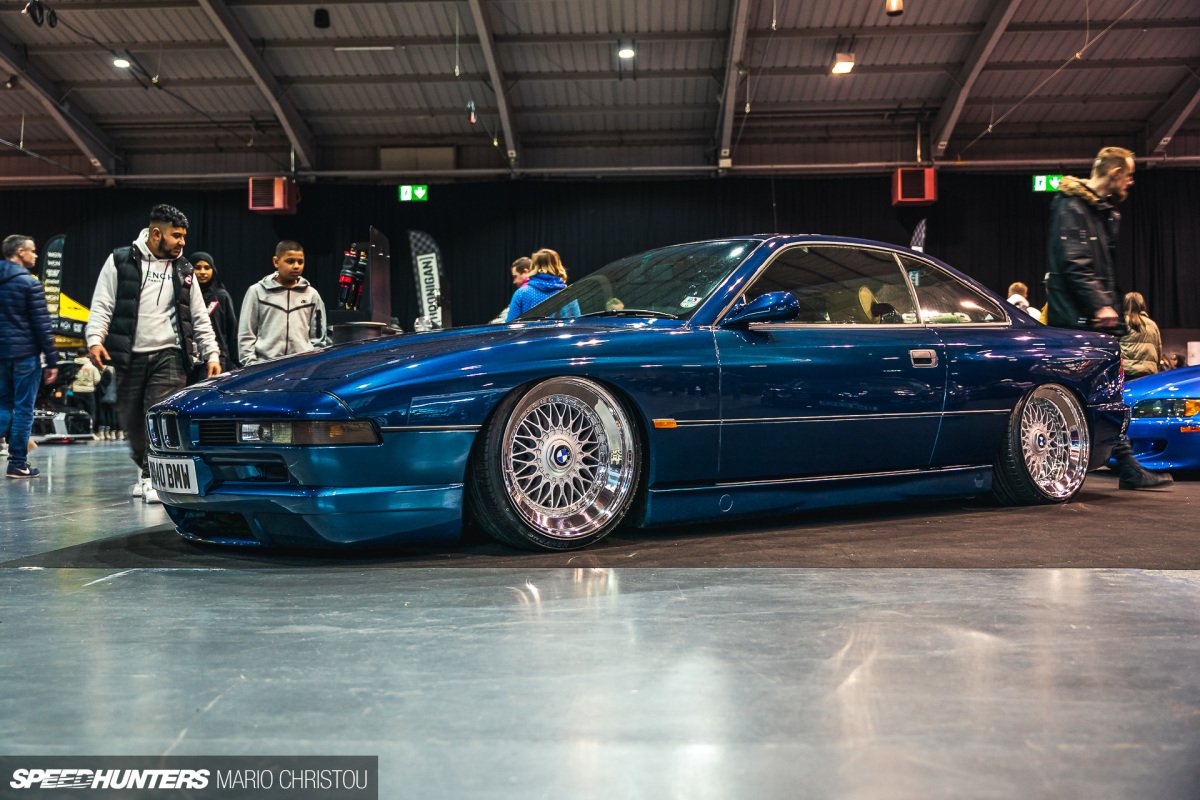 …such as the E31 840Ci Sport, in this case ALP-equipped on OEM BMW Style 5 wheels stepped up from 17- to 19-inches.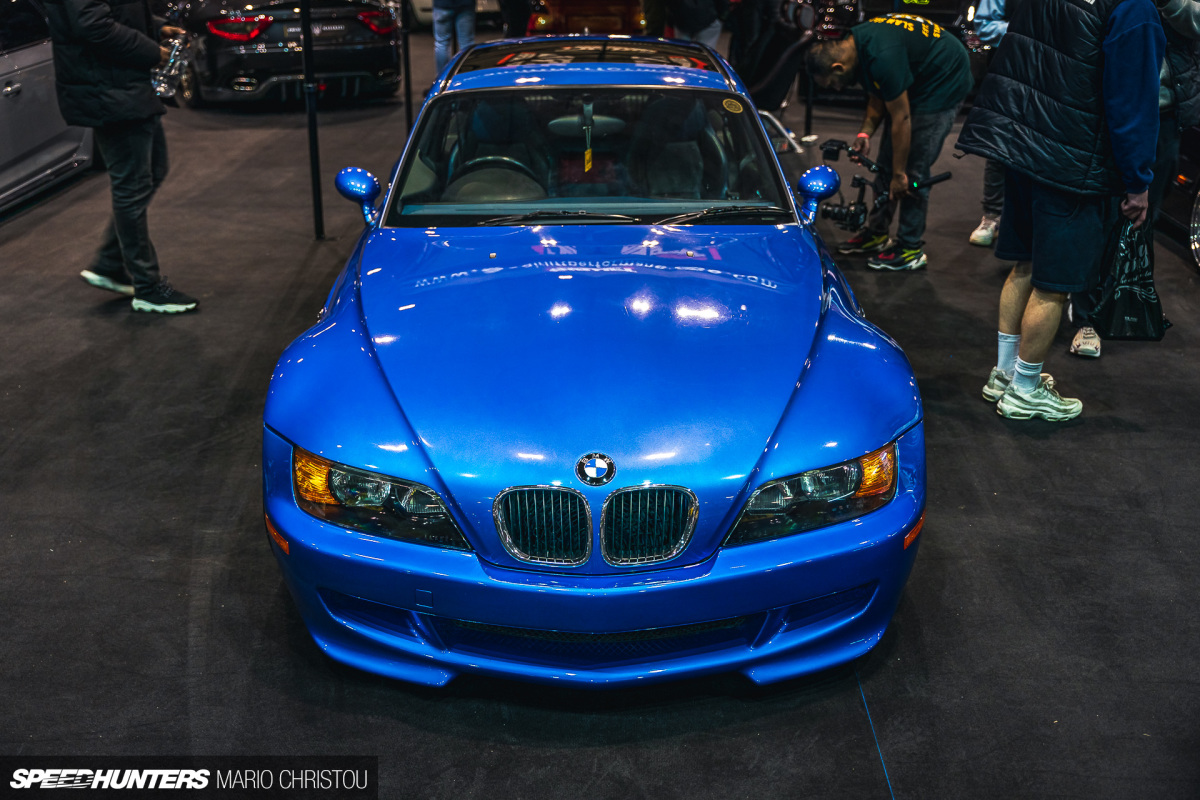 …and the E36/7 BMW Z3 M Coupé, known affectionately as the 'Clown Shoe' for its funky shape. Aiman Bugis is no stranger to cult BMWs aired out on classic split rims, and this time he brought his Z3 M's latest look. A set of BBS LMs  – with brushed faces and gold bolts – have been stepped up from 17- to 18-inches and suit the '90s body lines perfectly. It's an absolutely gorgeous little car.
Controversial opinion, but I actually prefer the Z3 M Roadster to the M Coupé. Cult status aside, I think the sleek rear end is a better look than the slightly gawky shooting brake.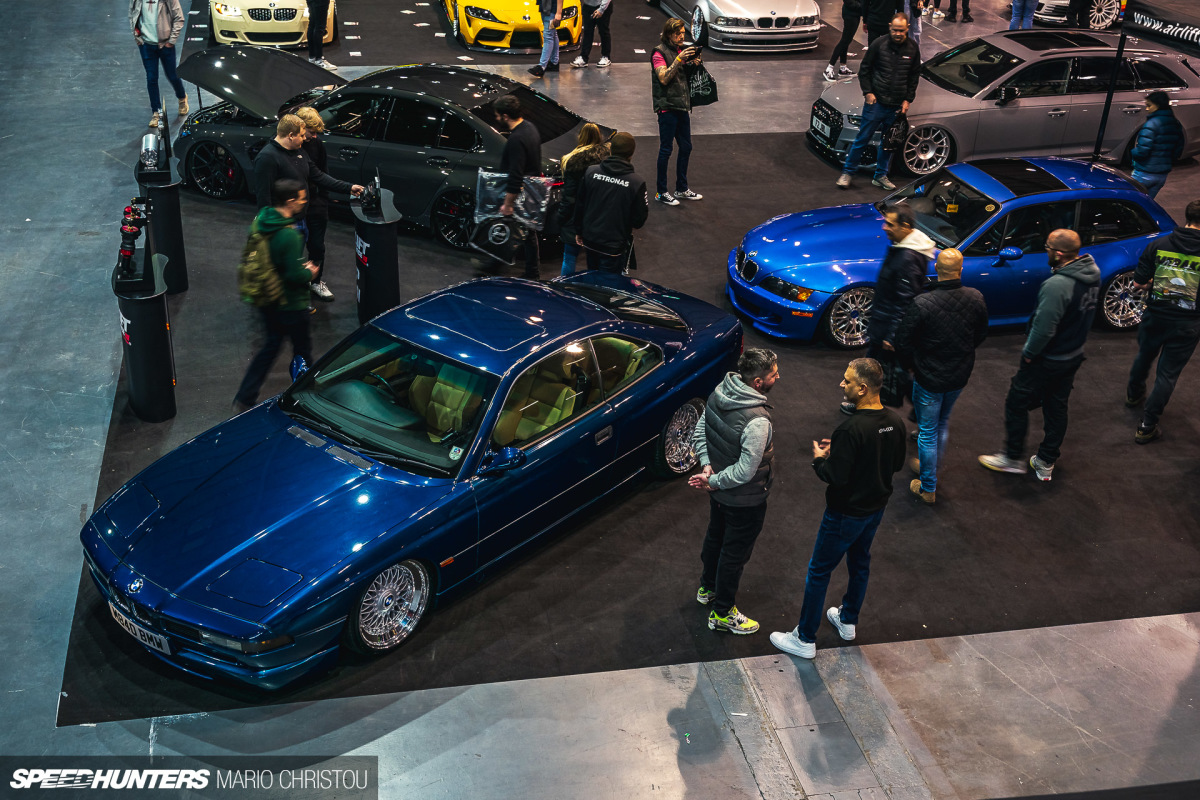 Whichever way, the Air Lift Performance stand once again dominated its section of the main hall, but you'll have to wait until the spotlight drops to see the biggest reveal on its carpet. Stay tuned.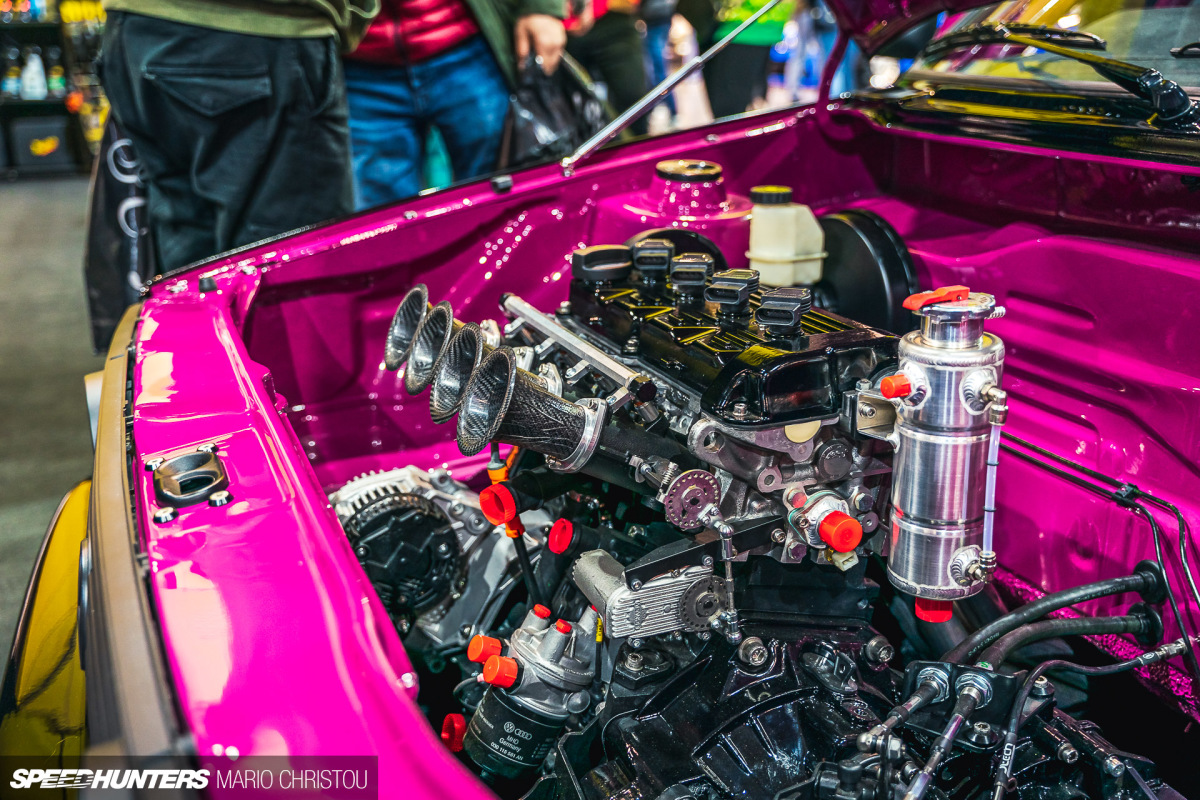 From smoothed bays…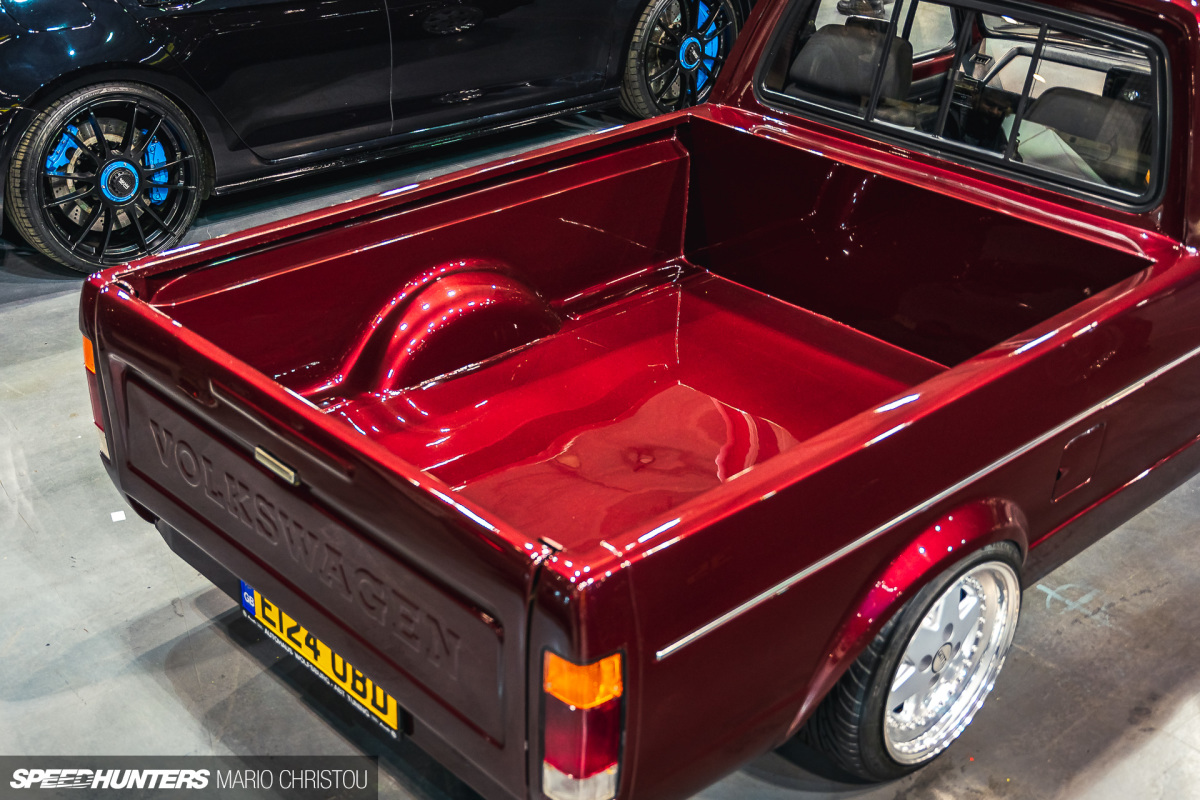 …to smoothed beds…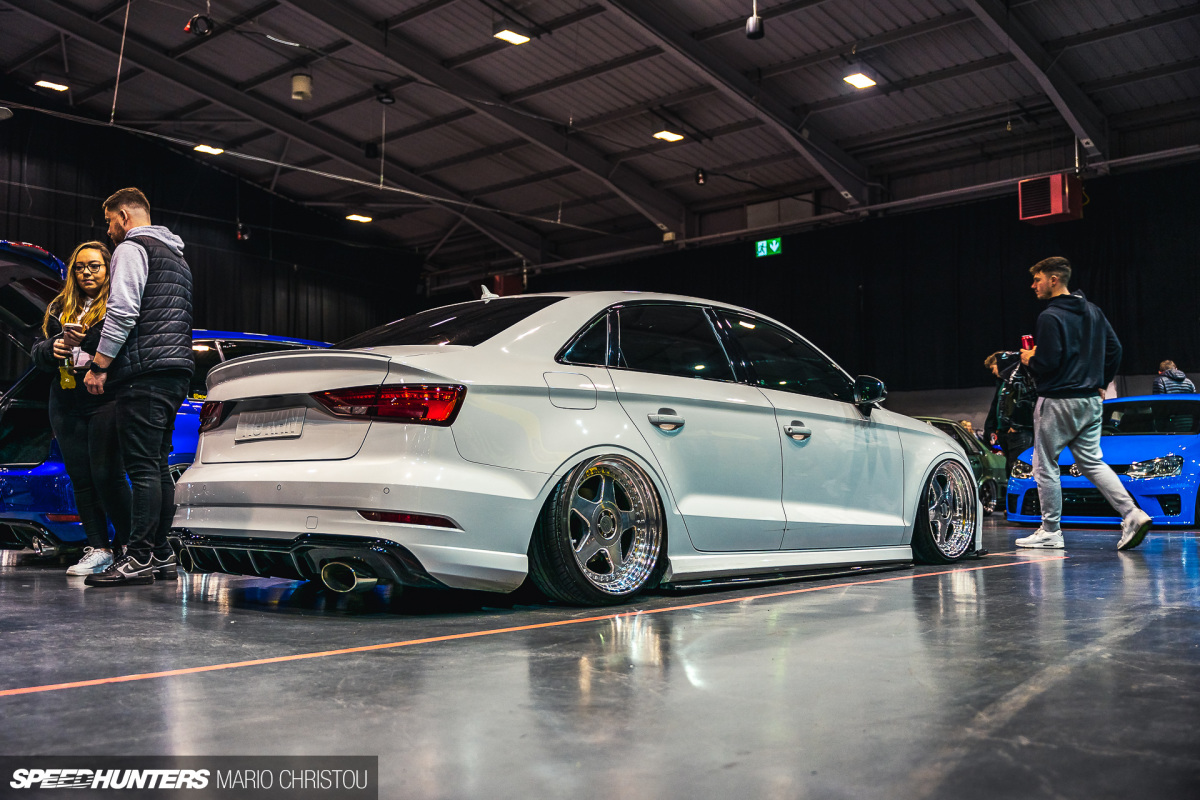 …to aggressive aired-out fitment and everything in between, Ultimate Dubs 2023 brought with it the same level of quality builds that it has since 2006.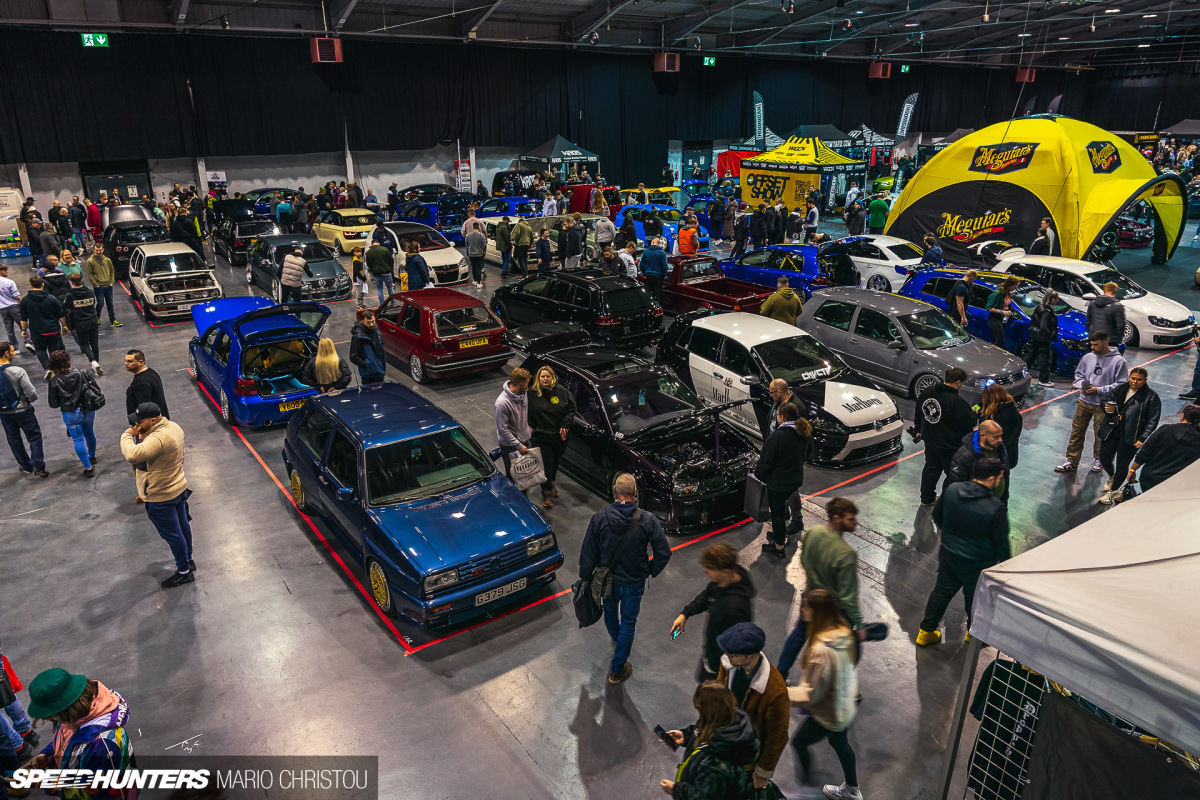 And yet, I was left feeling somewhat empty wandering the halls of the Telford International Centre. In the last 880 words and 40-odd photos, I'm already in double digits of cars that I remember seeing at shows last year or even earlier, or which I remember reading about on Speedhunters as early as my teens.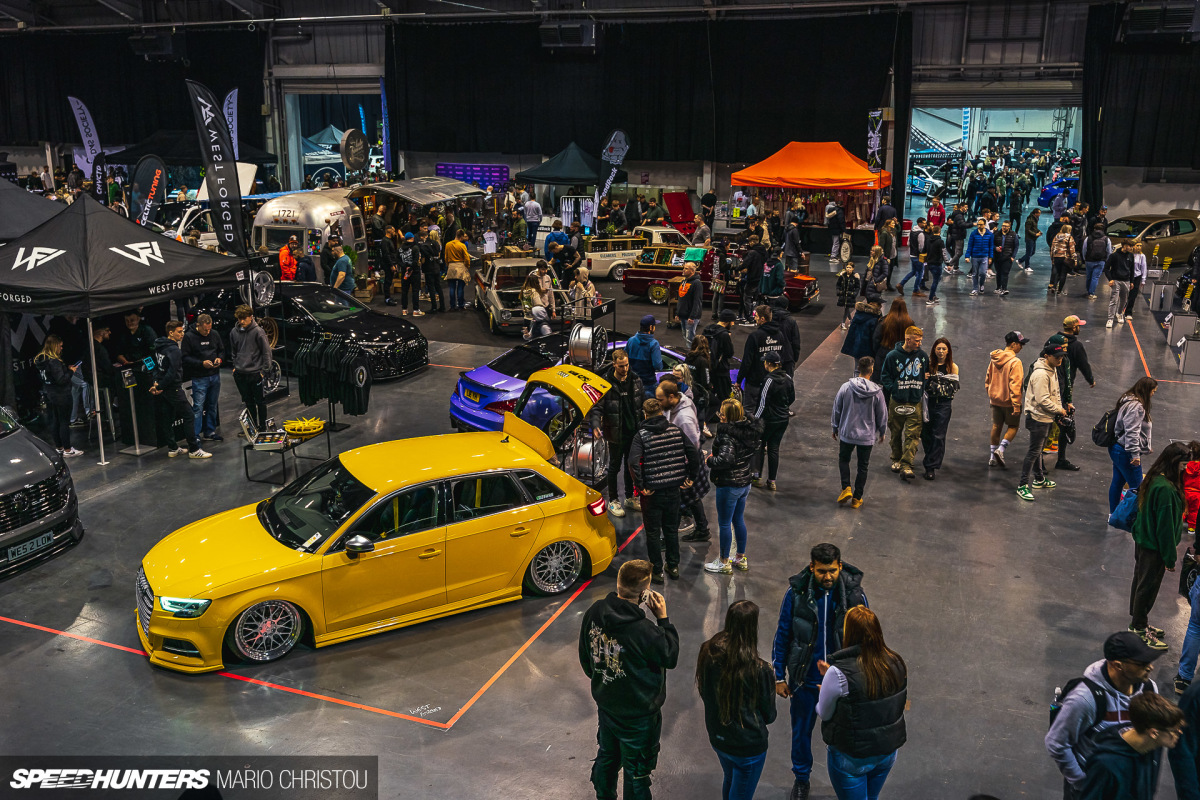 That's not even including the trade stands, which push the numbers up even higher, or alternatively would sometimes feature cars which I don't believe would've been accepted had they been subject to application like the show and shine. In fact, the trade stands took up as much, if not more, square footage of the venue than the actual show cars did.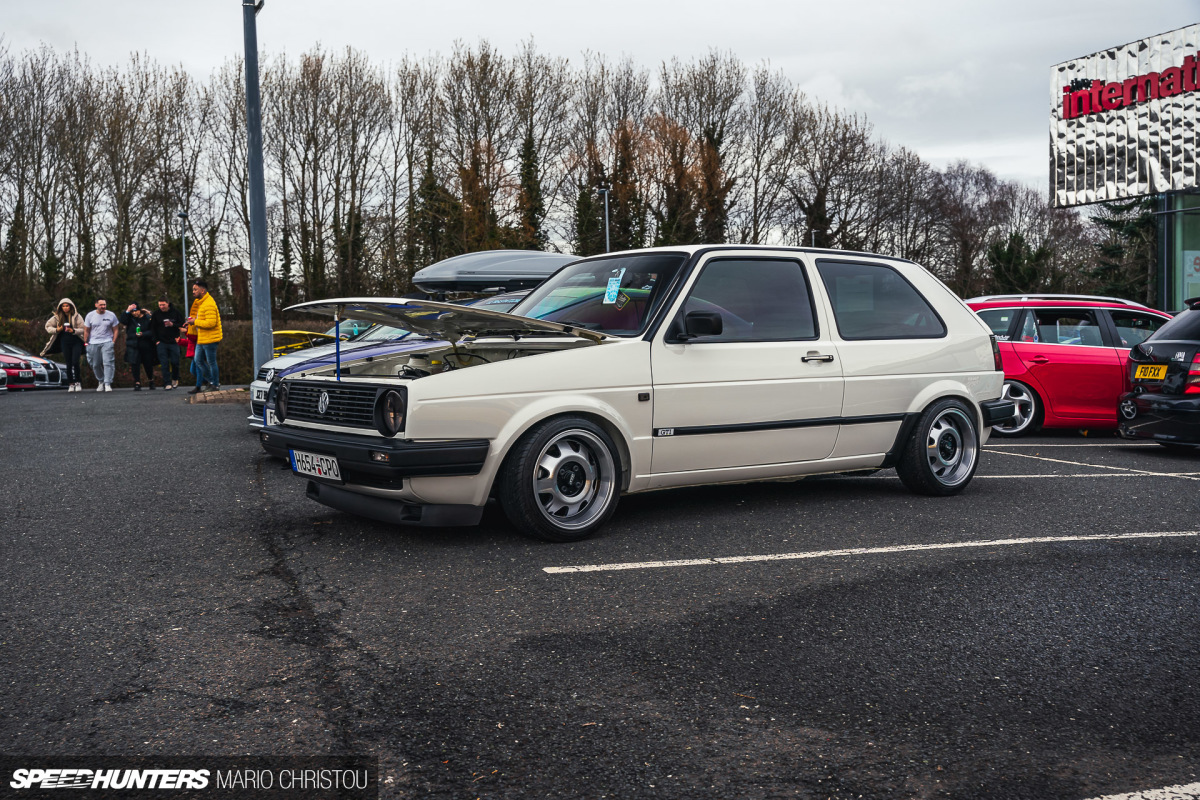 This might have been the first year I was more looking forward to checking out the outdoor parking at Ultimate Dubs more than the halls themselves.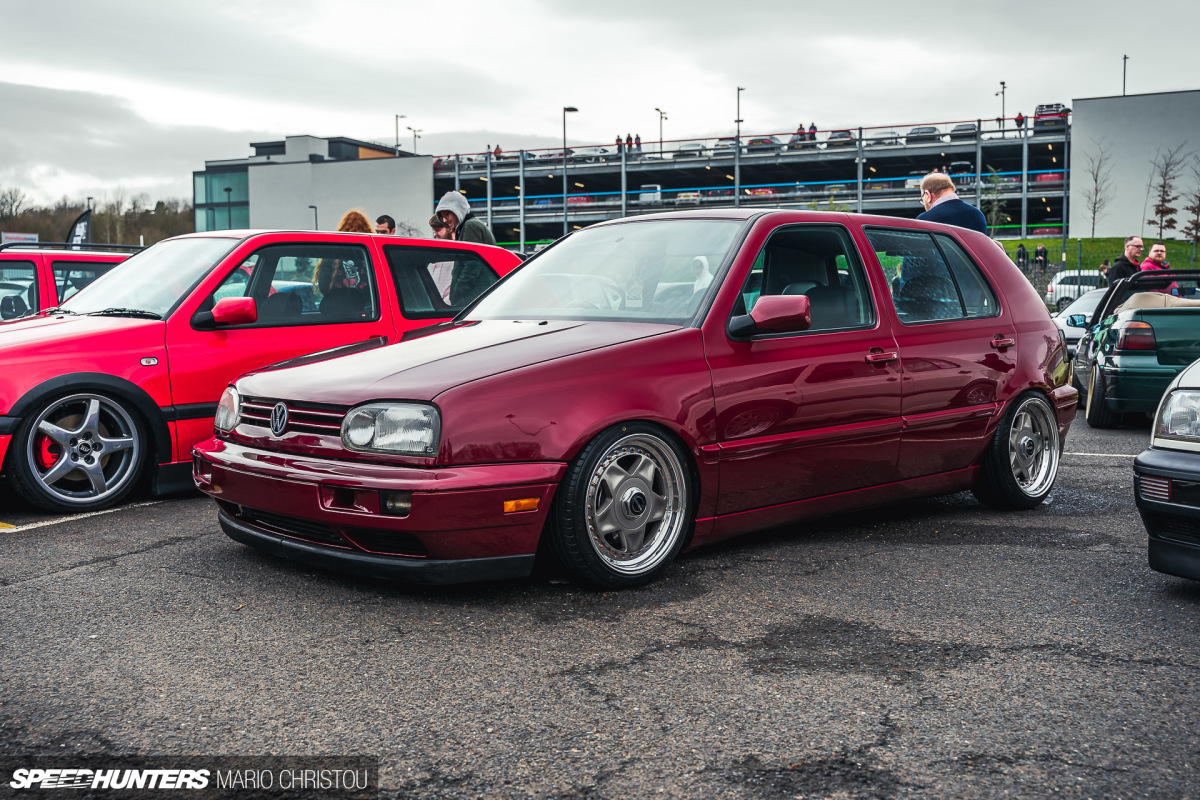 And I was certainly right to think so, because I saw two of my favourite examples of the UK VW scene parked outside.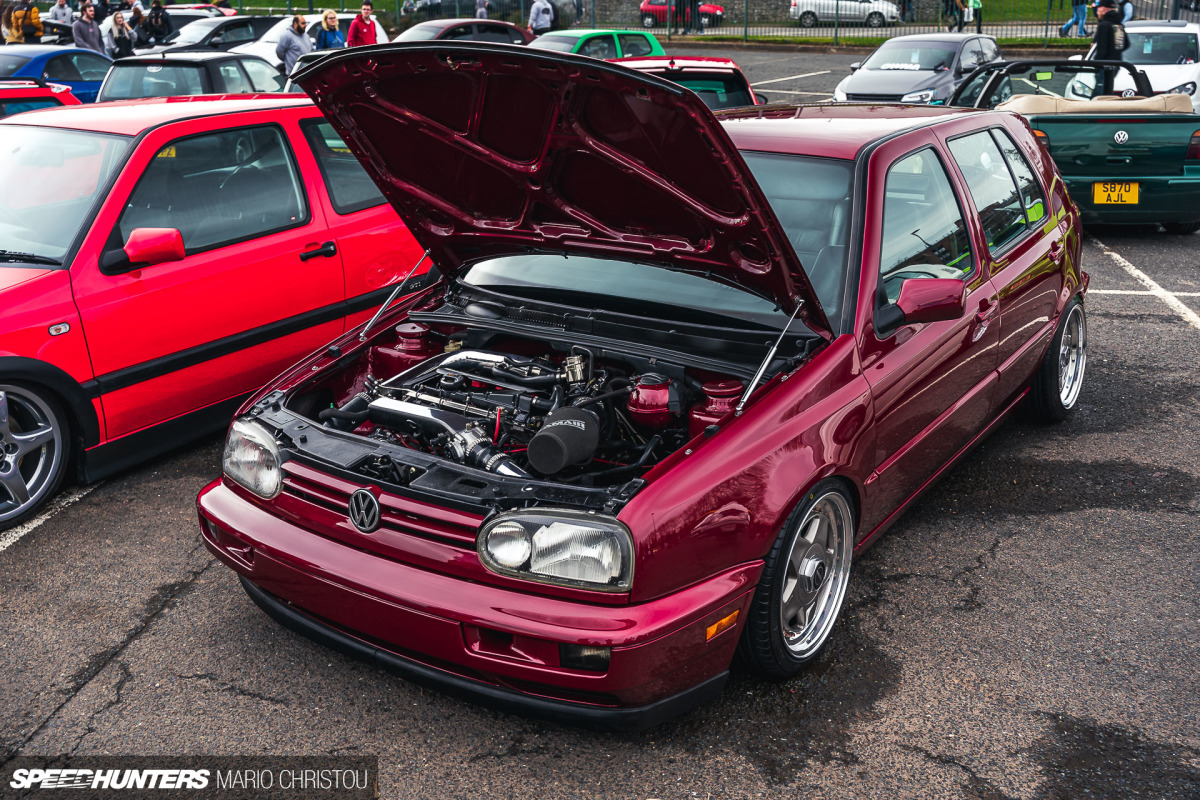 James Yarrow's Hot Chilli Red Mk3 Golf is a fantastic example of K.I.S.S! – 'Keep It Simple, Stupid!'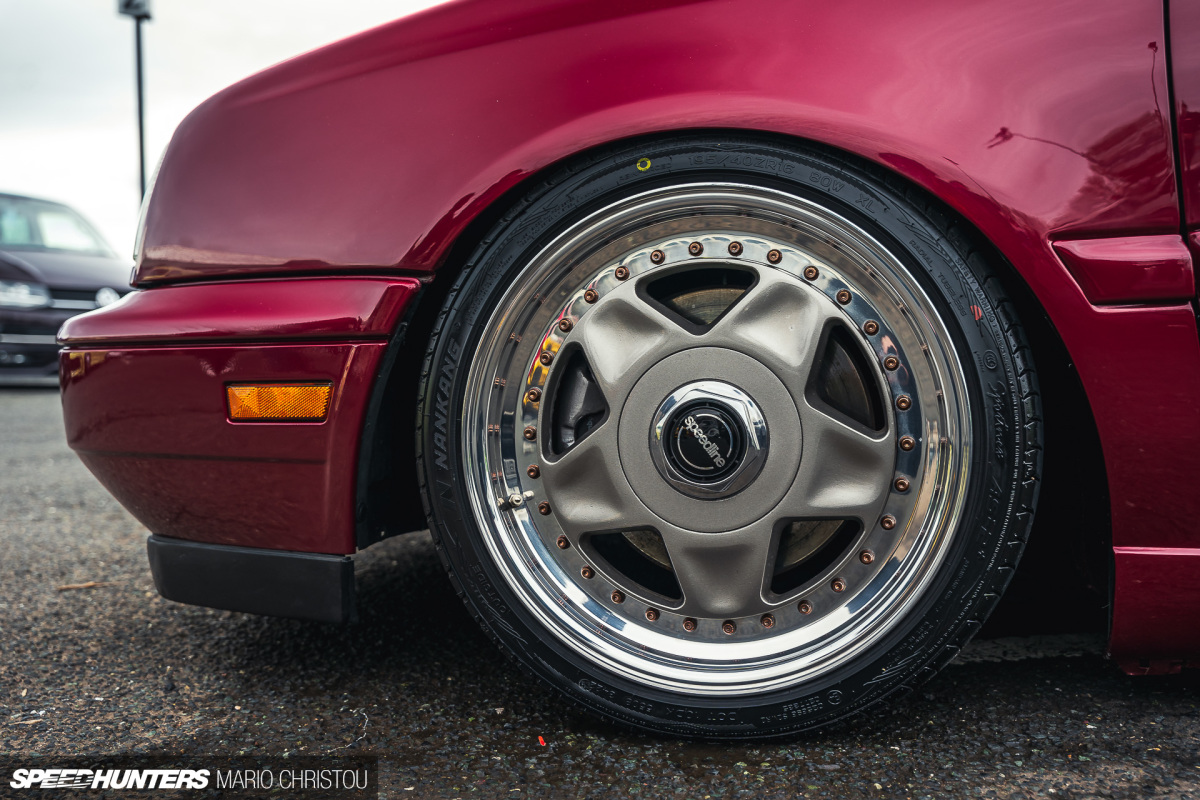 A fresh respray in its OEM colour, combined with KW coilovers and a set of gleaming Speedline Mistral split rims keeps the exterior interesting enough to steal a second glance from passers-by, which to me is spot on.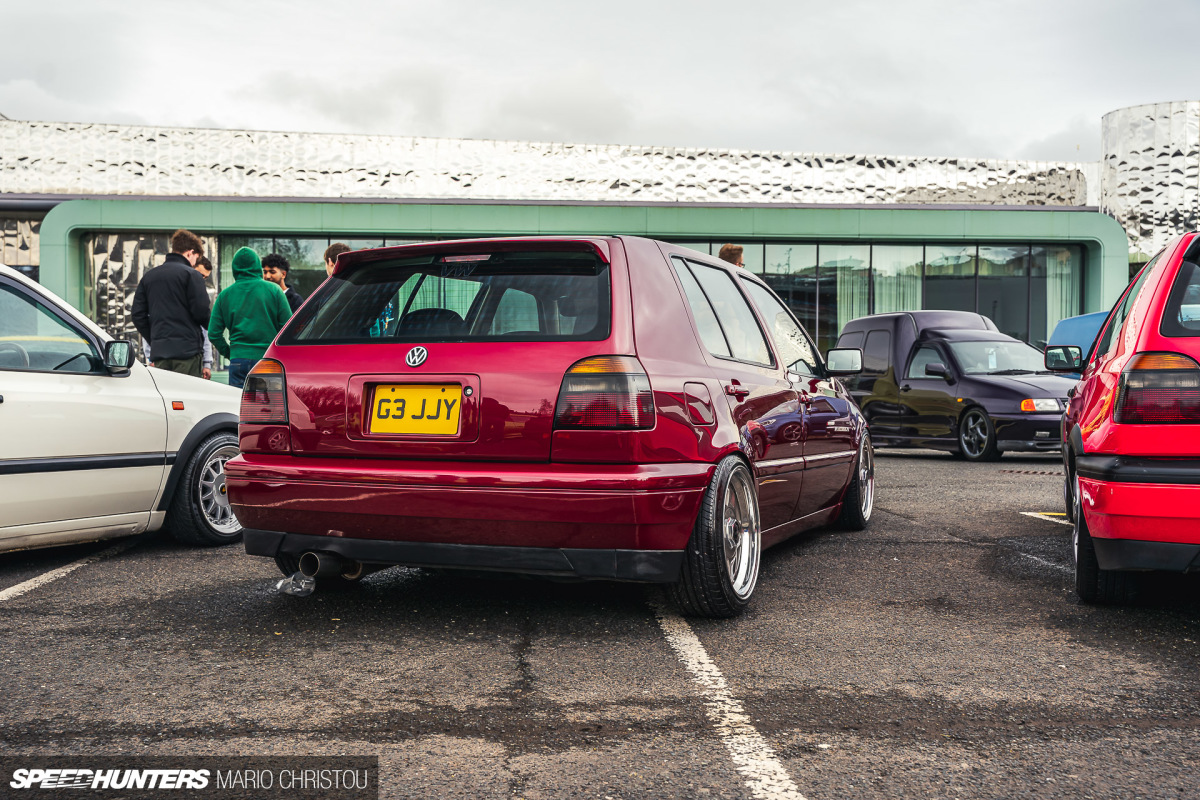 Dubbing enthusiasts will also recognise a US-spec boot lid and front bumper for extra Wolfsburg brownie points. But it's under the bonnet that James' Golf really steps it up a notch.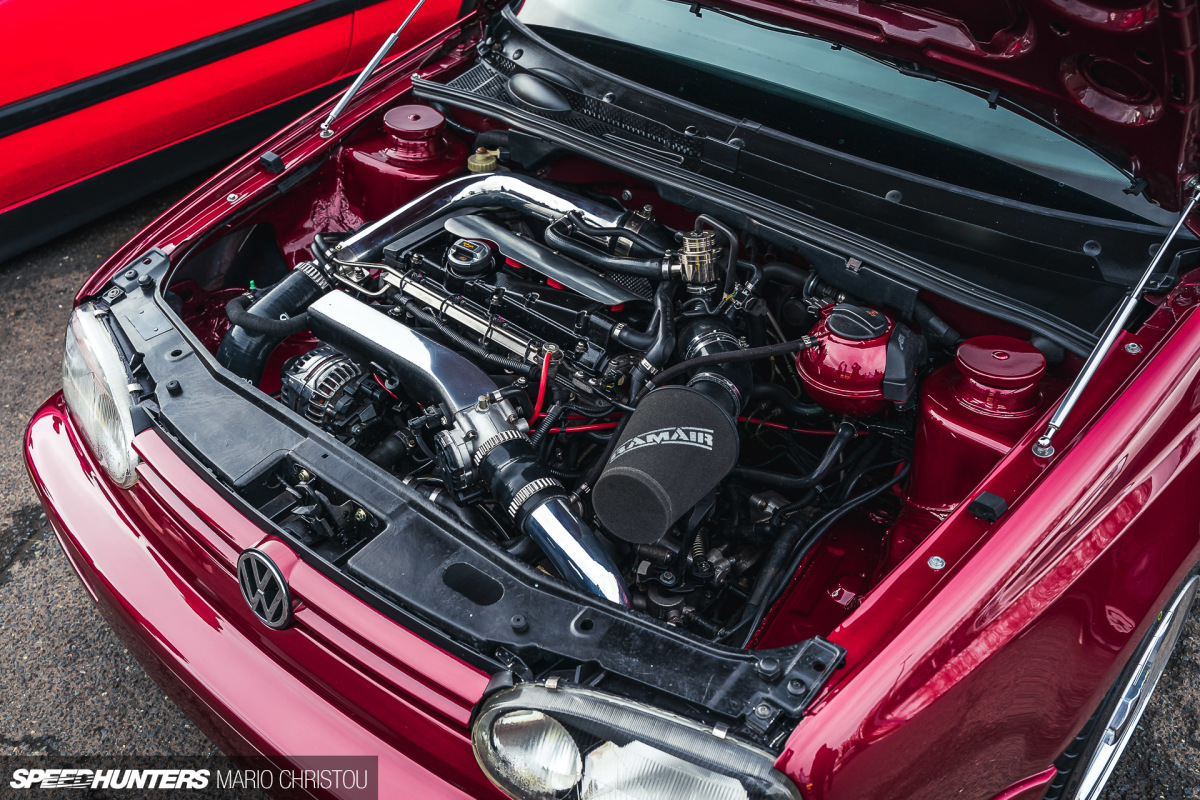 A 260hp 1.8T has been transplanted into the Mk3, plenty enough for what is a lightweight shell by modern standards. The rest of the engine bay has been tidied without being smoothed to within an inch of its life. Small details such as the pearlescent paint and welded up holes along the tops of the wings are enough to stand out without being blatantly obvious.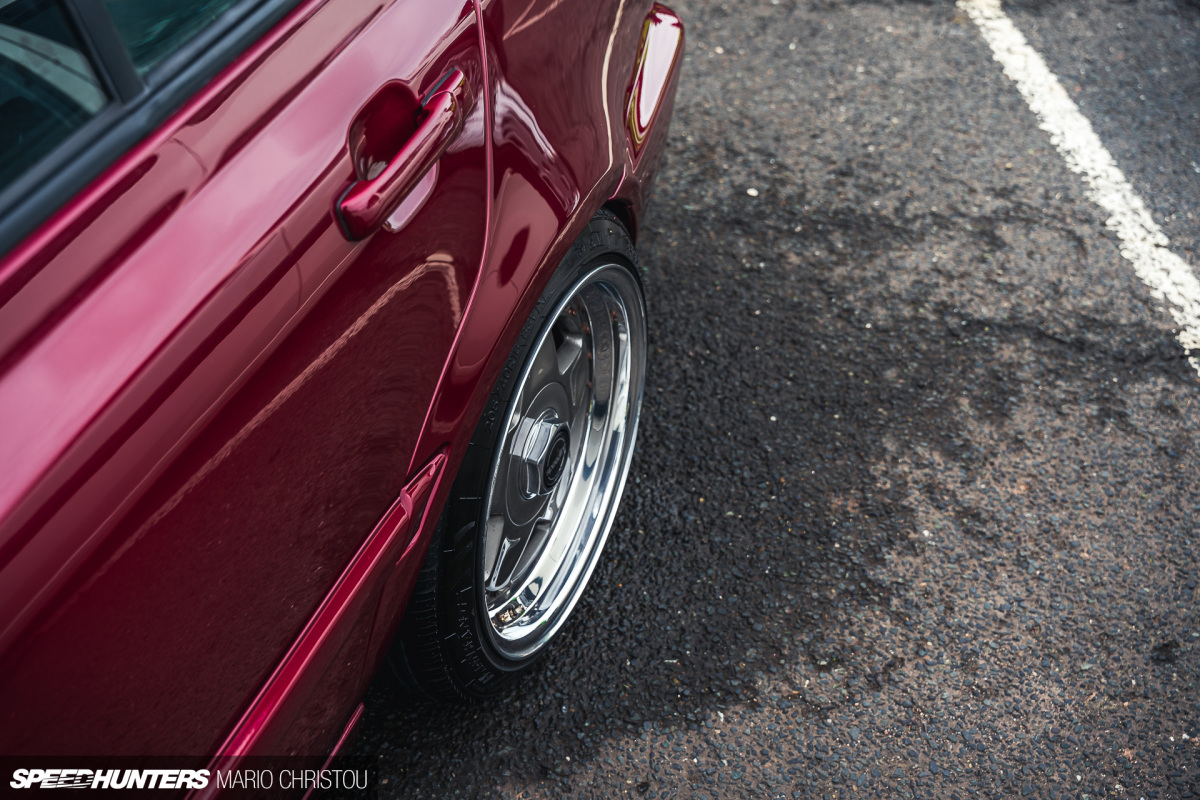 What I like most about James' car is that he's not afraid to drive it hard. In fact, the last time I saw him, he was doing aggressive full-throttle peels, five-up through the dusty field we once knew as Edition38. There's something fun about a car so clean with such a duality about it, and with James being the tender young age of 21, it gives me hope that the modifying scene isn't as f**ked as some would have us believe.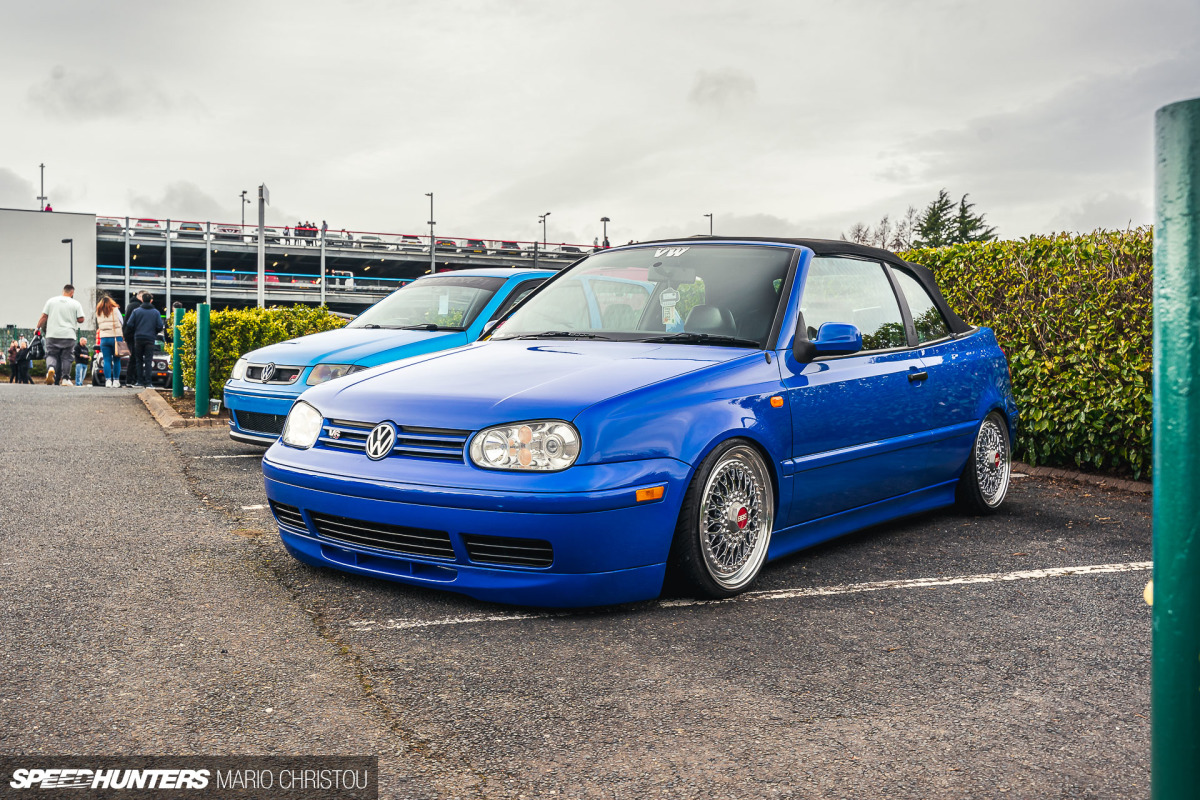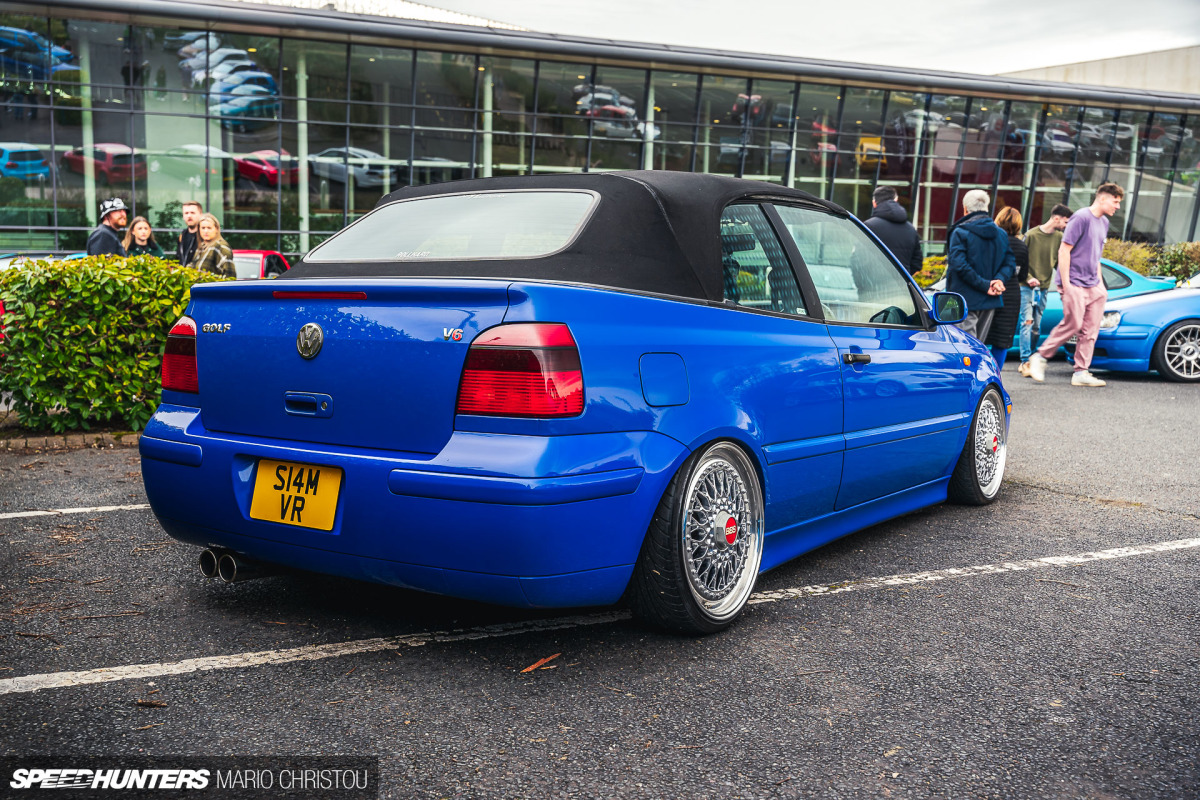 Another one of my top UK VWs at the moment is this very tidy 'Mk3.5′ Golf Cabriolet. It's a car that's more than the sum of its parts, and is simply lovely.
Air Lift Performance suspension, Mk4 Anniversary splitter, US side markers, BBS RS that lie within the wheel arches for a change, and a metallic blue paint job with such a subtle flake you'd think it's gloss in anything but direct sunlight results in a devastatingly effective combo.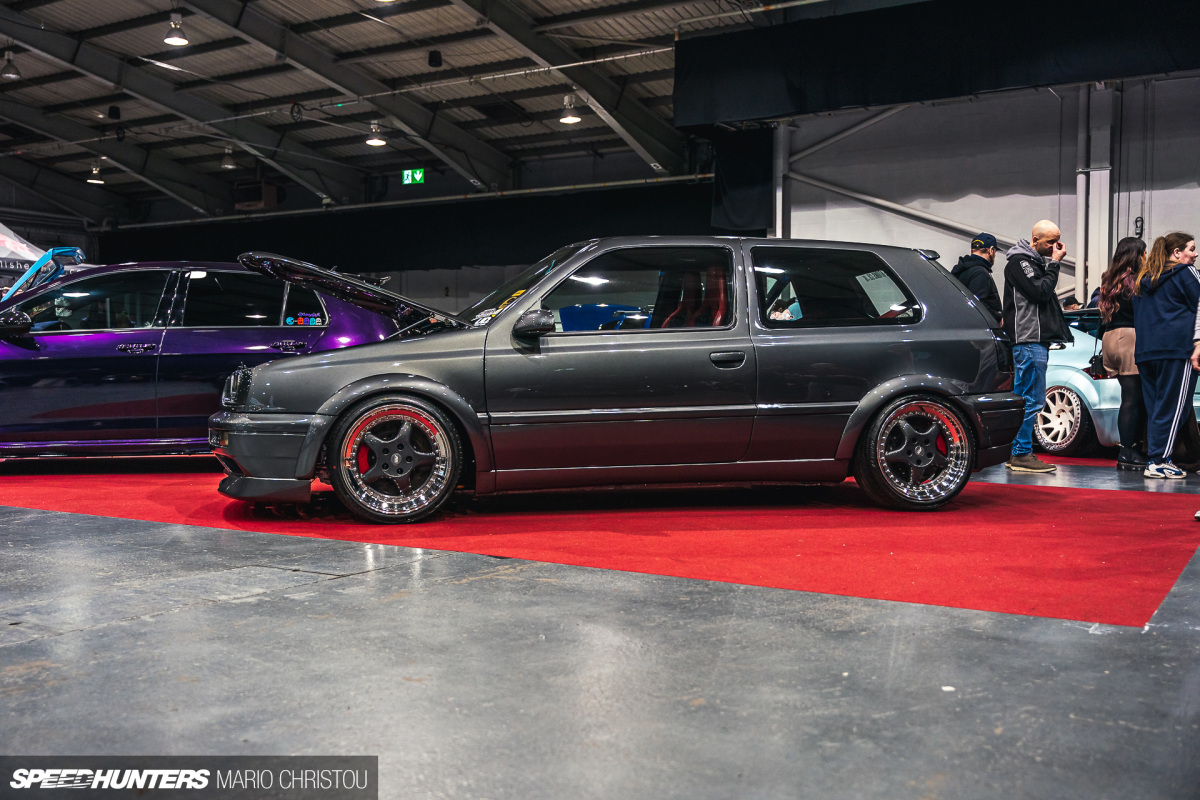 I'd like to contrast them with some absolute UK VW legends, if I may. These two 'staple' cars in the UK VW scene are Trix's big turbo, ABT-equipped Mk3 Golf and 'D8 VAG' – the bright blue Mk2 which I recall seeing on Speedhunters' UD coverage as far back as 2016.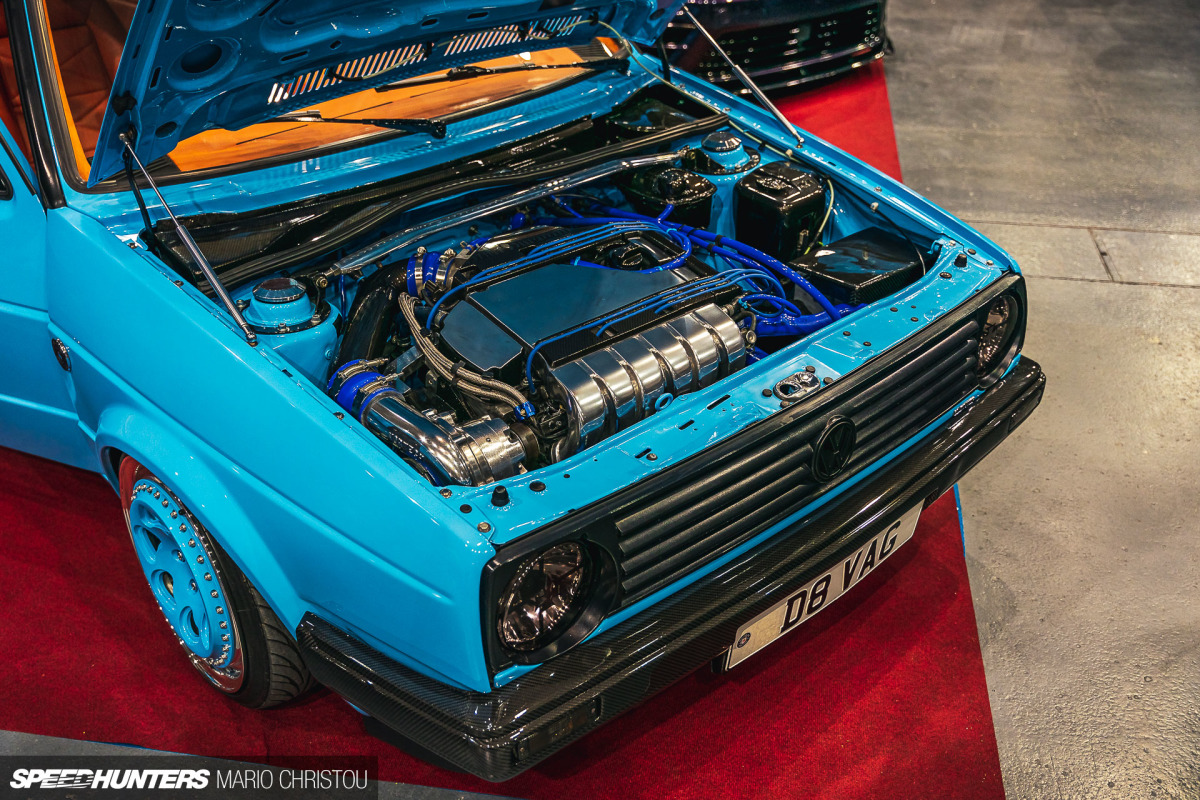 These are two absolutely stunning show cars, totally different from one another and with enough web and magazine features between them to cover a decent sized coffee table. It's always a pleasure to see them out at shows, they're just so good.
Yet to play Devil's advocate, if every year the same halls get filled out with the same cars and little else, the show risks becoming repetitive. But how exactly do you fix an issue like that, if there's fewer 'new' cars being entered?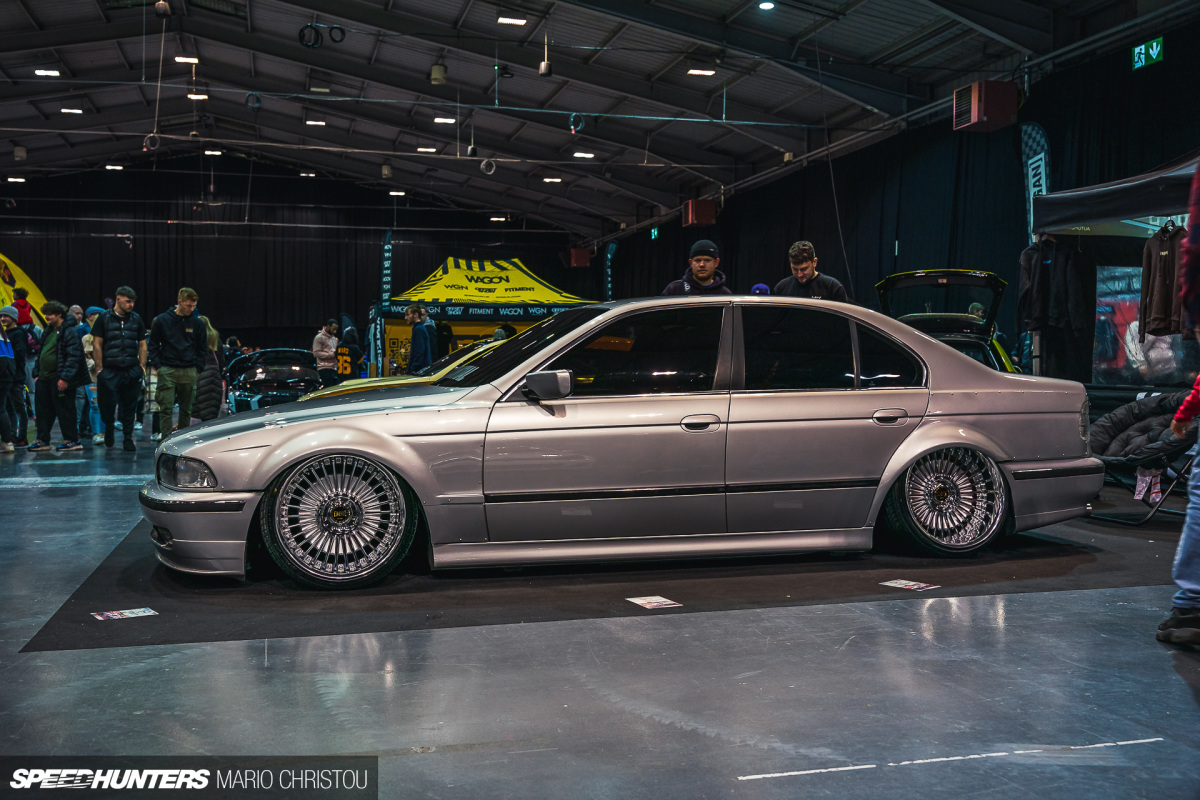 Shows need to be profitable in order to succeed, and let's not forget most casual spectators aren't as immersed in the scene as myself or the regular show car owners. But the cars with the most space around them this year were on trade stands and not the ones picked for the actual show and shine.
In fact, I had to wait until most of the show cars and traders had cleared out after the show to start shooting, so tightly packed in were my spotlights. At which point I was rushing like crazy, being told off by venue staff for getting in the way.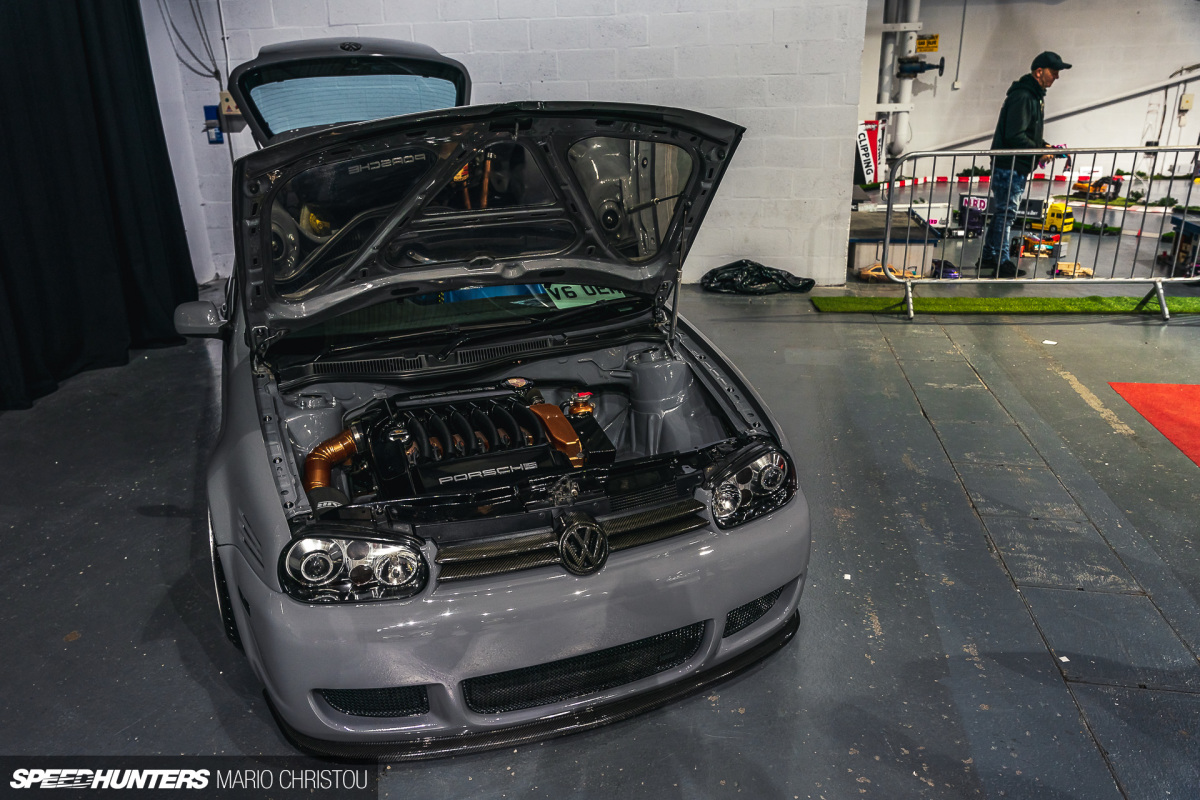 But it's not a quick or easy fix. I think another part of the issue is the safety and loyalty factor. If someone has attended your show for the last 15 years and never let you down, chances are you'd be unwilling to turn them down even if their car is the same as it has been for the past decade. And this has a knock-on effect, because if a show is just filled with the same builds it can put people off of revealing new builds.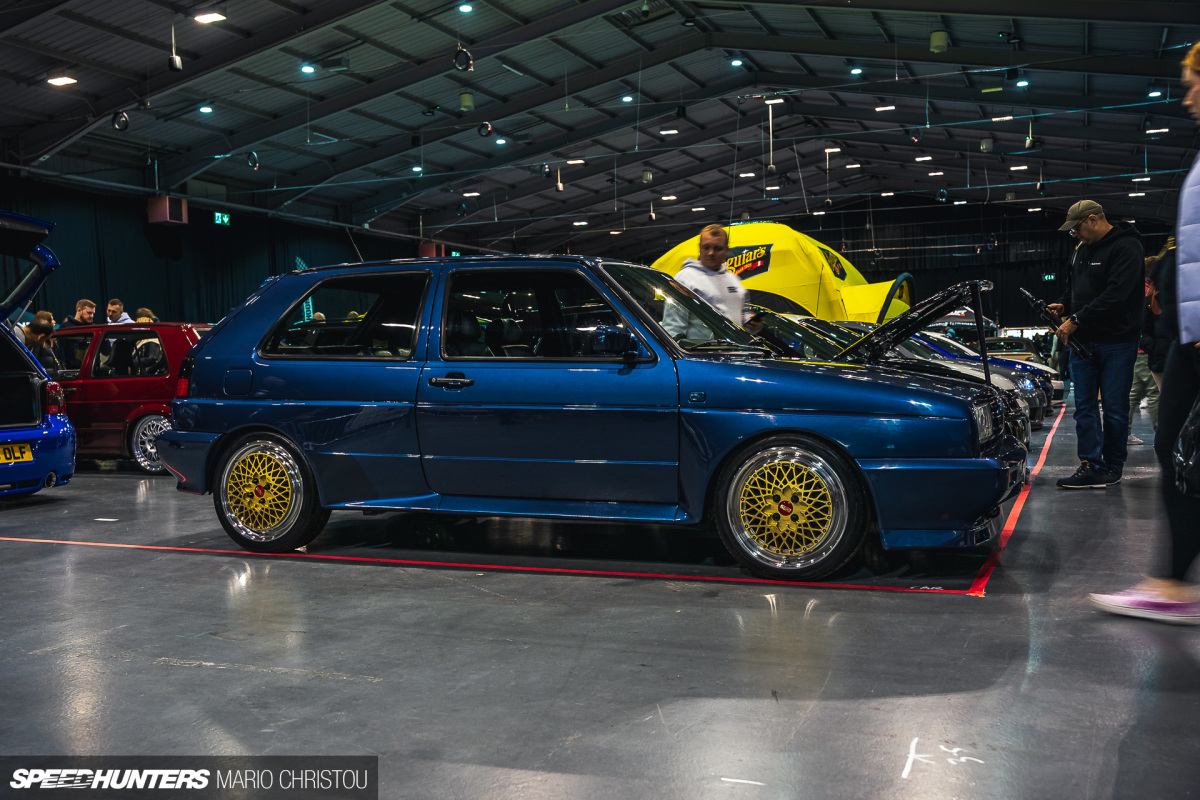 Why bother, when you can have somebody's phone screen all to yourself on Instagram? At least that way you're not boxed in by the same cars you saw on display for the past decade. Even the amount of European show 'n' shine cars has dwindled over the past few years, and I for one miss seeing the Belgian enthusiasts rolling in together with ridiculously low Audi RS and VW GTIs.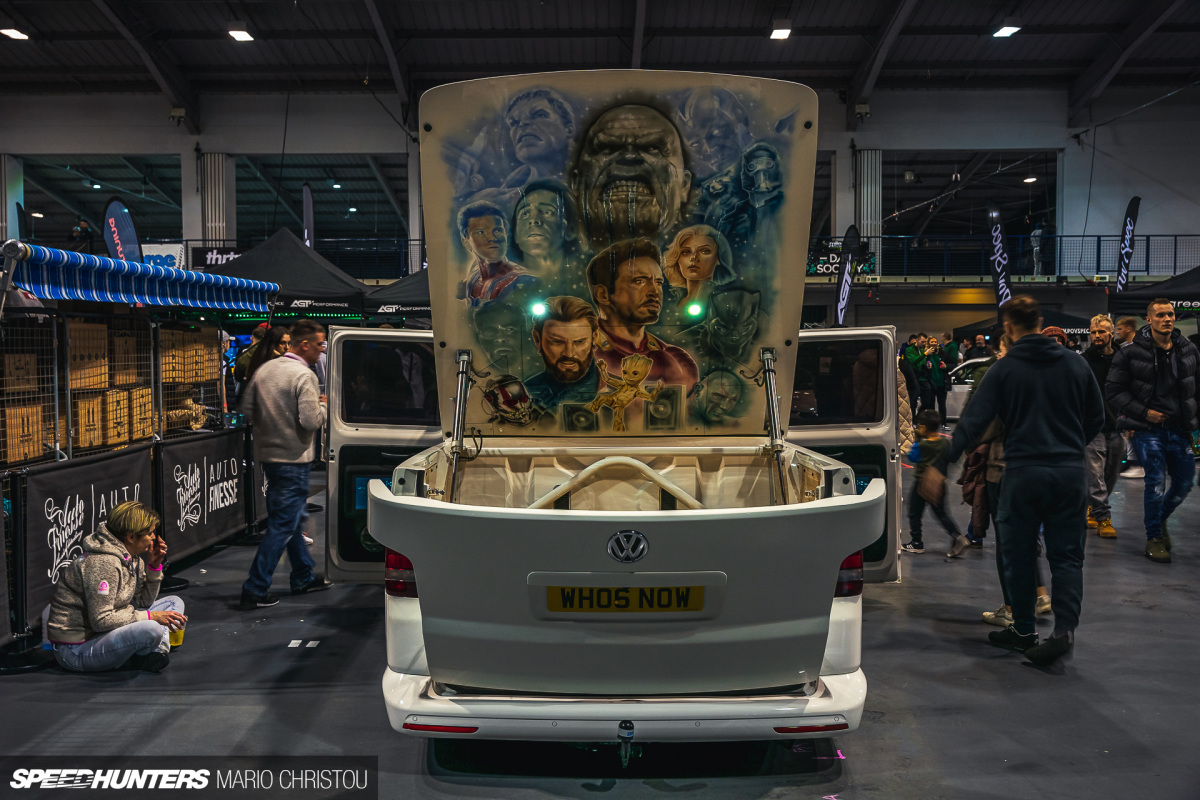 There's so many shows on the UK calendar now that it's essential to keep evolving so both owners and spectators are happy. From music choice to food and entertainment, it doesn't need to be an entirely new venue or complete change in attitude, but more considered areas for those new builds with traders placed in dedicated areas, allowing for well-placed cars with room for spectators and photographers alike to breathe.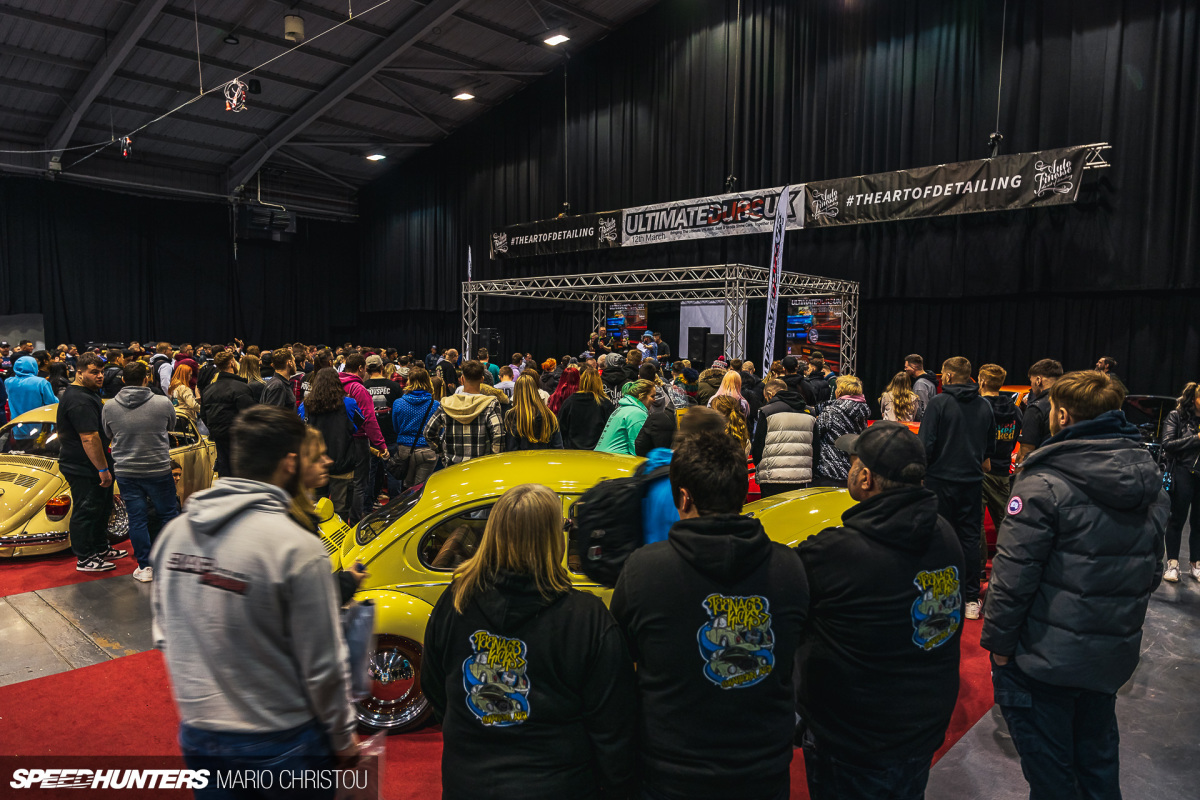 Ultimate Dubs is such an important show for the UK car scene, VW-centric or not, and I look forward to visiting it year after year. Its reputation precedes it, even on an international scale, and with a few tweaks and some objective thinking, I'm confident UD can be on the forefront of European car shows once again.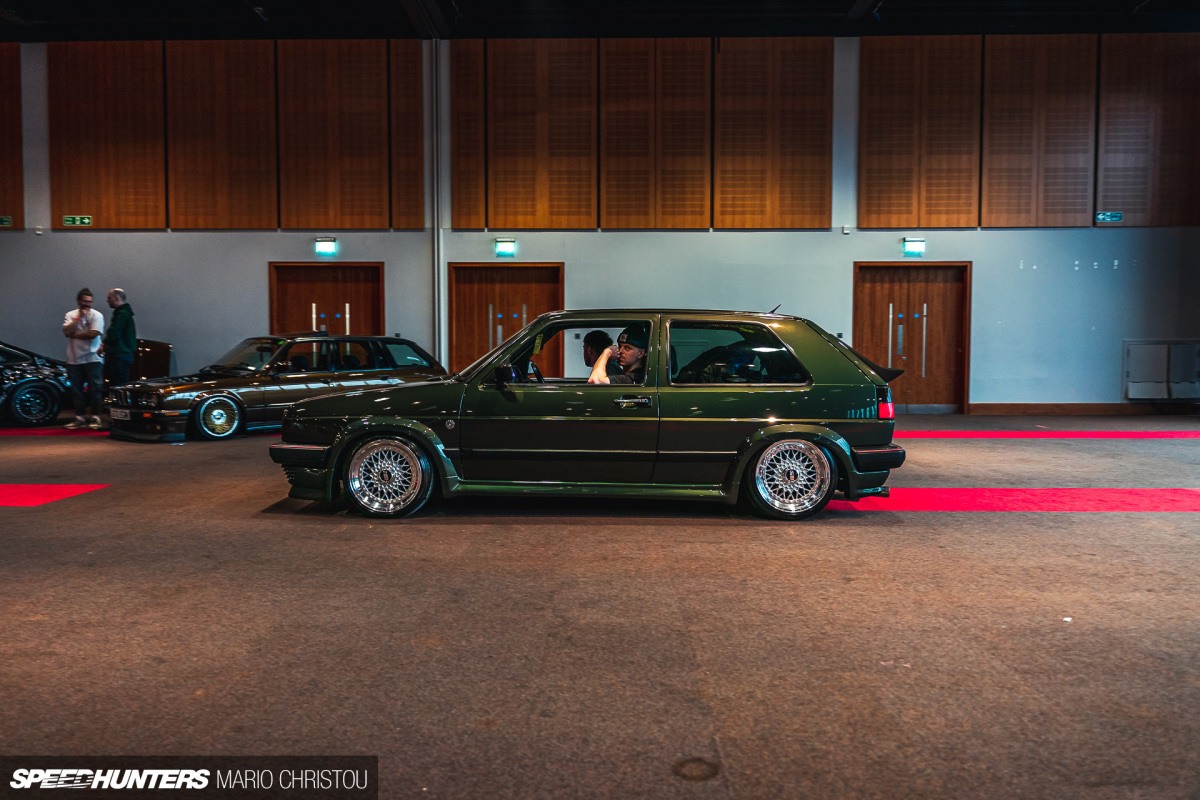 Now more than ever I'd love your input, dear readers, especially those of you who attended UD with me this year. You're the ones who matter the most as the spectators.
Personally? Bring on Ultimate Dubs 2024, I'm still looking forward to it. Let's see what changes…
Mario Christou
Instagram: mcwpn
VW related stories on Speedhunters
Bonus Gallery