It's 7.30 in the morning, and for the past 20 minutes a man outside has been making an absolute racket, and heaps of emissions, using a petrol leaf blower to move fallen leaves from one side of the parking lot to another. And I wonder to myself, what madness is this?
A few minutes later, waiting at the first set of traffic lights, I find myself behind an internal combustion engine car engulfed in its own fumes. As the lights go green, and I move forward, the smoke surrounds the car that I am driving. And I wonder to myself again, what madness is this?
Noise, smoke, exhaust and carbon emissions are part of our daily lives, so ingrained into our daily rituals and routines, and our levels of tolerance, that is sometimes hard to imagine how we can ever find the motivation and technology to move beyond the nasty and noisy mess that fossil fuels have created for us.
Fortunately, there is hope – even if some of the solutions seem terribly expensive and just a little indulgent. But like colour TVs and mobile phones, the good news is that the cost of electric vehicles is coming down, and their utility is growing exponentially.
I've been sitting in one of the most extravagant of these solutions. At an on-road cost in Australia of around $110,000, and with seats so white I had to wear a pair of sun glasses on a cloudy day, the Tesla Model Y Performance is not exactly an everyman solution to the world's biggest environmental problems.
But it's fun, it's very much a performance EV – from its electric acceleration, its handling and right down to its light show – and it's actually a mighty big step in the right direction for a world looking for solutions.
Let me tell you why. The Model Y is the best selling electric car in many of the world's biggest markets. One of the main reasons is that it ticks the big box marked SUV, which seems to be the most important for today's car owners, and adds something special to the category – smooth lines, interior space, and of course a smooth, an electric and non-polluting ride.
The Model Y – at least the RWD version – first came to Australia in the second half of 2022, with a price tag of around $72,000, and just a few weeks ago it was finally joined by the Model Y Performance, which adds another near $40,000 to the price tag.
In most aspects the Model Y Performance is little different to the garden variety RWD.
But it rewards the driver in some special ways – stunning acceleration (0-100km/h in 3.7 seconds) thanks to a second motor, and great handling thanks to the work done by Tesla on cushioning its suspension.
The Model Y – for those who haven't seen it – is the bigger, roomier, higher and more voluminous version of the Model 3 sedan, and like that car it comes in RWD, long range and performance versions.
Inside they look similar. It has what seemed like a "space age" feel when the Model 3 first came out five years ago – but which has now been mimicked by other EV makers – with clean simple lines, an uncluttered interior and most of the functions on a central screen rather than a dashboard spread across behind the steering wheel.
The Model Y offers a higher ride, a higher entry, and more space inside than the Model 3. Flat floors and the glass roof – one big single pane in the Model Y – add to the feeling of space.
In the Model Y, you can fold down the back seats to make a pretty comfortable double bed (I can fit at 188cm), and stare at the stars through the glass roof, and with "romance mode" on the screen. And the boot offers a comfortable perch for two for a picnic or a sunset drink.
And there are any number of gadgets and actually useful functions on the screen, from the fartbox, to video streaming, the romance mode and all sorts of data about the operations of the car.
You can read our reviews of the RWD version of the Model Y here: Tesla Model Y first impressions: More space, higher ride, bigger clearance and Tesla Model Y test drive: Higher, bigger, slower and incredibly popular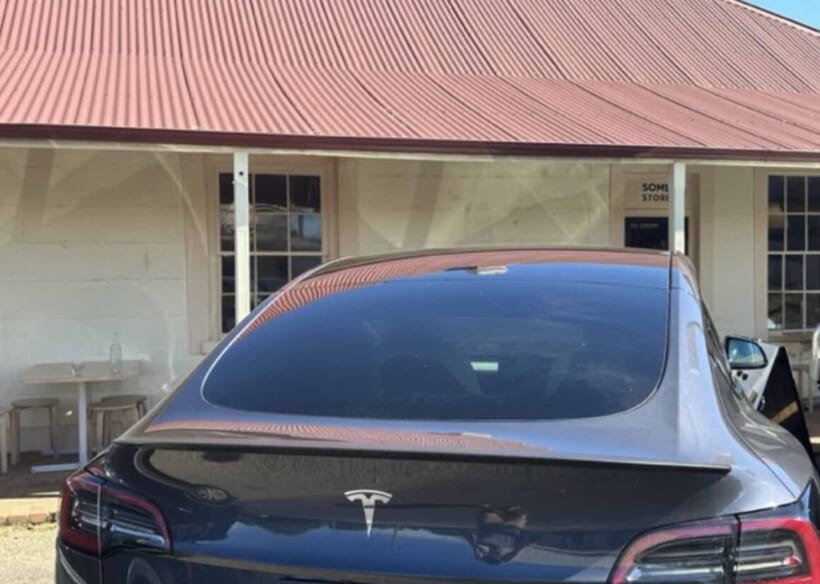 It's also worth noting that the Model Y has won near perfect safety ratings, and even Toyota engineers found the Model Y to be a "work of art", which might explain why it is likely to overtake Toyota RAV4 sales around the world in 2023, and they are rethinking their future strategy.
And the Tesla autopilot – or just the adaptive cruise control – is far superior to anything else on the road, and it's perfect for the freeway, highway, or even the stop-start of city traffic.
The Model Y performance adds a bigger battery – 80kWh vs 62.5kWh for the RWD – and a second motor for the front wheels. That delivers the extra performance, in speed and range, and to ensure that the ride is smooth and the handling is good it has also been given better brakes, lower and softer suspension, and bigger tyres.
The best place to appreciate how good it is to find a hill or a winding road. Electric cars are not scared of gravity, if they see a hill they just see it as an opportunity to fill the battery with regenerative power when they go down the other side.
If you can find both a hill and a winding road, then that is the perfect opportunity to feel the speed and grip on the road, and the sheer joy of electric.
Or you can find a long straightaway and test the raw acceleration – 0-100km/h in 3.7 seconds, nearly twice as quick as the RWD – and decide whether it is best to "thump" the accelerator pedal, as we were urged to do in our first drive last week, or simply to push hard. I prefer the latter.
Of  course, the world is not going to solve its emissions problems with electric cars that cost $110,000, however much fun they are to drive. So why are expensive cars like the Model Y Performance even a partial solution?
The reason why is what Tesla is learning in making them. Tesla makes big enough margins on its best selling Model 3 and Model Y electric cars and it has the money to invest in new factories and manufacturing techniques.
The Model Y is significant because, as Daniel Bleakley explains here, Tesla has completely revolutionised the manufacturing process with the development of single-body castings that use the largest high-pressure die casting machines in the world.
At its Investor Day earlier this month, Tesla flagged that new developments will help deliver 50 per cent reductions in manufacturing costs. That's going to deliver one of two things, or perhaps even both – bigger margins for the world's most valuable car company, or sub $25,000 EVs to a hungry audience.
At that point, price parity is reached, and the shift to EVs is both rapid and inevitable, and the number of noisy and polluting cars on the road is rapidly reduced.
That might not happen for a couple more years – mainly because there is so little effort by the big legacy car makers to force Tesla's hands and to match its price or specs – although they do make a fair attempt at the higher prices with cars like the Ioniq 5 and EV6.
But price parity will arrive, fossil fuel cars will be shrunk to a niche market, and we will be wondering what madness it was to think that prolonging the internal combustion engine was a good idea, with its noise, pollution and emissions.
In the meantime, if you have the money and the inclination, you might as well enjoy the Model Y Performance. You won't have to wait long as deliveries are promised within a month or two.
The Model Y Performance is fun, it's indulgent, and it delivers real performance. It's even got a Hepa filter, which means that if you stuck behind another fossil car enveloped in its own fumes, you will be protected. The future is clear, but it does need to be accessible to all.

Giles Parkinson is founder and editor of The Driven, and also edits and founded the Renew Economy and One Step Off The Grid web sites. He has been a journalist for nearly 40 years, is a former business and deputy editor of the Australian Financial Review, and owns a Tesla Model 3.