Overall mileage comes to around 6 km/L.
BHPian raj_5004 recently shared this with other enthusiasts.
This is Raj – originally from Mumbai and moved to Dubai in 2014.
This thread is to share the ownership review of my new acquisition – a RAM 1500.
Since the day I have been fascinated with automobiles, I have always preferred SUVs over sedans. SUVs usually have a terrible ride and handling as compared to sedans, but something about their upright seating and tall stance made the drive enjoyable for me. My heavy built was also more suited for SUVs rather than sedans.
But something I craved the most was – pickups/trucks. Back then, we did not have much options for family friendly trucks. The Scorpio getaway and the Tata Xenon did exist (really wished for a beefed up Xenon in black), but it was difficult to convince the family to opt for one, I did try!
The craving to own a truck remained unfulfilled… that changed now!
March 2014 –
What I planned – Move abroad!
How it went– Moved to UAE (Dubai) in search of better opportunities & landed in one. Got my UAE driving license in June in the same year.
July 2014 –
What I planned – Get my first car in Dubai.
How it went – Bought a budget friendly economy sedan. It was a red Lancer GT with the 2.0 Mivec engine.
As much as I loved it's styling, I used to hate the CVT transmission. But it was damn reliable. Lancers were very common on UAE roads, especialy with fleet buyers.
What I planned – Swap my econo sedan with a fastback.
How it went – Bought my dream car – a Ford Mustang.
Due to budget constraints, I had to get the Mustang with a V6. But I was happy! The car had swag and I enjoyed driving it every bit. It gave me no issues and upkeep costs were very reasonable.
Jan 2019 –
What I planned – Change my Mustang with something more muscular (V8).
How it went – Bought a Chrysler 300S with the Hemi V8.
This was the top end variant with all the bells and whistles. The V8 pulled and pulled like a crazy monster, but gave respectable fuel efficiency. The car was a looker and not very common in Dubai roads. The black paint was a pain to maintain though!
Present Day –
I was looking to change my current ride (Chrysler). I have never owned a SUV here in UAE. My wife drives a crossover – a Peugeot 3008, but that doesn't cut it. So I started looking at options such as the new Jeep Grand Cherokee. But somehow it did not feel special. The only other SUV which we considered was the Ford Explorer, but even that felt too boring considering there are plenty of them in UAE roads.
That's when it struck me – why not a truck? After all, it has been a long pending wish and Dubai is the only place where I can afford to drive gas guzzling trucks. I love American cars and when it comes to trucks, nobody makes them better IMHO. So my choices boiled down to the below:
Ford F150
Chevrolet Silverado / GMC Sierra
RAM 1500
The Ford and Chevy/GMC twins are very common in UAE. Secondly, their interiors were way too dated. It was 15~20% cheaper than the equivalent RAM, but there were many factors which were in favor of the RAM –
Much better interiors
Tried and tested Hemi engine
Coil spring rear suspension (others had leaf spring)
After trying out all the three trucks, I decided that RAM 1500 it is!
New or Pre-Owned?
I have never bought a new car in all these years. I usually buy cars which are 2 years old under warranty and sell them off once the warranty is over. So it would be a low run pre-owned RAM.
Which variant?
In GCC spec, the 1500 is sold in 3 options –
Tradesman : the stripped out work truck, rarely seen here
Laramie : The base spec
Rebel : The off road spec
Limited : The top end
So i started looking for the top end Limited (but obviously) as it came with all the fancy features I had in my Chrysler plus more! Since RAM has not sold in huge numbers in the UAE, it is not available in plenty in the used market. Even the official dealer did not have many cars in stock. I kept looking at classified websites for days which turned into months. I even went and saw two cars, which were the Limited variants. Well, the car looked fine in the pictures but it looked too polished and timid in real. Fancy? Yes. Aggressive? No way.
Trucks should look aggressive in my opinion. So my choice started to sway towards the Rebel variant. Now, the Rebel may not be loaded like the Limited, but it has off road tyres, off road shocks, factory lift of 2 inches, sporty red interiors (Limited was boring black/beige) and different bumpers and design. And yes, it looked mean…
So now I started scouting for the Rebel variants and it was a difficult task! Rebel is sold even in lesser numbers and hence finding a used one was proving next to impossible. The official dealer even told me that they have not sold a Rebel in many months but they can assist me with Laramie or Limited, which I did not fancy anymore. So I started looking out for Rebel variants online. There were many US spec variants (salvage), but very few options in GCC spec which were mostly atrociously priced or had run more than 50K kms.
On 31st Jan, I came across this new ad for a Dec 2021 Ram 1500 Rebel which had run only 26K kms. Went and met the owner on 1st Feb. The car looked pristine (it was just 14 months old!), was under warranty and service contract till end of 2026. I immediately paid the token and began the loan formalities. And the car was in my hand on 8th Feb!
And that's how my friends, I became the delighted owner of a RAM 1500 –
Key specs/features:
Hemi 5.7 engine with 395 bhp & 556 NM torque
8 speed torque converter gearbox
Front and side Airbags
Front and rear sensors
8 way power adjustable driver's seat
Front collision warning & mitigation
Blind spot assistance
Dual zone climate control
Android Auto/Apple Carplay
What my Rebel lacks as compared to the Limited (though some Rebels can be specced with additional features):
Panaromic sunroof
12″ touchscreen [mine has the 8.4″ screen]
Memory & ventilated seats
Adaptive cruise control
Lane change assist
Automatic park assist
Wireless phone charger
To be honest, I would have loved to have some of the above features in my Rebel, but given the options in hand, I chose the butch truck with lesser features. And of course, the Rebel was cheaper than the Limited, which meant I could splurge the money saved on accessories/mods.
When I got the car home, it would not fit in our building's basement parking as the entrance/exit was too narrow. Sadly, I had to give up a good parking and settle for a covered parking on the ground floor. Even there, it is a very tight fit!
The previous owner had kept the truck "factory fresh", which I really appreciate! It did not have any accessories on it except a sun film.
Accessory 1 :
I got 3M sunfilms installed in sides and rear. The previous owner had very dark tints which was making the visibility poor in dark. I changed them to a bit lighter ones. Cost – 18k INR.
Accessory 2 :
Got ceramic coating along with interior and exterior detailing. I hope it will keep the paintwork shiny for many days to come. Cost – 25k INR.
Accessory 3 :
Though it was not essential for me being 6.2″ tall, my wife and other family members badly needed a side step to get in and out of this behemoth. Got a side step from SMITTYBILT installed. Cost – 22k INR.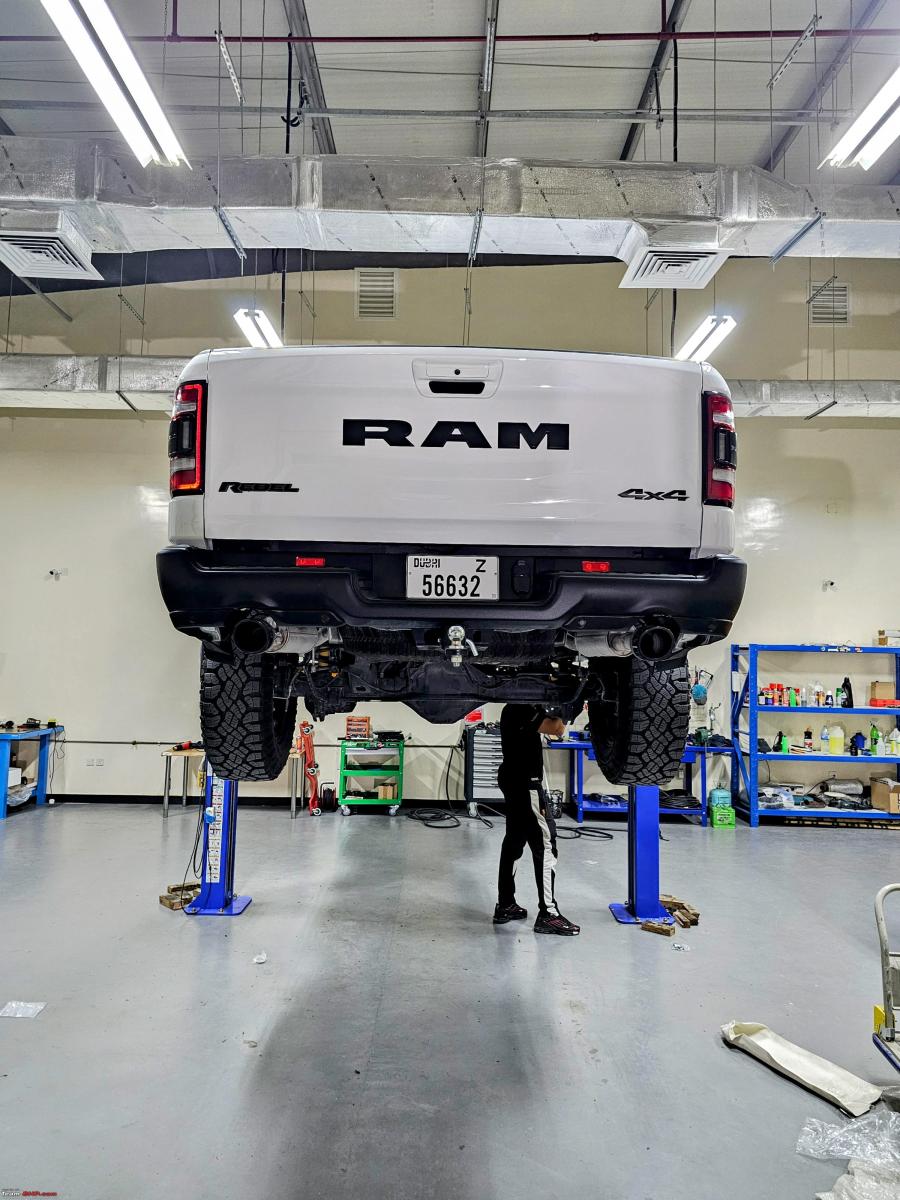 Accessory 4 :
The Hemi sounds nice, I have experienced the same motor in my Chrysler too. The stock exhaust note of the RAM was beefier. But I needed it to be bit more vocal and bassy. I got a custom axle back exhaust fitted with valvetronic (can be switched on and off as needed). Now, it gives an angry roar when pushed. I likey! Cost – 77k INR.
Stock exhaust –
New valvetronic exhaust –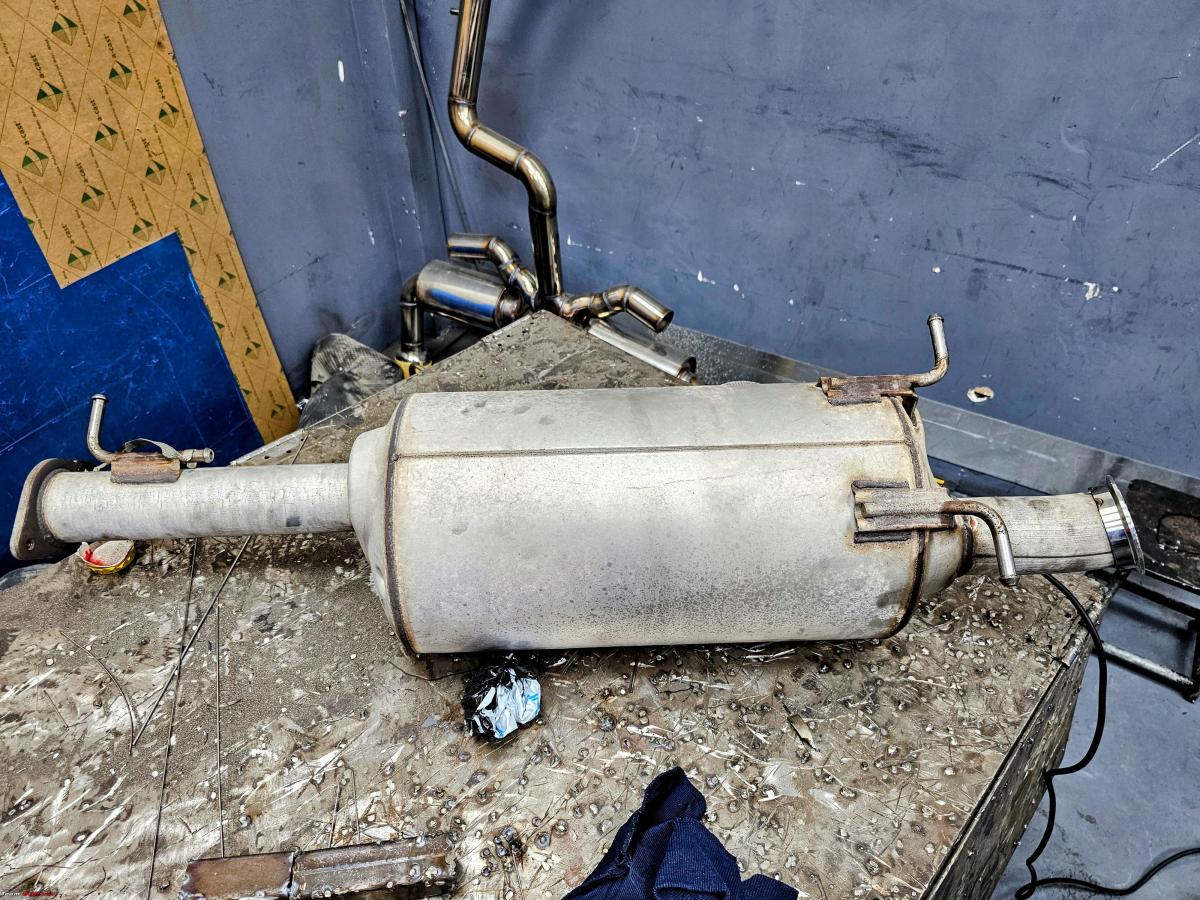 Further accessories planned :
The truck does not have a tonneau cover (bed cover), I am looking for one but it's in backorder in almost every store in UAE. That costs approximately 35k INR and will get that as soon as it's available.
I am definitely planning to take the truck off road for some camping trips, so I may need to invest in some reliable tyre inflators, sand boards, shovel, etc.
Maybe I will also install a bed partition or organizer so that I can carry small suitcases or bags without it sliding around.
As of now, I have driven the truck for about 1,000 kms.
What I like :
The sheer size and the respect it gets on the road
Addicitive pull from the Hemi engine
Ride quality – it is not carpet plush but much better than what I expected in a truck!
Overall NVH
Styling, looks kickass!
What I dislike :
It's a rhino, moves and steers like one!
Pathetic fuel economy
American cars do not have a convex mirror on the driver side (for some strange reason), which limits visibility especially when merging on highways
Tyre drone at high speeds [expected from the stubby off road tyres]
Environmentalists would hate me!
How's the drive?
Melody of torque & sound
Well, it come with the tried and tested 5.7 litre Hemi engine with 400 bhp. This motor was pretty quick on my previous Chrysler 300, but in the RAM, it is more relaxed. Could be because of the truck's weight or because of the gearing. It is fast when you want it to be, but not in a neck snapping fashion. Instead, you get a hefty surge of torque with a angry growl from the engine.
This thing sounds sweet. I had already decided that I will go for a custom exhaust before I got the truck. But the stock exhaust note was in itself very glorious and it begged to be louder!
The eight speed transmission does it's work in a very refined manner with absolutely no jerks or surprised. It is not quick like a DSG though, but very adequate. It is operated via a rotary dial on the dash. Some people hate it, but I have no issues since it frees up a lot of space in the centre console.
The steering is well weighted but feedback is average, maybe because its a truck.
How's the ride?
Smooth if driven within limits
I had earlier mentioned that 1500 has coil springs in the rear as opposed to traditional leaf springs in the F150 & Sierra/Silverado. This makes the ride quality on the unladen truck quite palatable, infact I woud classify it as comfy. BUT, the suspension is stuff and sharp bumps can upset it. However, on most normal undulations, the truck just glides over without the occupants puking. The high profile tyres do help here.
This is not a corner craving machine. Especially the Rebel as it comes with a lifted suspension and off road tyres. The body roll is very evident and it's best to take corners slowly. High speed drags can be reserved only for straight roads!
Does it chill?
Makes you weak in the knees!
The A/C is very strong. It takes next to no time to cool down the cabin. It has the usual 4 vents on the dashboard and 2 vents for rear passengers in the centre console. Come with dual zone automatic climate control.
For some unknown reasons, Stellantis group [Chrysler, Jeep, Dodge and RAM in specific] offers heated seats but not cooled seats in trims lower than their top most variants. I have no qualms in my car not having cooled seats, but why do we need heated seats in the Middle East?
What next? It has a heated steering wheel and heated mirrors too. Everything is heated!
How's the boot space?
Thinking of a pool party in it!
I have ordered for the tonneau cover and will get it fitted very soon.
One funny incident which happened was – I took the car for a wash and since the manual wash had a long queue, I took it for the touchless automatic wash completely forgetting that I had an open bed without cover. I realized it only when the machine had started spraying foam all over the bed. Luckily the wash got 90% of the soap out and it was not as bad as I thought. I just had to request them to manually clear the remaining soap with pressure washer! Note to myself – no automatic washes!
Kitna Deti Hain?
Error 404 Not Found!
It's criminal to expect good or even decent fuel efficiency from this beast. It does come with cylinder deactivation tech when you are driving sedately. But just to answer the question, the truck goes 5.5 to 6.0 kms with a litre of fuel.
Coupled with a fuel tank capacity of 100 litres, I can drive about 600 kms with each fill.
A few pics to conclude!
My favorite angle of the steed is the front quarter. The headlights and fog lights are LEDs are among the brightest ones I have experienced. Comes with cornering feature which lights up the side of the road you are turning into.
The side profile shows the 6m length, its a pain to park!
The rear looks like a typical truck, but I like it a lot more than the F150. Real tail lamps, turn indicators and reverse lights are all LED.
The Rebel comes shod with 275/70 tyres on 18 inch rims
I think the SmittyBilt side steps complement the truck really well without looking aftermarket.
Rebel comes with a very aggressive hood with a power bulge in the middle. Slightly hampers vision but well worth it!
The interiors are red and black. The seats are part fabric and leather. Wooden panels in the top end Limited version are replaced by carbon fibre looking trims. In general, the theme is sporty/ruggedness and not luxury. Even the floor mats are easy to clean rubber ones whereas usually it's fabric here. Leg room, shoulder room, head room and all kinds of room are enormous in this giant as expected.
View from the cockpit! You sit tall in eye level with mini bus drivers and have a commanding view of the road.
Instrument dials have traditional dials with a highly customizable screen.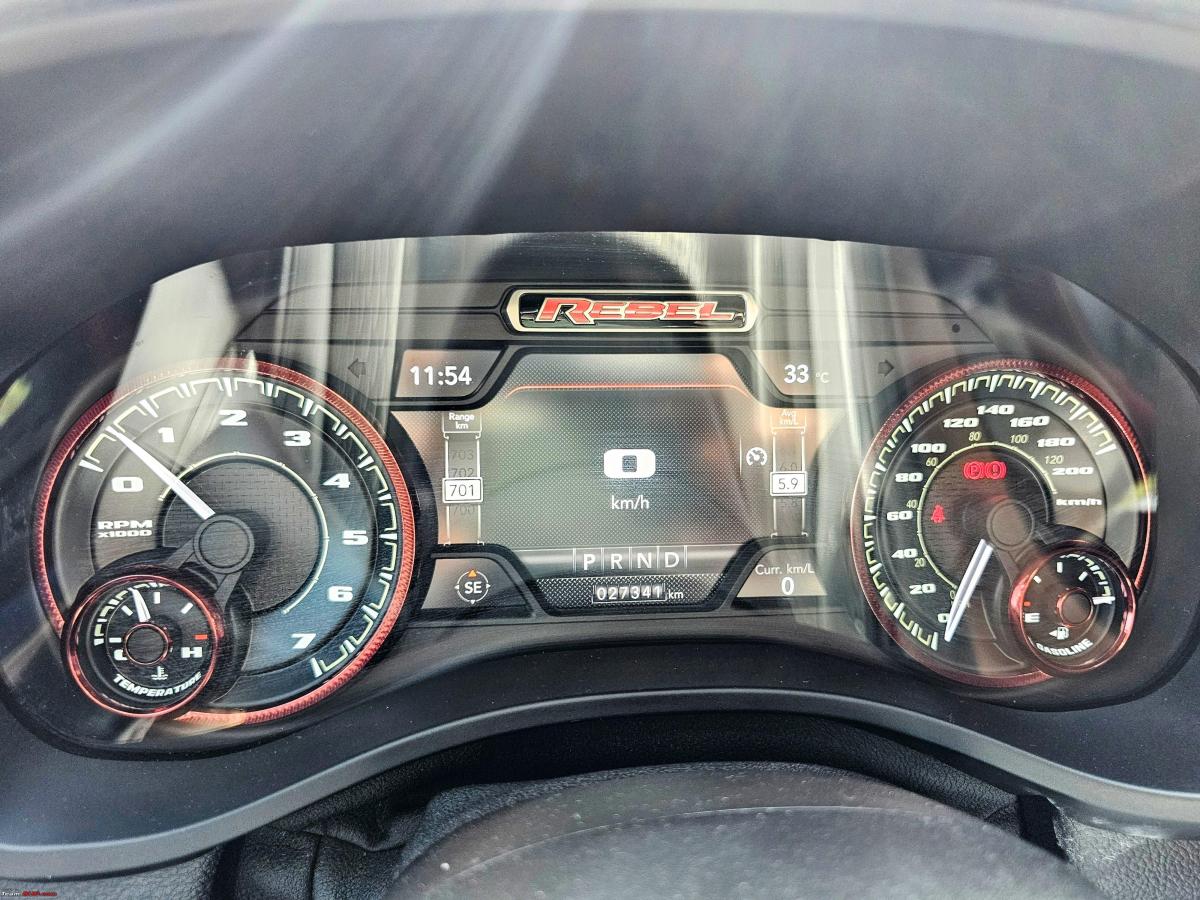 Gear selector with 4WD, axle lock and hill descent controls on the dash.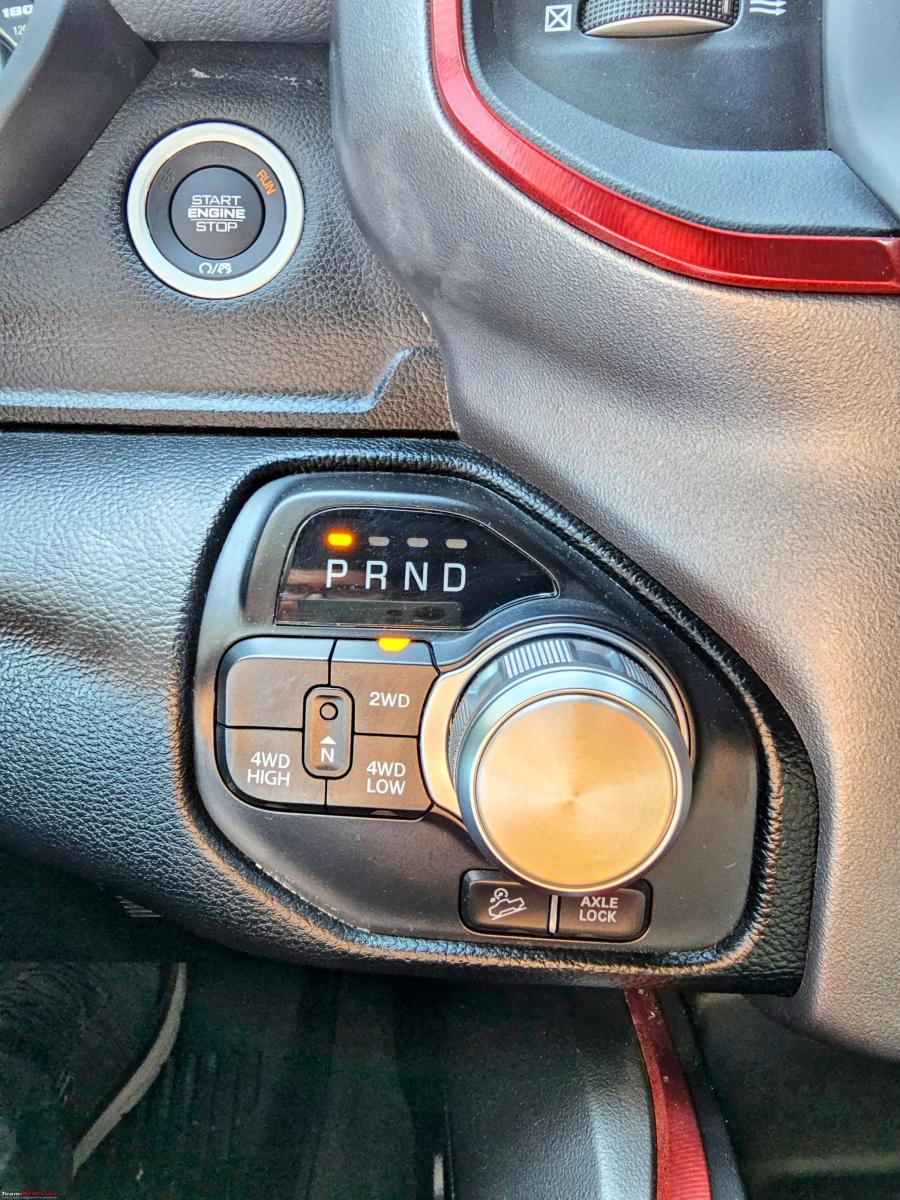 Read BHPian comments for more insights and information.