American electric recreational vehicle company Lightship has unveiled the Lightship L1, an aerodynamic, battery-powered, and self-propelled travel trailer (or caravan) that delivers near-zero efficiency loss for the vehicle towing it.
Former Tesla employees and Lightship co-founders Ben Parker and Toby Kraus founded Lightship in 2020 with a goal to transition "RVing" into the electric age.
What an American calls an RV, or recreational vehicle, might be better known as a campervan in Australia, whereas a RV trailer is better known here as a caravan.
Whatever you call it, though, the Lightship L1 looks stunning, and has the electric bonafides to match the EV transition.
With a hyper-efficient and aerodynamic design that allows for longer range and greater efficiency, Lightship explains that "a 300-mile range electric vehicle (EV) used to tow it remains a 300-mile range EV, and a 25-mpg gas truck remains a 25-mpg gas truck."
This is helped by an electric powertrain with up to 80kWh of onboard battery capacity, which allows the trailer to propel itself and achieve near-zero range or efficiency loss for the towing vehicle.
Lightship also promises a "no-compromise battery system" that claims to be able to "provide a week of off-grid power without charging" – though whether this is the same as the powertrain's onboard battery is uncertain.
However, the trailer itself is coupled with a 3kW rooftop solar power system that likely extends the energy use options and eliminates the need for additional fuels for cooking.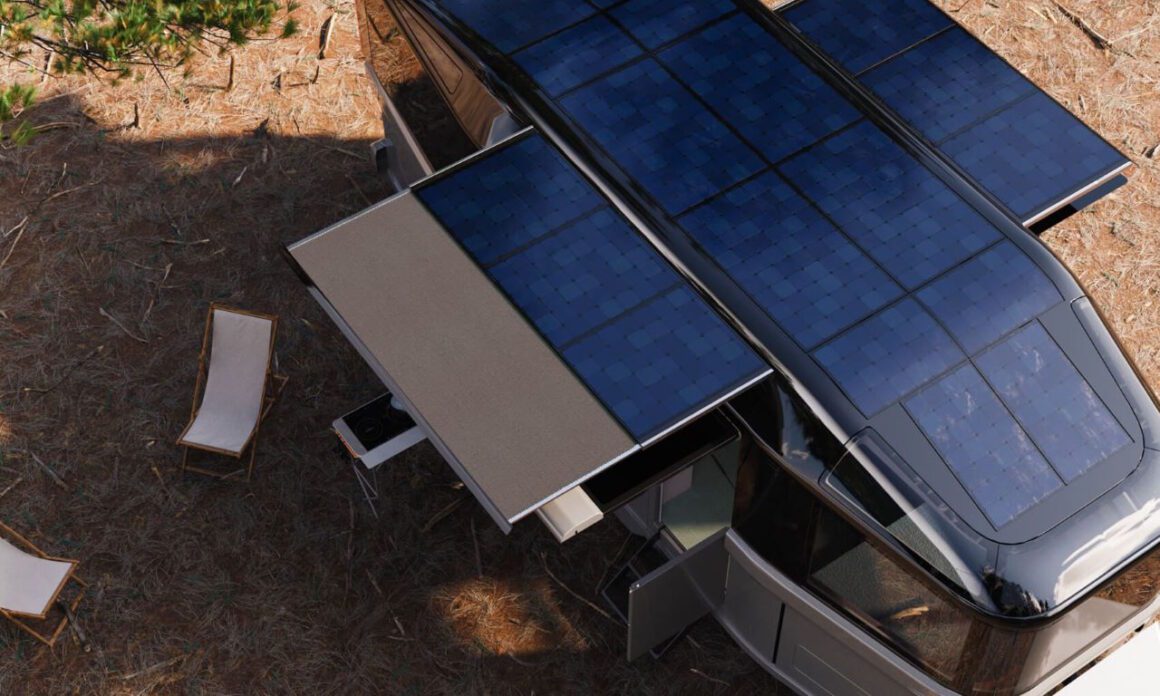 Able to sleep between 4 to 6, depending on configuration, measuring just over 8 metres in length, 2.6 metres wide, and 2 metres tall in travel mode and 3 metres tall when deployed, the Lightship L1 weighs 3,400kg when fully loaded.
The Lightship also comes with what the company bills as "an ecosystem of all-electric appliances, connected features, and modern amenities for a seamless camping experience".
With a starting price in the United States of $US125,000 ($A187,500) or $US118,400 after an available tax credit, Lightship is hoping to begin production in late 2024, though pre-orders are now open at www.lightshiprv.com for a deposit of $US500 ($A750).
"One in 10 American families own an RV, but the RV industry hasn't experienced innovation for decades," said Ben Parker, Lightship co-founder and CEO.
"Inefficient, unreliable product designs and a power experience that relies on smelly, noisy, gas or propane generators fundamentally hinder the amazing experience of traveling in the outdoors."
"With 90% of the market comprising of towable RVs, we began by creating an all-electric travel trailer that is unlike any RV available today and that is just the beginning," added Toby Kraus, Lightship co-founder and president.
"We are leveraging our expertise in automotive EV development and design to build a brand that creates delightful outdoor travel experiences for everyone and brings even more people into the pastime of RVing."
Joshua S. Hill is a Melbourne-based journalist who has been writing about climate change, clean technology, and electric vehicles for over 15 years. He has been reporting on electric vehicles and clean technologies for Renew Economy and The Driven since 2012. His preferred mode of transport is his feet.