Fit and Finish of the Q4 is way better than a Tesla.
BHPian CARNAMA recently shared this with other enthusiasts.
Context:
I purchased Audi Q4 40 SUV 2023 in Dec 15, 2022. Around that time my office required me to be there 3 days / week. Apart from those 3 days I've to take my son 3 days for extracurricular activities.
Total commute per week is around 550miles – 600 miles.
My commute every morning:
Monthly commute is going to be 2200-2400 miles (3520 km- 3840 km)
Gas prices in US was soaring and I decided to go for EV. The reasoning was, I'll save on gas prices and that money will go towards new car EMI.
Why AUDI:
Audi was not the choice. I was driving a Mitsubishi Outlander since 2016. It did not give me any trouble except routine maintenance. It had around 46000 miles(I was living in a different area where commute was minimal). I had plans to keep this vehicle and buy a Chevrolet Bolt EUV.
Chevy EUV recently slashed their price, and it was coming around $34000 which is cheapest. However, it only had 50 KWH battery and the charging speed was significantly higher in todays standards. 0%-80% would take more than one hour where other cars typically take 30 mins.
The biggest selling point was the price and range. It had range of 247 miles which is more than enough for daily driving. Then we can charge overnight. Road trips will be difficult because of slow charging speed. I went ahead and booked with $500 and delivery time was 1st week of Jan.
My wife was kind of unhappy with my decision. Some of my friend recommended to sell gas car and get a better EUV. Wife suggested AUDI Q4 which had a starting price of $49000. This for an AUDI is significantly cheap considering its full electric.
I'm 5'11, 198 LB. My friend got a Tesla Model 3 and tried to squeeze myself in driver seat. Unfortunately, it was too uncomfortable for me. I was sad that this was the only Tesla model I can afford and now I can't fit in. Trust me, I tried 5-6 times and even thought of toning down so I could fit in Model 3. So, the only option was a Model Y, which was significantly expensive.
With Tesla out of question, Audi Price tag of $ 49000 was very welcoming.
Buying Experience:
On a Sunday afternoon we 3 went to local Audi dealership. Took a test drive and were satisfied. Please mind that I'm coming from Mitsubishi, never driven a proper German brand. There were 4 color options, White, Black, Blue, and Gray. I picked on Grey because I liked it and it's the only one that's free. (You know which one took precedence).
This time I came to know that Audi has 3 trims:
Base Premium: This one is $49000, surprisingly has all things which I need.
Premium Plus: Has Sonos sound system, AUDI puddle light when you open door, Interior lighting package Adaptive Cruise assist and other goodies. This one is $57840.
Prestige: Has all bells and whistles.
Base model is not available at all, Period. It has waiting period of 1 year. More on this later. I had to go for next trim @ $ 57840. They said they have one available at a different dealer and get things ready in 3 hours. I agreed and they told us to wait.
After waiting for an hour, they informed that they'll update me next day. I requested for buying process and was told that I need to get preapproved from lender (Bank) or I can go for Audi Finance.
Audi finance gave me interest of 6.99 and $7000 for Outlander. I declined and told them I'll arrange my own finances.
Spoke to Bank of America and they offered 6.24 %and another lender 5.74 %. I got the preapproved letter ready which is typically valid for one month. Days passed by and I did not hear any news from Audi dealer. I started calling all SF Bay Area Audi dealer and even Sacramento. None had the Base Model, all of them gave me a reason that there is no demand for Base Model.
I work in Supply Chain IT and understand that demand is triggered from the lowest echelon and cascades to the upper organizational echelons. Typically, then S&OP sessions tries to gauge demand for next 18-24 months. If I believe Audi, then all the customers are asking for higher price trim and none are interested in lowest trim. Even through lowest trim has most of bells and whistles. Anyways, it is what it is.
I got a call from San Jose AUDI which is near to my office and 70 miles from home that they have 2 grey ones available. I decided to go that evening after office.Went there, took a test drive (I've already taken test drive earlier). The sales agent started explaining the buying process. To his surprise, I told him that I already have approval letter from lender.
I'll try to narrate the conversation below:
Agent: If you've approval, you can buy today. Just pay the deposit and drive home.
Me: I'm not carrying cash or cheque, I just came from office and If I drive Audi, what'll happen to the Outlander. How can I take it to my home?
Agent: Let me talk to finance head, see what he recommends. I stay near to your house; I can drive your car to my home. You can collect it tomorrow. Any one of your friends can drive you to my house.
Me: That works for me.
Finance head: Looking at your credit history, we can let you pay 50% of down payment through Credit Card and rest you can pay via cheque tomorrow.
That was it, I drove an Audi paying through Credit Card and dropped cheque next day at the sales agents home and picked Outlander. Later sold Outlander to a company called SHIFT at $13485.
Imagine the surprise my wife and kid had when I showed up in an Audi that evening.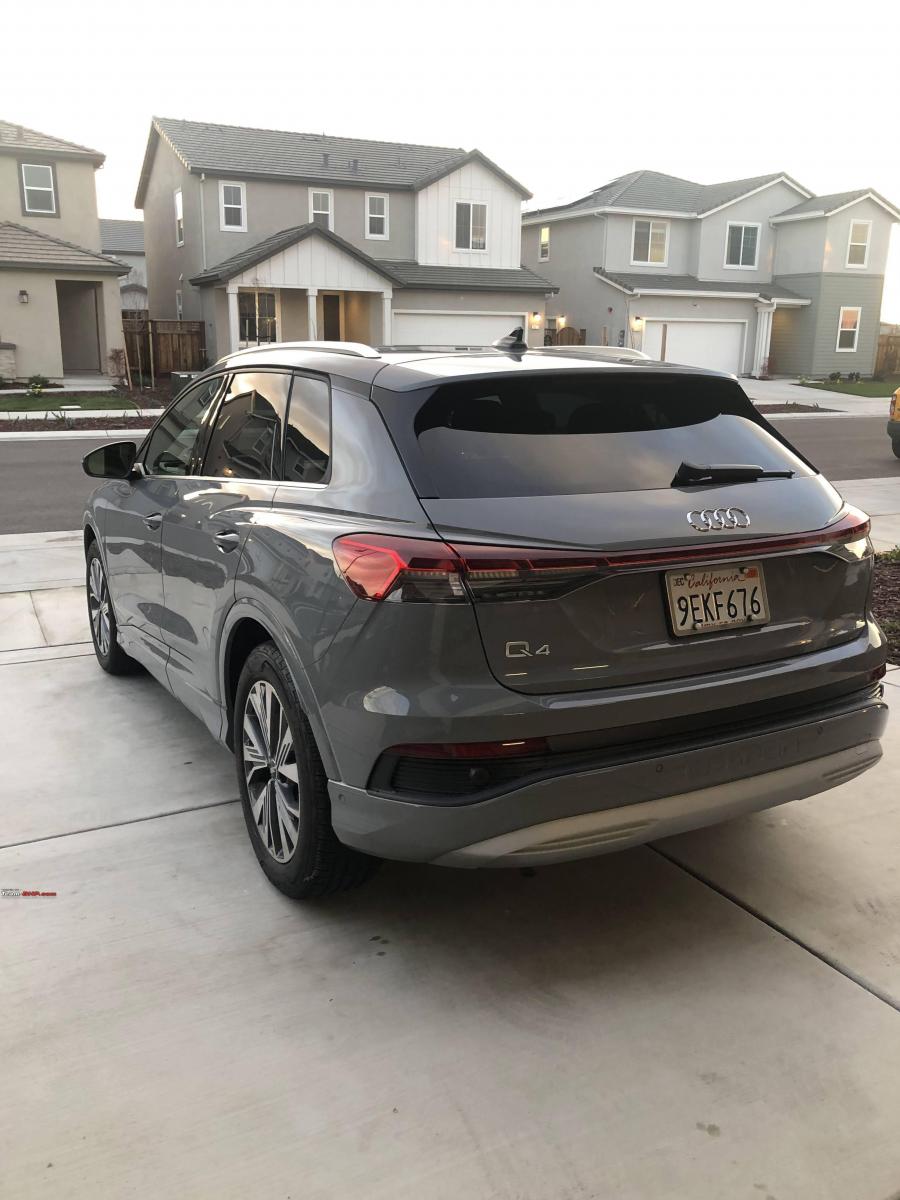 Ownership experience:
Please understand where I'm coming from. I'm a person who had driven Maruti Wagon R, Mitsubishi Outlander, and few rental cars in my initial days. I always dreamt of owning a German brand especially BMW, and here I am driving an electric Audi.
Tesla is an obvious choice when going for electric. I also contemplated on buying a Non tesla but eventually felt Audi is a better 'Vehicle'.
Fit and Finish is way better than Tesla. The same day my neighbor bought a Tesla Model 3, sat in Audi, and was visibly upset and regretted buying Tesla.
Other friend (who suggested to sell gas car and buy good one) bought Model Y. Buying experience was horrible for Tesla. They give you the parking lot number, which is an open parking lot. It doesn't matter if it's raining, hot or snowing. That day it was raining. They tell us to download Tesla app and go from there. That's it. You're all by yourself. I was holding the umbrella as he was trying to figure out how to open the door. Then took a drive to become familiar and then drove off. No one was there. His brand-new Model Y had wind coming from windshield. There was a gap and Tesla decided to fix it, it'll take 4 weeks. He's now fighting for a loaner. Another friend's model Y had the front bumper came off when he tried to move through a puddle. We all realized that you buy Tesla for technology and infrastructure and not for the vehicle.
For me ride and comfort in my Audi is excellent. My decision may be biased as this is my first luxury vehicle and I don't have anything to compare it with. What I want to check is, how Audi holds up with high mileage. This is a daily drive for me.
Positives:
Charging time is ok for me. Audi claims 0%-80% in 35 mins, which is acceptable.
Ride comfort and SUV like feeling.
SONOS sound system.
QUIET- no engine, minimal road noise.
Handling
Space: Back seat is way comfortable compared to other cars. Audi has really managed space.
Audi provides charger.
Negatives:
Electrify America has largest non-Tesla charging infrastructure in US.
They are part of VW group. Audi only gives 250 KWH of free charging. I was expecting to get more free charge.
My Audi app: they need to step up their game.
If they're advertising lower price, they need to make sure customers have the option to choose from. It's sad that customers don't have the option.
No spare tire.
Remarks:
I'm happy camper. I spend almost 4 hours daily and Audi driver seat is a good place to be in. I don't care about gas price anymore.
Audi Q4 is not at all popular, my car is kind of exclusive on road.
Good thing is, Tesla opening supercharger for non-Tesla cars. Now we can charge at a Tesla supercharger location.
Read BHPian comments for more insights and information.