Tesla's Investor Day outlined the path it will take to dramatically cut production costs and ramp up volume using a third generation vehicle platform.
During the presentation the company showed how the Model 3 already has a 5-year total cost of ownership less than the world's best selling car the Toyota Corolla.
The base Model 3 sells in the US for $US43,000 ($US35,500 including the IRA tax credit) while the Toyota Corolla starting at $US21,550.
While the upfront cost of the Model 3 is 50% higher than the Corolla, the bulk of the savings come from significantly lower running costs thanks to electricity being much cheaper than petrol/gas and the minimal maintenance costs associated with electric vehicles.
However Tesla says the next generation model, made possible with major advances in its manufacturing processes, will significantly decrease the upfront cost as well as resulting in a 5-year total cost of ownership over 30 per cent less than the Toyota Corolla.
Tesla's current current cost of production per vehicle is $US39,000. During the presentation it showed how streamlining vehicle design, battery and powertrain improvements, as well as revolutionary manufacturing techniques, will cut cost of production by 50%.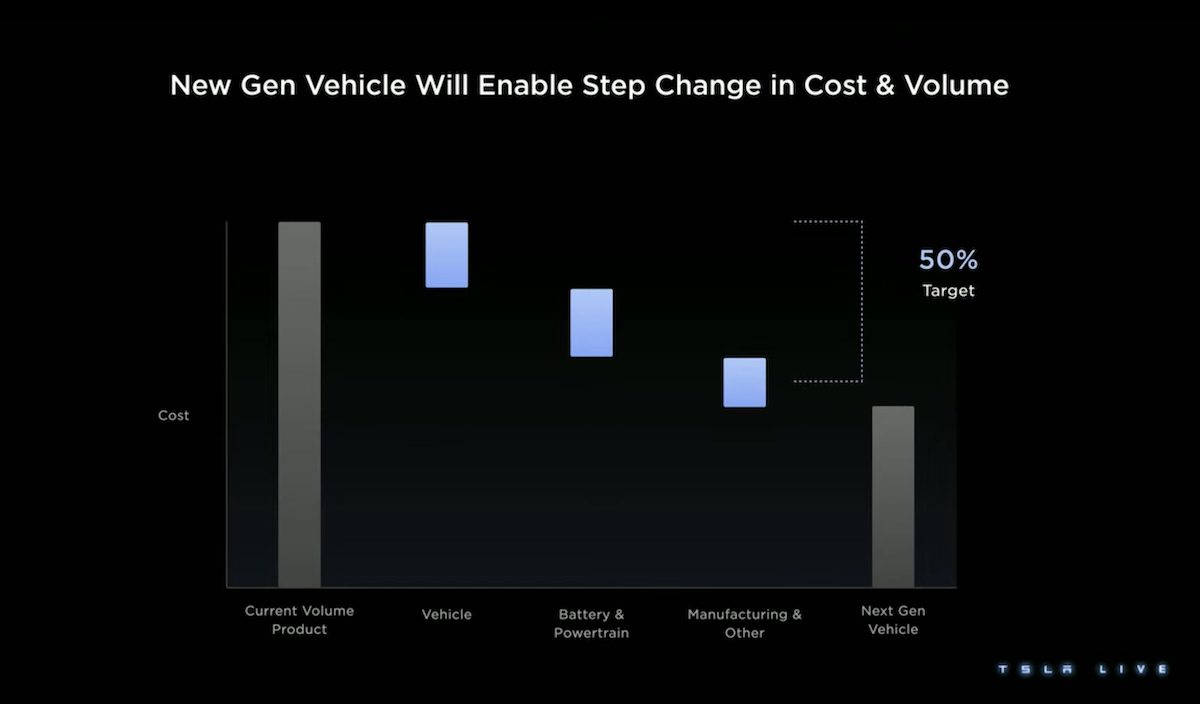 This would put cost of production per vehicle at less than $US20,000. A 20% gross margin would mean it the next generation vehicle would sell for around $US25,000 putting it in the same price category as the  Corolla.
At this price along with all the savings on petrol/gas and servicing, buying a Tesla over a Corolla becomes a complete no brainer.
It seems that Toyota executives are starting to cotton on to what's happening at Tesla.
Just this week after tearing down a Tesla Model Y Toyota execs said car is "truly a work of art" and "It's a whole different manufacturing philosophy".
Hopefully the penny has finally dropped for Toyota and it starts getting serious about EVs and learns from new production techniques that Tesla has been developing over the last decade.
If it fails to act quickly the Toyota Corolla might go from the top selling car to the museum.

Daniel Bleakley is a clean technology researcher and advocate with a background in engineering and business. He has a strong interest in electric vehicles, renewable energy, manufacturing and public policy.