187 Automotive
I'm going to start this article with a little complaint, unfortunately.
Last year, after Players Classic, I wrote an article about my friend Ray's Mercedes SEC and my BMW 740i Sport. In that piece, I explained how BMWs and Mercedes-Benzes of the '80s and '90s were going through a renaissance in popular culture, making it more difficult for enthusiasts to obtain them.
Well, there seems to have been a shift more towards Mercedes models since then. Iconic examples are being bought up in droves, and often for the wrong reasons.
The '90s Mercedes-Benz has become the darling car of people craving quick Instagram fame, and trying to achieve it by chucking a Notorious B.I.G. song over a reel with generic angles and a moody filter.
A little note for you folks: Biggie was a Lexus and BMW man, not a Mercedes one.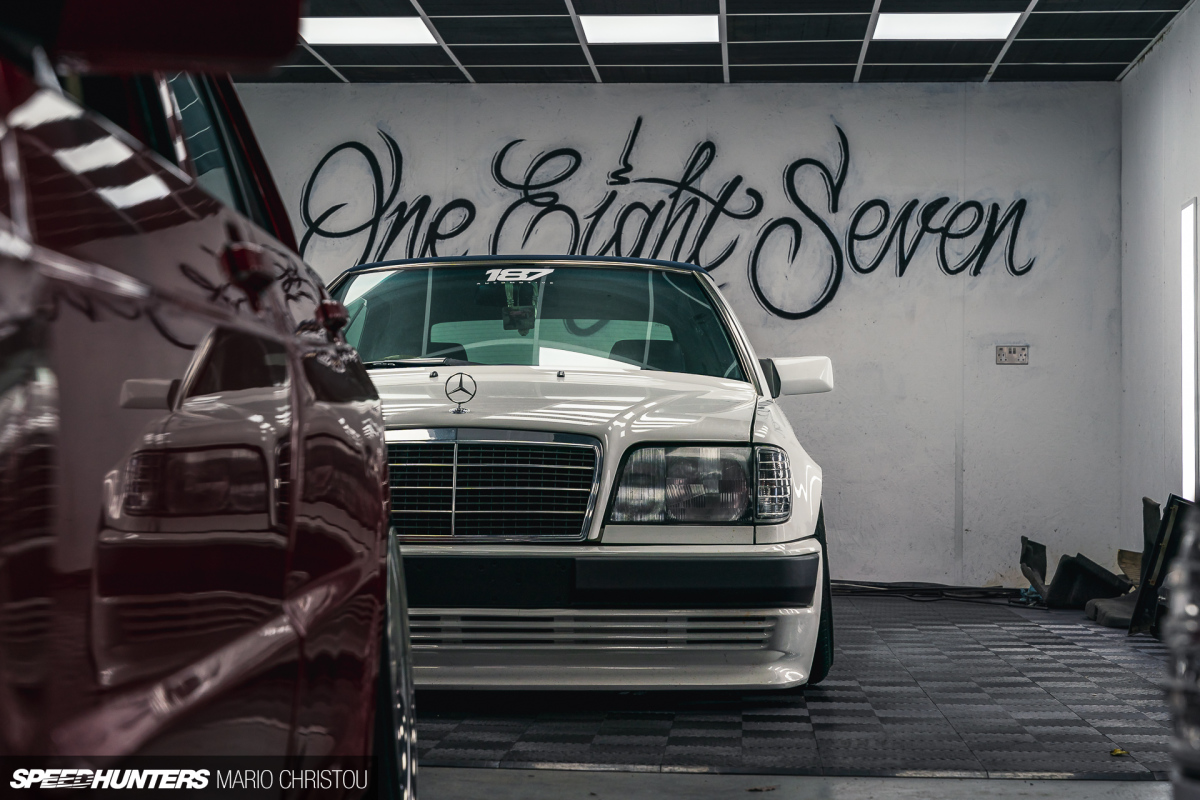 That's why, on a recent trip to Wales, I decided to stop by 187 Automotive and give myself a little cultural reset of the three-pointed star variety.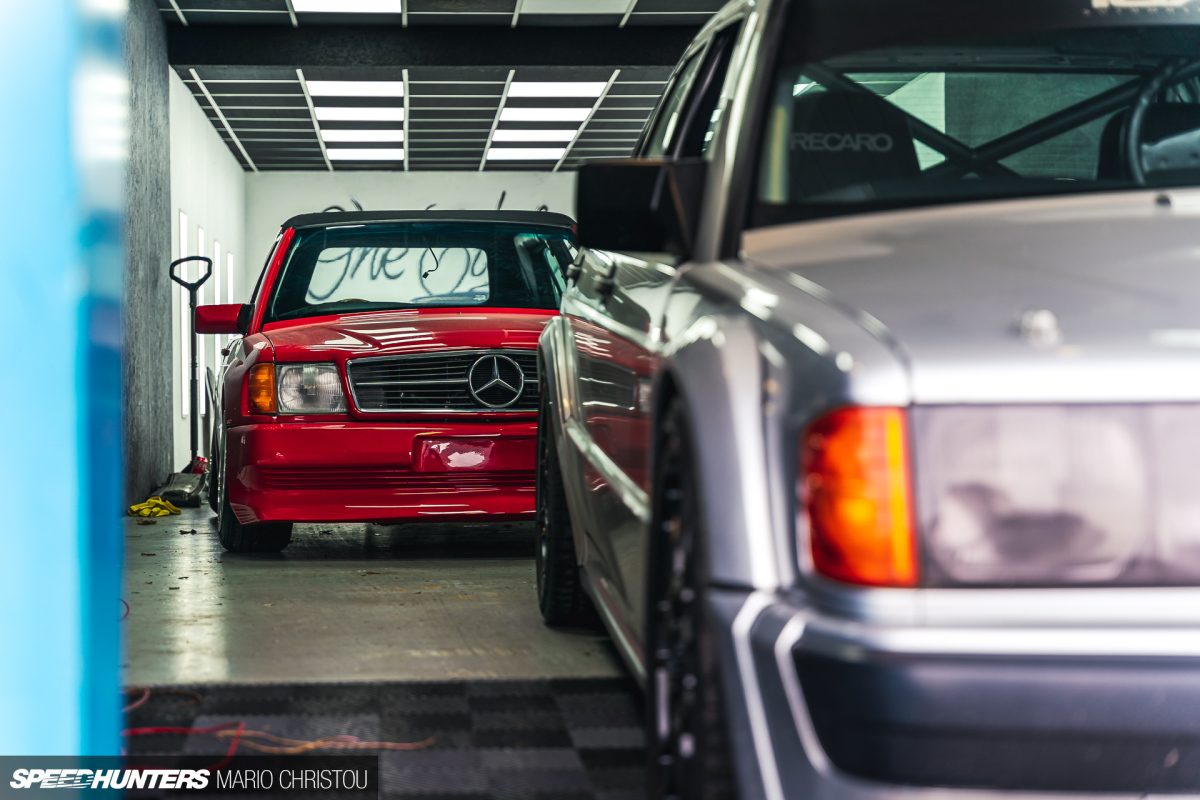 Nic Stubbs is the man in charge, and within minutes of chatting to him at FittedUK last year I could tell he was a Mercedes enthusiast through and through.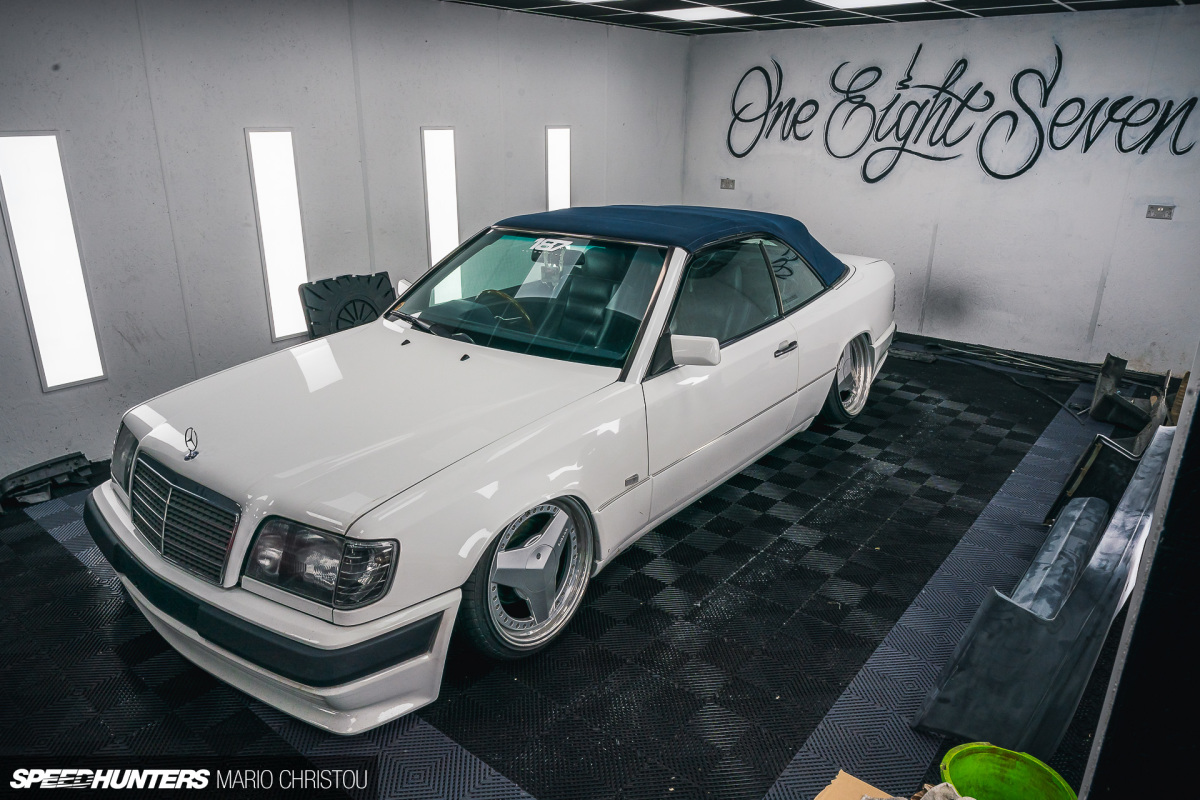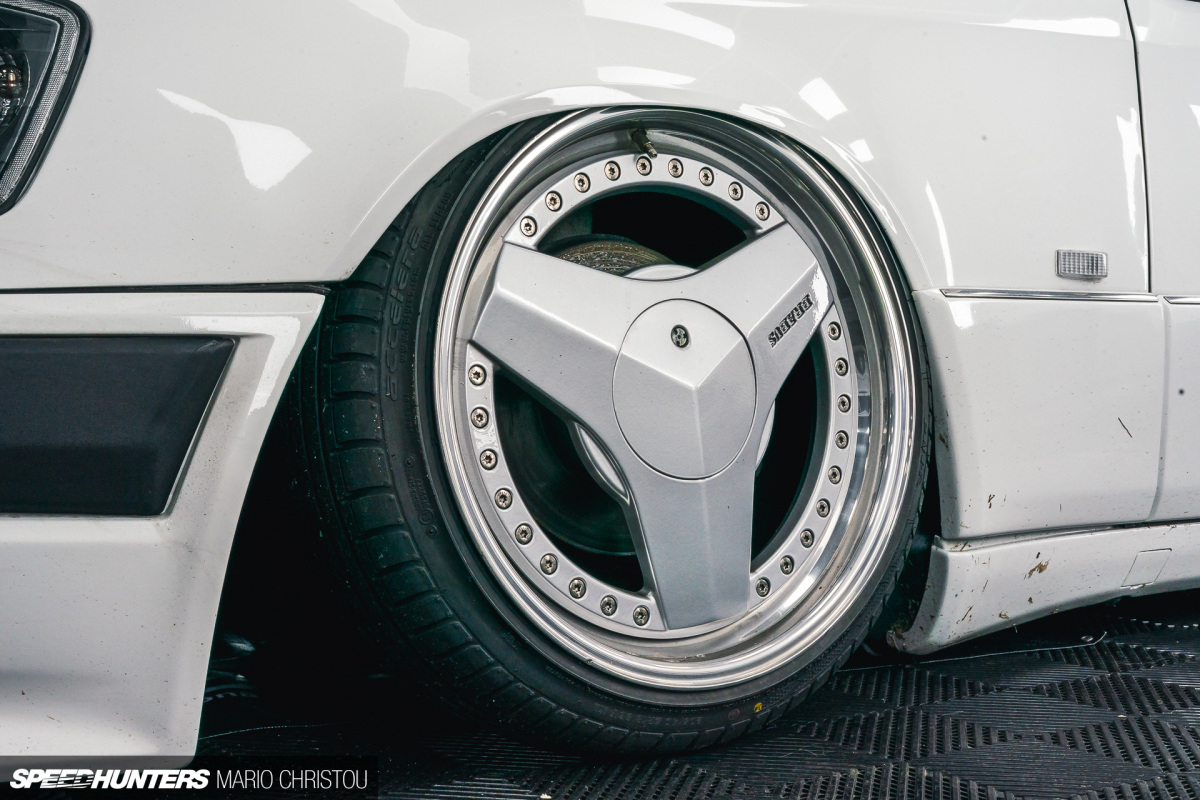 His own 1994 E-Class Convertible – an A124 model – is one of my favourite old school Mercedes in the UK at the moment. I'm a sucker for rare split rims, and his Brabus tri-spokes by Ronal are close to my heart.
It's a simple, relaxed build, with choice parts to make one achingly cool package.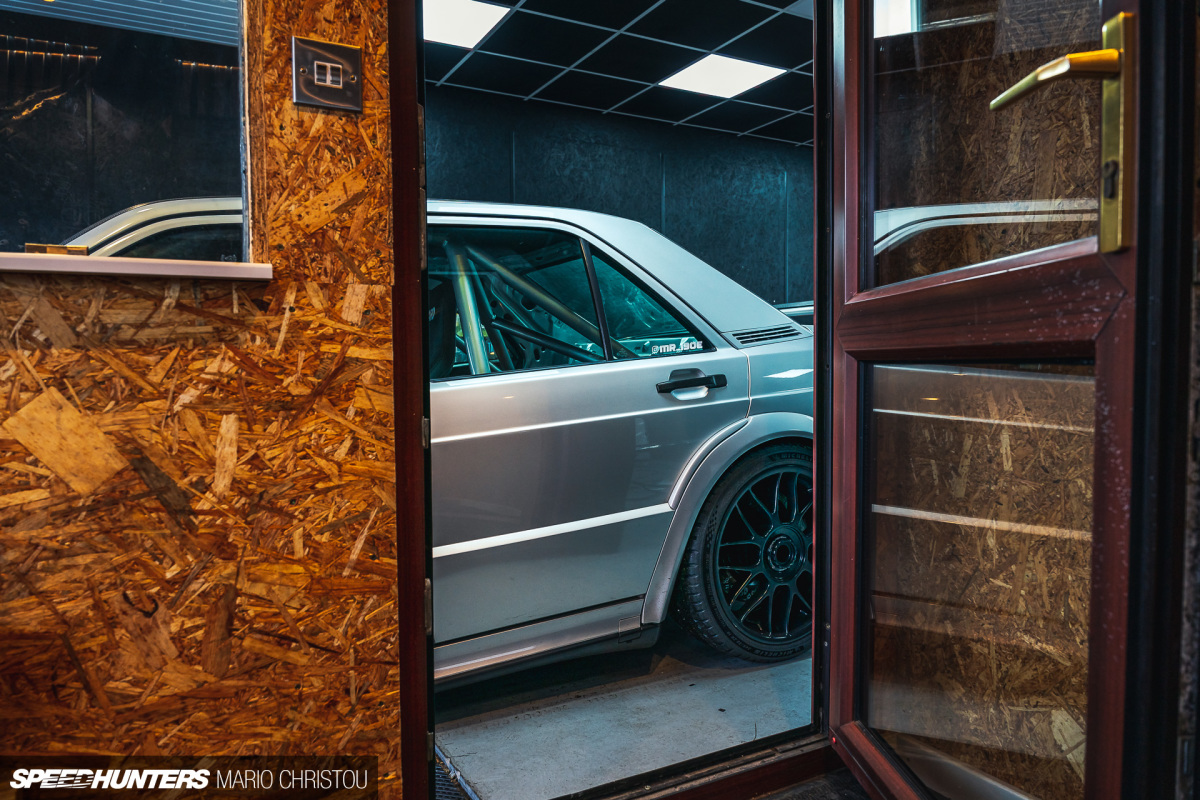 Not like Nic's 190 E though. That's a different kettle of fish, but we'll come back to that shortly…
The casual attitude of the 187 Automotive team seems at odds with the engineering might and 'serious' nature of the cars they're working on. After all, Mercedes-Benz is a powerhouse known for producing some mechanically solid vehicles.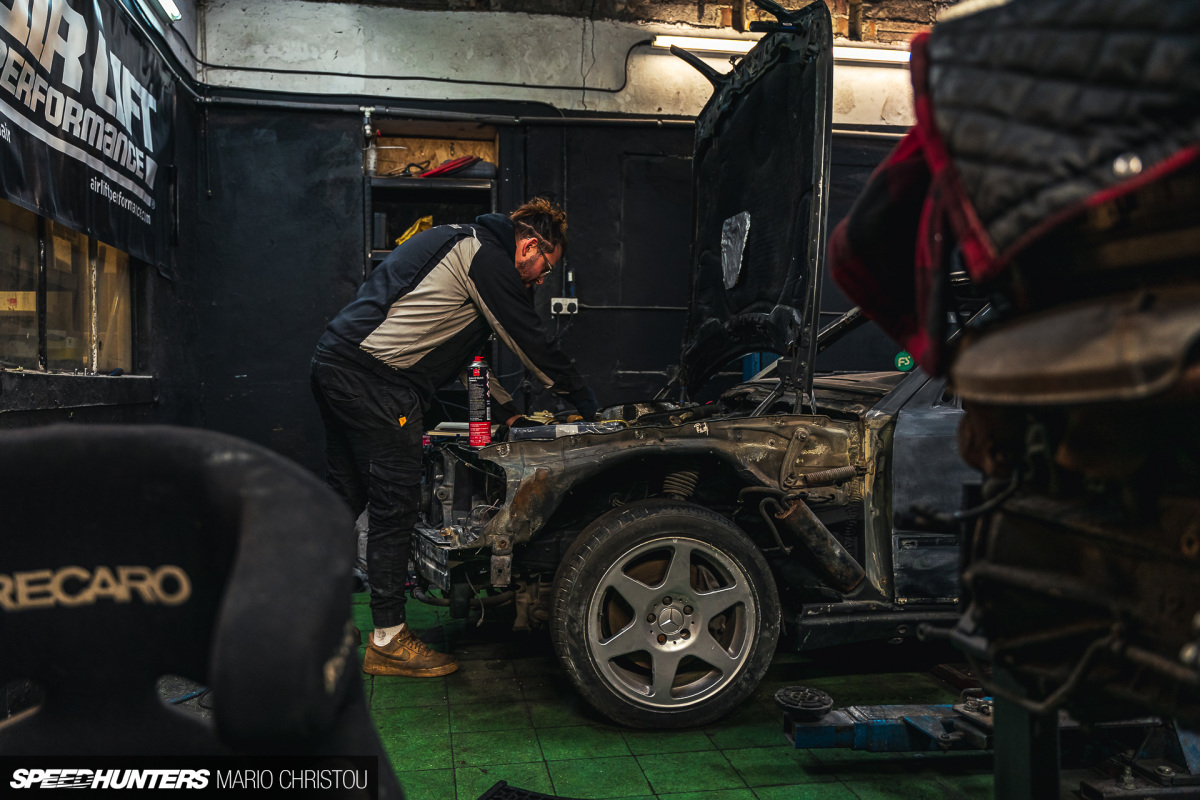 That's not a criticism of 187 Automotive though, far from it. There's something refreshing about being in a messy workshop, surrounded by cool cars.
Yes, there's a lot to be said for a pristine working environment, sterile walls and white floors, with the latest in bleeding-edge equipment capable of performing brain surgery on a flea. However, as 187 technician Ellis Simin so eloquently put it, "a clean workshop is a workshop that isn't getting used."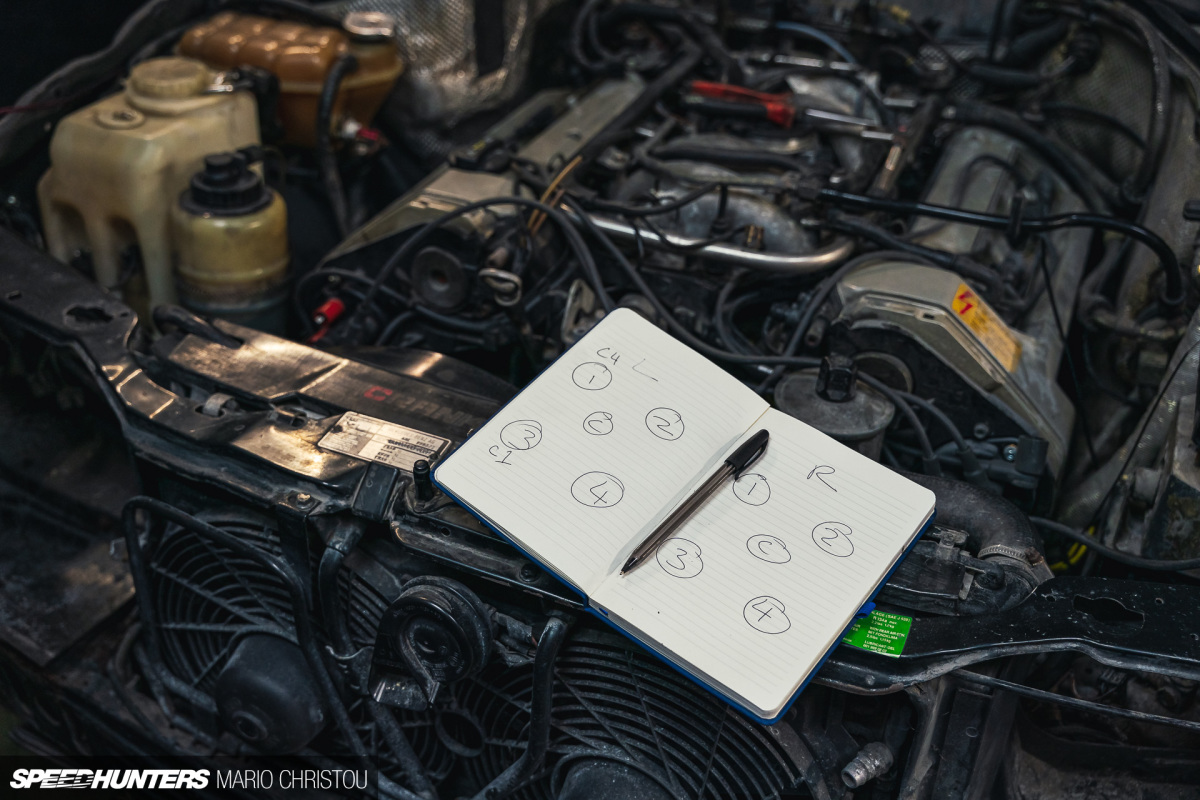 Some of you may be foaming at the mouth in a fit of rage and disagreement at that statement, but allow me to address your concerns. First, the quality of the cars and craftsmanship that leaves 187 Automotive is top tier, so anything you may have to say about the cars 'reflecting the standard of the workshop' is moot.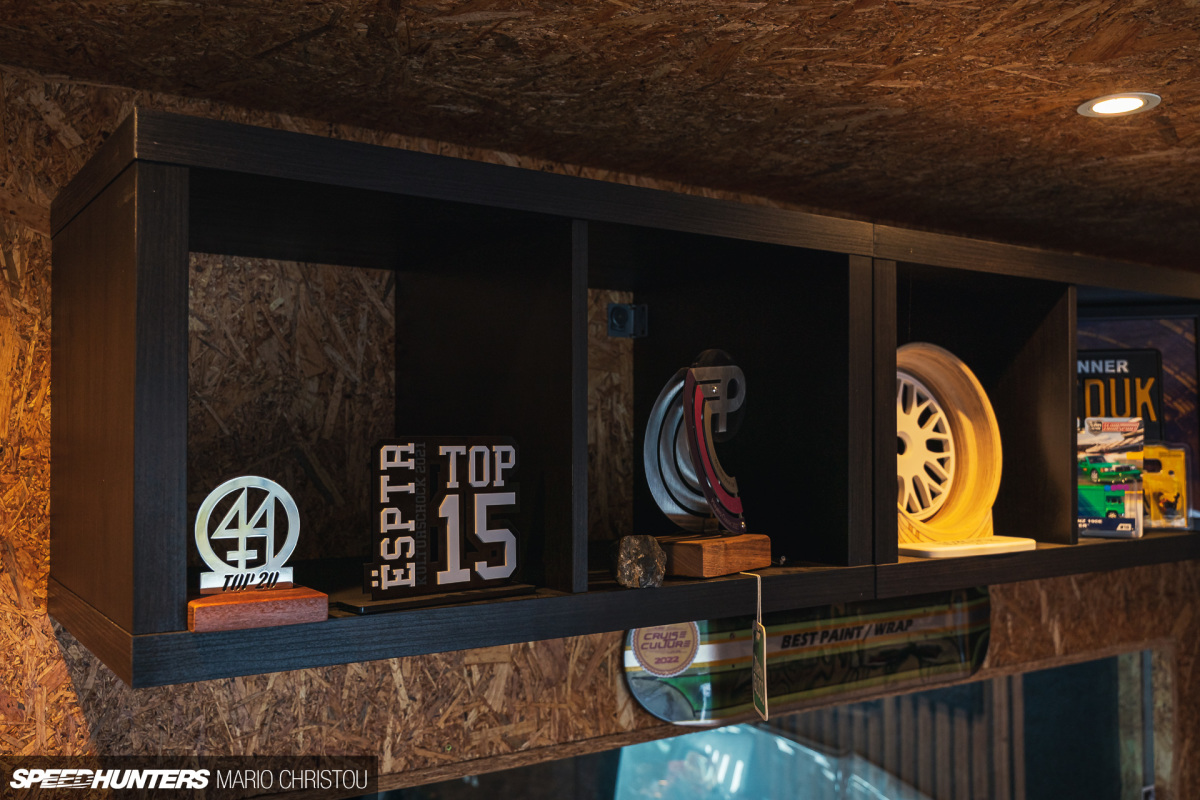 187 is an outfit that has produced back-to-back-to-back award-winning show cars, after all.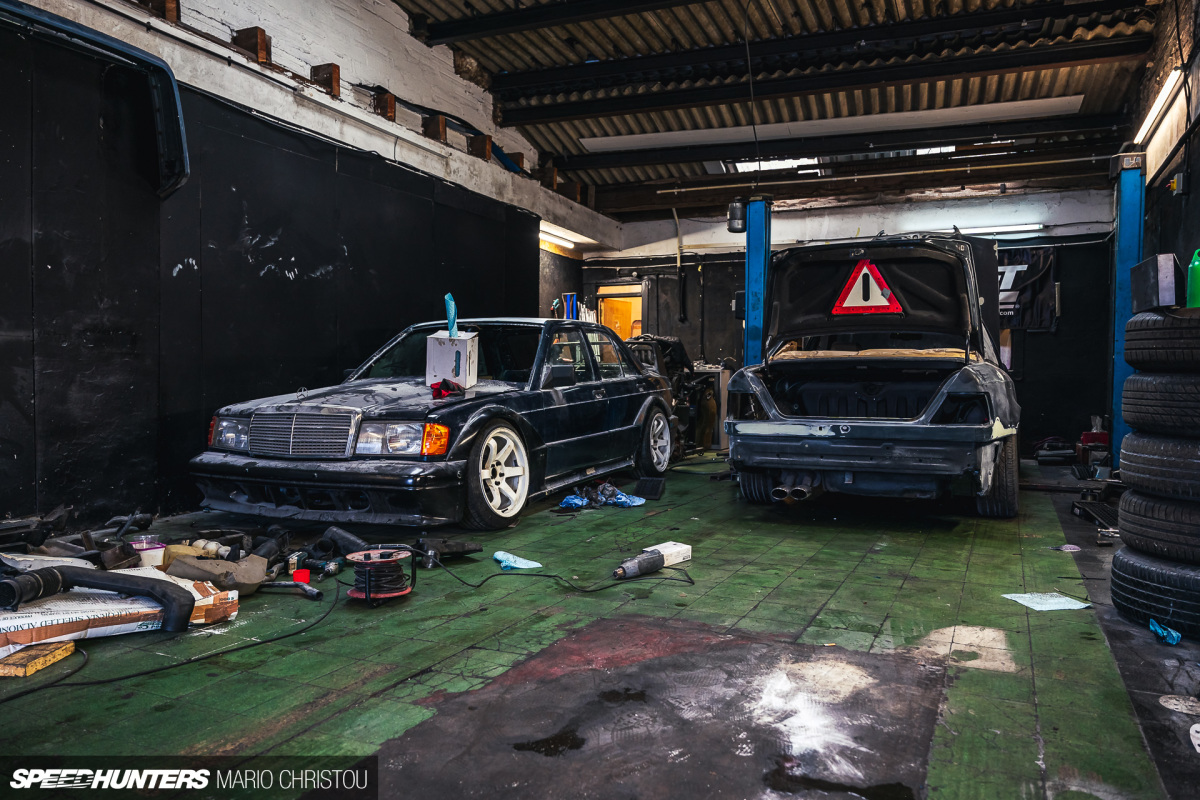 Second, whilst retro Mercedes-Benzes may have been over-engineered, they were still closer to heavy machinery in their construction than they were to most other cars of the '80s. After all, the first 124 Mercedes to have a V8 dropped in it by AMG was known as 'The Hammer', not 'The Scalpel'.
Take the rubbed-down shell on the right, for example. A Mercedes-Benz E 500, in at 187 for a comprehensive restoration. Co-developed by Mercedes and Porsche in 1989, don't mistake this for a delicate sports car such as a 911 or a 968.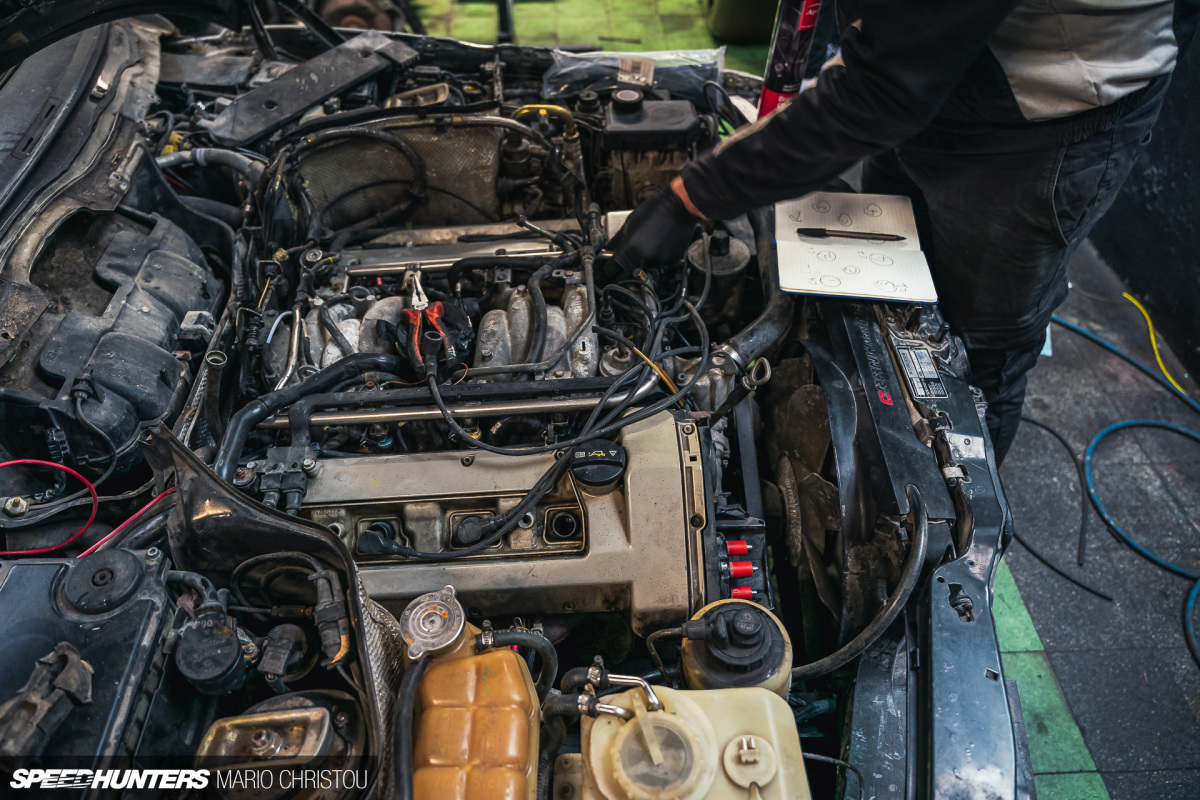 A thunderous M119 V8 producing 342hp resides in the thick steel chassis, making this a five-seater, four-door muscle car. Ellis knows these engines, electronics and chassis like the back of his hand. Fortunate, seeing as the wiring looms enjoy disintegrating almost as quickly as the heavy German steel enjoys turning into lightweight German rust.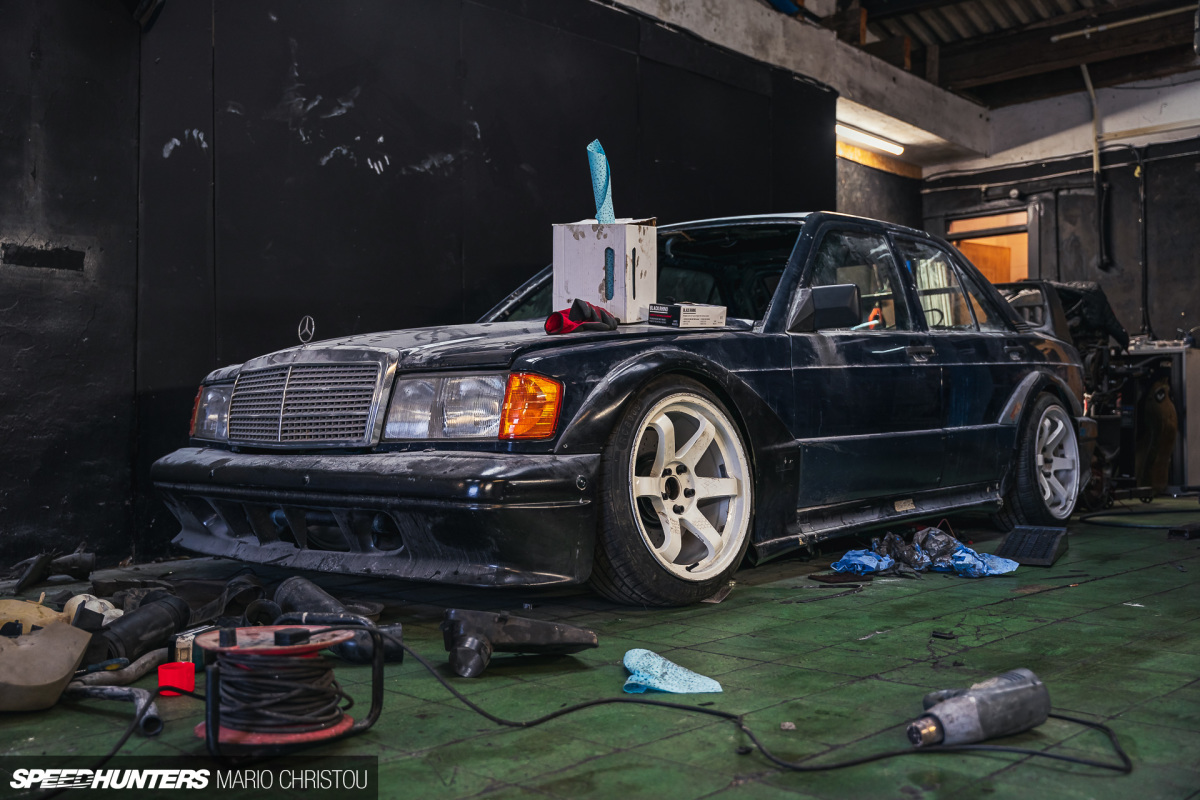 The Evo II-kitted 190 E is Nic's next 'big' project, following on from the silver 'Evo' 190 E. I can't give too much away, but there's a clue as to the end goal for this car somewhere else in the photos. All I can say is it's going to be wild, and pre-empting another comment, those wheels are only on for a test fit.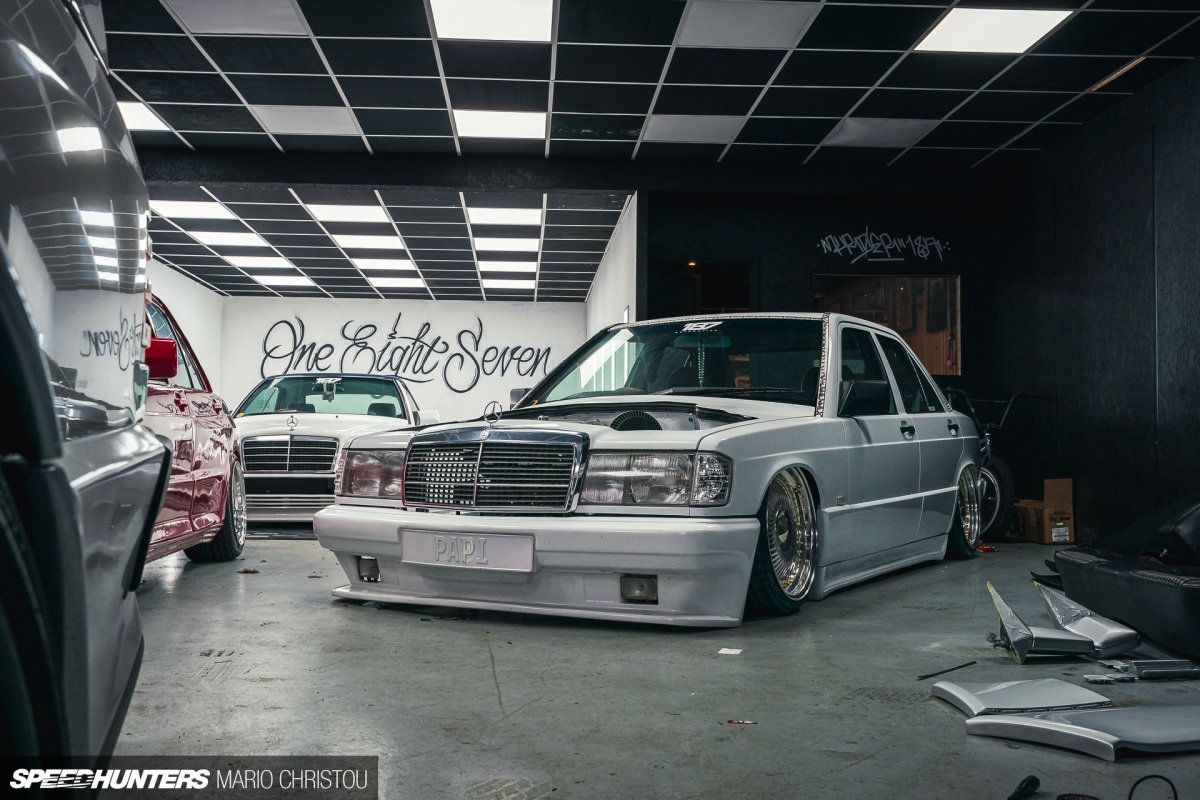 Does the presentation of a workshop matter? To an extent, yes it does. However, I'd much rather take my beloved German classic to a small, messy garage run by die-hard enthusiasts with real-world knowledge than a pristine garage that would have to dust off its manuals to re-learn an old car.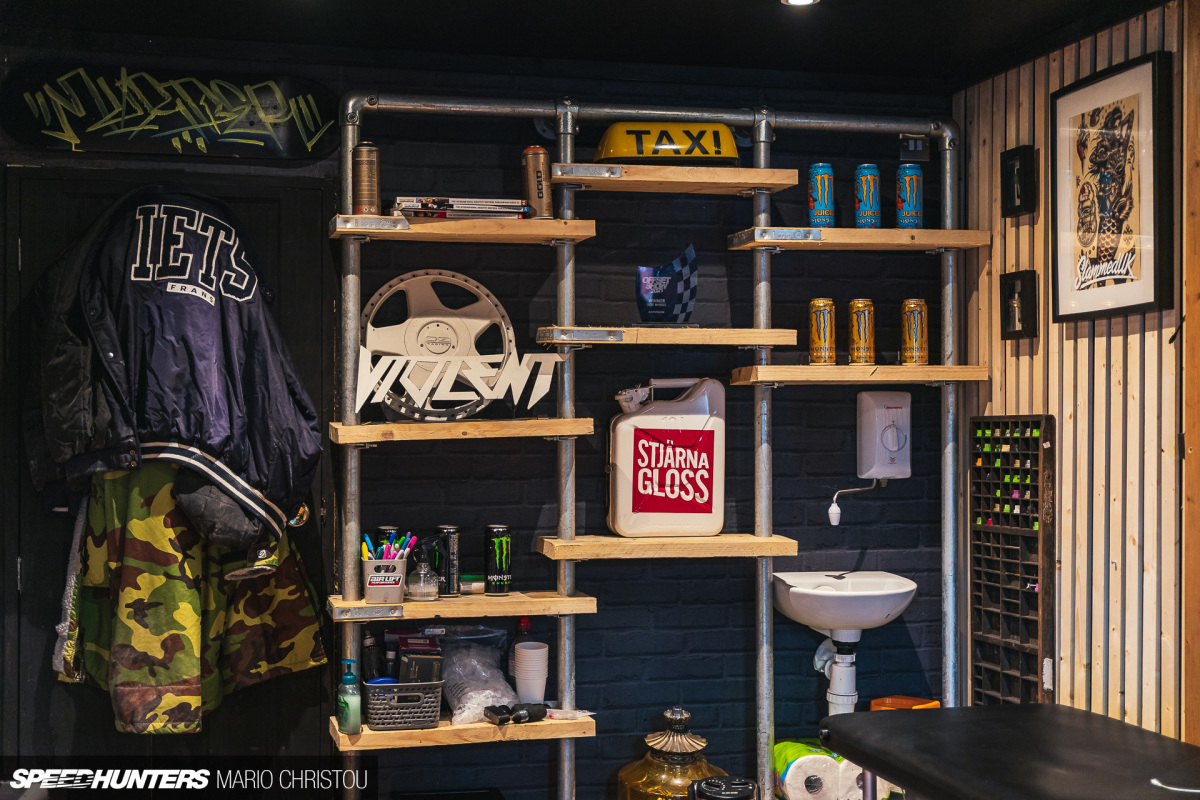 Oh, if the vibe at 187 didn't seem cool enough already, let me mention 187 Studios. Nic's partner Mica Dori has her own tattoo studio next to the workshop's detailing bay, so both you and your car can spend the day and leave with some new modifications.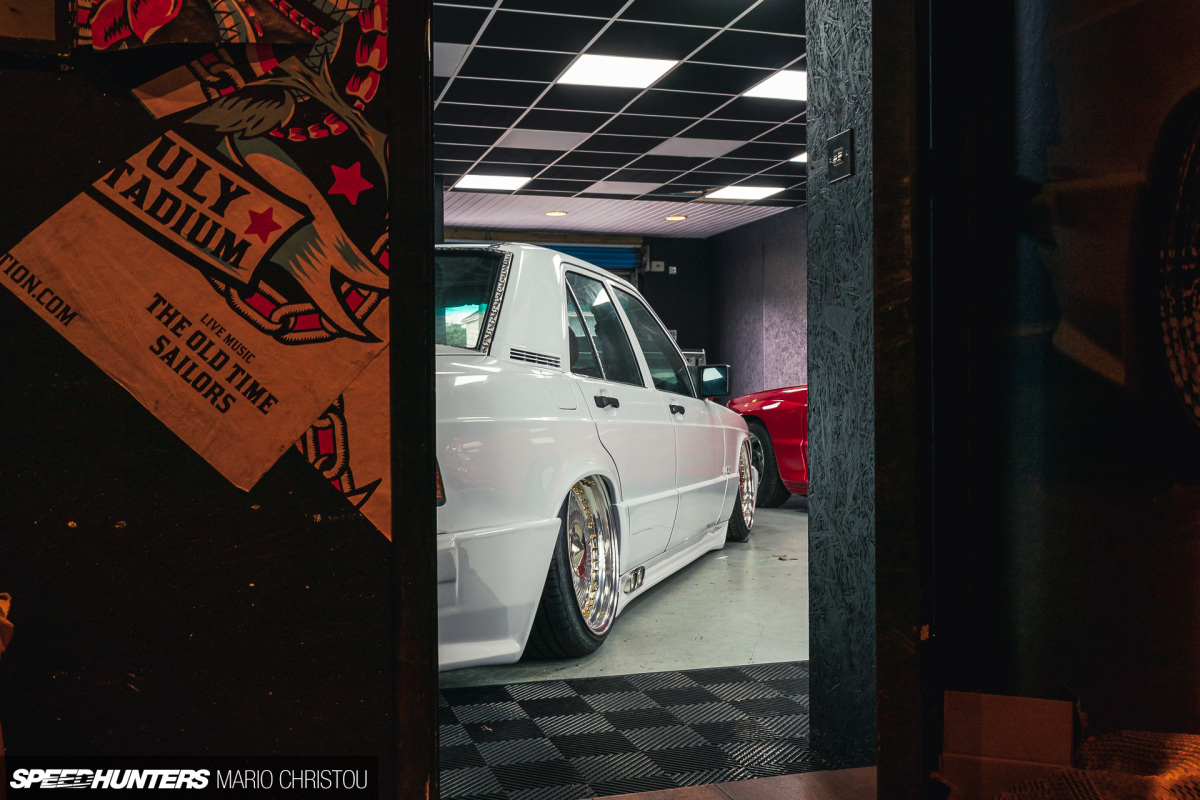 Mica herself owns one of the most unique and straight-up coolest 190 Es in existence right now. The craftsmanship and level of detail put into the build by both herself and the lads at 187 is insane, and I was lucky enough to have had some time up close with the car last year. I think it's about time you folks got to see it, so keep an eye out. Mica's car is going to blow your mind.
Mr. 190 E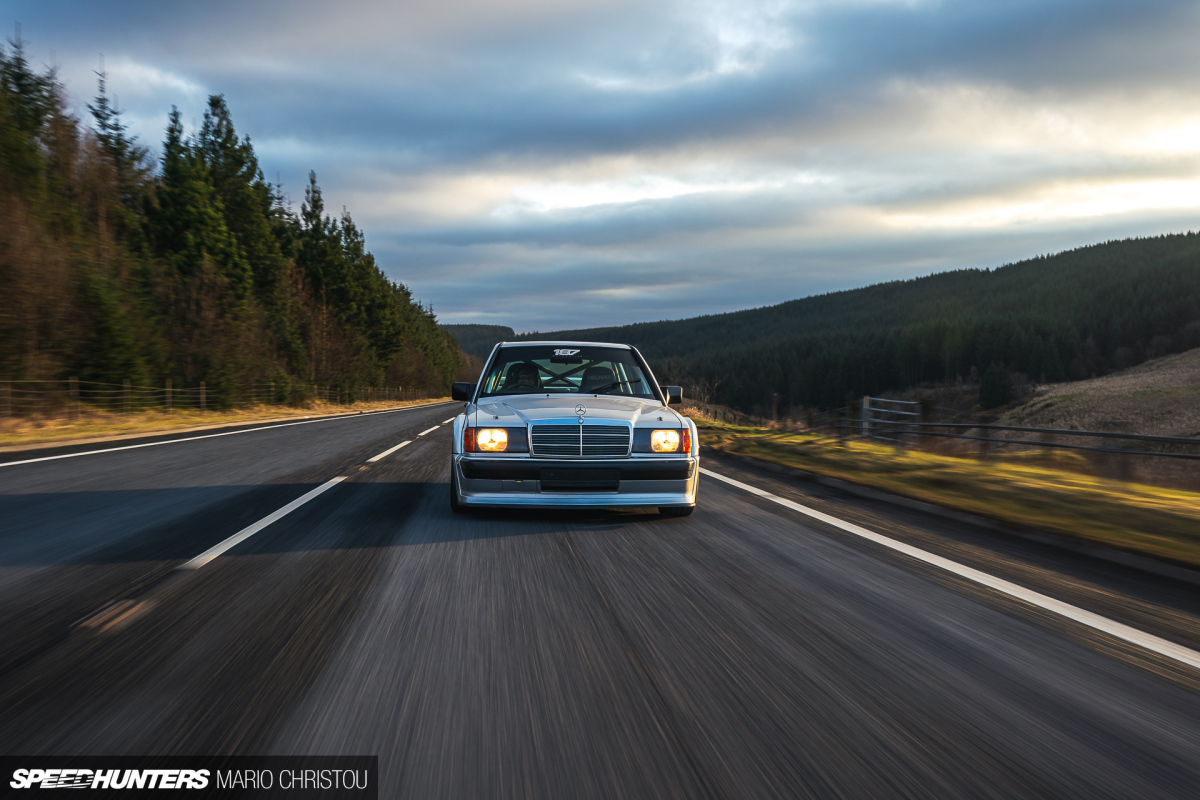 If you're so bold as to have 'mr_190e' as your Instagram handle, you'd better have the car to back it up. Nic's long-term 190 E pictured here, and the fact that he's owned over 25 of the things over the years, definitely go a long way towards justifying the title.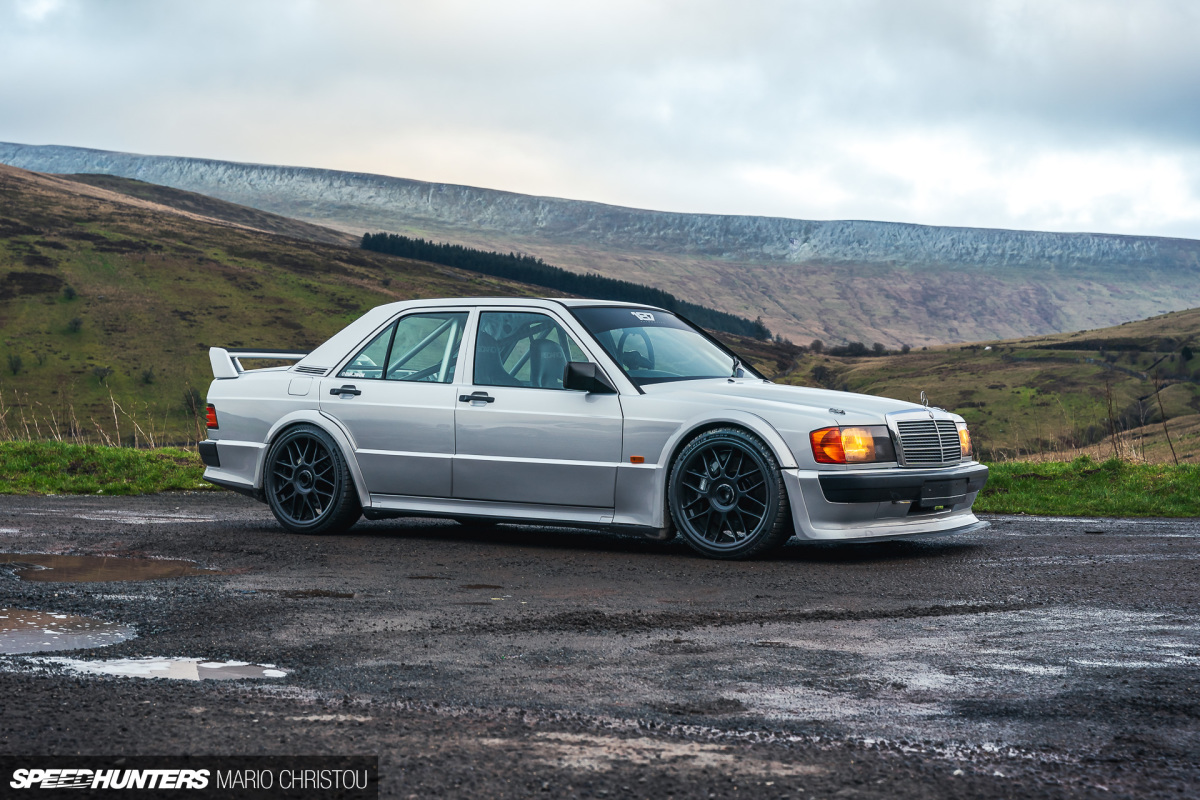 Starting with the obvious, Nic's 190 E wears a 2.5-16 Evolution body kit, my personal favourite for the W201. Not to be confused with the swoopy Evo II kit, the Evo (or Evo I) is the better-proportioned choice in my eyes. The car had a bare-metal respray in Brilliant Silver 744 metallic during fitting, and Nic went so far as to find a rare non-sunroof skin to give it a 'slick-top'. The symmetrical mirrors are a combination of RHD and LHD passenger 'stubby' mirrors, for a 'Cup' look.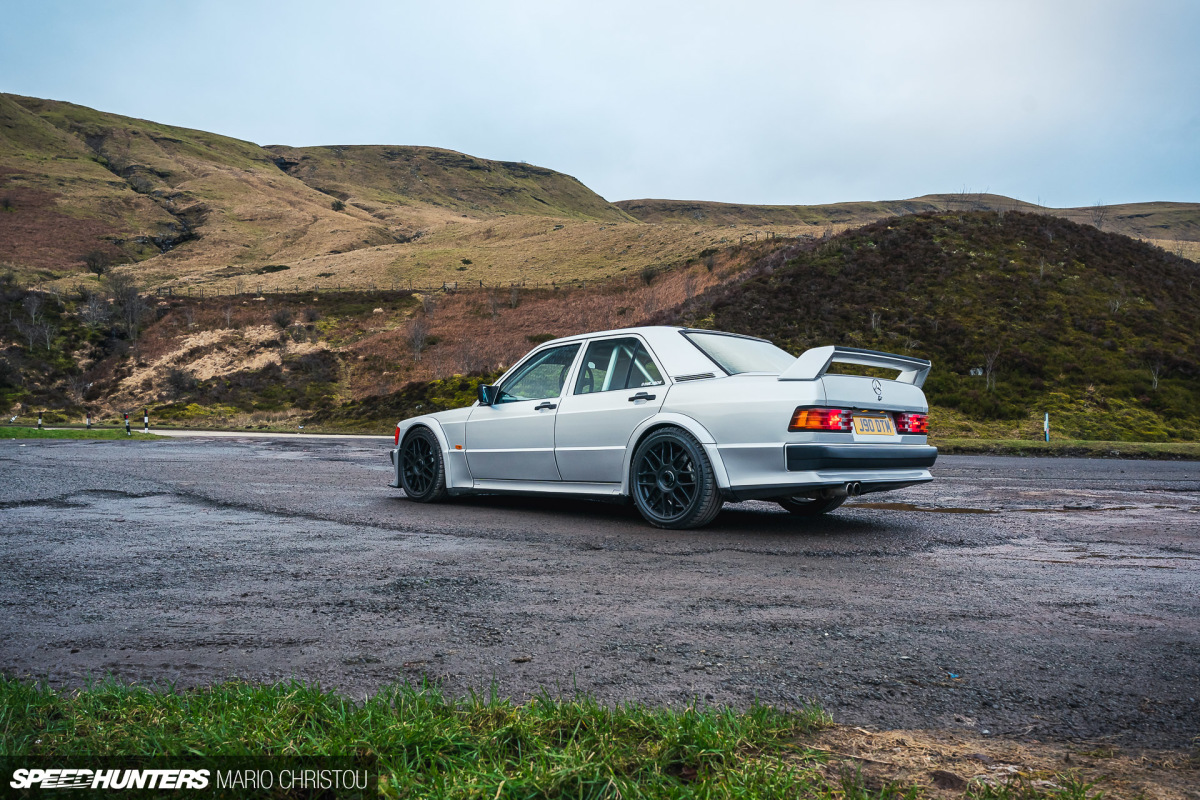 It's hard to comprehend just how much work goes into making an Evolution kit work on a road-going 190E, but our own Need for Speed hero car is the perfect way to show you. To quote Ryan Stewart, "The DTM cars are tubbed and dropped some six-inches over the factory cars; they also don't need to be used anywhere other than a perfectly flat circuit, with huge wheels."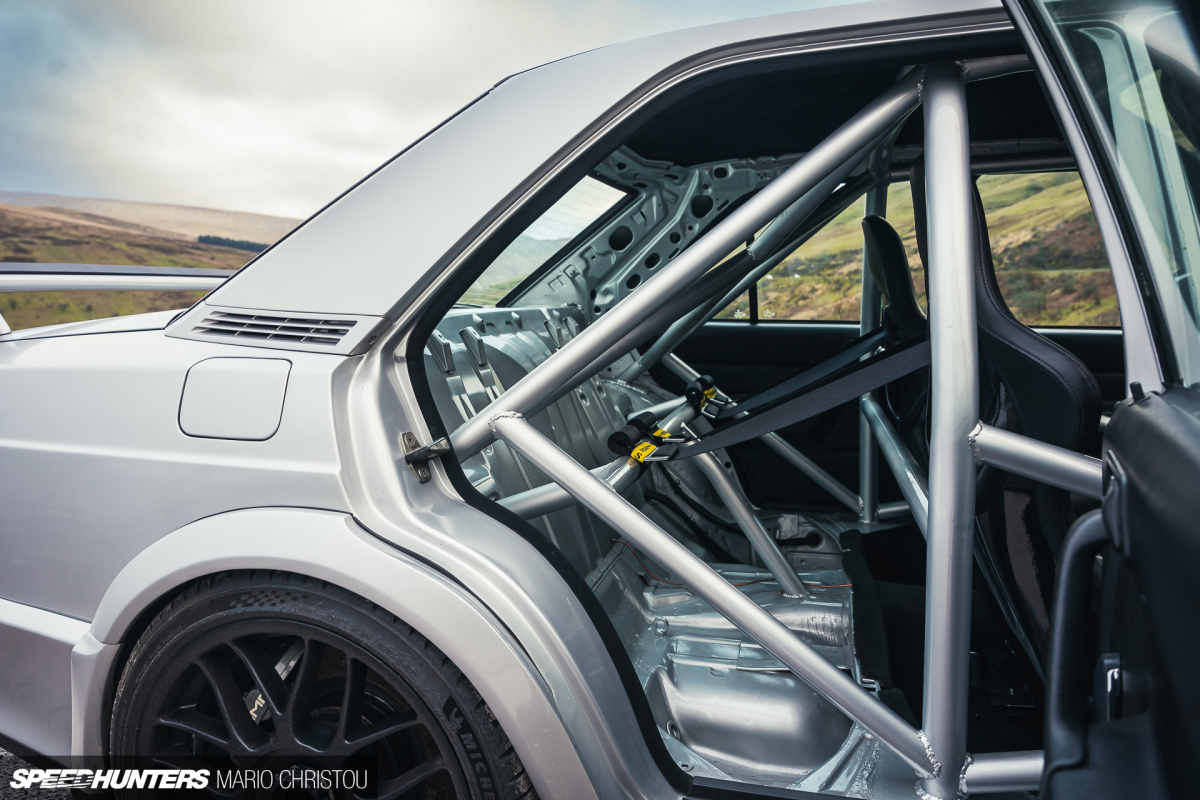 Nic built this car to drive fast. He found as many photos as possible, both new and old, as well as technical documents of 190 E DTM cars to base his own fabrication on. As a result, whilst fitting the FIA-approved roll cage and seam-welding the chassis, Nic also tubbed the front and rear arches to allow for a full range of steering angle and clearance on compression with a low ride height.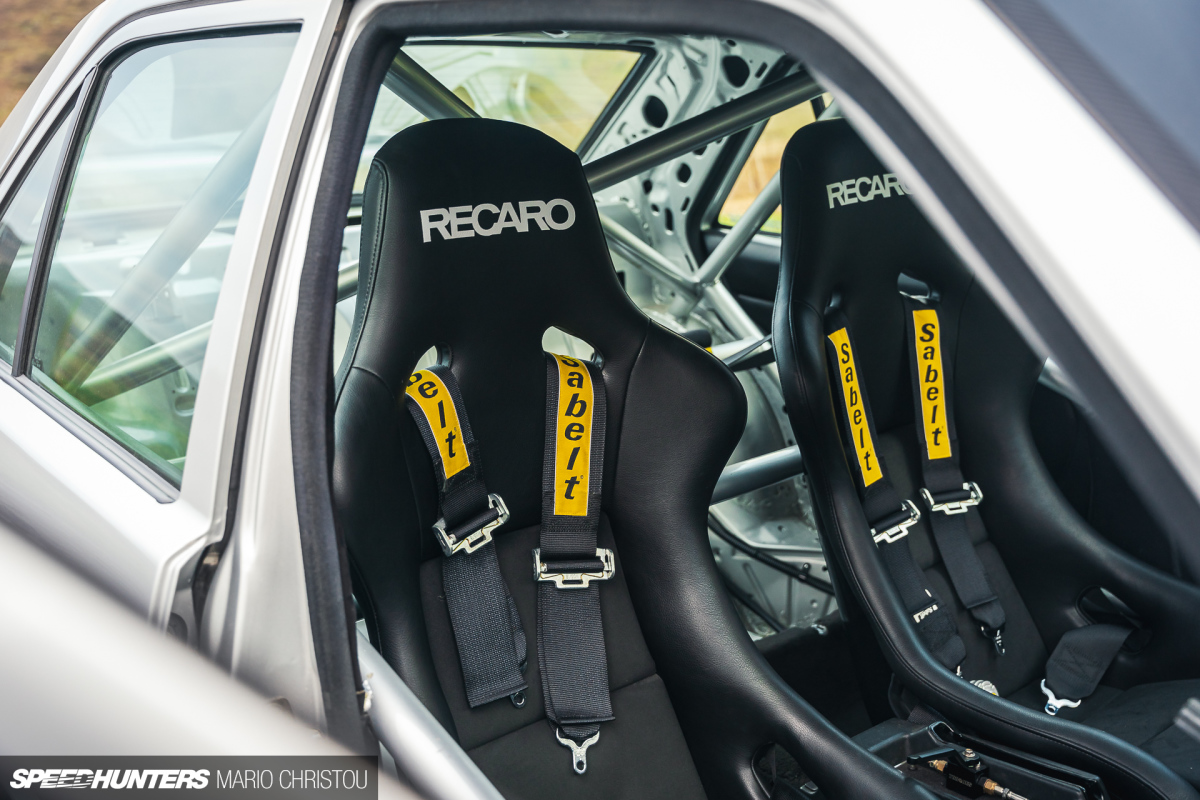 Nestled inside the cage are a pair of Recaro Pole Position seats with Sabelt harnesses. Simple yet effective, the driving controls are a full leather BBS three-spoke steering wheel (an LBB 36/3-01, to be exact) on a BG snap-off boss and an OBP adjustable pedal box with Wilwood hydraulic cylinders. Past the steering wheel you'll find a custom, pared-down instrument cluster with a vibrant little boost gauge.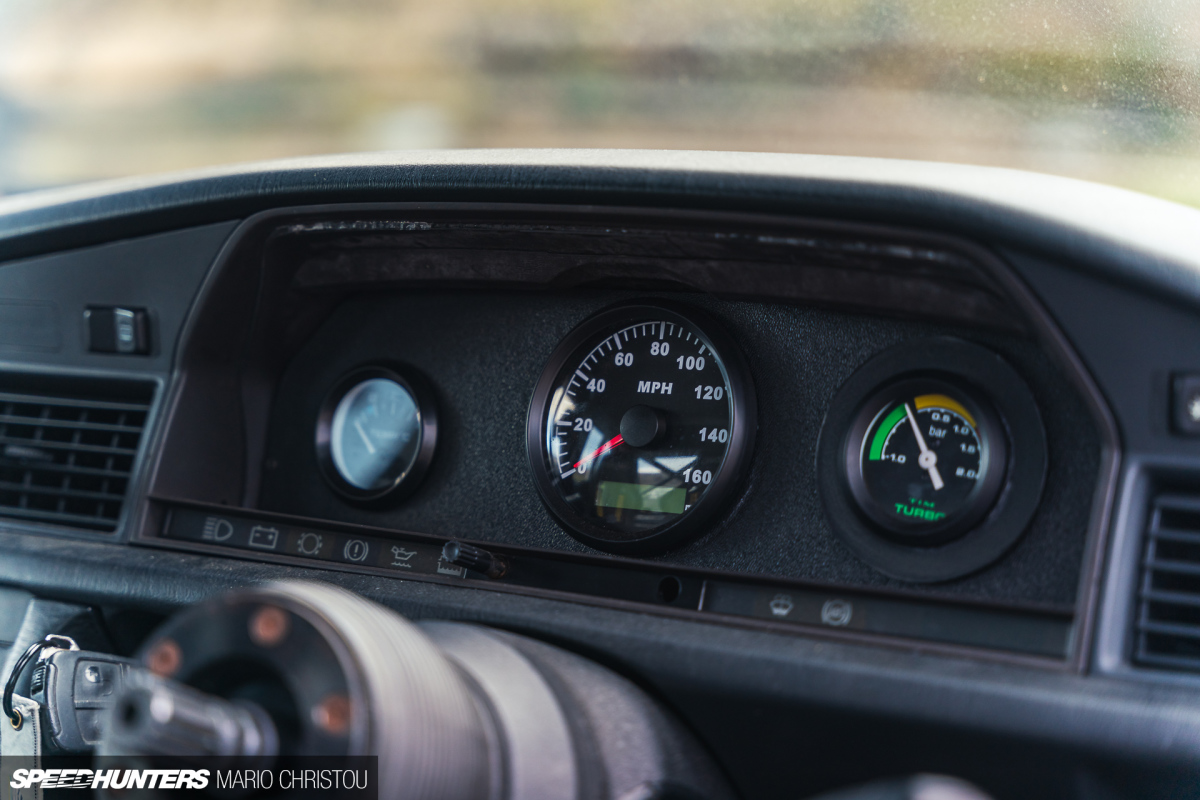 Between the seats sits a nylon gear knob-topped shifter with a surprisingly positive shift for a 190 E, as well as a line-lock valve in lieu of a handbrake. Why a boost gauge, no handbrake and a surprising gearshift? That would be down to the fact that not a single part of the drivetrain and suspension or braking package has been left original.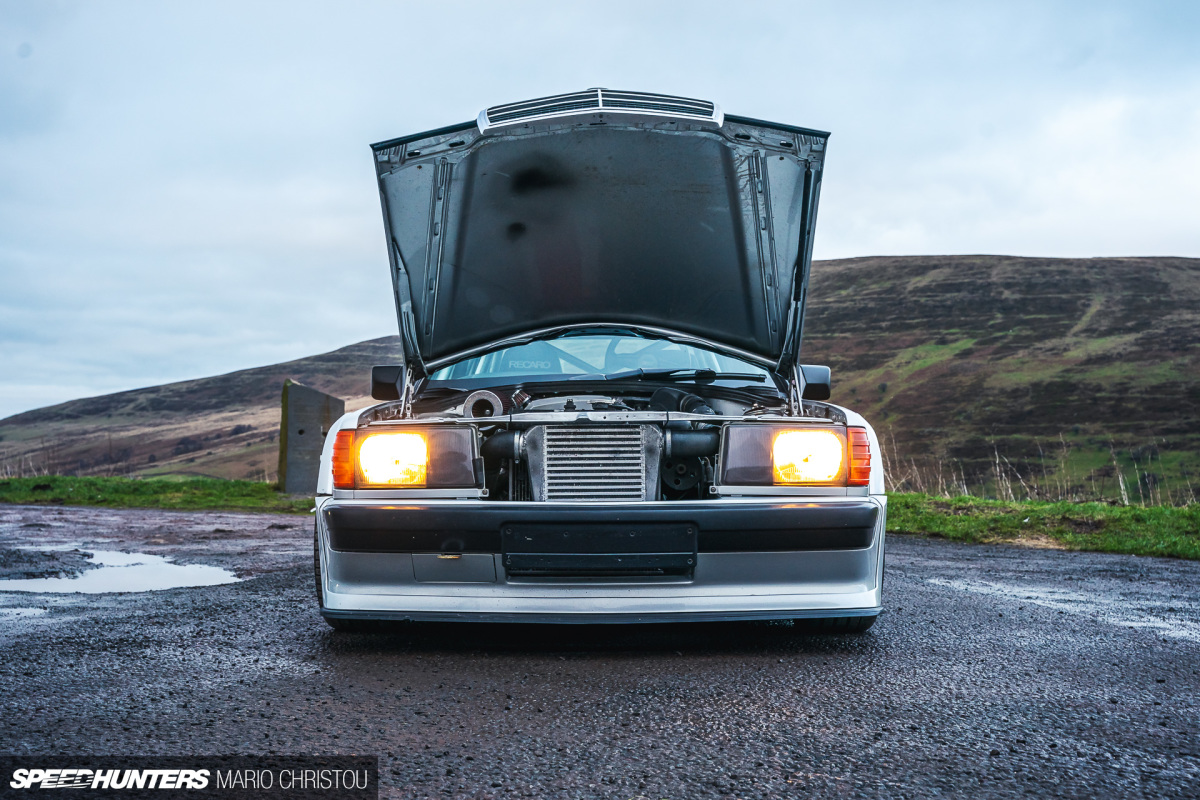 Nic's 190 now runs an M111 supercharged 2.3L engine with a 5-speed W202 gearbox and an ASD limited-split differential from a W124 E-Class.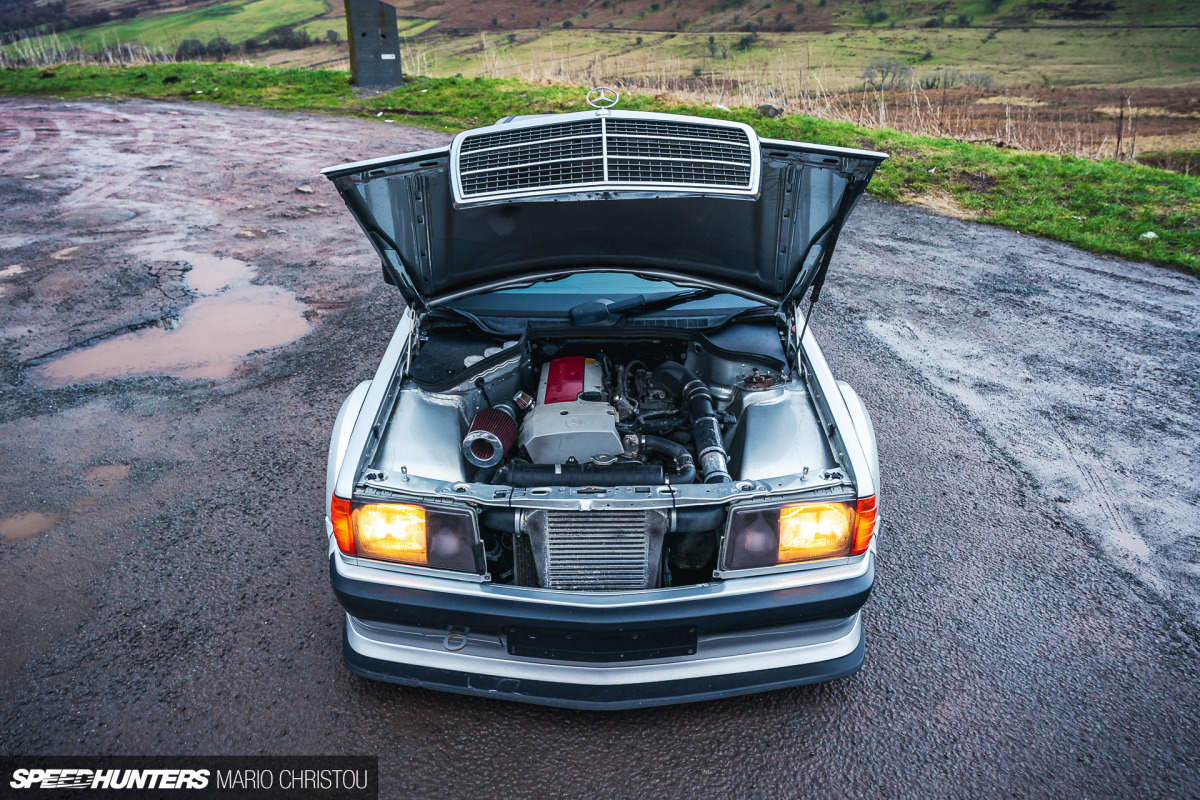 The crankshaft pulley has been enlarged and the supercharger pulley has been reduced in size, drastically increasing the RPM of the Eaton blower. The whine this car makes is ridiculous. Even with a windy, wide open tailgate and an insulated hat over my ears, all I could hear was the supercharger while shooting the rolling photos.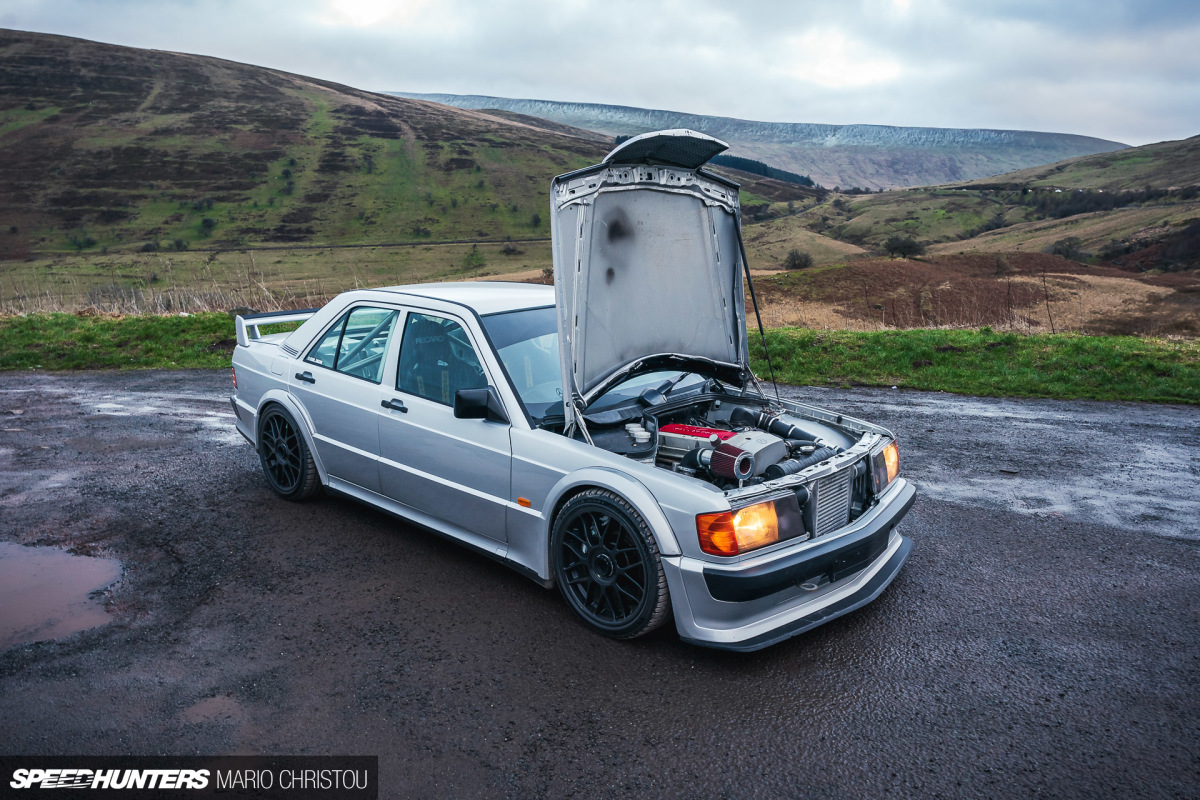 The supercharger has been ported and polished for better airflow, and a complete stainless steel exhaust runs from the manifold to the back of the car.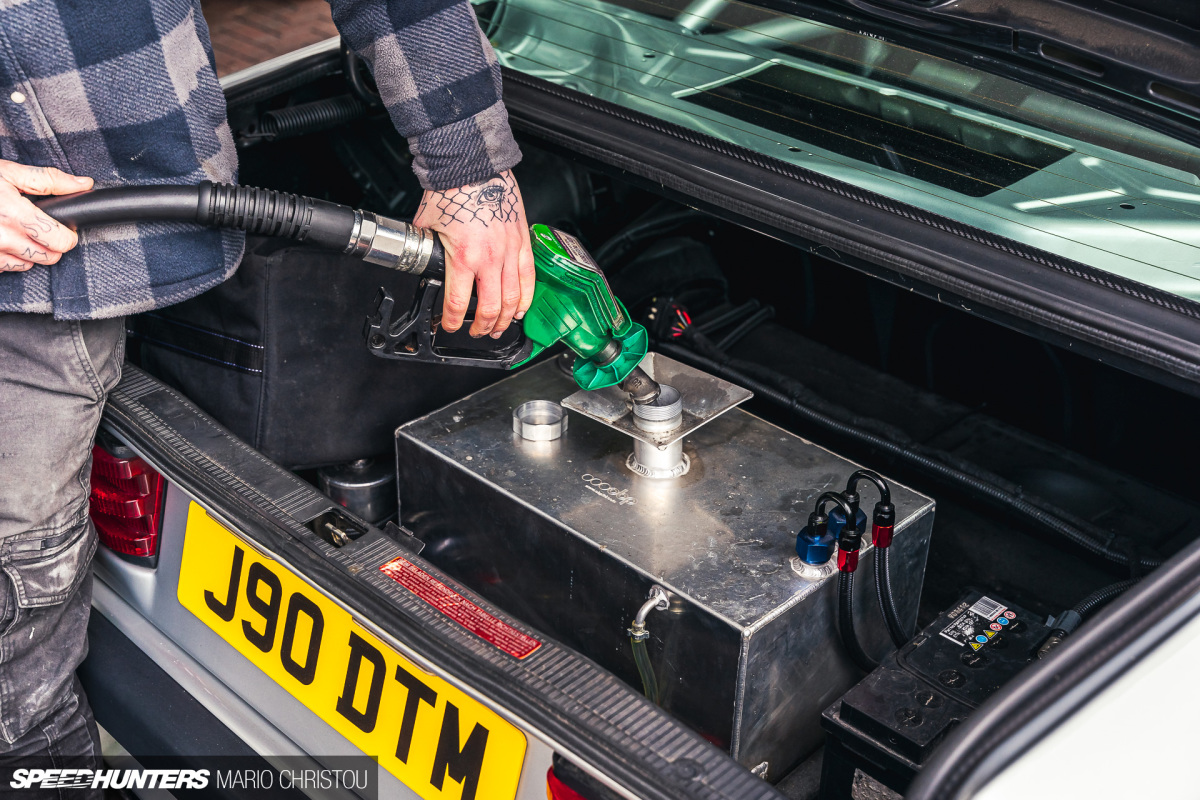 Speaking of which, in the boot is an 8-gallon OBP aluminium fuel tank with dual Bosch 044 fuel pumps and an in-line high-flow filter connected via AN-8 braided fuel lines.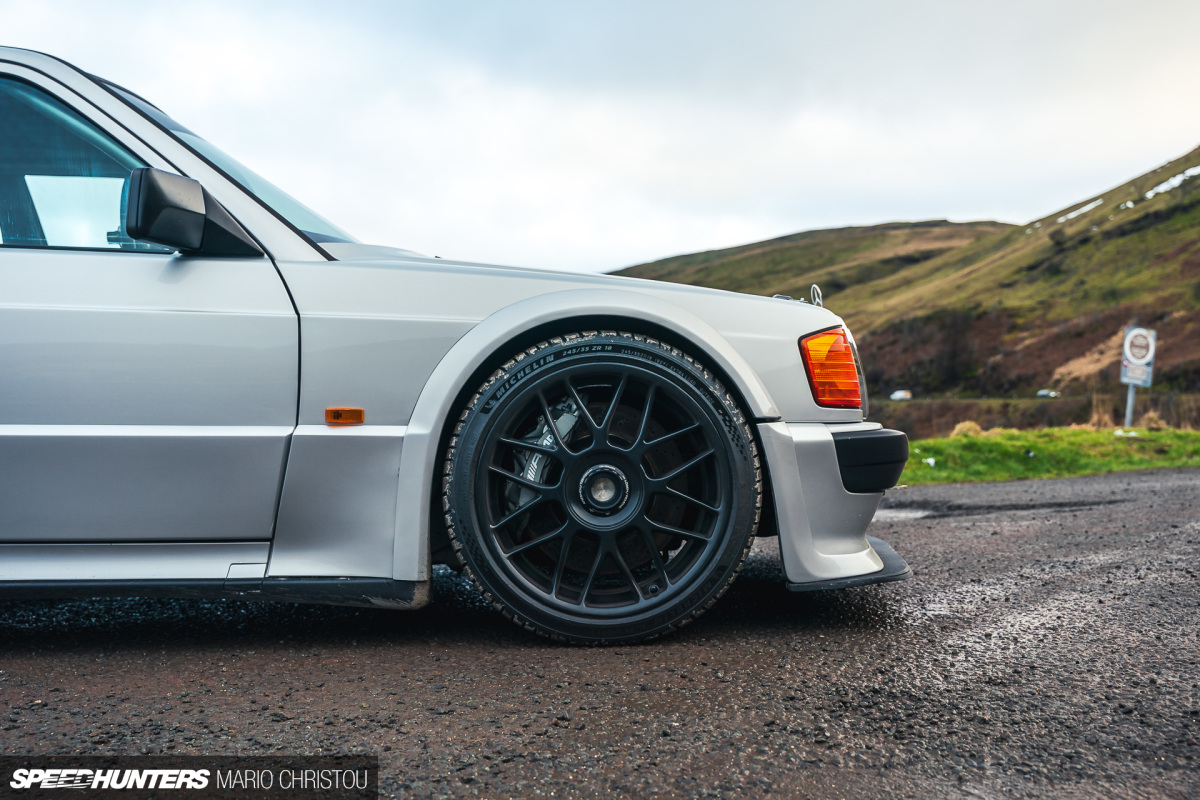 Behind the 18-inch satin black BBS BC306 wheels and Michelin Pilot Sport 5 tyres sit W204 C63 AMG brake callipers with grooved and drilled 365mm and 345mm disks, held in place by bespoke billet carriers.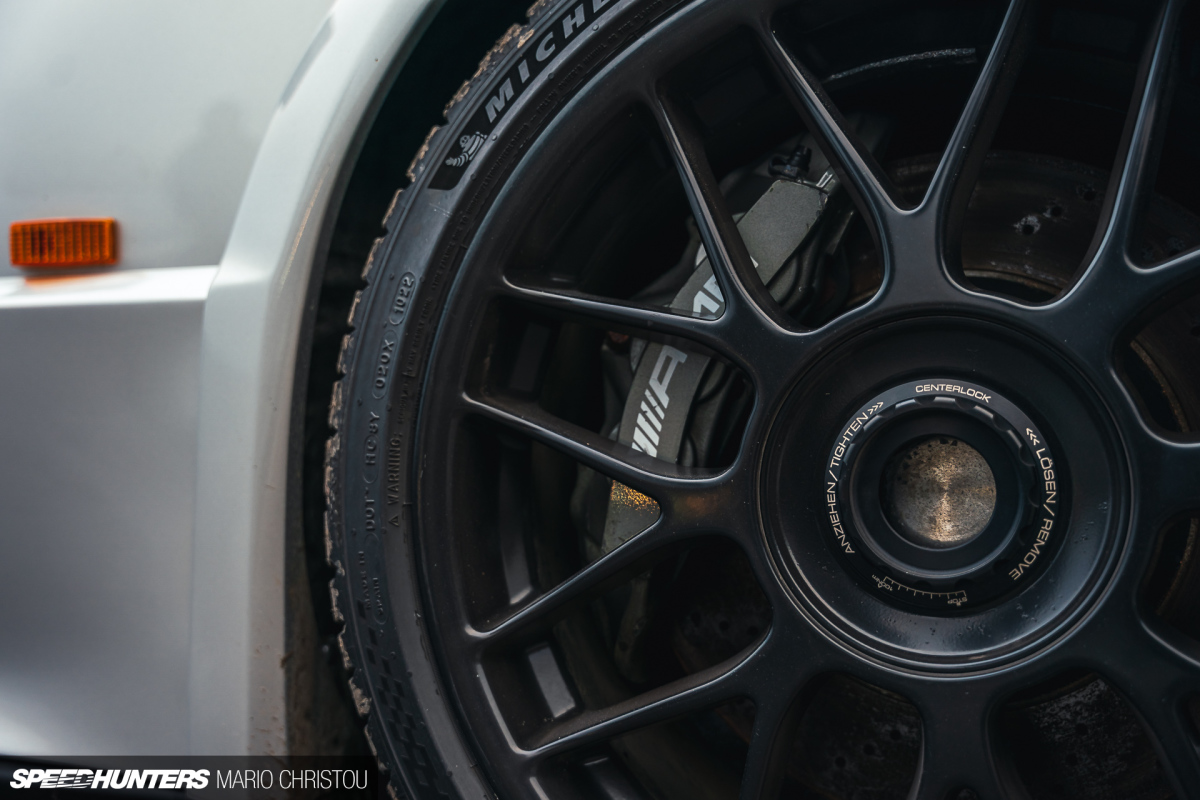 The BBS wheels were as much a necessity as they were an aesthetic decision. Nic needed a wheel with a lot of clearance, because the AMG callipers are enormous.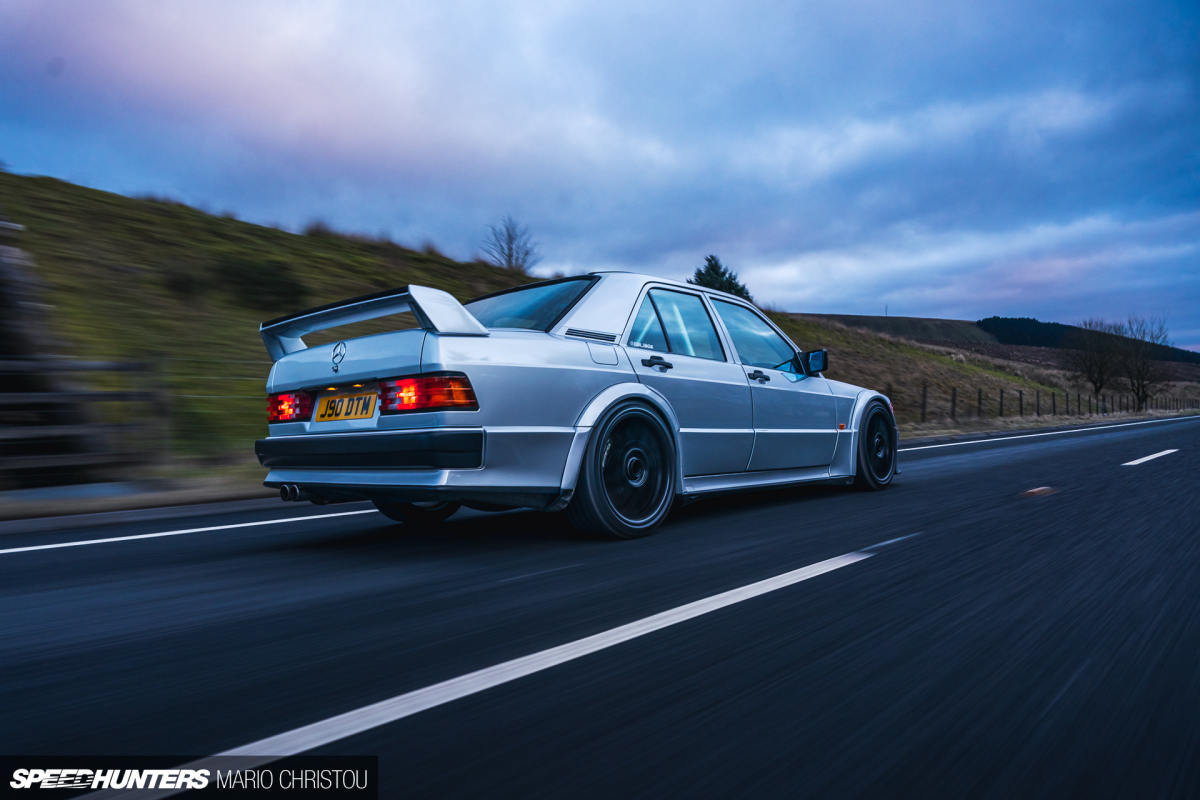 Custom-built BC coilovers with bespoke camber-adjustable top mounts allow the 190 E to drop enough to fill the heavily raised and radiused wheel arches. 190 Es rival Unimogs for Mercedes-Benz models with the most factory arch gap, and Nic's given his W201 a very purposeful stance.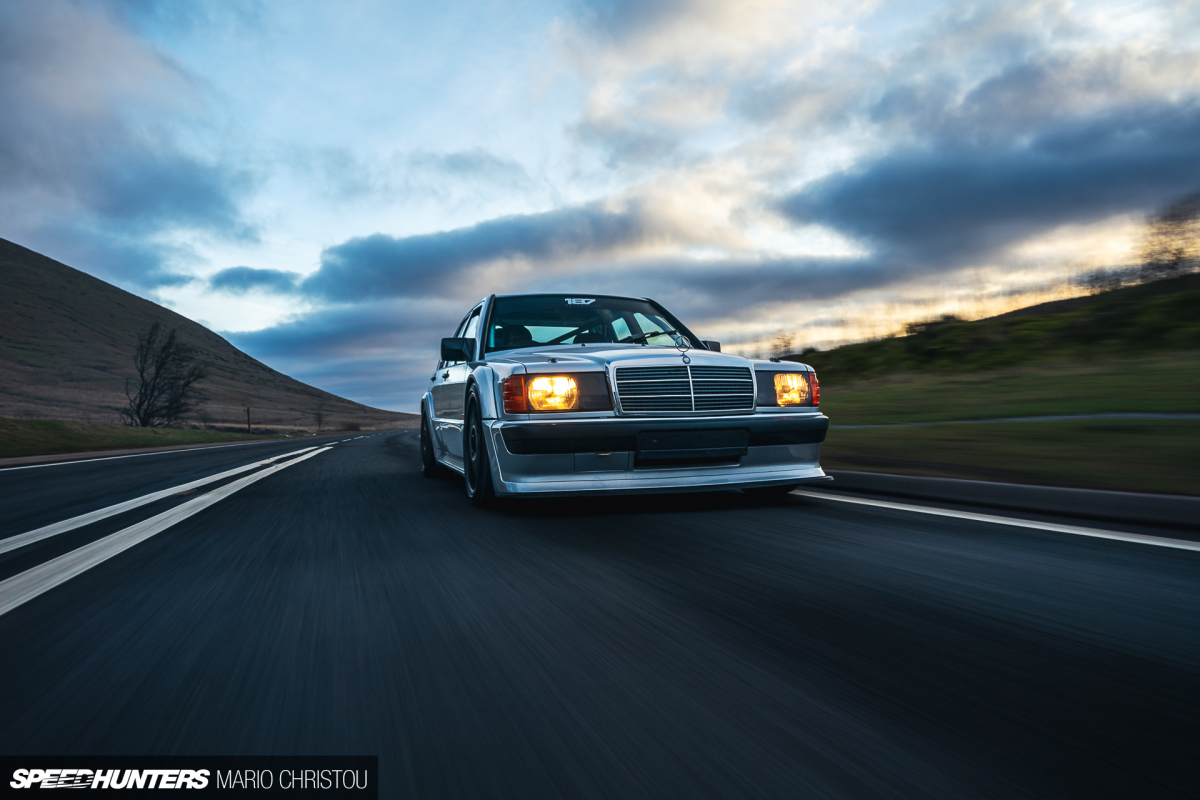 The sheer presence this car has on the road is huge, and seeing it chase me at eye level made me feel as though I was in a '90s DTM highlights clip.
Nic's 190 E is a loud, snarling, rough and ready pocket rocket – a world away from the Mercedes-Benzes dominating my Instagram feed at the minute.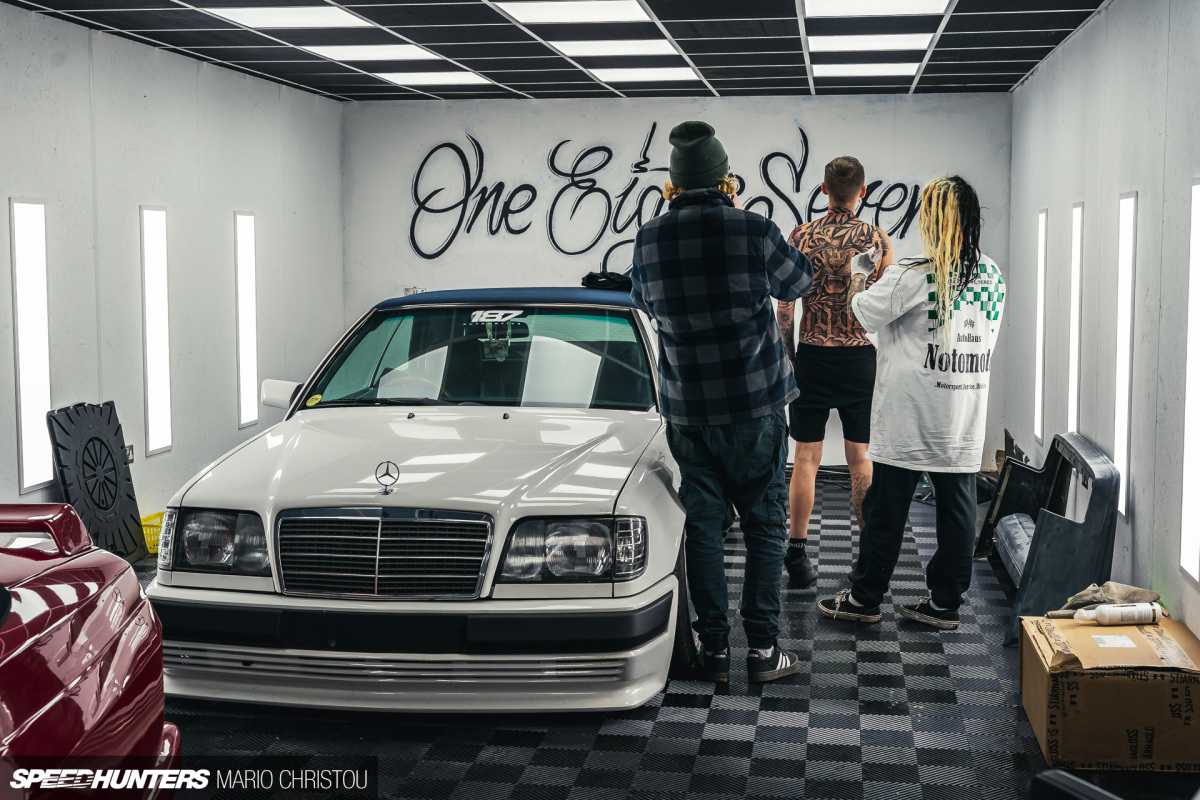 Now don't get me wrong, I'm in no place to tell anybody how they should enjoy a car. I own a large 'gangster' BMW, in which I enjoy listening to hip hop. Occasionally I'll post a photo of it on my own Insta too.
To many, I may appear to be exhibiting the type of behaviour I ranted about at the start of this article. Yet my gripe isn't about what people are doing with these cars, it's why.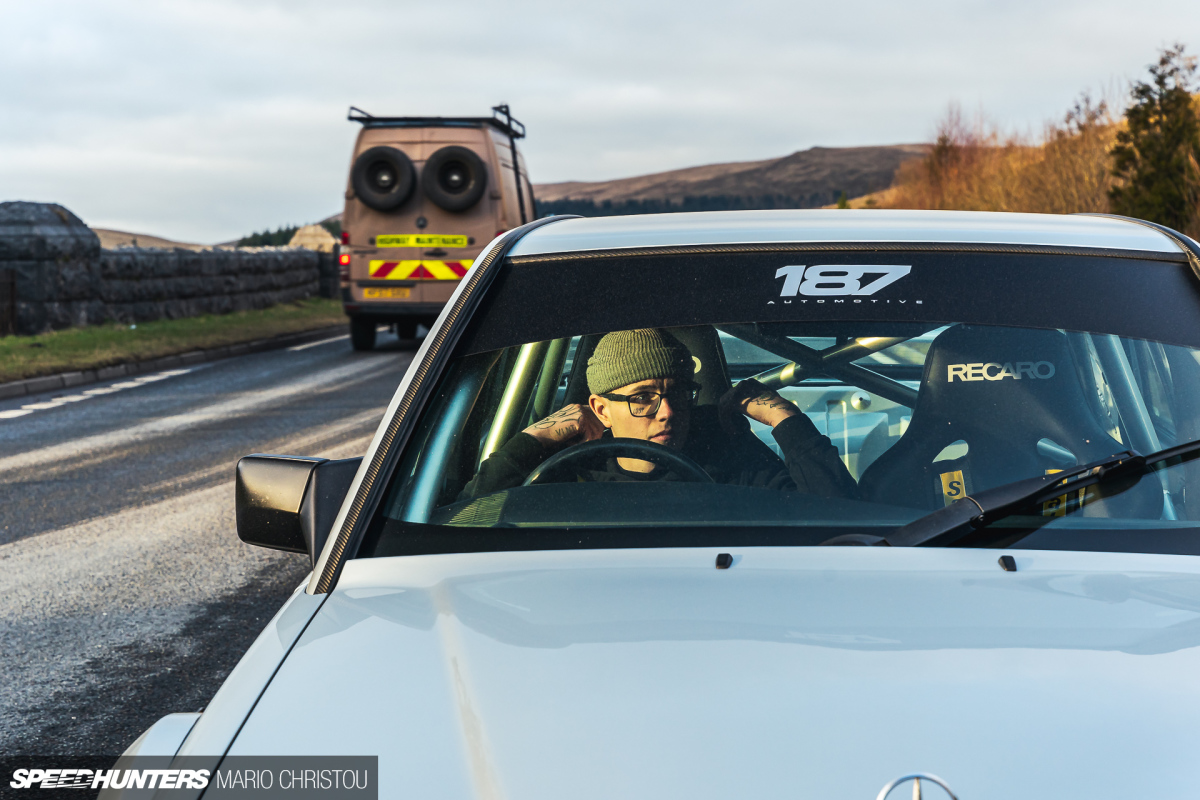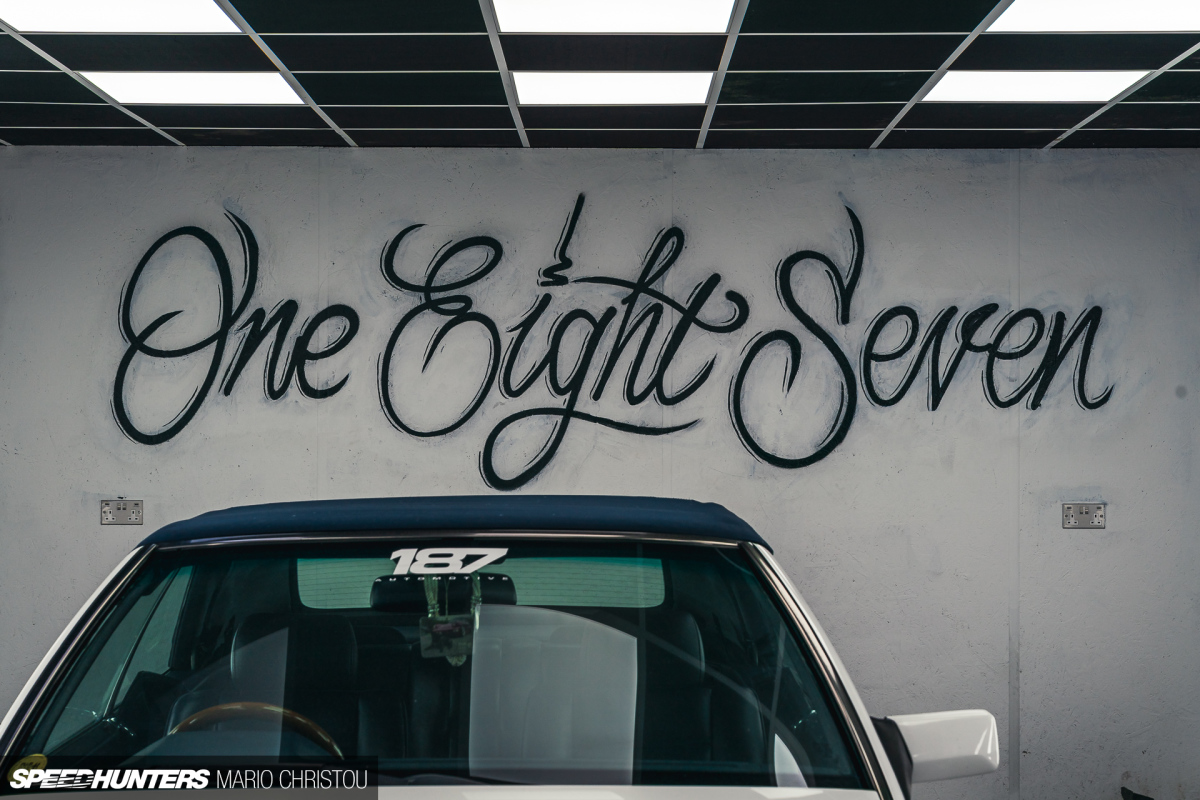 What I find so endearing about 187 Automotive is that they are simply doing what they love, and having a blast. There's nothing contrived, nothing try-hard. Nobody's trying to maintain an image or create a perception of a lifestyle that isn't there. This is a group of hardcore Mercedes-Benz enthusiasts living their best lives.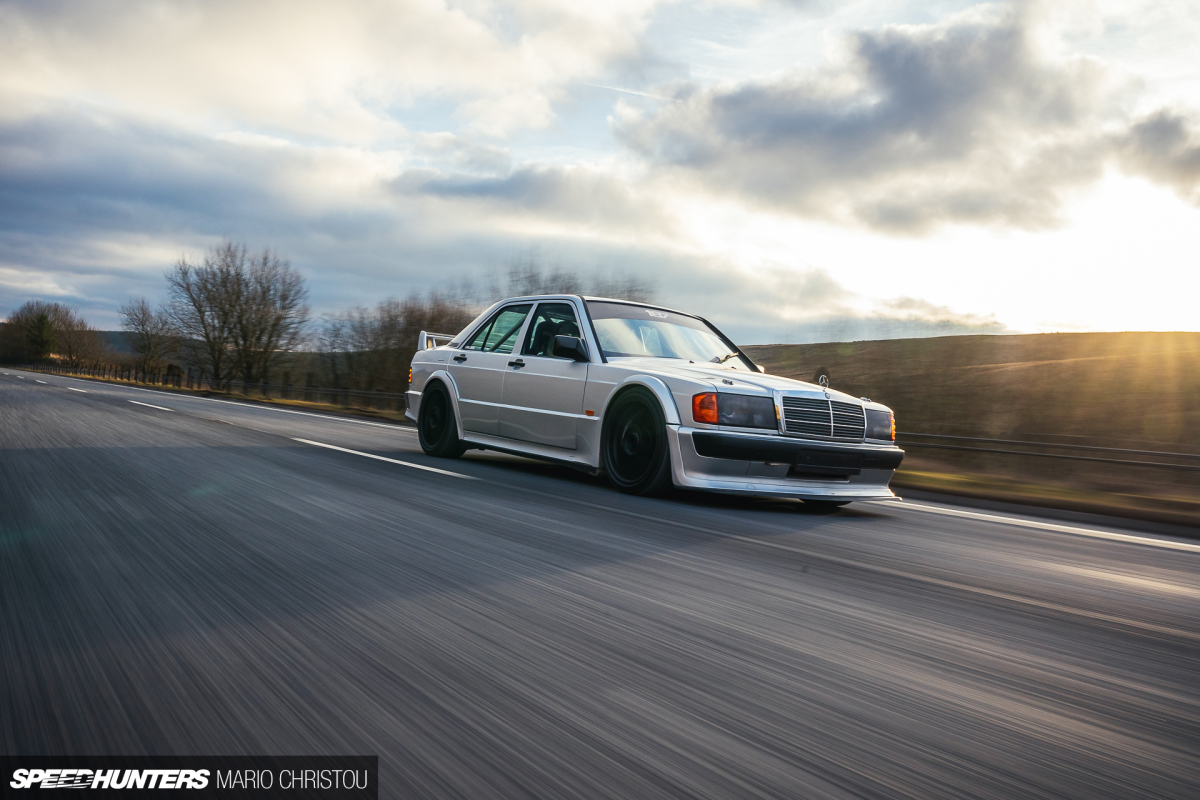 Nic and his team are building some serious motors without taking themselves too seriously. That, to me, is seriously impressive.
Mario Christou
Instagram: mcwpn