The moment I saw a train of Suzuki Jimnys blasting through Tsukuba Circuit's turns during the recent 10th anniversary Attack meet, I knew I had to put a separate post together on the curious track-spec kei-class off-roaders.
This was by far the biggest surprise at the event for me. Because it's not every day – or ever – you see Jimnys of various generations lowered and running circuit-spec rubber, let alone entered in a time attack competition. But this Japan, so I shouldn't have really been surprised at all…
Most modified Jimnys I see here in Japan are lifted with knobbly rubber under the fenders and equipped with off-road-specific accessories. What I was seeing here though, were turbo upgrades, big intercoolers and roll cages.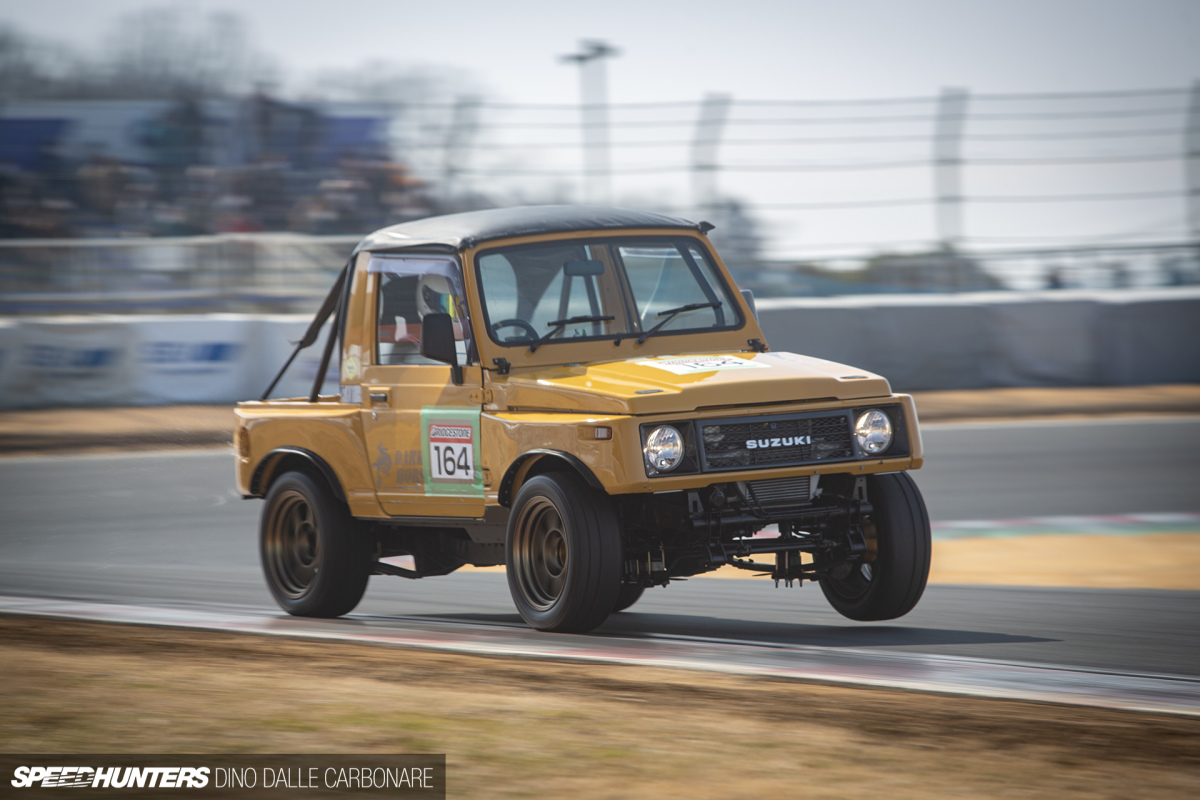 Not to mention, lifted inside front wheels on the tighter corners. How cool is that?!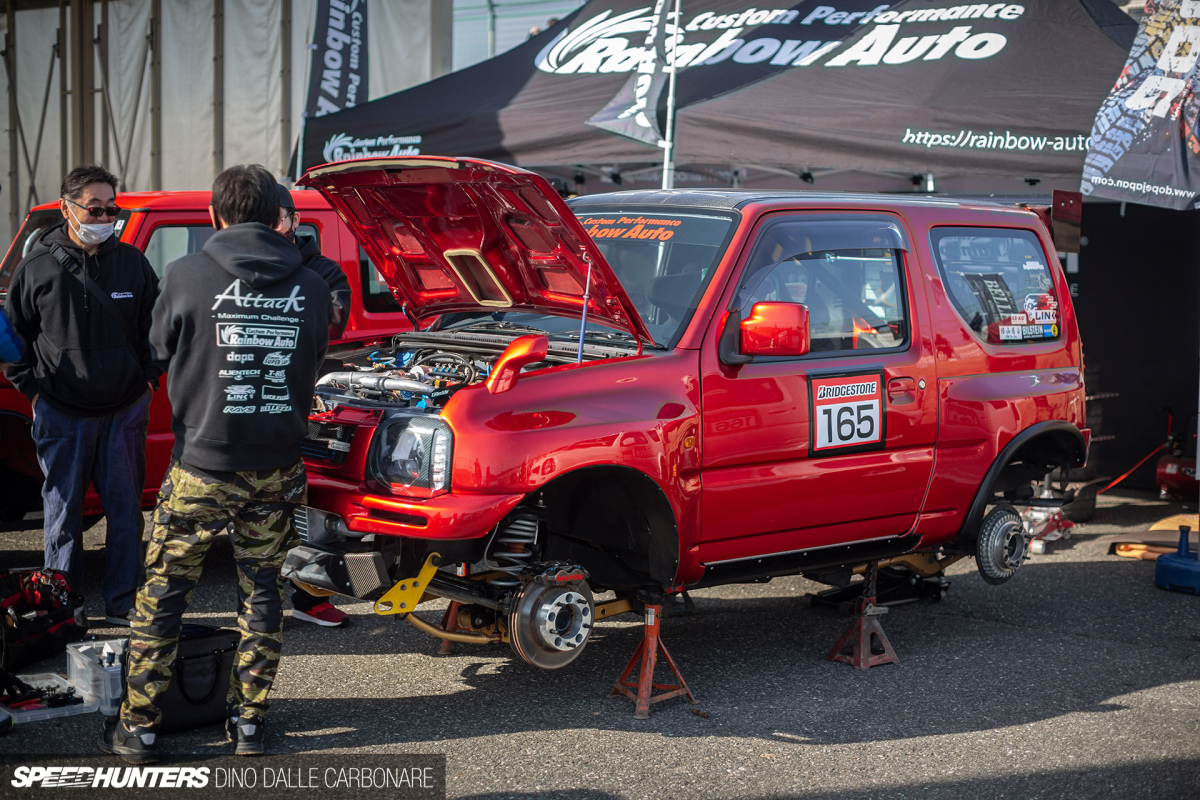 This is all possible thanks to Rainbow Auto, a Jimny specialist located just down the road from RWB in Chiba. The Rainbow team will take your pocket-sized Suzuki off-roader and transform it into a track-ready time attack weapon.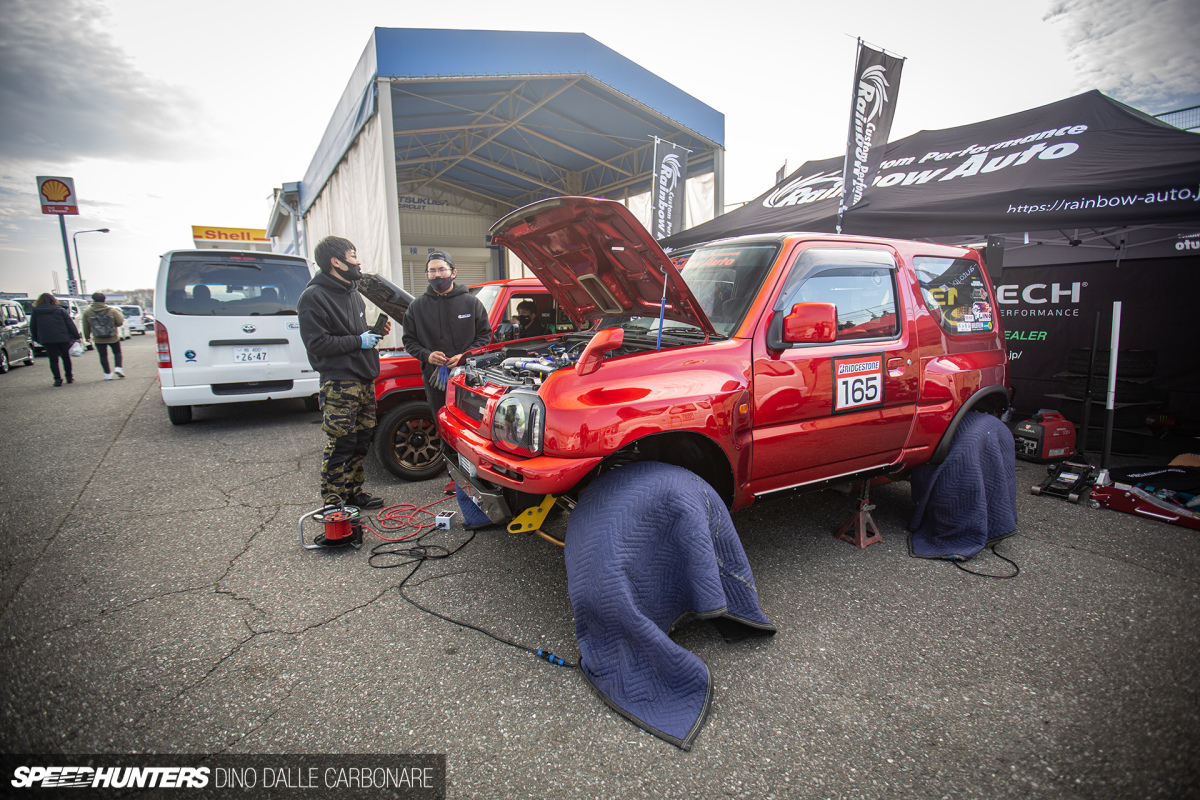 I had a short chat to the owner of the shop, who told me that he really wants people know just how much fun Suzuki Jimnys can be when you build them this way.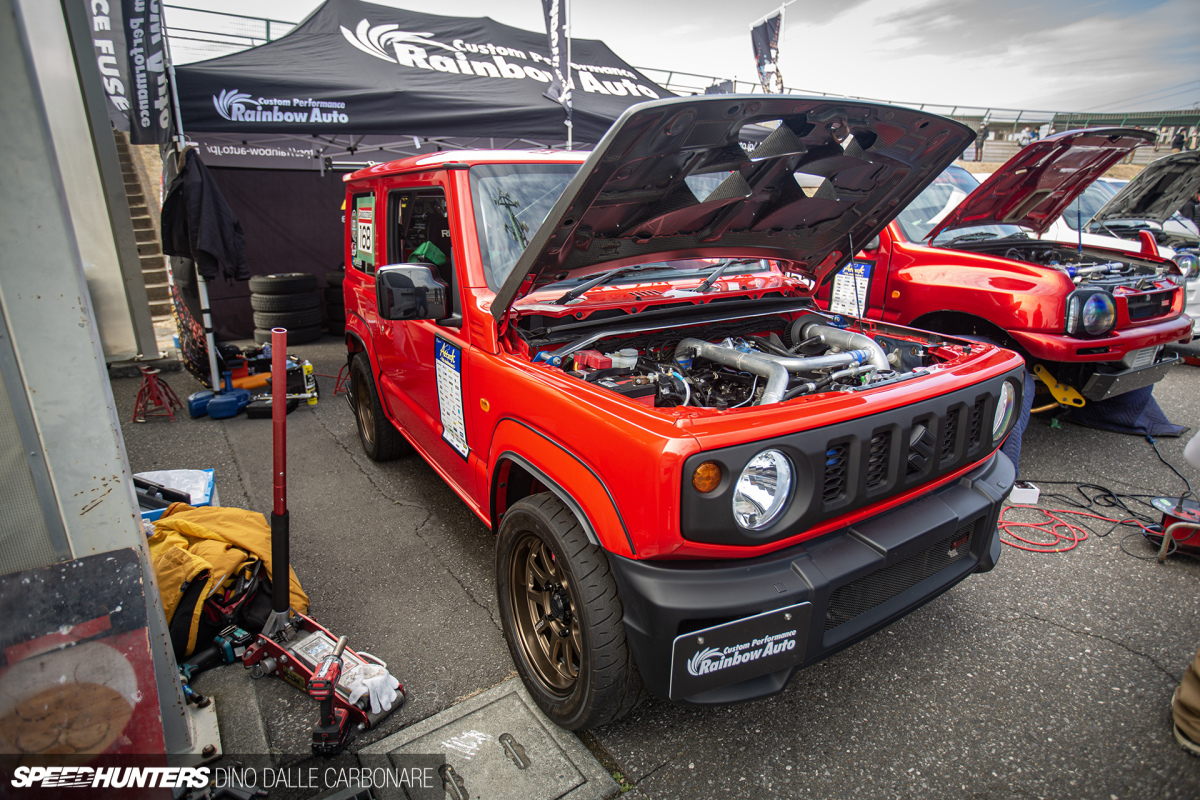 Rainbow brought along a couple of demo car examples of the newest generation Jimny. This is a model that was in such high demand for a while that they were coming onto the used car market with massive premiums.
This red Jimny was dropped on RAYS A●LAP-J forged wheels fitted with Yokohama Advan Neova tires. I noticed that the front wheels on all these Jimnys were sticking out far more than the rears, something done to improve front grip and turn in.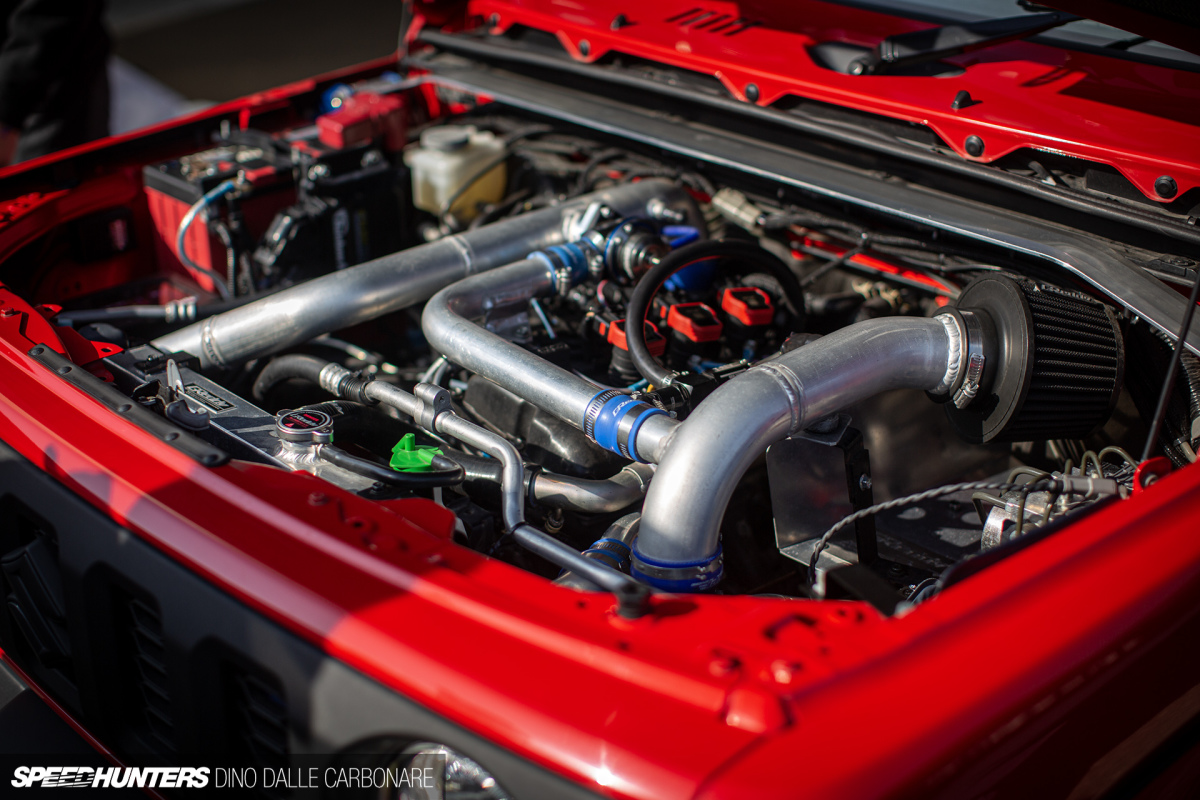 Engine-wise, it seems that the initial series of modifications that Rainbow Auto offers includes replacing all the factory silicone intake pipes with an aluminum hard piping kit, swapping the air box for a cone filter, boosting ignition power with beefier coils, and improving cooling with a larger-core radiator.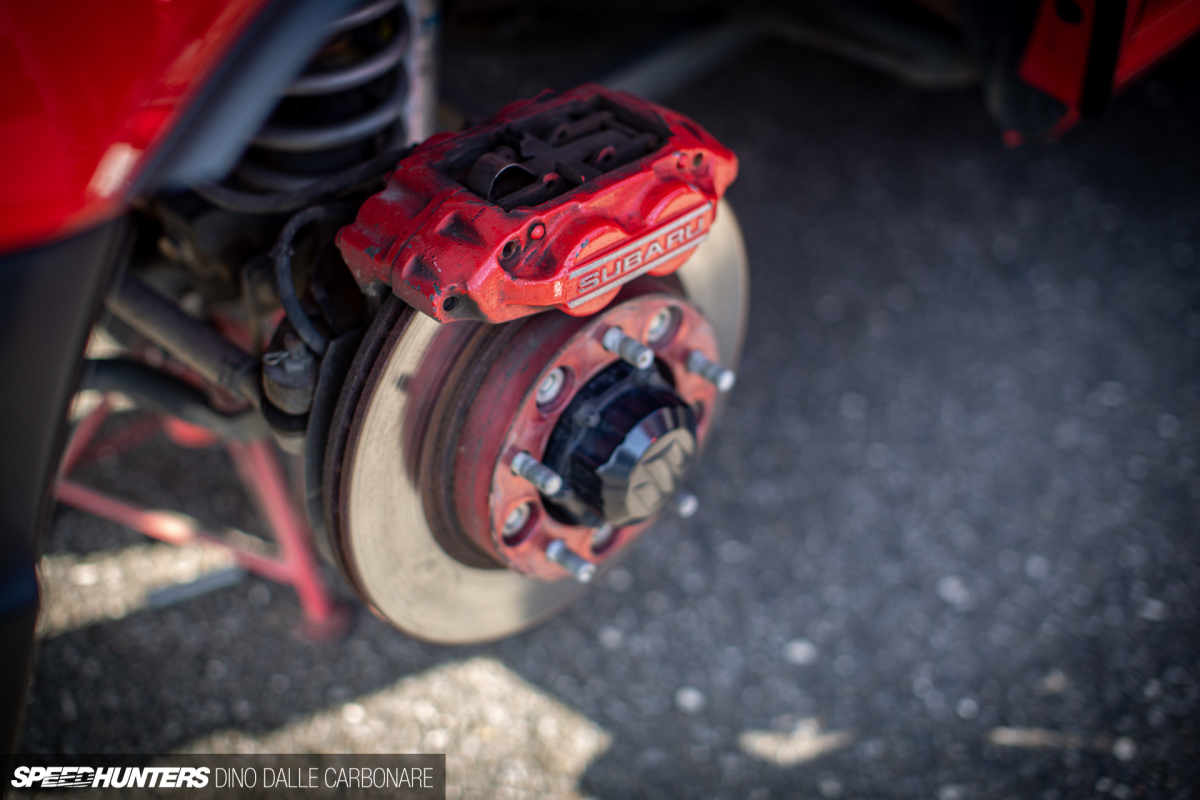 Along with the handling modifications – coilovers at a minimum – it was no surprise to see brake upgrades ranging from simple slotted rotors and high-friction pads, through to a popular GC8 Impreza 4-pot caliper retrofit, and finally a full compact Brembo kit, as fitted to the red Rainbow Auto demo car.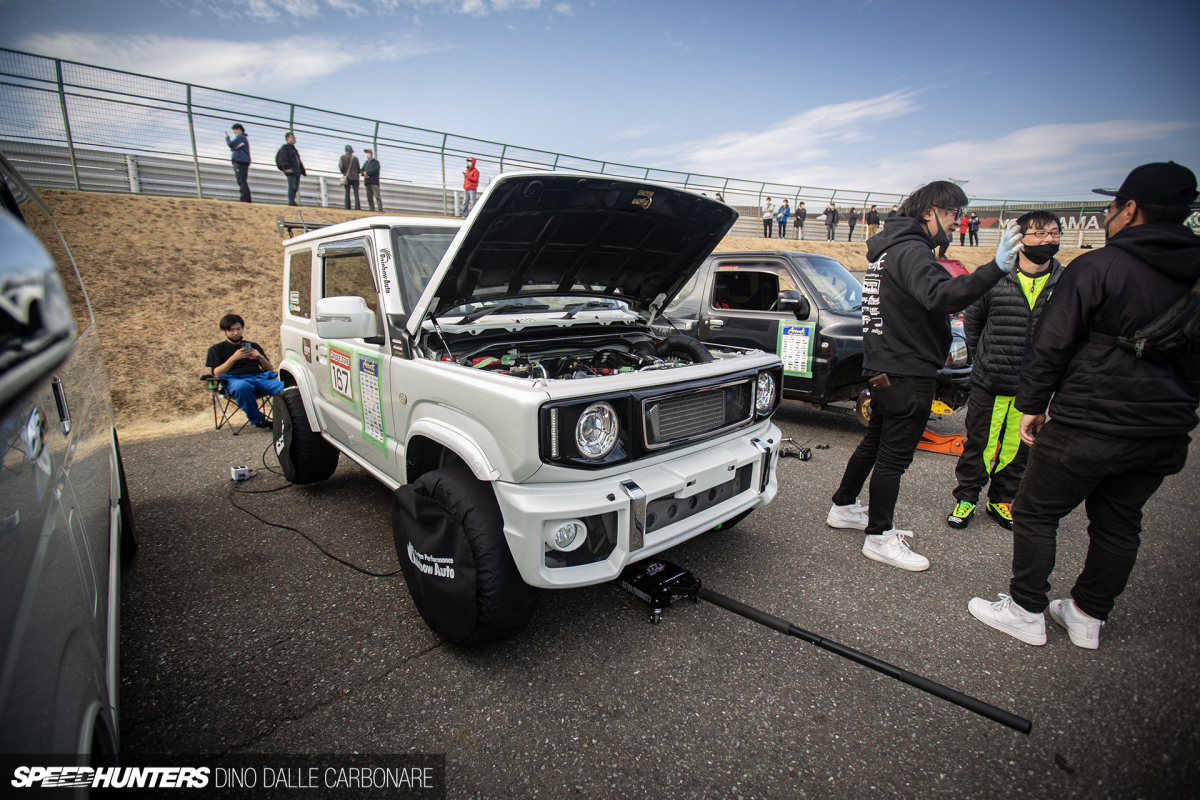 Check out the Mercedes-Benz G-Wagon vibes on this new-gen Jimny.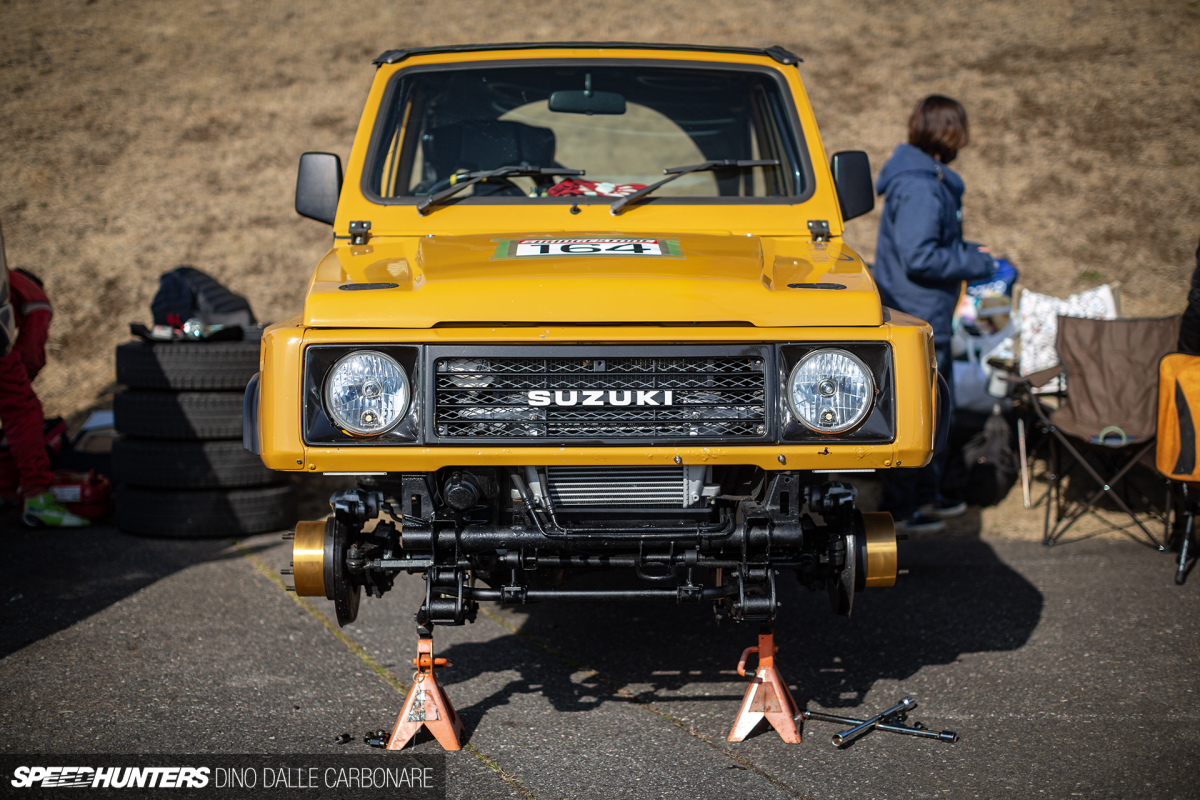 This JA11 Jimny was the oldest of the bunch at Attack Tsukuba, but possibly the most modified.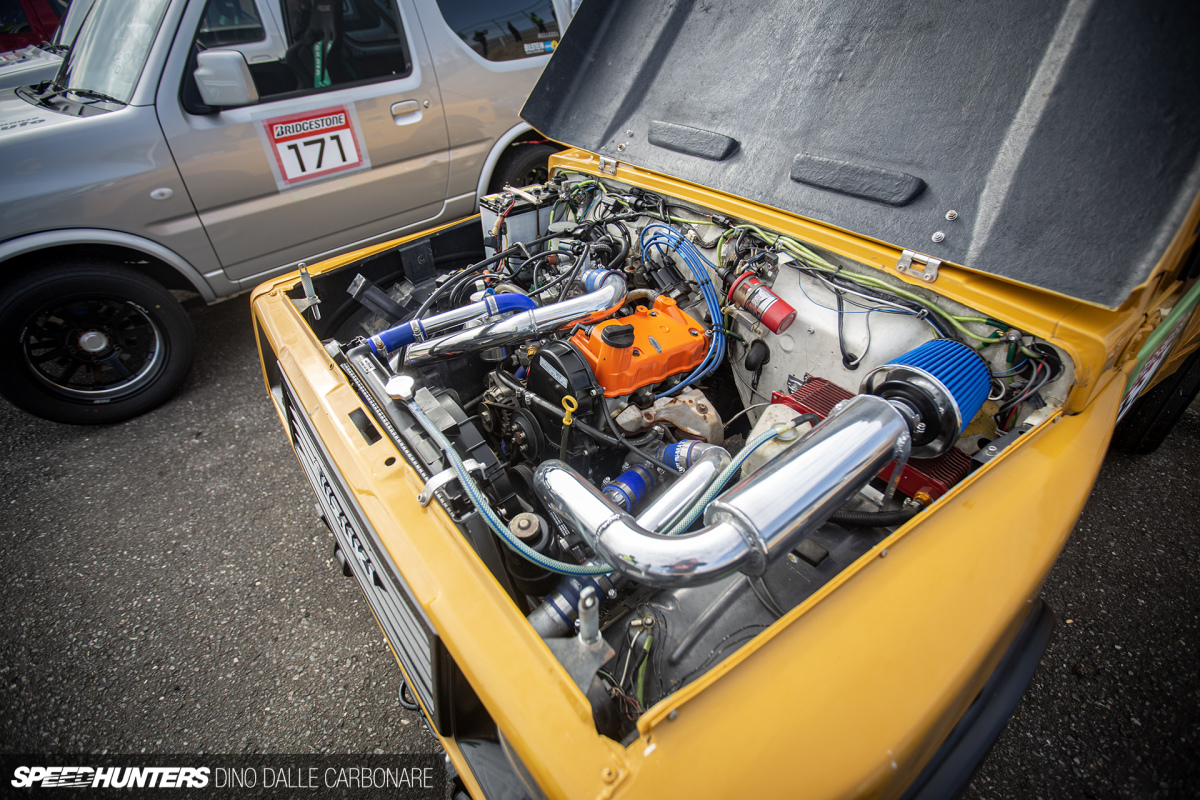 Here's its little longitudinally-mounted 3-cylinder engine. Curiously, this setup keeps the turbo positioning low, unlike a lot of the others I saw.
Inside the heavily-stripped cabin you'll find a roll cage, Recaro Pro Racer RMS seat with a Willans harness, a Momo steering wheel and not a lot else.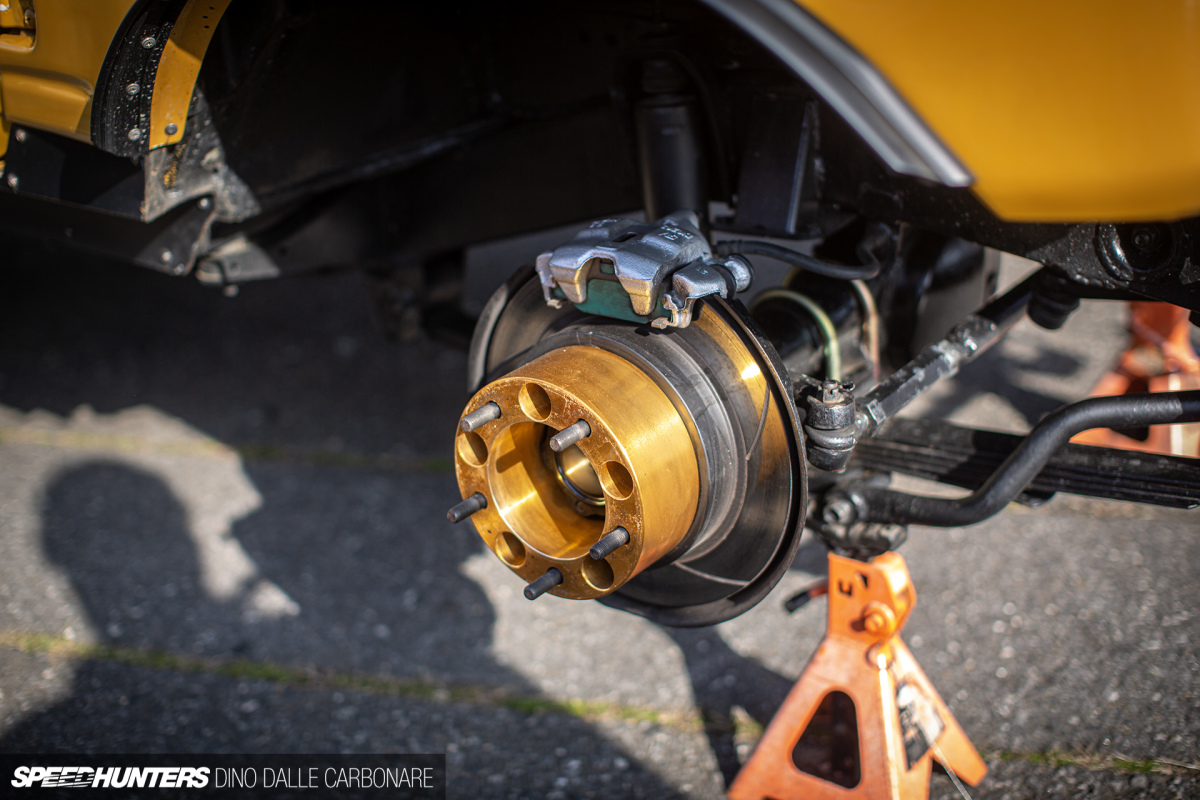 That front wheel track increase I mentioned a moment ago looks like it's achieved with some serious hub extenders.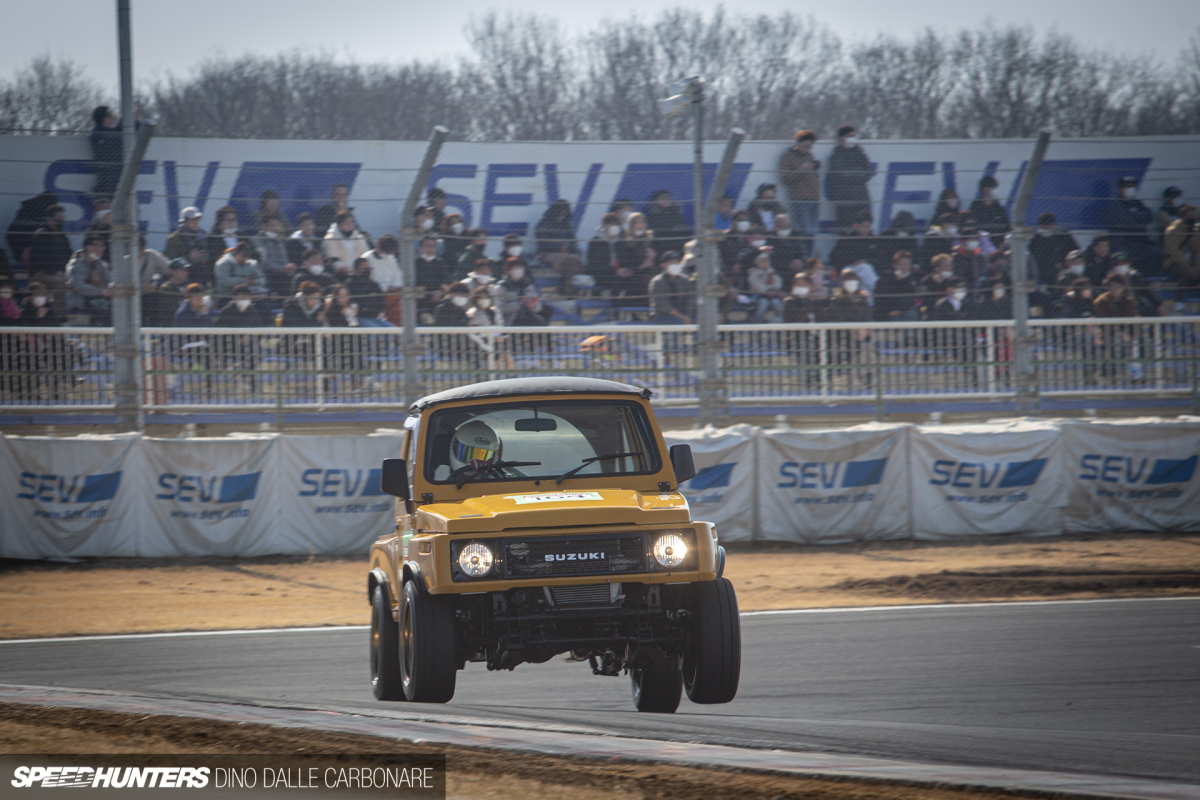 It only makes the wheelies look even more impactful.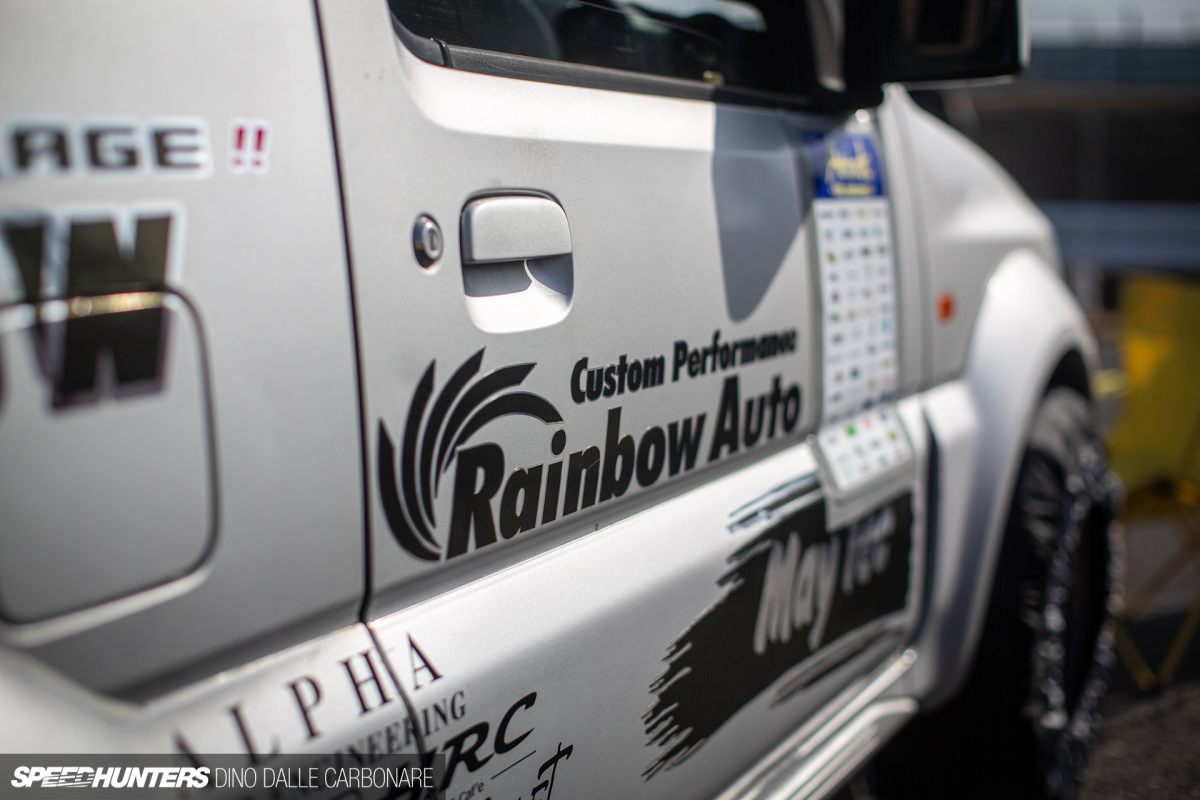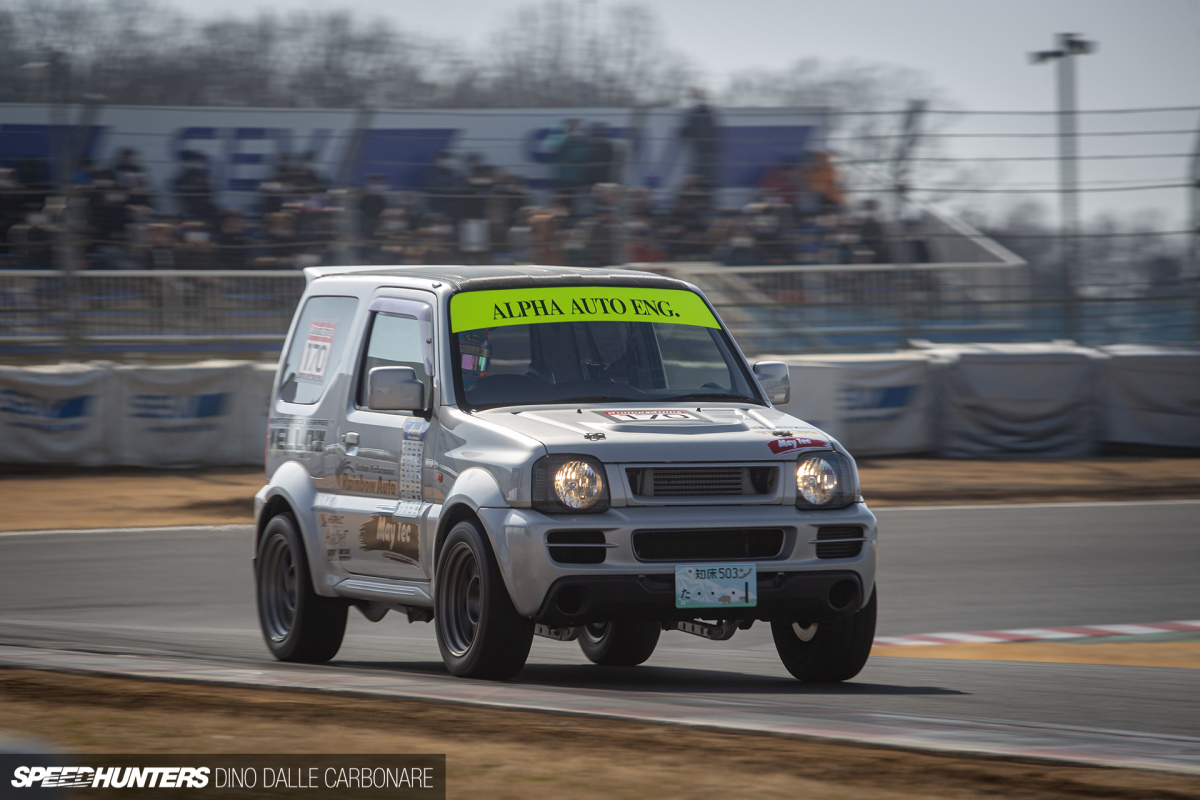 Hanging out in the little corner of the Tsukuba paddock that Rainbow Auto and all the Jimny owners had taken over, it was obvious that despite these guys doing what they do for fun, they still take things seriously when it comes to set up and prep.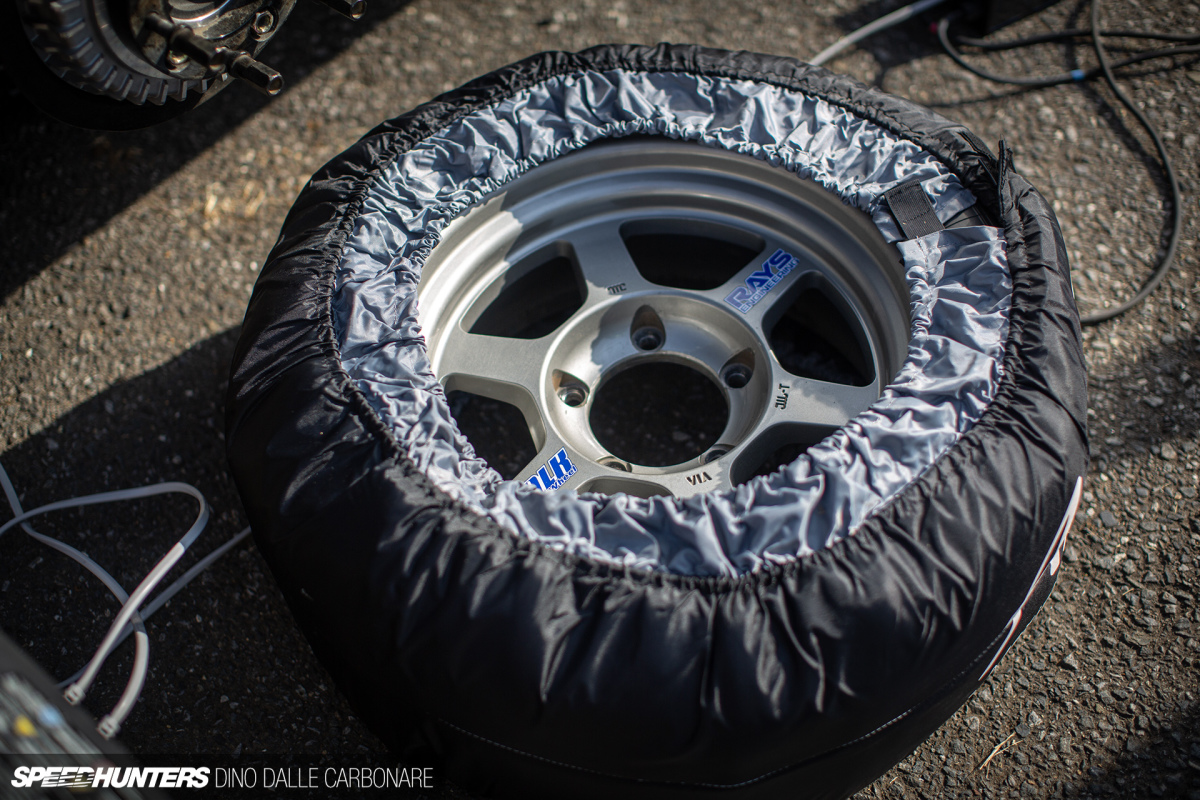 Some were even keeping their rubber cosy with proper tire-warming systems.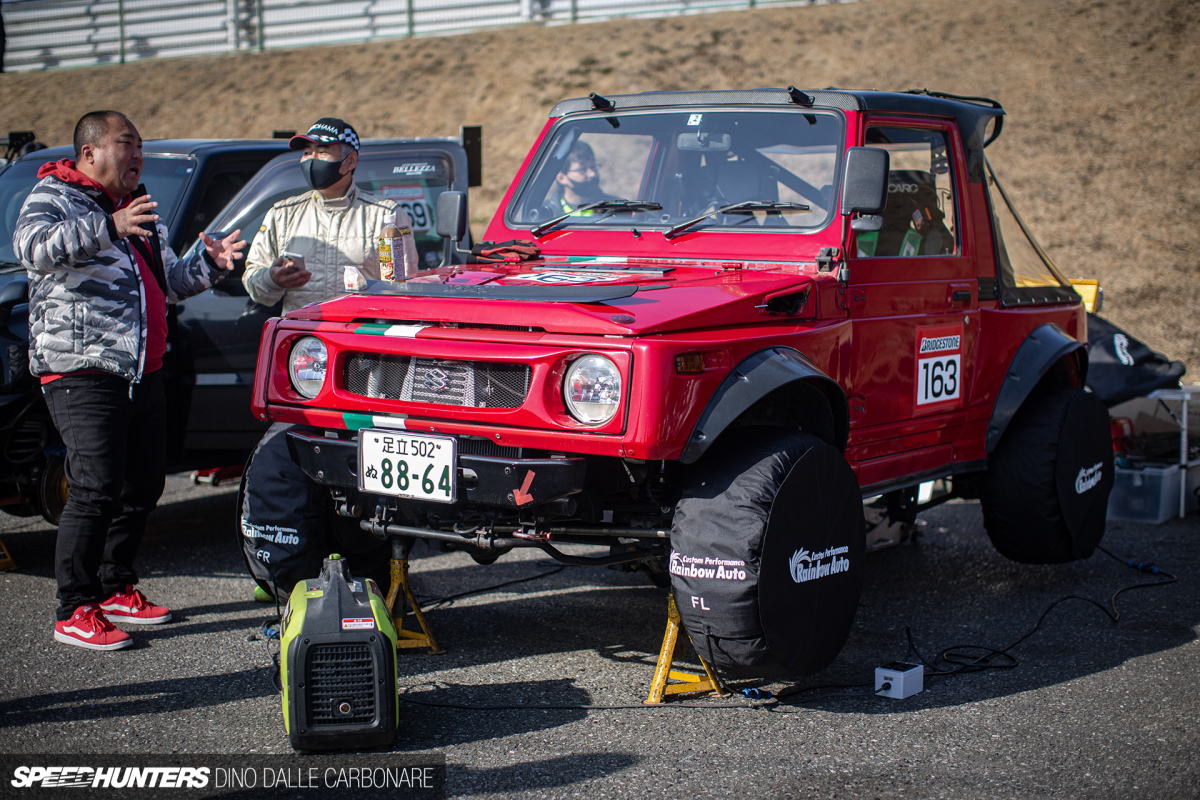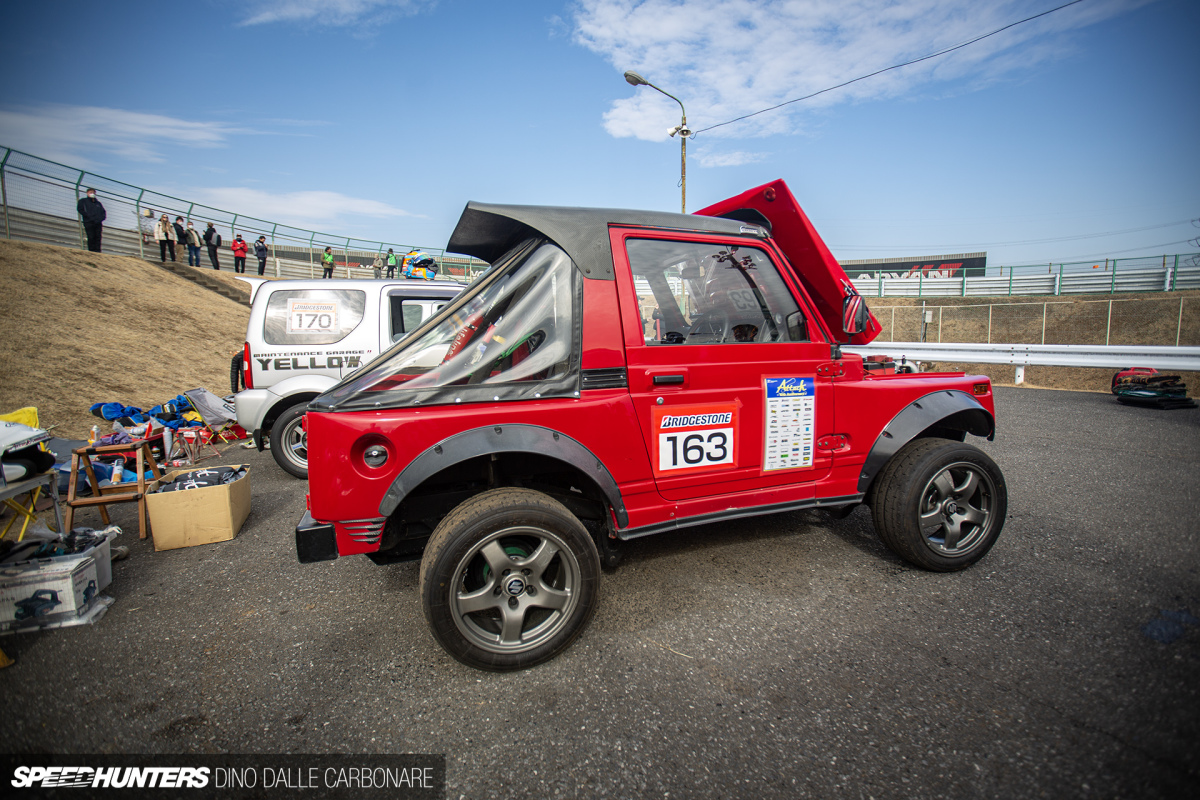 This older Jimny pick-up with overfenders and BNR32 Skyline GT-R wheels ran the quickest lap of the group.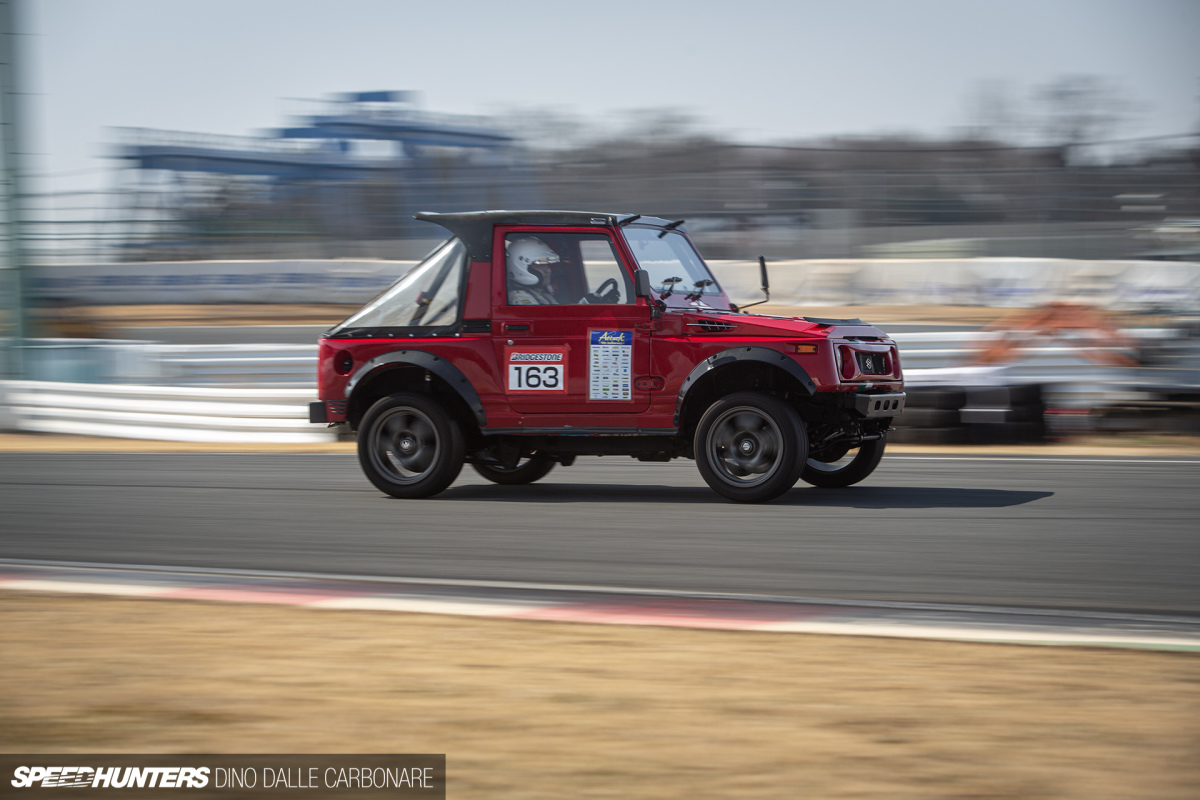 Despite being setup for grip, Jimnys are, unsurprisingly, not the fastest things out there. All things considered though, the 1'12″056 that this red JA11 managed is actually not bad.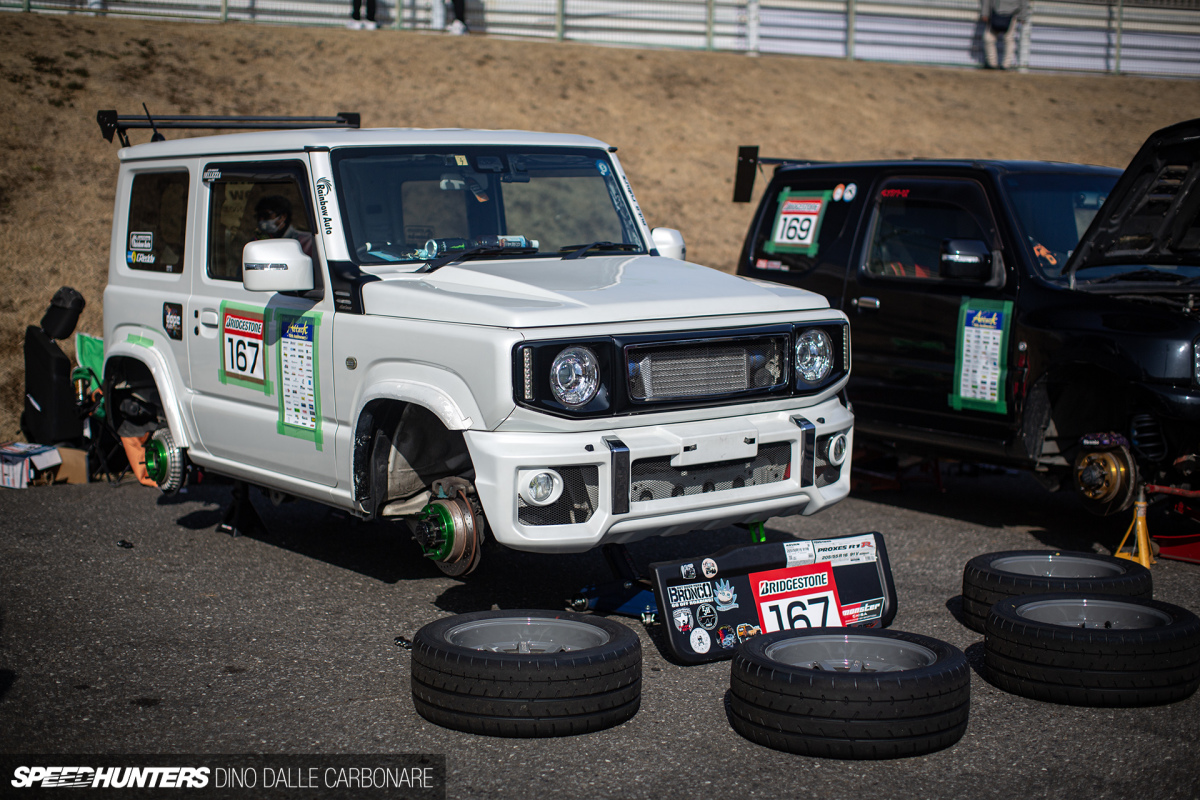 As I mentioned in my main Attack Tsukuba post, it's not what you time attack in that's important.
It's all about personal goals and satisfaction.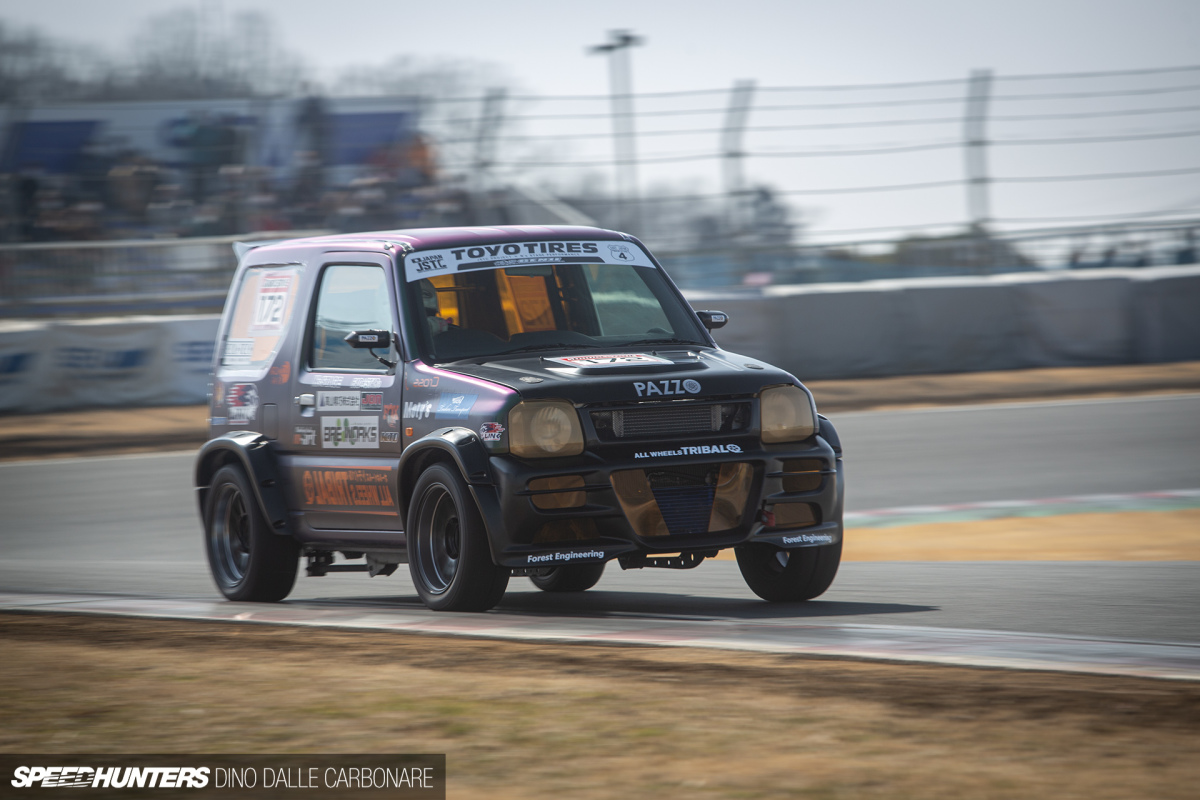 The only other Jimny not part of the Rainbow Auto group was this JB23 from Stealth.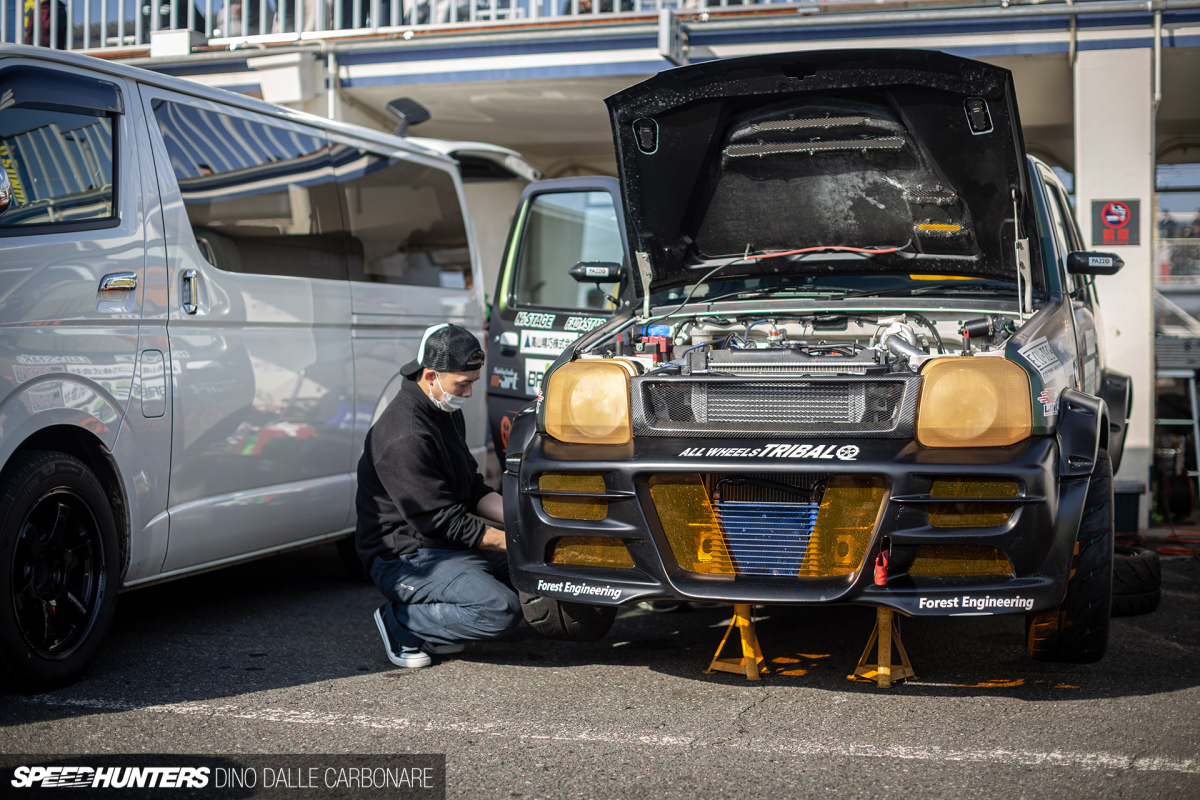 The team came all the way from Akita Prefecture in the very north of the country and posted a 1'12″357 lap.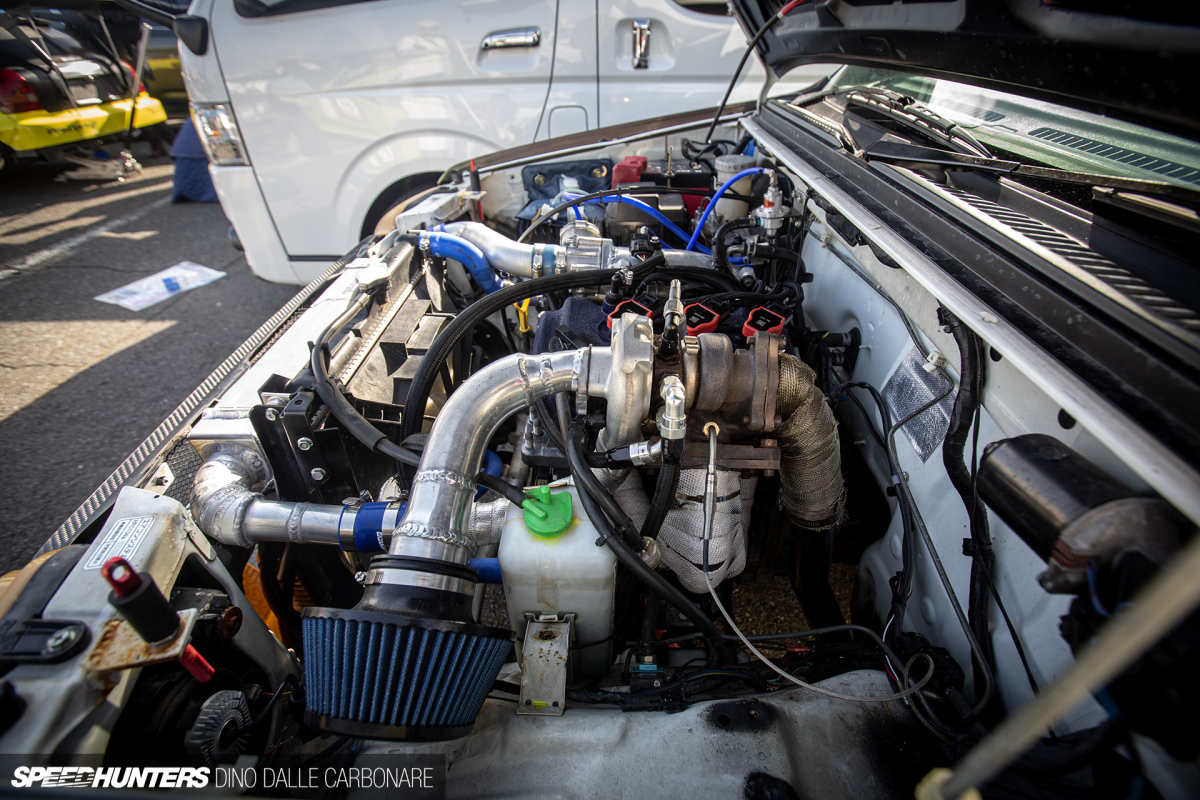 It sported one of the wildest-looking engine bays of the 10 Jimnys at the event, mainly due to its top-mounted turbo and the grille-mounted intercooler. I also spotted a Bosch electric throttle body.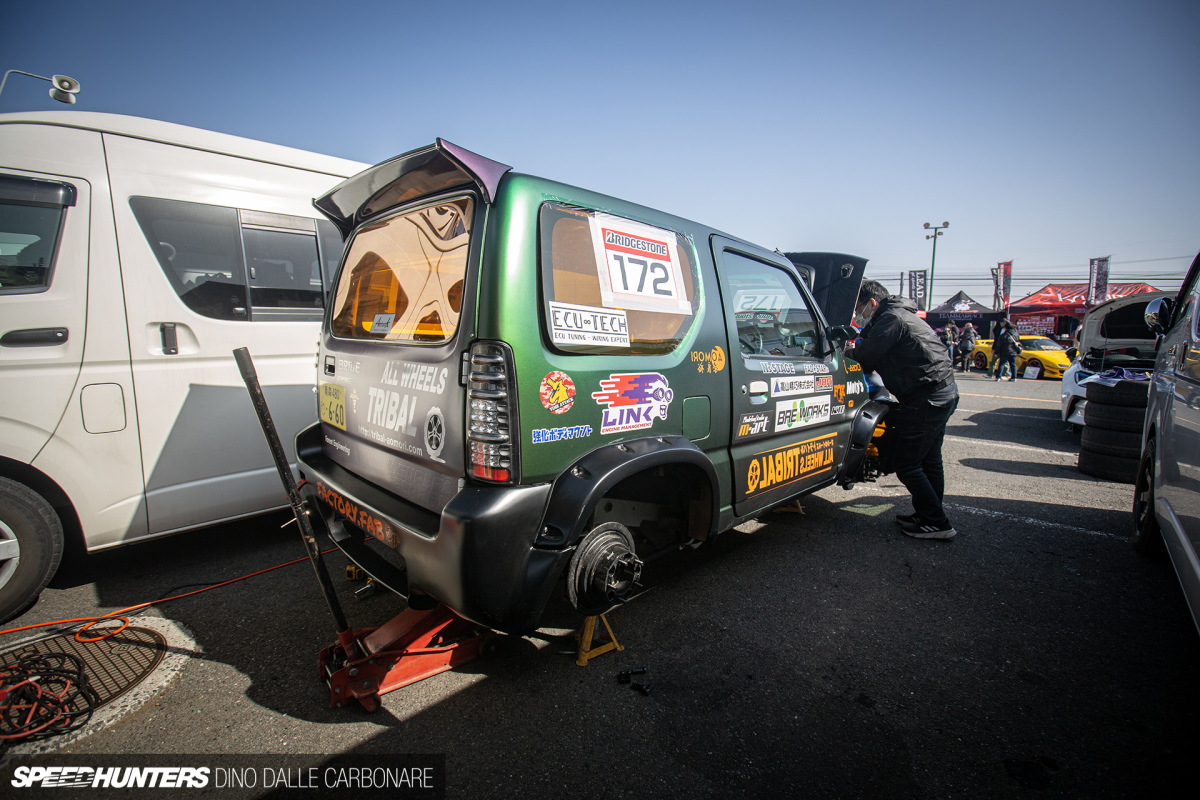 Now that you've seen a few different Jimnys all set up for track work, do you think this low, purposeful look would suit a Jimny street car?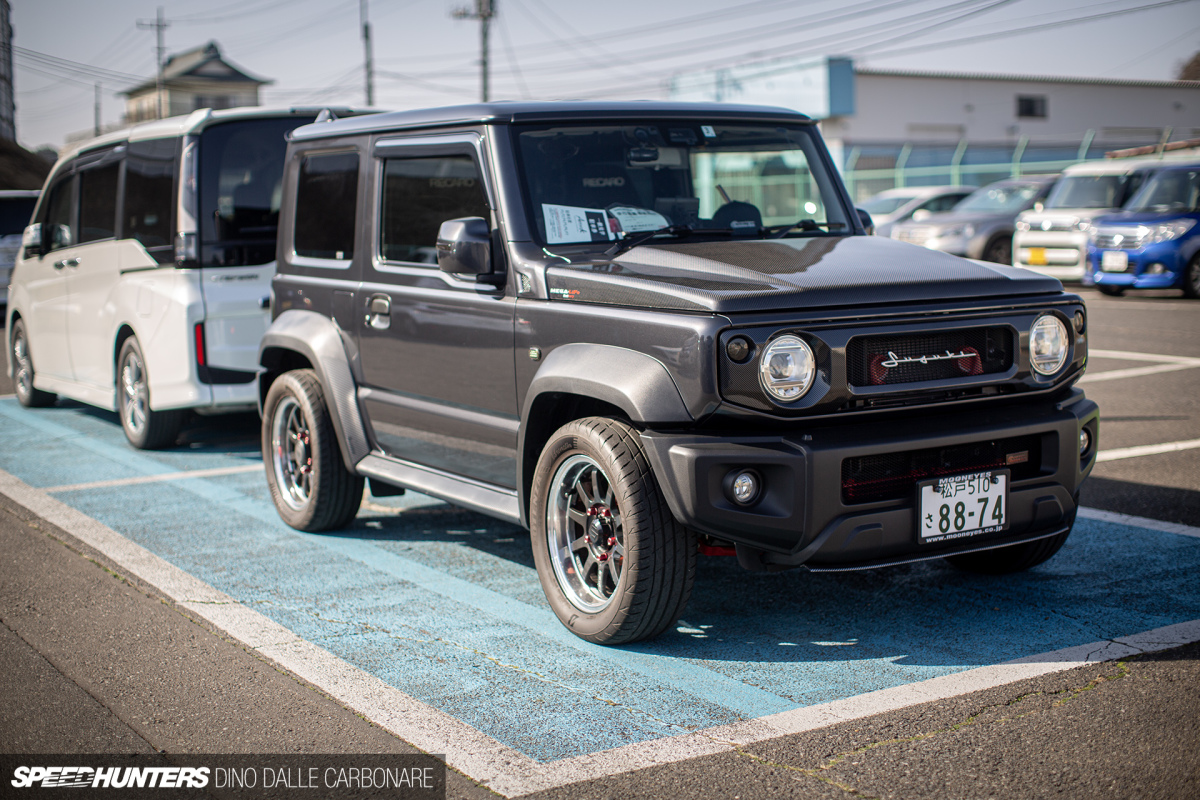 If you're unsure, take a look at this.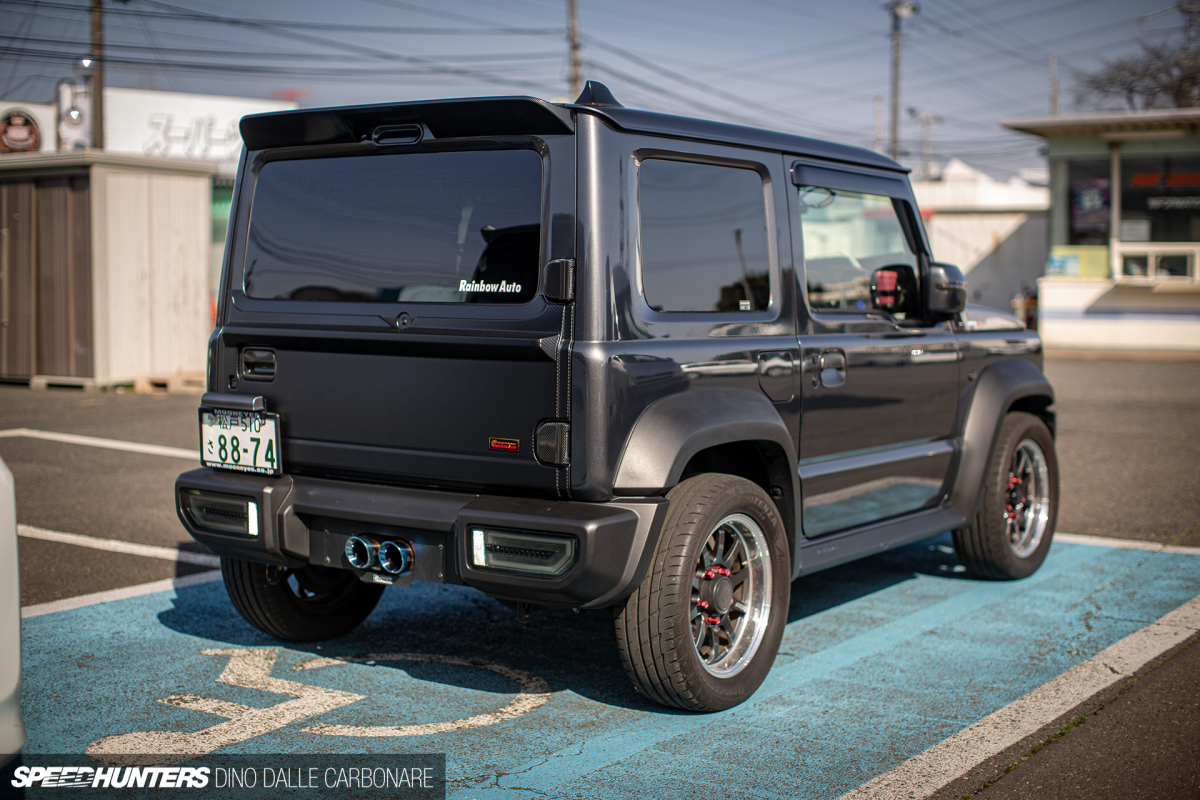 I spotted this Rainbow Auto-built Jimny in the Tsukuba car park and thought it looked pretty sick.
In case you're wondering, the reason why this one isn't on yellow kei license plates is because it's a Sierra version, which not only comes with plastic overfenders that push its dimensions outside kei car regulations, but is also powered by a 1.5L four-cylinder engine, as opposed to the kei-spec 660cc turbo three in the base model.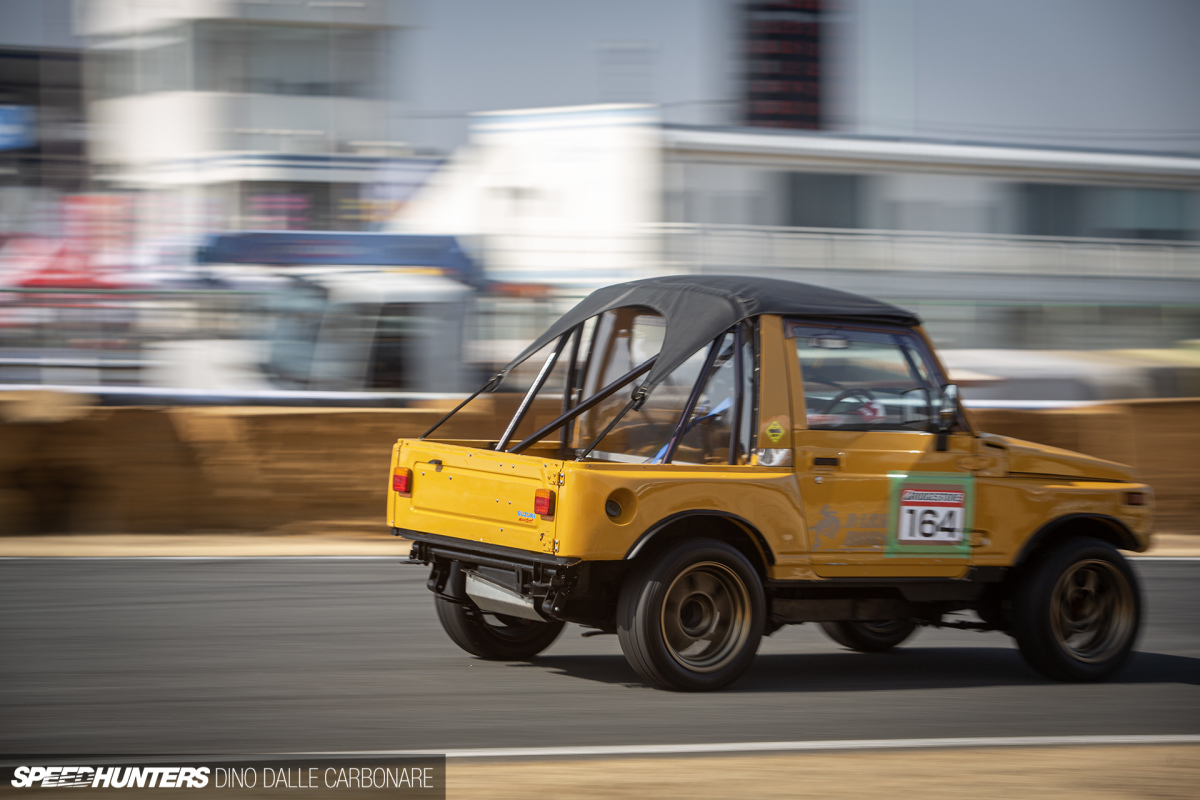 It's always fun when you come across a car that makes you question what's right and what's wrong. But in this case, it was a whole bunch of them! Big thanks to Rainbow Auto for chatting with me; I think I may need to pay them a visit and explore this grip Jimny trend a little more. What do you think?
Dino Dalle Carbonare
Instagram: dino_dalle_carbonare
dino@speedhunters.com