We may be about to witness the most significant moment in automotive history since Henry Ford developed the Model T mass production line over a century ago.
More and more evidence suggests that Tesla's Investor Day event this week will mark the beginning of a new era in automotive manufacturing. One in which EVs are not only much cheaper to run and maintain than petrol and diesel cars, but also cheaper to make.
Following Tesla's Autonomy Day in 2019, Battery Day in 2020, AI Day I in 2021 and AI Day II in 2022, "Investor Day" is the latest in a series of live broadcast events providing details on the technology Tesla has been developing and what it has planned for the future.
As confirmed by an Elon Musk tweet two weeks ago, Investor Day will be all about manufacturing and scaling production. The final piece in Tesla's mission to accelerate the transition to electrified transport.
Master Plan 3, the path to a fully sustainable energy future for Earth will be presented on March 1.

The future is bright! pic.twitter.com/11ug0LRlbD

— Elon Musk (@elonmusk) February 8, 2023
Why is EV manufacturing so important?
There are currently over a billion petrol and diesel cars in the world. That's a billion exhaust pipes spewing out toxic pollution into the air we all breath every day.
A billion exhaust pipes pumping carbon dioxide into the earth's atmosphere making up over 20% of annual global emissions.
If humans want to get the cancer causing toxic air pollution out of our cities, and if we want to maximise our chances of halting the climate crisis and having a liveable planet, we need to get the billion petrol and diesel fart boxes off our our roads ASAP.
The most logical first step in achieving this is to stop selling new toxic fart boxes which just make the problem worse.
There were almost 80 million new cars sold worldwide in 2022. Roughly 10 million of these were fully electric which means there were an additional 70 million (~87%) new petrol and diesel pollution machines birthed onto planet earth in 2022.
The average life of these fossil burning stinkers is over 10 years, meaning that all the petrol and diesel cars sold in 2022 will still be farting out pollution into our cities and into our lungs in 2032.
The sooner we stop selling new petrol and diesel cars, the sooner we'll have clean air in our cities.
There are three key objectives to accelerate the transition away from these pollution pumping machines:
Rapidly redesign cities to encourage biking and walking.
Rapidly scale and electrify public transport.
Rapidly scale electric vehicle manufacturing.
Investor Day will outline how the world's largest electric vehicle manufacturer plans on achieving this third objective.
The path to a fully sustainable energy future for earth
In his recent tweet Elon Musk said "Master Plan 3, the path to a fully sustainable energy future for Earth will be presented on March 1. The future is bright!"
It's been 17 years since Musk published Tesla's original "Master Plan" in which he laid out the company's overarching strategy of starting with high-cost/low-volume cars and moving to low-cost/high-volume cars.
To date, Tesla has executed this plan to perfection moving from high-cost/low-volume sports cars and luxury cars (Roaster, Model S and X), moving to lower-cost/higher-volume Model 3 and Y.
The next stage will be based on Tesla's 3rd generation platform which many observers believe will enable Tesla's stated target of a $US25,000 model.
The Tesla Model 3 is currently selling for $US43,000 ($US35,500 including the IRA tax credit).
In his recent Investor Day preview, Morgan Stanley's Adam Jonas points out that Tesla's current COGS (cost of goods sold) is $US39,000 per vehicle. This is based on Tesla's 2nd generation platform.
Investor Day will reveal how significant advances in Tesla's manufacturing will drive the COGS of Tesla's 3rd generation platform towards the $25,000 mark.
The best part is no part
One of Tesla's guiding principals when it comes to manufacturing is "the best part is no part". Often referred to as "deleting" parts or processes, the language shows that Tesla sees itself as a software company just as much as a manufacturer.
The philosophy permeates everything Tesla does from its minimalist designs to only offering a handful of different models. A stark contrast with many legacy automakers who offer hundreds of models, each with a mind-boggling array of options.
The constantly changing styling is required by marketing teams to create the "differentiation" and USPs (unique selling points) they need to convince customers that although their petrol burning product is relic from the 19th century, its perceived as the latest and greatest or a "limited edition".
While legacy auto marketing departments demand an ever-increasing range of "features" and "variants" to sell their 19th century technology, the resulting complexity creates a nightmare for the production department.
Factories become slow and bloated as they constantly need to retool for never-ending new models and styles.
While traditional auto companies trend towards complexity, Tesla is moving in the opposite direction, deleting parts and processes, streamlining everything. Spending time and money on product and production, not marketing.
This may be why Tesla made over $9500 per vehicle last year, eight times Toyota's gross margin per vehicle, which was just under $1300.
This daily mission to strip redundancy and complexity out of the product and production is what has driven the two major manufacturing breakthroughs that will be showcased on Investor Day. Single-body castings and the 4680 structural battery pack.
Unibody casting.
A large portion of the army of robots you see in automotive factories are welding together hundreds of parts to make what's known as the "body-in-white" which is the bare frame before it's painted and the engine, transmission, axels, suspension, wheels, doors, seats, and everything else is attached.
Fabricating the body-in-white takes a huge amount of time, space and money. Over the past few years, Tesla has completely revolutionised this process with the development of single-body castings using what are the largest high-pressure die casting machines in the world.
The castings are so large that Tesla's materials engineers had to develop a new aluminium alloy to enable the molten aluminium to flow into all the intricate areas of the die before setting. A truely revolutionary breakthrough in engineering.

You can see the Giga Press in action in Tesla's Giga Berlin Fly through video. At 1:05 you'll see a robot removing the Model Y single piece rear underbody casting from the Giga Press.
Morgan Stanley's Adam Jonas says there are three key areas of improvement which come with Tesla's giga casting.
Reduced parts saving 10% mass and increasing vehicle range by 14%
Reduced production area saving 300-1000 robots and 35% of manufacturing floor space. Model Y which currently uses single body casings uses just 30% of the robots used for Model 3.
High productivity and shorter production time. 80-90 seconds to complete a part that would take 1-2 hours with the traditional process.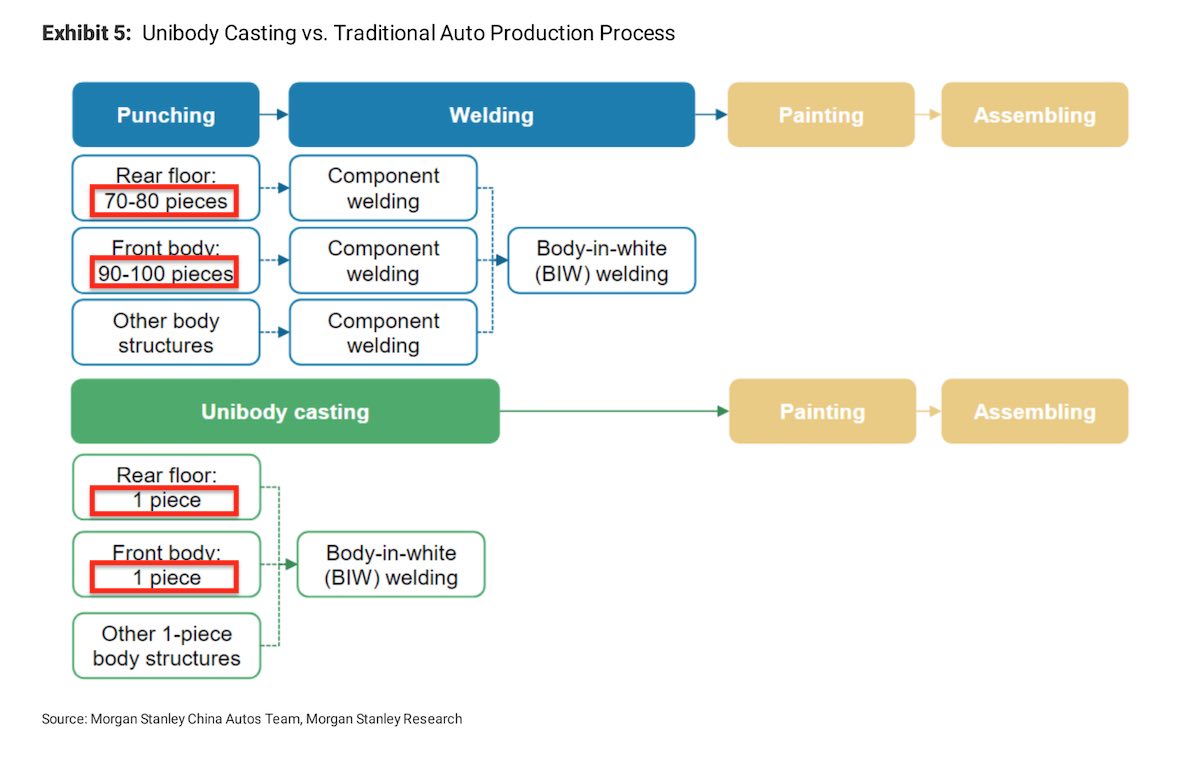 Morgan Stanley says that Tesla's Berlin factory can currently produce 90 cars/hour and that each car takes 10 hours to produce. That's three times as fast as Volkswagen's Zwickau plant which takes 30 hours to produce a car.
Because of its narrowly focused product range, Tesla's Giga Presses can squirt out full body castings all day every day without the need to retool for different models. This results in massive cost savings compared with its legacy auto competitors who are stuck with the complexity of welding hundreds of parts for hours to make a part Tesla can produce in seconds.
As Tesla scales the single-body castings across it's entire production, it's COGS per vehicle will decline significantly.
Structural battery packs using 4680 cells
Morgan Stanley says that unibody castings are the enabler of cheaper EVs and that combining with cost savings from Tesla's 4680 structural battery pack will result in a step change in EV production costs.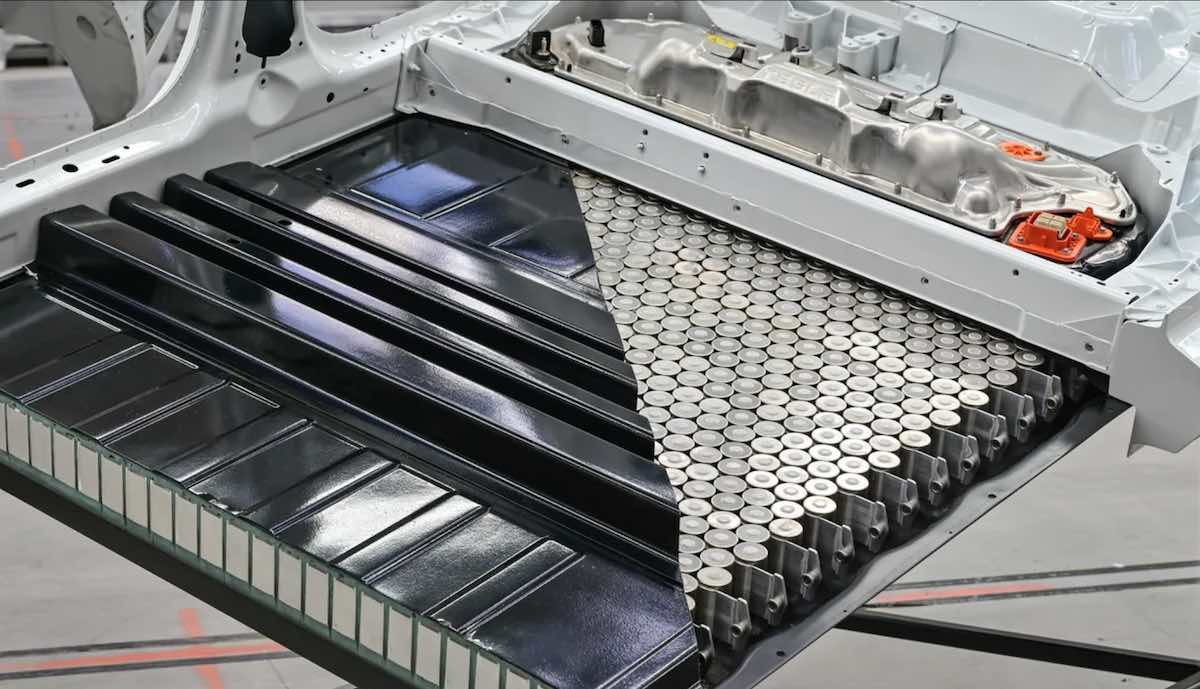 There are two main reasons why the new 4680 structural battery packs enable further significant cost savings. The first is the production of the cells themselves. Tesla's 4680 cells are manufactured using a new continuous production process inspired by can manufacturing.
The short clip below shows how this is done.
The second cost saving comes from the way the battery packs are assembled and attached to the main body.
In previous models, batteries have been mounted within the structure. The new battery packs are actually part of the structure.
The car's seats are bolted directly onto the battery packs and lifted up to be attached from underneath. Another totally new manufacturing process unique to Tesla.
The development new 4680 cell production and structural pack design were announced at Tesla's Battery Day in 2020. At the time Tesla said the new design and production process would enable a 56% reduction in per kWh battery cost and a 69% reduction in investment cost per GWh.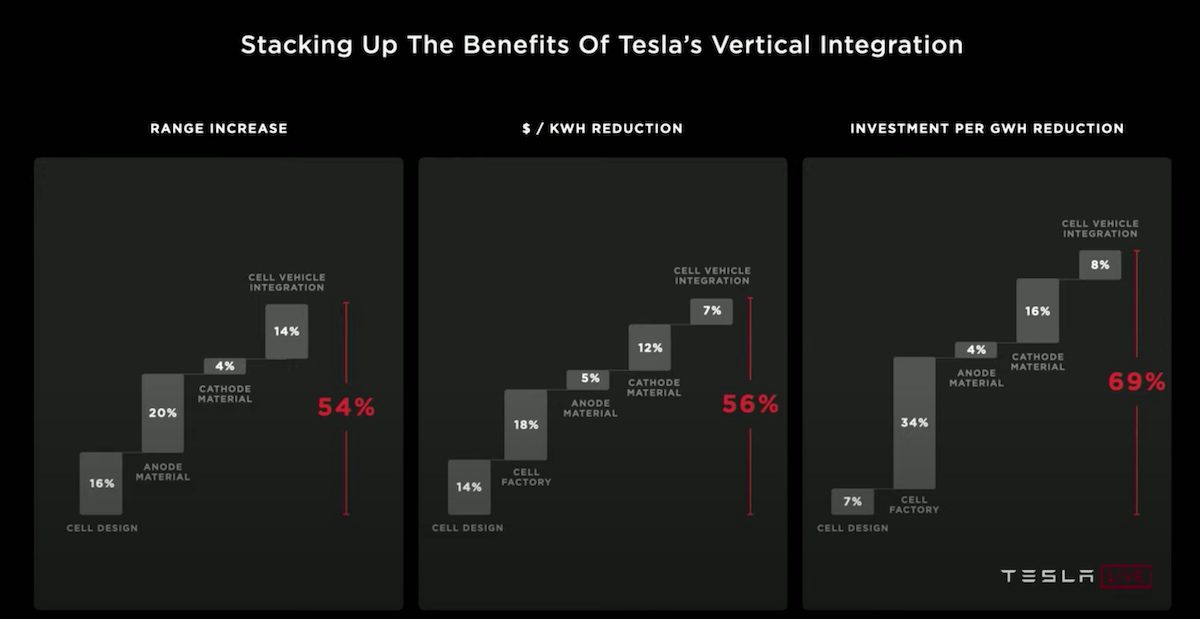 In a recent piece Adam Jonas noted that Tesla's $US3.6 billion, 100 GWh Nevada expansion showed it was already well on its way to achieving the cost savings it forecast two years ago.
Investor day will tie all these manufacting developments together and could include details on a new cheaper model.
Looking forward to Tesla Investor Day on March 1.

By this, we mean the broadest definition of investor, as in the people & life of Earth.

It will be a message of good hope & positivity for the future.

— Elon Musk (@elonmusk) February 13, 2023
An affordable EV, the final nail in the coffin for petrol and diesel cars
A future where electric vehicles are far cheaper to buy, run and maintain will finally end the era of the internal combustion engine. An era that should have ended decades ago.
The future that mass produced affordable EVs will bring is truly profound and something we should all be excited about.
Humans started burning large amounts of coal during the first industrial revolution in the 18th century. With the rise of the automobile in the 20th century, we started burning obscene amounts of petrol and diesel and our city air has been contaminated ever since.
There is no one alive today who has lived in a city with pure clean air. None of us know what that feels like.
A fish that's lived its entire life in a polluted pond feels sick and miserable but just assumes this is how life is. Take the fish out of the polluted pond and place it into a clean pond and the fish feels incredible. It never imagined it could feel this good.
We are the fish and the pond is our city.
One day in the not too distant future, the very last petrol car will splutter to a halt for the last time.
How soon that day comes is up to all of us.

Daniel Bleakley is a clean technology researcher and advocate with a background in engineering and business. He has a strong interest in electric vehicles, renewable energy, manufacturing and public policy.