Ten years is no small feat.
I remember when the Attack series first came onto the scene. I honestly didn't think much of it at the time, possibly because Tsukuba Circuit already had Battle Evome for time attack. The guys behind the Battle Evome events did it well; they kept things amateur-focused and pretty small, and it was a true pleasure to cover. I got to know the regulars and watched their cars evolve over the years, until the series ended in 2016.
Battle Evolve was always a nice contrast to Rev Speed magazine's Super Battle event, which has been contested at Tsukuba Circuit for the past 30-plus years. The annual Super Battle still invites Japanese tuning shops and parts manufacturers to fight it out for top honors every December.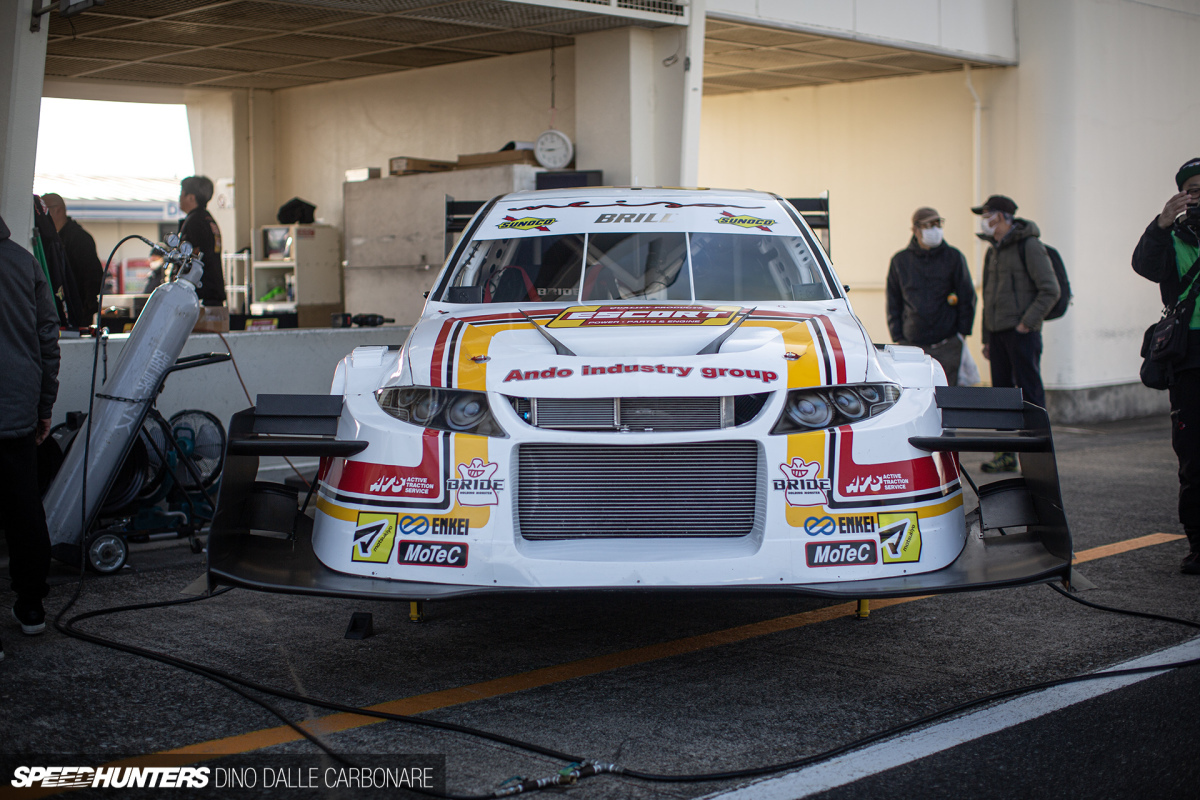 Attack, however, was different. It brought everyone together – the amateur racers and pro teams alike.
It's why, at Attack Tsukuba you'll see Yoshiki 'Fire' Ando in his 49-second Escort Racing Evo, and Nobuteru 'Nob' Taniguchi behind the wheel of various shop demo machines, plus kei cars and home-built creations. Everyone is shooting for fast lap times in their individual sessions. The best thing of all is that Attack has become a proper series, with additional rounds at Sugo, Suzuka, Fuji and Okayama.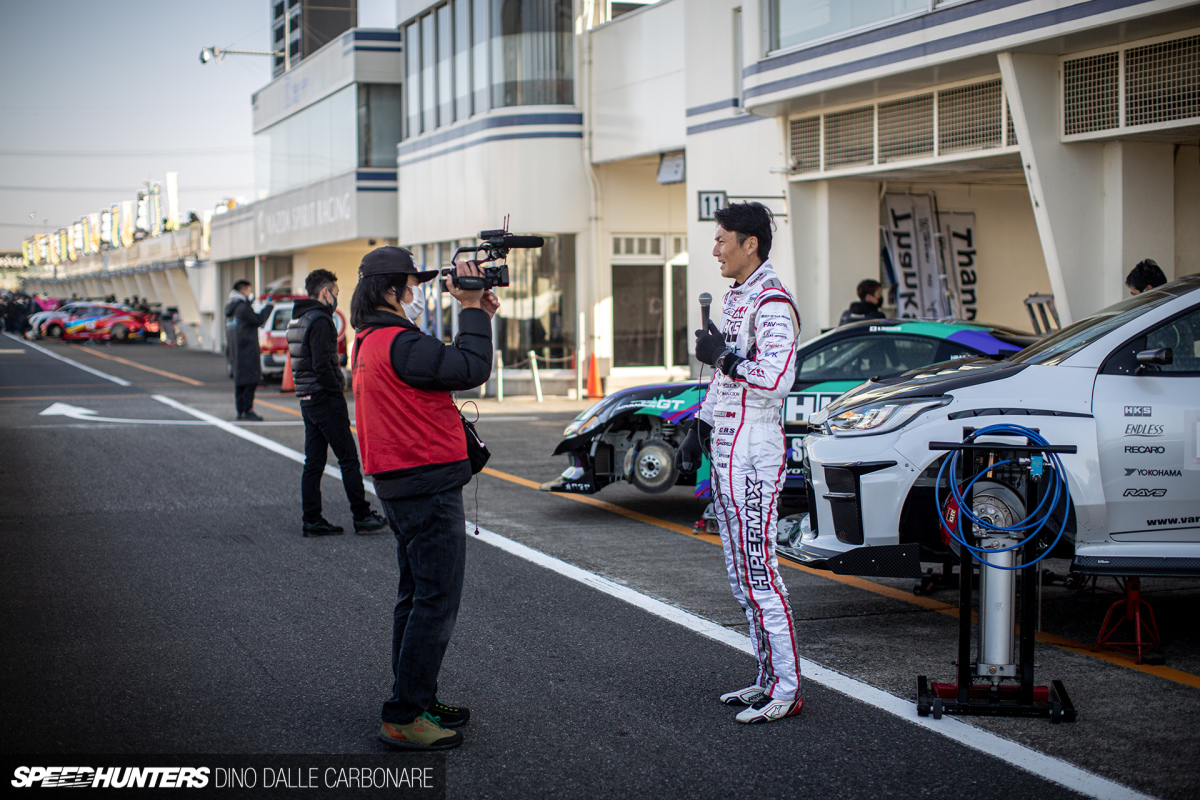 It's grown so much, that Tsukuba Circuit is starting to have issues accommodating all the Attack entrants. For 2023, there were 155 cars entered, which is just insane.
The thing that really impressed me though, is that 59 of these entrants posted lap times under 1 minute. The fastest of all – Fire Ando – ran a 50.112-second lap, just a slither off his 49.897-second personal best and Tsukuba TC2000 track record for a modified car.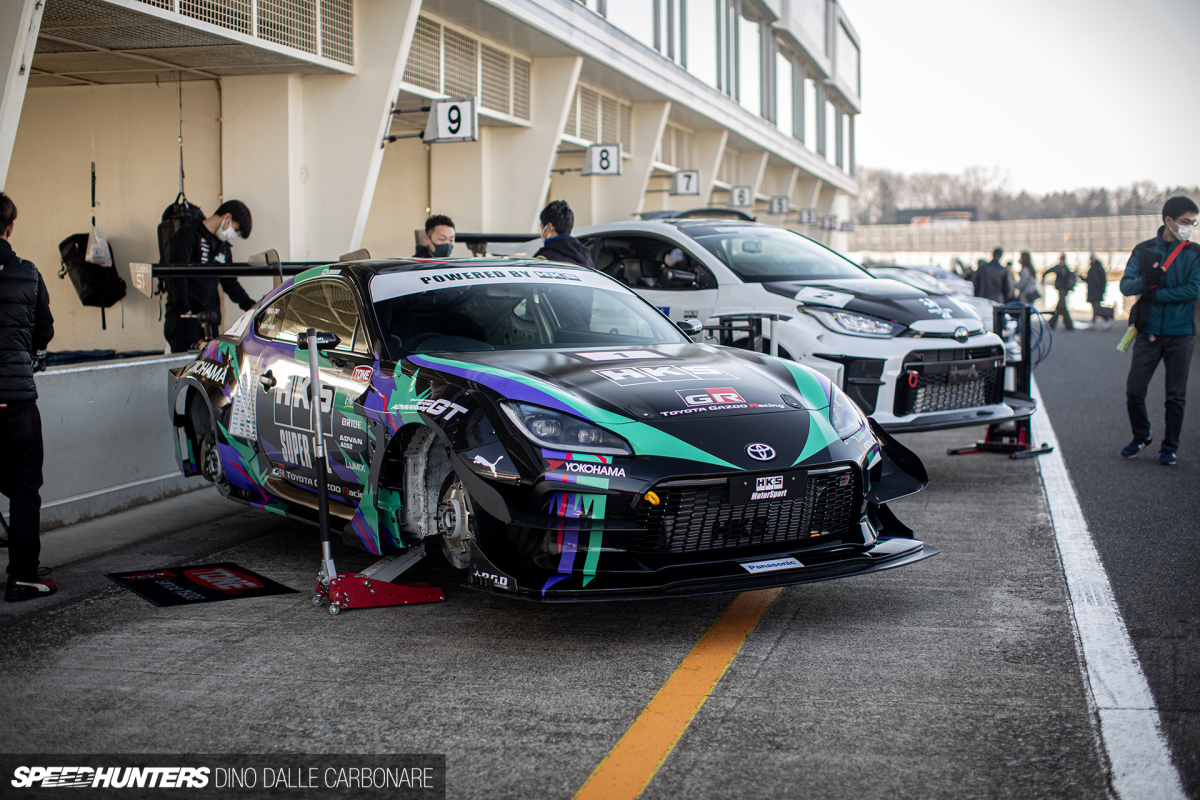 As always, the first thing I did on arrival at Attack Tsukuba last Saturday was head up pit lane and take a look at all the heavy hitters before the track opened.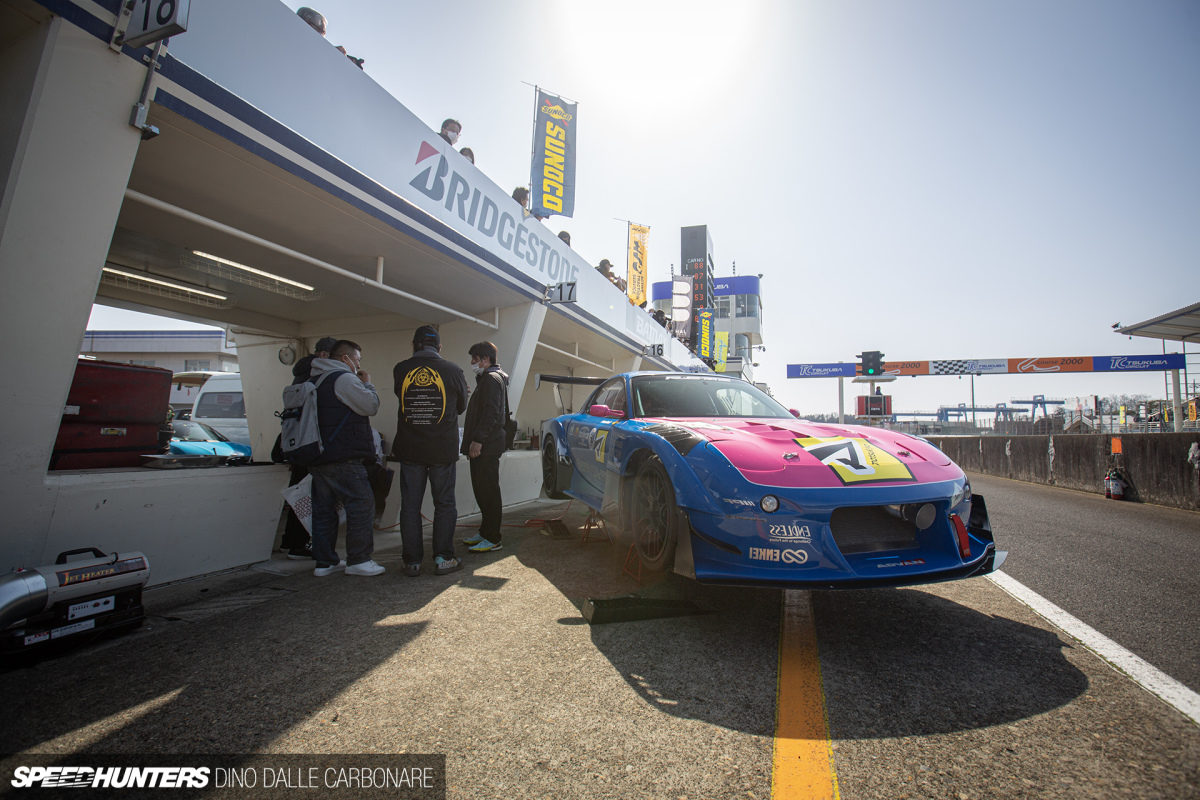 It was so cool to see the RE Amemiya crew at a time attack event again. They used to be Tsukuba regulars, and of course were chasing lap times before the term 'time attack' was even a thing.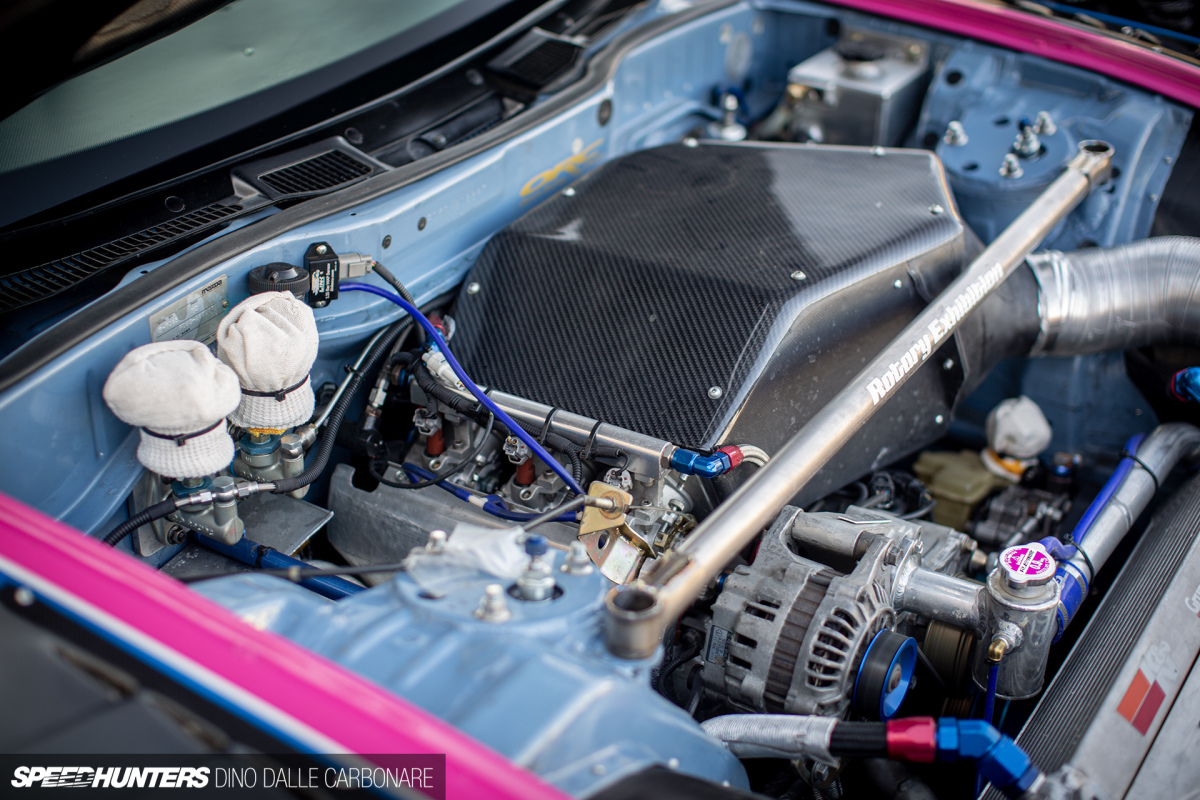 The team were there to crew on their old 26B 3-rotor FD3S track car, which is now campaigned by an RE Amemiya customer.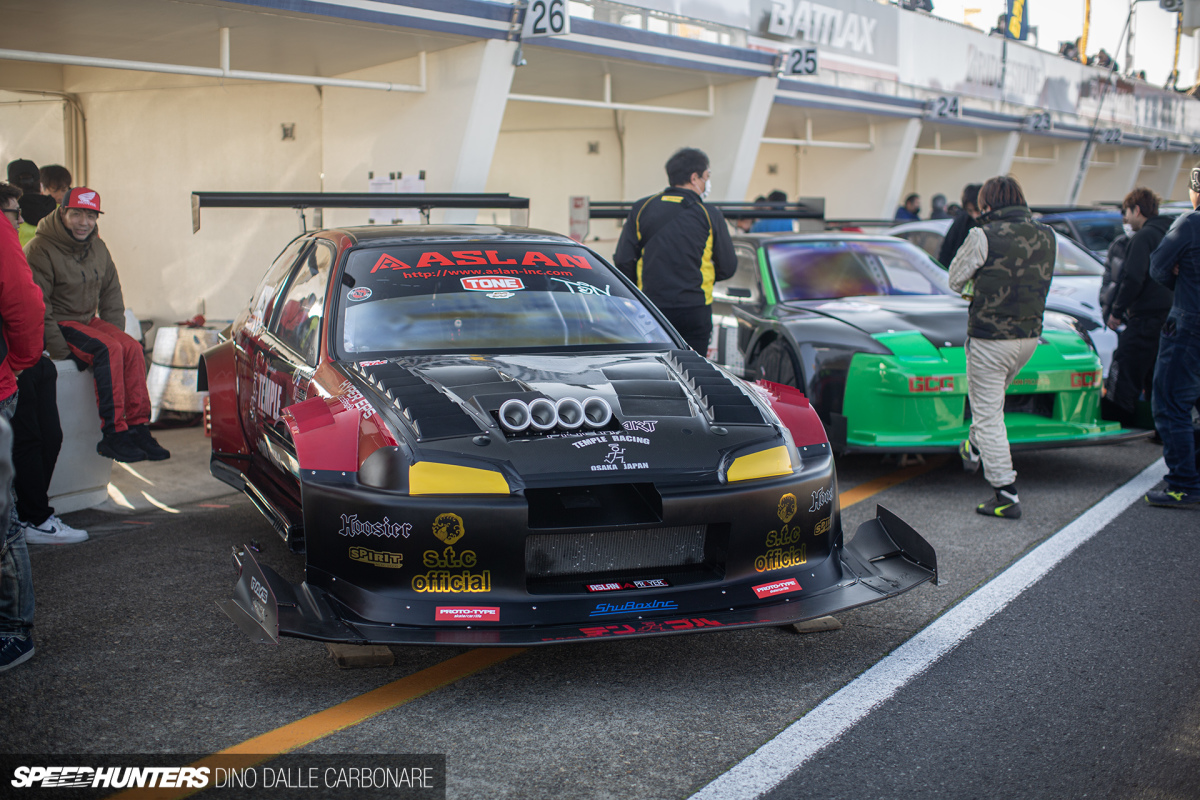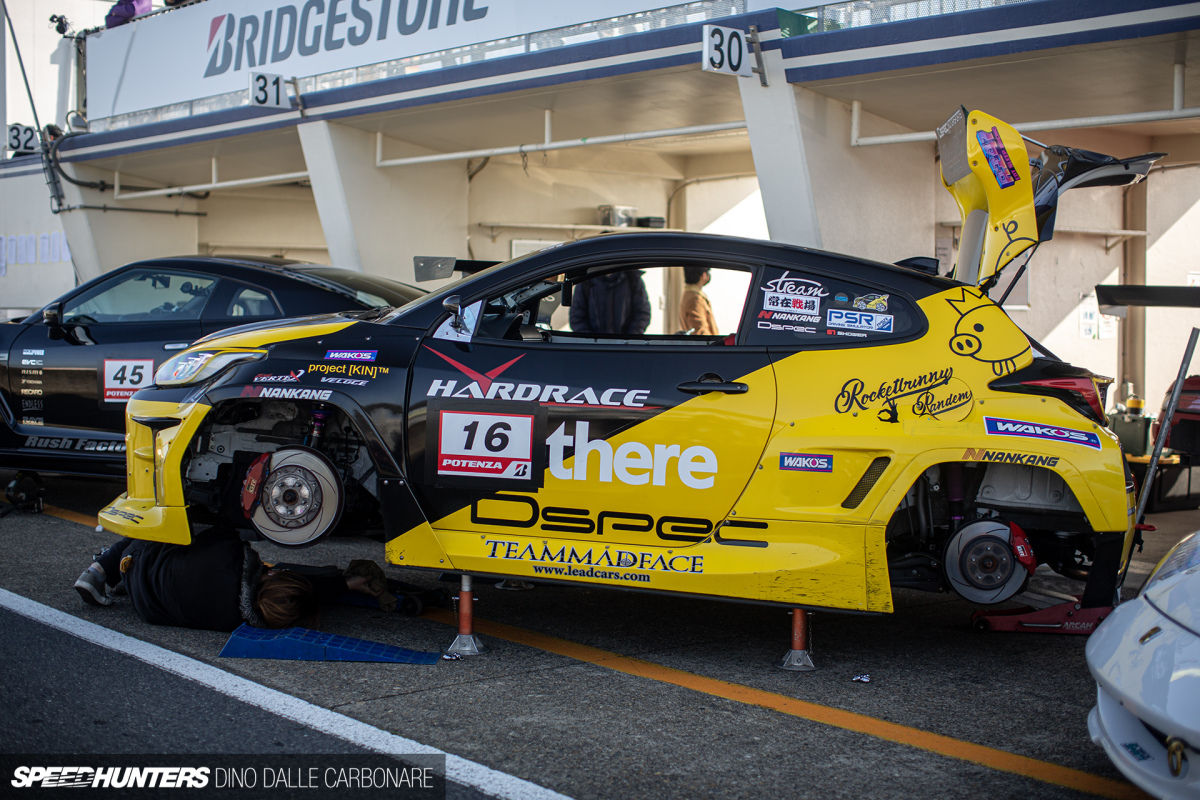 This initial stroll gave me a look at Attack regulars to see how they had changed over the last year, and a first glance at brand new entrants, like the Madface x D Spec GR Yaris which came all the way from South Korea. With driver Lee Daejun at the wheel, the Rocket Bunny-kitted Yaris managed a best lap of 1″02.665.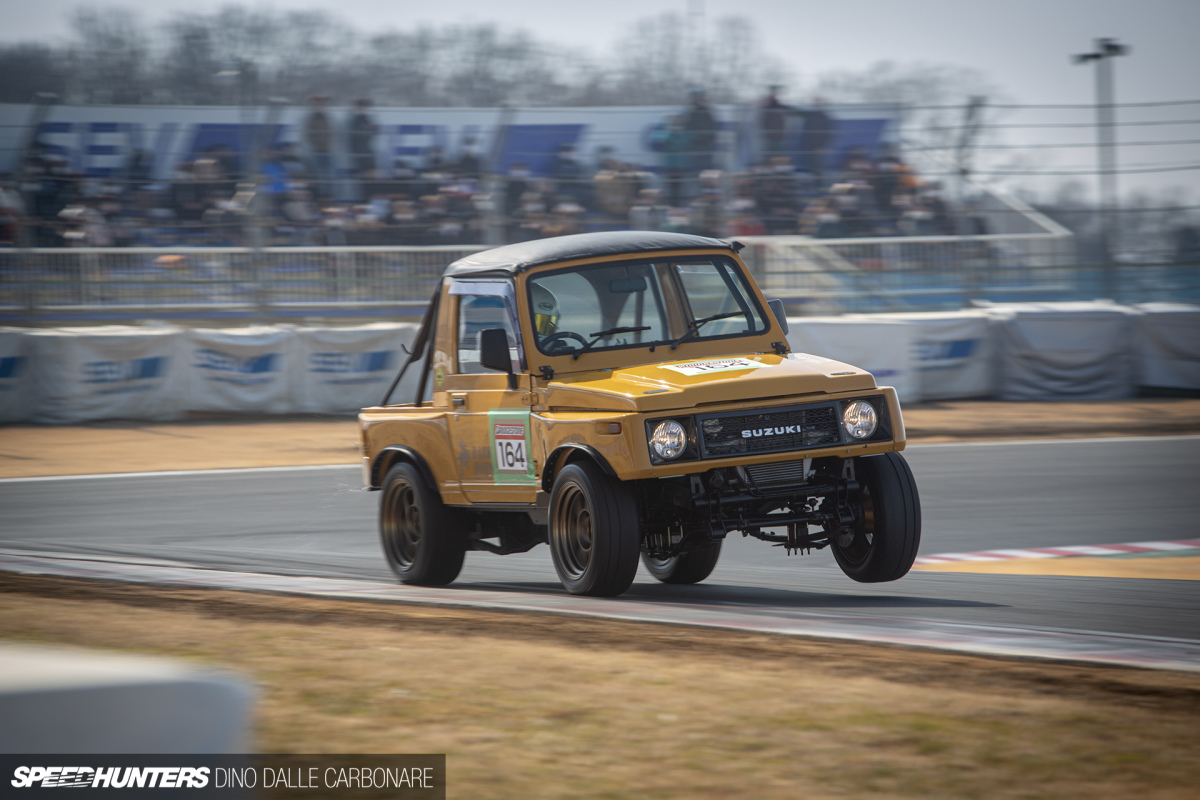 While seeing international entrants is always exciting, for 2023 it was something else altogether that made the event extra memorable for me: Suzuki Jimnys!
That's right, just when you think you've seen it all in Japan, a bunch of track-prepped Jimnys zoom past you at the Tsukuba hairpin, lifting their left front wheels high in the air as their solid front axles struggle to handle levels of lateral grip they were never designed to cope with. Don't worry, I'm dedicating an entire post to all the Jimnys out at Attack Tsukuba, as I know you'll get a real kick out of them.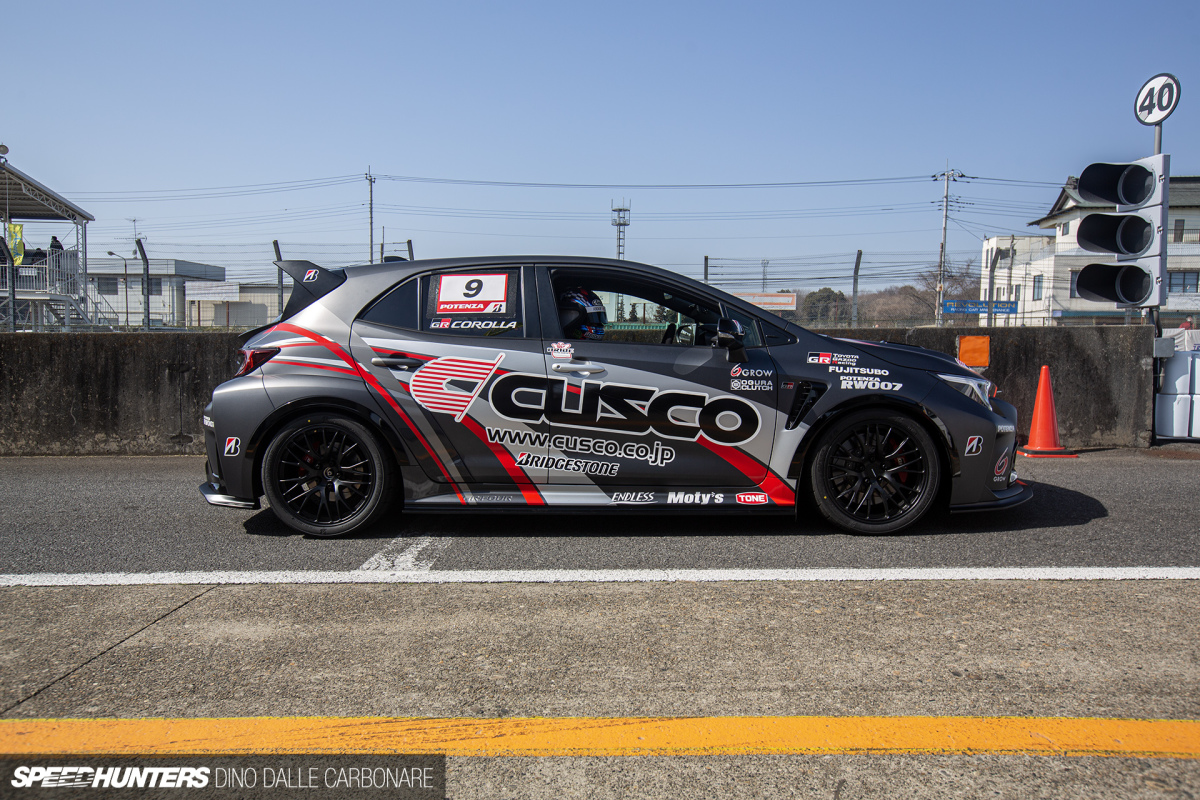 Cusco had the only GR Corolla at the event and posted a fastest lap time of 1″02, slightly slower than its PB 1'01.229. That's crazy-fast for what is essentially a lightly prepped stock car.
Thanks to Cusco, everyone in attendance was able to indulge in some Super GT gold from back in 2007. The GT300 class Cusco Dunlop GD Subaru Impreza is a legendary car from a time when Super GT's second tier category was more interesting than ever.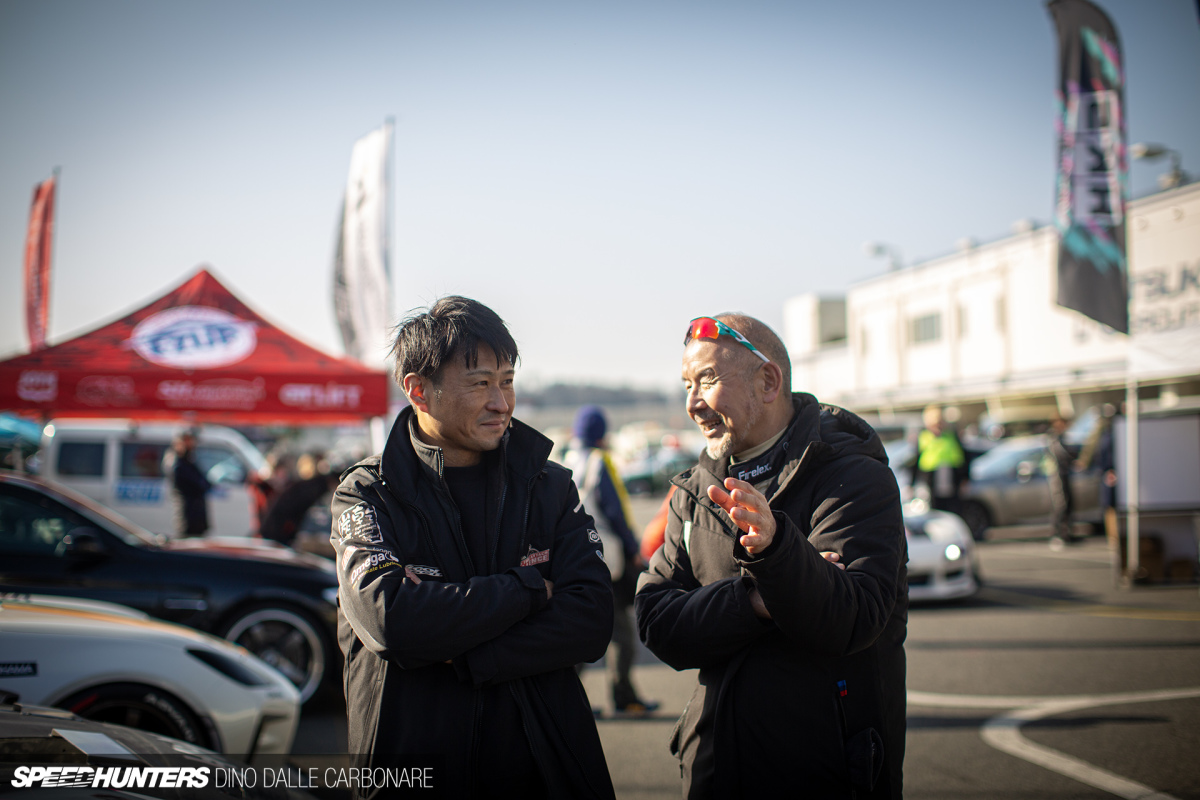 Here's Under Suzuki having a chat with Kumamura-san of Techno Pro Spirits in front of Suzuki's iconic Scorch Racing S15.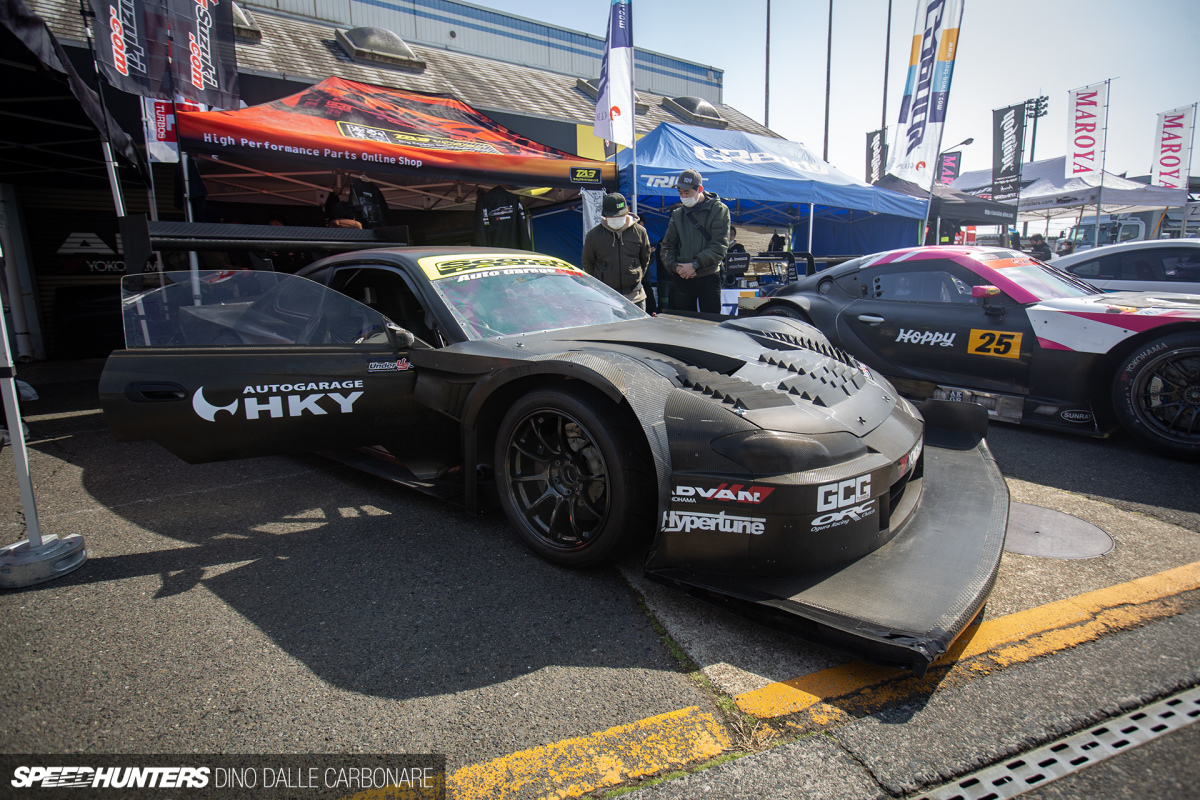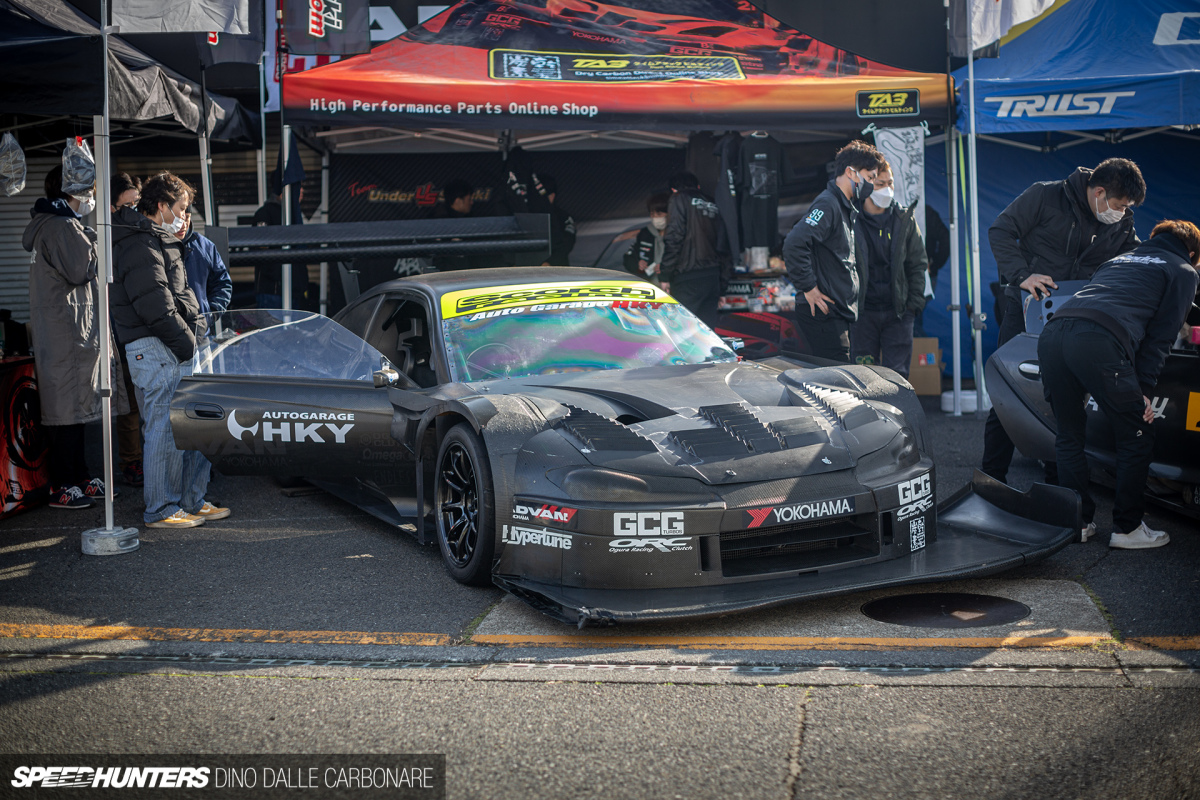 This was the first time the Silvia had been seen out in the sunlight since some major updates. A transaxle gearbox has been introduced, while pretty much everything else has been re-engineered, including refined carbon bodywork that's not complete yet. If the S15 chassis had ever been used in the Super GT GT500 class, it probably would have looked something like this!
The car was for display only at Attack Tsukuba, and Suzuki-san now has just a few months left to finish things off before its shipped down to Australia for WTAC later in the year.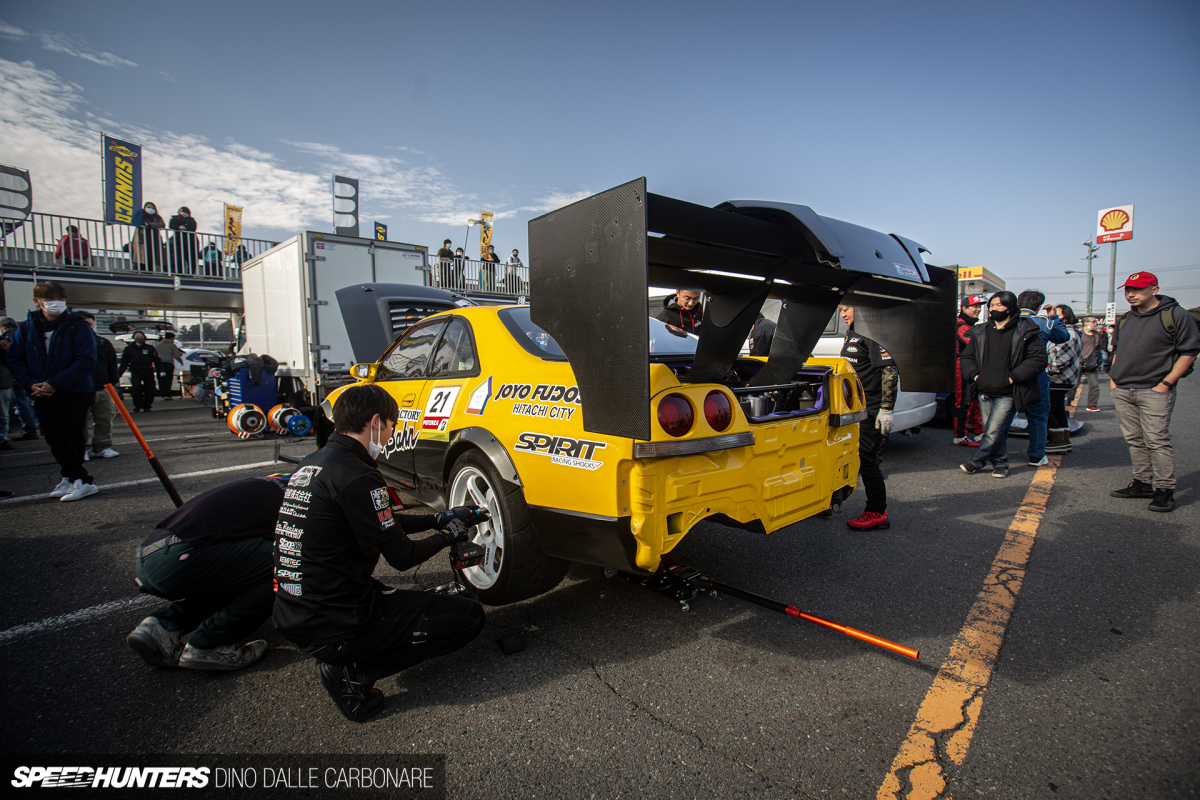 This is another car I will have to show you more of, in part because it's a GT-R – and we love GT-Rs of every generation – but also because this is the new AutoBahn time attack machine. It was built in collaboration with Bando-san, who has for now retired his all-carbon Z30 Soarer, previously one of the quickest cars in Japanese time attack. Fresh out of the box, the R33 came away with the fourth fastest lap time of the day, a 54.184.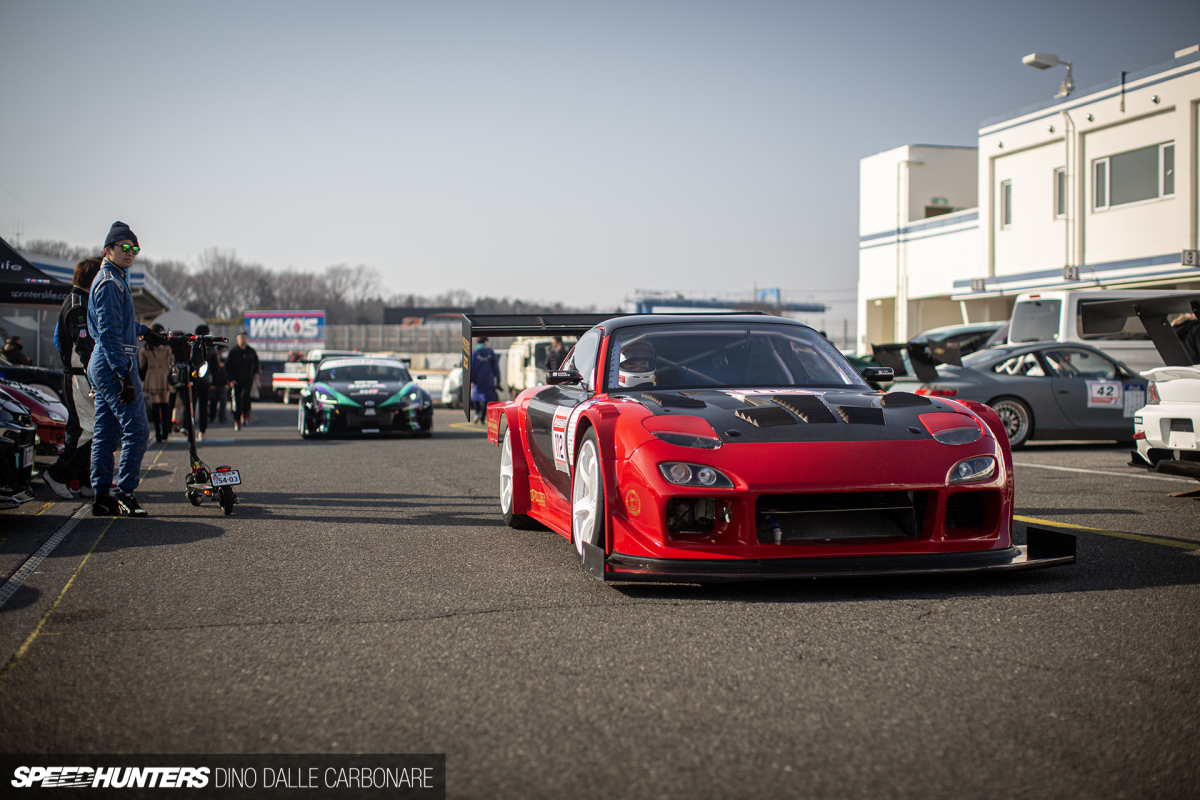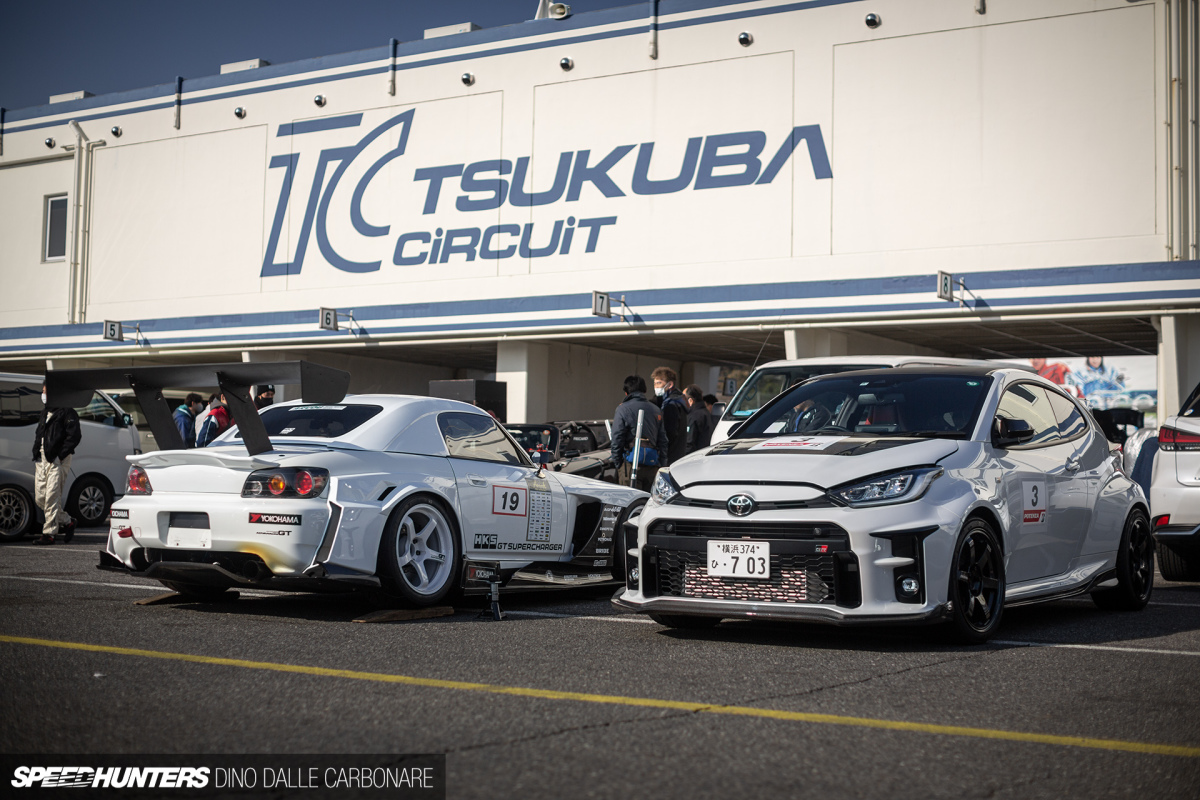 Seeing the paddock at Tsukuba so full of cars was amazing. It was a real mix of old faithfuls and new cars ready to be hunted.
I'm grouping some of my favorite cars together in a separate post, where I can share them with you in more detail. There was just so much to see and take in.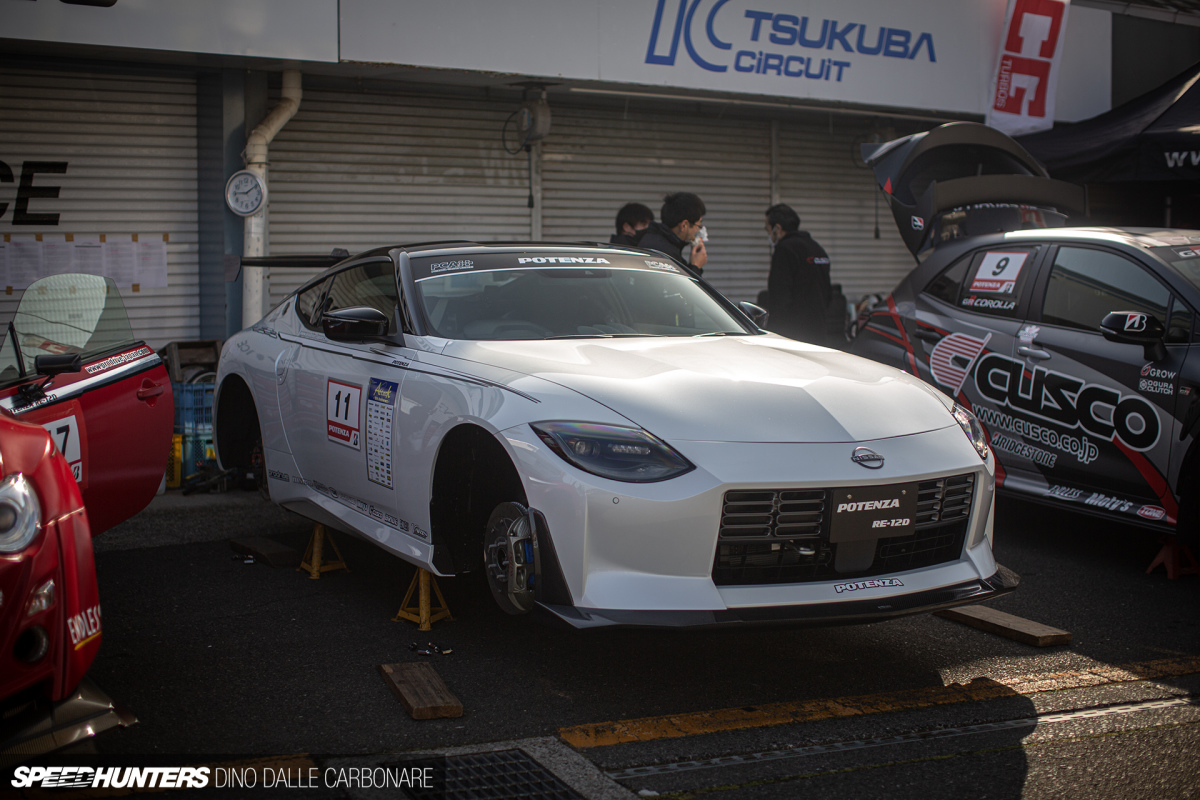 Auto Produce Boss, working in collaboration with Bridgestone, brought out their RZ34 for some hot laps. A quick look over the car revealed it to be in mostly stock form with Endless brakes, adjustable coilovers, an exhaust and some mild aero the main changes. The fact that it managed to lap Tsukuba in 1-minute flat goes to show just how capable the new Z is.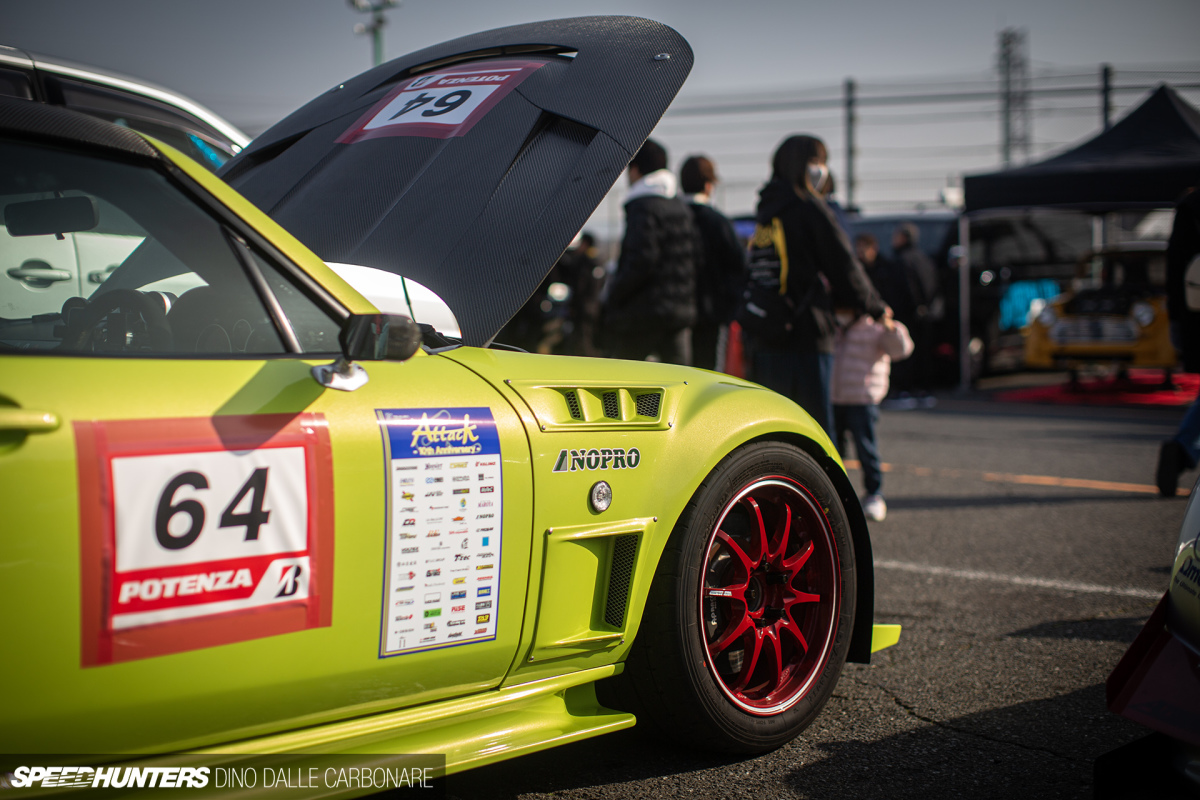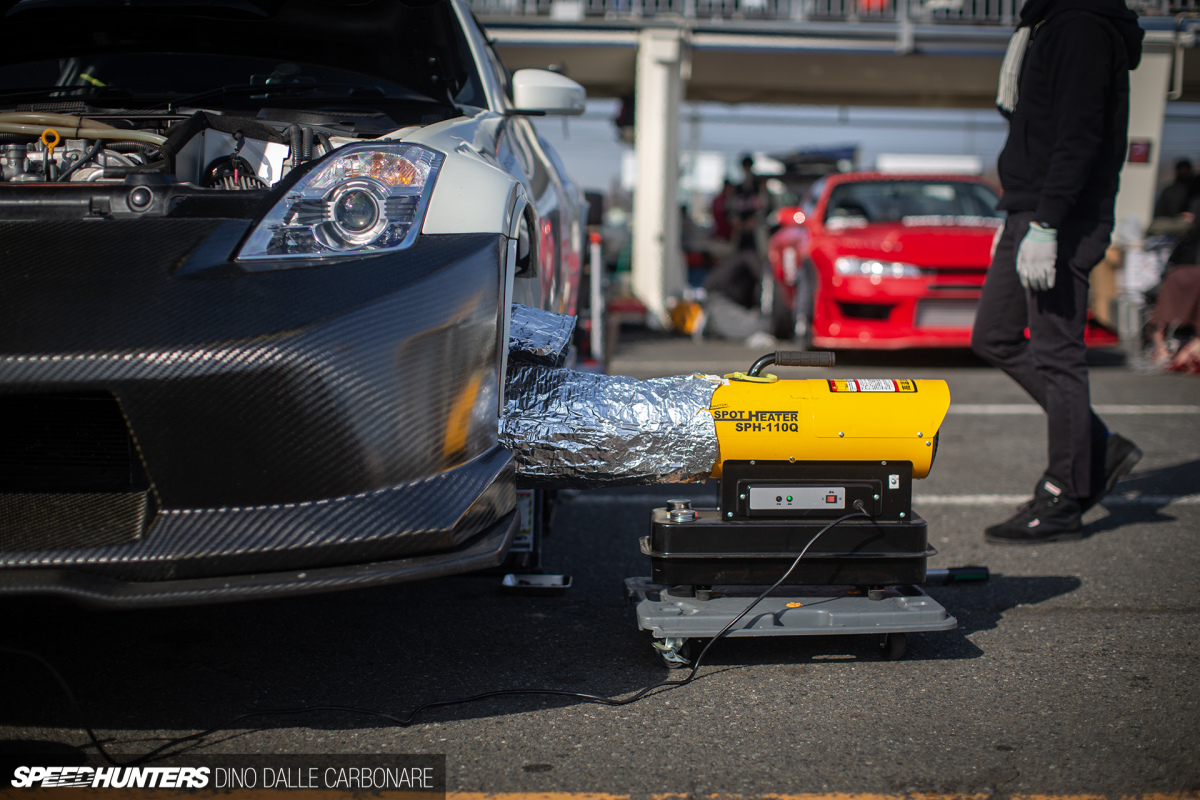 The paddock was always busy, with cars either being prepped for their next session, heading out onto the track, or arriving back having just done three or four hot laps with the 20-minute sessions. I spotted a few makeshift pits using heaters to keep brakes warm – any advantage so that the car is ready to attack right after its out lap.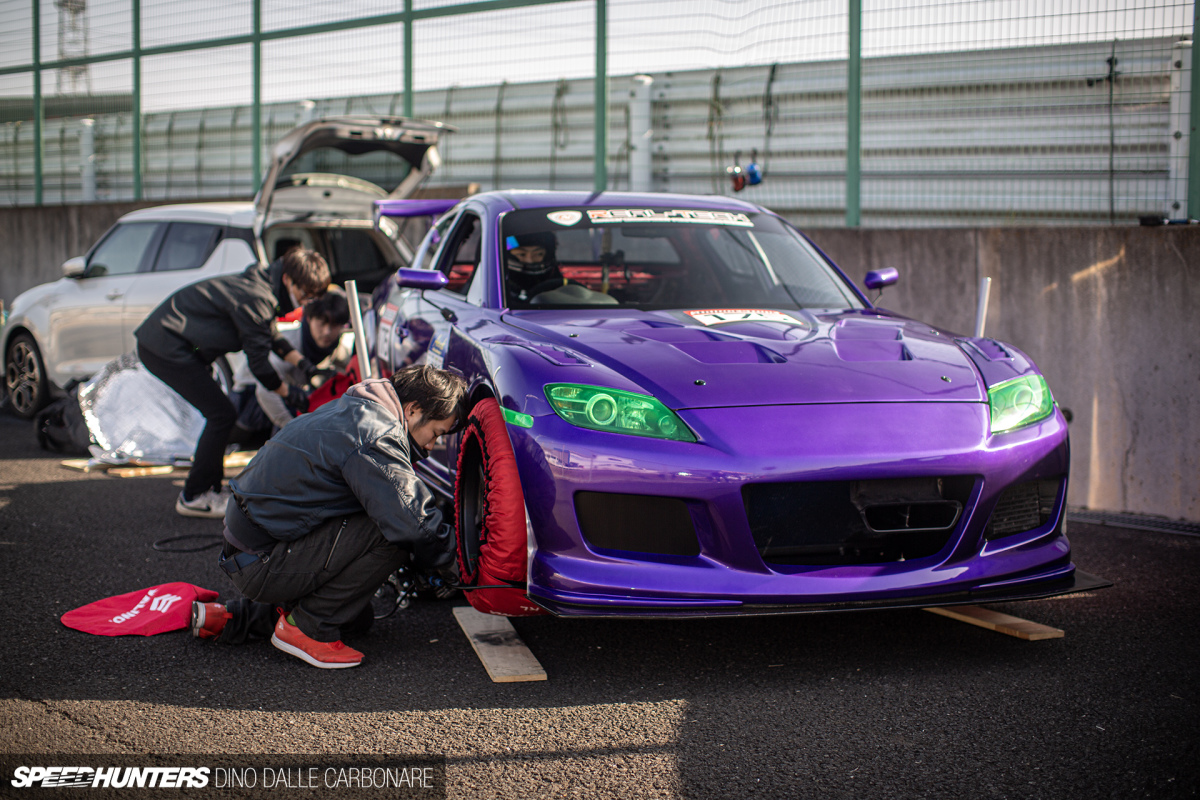 Amongst all the carbon-fiber-clad FDs that resemble GT cars more than the production car they started out as, it was nice to see a small group of RX-8s.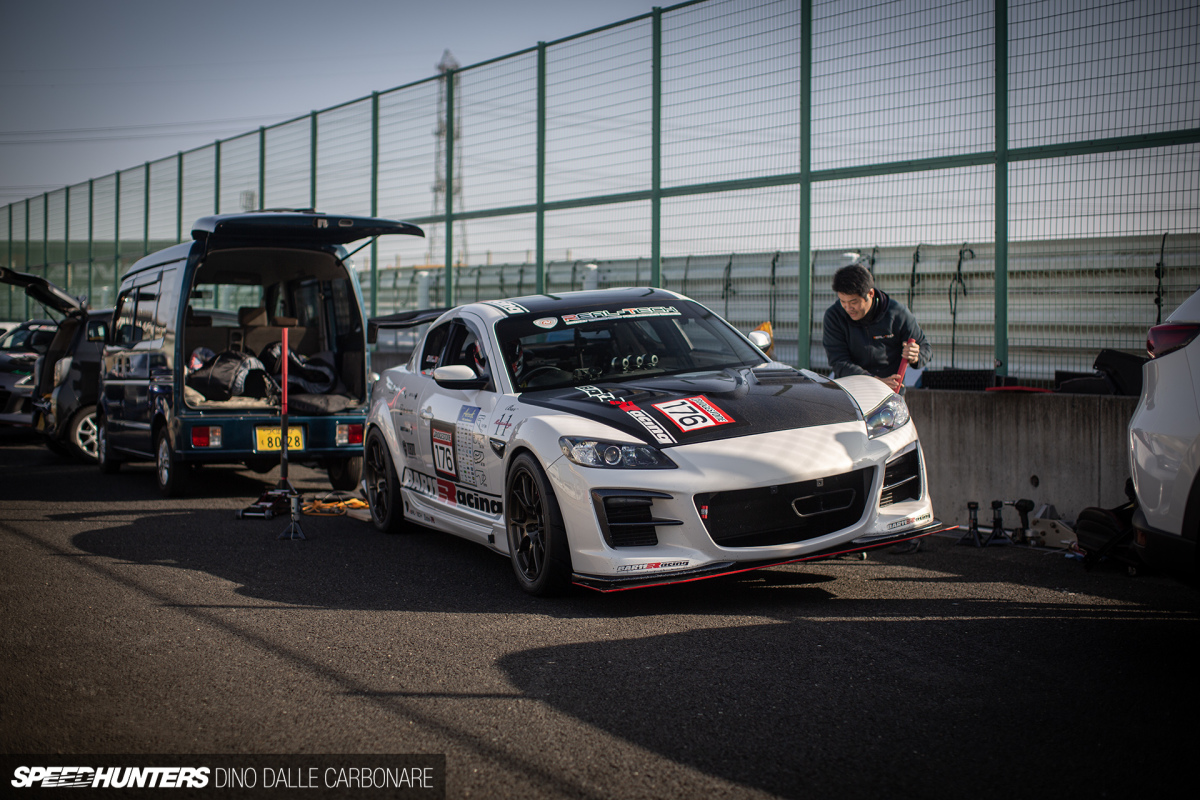 While these cars lacked big power, their almost perfect weight distribution and handling make them a great track car. They obviously respond well to a good setup, with two out of the five RX-8s lapping in the 59-second zone.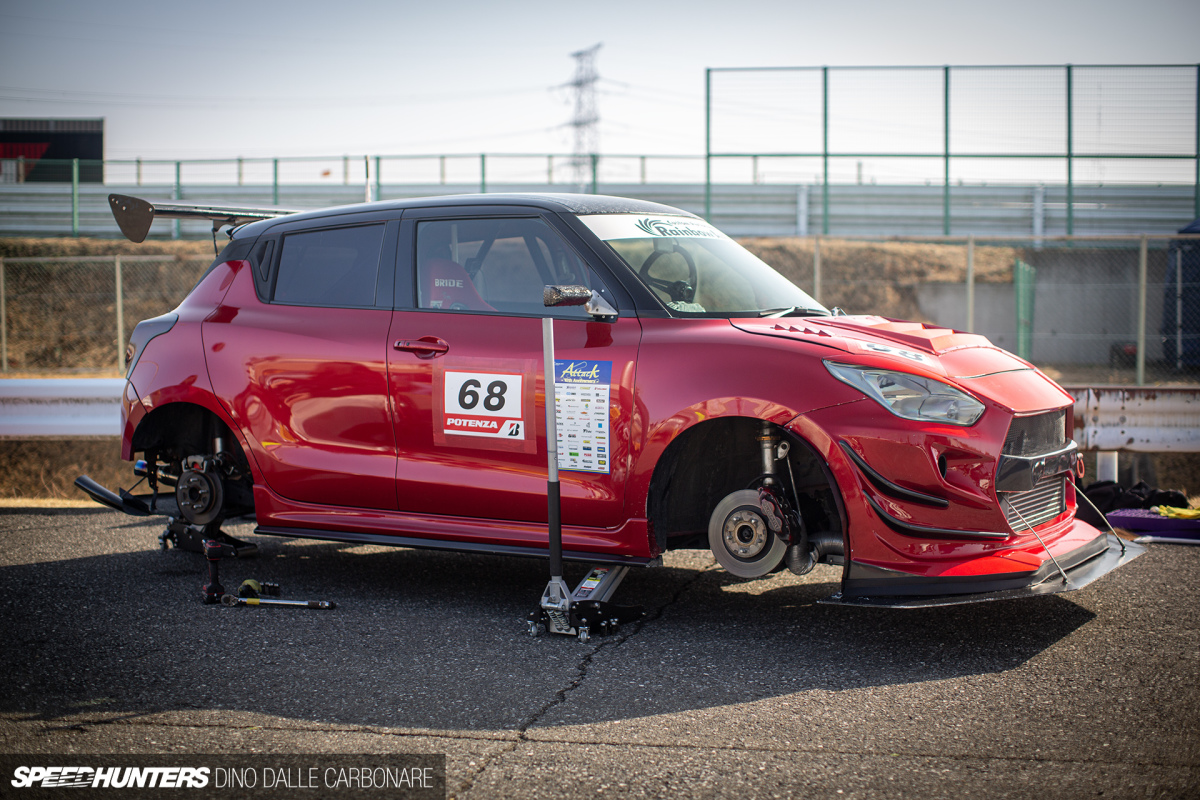 We can't forget the Suzuki Swift either, which continues to be a popular entry-level time attack car. This one, built by Rainbow Auto (the Jimny specialist that I'll have a separate post on), really looked the part with all sorts of aero touches. 1″03.174 was its best time on the day.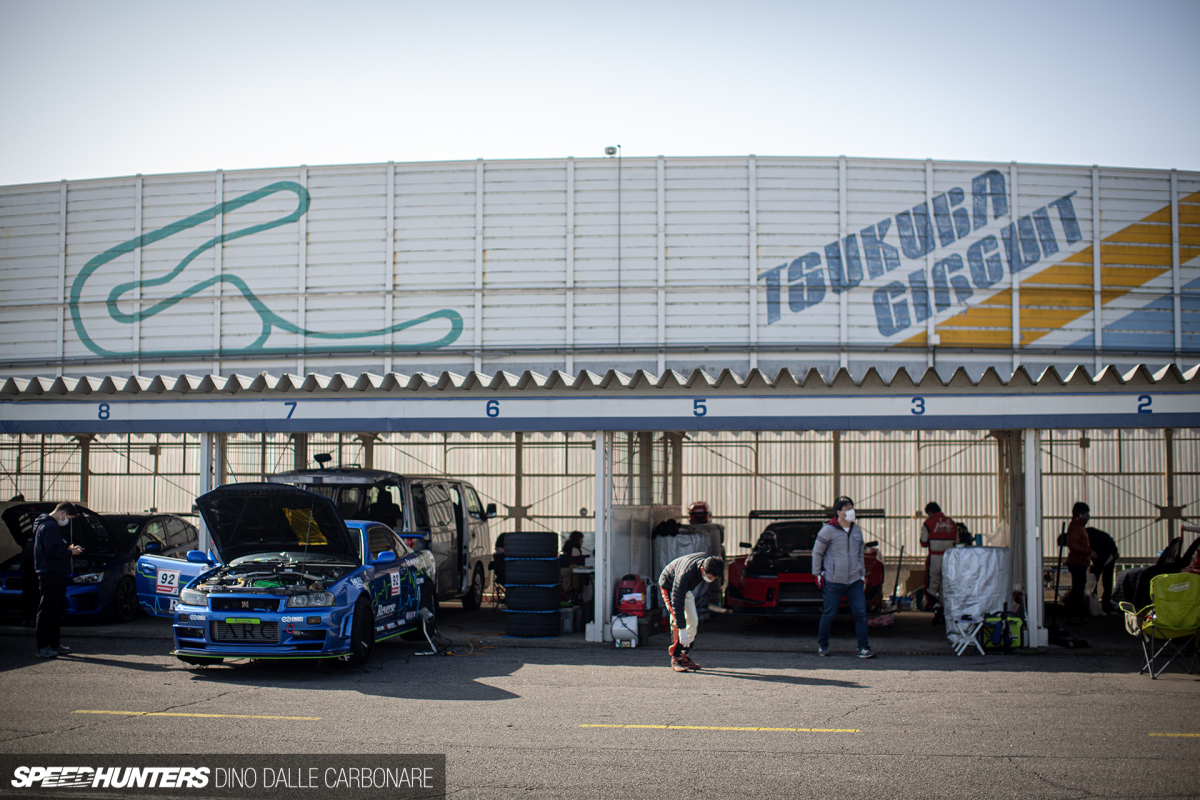 The cars spilled out into the auxiliary pits right outside the entrance of the circuit. Above you can see how they are positioned underneath the barriers on the outside of Turn 1.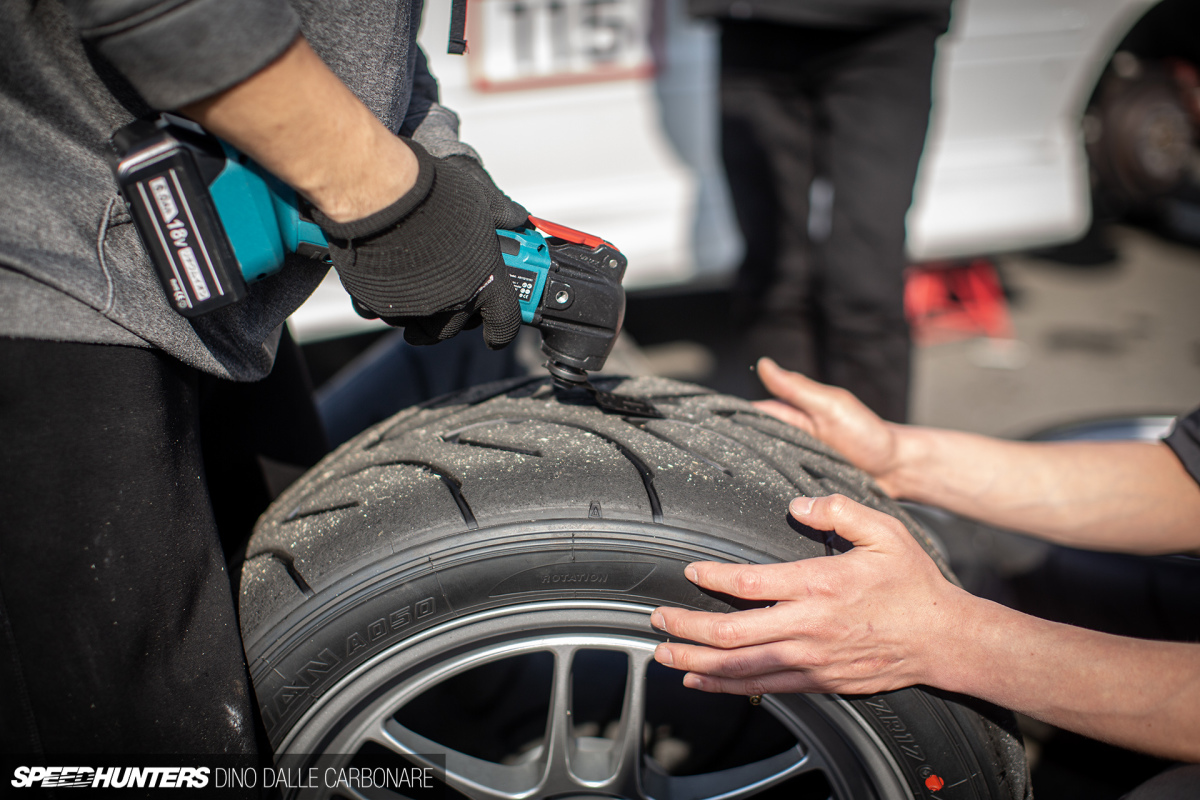 A big part of time attack is the tires, in particular selecting the right type, compound, sizing and ensuring they are kept warm prior to each outing. Shaving away the worn rubber that tends to bead along the tread is also important, allowing the tires to be useable right from the get-go.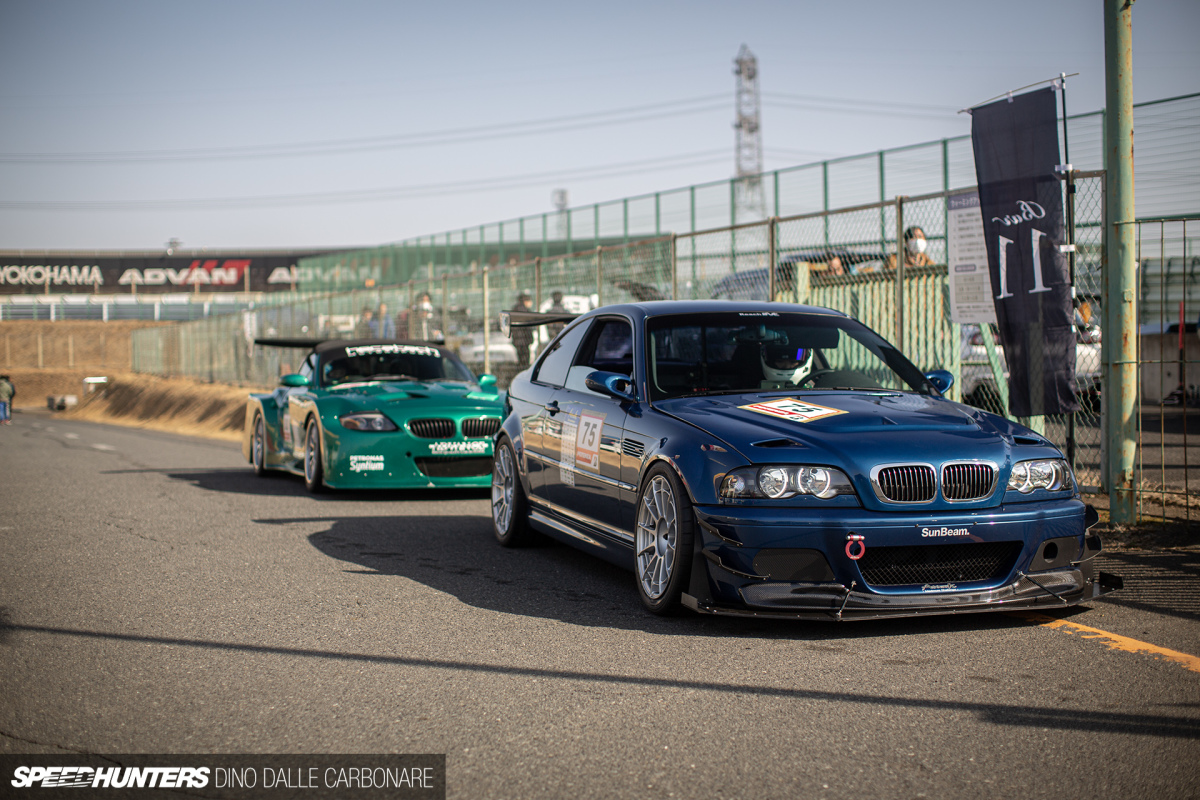 If there's one thing I love about Japan, it's the way JDM touches are applied to Euro cars like this BMW E46, which looked so functional sitting on a set of Enkei wheels. SunBeam in Tokyo is master when it comes to this!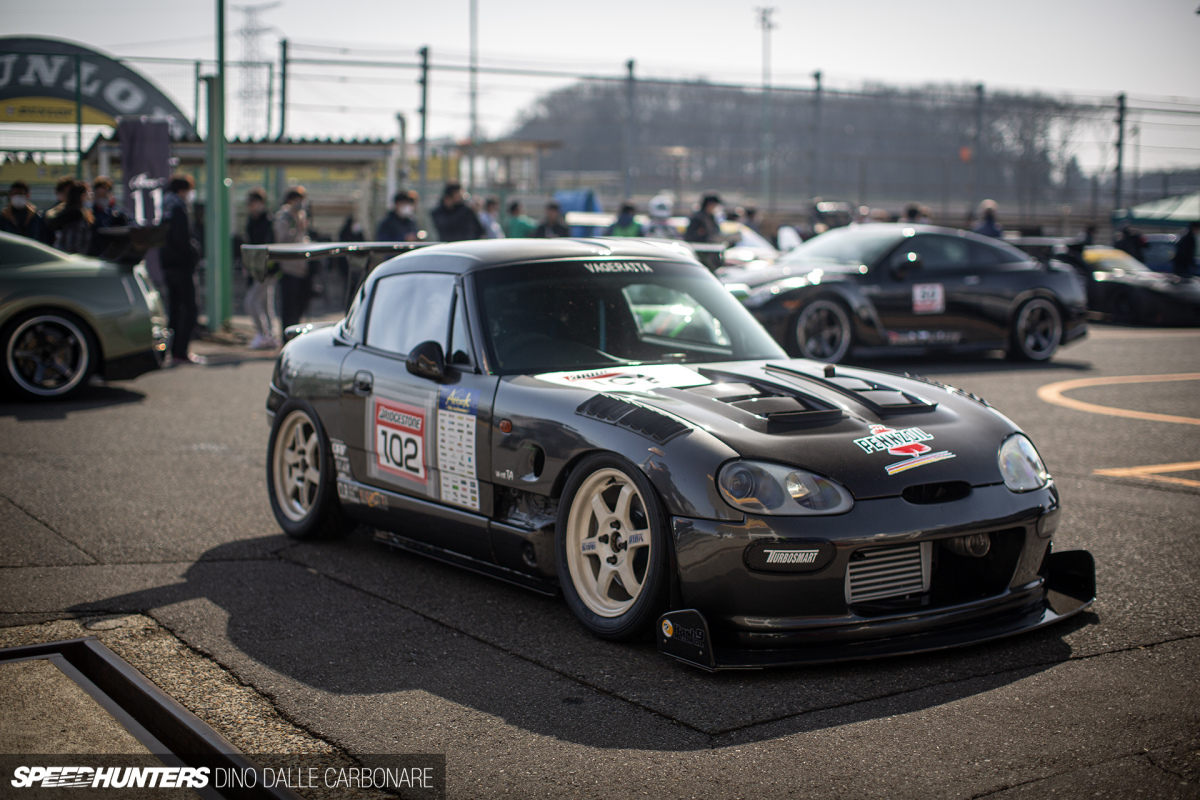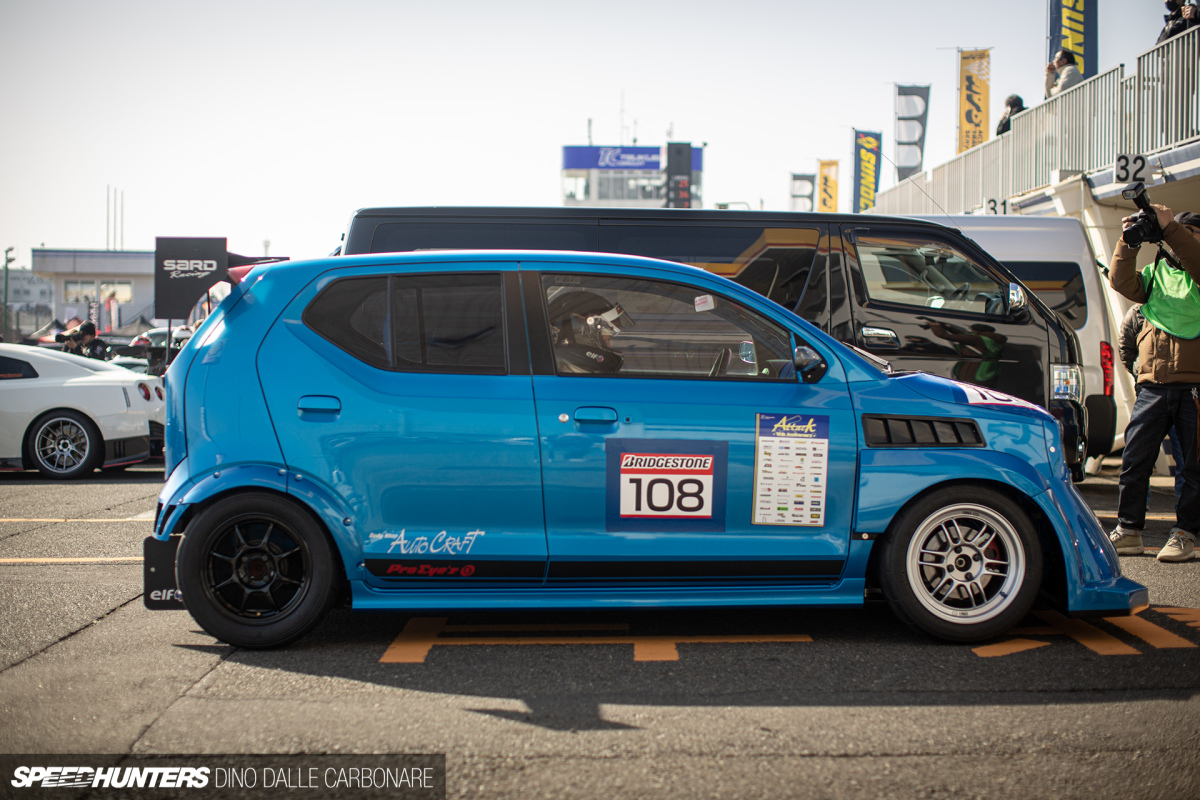 Kei cars are as much a part of Attack as 800hp aero monsters, and are a reminder that it's not the type of car you drive that's important, but what you do with it.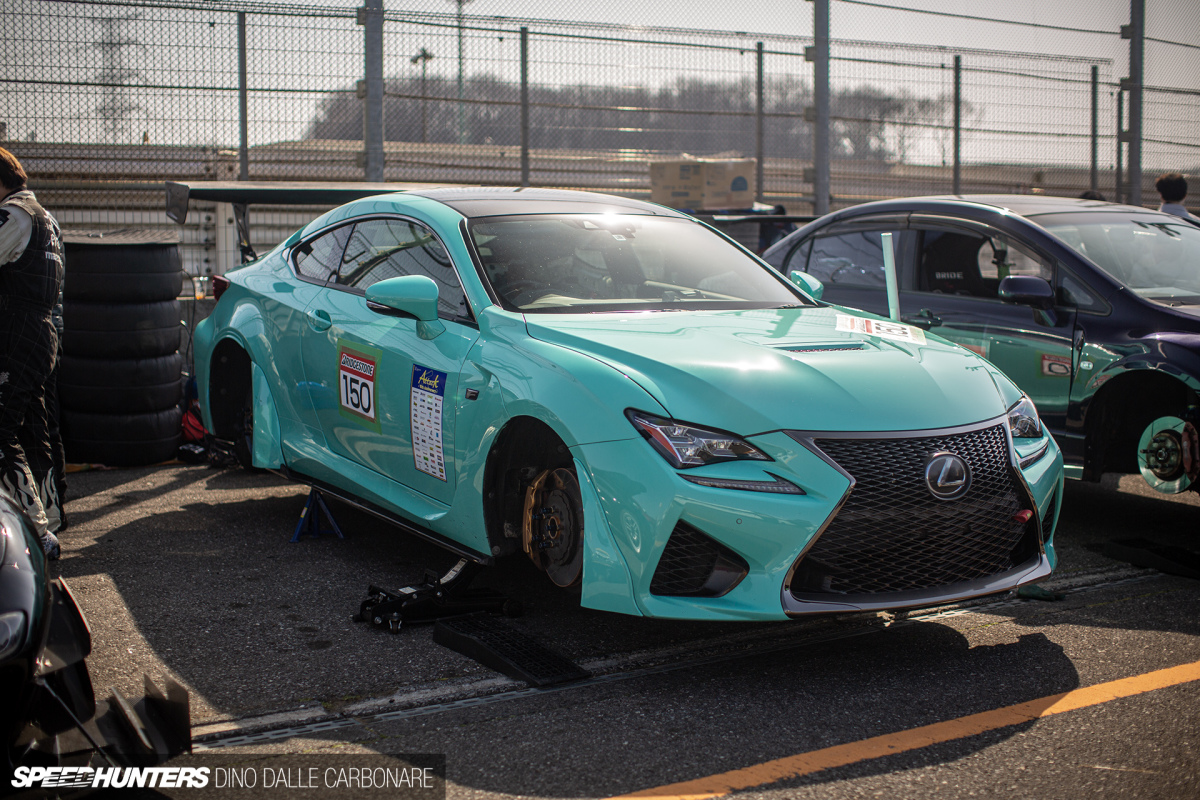 It's also precisely why there's so much variety at Attack – big and small, cheap and expensive, extremely powerful and no power at all.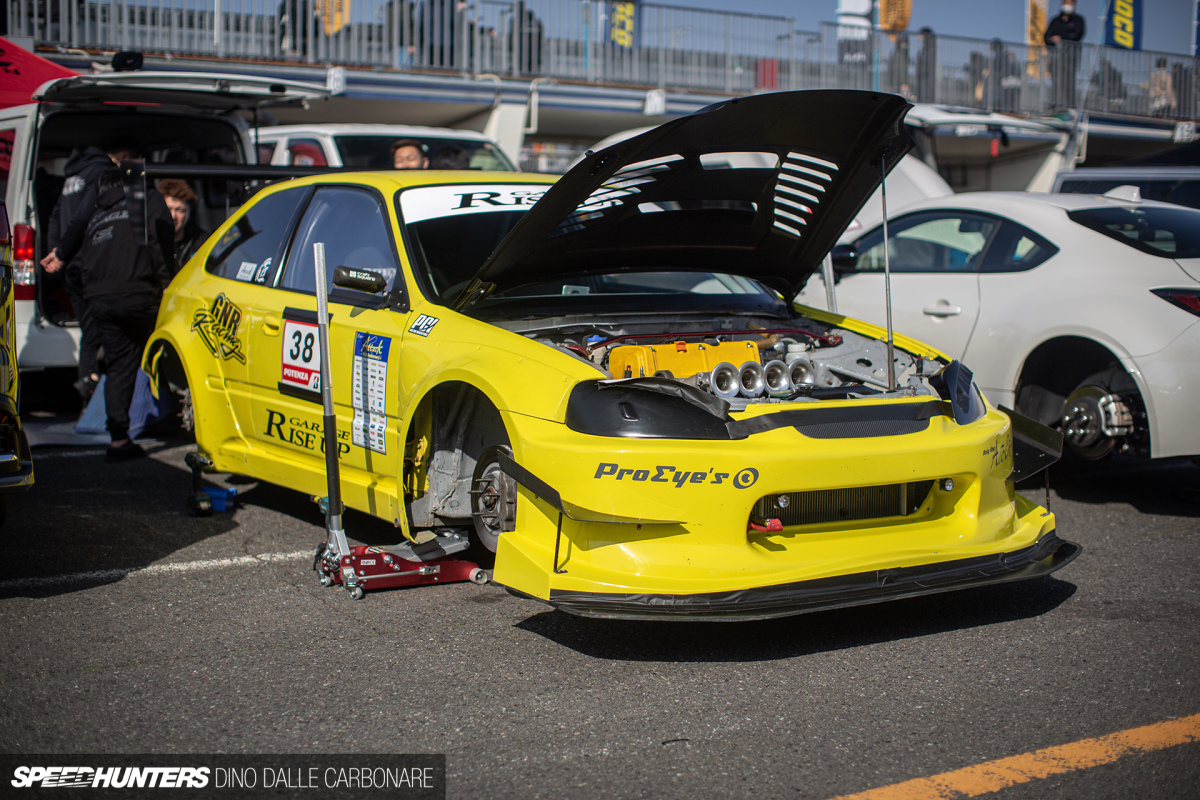 The FF class at Attack has always been high profile, as it's home to the fastest Civics in Japan. One of them is the naturally aspirated Rise Up EK9, which ran a 58.4-second lap to finish 42nd overall.
But it was another EK9 that surprised everyone during Friday practice, and I'll touch on that car in a separate post.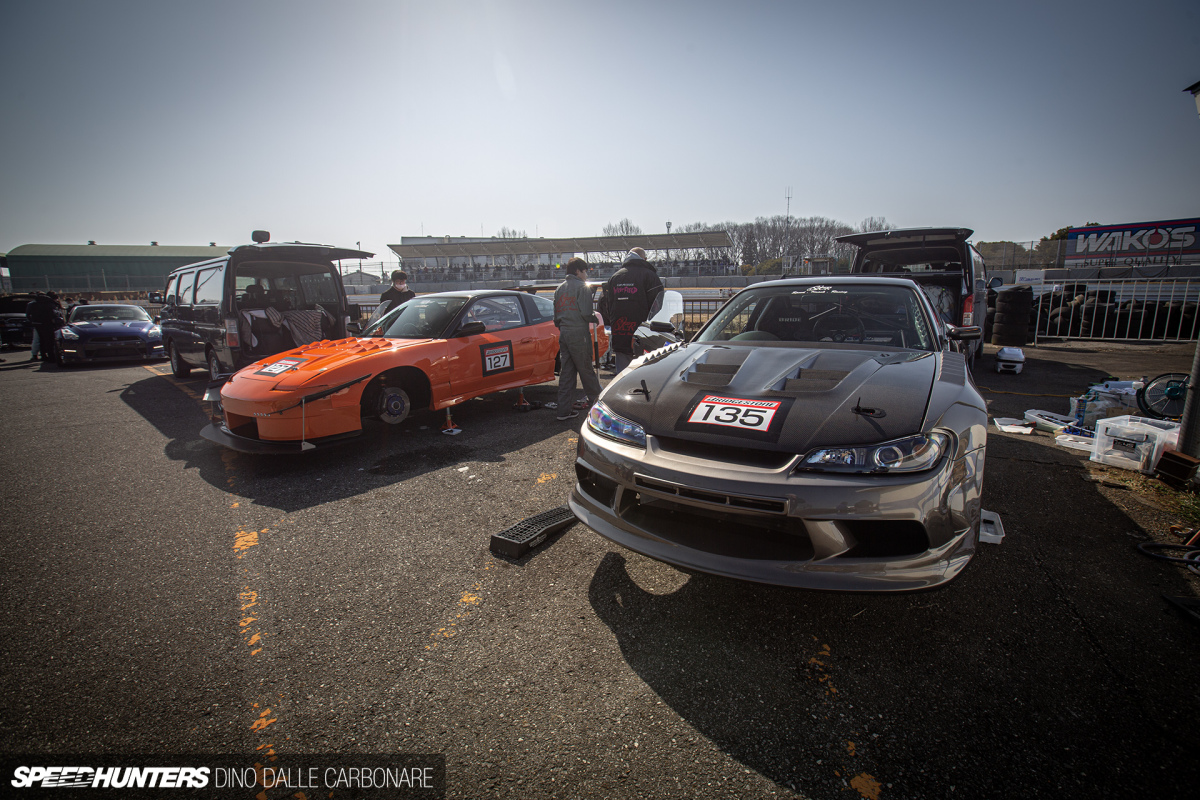 From outside the circuit entrance and right down the access road that runs along the center of the Tsukuba layout, cars consumed every possible bit of space.
It's where I spotted this Honda CR-X from Usui Jidousha, which looked like it would be equally at home on show at Wekfest Japan. Just look at that engine bay! Mark shot the bright yellow EF8 while he was in Japan last month, so stay tuned for a full feature on this fresh build soon.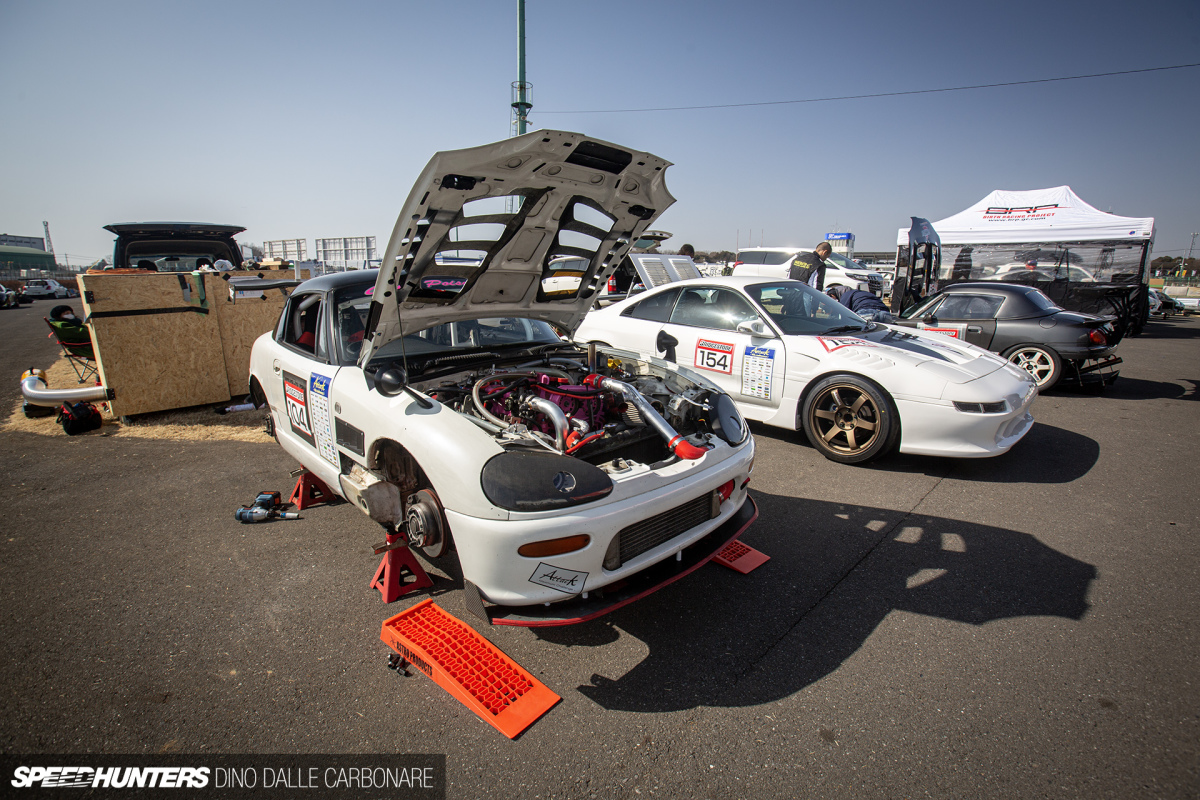 When I made it all the way to the far paddock, I was surprised to find more competing cars.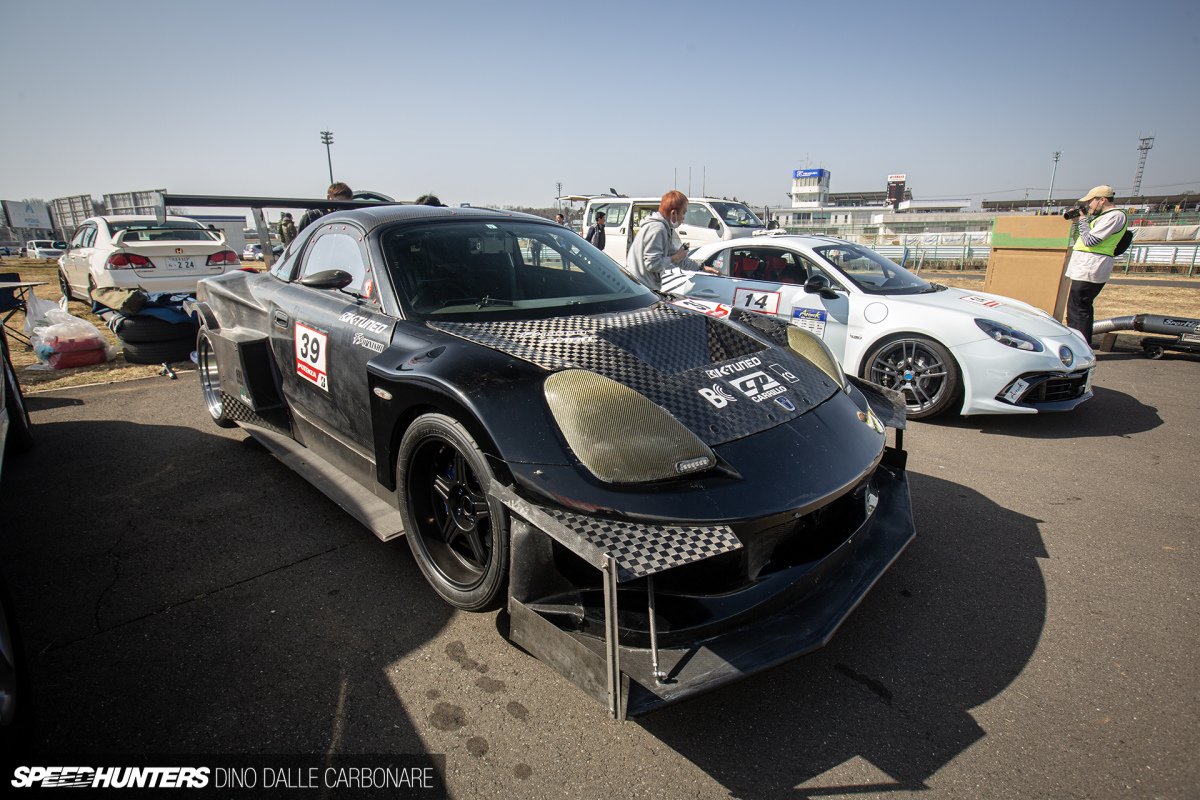 Including this wide-body Toyota MR-S, running a Honda K-swap, which was lapping in 1-minute flat all day long.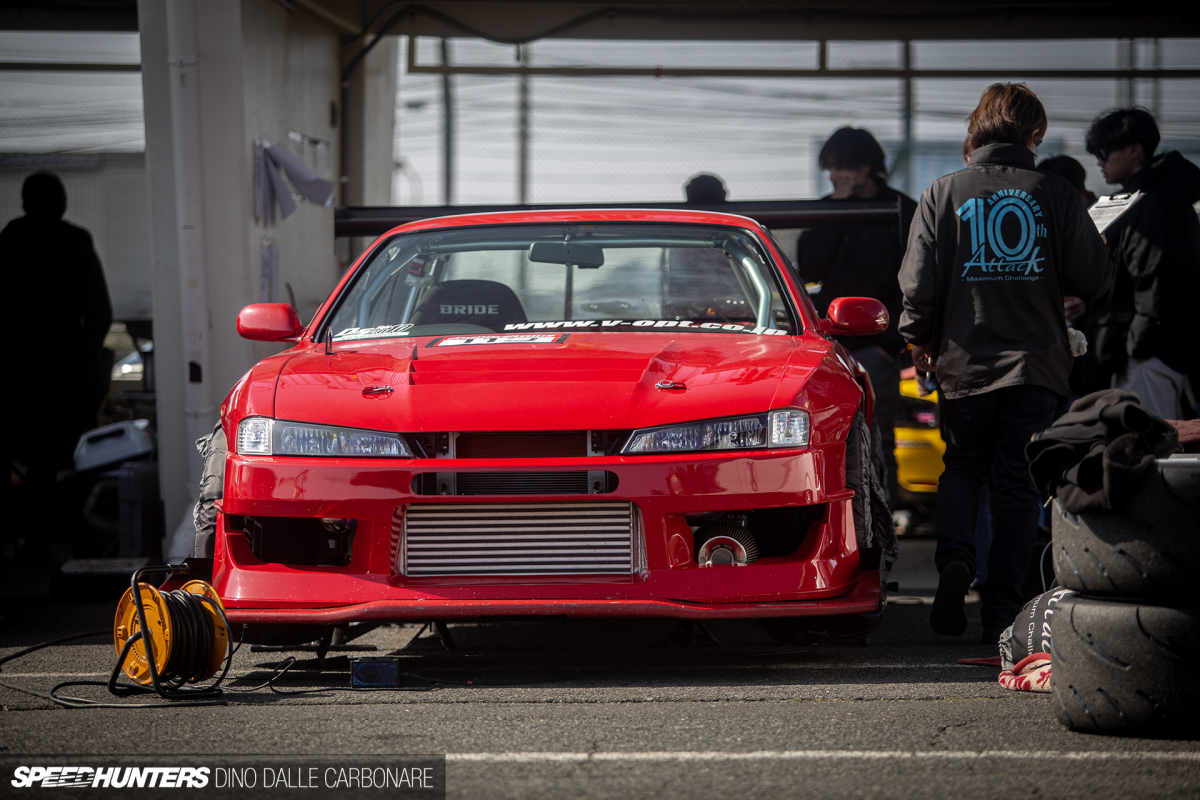 The best thing of the day, however, was the impression Attack Tsukuba 2023 left on me. Seeing more competing cars than ever at Tsukuba for any event was reassurance that car culture – at least on the time attack side of things – is not just alive and well in Japan, it's absolutely thriving.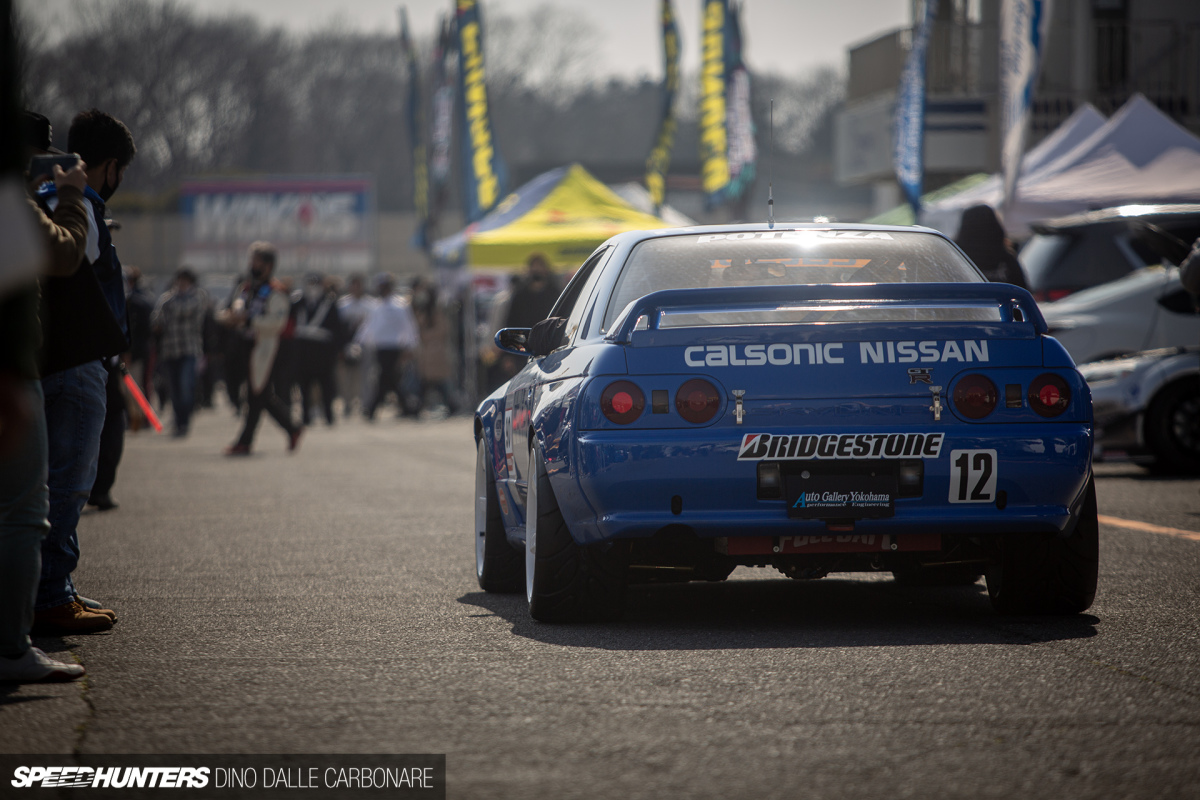 I've got a whole lot more coming from Attack, so make sure you check back soon. You don't want to miss those Jimnys!
Dino Dalle Carbonare
Instagram: dino_dalle_carbonare
dino@speedhunters.com