Just as someone who enjoys racing, this was a great opportunity to witness some skilled driving.
BHPian Omkar recently shared this with other enthusiasts.
The last Formula 1 race in India was held in 2013! We've had to wait almost a decade to watch international-level racing live in our country. Not Formula 1, but this year fans finally got to see some wheel-to-wheel Formula E racing on the streets of Hyderabad.
Yes, most of us are Formula 1 fans here, but let's not get into the discussion about which one's better. Just as someone who enjoys racing, this was a great opportunity to witness some skilled driving. And in all honesty, I didn't go into the race weekend with a lot of hopes but was glad to witness an exciting race.
If you want to know about Formula E, you can visit their official website for more info. We're now in season 9 of the Formula E World Championship and the Hyderabad e-Prix was Round 4 of 16. The grid consists of 11 teams and 22 drivers. Indian fans were primarily cheering two teams – 1. Mahindra Racing with drivers Lucas Di Grassi (number 11 car) & Oliver Rowland (number 8 car). 2. Jaguar TCS Racing with drivers Sam Bird (number 10 car) & Mitch Evans (number 9 car).
This year also marked the introduction of Gen 3 cars that produce 469 BHP and can do 320 km/h. The cars can regenerate 600 kWh of energy which is 6 times that of the Gen 1 car. These Gen 3 cars also look simpler and sleeker than the previous generation cars.
The Hyderabad E-Prix Street Circuit was located on the banks of the artificial Hussain Sagar Lake. The 2.835 km long circuit consists of 18 turns:
VIP parking lots were full of exotics: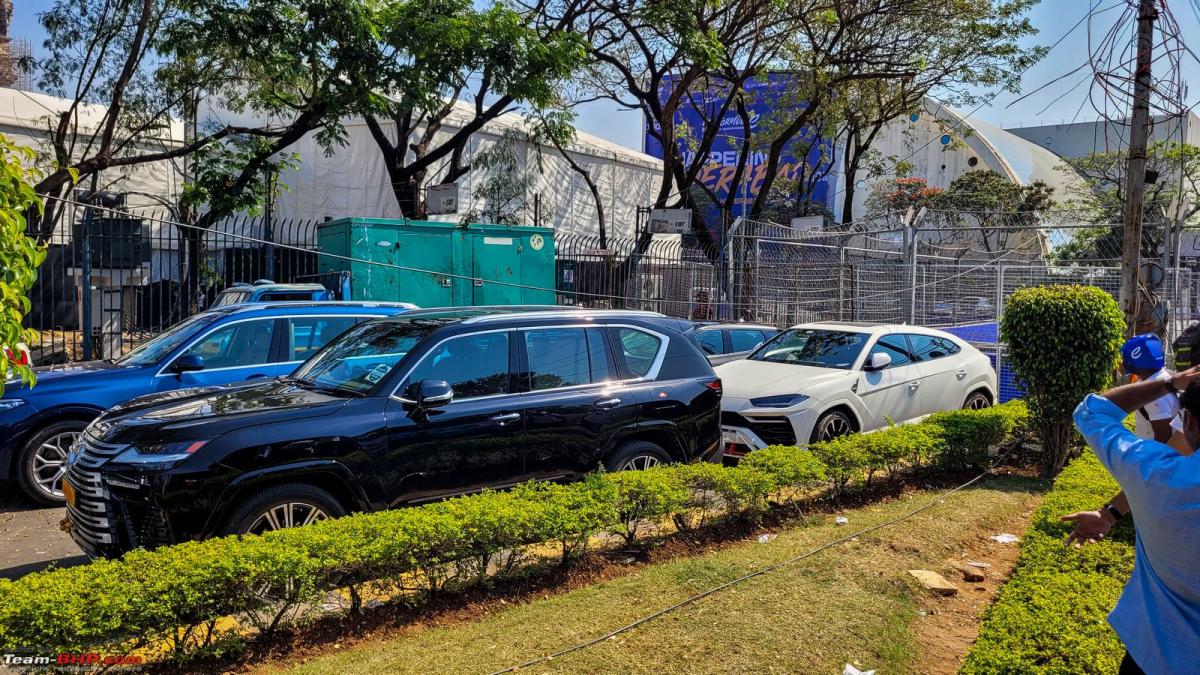 There were multiple gates and points of entry to the circuit: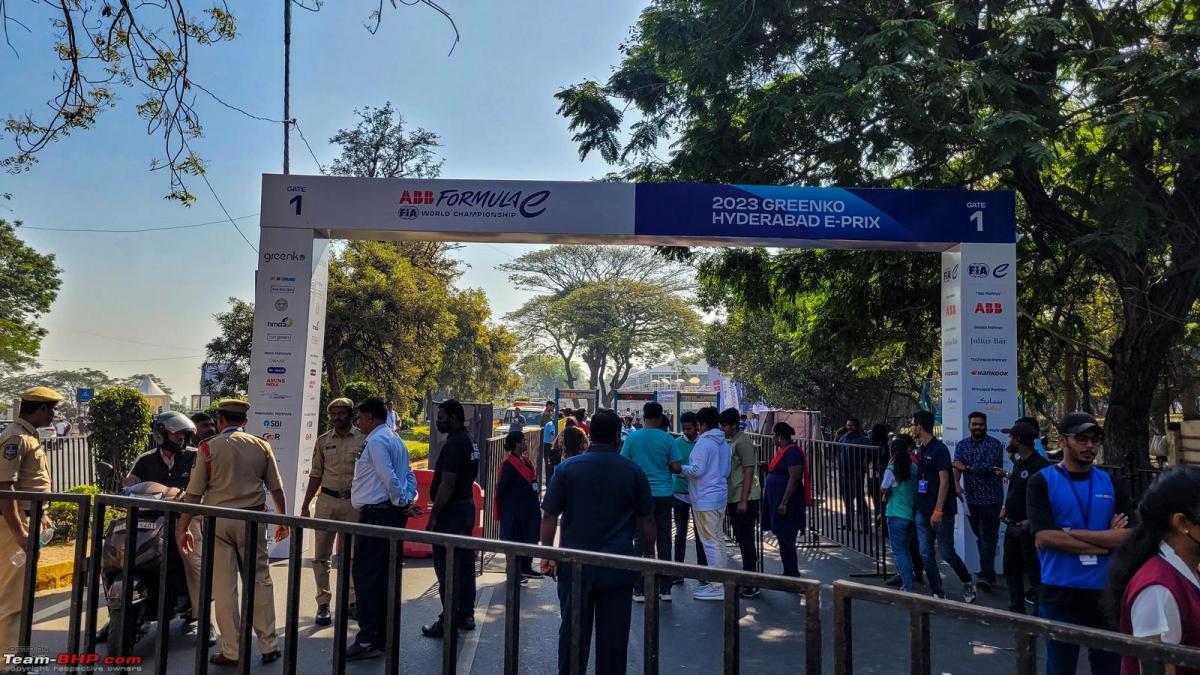 Further security at the grandstand entry: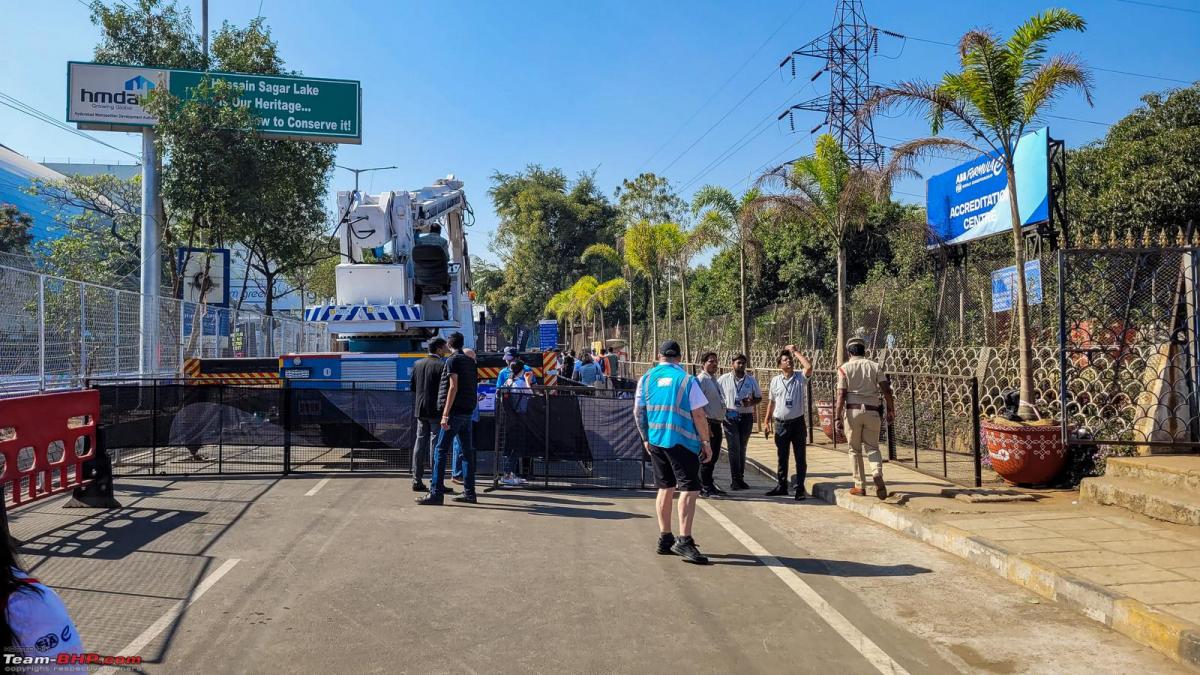 For media passes you needed to get accreditation done online from FIA before the race. After approval, you would have to collect the badges from this booth. Unfortunately, by the time I applied for the accreditation, FIA had already closed the entries for the Hyderabad e-Prix. So, I got to view the race like everyone else, in the grandstand:
The grandstands were big enough to accommodate the Indian crowd. However, in the scorching 35-degree heat of Hyderabad, these open grandstands were pure punishment:
This was the turn 16-17 chicane:
That white line was where the finish line was after turn 18: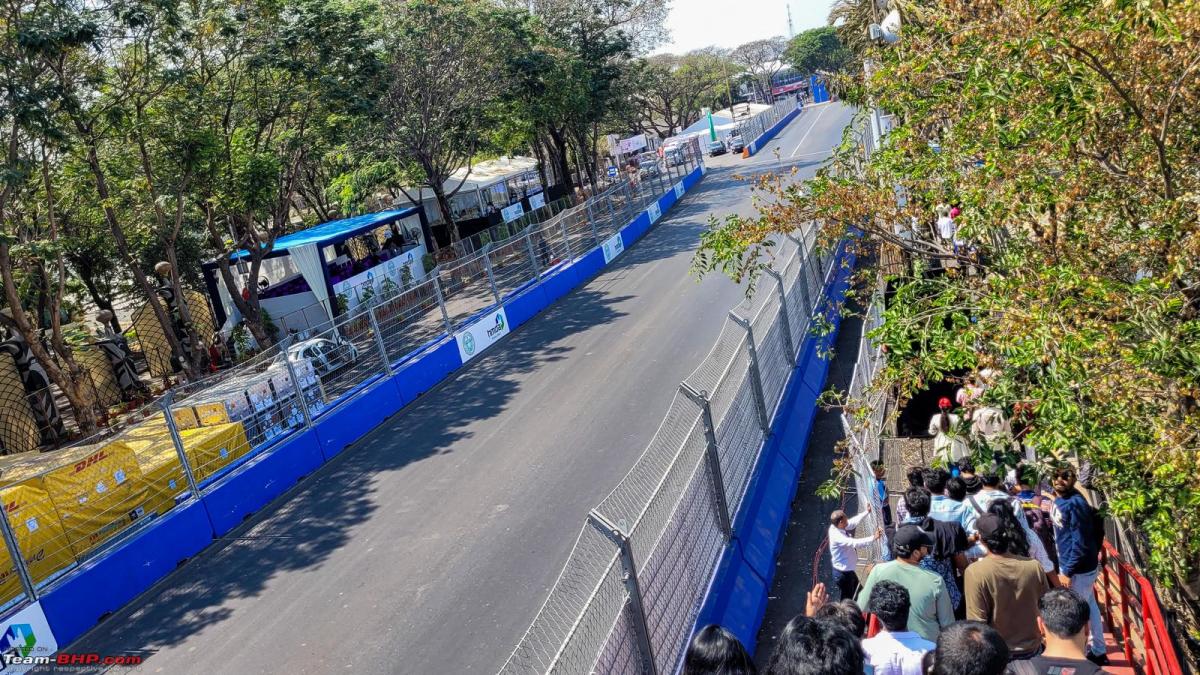 That's the first braking zone leading to turn 1:
I got to watch the qualifying from grandstand 14. Double fences meant that clicking pictures of fast cars was going to be very difficult. That's Pascal Wehrlein who's won rounds 2 and 3 in Diriyah and leads the championship for the Tag Heuer Porsche team:
One of the crowd favorites, Sam Bird in his number 10 Jaguar TCS car:
Andre Lotterer in the Avalanche Andretti car:
Maserati MSG Racing had one of the best-looking cars on the grid IMO. Maximilian Gunther driving this one: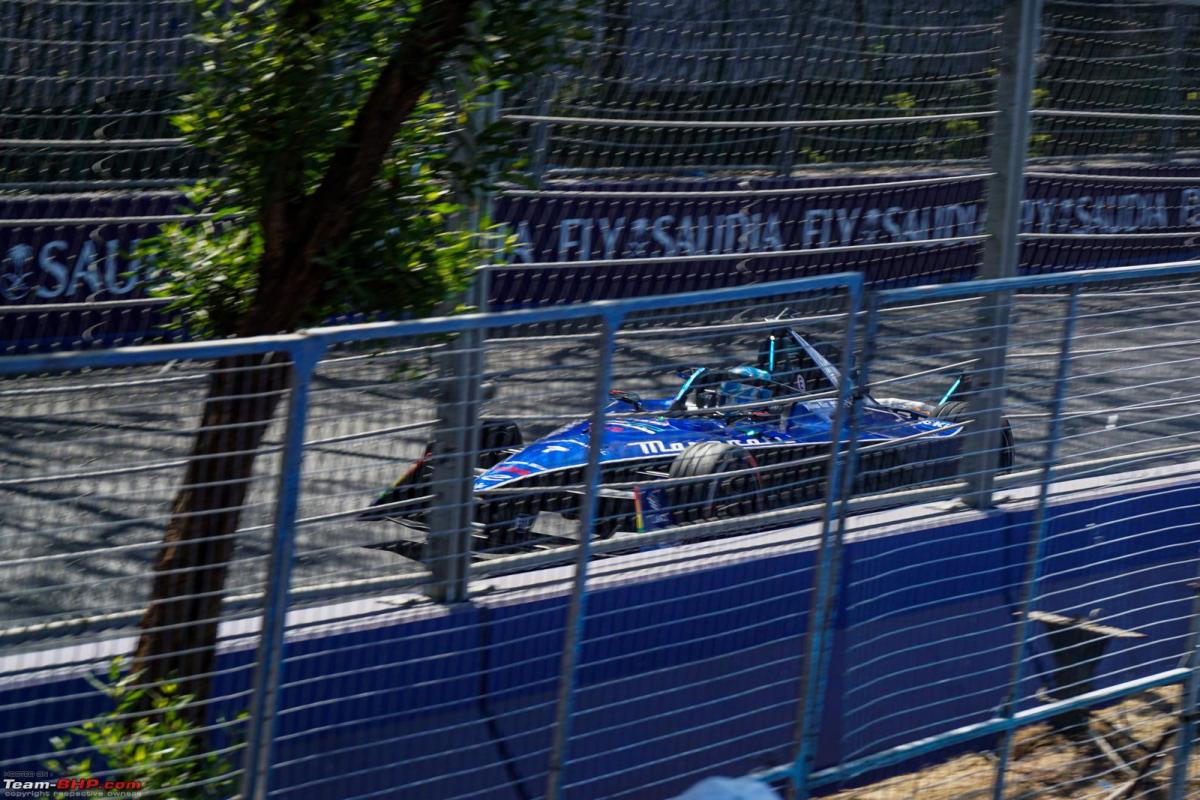 Nio 333 Racing has participated in the Formula E world championship since its inaugural season in 2014. In the seat of this one was British driver Dan Ticktum:
DS Penske team's car with Jean-Eric Vergne in the driver's seat. He qualified in 2nd position:
The Neom McLaren Formula E race car looks very similar to the Formula 1 McLaren car in papaya orange. Rene Rast behind the wheel of this one: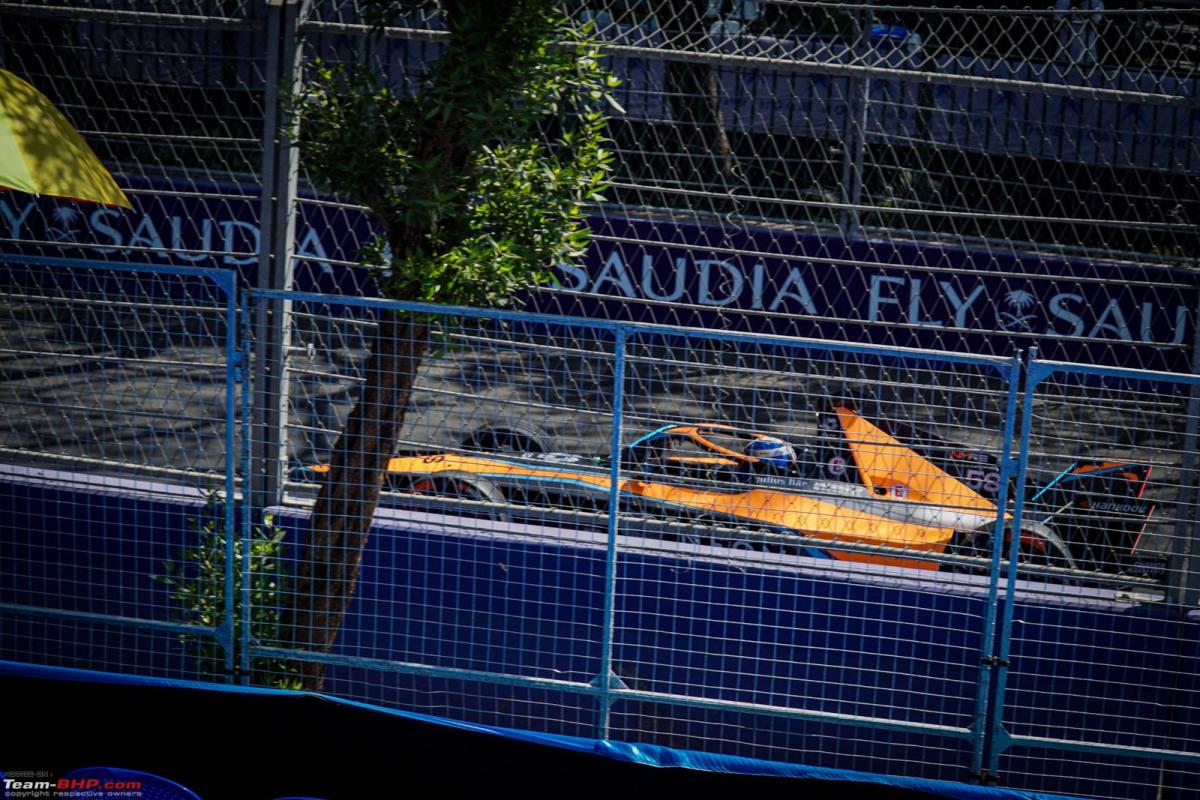 Marshalls getting some much-needed rest before the race: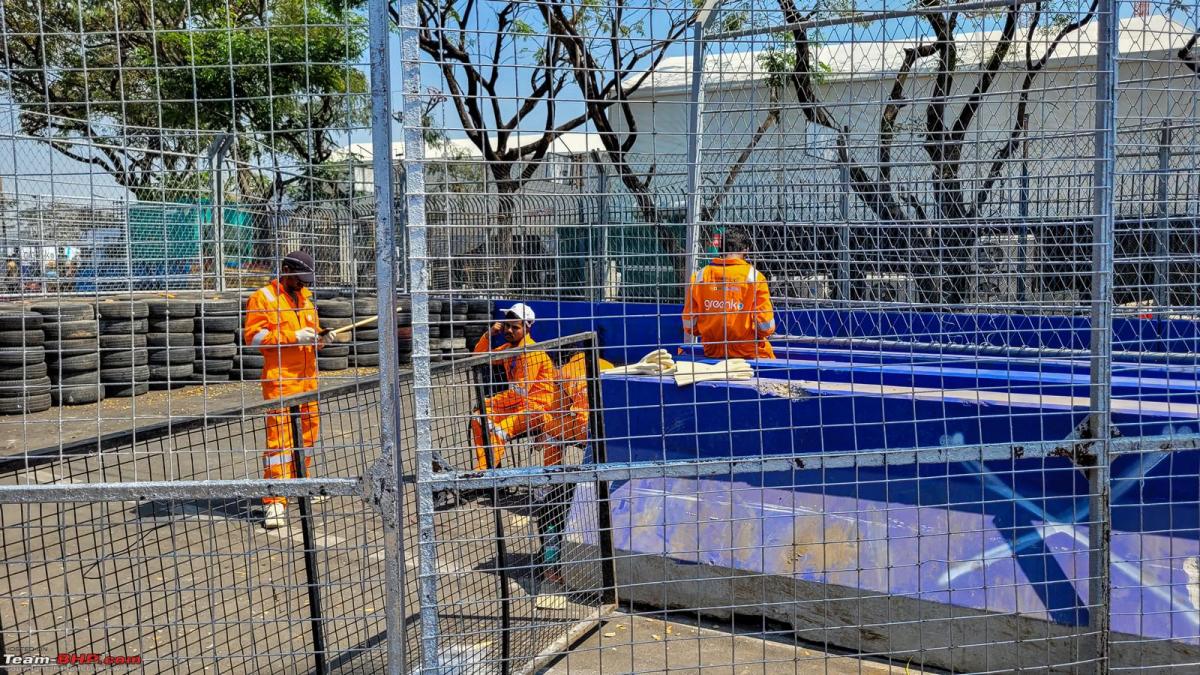 Continue reading Omkar's experience for BHPian comments, insights and more information.