Roni Collin from Porvoo, Finland is a Speedhunters regular. Over the years we've featured Roni's events at his SpeedHooked facility, as well as his cars, the most recent being his lifted Porsche Cayenne.
He's a man of good taste, a clear statement I can stand behind after seeing Roni's garage and the fact that his office is right in the middle of it. Roni deals with day-to-day business from here, managing the development of the SpeedHooked brand as well as his other business endeavors.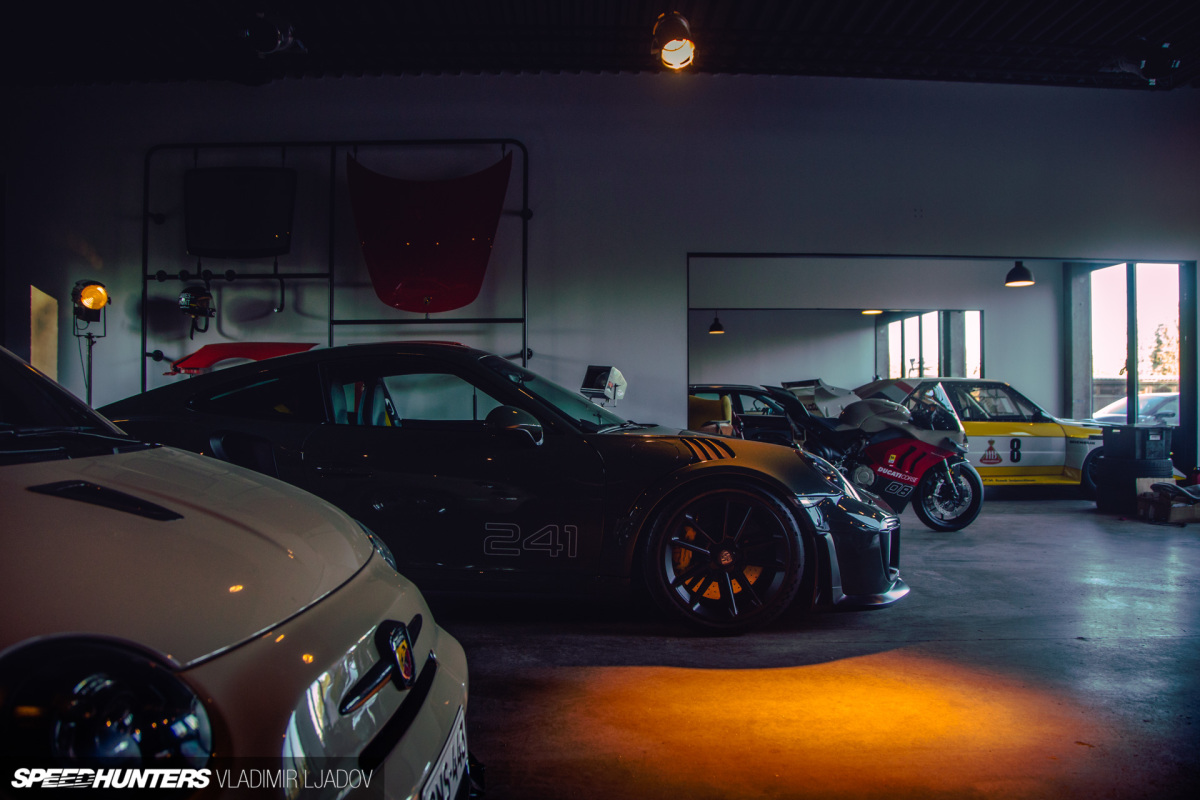 He's surrounded by cars, most notably his Audi Quattro S1 E2 replica, a pair of black olive Porsches, and a red and mocca-beige Ducati Panigale V4. On my most recent visit though, a little Fiat Abarth 595 Competizione piqued my interest.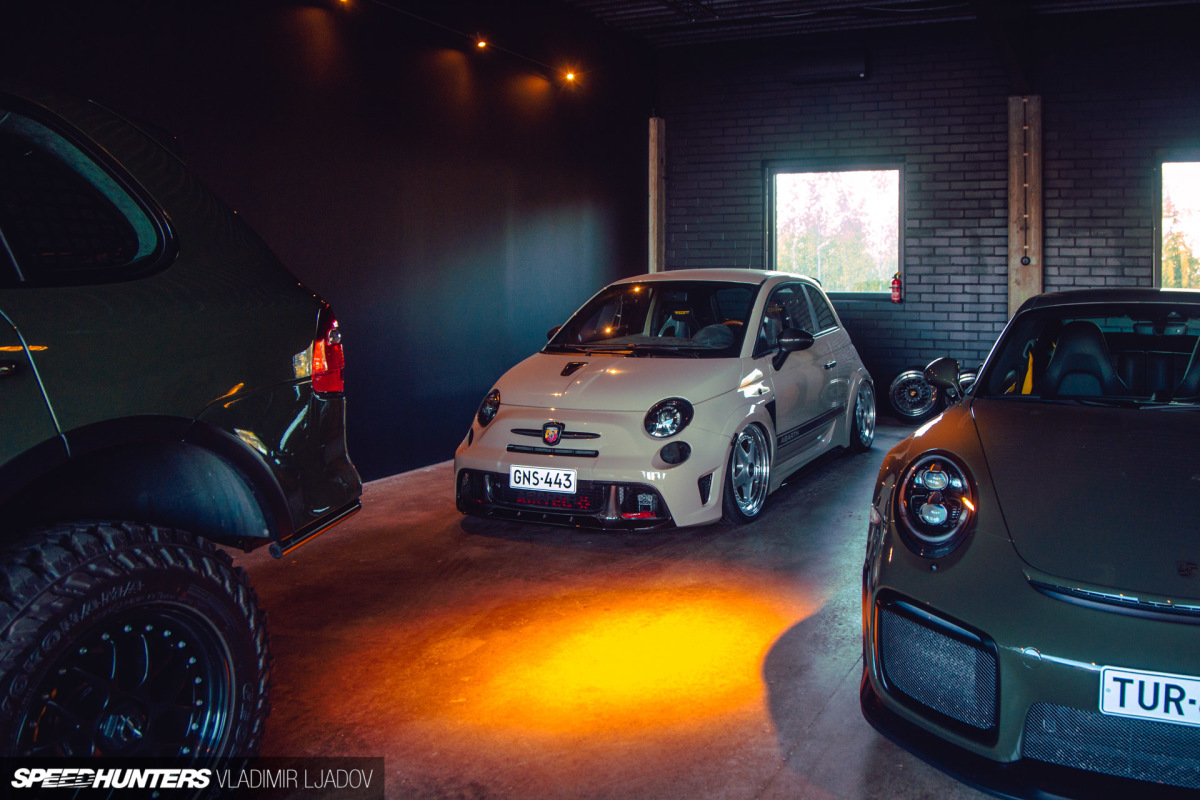 Roni calls it his 'Abarth café racer', and for good reason. If you know what a café racer-style motorcycle is all about, you might see some similarities here.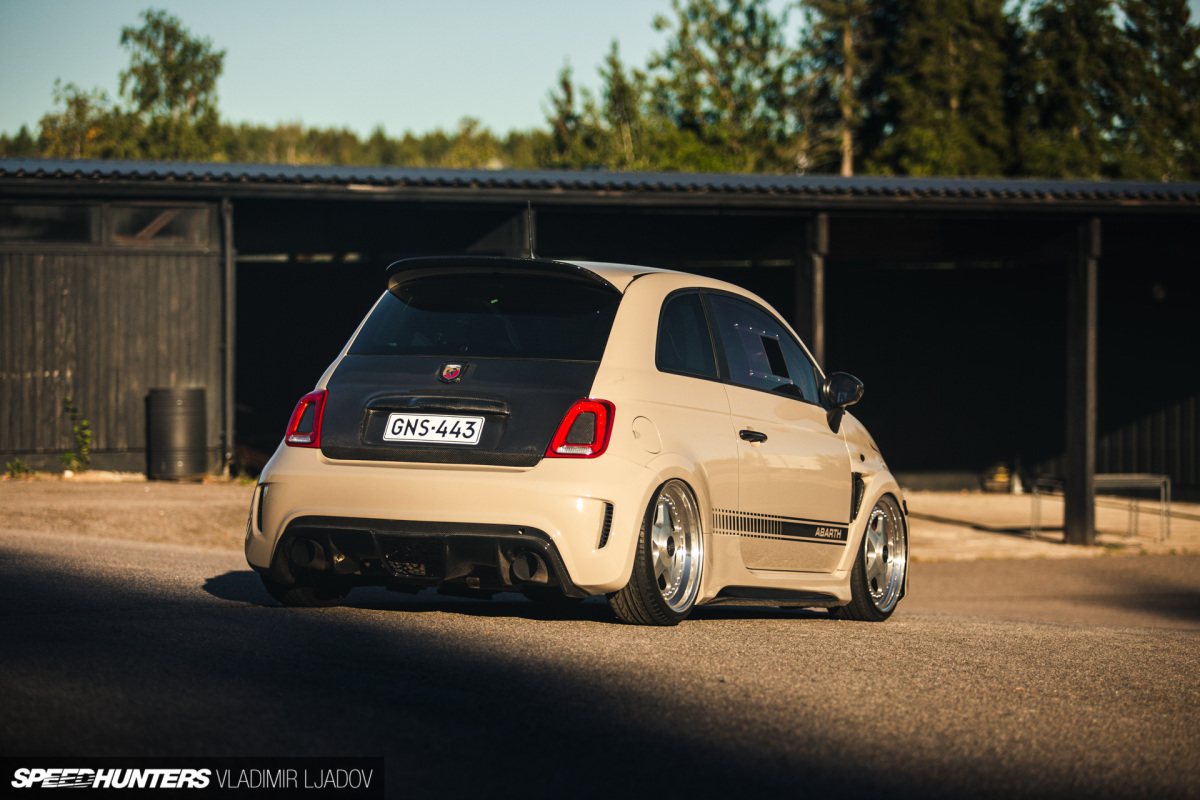 This is not a common car in Northern Europe, and Roni says he doesn't know of any modified Abarths in Finland. His last front-wheel drive pocket rocket was a Honda CR-X that he owned when he was just 18 years old, so getting into the 595 certainly brought back some good memories for him, even if there's miles between a '90s Honda and a modern-day, high-performance Fiat.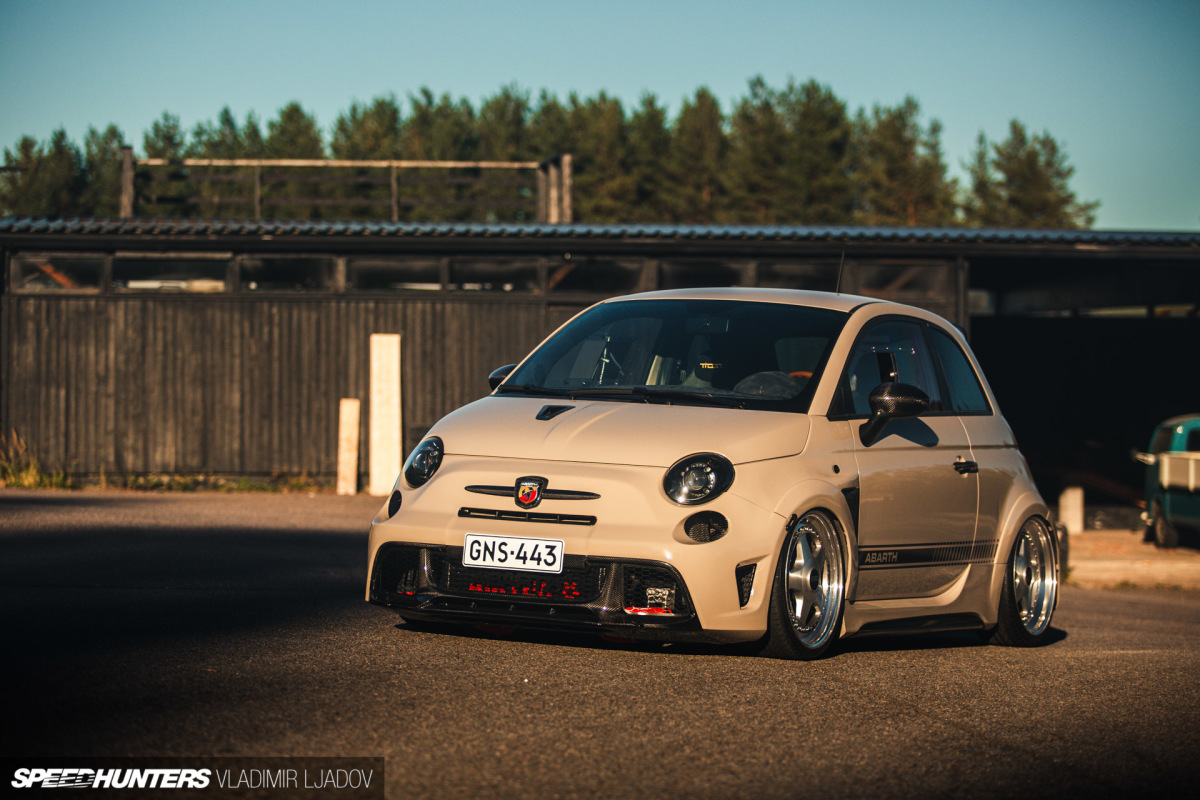 Roni found the 595 in Sweden, almost new and untouched. The color was perfect too, as Roni previously owned an Audi RS6 in Mocha Latte beige and loved the way it looked. When he started the hunt for an Abarth, he really wanted one in Fiat Rally Beige – the exact same hue – so it was good to tick that box right away.
Being a Competizione variant, the 595 also came with a bigger turbo and Brembo brakes. Of course, Roni wanted more.
Although these cars are commonly modified in Central Europe, they're rarely seen with a focus on quality stance. This build bucks the trend with nice gear throughout and a few unexpected little touches.
The aftermarket bodywork came from Cadamuro Design in Italy, and is modelled from the Fiat Abarth 695 Biposto, which is the road-going version of the Abarth 695 Assetto Corse Evoluzione race car. Cadamuro also supplied a whole lot of carbon fiber goodness to pull the look together.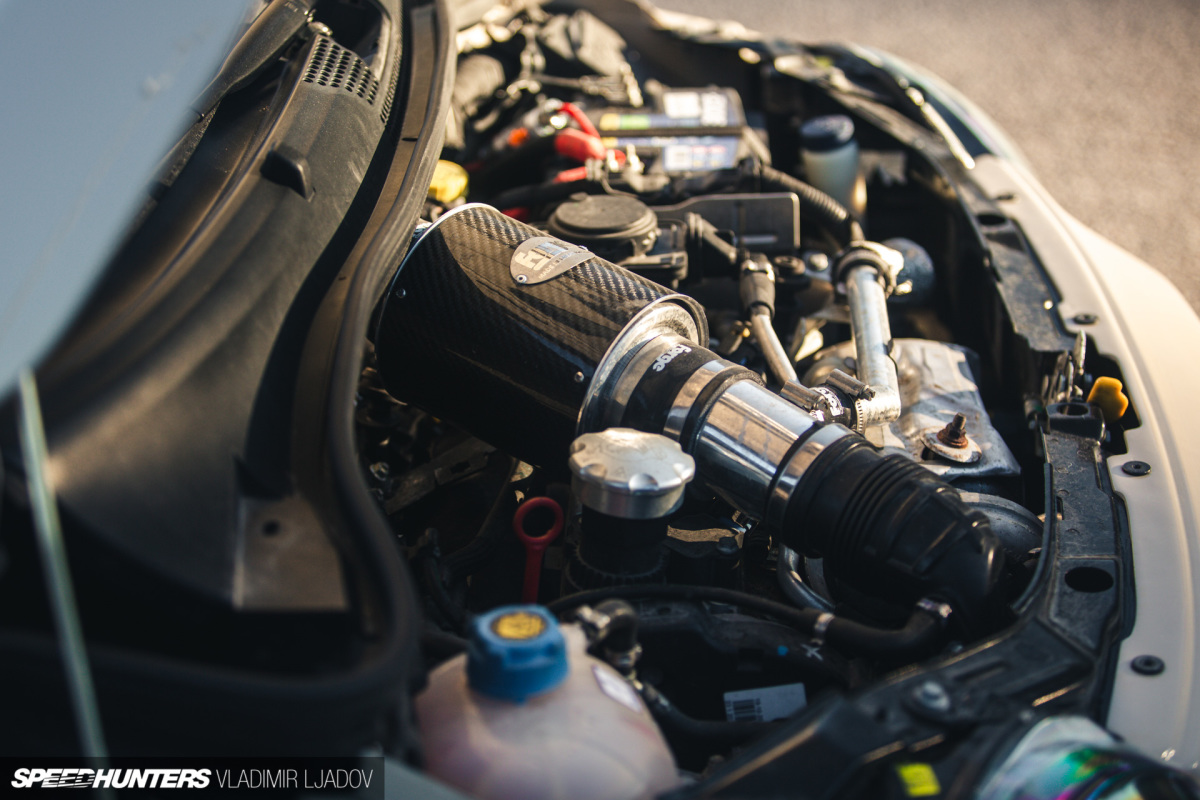 Under the hood, the 595 Competizione packed 177hp from its 1.4L turbocharged engine from factory. This car features a Cadamuro intercooler, high-flow intake and titanium exhaust, which Roni says brings total output up to around 250hp. That doesn't sound like a whole lot in the modern performance car era, but the Abarth weighs a hell of a lot less than most other hot hatches (1,985lb/900kg), so it's actually pretty quick.
It also sounds amazing. In fact, when Roni started it up out of sight, for a moment I thought he had jumped into one of his Porsches!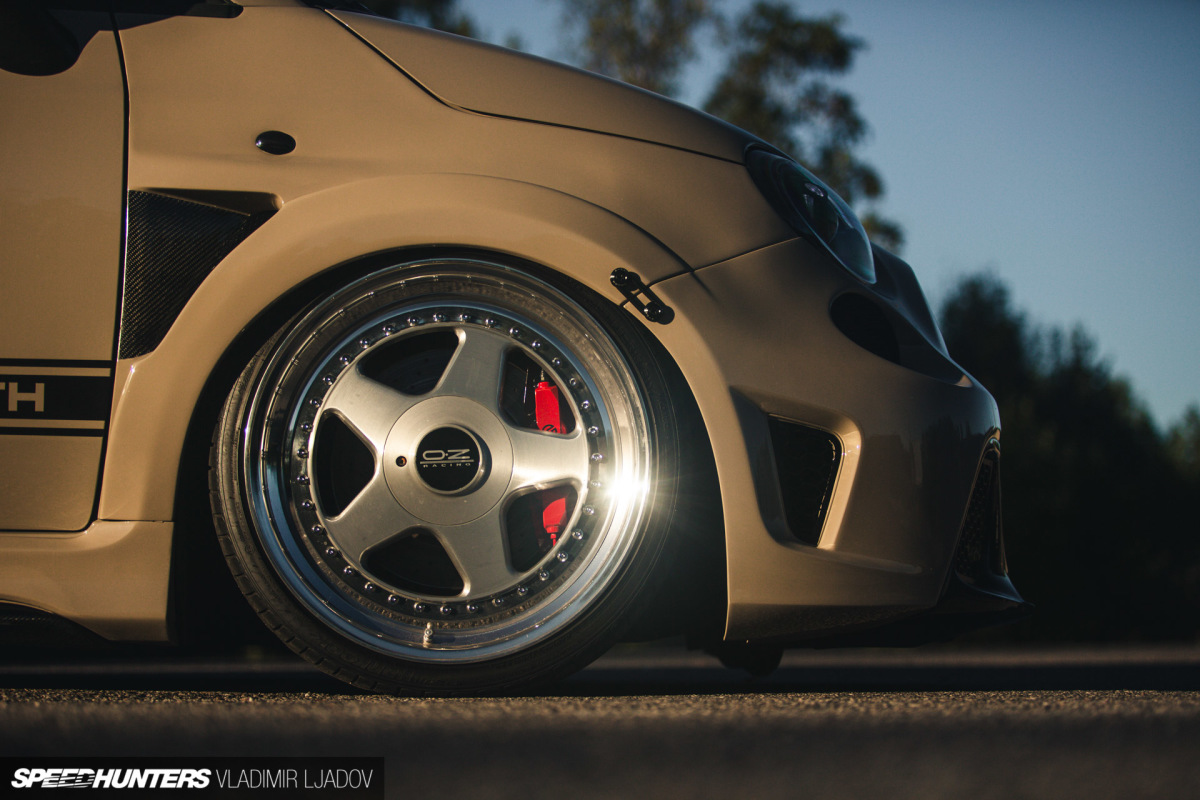 The wheels are a set of classic OZ Futuras with brushed centers that have been stepped up to 18-inches. The 2.5-degree camber in the rear provides a sweet, slightly tucked-in fitment.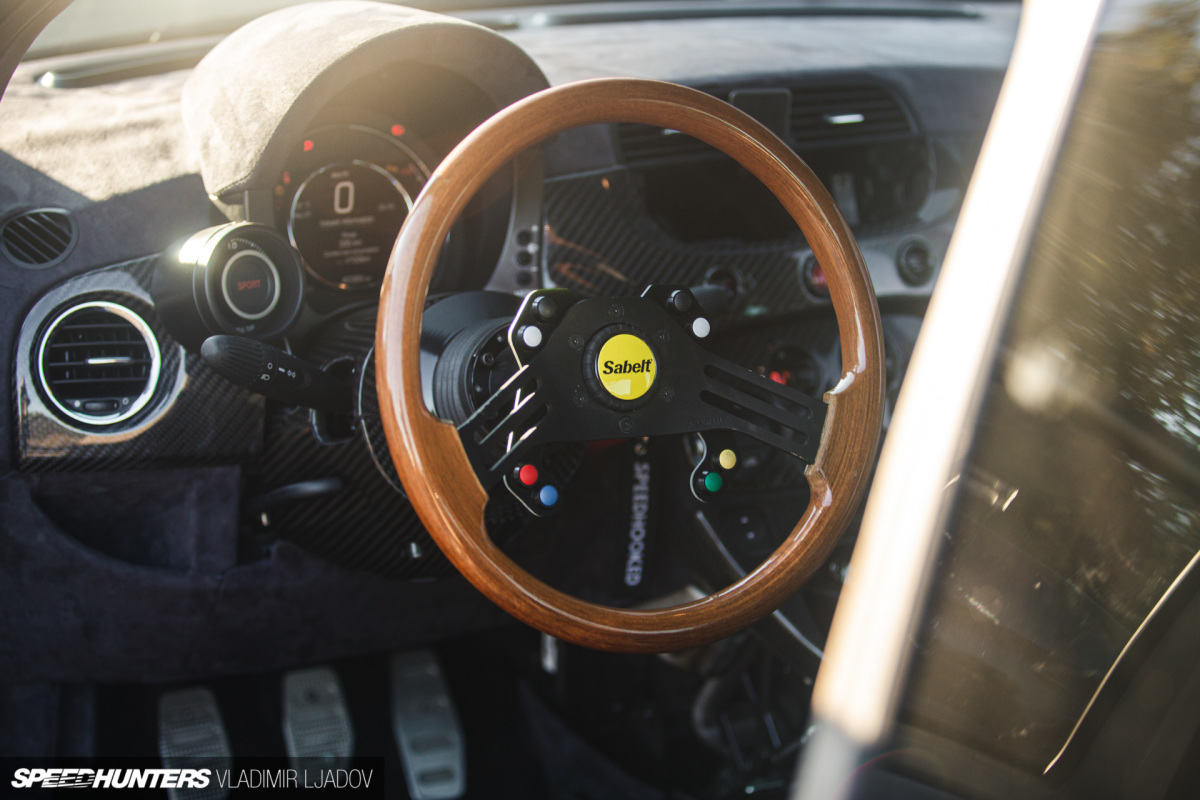 The low ride height comes courtesy of custom air suspension that's controlled by some of the buttons on the steering wheel. The other buttons control the custom-made headlights fitted with Porsche DRLs, while the wheel itself is a wood-rimmed Fiat Ritmo Abarth item from the '80s – a neat, vintage detail. So is the matching wooden shift knob atop the CAE Ultra shifter, which Roni says came from an espresso machine.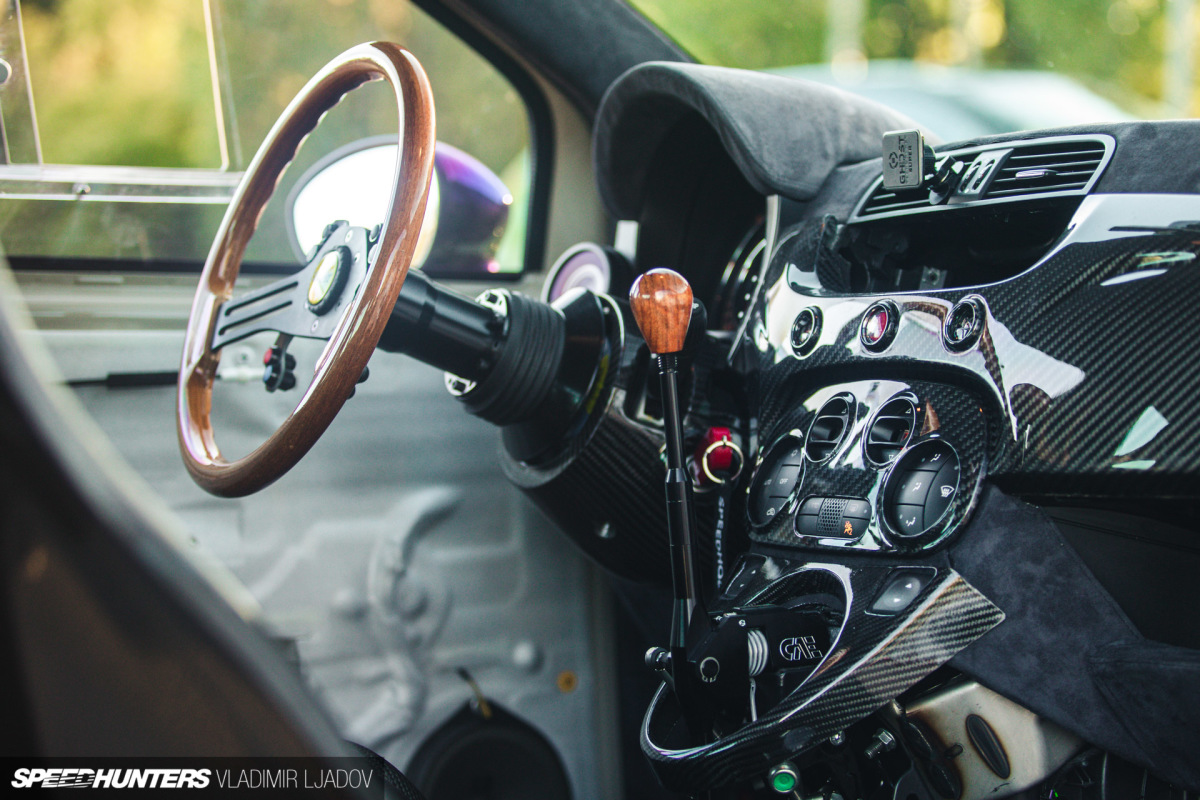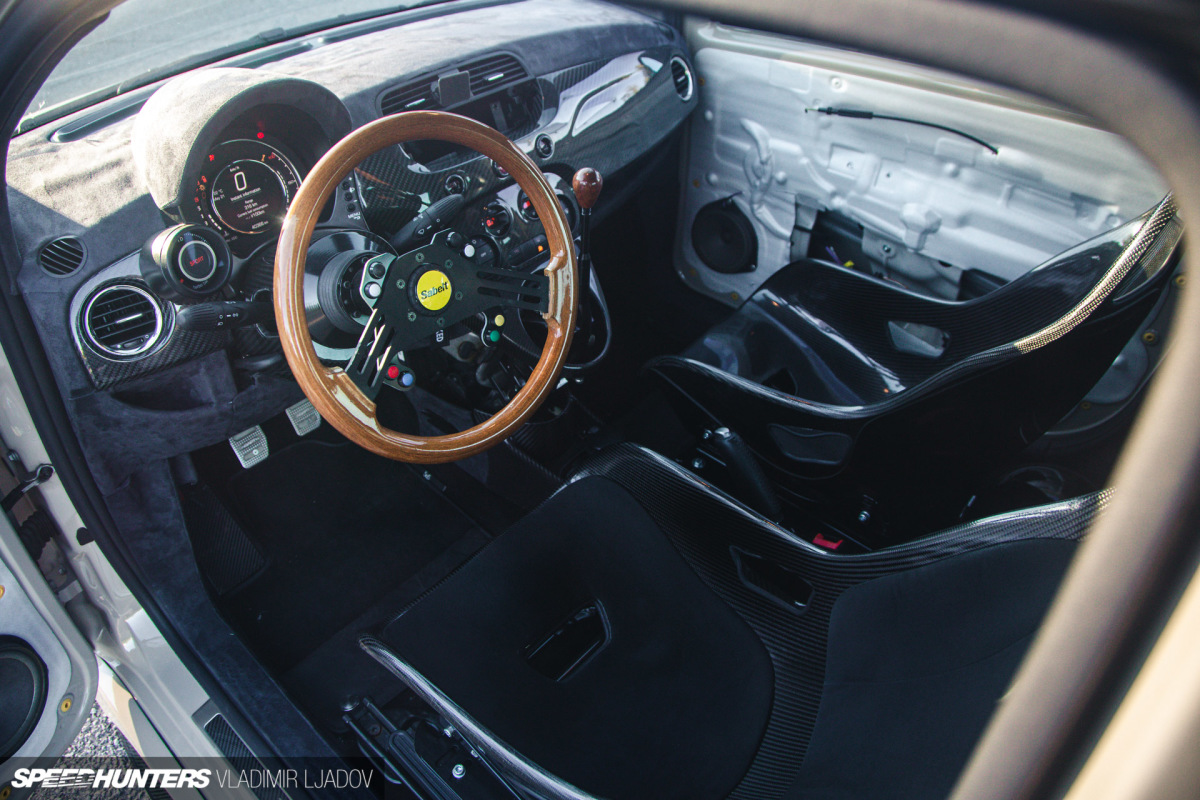 The interior is wrapped in Alcantara and features all the carbon fiber bits and pieces that Roni could find. That includes the carbon seats – Tillet buckets that weigh just 11lb (5kg) apiece, versus the originals which are 55lb (25kg) each. The rear seat delete provided another 44lb (20kg) weight saving. The door cards were missing when I shot the car, but only because Roni was waiting for carbon fiber replacements.
Another weight-saving feature is the Lexan side windows, with McDonald's drive-thru-friendly access slots.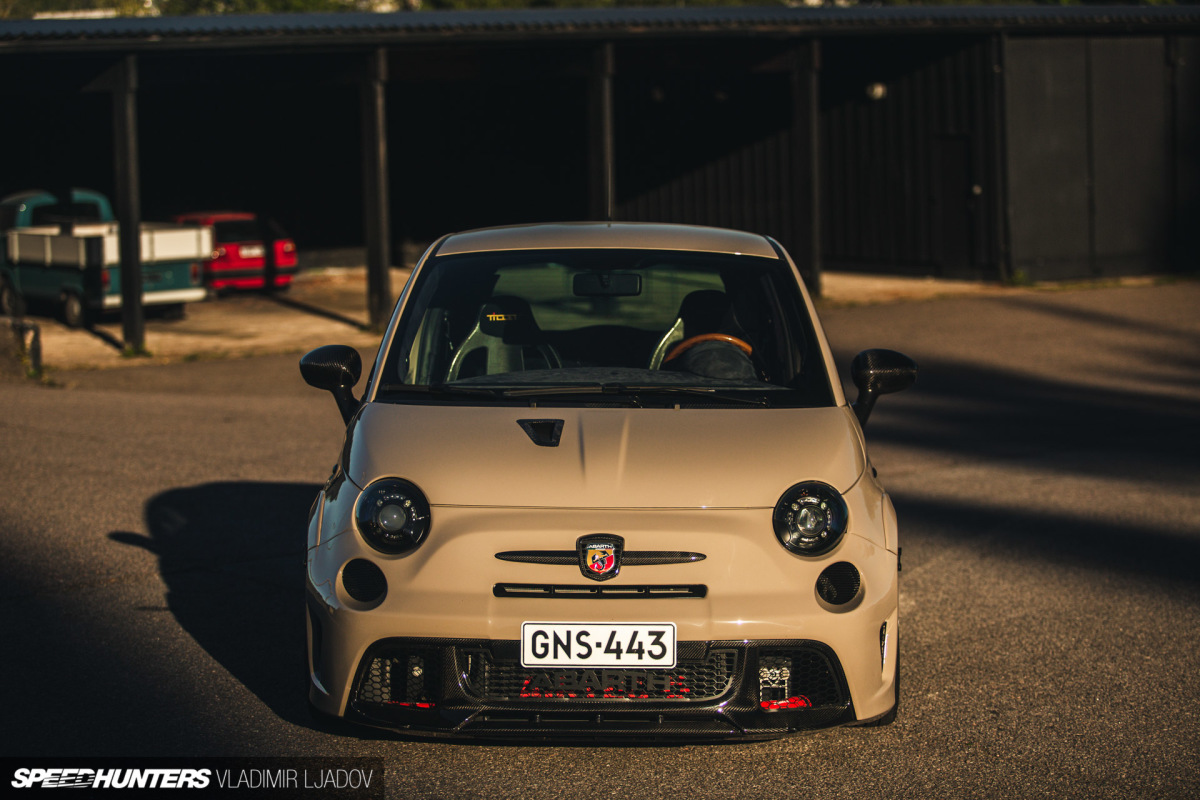 At the beginning of the story, I mentioned that Roni calls this car his Abarth café racer. It's fitting not only because of its latte-esque color, its vintage accessories and partially stripped down, lightweight nature, but also because Roni primarily used the car to go and grab coffee. Of course, it's ventured out to car meets too, as well as the occasional track day.
But after owning the car for three years, Roni says that he now mostly just enjoys looking at it from his office, while he's busy dreaming up more bucket list car builds.
Vladimir Ljadov
Instagram: wheelsbywovka
because@wheelsbywovka.com
www.wheelsbywovka.com