A quick word on the gearbox is that its authentically matches the personality of the 1.5L TNGA motor in this hybrid arrangement to give you an absolutely smooth & relaxing driving experience.
BHPian Karan561 recently shared this with other enthusiasts.
Likes;
Ride Quality & Handling (Great balance)
Fuel Efficiency (Short Distance & City FE King)
Good Looks (Exterior & Interior is well designed)
Toyota Brand (Street Cred & After Sales Service)
Dislikes;
Less Boot Space (Hybrid Disadvantage)
Boring to Drive (On Long Distance Runs / Highways)Poor Implementation of features (Wireless Charger, Pano Sunroof Sunshade, Reverse Camera Quality etc.)
NVH of 3 cyl engine in some situations is unacceptable, Lack of Electric Adjust Seats, Certain switchgear feels cheap (Steering Controls).
This is an Initial Ownership Video Review of my Toyota HyRyder (Hybrid) which discusses the following points as mentioned in the Timestamps as under;
0:00 – Intro
0:59 – Driving Experience (Engine, Gearbox & More)
4:12 – Suspension Details (Ride & Handling)
7:05 – Fuel Efficiency (City & Highway)
10:11 – Interior (Front & Rear)
13:35 – S.W.O.T. Analysis
20:34 – Final Thoughts
Driving Performance (Engine, Gearbox & More)
We are aware that the HyRyder Hybrid gets the Toyota TNGA 1.5L engine but lets elaborate a bit more technicalities. This car uses a P910 Hybrid Vehicle Transaxle which primarily consists of a motor (MG2) to drive the vehicle & a generator (MG1) to produce electrical power & this transaxle uses a CVT with a compound gear unit that achieves smooth & quiet shifting.

Coming back to this engine, a combined output of about 115 hp doesnt sound encouraging at all, but frankly its enough for the city. That's where the story ends for this engine, the CITY. Because on the highway its a big disappointment especially after you cross 120 km/h.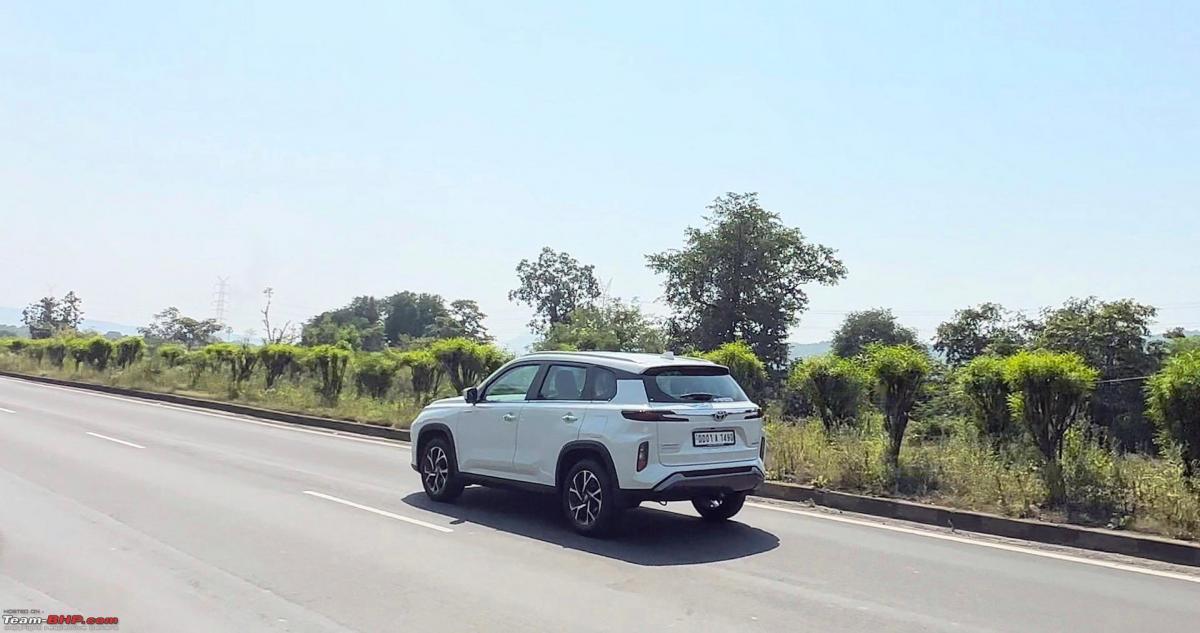 There is simply no juice left in this motor to deliver you any meaningful performance. However this engine has its moments & those moments are usually in the City when there are moments where the EV + IC combo gives a great push off the line which genuinely helps close those gaps in city limits or perform a quick overtake.


I'm aware there are driving modes provided in the car but judging the personality of the car it's best to be driving in ECO mode as there's hardly any difference if you keep it in Sport, also i like the blue layout of the dials when in ECO Mode.
Is it the best sounding 3cyl ? No. In my opinion the Kushaq's 1L 3 cyl sounds much better & sporty. Car usually starts off in EV mode and stays in EV Mode till you are light on the throttle and there is enough charge in the battery, after depletion of charge them engine fires back on and the transition is usually seamless and not felt (Transition is only felt when the car is standstill or at a very low speed).
A quick word of the gearbox is that it authentically matches the personality of the 1.5L TNGA motor in this hybrid arrangement to give you an absolute smooth & relaxing driving experience.
Fuel Efficiency
In the entirety of my car ownership I've never seen under 18 km/l on any drive yet. Also i have easily beaten the official ARAI figure of 27 lm/l long back & not once but multiple occasions and also hit the 30 km/l numbe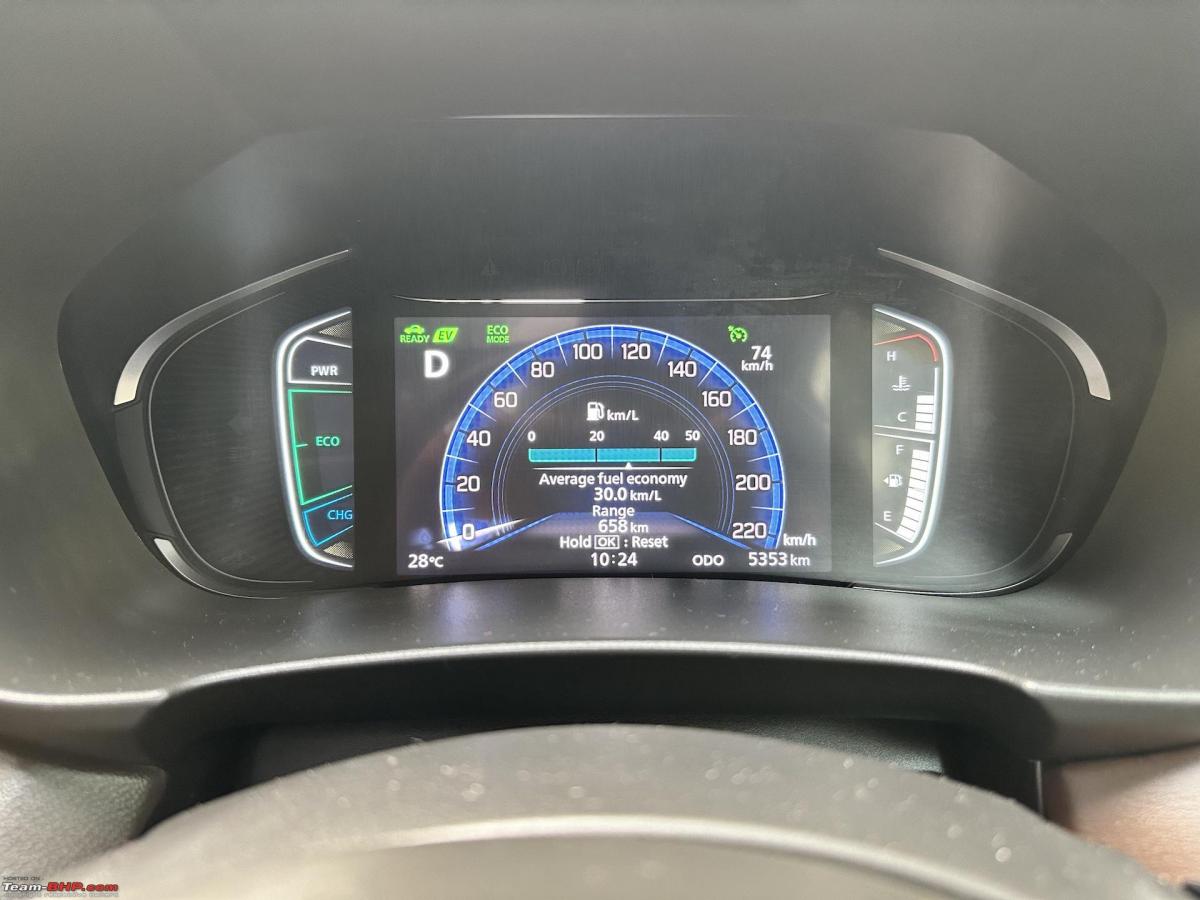 Note: I am running the car on XP95 fuel since day 1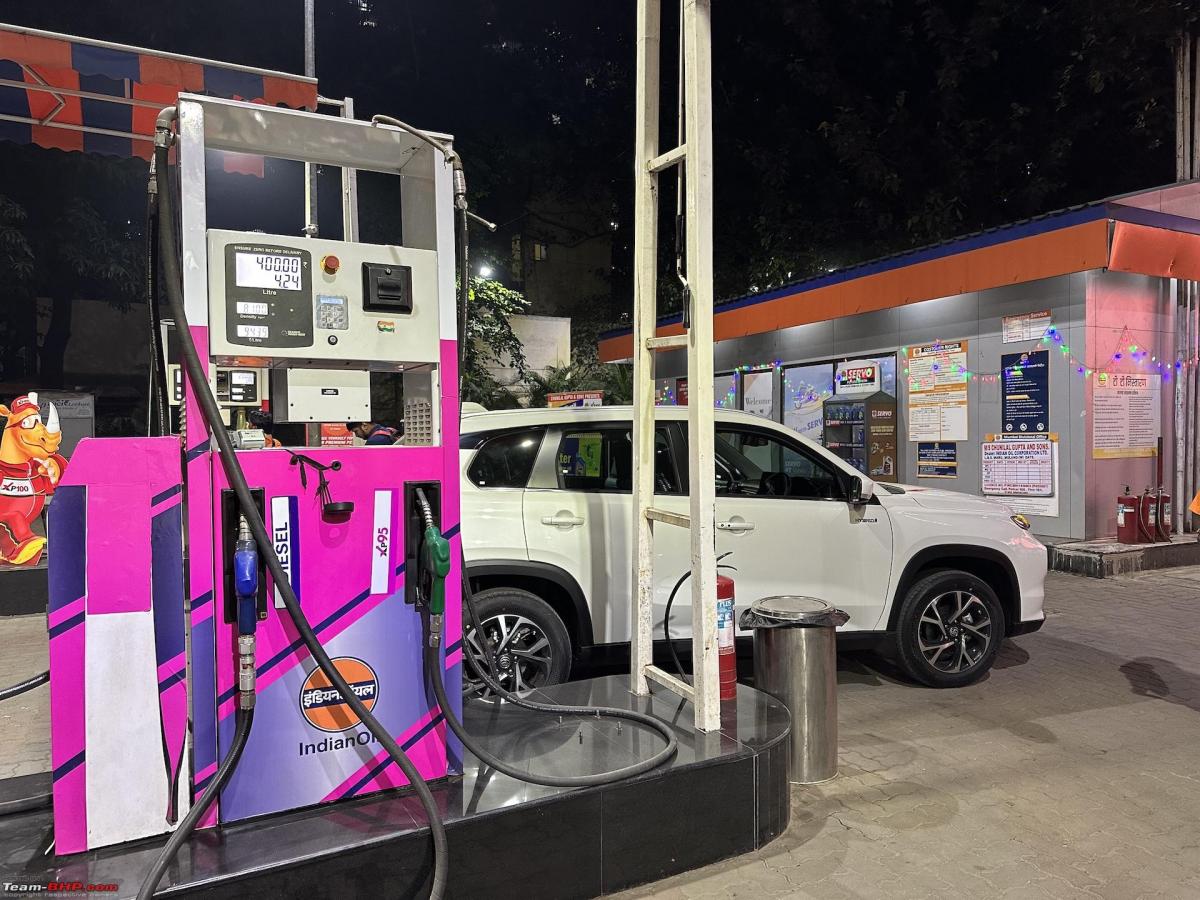 THIS CAR LIKES TRAFFIC. Getting 25 + km/l is easy in the city v/s the highways though because in City there are more no. of times the car runs as an EV v/s the highway. However when it comes to city the hyryder hybrid does a great job on the fuel economy front in fact this might be the new short distance FE KING
Ride Quality
We are aware that this car was jointly developed by Toyota & Suzuki in India, but I was always inquisitive about the suspension. Who helped develop that ? Is it a Toyota or a Maruti suspension? While looking in the wheel well area i noticed a sticker on the suspension which said YFG RR HEV;

If we attempt to decode (YFG Rear Right Hybrid Electric Vehicle) then you'l remember that YFG was the internal codename given to the Grand Vitara by Maruti during development, which clearly points out that the suspension is supplied by Maruti. Isnt bad news because it has an excellent tuning & offers superb ride quality, probably the most comfortable car in the segment & handling too is surprisingly engaging which we discuss next.
Handling
This car rewards you dynamically as the suspension stiffness & body roll is very well suited for highway runs as well as city, the steering too feels great when you are eager to take on the corners;

Interestingly the bad patches / undulations on the road while at speed dont throw you off too much and the handling remains predictable. One of those cars which gets suspension and chassis tuning more capable than the engine which is overall non-enthusiastic. The 215 60 R17 Apollo Tyres (probably the best Indian tyre brand) perform well & the selected size for the Hyryder is also ideal as it doesnt feel undertyred at all & look good too.

Continue reading BHPian karan561's ownership report for more insights and information.