One of the world's leading energy analysts and electric vehicle experts has thoroughly debunked claims by global car giant Toyota that the current supply shortfall in lithium justifies its focus on mild hybrid cars and its go slow on electric vehicles.
The claims have been pushed by Toyota chief scientist Gill Pratt, and repeated by Toyota marketing executives around the world – including in Australia. Briefly, Toyota argues that sharing a limited amount of lithium among many hybrids is better for the environment that putting it all into a single full battery electric.
Pratt even went on to decry "EV-only" extremists. Dutch energy analyst Auke Hoekstra has responded by saying the Toyota claims are "utter bollox (sic)."
I see @Toyota's chief scientist Gill Pratt everywhere with his seemingly 'sober' claim that scarce lithium should be used in small batteries for hybrid cars (that Toyota is market leader in of course).

He's calling out "EV-only extremists".

And it's such utter bollox.
🧵 pic.twitter.com/i7NaqXuwcX

— AukeHoekstra (@AukeHoekstra) January 31, 2023
In his recent address to the World Economic Forum, Pratt attempted to make the case that the world is facing lithium shortages and that those shortages justify the production of hybrid vehicles (which Toyota happens to produce in high volumes) over fully electric vehicles (which Toyota does not produce at high volumes).
Pratt's argument begins by assuming that lithium is a fixed scarce resource and that it's far better to "distribute" the lithium across a number of vehicles (i.e in hybrids) instead of concentrating it all in one vehicle.
Pratt's diagram shows 100 vehicles that could each share 100 kWh of lithium capacity (i.e 1 kWh per vehicle) as an alternative to putting all 100kWh into a single vehicle.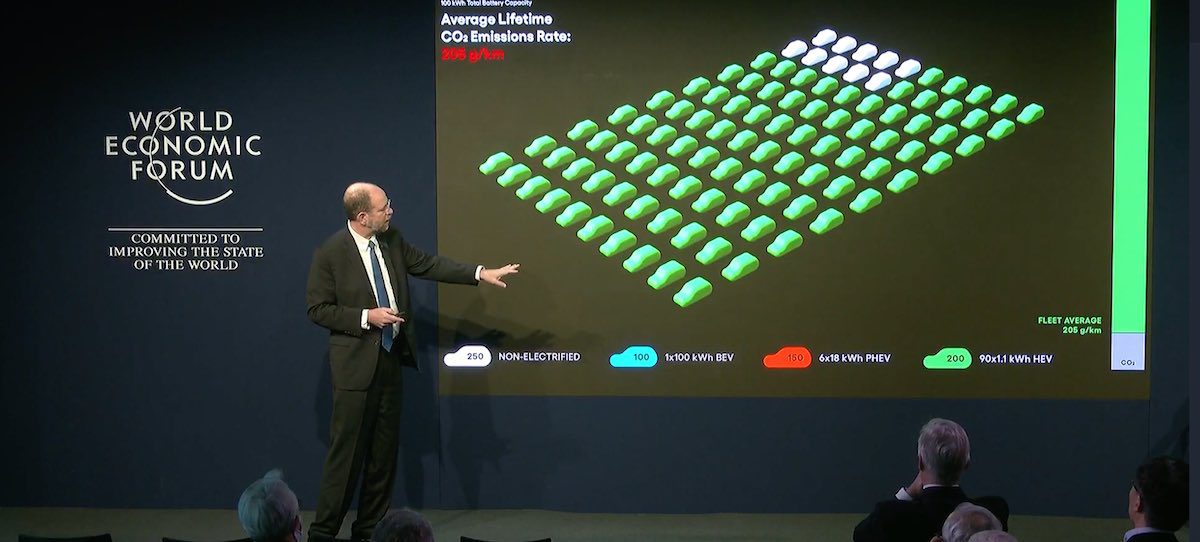 Hoekstra points out that the Pratt's fundamental assumption, which is that lithium production will be scarce, is not what's actually happening in reality.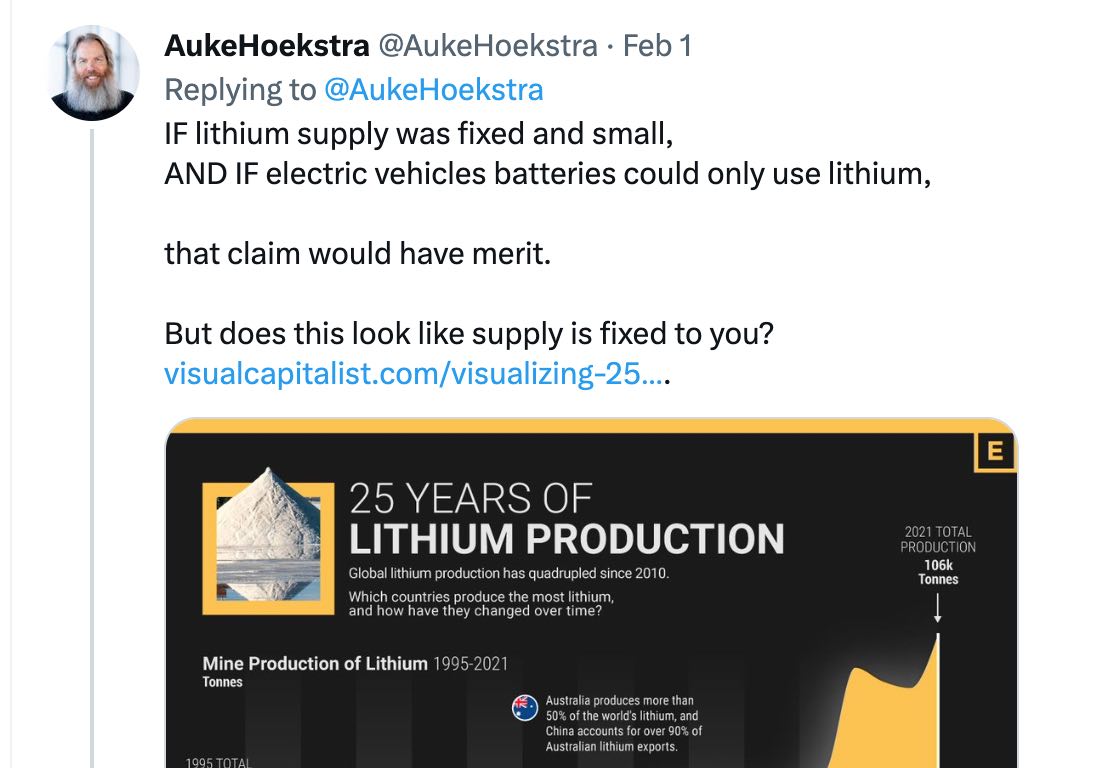 To show this, Hoekstra posted an image from BP's 2022 statistical review of world energy, which shows a massive expansion of global lithium production in just the last 5 years.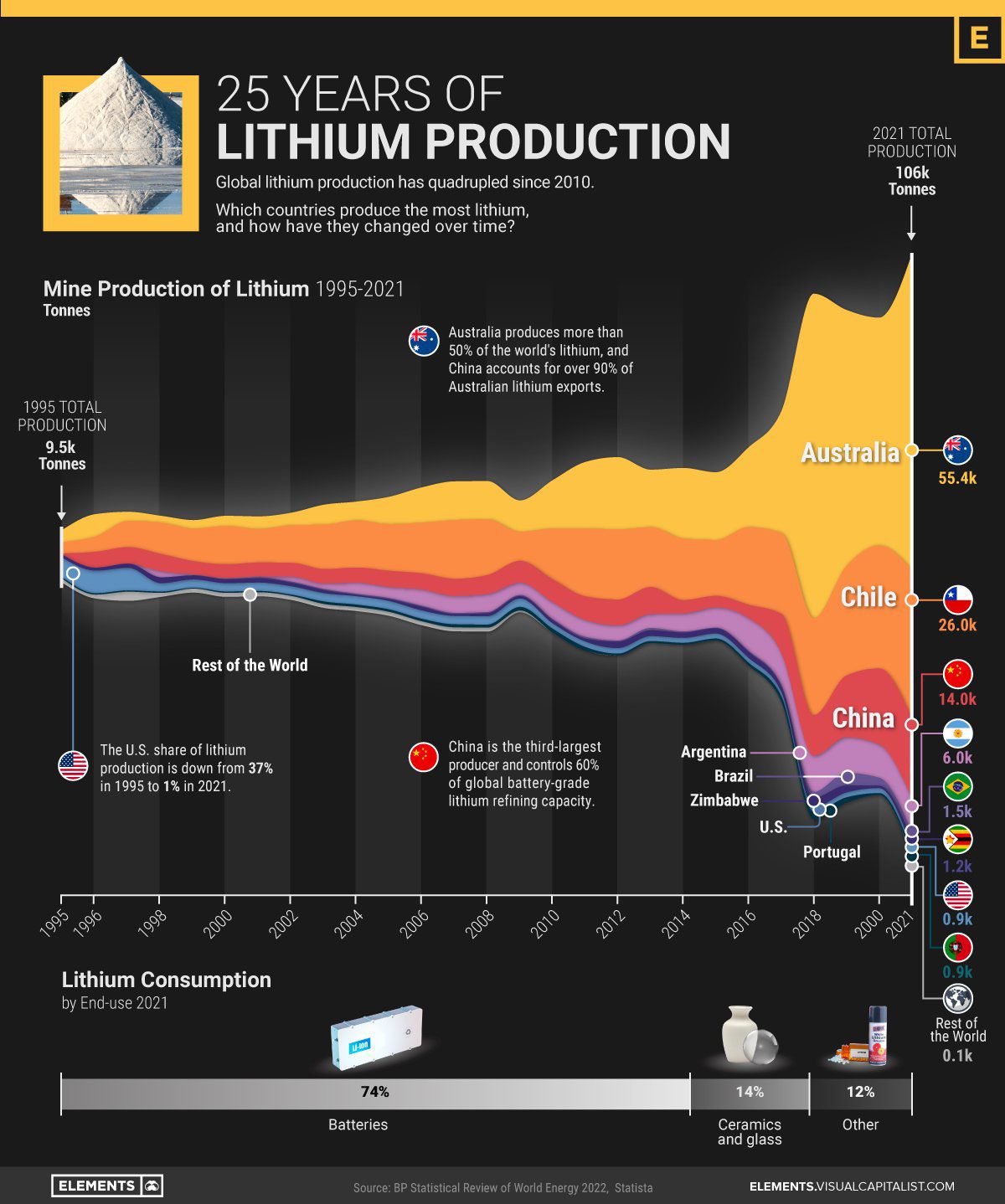 Hoekstra also points out that even if lithium was scarce, there are plenty of other materials that could be used to fill the gap.
And did you know that when push comes to shove, there are many other materials that could take over from lithium if need be? pic.twitter.com/958yj15wKI

— AukeHoekstra (@AukeHoekstra) January 31, 2023
Finally Hoekstra debunks the myth that lithium mining for pure EVs is somehow much worse than other minerals and even oil. A narrative which is often used by the oil industry to spread FUD (fear, uncertainty and doubt) about electric vehicles which are the main threat to the ~$US3 trillion oil industry.
Do you know what IS a material that we are destroying almost one million times faster than it is formed?

That we use 50 thousand times more than lithium per year?

And that we cannot recycle?

Oil. pic.twitter.com/0Z5iHgQSub

— AukeHoekstra (@AukeHoekstra) January 31, 2023
The lecture by the Toyota chief scientist ended with Pratt saying that despite all of his warnings about battery EVs, that Toyota was still planning on producing them in in future.
"We're gonna make 3.5 million of these (electric vehicles) per year by 2030"
The "scarce lithium" justification for Toyota's continuing focus on hybrids over fully electric vehicles was also recently parroted by Toyota Australia's vice president sales, marketing & franchise operations Sean Hanley.
"We also know it will take many years for the significant challenges facing EVs to be overcome, including battery-material shortages, less-than-adequate charging infrastructure and the ability to meet diverse customer requirements such as towing," he said.
Hanley also said that it was "too early and too risky"  for Toyota to change its approach and start offering electric vehicles to its customers.
What it really means is that it is business as usual at Toyota. And, as we wrote earlier this week, that may turn out to be a disaster.

Daniel Bleakley is a clean technology researcher and advocate with a background in engineering and business. He has a strong interest in electric vehicles, renewable energy, manufacturing and public policy.