Nissan's "Tron-like" Max-Out convertible has progressed from a digital 3D render into a real-life concept car on show at the company's Nissan Futures event in Yokohama, Japan.
Together with the "Chill-Out" crossover, the "Hang-Out" SUV and the "Surf-Out" pickup truck, the "Max-Out" is part of a series of concept electric cars that Nissan is marketing at the event, with the goal of showing its ambition for sustainability in the future.
In a statement the company said: "Nissan Futures will feature interactive customer events, panel discussions with experts, and various displays, all aimed to exhibit its innovations in electrification, vehicle intelligence, power management, vehicle battery reuse, and more."
Regarding the new concepts Nissan said: "The Max-Out displays Nissan's innovation to develop a diverse range of advanced and striking vehicles, with a clear vision of how they can benefit both individuals and society."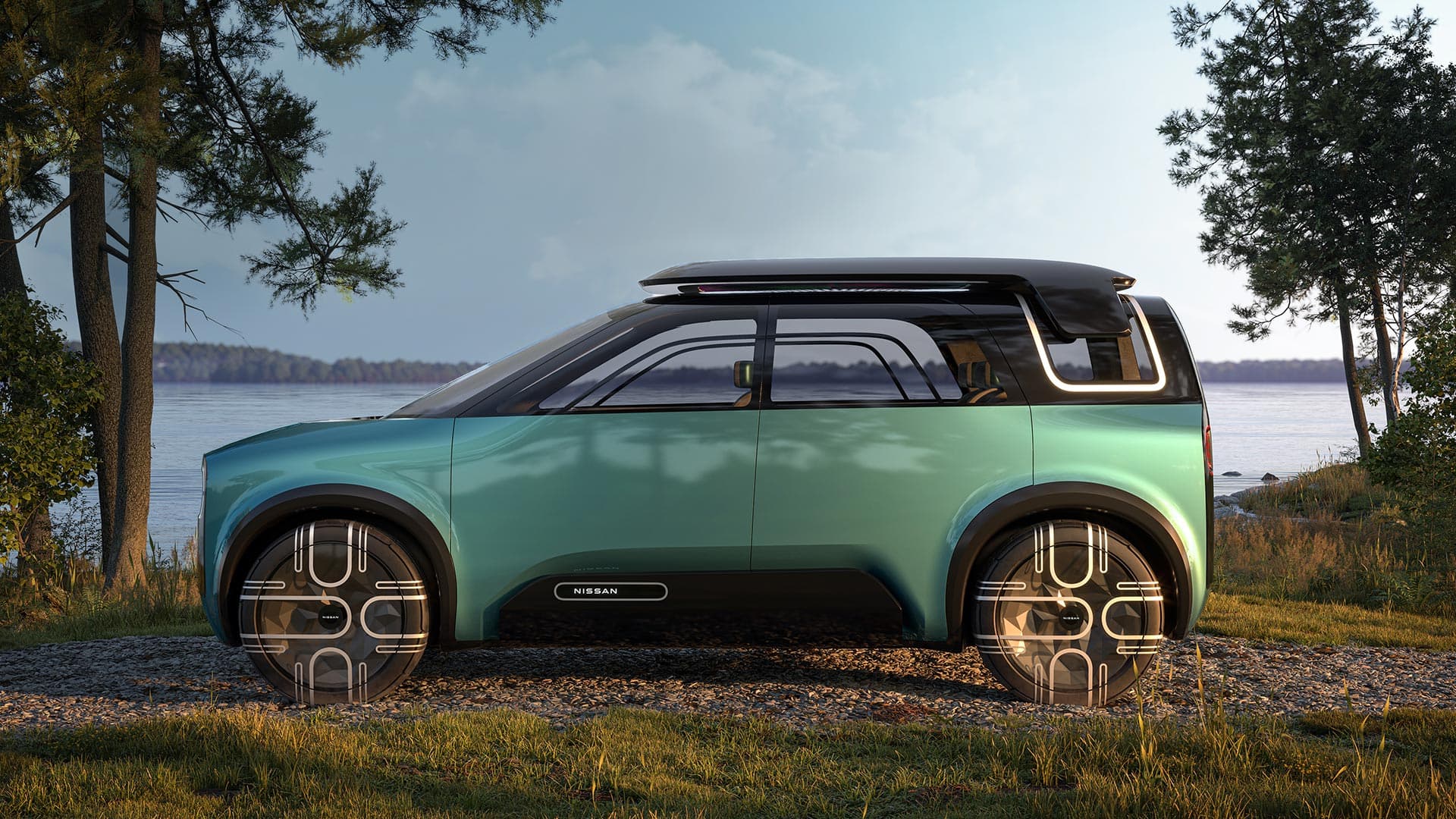 It's a common theme for legacy automotive companies to discuss their plans to offer a "diverse range" of electric vehicles coming sometime in the future without providing detail on planned production volumes.
Nissan, best known for the ground-breaking Leaf, claims it will have 15 electric models by 2030.
Tesla has taken a very different approach of offering just a few models and focussing on ramping up production. A strategy that seems to be working well for the company after Tesla produced 1.3 million electric cars in 2022.
Nissan had led the world on EVs with its Leaf which went into production in 2010. In the 12 years since the launch, Nissan has sold over 500,000 Leafs globally, and was the world's best selling electric car until it was overtaken by the Tesla Model 3 in early 2020.
Since then Tesla has ramped annual production significantly.
Since the launch of the Leaf, Nissan has released an electric cross-over, the Nissan Ariya, which it is about to take on a pol-to-pole journey in another marketing blitz. But it is yet to fully outline how it will transition its range into fully electric models.
Whether Nissan's sustainable ambitions will ever be achieved remains to be seen. While the Max-Out is now in physical form, no details have be provided on whether it or any of the other concepts will ever reach production.
As a famous EV company CEO once said, "Prototypes are easy. Production is hard." The Nissan Futures event is on at the company's Global Headquarters Gallery from February 4 to March 1, 2023.

Daniel Bleakley is a clean technology researcher and advocate with a background in engineering and business. He has a strong interest in electric vehicles, renewable energy, manufacturing and public policy.