The car's odometer was at 17K and the last service was done at 12K. So we just got the AdBlue filled.
BHPian dagger8 recently shared this with other enthusiasts.
Background
In Dec'22, X3 had turned 16 months (ODO at 17k) and the itch to take it on a really long trip was growing more than ever. It had done Mumbai-Bangalore a couple of times, Bangalore-Goa once, Bangalore-Ooty once, Bangalore-Gandikota and a few other relatively smaller trips. So, the planning started in November to do something bigger, bolder and traverse one leg of the golden quadrilateral. Broad contours of the plan were finalized in November's first half.
Plan was that my brother will travel from Mumbai to Bangalore and we'll travel to somewhere in the North East during Dec. Last week and Jan 1st week. We started with planning for Kaziranga and gradually shifted to North Sikkim targeting Gurudongmar and Zero point. We were fully aware that targeting these two in the last week of Dec. isn't the best plan as the chances of both places being open to the public would be zilch. But as they say, the journey is more beautiful than the destination – we thought, let's find out the truth in the statement and marched on.
So, by mid-November, we had finalized the dates, booked BOM-BLR flight tickets for my brother and explained our plans to mom dad. Initially, they were a little reluctant in giving their nod but finally gave conditional approval. The condition was that they will join us on this journey.
The Plan
We started with agreeing on some tenets that we'll follow throughout the trip.
We won't drive more than 1000Kms in a single day in the plains
Avoid night driving at any cost
Swap drivers every 3-4 hours
No insane speeds
Re-fueling preferably in big cities instead of highways
No high speeds on even marginally bad roads. We are on RFTs.
Pack light and preferably in duffel bags instead of suitcases
First step was to drop pins on the map to plot our onward journey. Following the tenets above, we decided to make stops in Vizag, Bhubaneshwar, Kolkata, Darjeeling, Gangtok and finally Lachung.
Second step was to plan the journey for parents who were in Punjab. So instead of making them come with us all the way from Bangalore, we booked their tickets to fly to Kolkata where we planned to pick them up from and they will accompany us thereafter.
Third step was to make bookings for the next 2 weeks. This was the most difficult undertaking. We started with a Google sheet, added the plan with dates and cities, started pouring in options (hotels and BnBs) and made several cancelable bookings to secure places. Re-bookings on MMT and ibibo are quite a boon to have while doing such planning.
Fourth step was to prep the car. ODO was at 17k and the last service was done at 12k. BMWs service intervals of 12k ensured that we had adequate range (7k) before the next engine oil service. So didn't bother to go to the service center. I've read about these service intervals that the range drops substantially after long trips. Since, in our case, we didn't have a choice to prepone the service that much, so took a chance. Only thing needed was to top up the adblue. It was showing topup amount of 7L but gulped up full 10L. Got it done from the nearby BP pump. They charged Rs. 1000 for 10L and did the honors. Tanked up on diesel also as Karnataka has the cheapest rate – Rs. 87.9 compared to all the other states we were going to travel to.
Fifth and last step was to stock up on munchies, water and RedBull. This is when I learned that even Bisleri can be bought at a 50% discount when purchased in bulk. I picked up 2 crates of 1L Bisleris, and carefully selected snacks that wouldn't cause any litter inside the car (Dates, cashews and makhanas) keeping it healthy and clean. Ordered enough stock of RedBull (for my brother) with 15 mins delivery a night before the start.
Day-1: Bangalore to Vizag
Distance traveled: 1010 Kms
We planned to start at 4am from Bangalore and we managed to stick to the plan despite the fact that my brother's flight to Bangalore got delayed and he landed at 1am. I picked him up from the airport and we managed to get only a couple of hours of sleep before the long drive to Vizag. Any change would have a cascading effect and hence we decided to stick to the plan.
Exiting Bangalore was a breeze early in the morning and we were greeted with a wide open road to Kolar. Visibility was excellent and we clicked lots of pics of the tarmac. My brother said – "Do you remember, how excited we used to be 15 years back to drive 10Kms on the DND Flyway as it used to be one fine road? Now, look at these never-ending stretches of fine tarmac. We certainly have come a long way with regard to the quality of roads".
We didn't even realize when we crossed the border and entered Andhra. The roads continued to be superb. After driving for ~4 hours, we made our first tea stop at one of the tea shops (There are many good ones every few Kms. in Andhra). The cardamom tea was fantastic.
In order to keep the 120kmph gong out, we covered long stretches on cruise set to **9
In Andhra, we started noticing a lot of Omnis for pollution control certificates. This is when we realized that ours is expired. I tried a couple of times in Bangalore but to no avail. Both times, the sensors showed zero reading and hence they couldn't print the certificate. I also read threads on t-bhp where people have faced the same problems with BH6 engines. So, we thought of giving one of these Omnis a try.
I pulled over and asked if he could generate the certificate. He readily agreed and mentioned that for my car, he simply needs to take a picture and generate the certificate. I happily agreed and got the cert for Rs. 100. Bigger surprise was that the same was updated in the mParivahan app in real-time and showed validity increased by 1 year. The certificate however showed a validity of 6 months. We realized only a day after that the validity in the mParivahan app got reversed and it started showing expired again. For now, I have a paper that says PUC is valid till xx and hope that'll work.
We reached Nellore at ~10:30 and made a quick breakfast stop. This place is next to a fuel station and the food was okay. No filter coffee available though.
Roads continued to be good and we made it to Vijayawada at ~1:30 and faced our first traffic jam crossing the city. Lots of red lights on this stretch and took us ~20 mins extra to cross this stretch.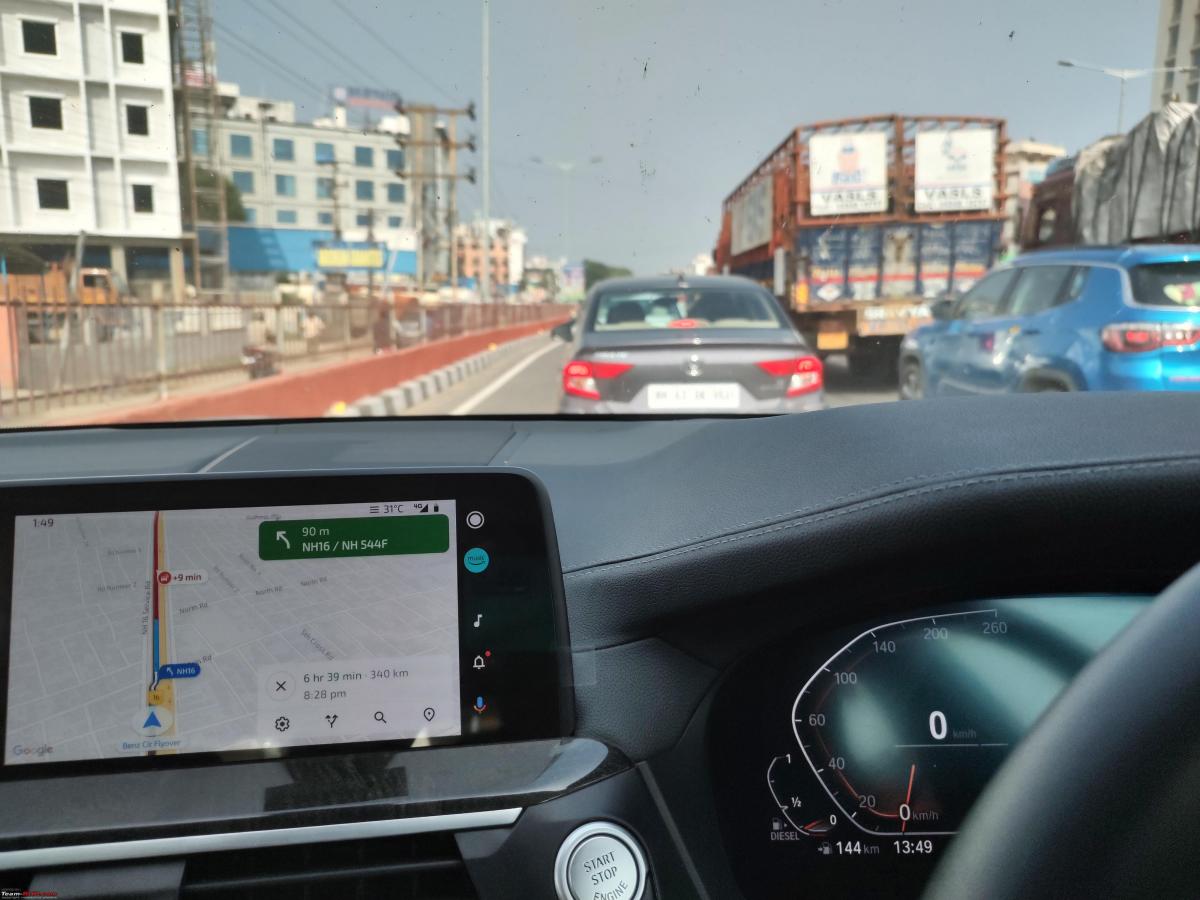 It was time for lunch and we stopped at a cafe called Brew Buzz while exiting Vijayawada. The place is nicely made with a lot of outdoor sitting and huge parking. It was busy at ~3pm. We ordered food but it was taking way too long. So decided to have a quick cold coffee and move. I would recommend this place to stop over if you are on this route.
Roads continued to be excellent. No interruptions or unexpected bad stretches or animal crossings. It was just simple easy cruising for us. Traffic was also very light. Very few personal vehicles and truck traffic was also fairly disciplined. We crossed Penna river on the way and it looked beautiful. Sharing a few more pics of excellent roads from Vijayawada to Vizag.
Finally reached the hotel at ~8. Got a safe parking spot with no adjacent cars parked. We stayed at Keys Lite by Lemon tree. A very nice and hygienic hotel in the middle of a very busy street. It's newly constructed and the rooms were tidy. Ample parking space is available too. Sharing some pics of the place.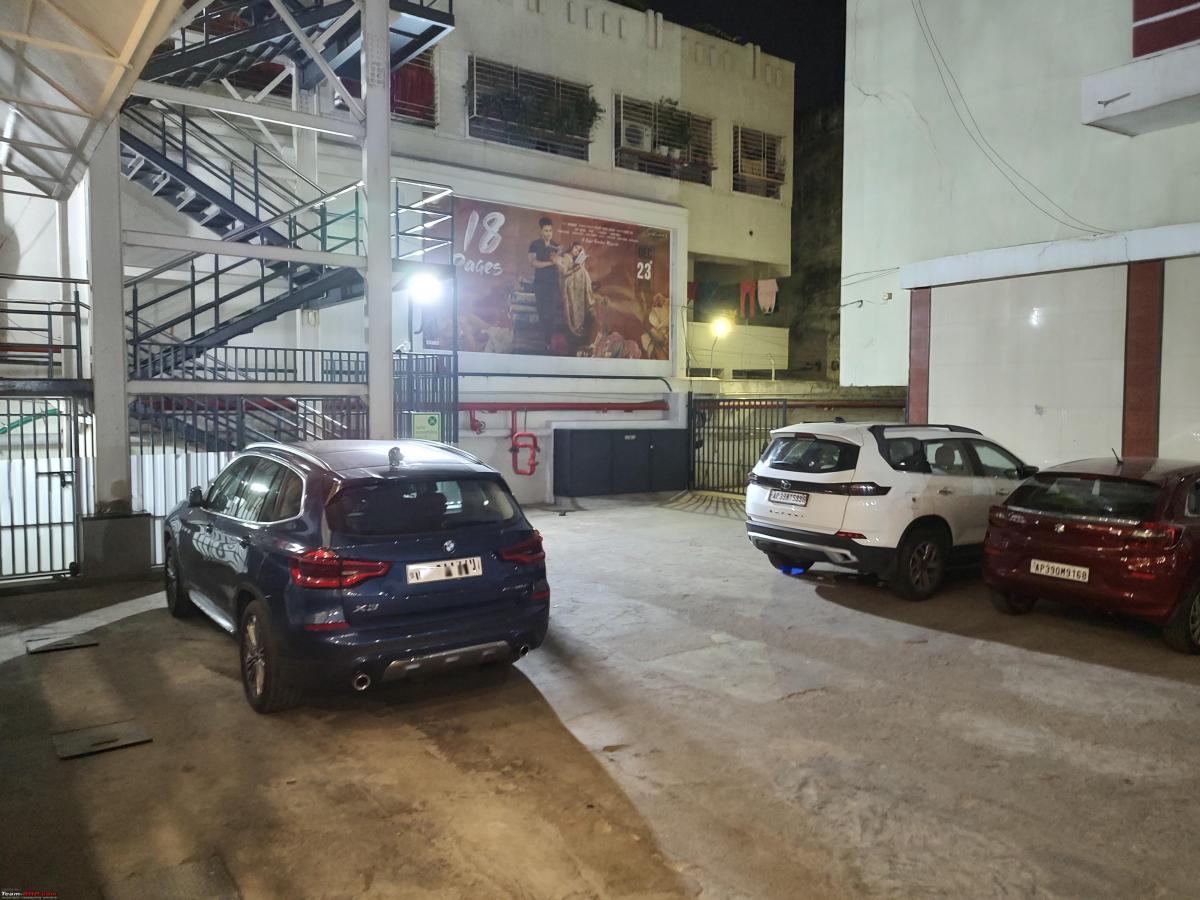 There are a lot of places to eat nearby. We decided to keep it light and safe and ate at Subway which was within a walking distance from the hotel and retired early after the 1000 Kms Day-1 drive.
Day-2 Vizag to Bhubaneshwar
Distance traveled: 450 Kms
Day started with researching an interesting place for breakfast. Zeroed in a place called Vasenapoli that served mouth-watering Idli and Dosas made without rice. These are made from Ragi, millets and Jowar. The place is located in a very posh part of Vizag with ample parking space available right opposite the road. It's next to the governor's house. We took the toll road that went through the port. Loved the vibe of the city.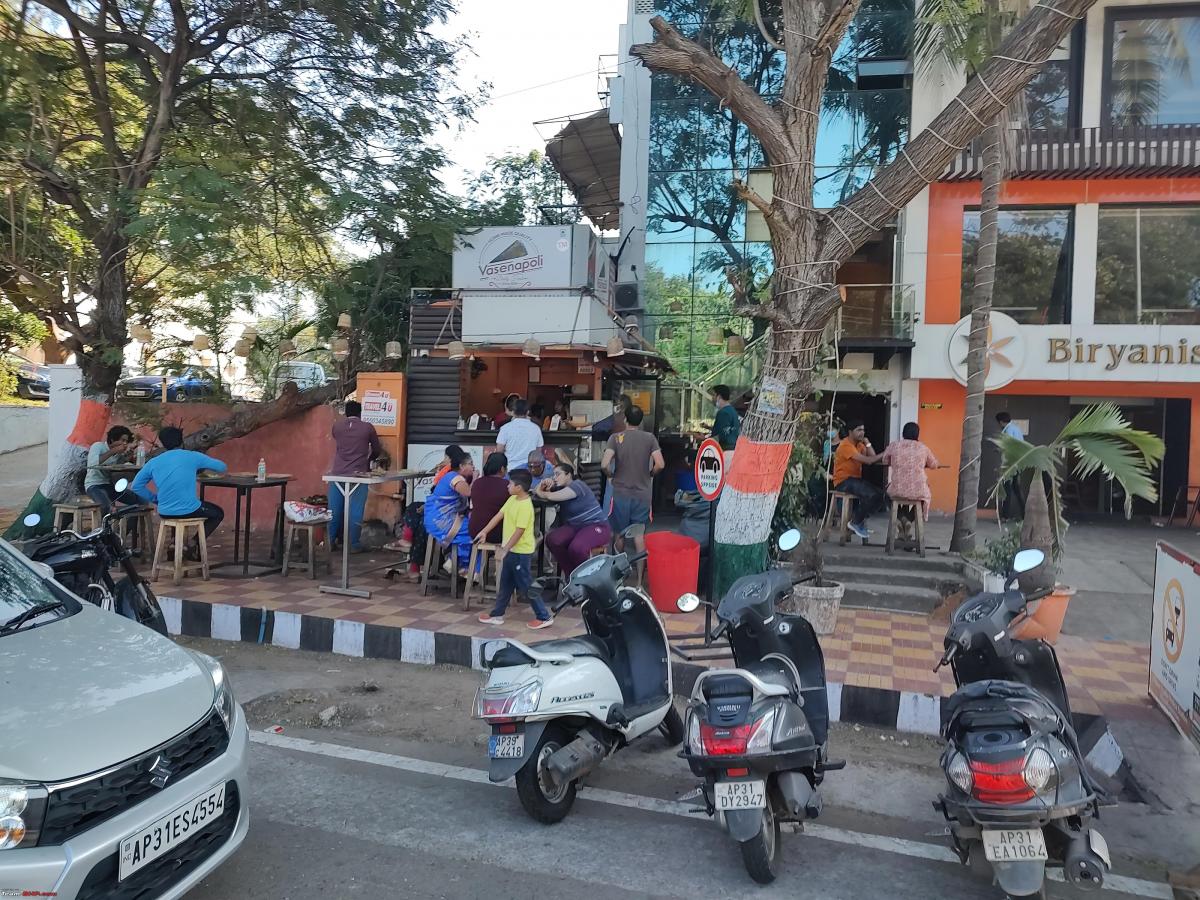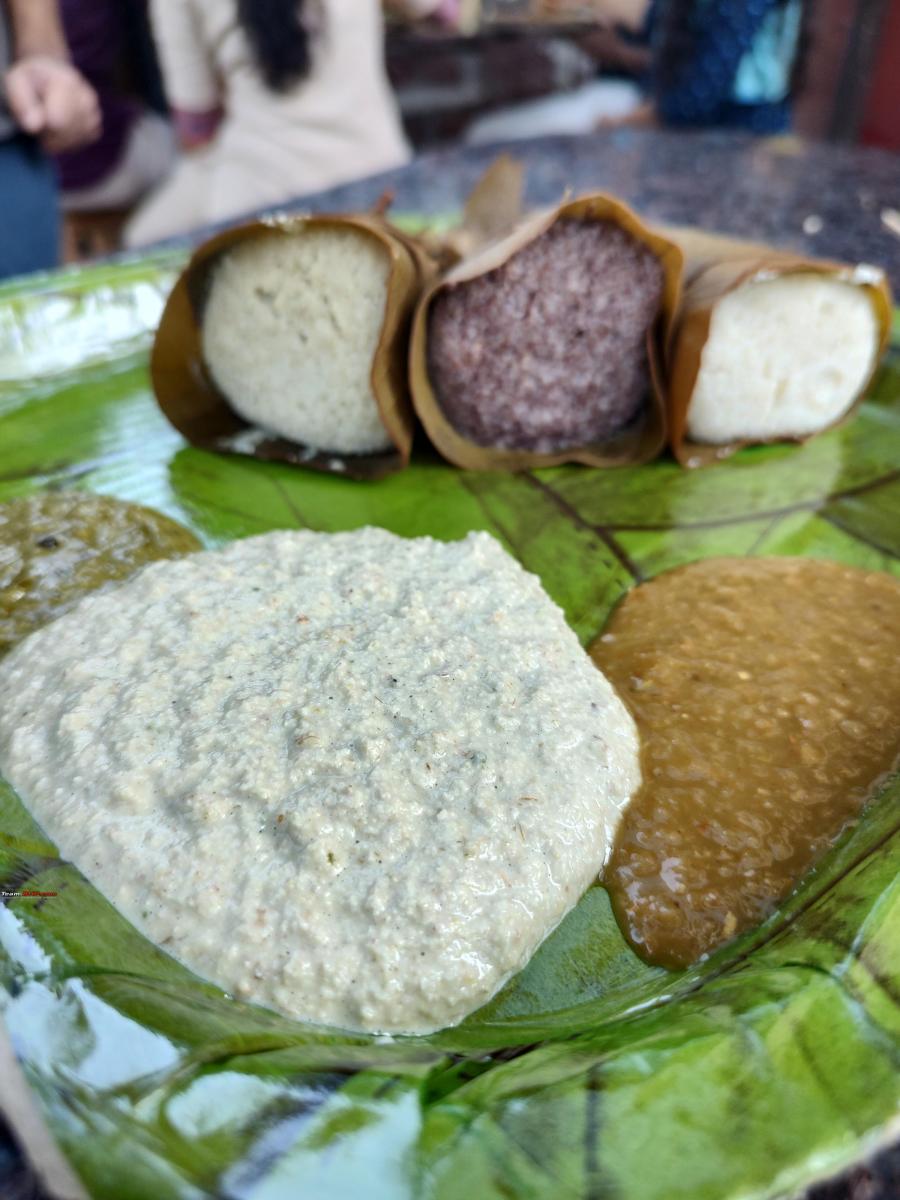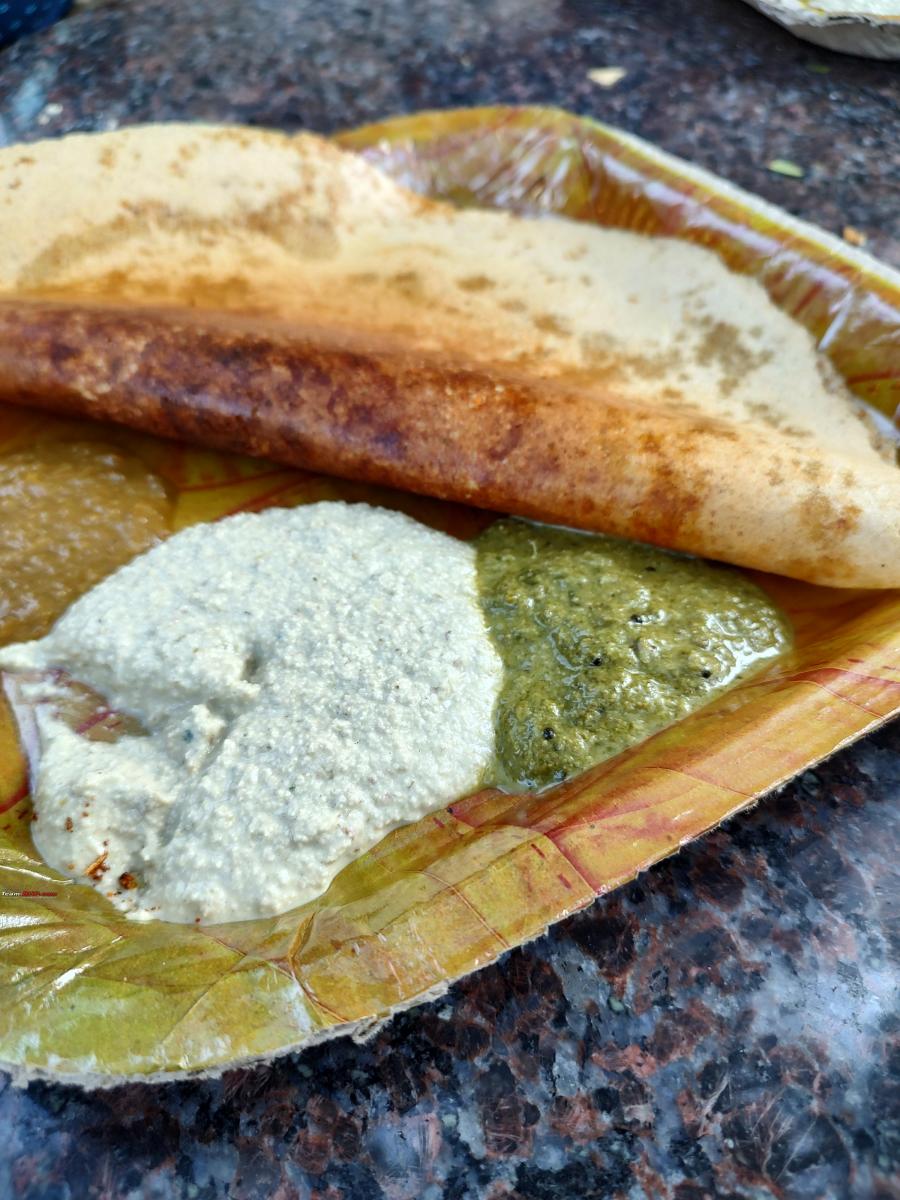 Continue reading dagger8's road trip experience for BHPian comments, insights and more information.