Last spring I took more lessons and passed the USA sailing exam for small boats. Some 80 questions, and some practicals too.
BHPian GutsyGibbon recently shared this with other enthusiasts.
I have always been in awe with the ocean, its power and the horizon. I took an introduction to sailing lesson as I failed at surfing. At 49 I am happy to stand up after taking a dump, popping up from a surfboard, and the balance seemed impossible. As an engineer, I instantly liked everything about sailing. Reading the elements, the wind direction, picking the right angle to tack, the language of the sailors, using physics to go faster – just about everything.
So, last spring I took more lessons and passed the USA sailing exam for small boats. Some 80 questions, and some practicals too. I then got a membership at a local Yacht club. I have now started taking friends and family with me, and I intend to share some of my sailing pictures here. These pics were from this past weekend.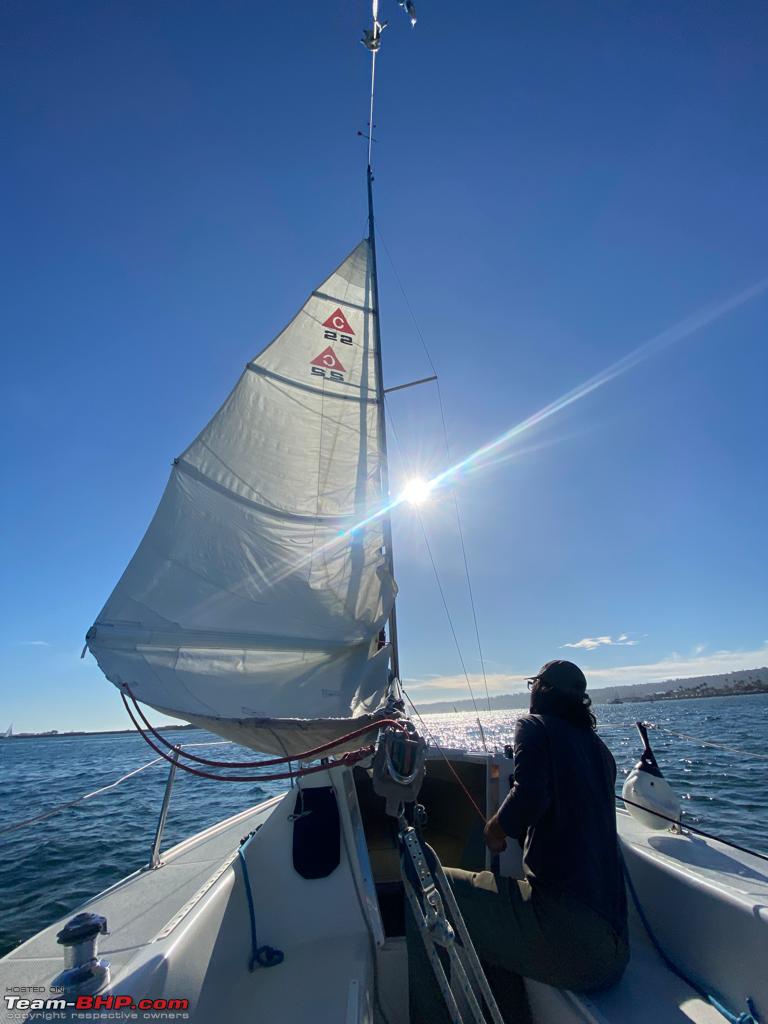 San Diego bay with the downtown skyline
If there are people who have considered sailing, and are sitting on the fence, jump right in. You may really like it.
Here's what BHPian shankar.balan had to say on the matter:
Oh lovely! What a fantastic hobby. Lovely pictures too. Somehow everything in that kind of light looks just so good! Happy that at least some of us are able to enjoy such things.
Sailing and related stuff used to be quite a 'thing' in old Cochin, Kottayam, Calcutta, Madras, Bombay and Vishakapatnam in India. But here in the protectionist years just like other things it became considered as 'elitist' and it is definitely expensive in terms of equipment and marina docking fees etc. The 'waterfront culture' is lacking in India unlike most other places in the world.

Do you swim?

And do you own or rent your boat(s)?
Here's what BHPian Jeroen had to say on the matter:
Nice!

I have sailed my whole live. Living in the Netherlands with so much water around is everywhere that might not come as a surprise.

I started sailing and racing dinghies when I was about ten. These were mostly Dutch types, such as Vrijheid, Stern, Schakel. During my naval college years I sailed a OK dinghy. An international class that still exists. Quite the handful.

I have sailed on many yachts, here on the Northsea and channel, but also in the Caribbean. My wife is from Barbados and her dad used to quite a famous racing skipper in his time.

My brother in law is currently enroute from Texas (where he lives) to Barbados, singlehanded. He has done it a couple of times before. He has a lovely yacht.

Due to all my travels I haven't owned a boat for quite some time. Luckily, we have lots of friends who do and I get invited often to crew. I am still looking at buying my own boat, but it will be a motorboat. Not sure if it will ever happen though. Lots of other things to do as well.

Take and enjoy your boat!

Jeroen
Here's what BHPian Theyota had to say on the matter:
Thanks to OP, I guess this was one of the few topics that was missing in this forum.

I lived 7 years near Beaufort, North Carolina which is a small town very well known among the sailing community in the east coast of the US. A colleague of mine, who owned a 36 feet Beneteau, used to live on it every weekend. He was very passionate and an adventurous sailor. He took me for a weekend sail once. While I enjoyed it very much, I thought it was a super boring thing to do every weekend just sailing around aimlessly or going on long passage just watching endless amount of water in the horizon at 5 knots if winds are good. You have to be a very good handy man in order to sail extended overnight trips. One needs to be a very good in his/her carpentry, plumbing, electrical and diesel engine fixing skills. The boats are a sinkhole for money, because there is always something to upgrade if you are passionate sailor. I think it is more fun to go on a day sail in smaller boat like yours. There are a lot of folks who sell off their homes after retirement and live permanently on a 40+ feet sail boat sailing around along the east coast and the Caribbean.

Another time I went on an 18 feet single outboard engine boat 35 miles into the see on a fishing trip with 3 other friends. The first hour speeding into the ocean through the choppy seas of an inlet at 5 am in the morning was scary as hell. This was my first and only time fishing. Once you reach where you want to want fish, you just cruise around aimlessly looking for fish. In about 7 hours, we caught maybe 5 fish, 4 of them not edible or illegal to be fished, so had to be thrown back into water. So after spending 7 hours in the sea and burning a gazillion gallon of gas, we had one fish, about 30 cm long, to take home. For people who like to fish for recreation, it is not the amount of fish they catch, it is the whole process of fishing process that is therapeutic.
Here's what BHPian hazchem had to say on the matter:
I don't know about other cities, but in Mumbai sailing is quiet accessible and also not expensive. I pay around 10k a year in Membership fees and boat rental charges range from free to 150 rupees.

Yes, given the size of the city we should have a lot more boats. A marina would be nice. But my experience is that people in general are afraid of venturing out in the sea. Hence the lack of waterfront
Here's what BHPian Mad_Monkey had to say on the matter:
There are three Sailing clubs using the Gateway facilities:

Royal Bombay Yacht Club (RBYC)
Colaba Sailing Club (CSC)
Bombay Sailing Association (BSA) based in Alibaug (Mandwa)

Joining the BSA and the CSC is pretty simple and straightforward and they both own a few Seabirds (type/class of sailboat) and have access to the numerous boats owned by the RBYC.

I have been into sailing for quite a few years and I own a J24.
Read BHPian comments for more insights and information.