Tesla launched its Model Y in Australia and New Zealand back in early June. The SUV model was offered in two variants, single-motor RWD and dual-motor Performance. 
So far over 8,000 Tesla Model Ys have been delivered to customers and all of them have been the single-motor RWD version.
That's about to change after reports from some Tesla Model Y Performance customers over in New Zealand highlighting that their high-powered Model Y has now been built.
A user from Tesla Motor Club's forum highlighted that they have received an update from Tesla with a VIN (Vehicle Identification Number):
"Got my VIN for MYP, first day order, actually first 10 mins order, white paint, no option at all, most likely late Feb delivery from my previous SR experience, I'm in NZ as well."
A VIN indicates that the vehicle has been built. Later the same user shared their build date which was January 17.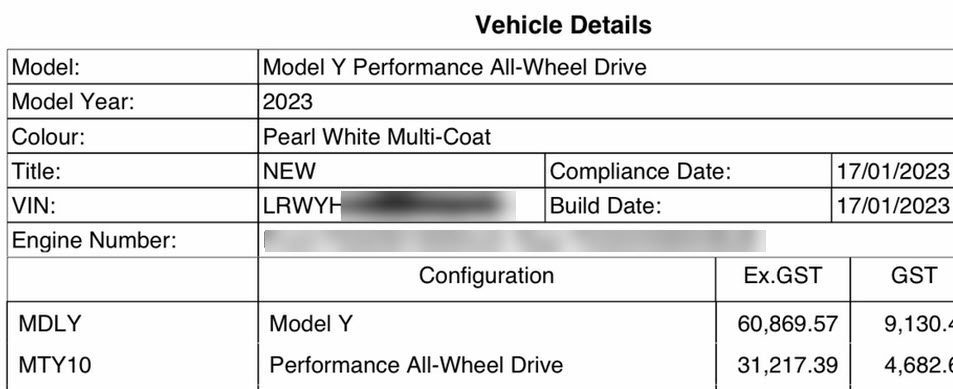 This is good news for hundreds of Tesla Model Y Performance order holders who have been waiting months to get an update. 
The news of the Model Y Performance builds was also confirmed by the Australian Tesla tracking expert, VedaPrime on Twitter.
Are #tesla RHD MYP being built?

Yes. NZ build January 17.
Nothing confirmed for Australia yet. pic.twitter.com/iv0PSUHgfJ

— VedaPrime (@VedaPrime) January 21, 2023
The Model Y Performance offers the best of both worlds with space and performance. The dual-motor setup outputs 393 kW of power and sprints from 0-100 km/h in 3.7 seconds. 
Comparatively, the Tesla Model Y RWD that most customers in Australia have received so far is limited to 220 kW.
Not the first sighting of Model Y Performance in Australia
Although the freshly built Tesla Model Ys are the first for customers, they are not the first in Australia. 
Back in September 2022, an EV enthusiast spotted a Tesla Model Y Performance in Melbourne, Australia. The blue example is one of the only ones driving around in Australia and has a build date of June 2021. It also has an Australian compliance date of June 2022. 
Hello MYP!!
Spotted today in @Tesla Cremorne VIC.
This may be one of the cars brought down under during lock down. Can anyone confirm? #ModelY #Performance @techAU @TeslaModelYAust @TeslaGong @TeslaSydney @teslaownersau @AusTeslaOwners @Teslarati @LudicrousFeed @TheDriven_io pic.twitter.com/B6a6mVk4w2

— EvAustralia (@ev_australia) September 16, 2022
It is believed to have arrived as part of a testing and compliance vehicle that has since remained in Australia after being registered in Victoria.
The new builds of the Model Y Performance for our region are looking promising. With many existing and new Tesla customers awaiting for this EV to land for a few months now, it now seems that the first batch might only be a few weeks away.

Riz is the founder of carloop based in Melbourne, specialising in Australian EV data, insight reports and trends. He is a mechanical engineer who spent the first 7 years of his career building transport infrastructure before starting carloop. He has a passion for cars, particularly EVs and wants to help reduce transport emissions in Australia. He currently drives a red Tesla Model 3.