The Triumph Tiger 900 GT was agile, eager & exciting but I simply couldn't stop thinking about the Ducati.
BHPian the_skyliner recently shared this with other enthusiasts.
Disclaimer
My knowledge of the big bikes is extremely limited and hence the review is more of what I "feel" about the bike than being technically accurate. Of course, with time I will be able to add more bits and pieces to this review which will probably make it more worthy of your time.
Cheers!
The Story
Driving was my passion until I learned how to ride a motorcycle…
By the age of 18, I was already doing the family driver's duty on our Mahindra Commander when one fine day my dad asked my elder brother to teach me how to ride a motorcycle. It was my dad's 1985 Rajdoot 175 (we still have it albeit in a near scarp condition, unfortunately). I still have a vivid memory of that first ride of around 15 kms at the end of which I was riding on my own. Credit goes to my brother who asked me to downshift and throttle it whenever I feel like losing balance. Advice that has worked in all walks of my life so far.
After that day, I used to wait patiently for my dad/family to assign me any task. A bottle full of kerosene and a dropper full of petrol was always kept under our porch. All my savings in those couple of years went into buying fuel for the joy rides.
Then I was lucky enough to get engineering college admission in the city of Pune and was promptly rewarded with my dad's 1996 Kawasaki 4S. You could circle the earth twice on a tank full of petrol on that bike. My dad still used to think that it was too expensive to run as it doesn't accept modest Kerosene as fuel. However, I was happy that I could ride all day and still have enough money left to enjoy Durga's cold coffee and Sweekar's poha every day (Pune millennials will know what that means).
That Kawasaki 4S was my daily ride for almost 3 years when my luck shined again and my brother got a job offer from the US. That meant his Honda CBZ (Gen-1) will be mine now. What a bike it was. Had lots of fun on it. Went to Konkan multiple times, went to Mumbai a few times and so many nearby places. That mere 14bhp machine had so much in it. Had that bike with me for almost 5+ years before flying off to Europe for a couple of years' stint.
Back from Germany in 2011, married and newly started a venture, decided to stick to cars and got me a Polo 1.6 and forgot about riding bikes altogether.
Fast Forward to 2020
I had made up my mind to get a big bike. Home minister also gave a go-ahead with a promise in return that I will be careful while riding. She by now very well knew that she married a captain slow and need not worry about speeding and all. So even though there was a hint of worry, she was overall comfortable with me riding a big bike.
Once the lockdowns were relaxed a bit, I decided to TR shortlisted bikes. The shortlist was really short: Triumph Tiger 900 GT, Ducati Multi 950S and Honda AfricaTwin AT. I first went to the Legacy Ducati showroom which was hardly 10 mins from my home.
The Purchase Decision-Making Process
Circa 2019, thanks to the experienced rider and close friend BHPian Ashtorque, I started dreaming about owning and riding big bikes. I used to TR bikes like Bonnie 120, Street Twin, etc whenever I am at the local Triumph showroom with another close friend, BHPian and experienced rider Monaro CV8. However, it got serious when during the Covid lockdown I decided to finally pull the trigger on a big bike.
Did multiple TRs of Tiger 900 GT and Multi 950S. Honda sadly didn't have a showroom in Pune and so no TR possible for AT. However, Ashtorque did connect me to Honda SA in Mumbai who promised me a TR. I wonder how he was going to arrange it as Honda doesn't have official TR AT bikes. Anyhow, I couldn't travel to Mumbai due to work commitments and that was more or less the end of it.
Also, I wasn't keen on a 21" front bike as I wanted an all-rounder and not off-roading-biased bike. Didn't consider BMW GS 850 because for me the real and only GS is the 1250. 1250 GS/GSA was out of an already stretched budget so was not considered.
I didn't want my first big bike to be a supersport/street bike because of many reasons but majorly I didn't have the skills to ride one. And also I wanted a bike which I can take almost anywhere without asking my riding buddies "how's the road condition" for the Sunday rides.
Tiger 900 GT was agile, eager and exciting in mid-range. Braking was spot on and there was nothing to complain about. But then I had TRed the Multi 950S before Tiger and I simply couldn't stop thinking about the Multi. And that was the sign that it has to be the Multi. Even though both have similar power numbers, I didn't feel half of the excitement when I was riding the Multi. Though I must agree that Tiger was more nimble and easy to handle at standstill.
So Ducati Multistrada 950S in red it was.
The Delivery Experience
Experience at Legacy motors was overall good. I booked my bike mid of January and was promised that the bike will be delivered in a couple of weeks. Once the bike landed in Pune, I went to the unloading station and saw the bike for the first time.
Registration took a little more than expected and I had to talk to the owner of Legacy to get things moving faster. Maybe it was due to the RTO process but I wasn't getting any updates from the SA about the delivery date. However, it was handled well and the bike was delivered on 17th Feb.
The delivery experience was super nice. Legacy team prepared the bike and arranged a small Pooja. My family enjoyed the event.
I had already purchased riding gear before the delivery day.
The A* Viper 2 jacket which I now use only for short rides. The bike immediately encroached the car parking.
The Ride So Far
I have clocked approximately 10k kms so far and each and every kilometer has been pure joy. Most of it has been Sunday rides with my riding buddies (can be anywhere between 150kms – 400kms). It takes the engine a few kms before finding its sweet spot after warming up. Also, tires need the same amount of kms to warm up enough to have a better grip. So once I am 20kms in the ride, the engine feels much smoother and settled.
Engine
As with any typical V-twin (L twin in this case), the engine has solid mid-range torque which makes it so much fun to ride in our conditions where traffic can surprise you anytime. However, the first gear is more or less useless as it's too short and you will find yourself upshifting to 2nd pretty quickly. DQS (quick shifter) works flawlessly beyond 2-3k rpm. You can feel the 110hp of power every time you twist the throttle on open roads.
Of course, for me, this much power is definitely scary but I am learning to tame it and use it effectively. I am not an experienced rider so have no idea how Multi fares against similarly powered bikes but as one of my colleagues (a very experienced rider) would say, "there are horses and then there are Ducati horses". I guess I will have to ride more bikes and 1000s of more miles before I can comment on such comparisons.
Suspension
However, one thing I can surely comment on is the suspension. It is simply outstanding. Skyhook suspension is fully electronic and at a press of a button you can change the setting. I keep it softest for Urban mode and stiffest for Sports mode and in between for Touring and Off-road modes. The suspension is truly made for all types of roads. In Touring mode you really don't feel bumps on the road and the potholes can be handled with ease. I have ridden the bike over various types of roads in the last 1.5 years ranging from super smooth ones in RJ/MP to riverbed roads in Spiti. Every time I was thanking the Skyhook suspension for its flawless working.
Handling
One of the reasons to go for the Multi was its supersport-type handling. This bike can be leaned like a street bike and with equal confidence, you can take it off-road and stand on pegs to manoeuvre over rocks, sand, etc. In a true sense, I think it is an all-rounder bike. Of course, it will not as good as purpose-built bikes in either of the categories but it does it well enough that you won't miss anything. The Pirelli Scorpion Trail II tyres I feel are more road-biased but I took the bike to Spiti and they performed decently in water crossings, loose sand and over rocks. They last longer too as it's already 10k kms and looks like there is some more life left.
Ergonomics
Spot on is what I would describe as the ergonomics of this bike. It is a little sportier than typical ADV bikes (like Tiger 900 for example) but still very comfortable for long rides. We did 900+ kms daily for a couple of days in September and I wasn't complaining at the end of the day with back/shoulder/wrist pain. Sunday 300kms rides are a breeze in terms of comfort. You also sit quite high as with any ADV which is good and bad both as you gain visibility but lose that tug-in and disappear feel.
The windshield is also massive so no wind blast at all for me. Taller riders may face some wind blast issues over their helmet but for me it's perfect. Seat height is just OK for me. I got a low seat installed for our Spiti ride as I knew that in off-road mode and tackling difficult terrain being sure-footed would help and it did. Handle-bar is wide like any ADV and it makes the U-turn relatively easy. The wide handlebar also helps in off-road conditions. About pillion comfort and ergonomics, I have limited information as hardly anyone sat behind. But whosoever did sit for a few kms gave two feedback: it's tall and the seat is super comfortable.
Riding Modes
The bike has four riding modes: Urban, Touring, Sports and Enduro. However, all of these are configurable with a click of a button. Thanks to the electronic suspension which is the key IMO for riding modes customisation. All four modes are configurable. They of course come with default settings but then you can change them easily with menu buttons.
The riding modes are really useful and inspire confidence in various riding conditions. When I start the Sunday morning ride, it's usually in Urban mode and then based on which route we are taking, it's either Touring mode or Sports mode. In Sports mode, the first thing that hits you is the throttle response. It gets noticeably more responsive. On bad roads or broken roads, I mostly use Touring mode and if speed really gets dropped below 30kmph then I switch to Urban mode as again the throttle response is much better manageable in such situations.
I did use the Enduro mode in Spiti and can say that it performed very well. The only issue is that the GC is increased in Enduro mode and that can be a little tricky as it's a little harder to land your foot fully on the ground in time. But the way it manages gearing and throttle response are very good for those conditions.
Other Bits
The side stand could have been better IMO. I installed an extended one to make it more stable but the stock one could have been better designed. The bike is keyless but for the fuel lid, you need the key. There is an accessory (super expensive like anything Ducati) available to make it keyless but Ducati could have just done it as standard. Foot pegs are wide enough for my boots and as per suggestion from trottleking, I took out the rubber pads and that made it even more grippy.
Accessories
I have so far installed the following accessories:
Engine guard
Radiator mesh
Oil cooler mesh
Side stand extender
Grip puppies
Fork slider
I have done two regular services so far and both have been a pleasant experience. Got an appointment a week in advance and work was done in 3-4 hours. The folks at Legacy motors, Pune are really nice and accommodating. The second service cost me around 13k.
The only issue I faced with the bike so far was of cold start in Kaza and Chandrataal. Which was strange considering the bike is just 1.5 years old.
To sum it up I tried to pen down my likes and dislikes of the Multi:
Likes
L-twin engine is so tractable and that mid-range torque means this bike can be ridden more in our traffic conditions
Sykhook suspension is simply outstanding – well done Ducati
Quality of switch gear and the overall bike is superb
Multistrada 950S looks hot (subjective but haven't met anyone so far who didn't like it)
Ergonomics of an allrounder
DQS is super smooth
Braking
LED headlamps are really good – I haven't installed any aux lights
Ducati dealership experience so far has been quite good
Dislikes
Accessories are exorbitantly expensive
This being a twin, the exhaust note is very basic
Side stand base is not wide enough to safely park the bike on loose gravel/uneven surface
No keyless feature for fuel lid
Rear view mirrors could have been better in visibility
Overall the bike has only brought joy with every km of riding. Sometimes I even enjoy staring at it from my balcony (TMI?). I am also hooked to its solid mid-range torque and it will make it hard to upgrade (whenever that time comes).
Few photos from our recent ride into the mountains:
Leaving MH and entering MP: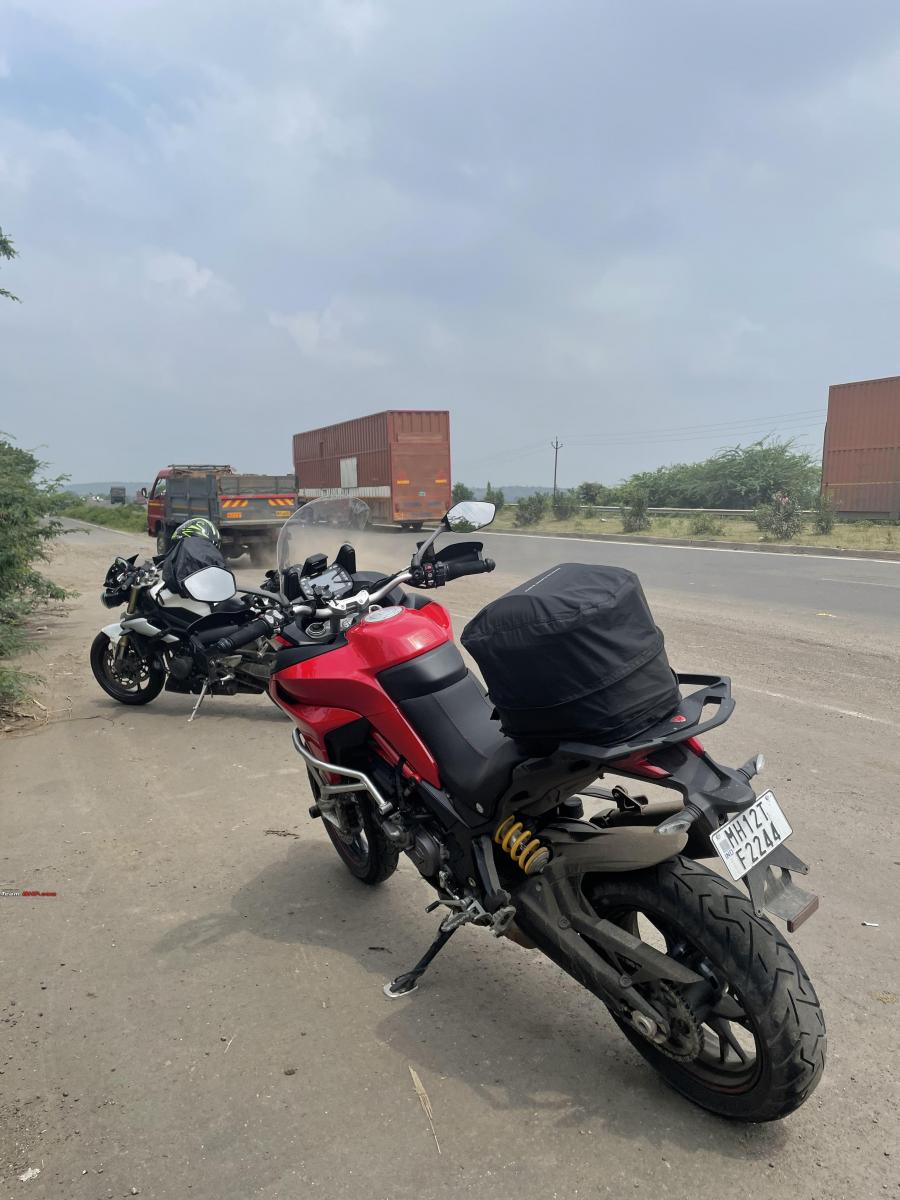 Somewhere on Trans-Haryana highway:
Chitkul:
En route Chitkul: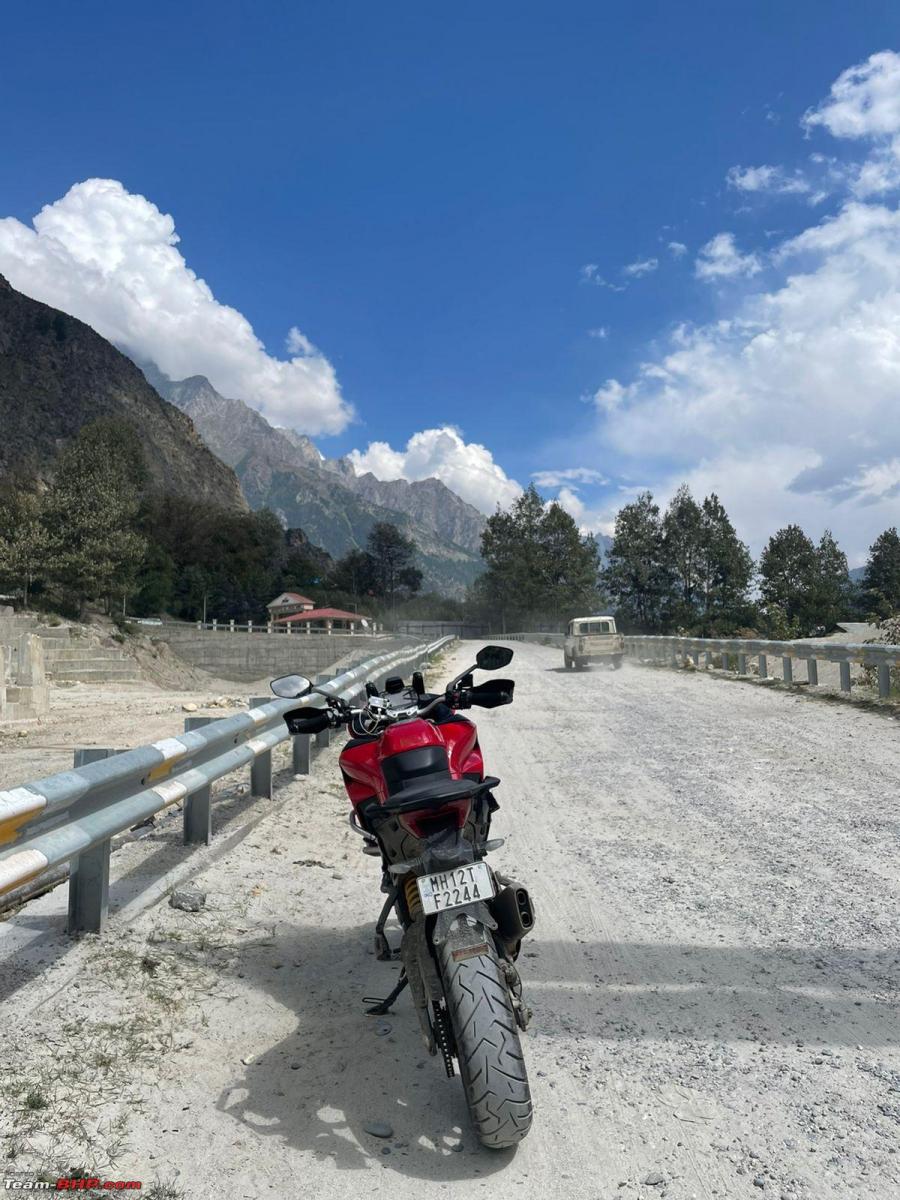 Near Nako:
Somewhere between Tabo and Kaza:
As I am new to big bikes, every ride is a new learning for me about my riding skills as well as the bike. So I will try to pen down all that here and keep this thread updated.
Check out BHPian comments for more insights and information.