The car is dead silent and vibration free when being driven in the EV mode, although you can hear a faint electric while.
BHPian S2!!! recently shared this with other enthusiasts.
The Hyryder proved its mettle on a recent Mumbai-Nashik-Mumbai drive, with 4 passengers on board.
Some key observations
Performance on tap feels adequate for a sedate drive, especially if you keep speeds restricted to 100kph. The powertrain seamlessly shuffles between petrol and electric drive, and part throttle responses are crisp enough for overtakes.
When the petrol engine kicks in you can hear a muted grumble and can feel a hint of vibrations on the seats, however, it isn't to the tune of sounding coarse. These are only amplified because the car is dead silent and vibration-free in EV mode (you can hear a faint electric whine in EV mode though).
'B' mode is very useful when driving down long slopes or hills, as it controls the vehicle from accelerating freely, thus keeping a check on its speed.
Suspension is well calibrated. Ride quality is pliant, and even on the highway, there were no unnecessary body movements.
Brakes need some getting used to as they bite rather suddenly. What I did notice is that if you are braking and the tyres hit a rough batch, the ABS gets very confused, much more than in any other car I've driven.
The panoramic sunroof and sunshade flood the cabin with heat, especially on a hot day, so you will find the AC working over time. That said, the AC does a rather decent job to keep the cabin temperature low, even at the back.
Voice assistant kept interrupting erratically. Speakers of the G variant certainly leave a lot to be desired particularly on long drives.
Boot felt adequate for the weekend getaway. Took a medium check-in bag, 1 overnighter and a soft cabin bag quite easily.
Nifty storage areas on either side of the boot floor. Swallowed 3x 750ml bottles easily.
And finally here is the fuel efficiency at the end of the drive (I had reset the Trip meter before the journey). The MID reading is quite accurate from what I've learnt. As mentioned, the drive was sedate, and it also included multiple sections being stuck in dense bumper-to-bumper traffic on the highway and in the city.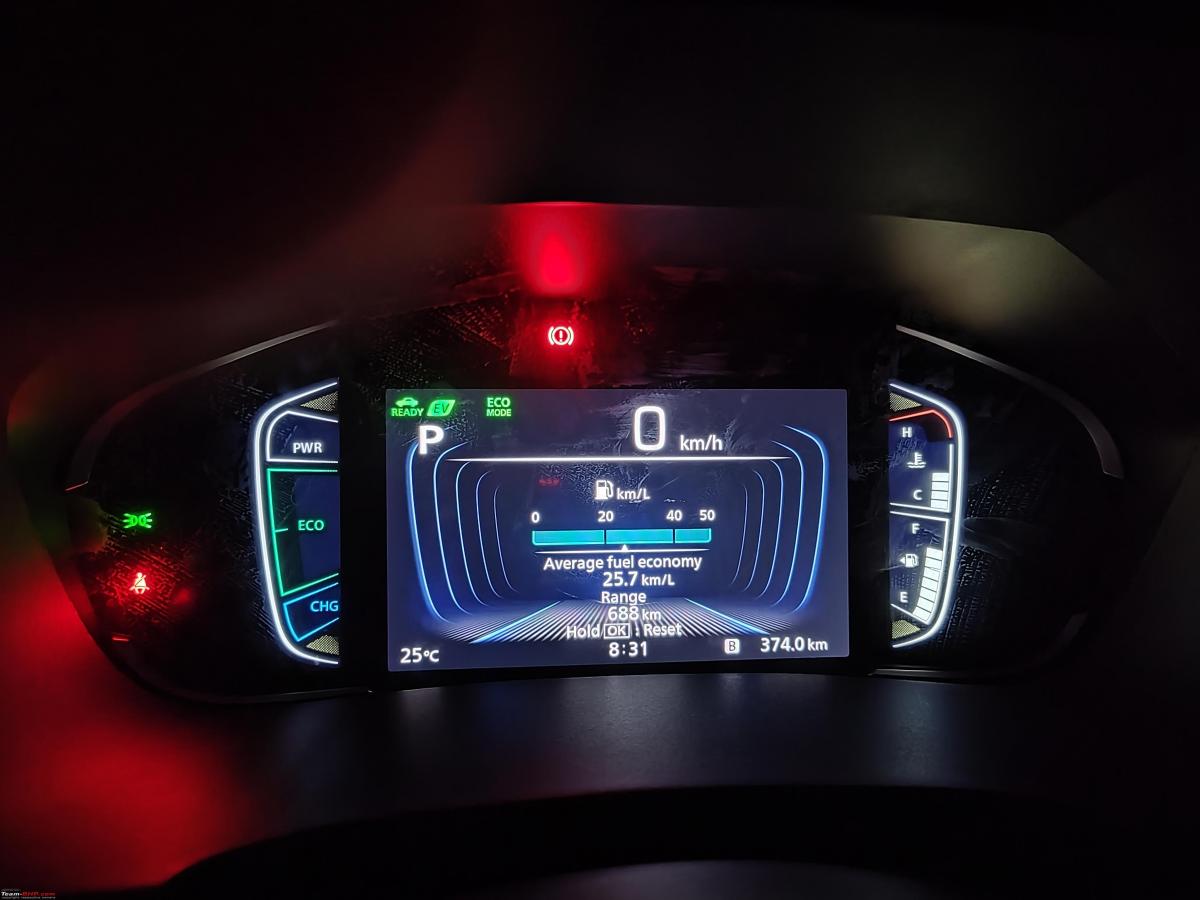 Check out BHPian comments for more insights and information.