Tesla has kicked the year off in Australia with a reduction in prices across every model and variant currently for sale in the country. 
The prices of Australia's best-selling EV in 2022, the Tesla Model 3, have dropped by between $1,600 and $3,400. 
At the same time, the Tesla Model Y prices have also been lowered on both the RWD and Performance variants. The RWD variant sees a price cut of $3,400 while the Performance gets just $1,700 of the previous price. 
NEWS: Tesla has reduced Model 3/Y prices in Australia. New starting prices (in AUD):

• Model 3 RWD: $63,900 (2.4% drop)
• Model 3 LR: $76,900 (3.9% drop)
• Model 3 P: $89,900 (1.9% drop)
• Model Y RWD: $68,900 (2.4% drop)
• Model Y P: $94,900 (2.4% drop) pic.twitter.com/avLqsKyZas

— Sawyer Merritt (@SawyerMerritt) January 6, 2023
As is regular Tesla practice, all order holders who are yet to take delivery will also end up paying a lower price than what it was when they placed the order. 
No Tesla Model Y Performance order holders have taken deliveries in Australia just yet and it's expected that the first batch will arrive in the coming months.
Tesla increased prices earlier in 2022 when the wait time for local order holders on many of its EVs extended out to many months. It seems Tesla has caught up with demand and now the wait time for many of their vehicles including the Model 3 is under four months.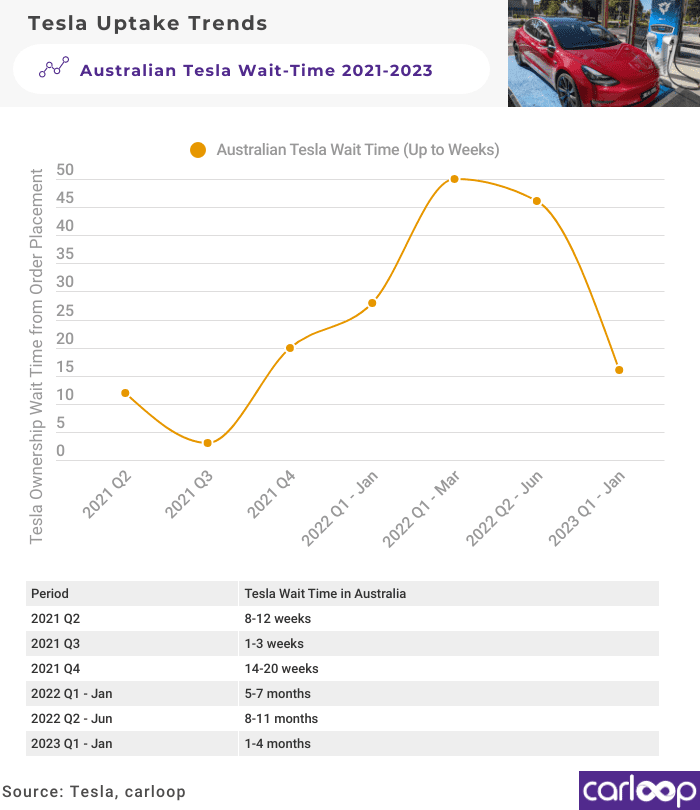 New order holders will be able to place an order and receive their Tesla Model 3 in under 4 months. It's also worth noting that some brand new Model 3s have also been popping up in inventory around Australia for immediate delivery to close last year. That's still the case with various Model 3 electric sedans available and availability changes on a regular basis.
This year, Tesla is also expected to open many more supercharging sites around Australia to reduce charger and range anxiety. 
Things kicked off in December 2022 with Tesla officially opening its largest site in Australia – a 12-stall V3 supercharger site in Melbourne's eastern suburb of Box Hill.
This site alone has already helped hundreds of Tesla road trippers have lower charger anxiety over the Christmas period. More sites like these will support the thousands of new Tesla EVs hitting our roads – 19,594 did just that in 2022 alone.
With the prices of Tesla being lowered and wait times reducing, 2023 is looking like an ideal time for those still sitting on the fence to make the switch to an EV.

Riz is the founder of carloop based in Melbourne, specialising in Australian EV data, insight reports and trends. He is a mechanical engineer who spent the first 7 years of his career building transport infrastructure before starting carloop. He has a passion for cars, particularly EVs and wants to help reduce transport emissions in Australia. He currently drives a red Tesla Model 3.